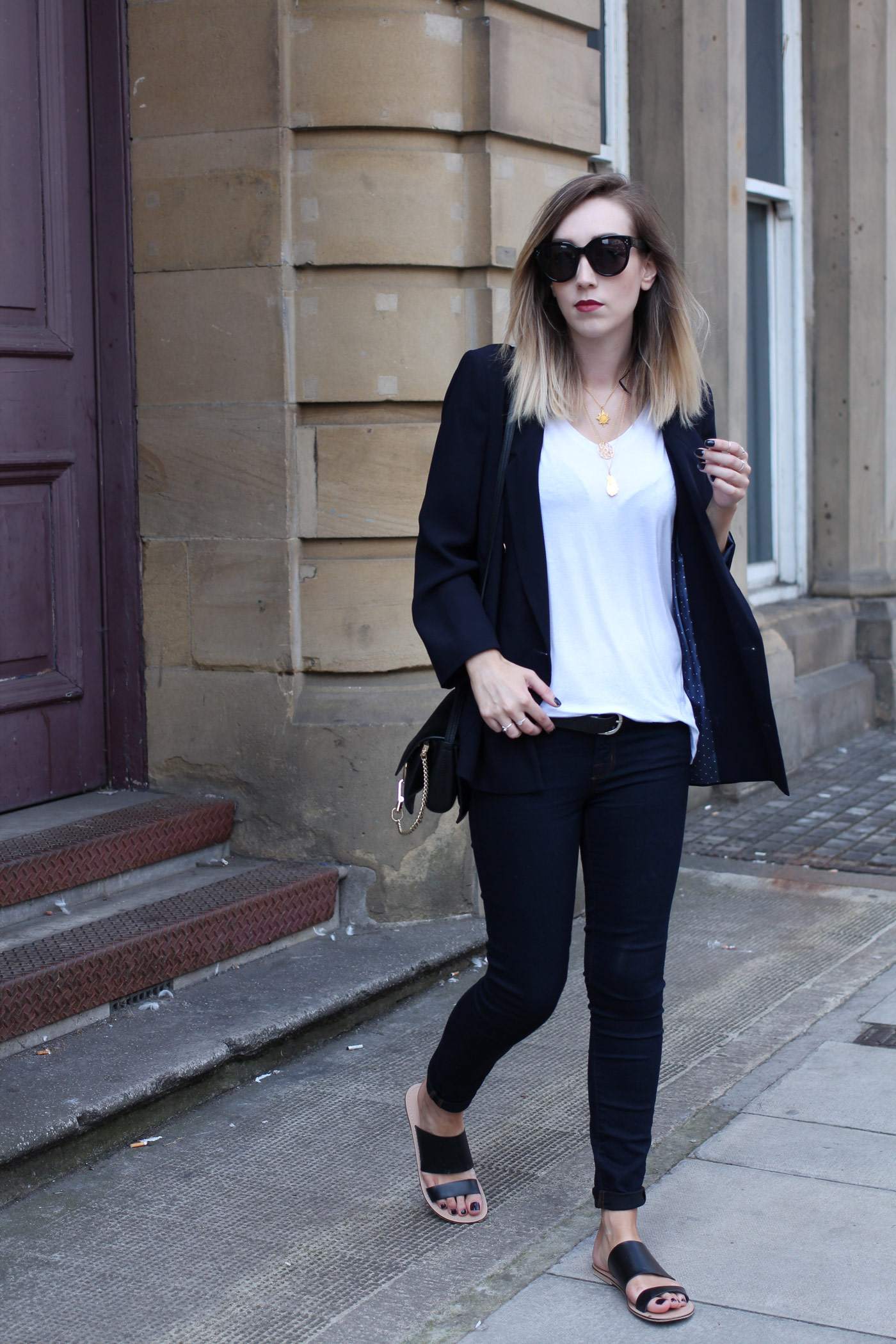 Blazer: Alexa Chung for M&S | Jeans: J Brand | Tee: Primark | Bag: Chloe | Sunglasses: Celine | Shoes: ASOS | Necklace: Essentia
I always have a bit of a uniform on this blog, a few style staples that I always seem to stick to and a formula I reuse again and again. So instead of just having an outfit post where I ramble on and on about what I'm up to, I thought I'd share a few style rules that I tend to live by and that make up the majority of my wardrobe.
One: Basics are Best | If you've been reading my blog for a while, you'll know that I don't often stray from the basics. I love nothing more than a pair of skinny jeans and a white tee, or a simple oversized dress or plain knitwear. I think it suits me more and if I go for a pattern, it'll only be stripes or polkadots. I don't really do many other as I think it clutters up my 'look' unless the cut is minimal etc. I think basics are a great start to any wardrobe so I always start there first.
Two: Classic Outerwear | A leather jacket, a blazer and a boyfriend cut coat – my three staples. Some day I will add the classic trench or an Aquascutum raincoat, but that's when we move into A/W territory. I think picking a few standard shapes will see you through all seasons and, when you pick a staple colour, you can mix and match them with anything. I always layer blazers and leather jackets under coats in winter too, so you don't have to reserve them solely for the warmer months.
Three: Buy Black First | I think this is a rule in so many closets, unless you're a colourful dresser, always stick to black first before investing in other colours. Make sure you've got that black blazer, the perfect black trousers, a staple pair of black flats etc as they will go with everything in your wardrobe and make a great base for any outfit. If it's an item I wear a lot, such as black denim, then I'll go for a slightly more expensive pair just so I can get more wear out of them.
Four: The Perfect Fit | I used to buy things without trying them on and, surprise surprise, I ended up with a wardrobe of ill-fitting, non-matching rubbish. Now, I only buy something if it makes me feel good about myself, style-wise and fit-wise. If it doesn't tick those boxes, then it does come home with me. I particularly apply this to denim, tshirts and trousers, as I think they're the most difficult to find the 'perfect' styles.
Five: Invest in Accessories | I'm sure you'll all know I love my designer bags and accessories. I'd rather have one high end bag than 20 high street bags and it's my guilty investment pleasure. I have been extending this to other accessories recently, apart from sunglasses which I also adore, and especially jewellery. This stunning necklace from Essentia has totally sparked off my necklace love and it's such a perfect way to jazz up any plain outfit.
What are you wardrobe rules?
Helen x
ps. Check out these blogging babes: My Debeauvoir Diaries, the Anonymous Beauty Blogger and Cherry Pie!