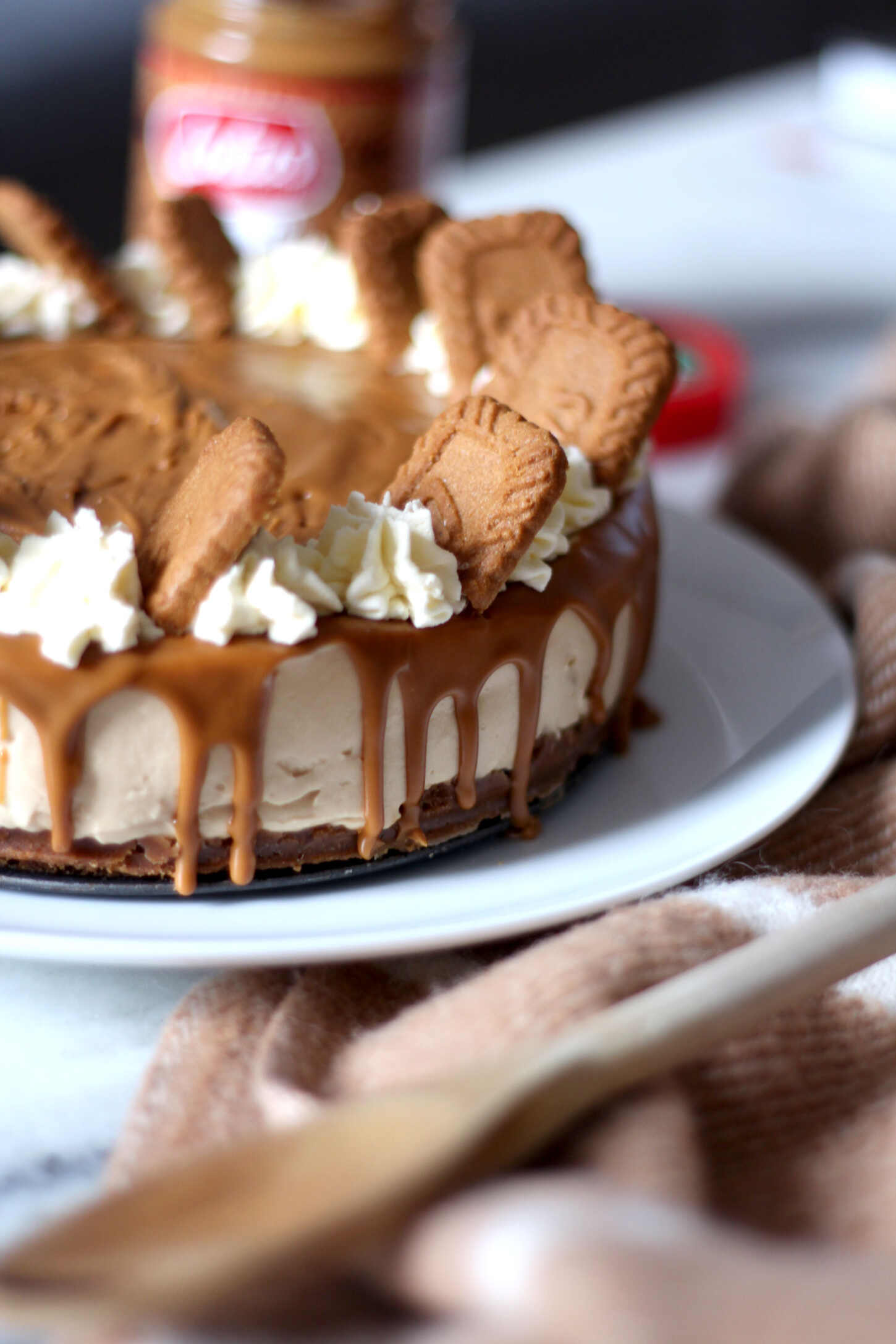 Now, there are definitely things I did incorrectly while photographing this no bake Biscoff cheesecake. I should have put it in the freezer for 20 minutes before grabbing my camera, I should have taken it off the tin base but I was scared to ruin the whole thing and I should have cleaned my knife when trying to slice it up. Now, does that matter? Not really, because at the end of it all we have a delicious Lotus Biscoff flavoured cheesecake to scoff and that's all I care about.
The base of this recipe came from the wonderful Jane's Patisserie but I added the Biscoff drips around the side and halved the biscuits. She runs an excellent mostly-dessert-filled space on the Internet and I will admit, I've bookmarked many pages for a later date. Reading a ridiculous amount of food blogs is definitely my guilty pleasure, so I'm glad I stumbled on Jane's whilst in the midst of a Biscoff spread addiction (try a spoonful in porridge, it's insane).
I've taste-tested this Biscoff cheesecake with my boyfriend Phil and our employee Aaron and they both said - and I quote - it's the best cheesecake they've ever had. Pretty high praise considering my last Oreo cheesecake was darn delicious, but I do think this heavenly slice of Biscoff goodness deserves the commendation.
It's insanely simple to make, too as you basically just throw things together in a bowl and mix, so it's perfect for those who don't want to fuss too much when making dessert or don't have much time.
Scroll on down for the recipe...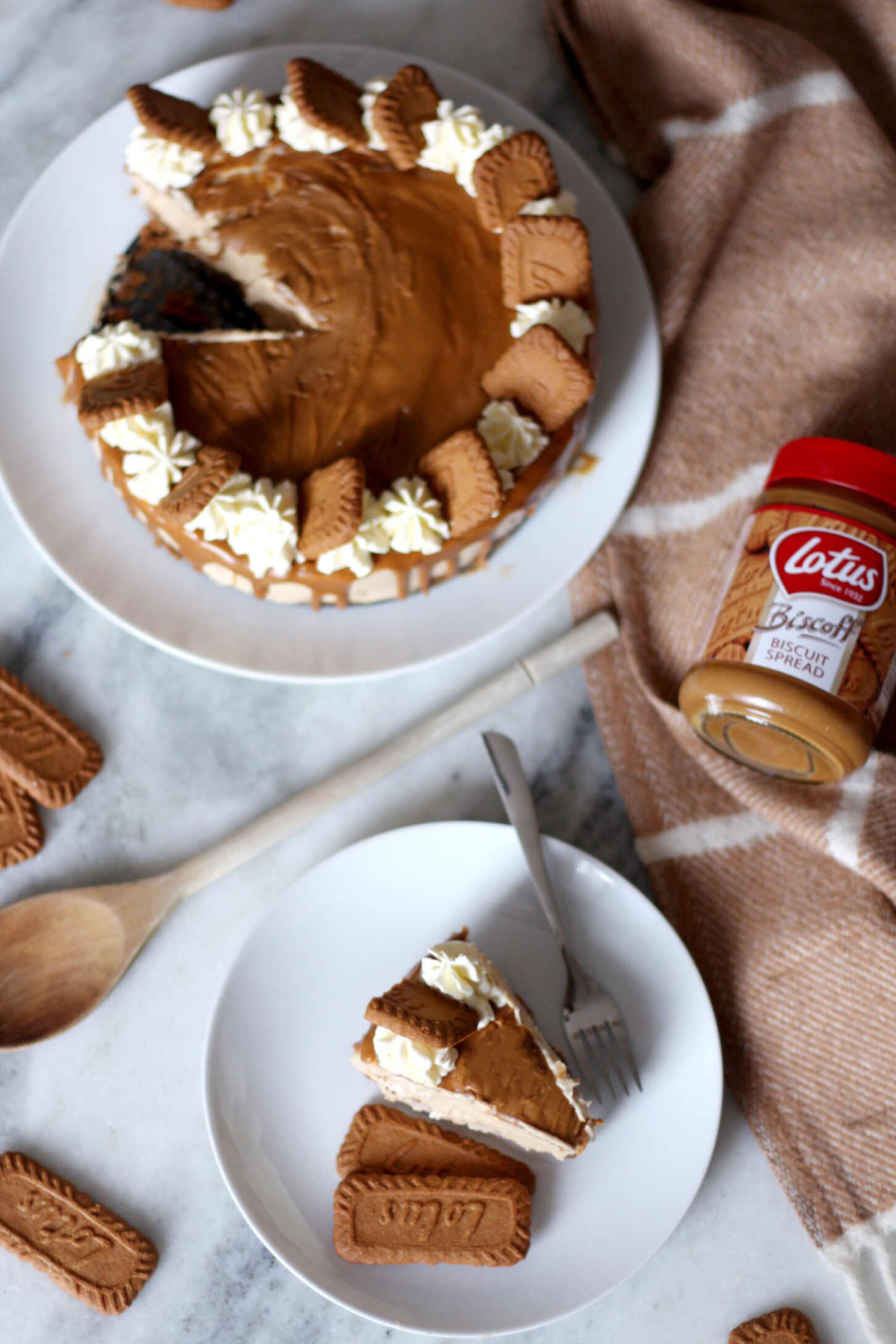 Ingredients
Biscuit Base
300

g

Lotus Biscoff biscuits

125

g

u

nsalted butter

(melted)
Cheesecake
500

g

c

ream cheese

(must be full fat)

100

g

i

cing ugar

250

g

Biscoff spread

(smooth or crunchy)

1

tsp

v

anilla extract

300

ml

d

ouble cream
For the Top
150

ml

d

ouble cream

2

tbsp

i

cing sugar

125

g

Biscoff spread

Biscoff biscuits

Any other decoration that you fancy!
Total time: 6hrs 30minutes
Actual hands-on time: 25-30 minutes
Method
1) For the base - Blitz the biscuits in a processor until they're a fine crumb. Mix the biscuits and melted butter together and press into an 8 inch (preferably deep) tin.
2) For the cheesecake - Mix the cream cheese, icing sugar, Biscoff spread and vanilla together using an electric mixer ensuring it's smooth. Slowly (I mean that) mix in the double cream, I did about 50ml at a time and waited until it was fully incorporated before adding more. It's done when it's super thick and can hold itself up.
3) Spread the cheesecake mix over the previous biscuit mix in your tin, then chill for 5-6hrs in the fridge. I chilled mine overnight.
4) Remove from the tin and then decorate.
Decorating tips -
If you want the drip effect, heat up the remaining Biscoff in the microwave (I did 2x20 second bursts on 600), then use a teaspoon to pour it around the sides, occasionally allowing it to be pushed over the edge. Spread the remaining melted spread into the middle and smooth it out. It needs to be warm to do this, as it pulls up the cheesecake if it's cold.
Additonally, I went for whipped cream (combining the 150ml double cream with icing sugar in an electric mixer) and piped this on, then added halved Biscoff biscuits. Easy peasy.
And there you have it, a very easy to make no-bake Biscoff cheesecake. Hopefully yours will be neater than mine *insert embarrassed emoji* however if it tastes the same, then you're onto a winner because it's the perfect level of indulgent without being so overly sweet that your teeth fall our of your head.
Let me know if you decide to make this or any of the other recipes on my site. I'm hopefully going to get back into sharing more recipes and foodie photos over the Autumn, as this time of year is my favourite time to bake! I'll be making more crumbles and everything shall be cinnamon spiced and I cannot wait.