Blazer - Anine Bing | Jeans - ASOS | Tshirt - & Other Stories | Shoes - Daniel Footwear | Bag: Prada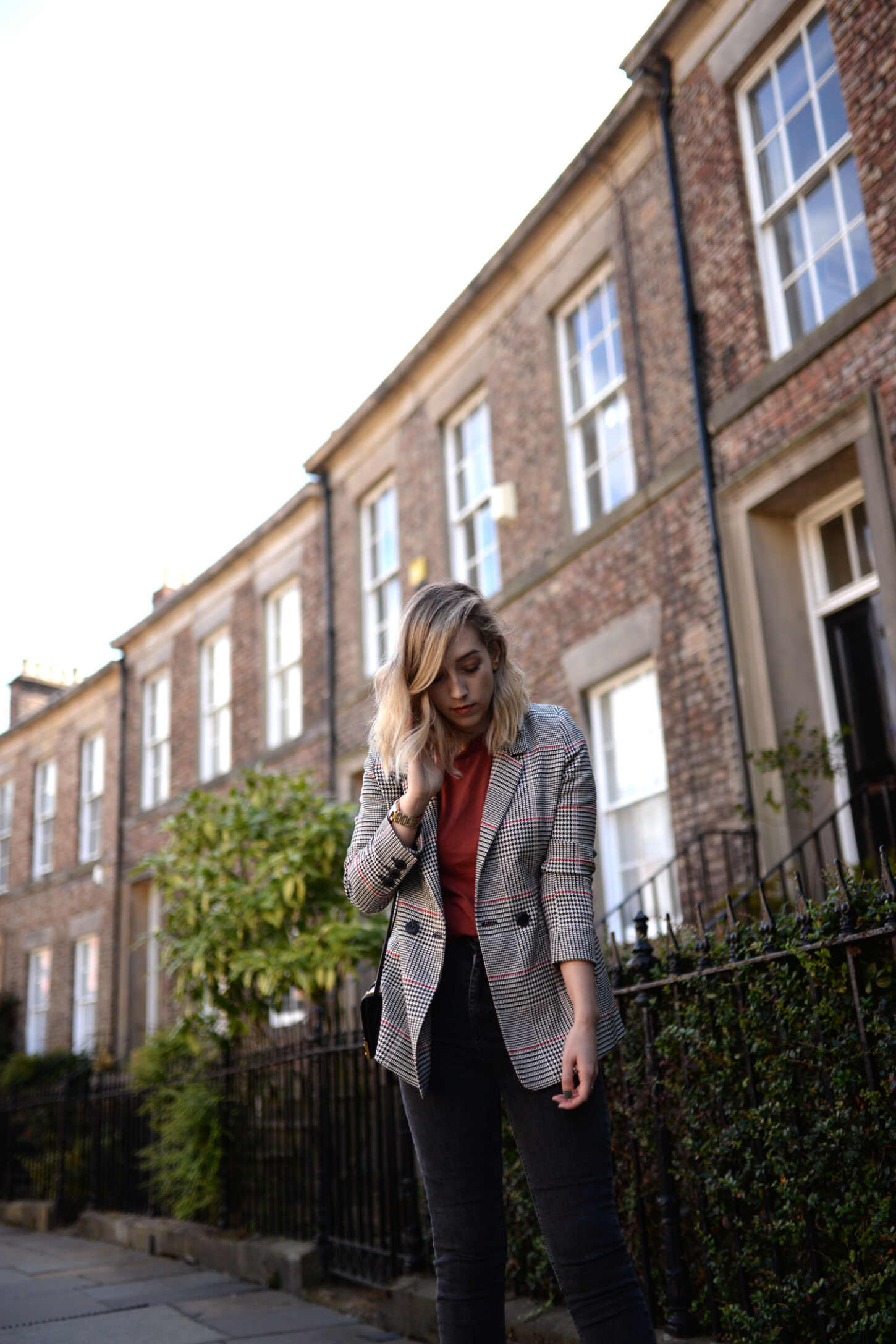 Saving money or talking about finances isn't necessarily something you see very often in blogging world, is it? I've sat down to watch many a YouTube video on 'saving money' thinking I'll gain a great insight into keeping my pennies in my bank account, only to be greeted by someone thinking not having a cleaner or not getting their nails professionally done every 3 weeks is a compromise? *insert thinking emoji here*
I'm moving further and further away from the 'haul culture' that seems to have developed on blogs and on YouTube especially over the last few years. I've touched on this in a previous blog post about buying into the hype, but I'm starting to find the relentlessness of constant hauls both overwhelming and, to be quite frank, a bit icky. I no longer enjoy watching mass-spending as entertainment and feel like there needs to be a shift in attitude both from the perspective of financial responsibility and being wasteful. Now, don't get me wrong, I don't want people to justify their purchases and everyone's budget is different, but the throwaway culture it's creating is become very vapid and emotionless. To me, there appears to be an endless, borderline obsessive, need to spend money and I am not here for it.
So, as I am a big fan of saving up for what you want (rather than getting yourself into debt) and making thoughtful purchases, I thought I'd write a post on some realistic, every day ways to actually save some money. There'll be some practical tips, some home truths and ways you can genuinely take a look at your finances to save money or save up for the things you really want.
Do You Actually Need It?
Chances are you probably don't. There's been so many occasions in the past where I've sat at my laptop, bank card in hand, about to drop a chunk of cash on something on a whim because a) it's a popular item b) I have convinced myself I can't live without it or c) I'm feeling happy/sad/upset/hungry (hunger makes me do a lot of things...) and I find shopping is a way to celebrate or cheer myself up.
Often taking a step back and assessing if you actually need the item, or you simply just want it, can make a very big difference to your bank account. If you're still thinking about that item in a few months time (and it's an expensive purchase) then fine, follow one of the steps below and get it if you can truly afford it, but until then, put your bank card away and close that browser tab if you want to curb your compulsive spending.
I often sit down at the start of the year and create a list of things I would like to work towards, which includes the things I want to add to my wardrobe. As shallow as some of you may think this it, it definitely stops a lot of needless spending! I would recommend doing it.
Take A Look At Your Outgoings.
The most important part of being an adult is actually addressing your finances. Not everyone wants to do it and I know people in their 40s who still don't want to take responsibility for their outgoings vs the money they spend, so I know it's really tough. I was the worst for spending when I was younger. It's actually shameful and makes me cringe when I think about the money spent, the amount I ultimately gave away (after never wearing it) and the money I could have saved. It's thousands of pounds, tens of thousands considering I'm 28 and have had a job since I was 16. Gross.
So, when I was about 25, I decided to be a bit more sensible with my spending. Look at your outgoings - your bills, your car, your rent/mortgage, your food shopping and everything else that you have to spend your money on on a monthly basis. Then take a look at your leftover cash and assess how much you can realistically class as 'spare'. Do you have any savings? Think about putting that first over dropping £100 in Topshop on shit you don't need.
Ultimately, grow up a bit.
Sell The Things You Don't Need.
Unless you have an extremely streamlined home, you probably have a bunch of things that you don't need. I love selling things as a) I get rid of stuff b) it's better for the environment as people are buying second-hand and c) MONEY. I've constantly got items listed on eBay and am a total magpie for their £1 listing days and throw a bunch of stuff on there when one comes up. I've also sold through Depop, my Instastories and my blog which have all been very successful.
As I've been using online selling platforms for a decade now (ew, I feel old), I'm pretty good at pricing and getting rid of things. If you're using something like eBay, always use the 'Buy it Now or Best Offer' option and if you want, for example, £30 for an item, list it at £40. People will send you offers around £25 and you can usually negotiate it back to the price you want. Include free postage on more expensive items and factor that into the price you'll accept. Start listing Winter items at the start of October and any items you want to get rid of before Christmas around mid-November. Always put your listings on for 30 days or 'Until Sold', especially if you're only paying £1 fees as this will maximise the time you have.
My biggest tip would be to set yourself a time limit. I usually give myself 1 month to sell a batch of items and if they're not gone by then, they go to the charity shop. I may relist some of the more expensive items, but I usually stick to the rules so I don't end up with bags and bags of things lying around.
Delete Your Emails
My biggest downfall is emails and notifications. Oh that thing in my wishlist is back in stock, I must purchase it immediately! I really have to reign it in at times. Being constantly bombarded by 'new in' and 'buy it now' can lead to some very unwise spending and a wardrobe full of trend pieces that you'll never wear. Unsubscribe from those emails and turn off the notifications. When you don't know the items are there, you won't spend your cash.
Similarly with obsessively checking the new in section on your favourite websites. Just stop doing it. I promise you there's nothing that interesting in there anyway... Once you realise how mindless this is, you'll be shocked at just how much time you dedicated to finding things to spend your money on.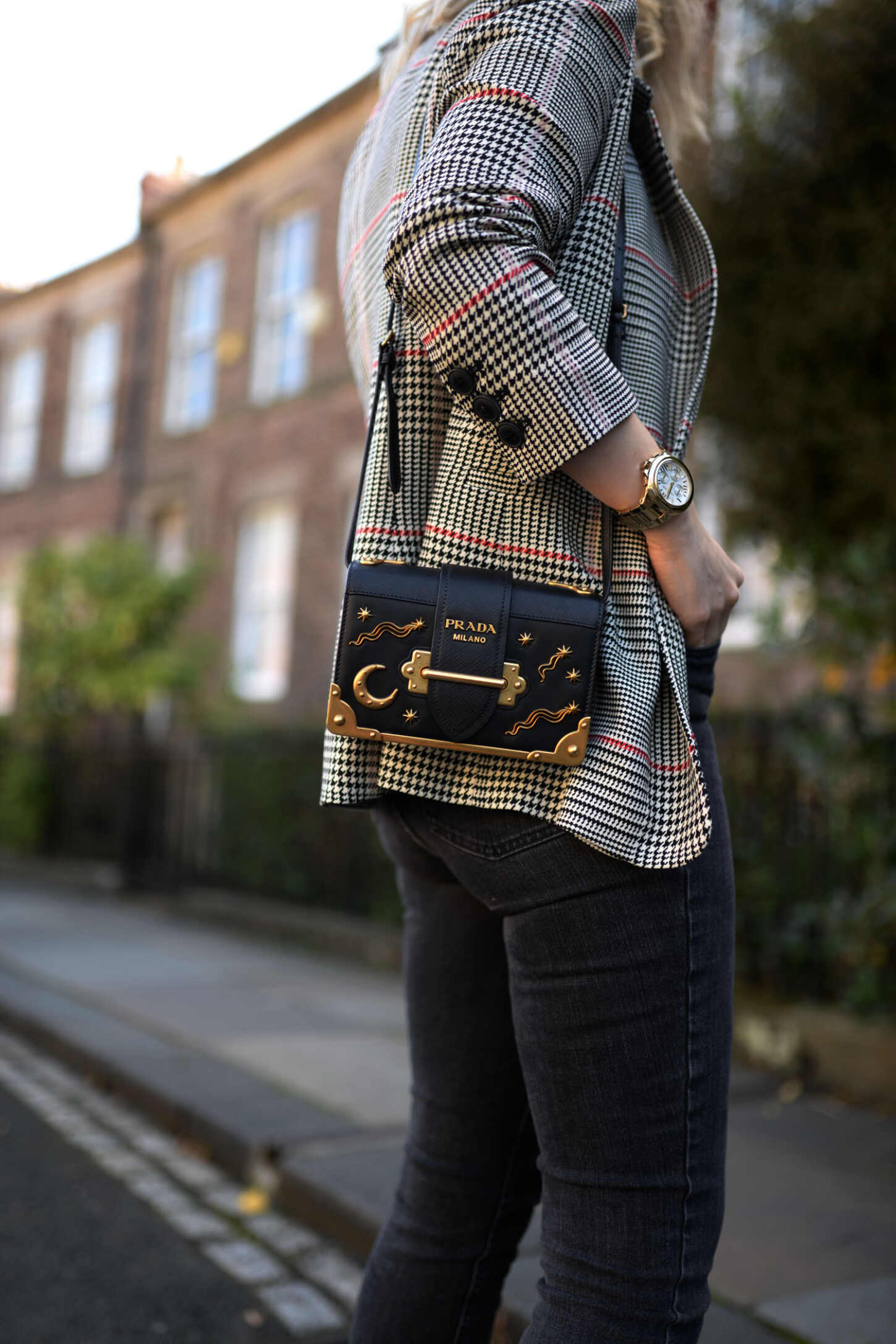 Don't Get Yourself Into Debt
This is honestly one of the worst things you can do. What is the point of owing potentially thousands of pounds to own a nice bag? Who wins in this scenario?
If you feel like you can whack something on a credit card, please don't. You don't need a pair of shoes or a new wardrobe that badly. Even if you can justify paying it off at the end of the month, having to place it on credit in the meantime means you cannot afford it. Full stop.
If you have some debt, please pay this off first before even contemplating saving up for items that you want. Owing money is an awful, daunting and often overwhelming feeling that will leech away at your income every month with absolutely no benefit to you.
Please don't do it.
Rethink What You Already Have
Following on from whether you really need it or not, have a really good look at your wardrobe or the items you already have first. A lot of the time, we already have a similar piece that we could restyle to fit the look we're trying to achieve.
Take to Pinterest, save outfits that you love to your 'saved' section on Instagram, create a folder on your phone or computer to refer back to. Mix and match pieces you own to give yourself a bit of a fresh perspective, and potentially curb any impulsive need to buy new things.
Make sure your every day, basic items are covered. You know, those items you tend to wear a lot, then build on everything from there.
I love watching The Anna Edit's capsule wardrobe and planning videos for this! Absolute goals.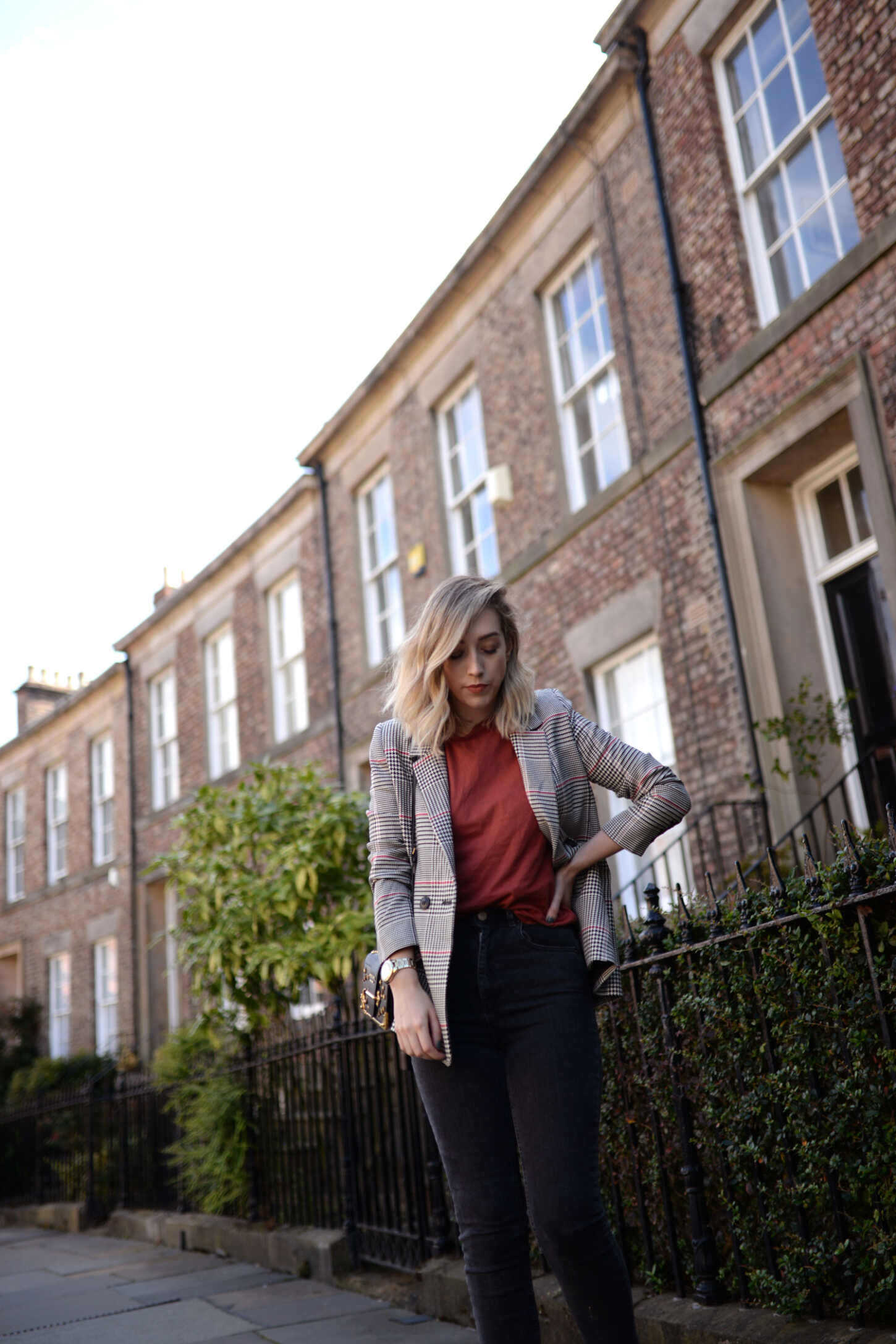 Discounts and Codes.
I rarely pay full price for an item, even designer items. There are usually dozens of discount codes kicking around the internet. Whether you have to use their app or wait for a particular weekend - Black Friday, anyone? - there's always bargains to be found.
The high street and online stores usually always have codes (I mean, has anyone ever paid full price at Missguided, PLT or Boohoo?) and the likes of H&M and Topshop are having more discount days than they have previously. You can always borrow someone's student discount code if you have lovely friends or sign up to an online course (some are only £10 a year) to get an NUS card of your own *wink face*. Sign up to their newsletters, then unsubscribe!
As for designer stores, Net-a-Porter recently had 15% off, if you shop at Matches Fashion they will send you a discount code to use twice a year which can get you up to £300 off (the best time to buy a new bag!) and the likes of MyTheresa and Luisaviaroma have great sales and Black Friday Deals. The latter usually has 30% off some items around that time, so keep an eye out.
Be wary of the ones that are 'Spend £100 and get £20 off' as if you return one item worth £30, the will take that £20 discount off the item and you will only get a £10 refund. Stick to actual discounts like 10% or 30% off.
Note
I would like to say that just because something is discounted, doesn't mean you need it, especially if you wouldn't have bought it full price. Be sensible with your purchases, people!
Can You Get It Pre-Loved or Second Hand?
Following on from the above, I absolutely adore shopping pre-loved/second-hand/vintage. Especially designer. A lot of my high end items weren't bought new - including my latest Chanel Trendy (got over £100o off the RRP and it's basically brand new) - so there's always bargains to be had. If you're very, very determined to own something and you can afford it, then why not save the extra pennies?
My favourite site for pre-loved designer items is definitely Vestiaire Collective. I bought a Proenza Schuler PS11 for half price, a large Chloe Faye for half price, a Prada Cahier bag for £600 off the RRP. I recently picked up a Stella McCartney blazer that I wanted for ages for £200 instead of £1080 and it's brand new. I also snagged an amazing Acne Velocite jacket which I again, wanted for years and years, for less than half the RRP and it still had the tags on. They often have 10% off days too, so you can get even more money off. Don't be afraid to sent sellers offers and ask for extra photos. Vestiaire authenticate everything too, so you can be sure you're getting something legit.
There's also Bagista, Designer Exchange and individual sellers. A lot of bloggers and people on Instagram also mention the things they're selling on their channels, so keep your eyes peeled!
Shopping vintage is also a great option. I picked up 2 vintage Chanel bags for 1/4 of their current selling price on Vestiaire. Sure, they might need some TLC but I'd rather pay £100 sprucing them up than pay an extra £3000 buying a new one from the boutique. You can get items in amazing condition if that's your jam though, some look brand new even though they're decades old! I also love the history behind them too, as both of my vintage Chanel bags were made around the time I was born which I think is so cool.
As for non-designer pieces, check out charity shops! Just from knowing how many things I have given away from Topshop etc with the tags still on, you know there's a thousand other girls doing exactly the same. Have a rummage through and see what you can find! There's way more unique things to be had and some of my fave purchases in the past have been vintage or charity shop buys.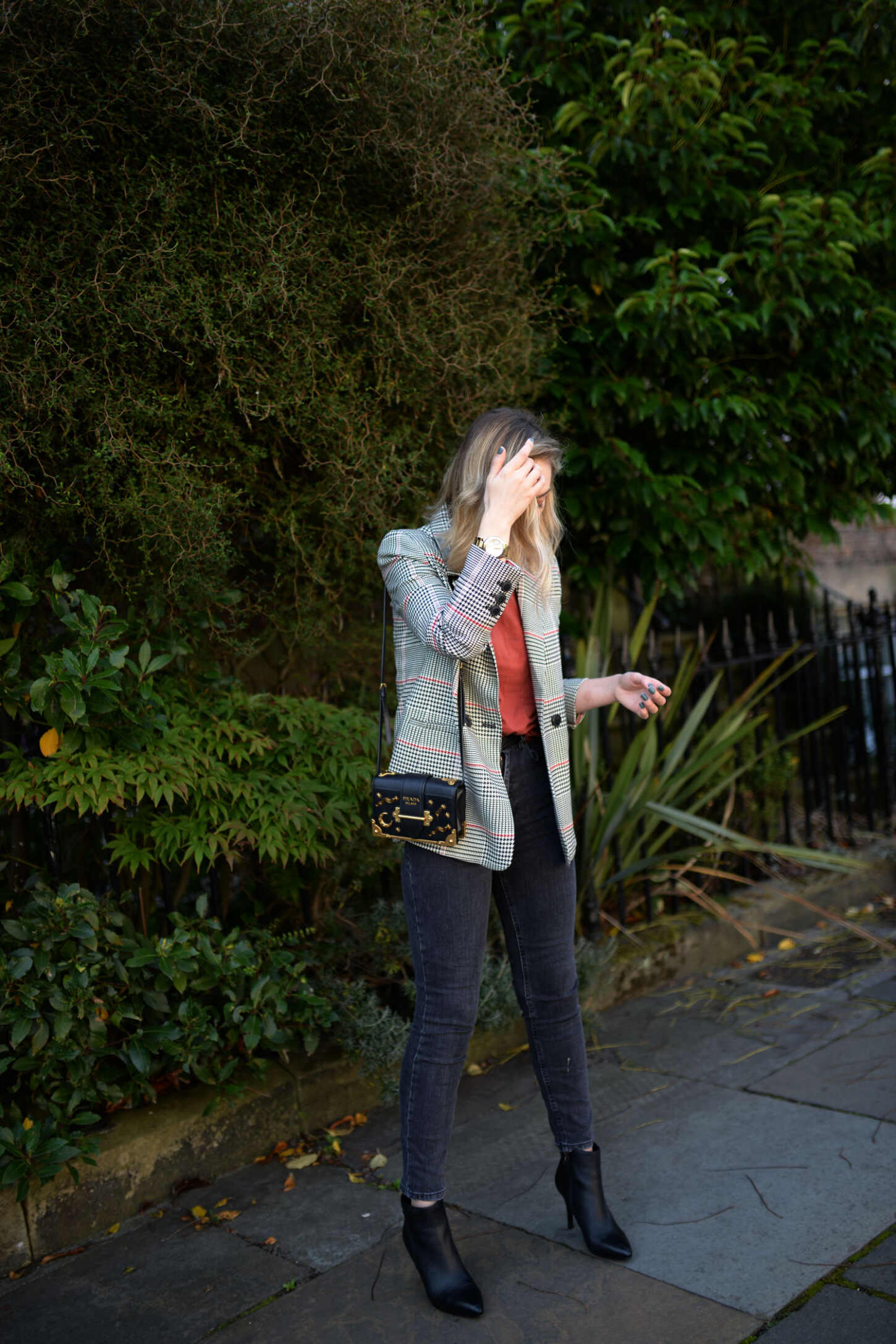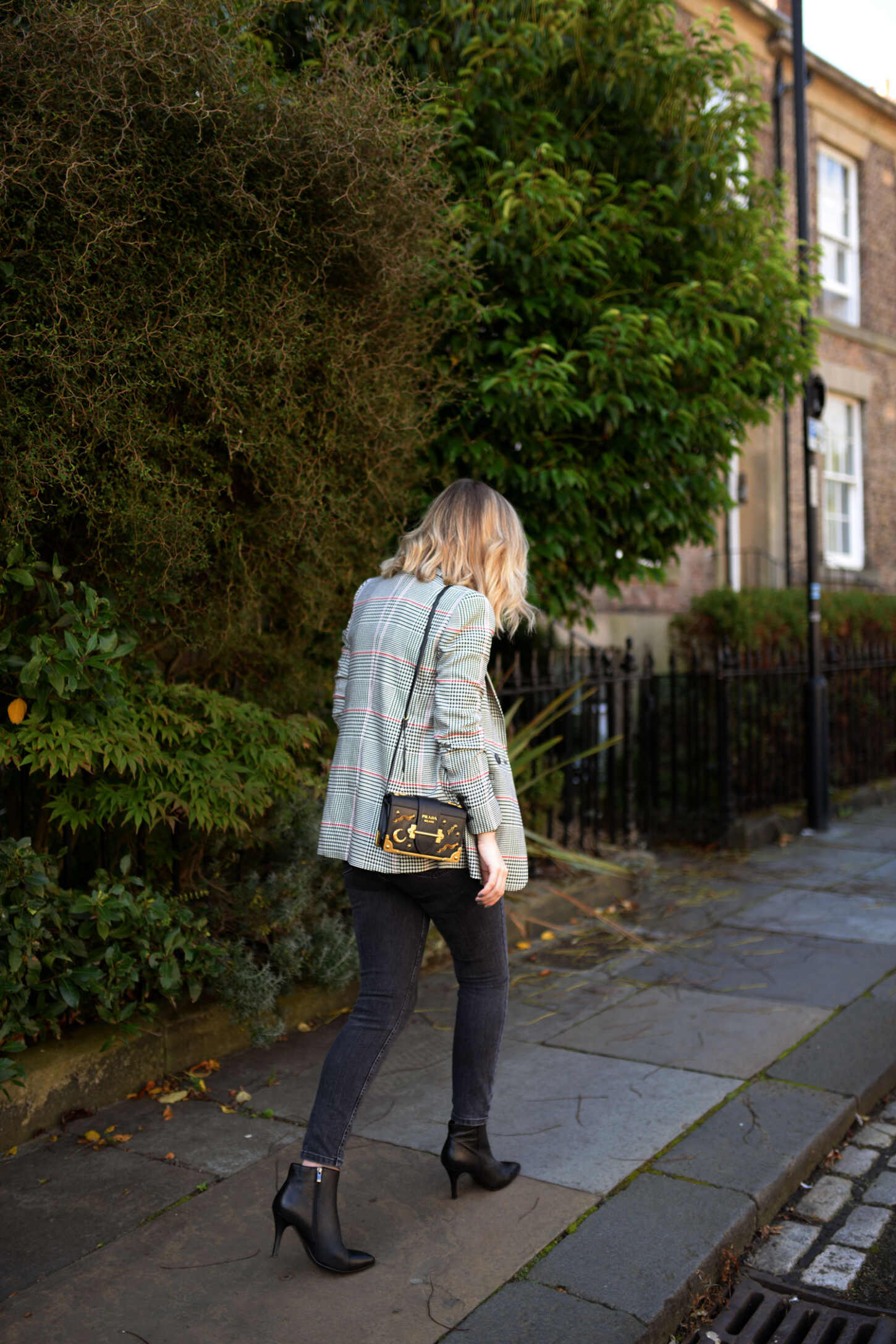 Buy Sensibly
This is something I've been practicing more and more recently. I have a set of standards and I stick to them, even if I absolutely adore the item and it's just what I've been looking for - if it doesn't tick all of the boxes, then it doesn't get bought.
For tops and tshirts, they have to be 100% cotton (organic preferably) or another natural material like linen. My jumpers have to be at least 50% wool, but I'm leaning more towards merino/cashmere these days as it's becoming more affordable and my skin is happier with softer materials. My coats also have to be at least 50% wool, but I try to get ones that are 100% as they last much longer. I have coats from years ago that still look brand new and I continue to wear. I try to avoid very stretchy denim as it tends to lose shape more quickly and I end up replacing it after 6 months, so I see this as a waste. I also only buy leather shoes which I know isn't great from an ethical standpoint, but they last and I refuse to pay extortionate amounts of money for fake leather which is essentially plastic.
I also refuse (exceptions to the rule do apply on 1% of occasions) to buy anything that's more than 50% synthetic material like polyester. It's a cheap material that just makes you sweat. Ick.
Obviously you do you, but set a bunch of rules and make sure you stick to them. I strongly believe if it's a key piece in your wardrobe, that finding a good quality version of it is worth every penny. Know when to invest and when to save.
Cut Down and Plan
After you've looked at your outgoings and you've sold a bunch of things, is there anything else you can reduce in order to save? Could you do without that after-work cocktail or that expensive meal out? Or your 3rd Deliveroo for the week?
I've established a bunch of money-saving and waste-saving rules in my house which are definitely working.
One: Plan Your Meals | I used to order a bunch of crap from Tesco without any thought into what I was actually going to make. Now, I plan my meals a week in advance, do one shop just for those items and then I know exactly what I'm cooking. It saves money and a lot of time. Avoid the £1 deals and offers, unless it's something you were planning on getting anyway.
Two: No Lunchtime Shopping | I'm really bad for popping to the shops (TK Maxx especially) and buying some little bits. You don't need to do it!
Three: Be Sensible When Out | You don't need to opt for that £25 fillet steak when a £6-8 pasta will do. Get 2for1 drinks or house wine, or non-alcoholic if you're really on a budget. Make your lunch a few times a week rather than spending £5 a day. Buy some nice coffee, make it at home and take it with you.
There's loads of ways to save money without giving up too much!
----------------------------------
So, they're all of the money saving tips I try to follow when I want to save up for something special or just want to cut down on my outgoings. No one likes budgeting, it's boring af and we all know that, but the satisfaction from being able to safely say you can afford to treat yourself is well worth it. After a while, you'll be surprised how little you need to actually buy to be happy with what you have. Those little money saving adjustments do actually add up! Do you have any tips? Leave them in the comments below!