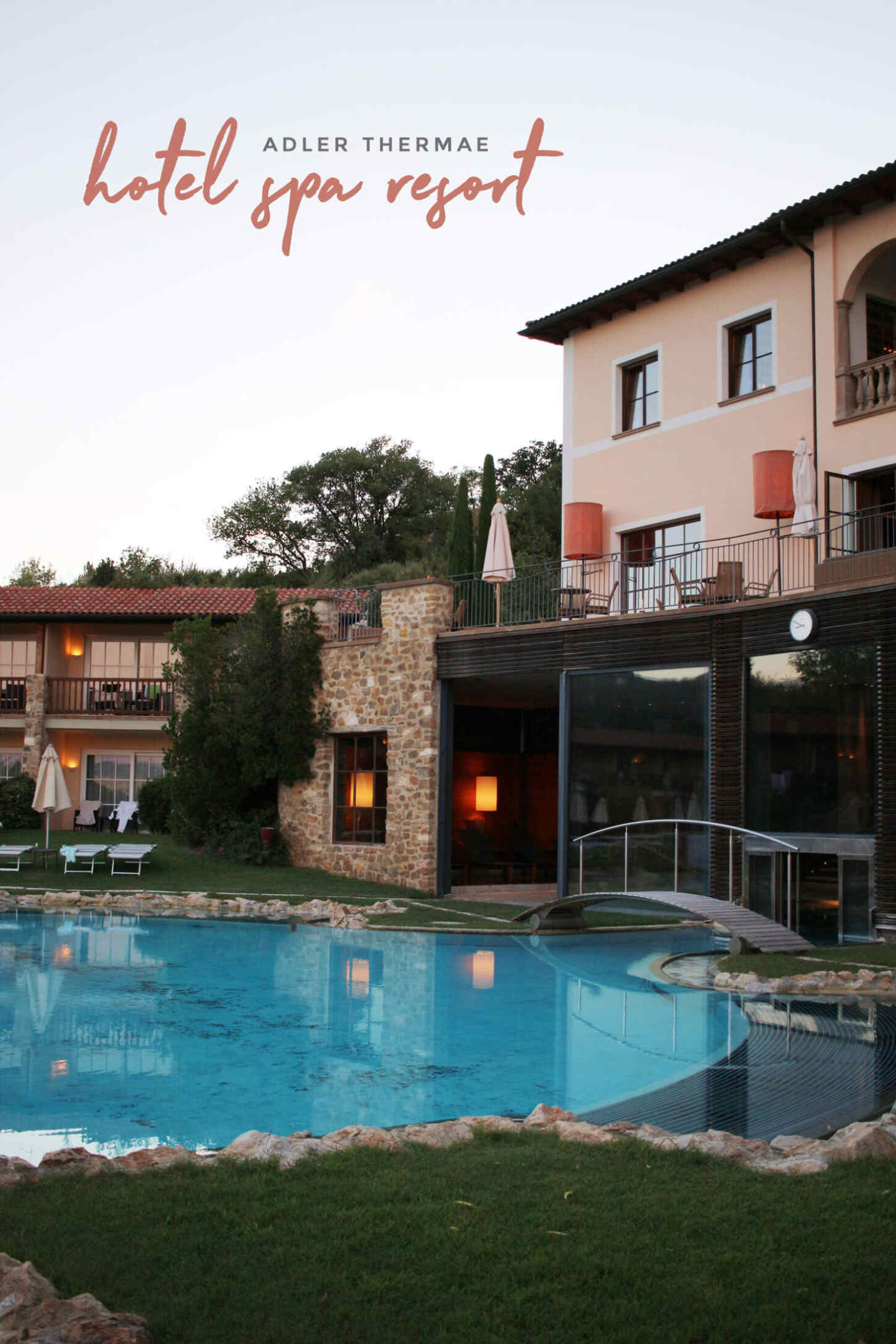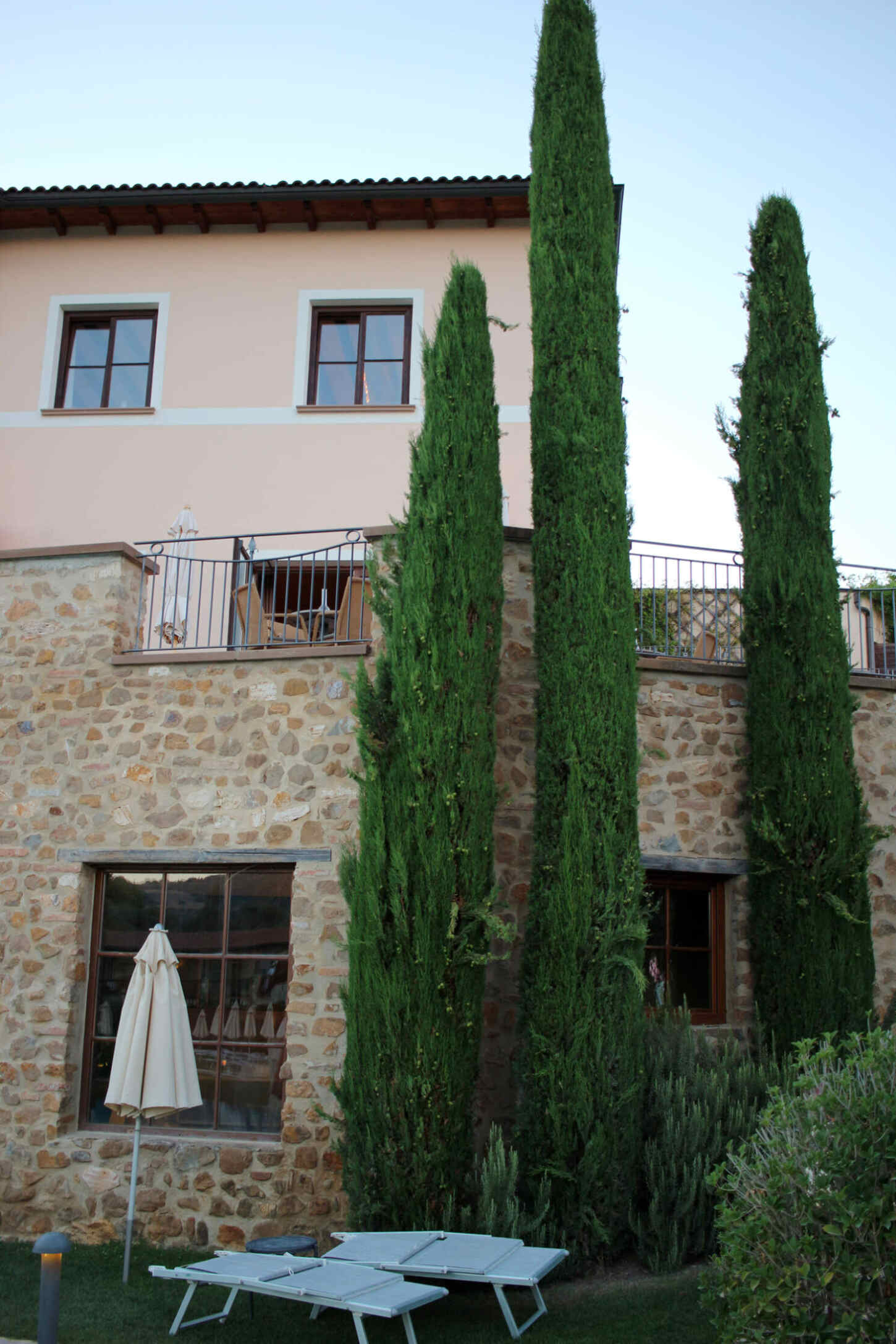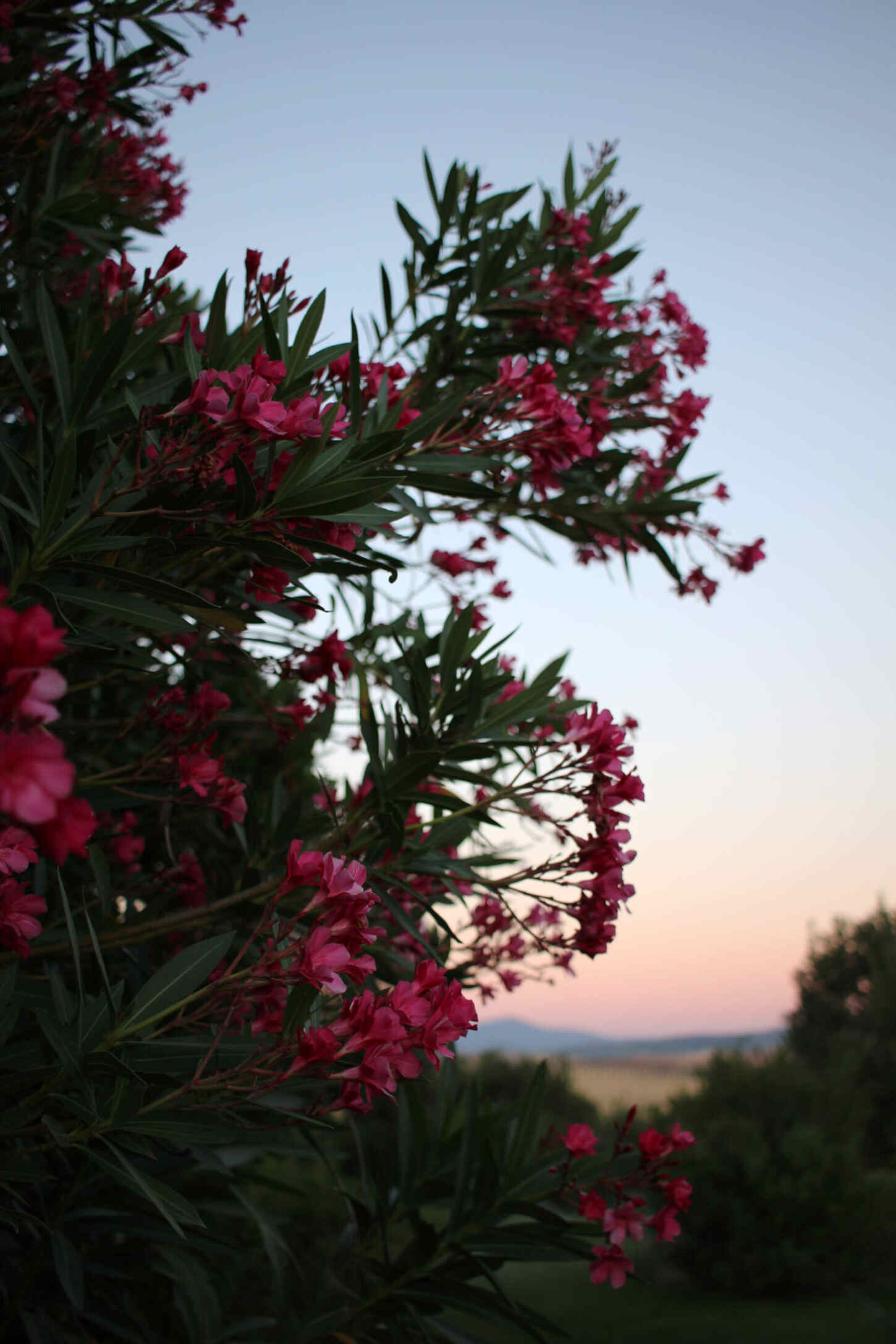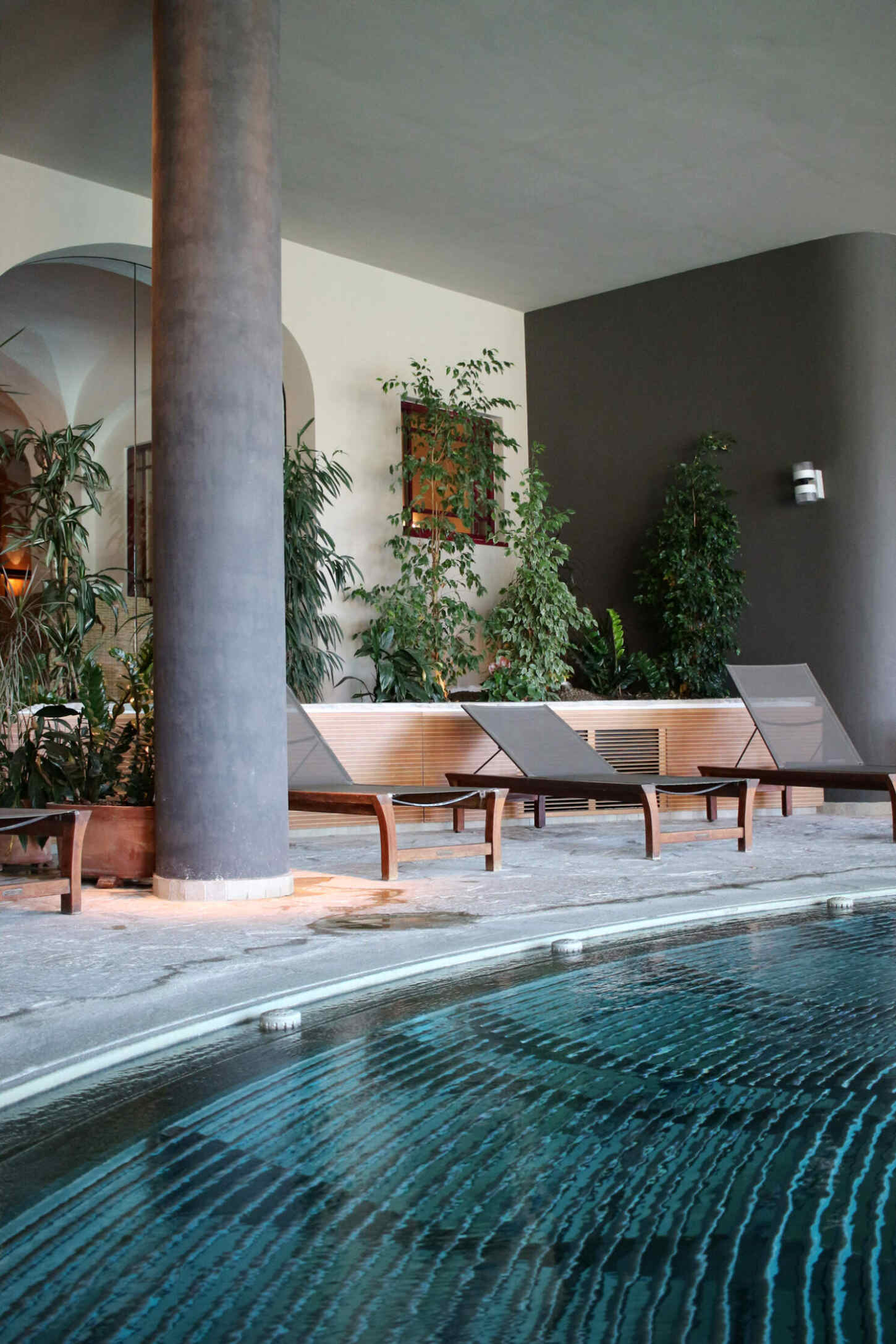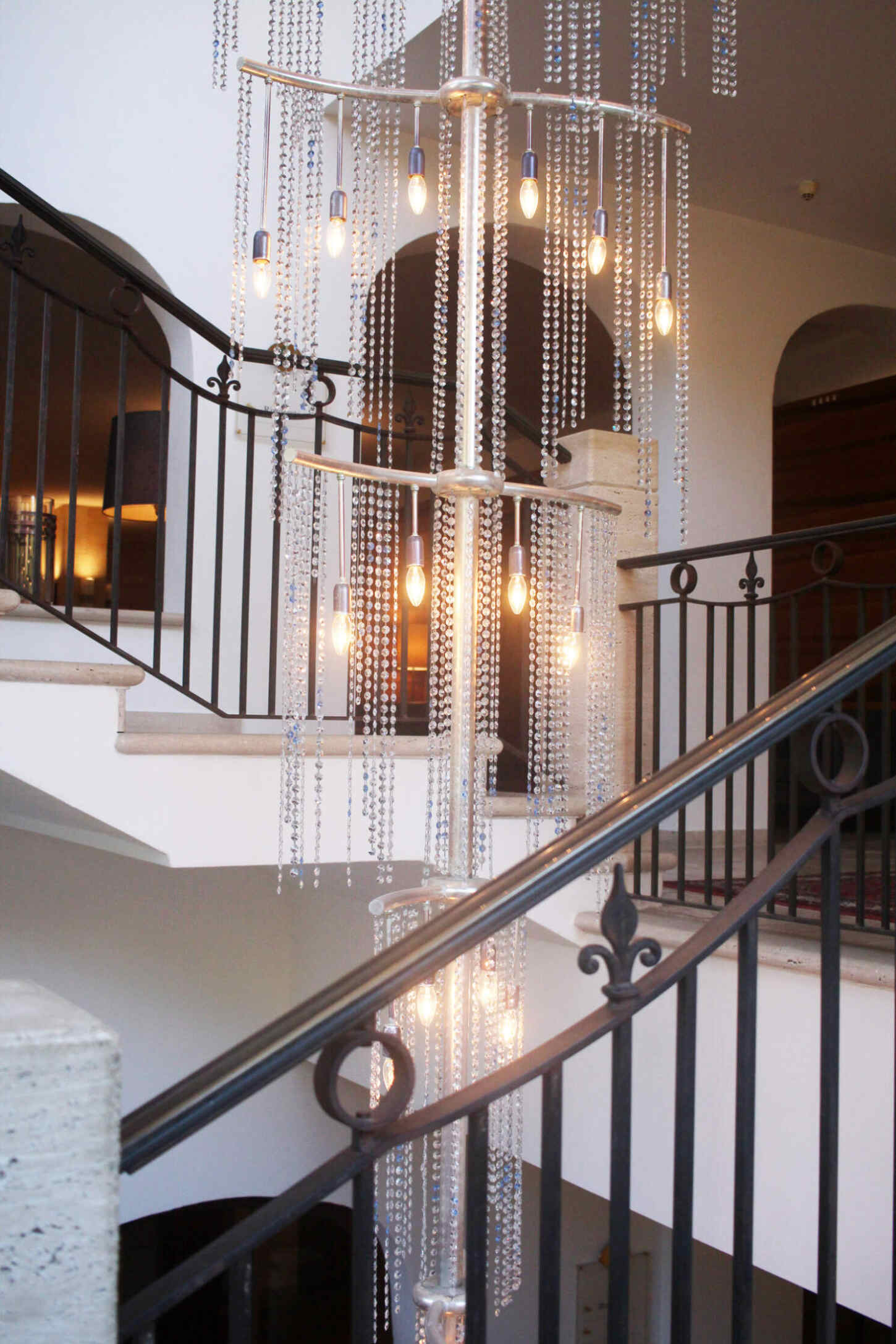 Alder Thermae Hotel and Spa Resort
This is one of those reviews where I don't even know where to begin. The Alder Thermae Tuscany is, hands down, the nicest hotel I have ever stayed in. They have so much choice, so many facilities, such a luxurious feel and a beautiful setting that you can't help feel a mixture of relaxed, pampered and taken care of without really doing anything.
So, let's start with a bit of background on the hotel. It is definitely a luxury hotel, as the website states, and has a 5-star rating which, in my opinion, is well deserved as it was beautiful. They have a strong focus on relaxation as well as exercise (which I'll talk about later) so is perfect for those who want to chill out, but don't want to quit their fitness routine at the same time. Wellness is a big aspect of the Adler Thermae, so expect to feel better just by being there (I know I did!).
They have a variety of rooms from single to family suites, so they are child friendly. They have two pools, a spa, a gym and studio, a bar area, a restaurant for breakfast and dinner, an outside restaurant for lunch, a huge relaxation room, a large garage, plenty of outside space, a kids club and a range of things to hire (from mountain bikes to a BMW i3 eco-car, which we did hire for the day).
I'll talk through each area of the hotel so you can really get a feel for it. It's gonna be a long post, so I'd grab a cuppa now.
The Pool and Outside Space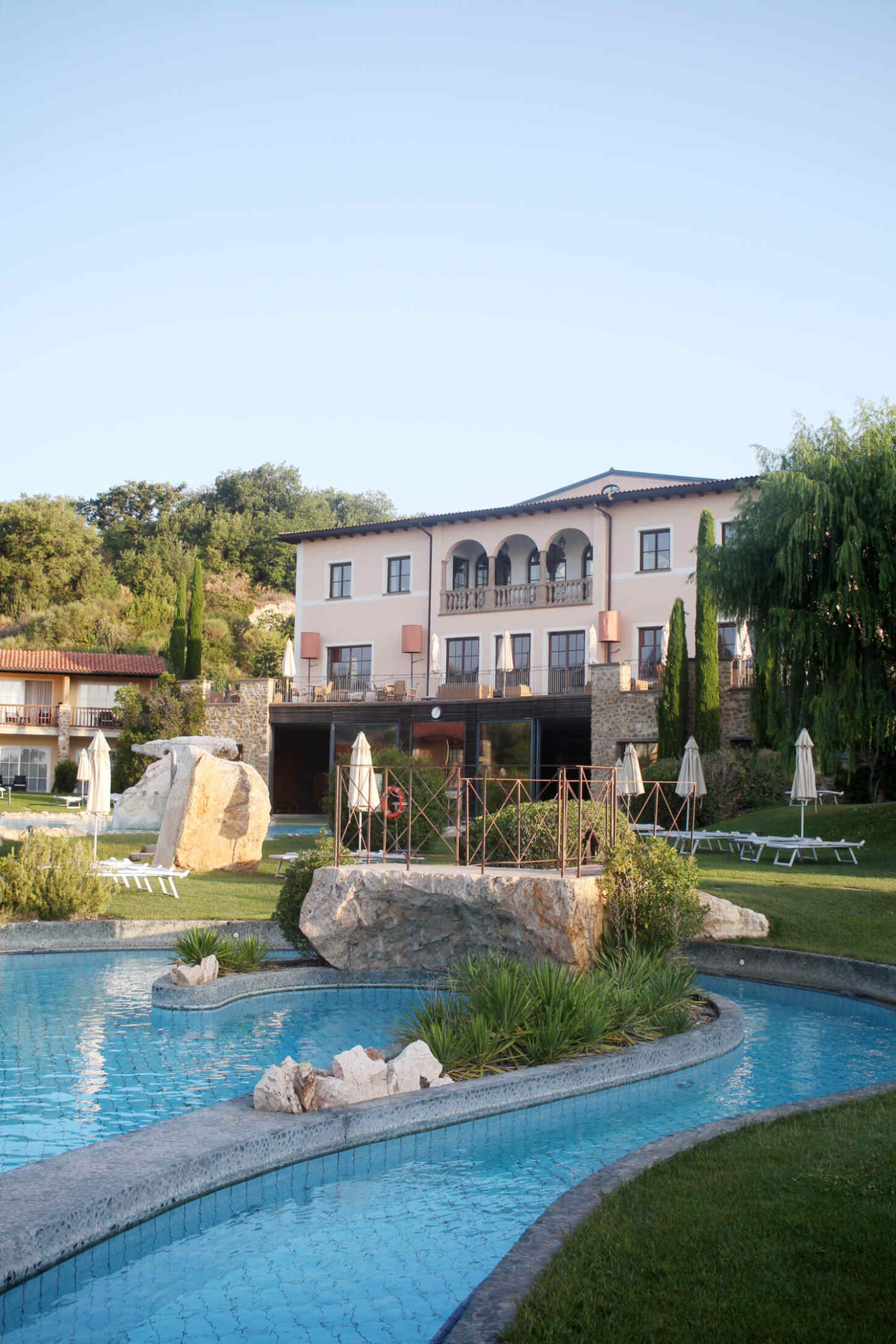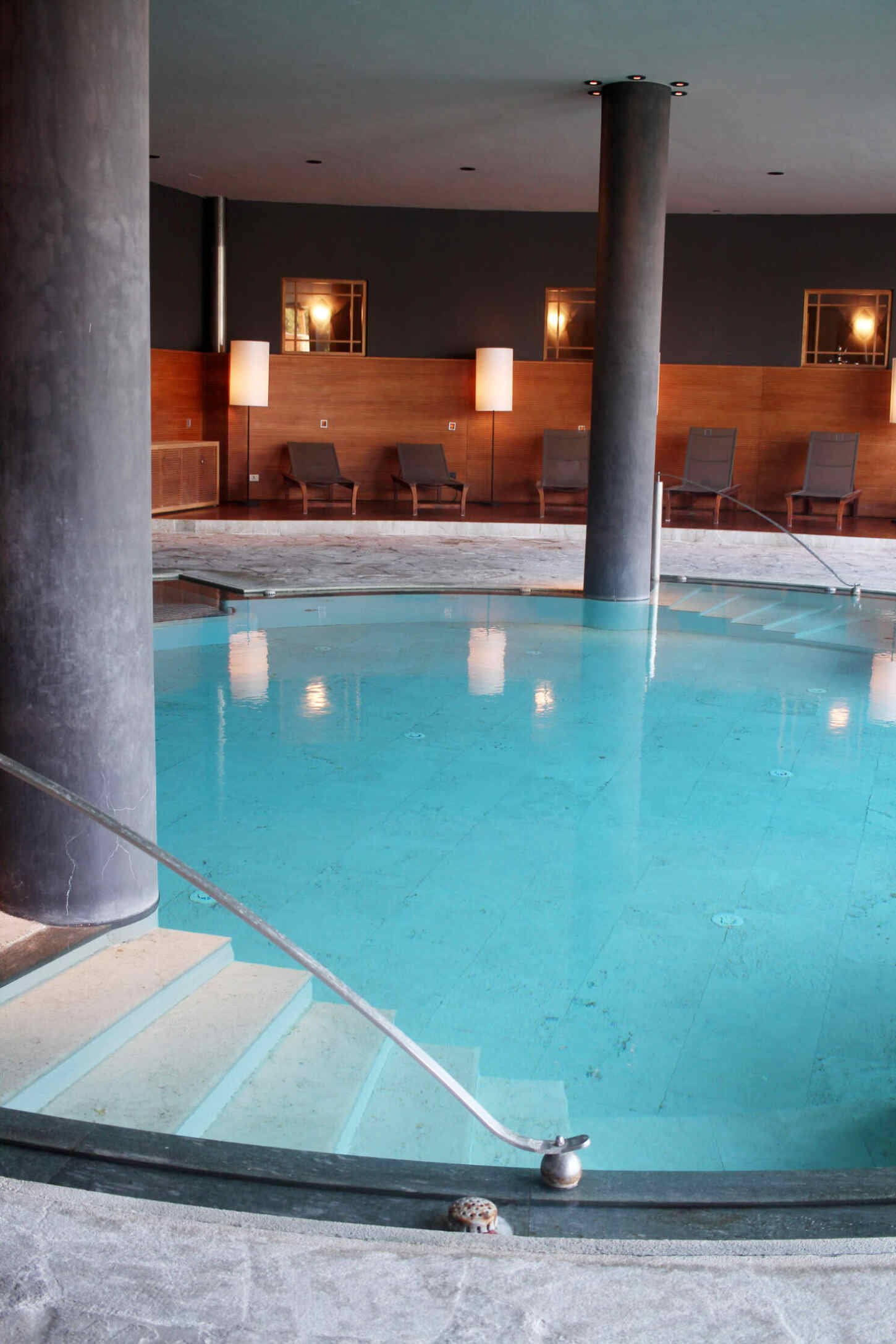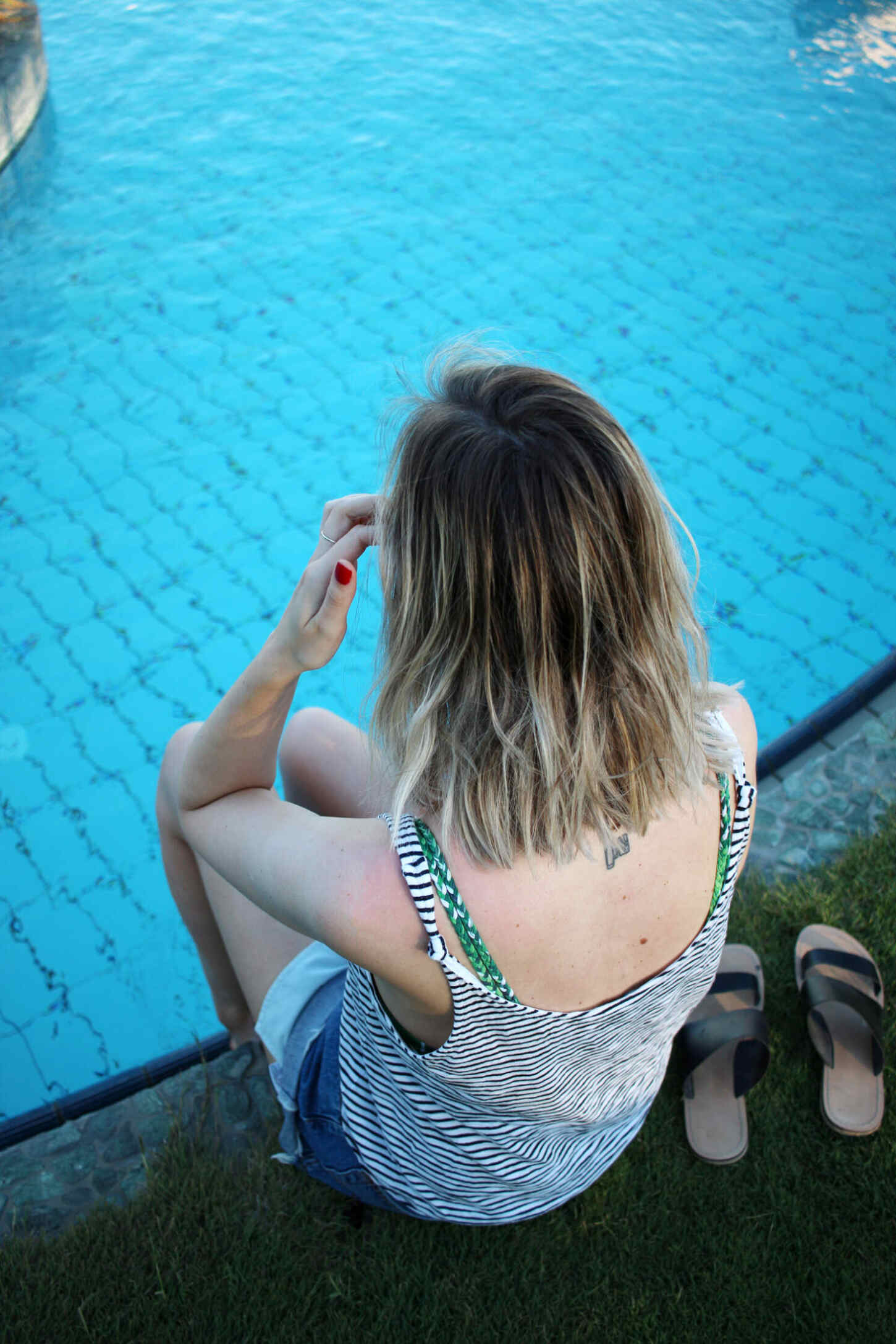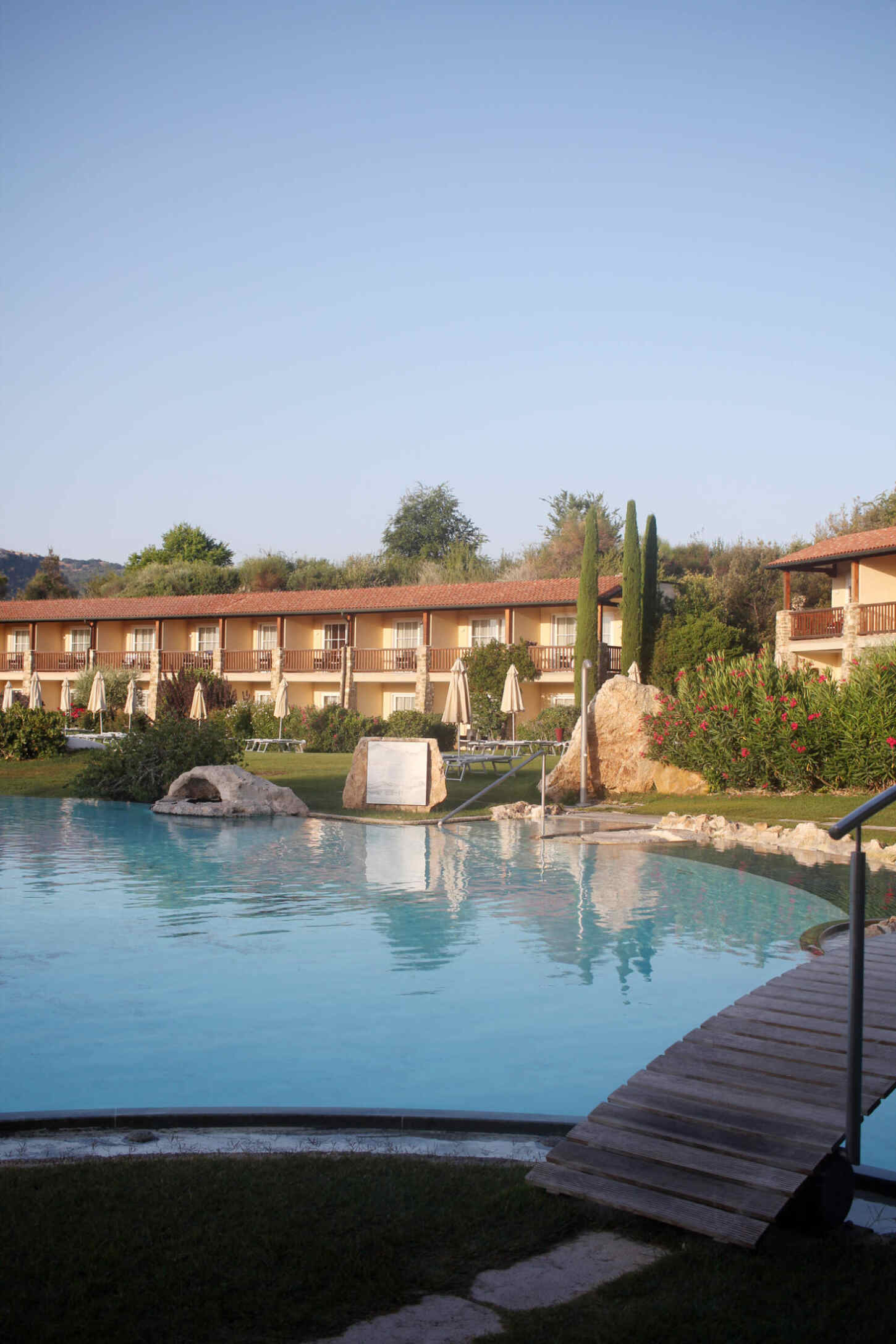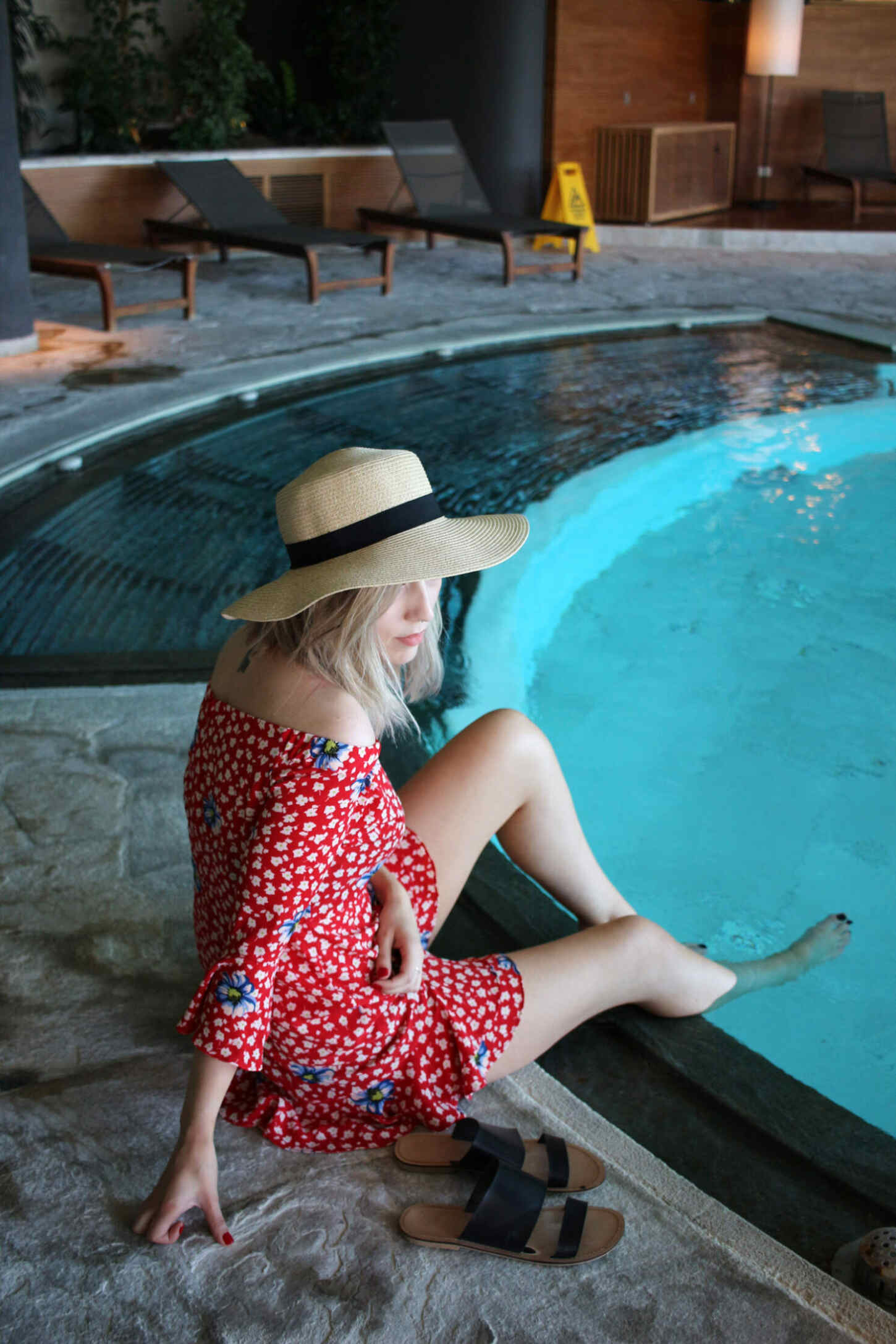 The Pools
I would say the pool is where we spent most of our time when we were at the resort - I mean, could you resist?
They have two pools for you to use. One is classed as a semi-olympic size pool, so expect your standard crystal clear and cooler water affair with this one. There is also a lazy river with jets of water that propel you around at the end, so if you get tired of doing laps you can relax in that section.
The second pool on the property is a Thermal pool, so expect to feel extra pampered when you use this one. This pool goes both indoors and outdoors, so there's plenty of space to swim around. They also have a range of spaces to relax in with aquajets and jacuzzi style features. I particularly liked the bars you can see to the left, as they were moulded so you could lie down, so when the jets were on it was the most comfortable place to chill out. So, so relaxing.
I really loved the pool areas and would recommend you spend a lot of time here if you're thinking of visiting!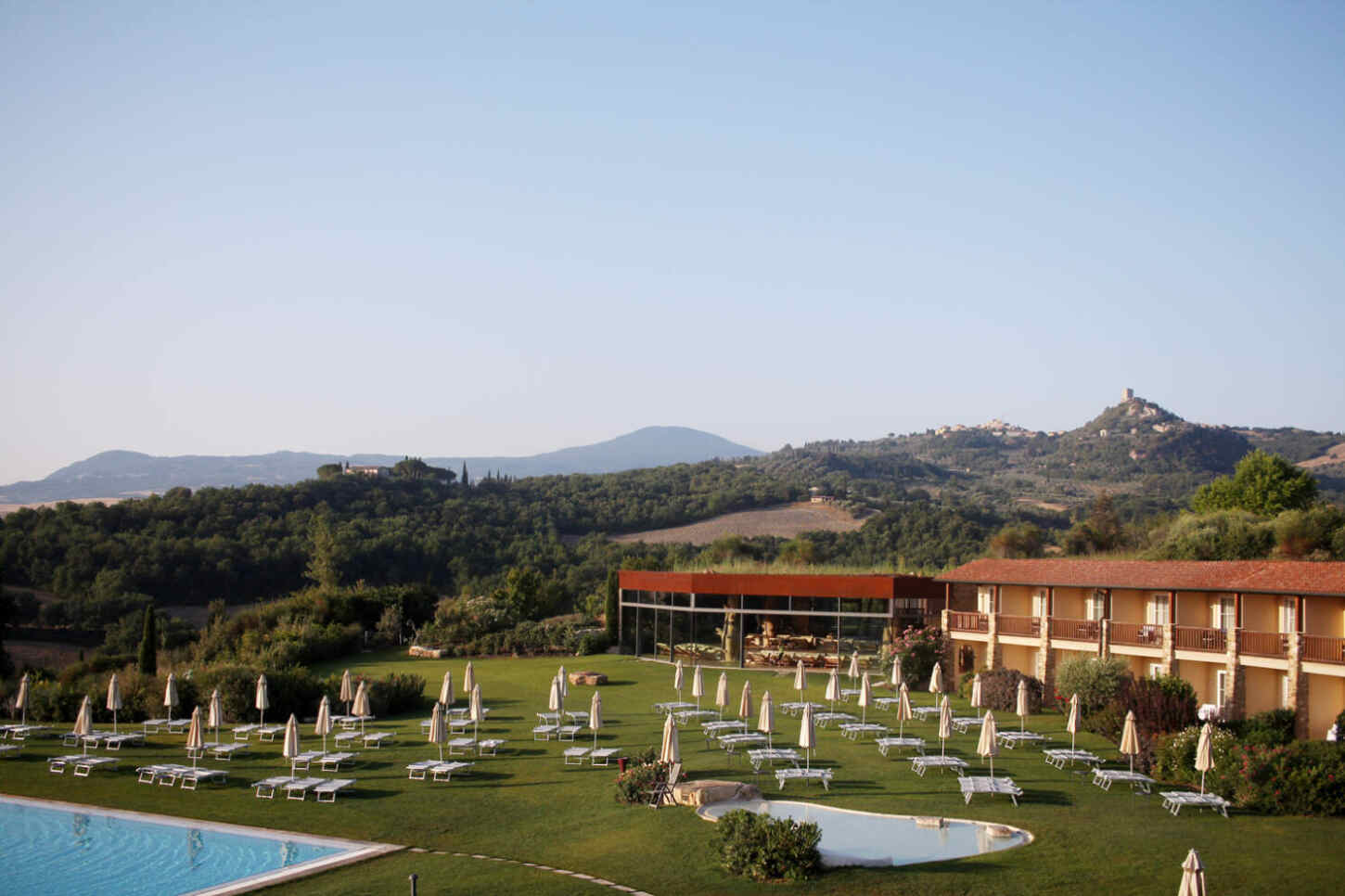 The Spa, Gym and Facilities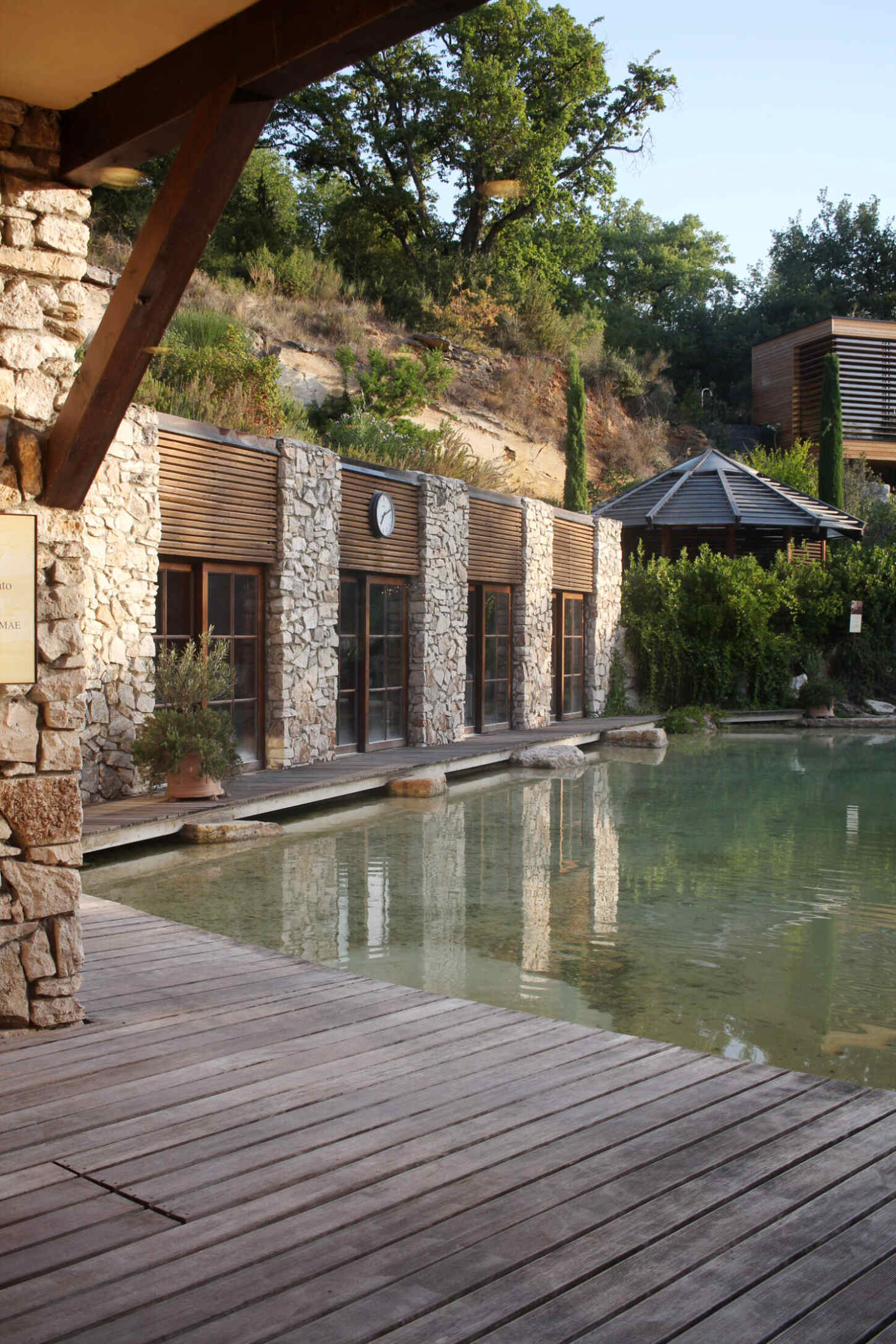 The Spa
As the Adler Thermae focuses heavily on wellness, the spa is a main feature of this hotel and, like everything else, it was a gorgeous space. Located on the same level as the pools, the spa has a huge range of facilities for you to enjoy.
In their outside space, they have an amazing range of facilities to indulge in. There's a classic sauna with views of the Tuscan hills with special vapour to help you feel more relaxed. There's a bio-sauna on their travertine lake which aims to help breathing and relaxes your muscles. They have a steam bath in a cave (I know, they literally have everything) and a typical Etruscan steam bath, which uses the high levels of humidity to cleanses your skin and detoxifies.
The hotel offers a herbal caldarium which opens your pores and helps you feel more relaxed. Finally, there's an Oriental Rasul in which you apply mud/soap which acts like a peel in the steam bath, you then shower and apply a rich oil to truly pamper your skin.
They also do a range of treatments and we were treated to a 50-minute full-body massage with olive oil which was the perfect amount of pampering. They have a huge array of spa treatments though, from facials to thermal treatments to full body check ups, so there's plenty to pick from.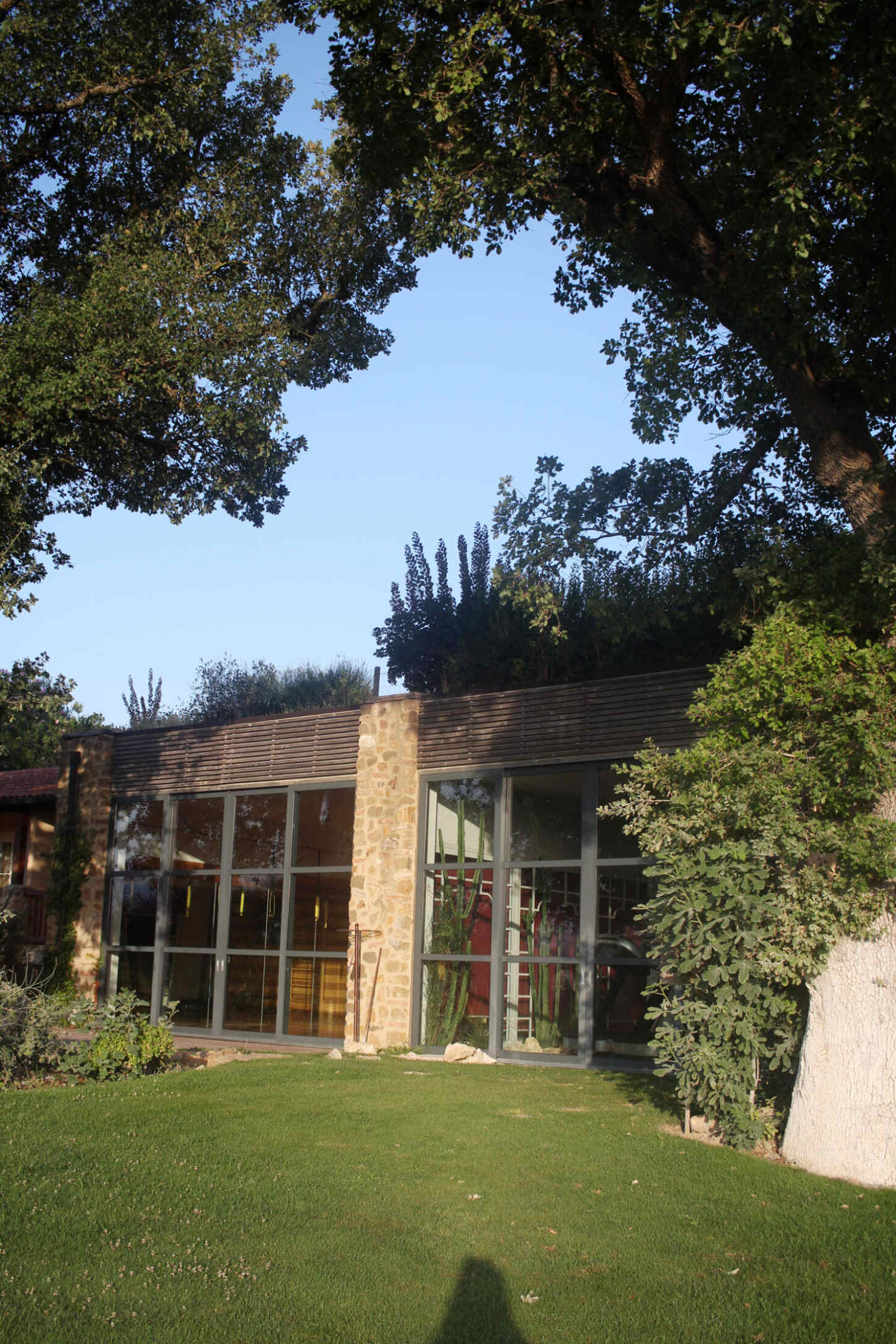 The Gym and Outdoor Facilities
The gym and fitness program, along with the spa, is quite a central aspect to the hotel. There's a full stocked gym with all of the machines you would need, as well as treadmills outside on the roof so you can run and take in amazing views of Tuscany. They also have a studio so you can work on your yoga or do your own routine in there too.
Alongside this, they also have a timetable of activities which you're welcome to join in on. From using the pool to do yoga with an instructor on a morning to aqua bikes (basically spinning, but in water) on an afternoon. You can do more high intensity classes if you wish in the studio or do some stretching before dinner. You get a schedule on arrival so you can plan out your week, so it's worth booking in for a few classes and trying them all out!
There's also bikes to hire and you can do cycling or hiking tours of the Tuscan hills, complete with guides if you don't want to wander on your own. There's honestly everything you could ever ask for in a hotel at the Adler Thermae, but do check out their website for every fitness offering as their list is quite extensive!
The Food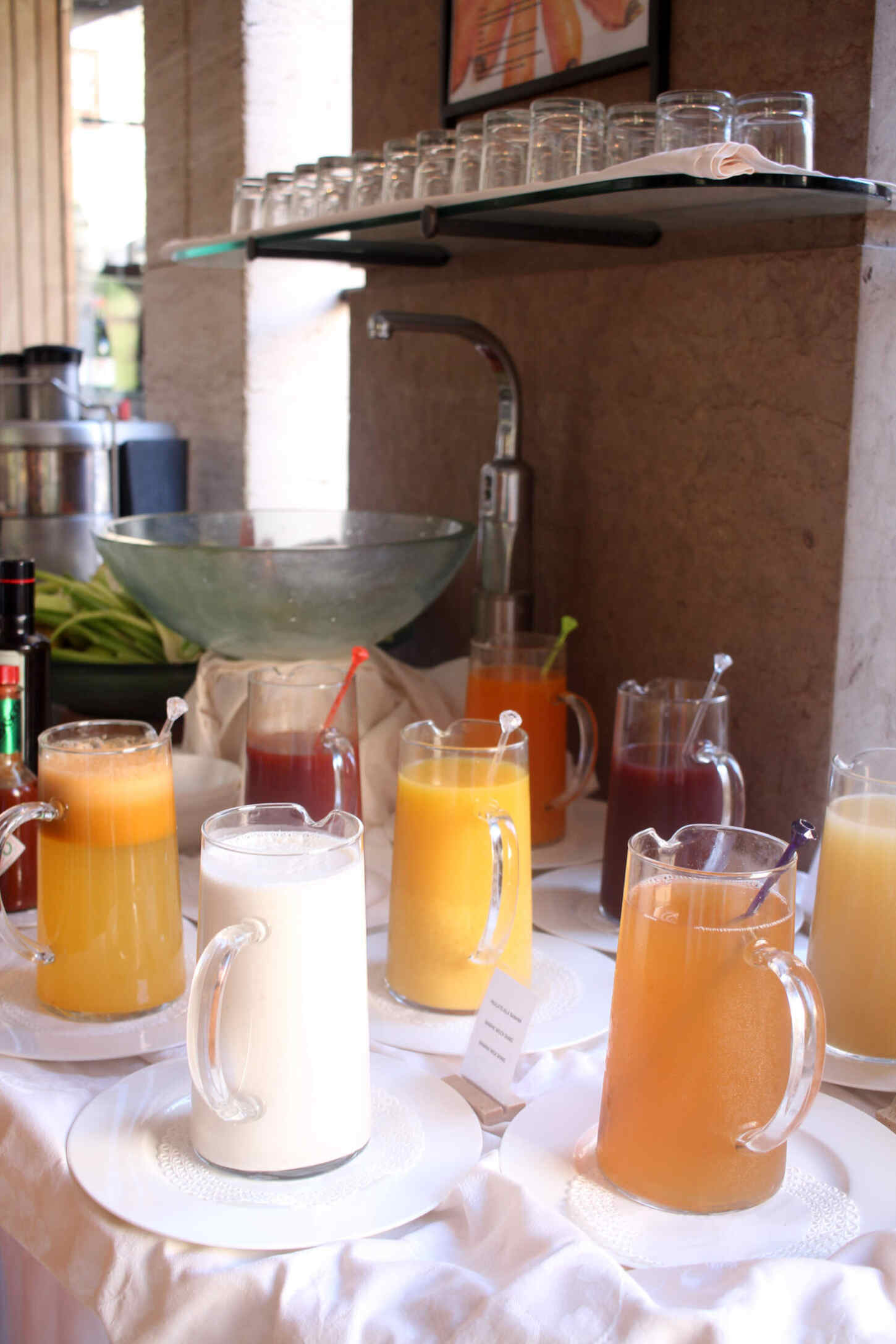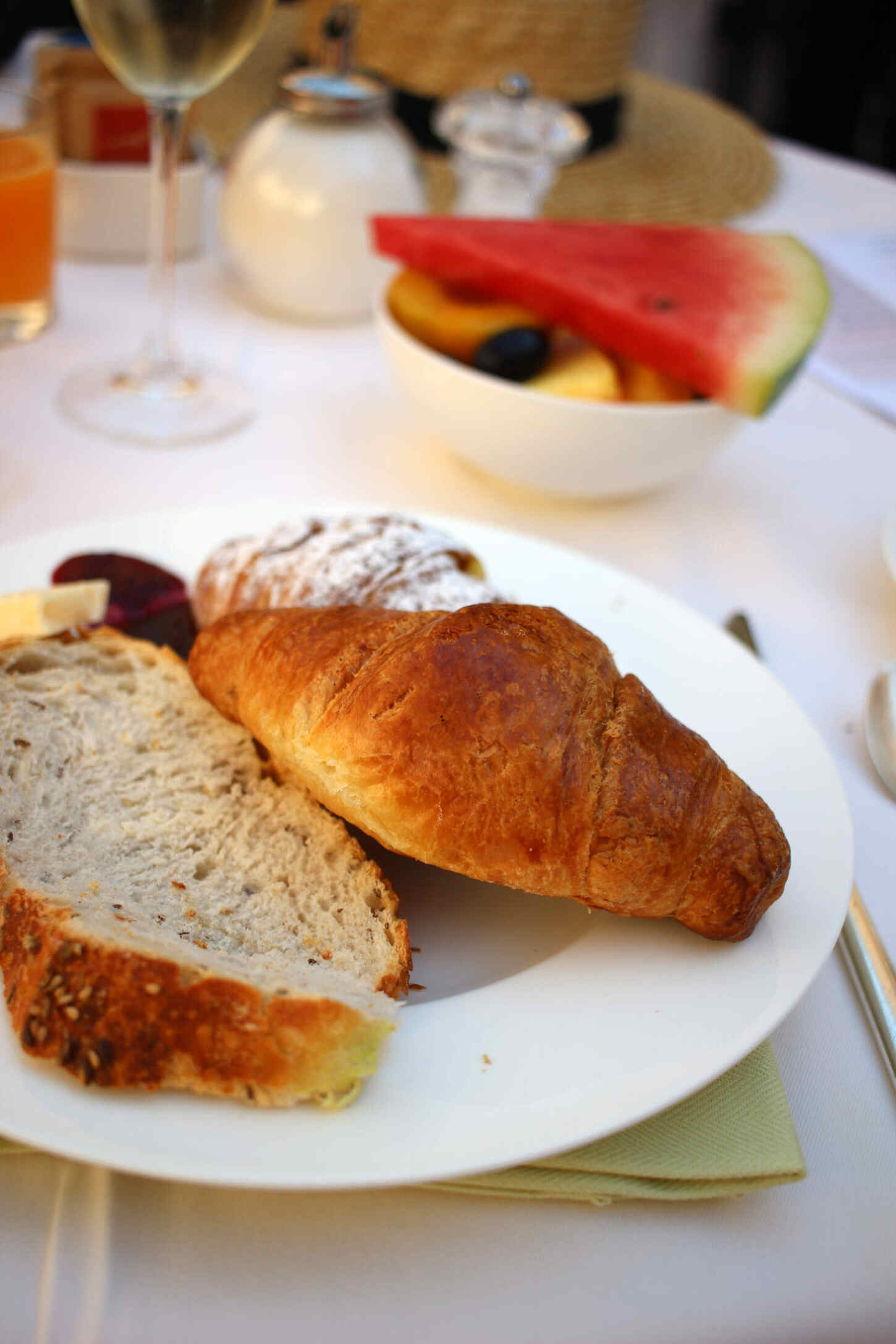 Breakfast
I'll admit I rare eat breakfast at home because it's such a chore and I never have anything nice in, but having breakfast every day at the Adler Thermae made me want to change this ASAP.
They put on such an amazing buffet breakfast every morning, so you can try an array of things each day depending on what you fancy.
As soon as you walk into the room, you're greeted with an array of baked goods. There's homemade croissants (plain, marmalade filled, honey filled, cream filled, the list goes on...) and pastries, to their huge range of freshly baked bread and even cakes and tarts. There's someone to make you crepes and pancakes too!
There's a huge selection of fresh fruit - I became a bit obsessed with the pineapple and peaches - for you to pick from. There's also different types of honey, jam, marmalade and they're all delicious! Homemade yogurt and a range of cereal and toppers are available too, so if you want to make your own smoothie-bowl style breakfast then there's chia seeds and all sorts to put it all together.
If you're more of a continental breakfast fan, you can get cheese, different meats or even get an omelette made up for you. There's salmon and eggs and tomatoes and so many delicious things!
My favourite section has to be the juice though, there's so much choice. I became completely addicted to the freshly squeezed orange juice - it became a five a day habit!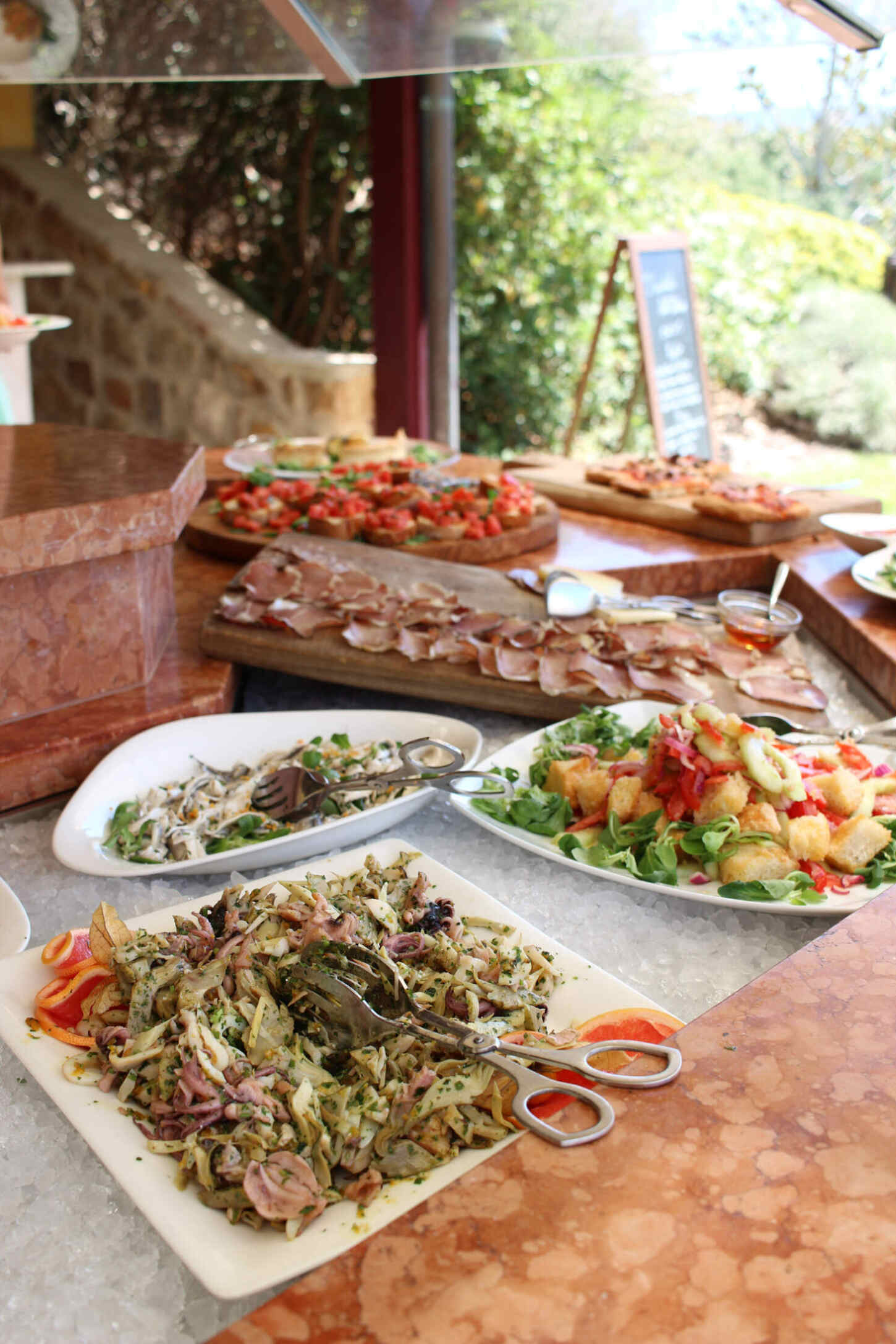 Lunch and Snacks
We stopped in the hotel for lunch one day (we were staying half-board) just to try it because the buffet caught our eye - how amazing does it look?
We assumed lunch was just the selection in the photos, but nope, it true Italian style it's this plus two courses. I honestly couldn't get enough of the appetisers - the mozzarella is addictive - as there's a great selection. From bruschetta with juicy tomatoes to melon and parma ham to seafood and delicious salads - there's plenty to pick from and lots of olive oil and balsamic to dip your freshly baked bread in.
Once you've finished that, you get to pick from their lunch menu. For my first course, I opted for fresh pasta with lots of olive oil, garlic and a bit of chilli which was delicious and simple - the perfect Italian dish. For the next course, I opted for the mixed seafood, so I got a selection of grilled salmon, tuna and squid (or octopus?) with lemon and olive oil. It was so fresh and tasty!
I had to top this off with a fresh orange juice and the waiter kindly brought over a glass of prosecco each which was such a nice touch!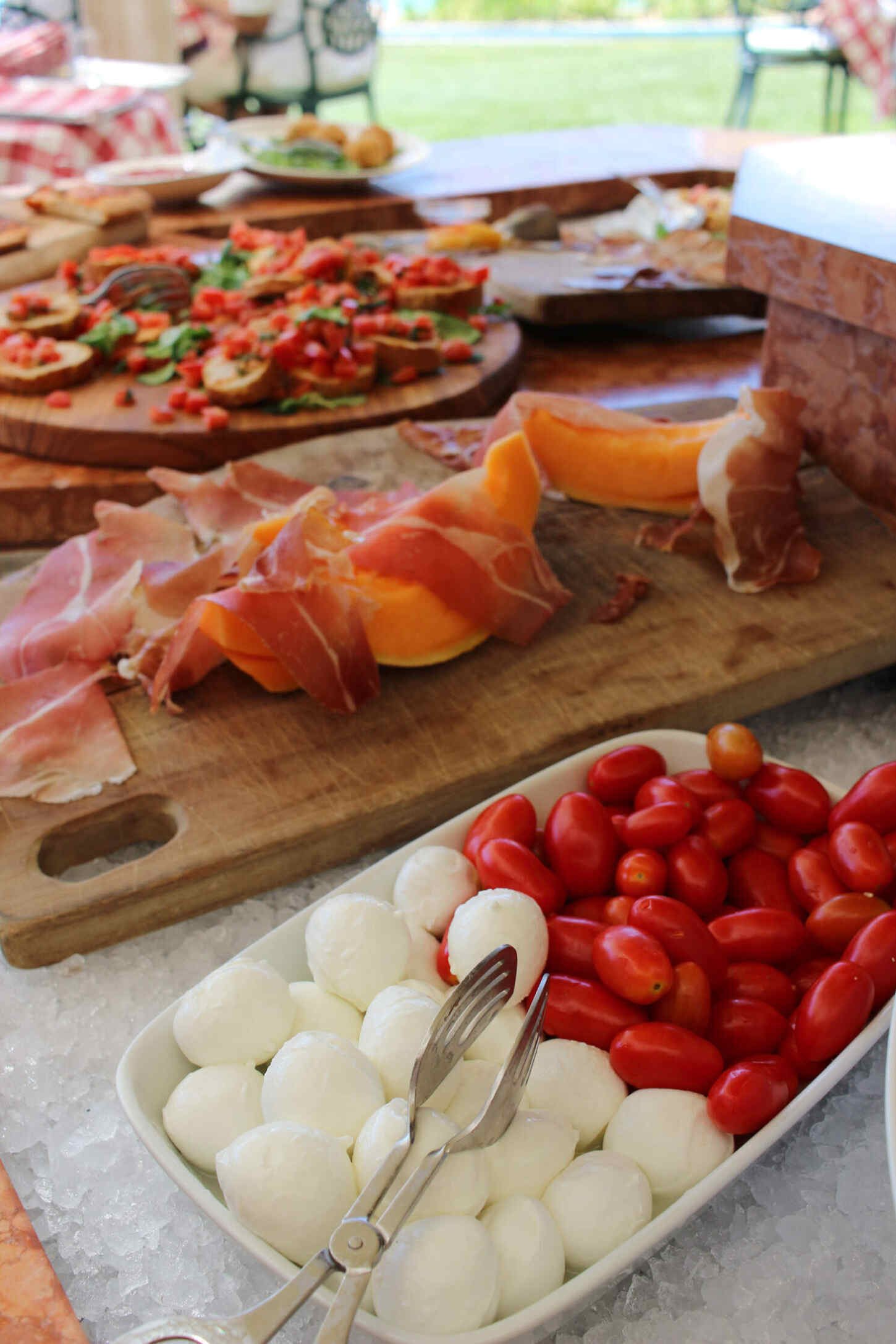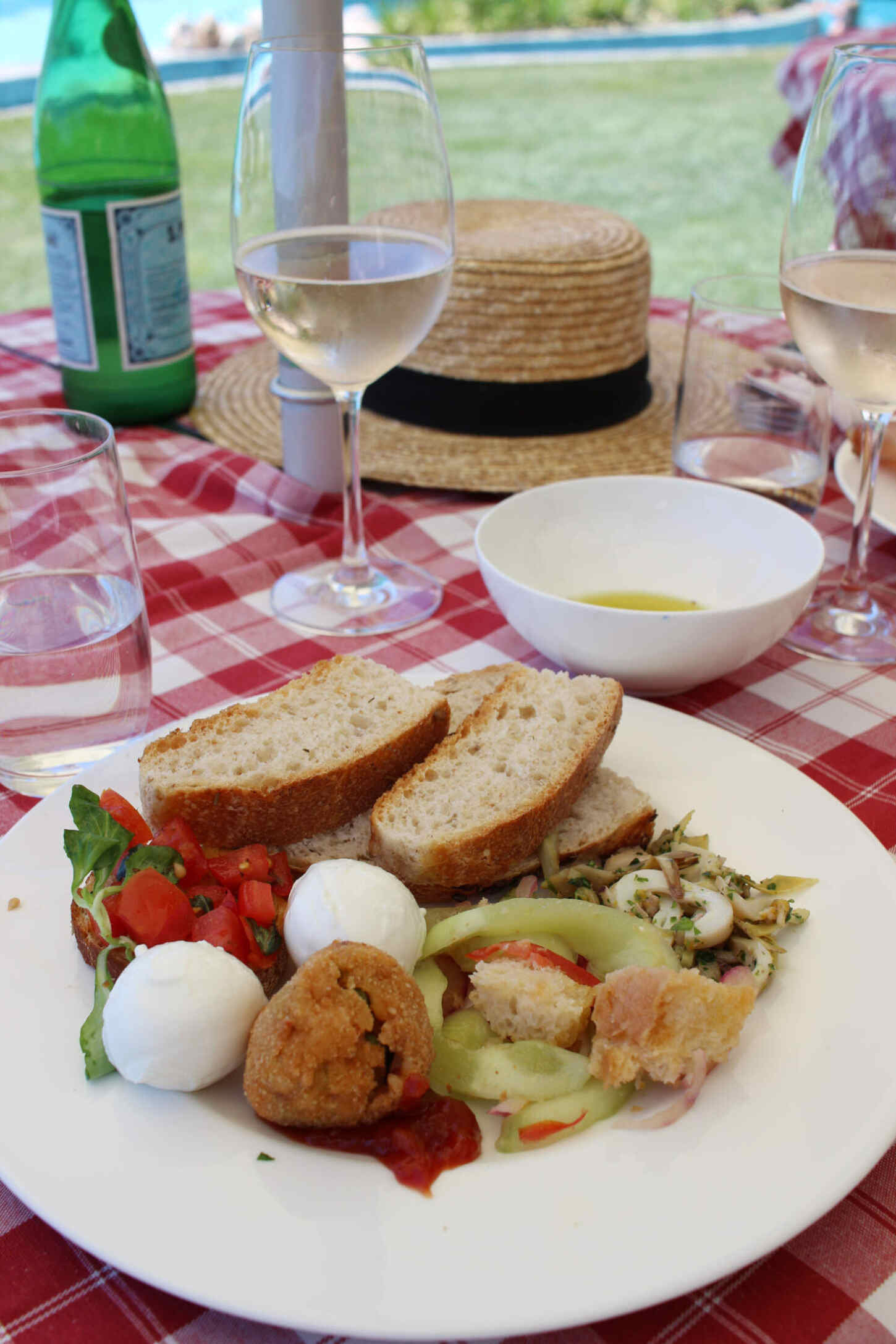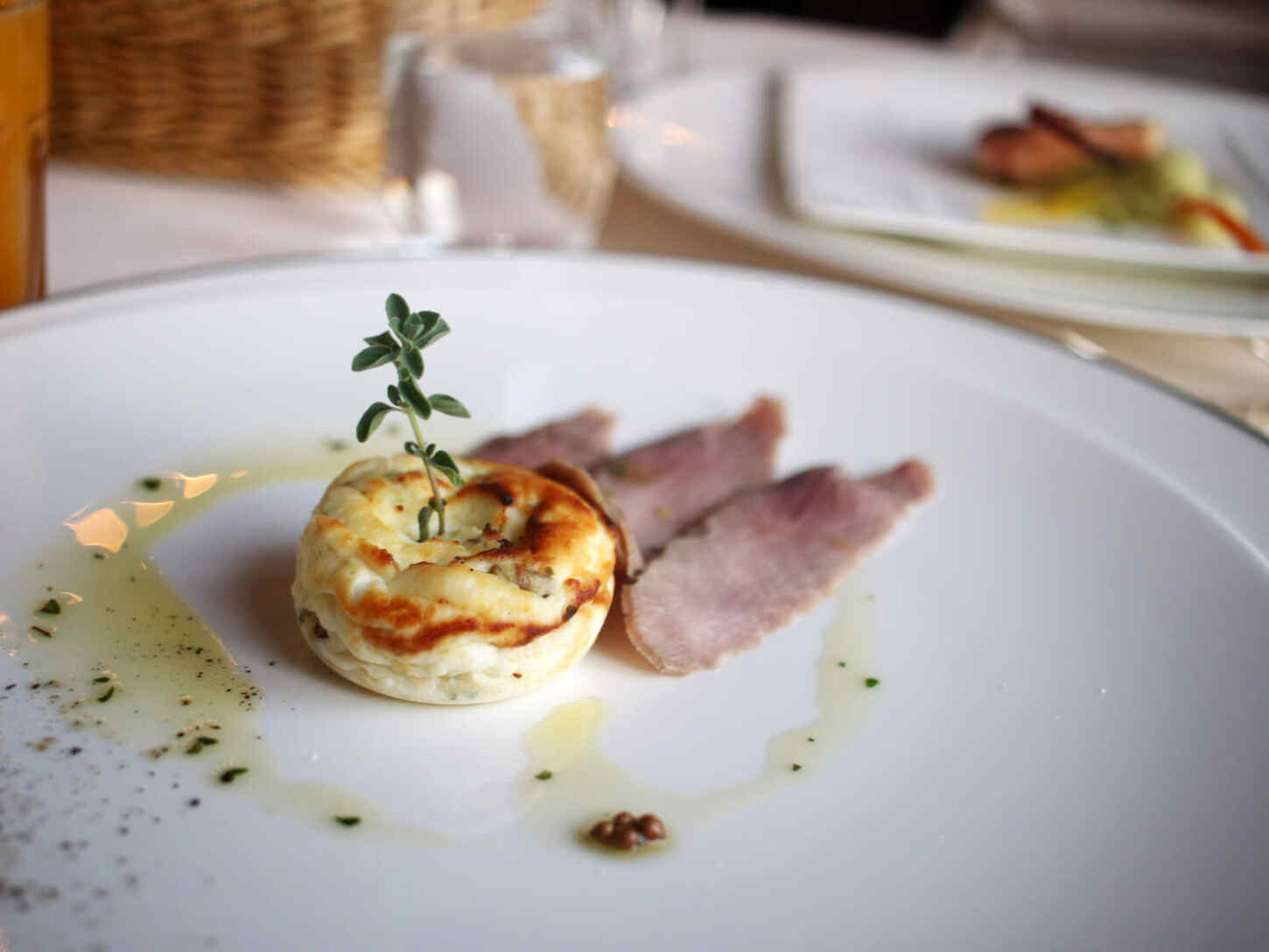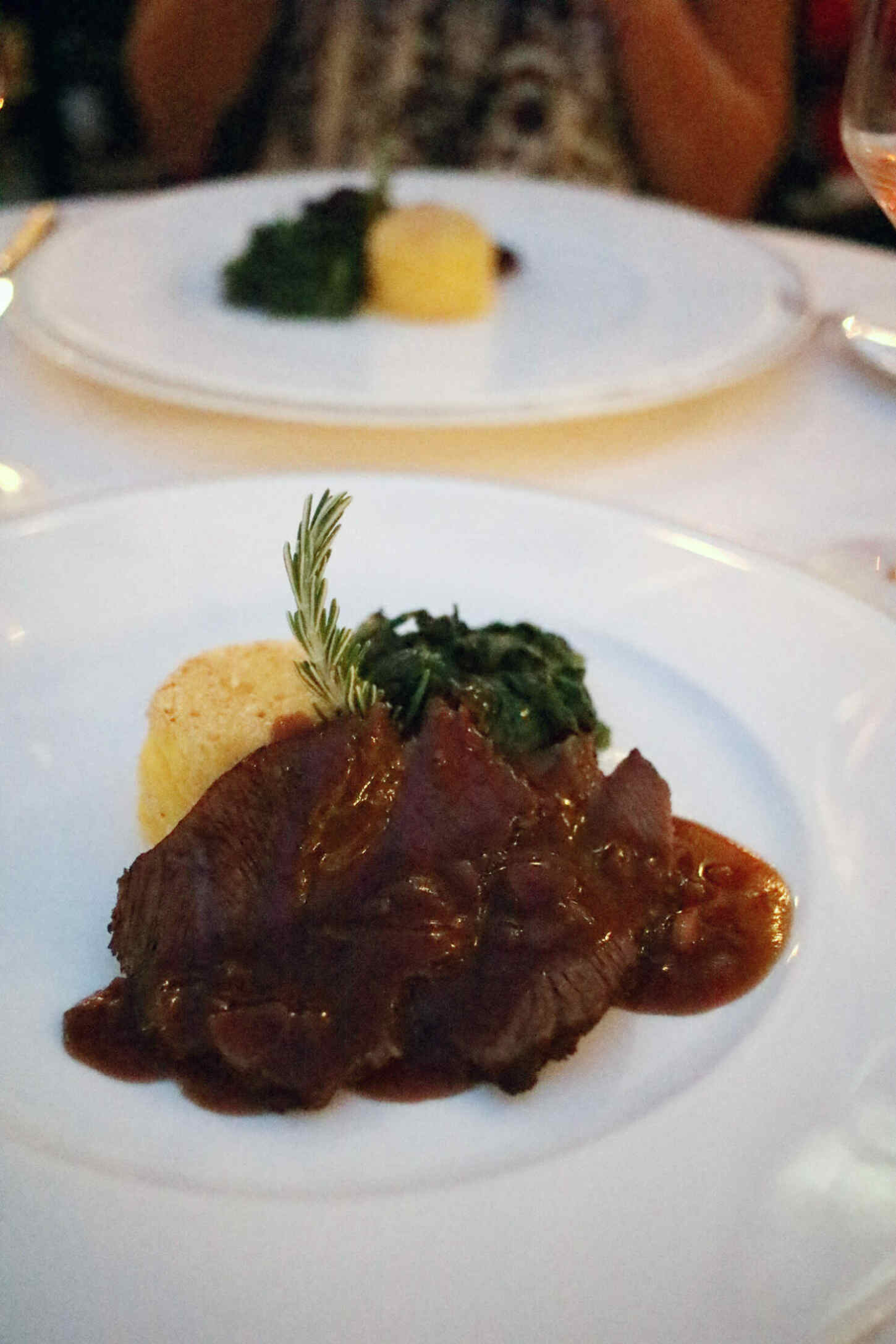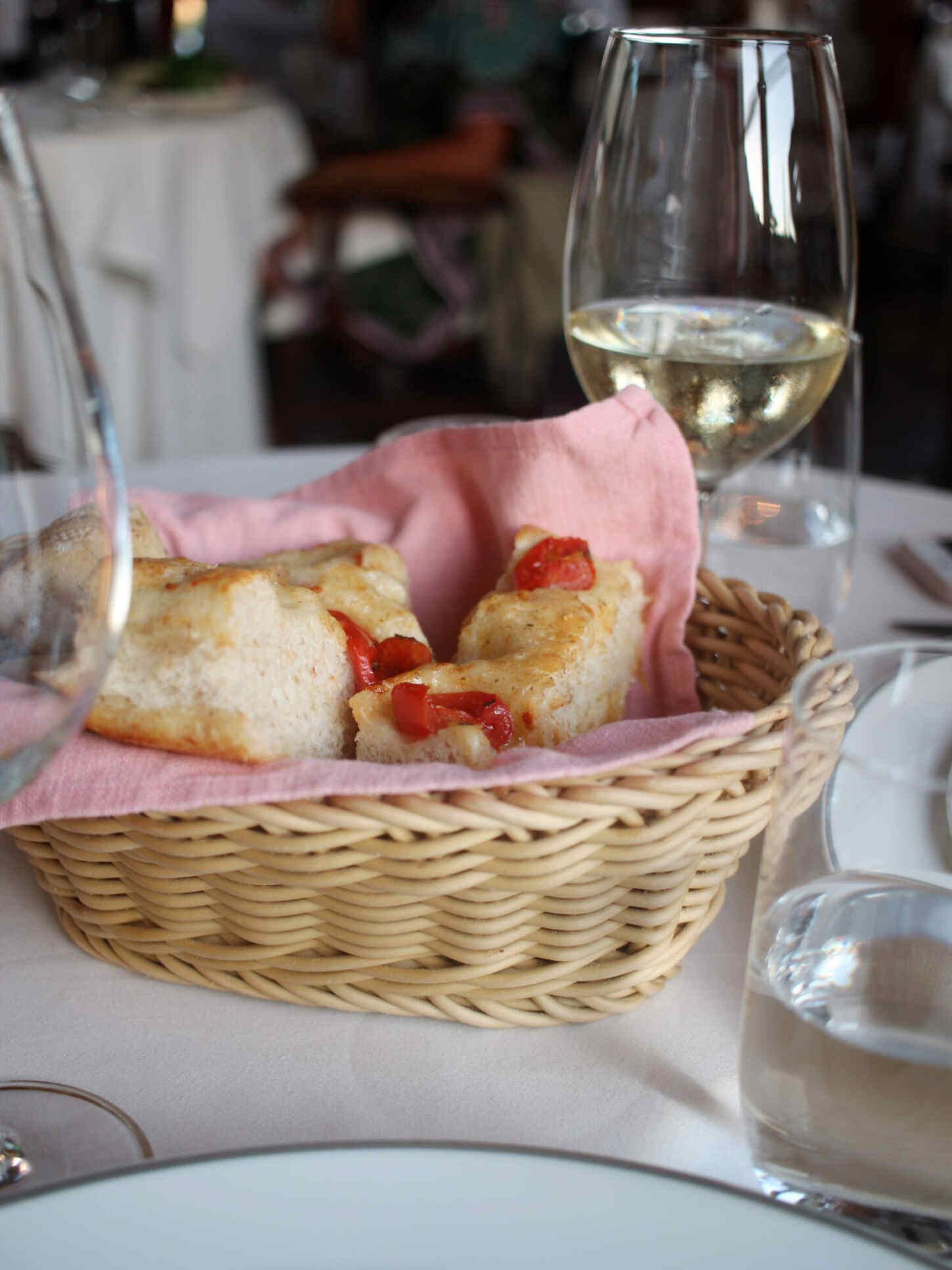 Dinner
The restaurant located on the top floor is so beautiful to sit in on an evening. They open the roof pretty much all of the time, but it lets a beautiful breeze in on a nighttime which makes the dinner experience even better.
Adler Thermae changes the menu every day so there's plenty to try. They have a little cypress tree symbol next to options that are authentic/traditional Tuscan dishes, so if you're set on trying some local dishes then there's at least one every evening to sample.
The buffet area is stocked full every single night, so you can get a lovely salad (or eat more mozzarella, like I did...) before your meal or to accompany it. I just love how fresh everything is and they bake batches of bread every single day - I'm just mad that I only discovered their tomato and mozzarella bread on the last night! It's beyond delicious.
Anyway, we got to try such a huge range of dishes. From local pici pasta with a ragu sauce (amazing) to tagliata and sausages (also a traditional dish) to beef cheeks to amazing boar strips to beautiful seafood and more. Honestly, I've never sampled such a selection of delicious food in my life. I got to taste new things and food I'd never had before, so I am very appreciative of that. I can genuinely say I did not have a single bad dish or meal the entire time we were there!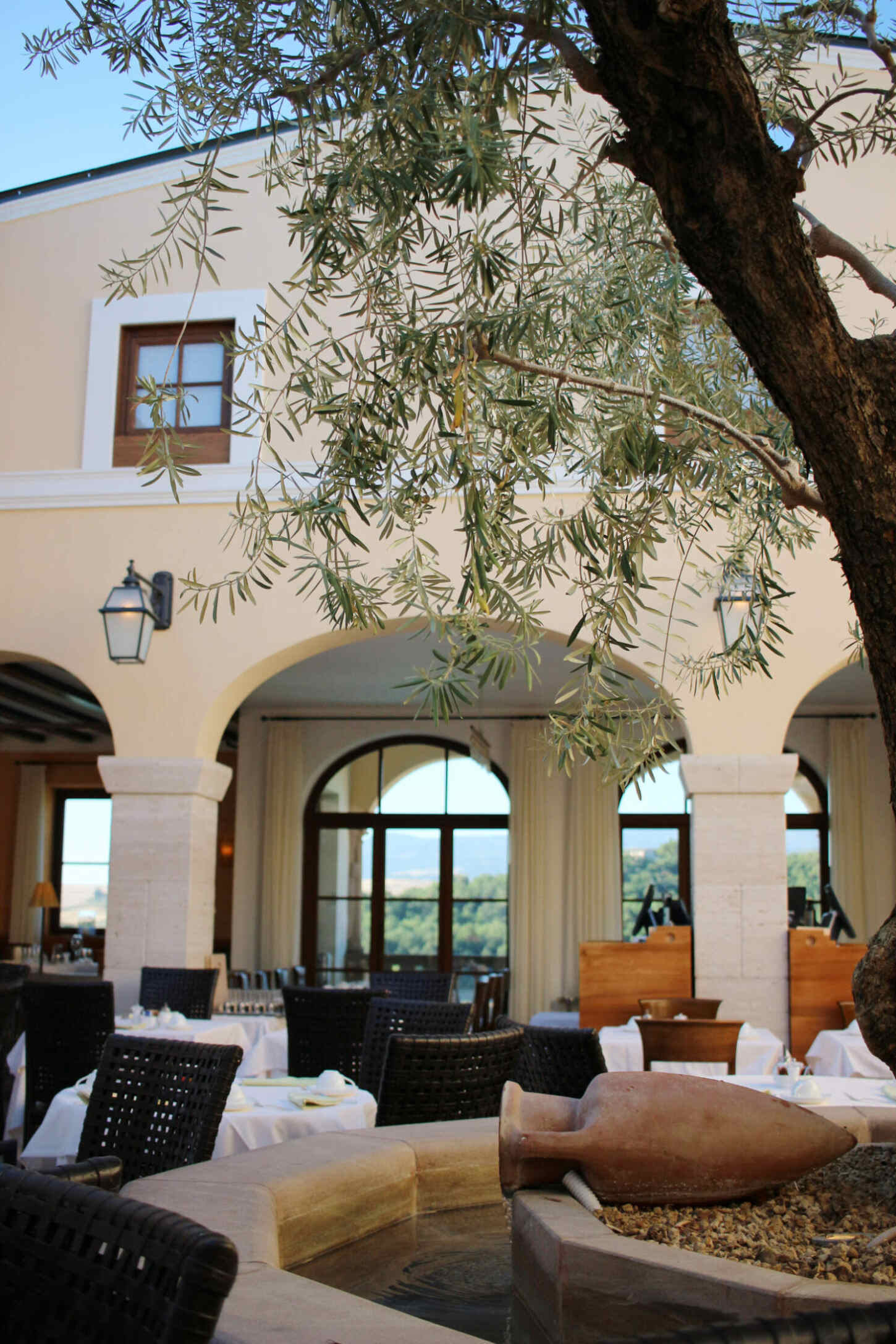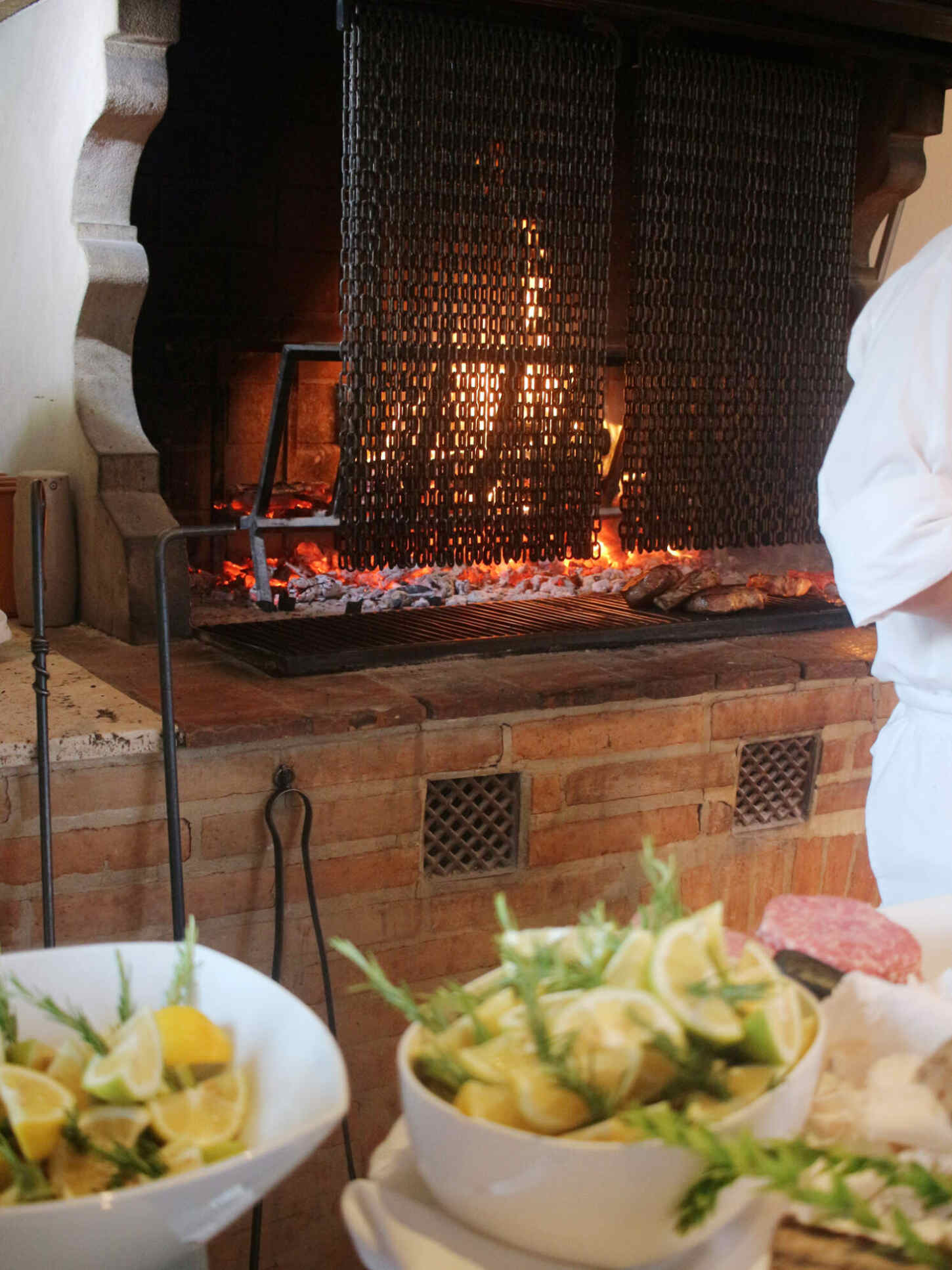 Conclusion
I had a wonderful stay at the Alder Thermae. I didn't actually know what to expect, as I think the photos of the website don't portray the resort in full, but I was so happy to be staying there when I arrived. From the moment you pull up, the resort looks beautiful and very impressive. The staff were friendly and accommodating, nothing was an issue and that's something that's so important to me.
The facilities available are extensive and there's really something for everyone, which makes the resort a perfect option for those who want to chill, or want to be more active or just want to feel pampered.
Our room was gorgeous, the bathroom was large and the beds were extremely comfortable. We got our own patio with a beautiful view of the Tuscan hills and it was just so beautiful to see from the moment you arrive - it definitely has that 'wow' factor.
The food was beautiful and I enjoyed every single meal. From breakfast to lunch to dinner, it was presented well and the waiters/waitresses were so friendly and were happy to get anything for you if you needed it.
Overall, I would give the hotel a 10/10 and I would return in a heartbeat! I'm already looking at what other hotels they have just so I can see where else I can stay, as I was so impressed with my first experience with Adler. They're definitely a luxury option but, in my opinion, worth the money for the facilities and services they provide. It was a truly amazing holiday!
Helen x