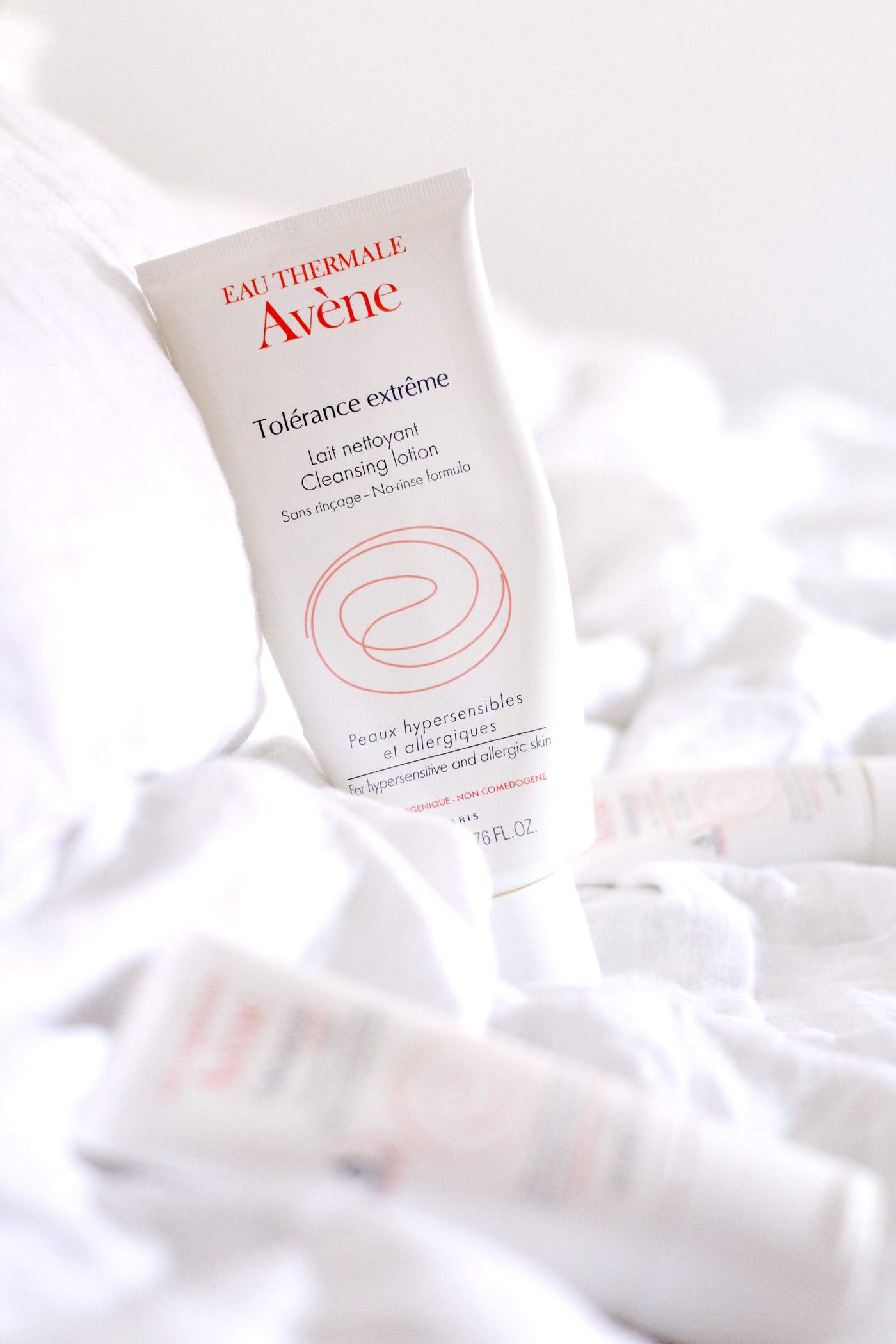 So, as you'll have seen from my last post (here) I've been exclusively testing Avène's Tolérance EXTRÊME range to see what difference it makes to my skin over a three week period. Just for a little backstory, the Avène Tolérance EXTRÊME range is designed with minimal ingredients – seven or less per product – to make sure your skin is getting everything it needs without unnecessary fragrance or irritants that can cause your skin to become overloaded and ultimately react. In short: it's the ultimate back to basics skincare range, perfect for those with sensitive skin or for people who want to keep what they put on their skin to a minimum.
I've been trying a cleanser, their cult spray, two different moisturisers and a mask so I'll run through each product and my thoughts. Starting with Avène Tolérance EXTRÊME Cleanser, firstly I love how it has zero scent. Seriously, I sniffed it for way too long trying to see if it did. It has a creamy formula and I use it as a second cleanse to purify my skin as opposed to remove makeup. I really like this cleanser as it leaves my skin feeling very smooth and I'll continue to use it until the tube is empty (and I'll probably repurchase!). The Avène Thermale Spring Water Spray has been a bit of a cult product for years now and it's oh so soothing in warm weather! I actually bought a small hangbag size when I was in Venice as it works wonders for feeling like you're restoring some balance to your skin.
Next are the moisturisers! The Avène Tolérance EXTRÊME Emulsion is designed for normal to combination skin and is a lighter formula so is easily absorbed into skin. I used this during the day and it works well under makeup, yet keeps my skin hydrated and feeling smooth. I used the Avène Tolérance EXTRÊME Cream on an evening as that's more for normal to dry skin, so works well overnight to repair skin and leave it looking plump on the morning. It's very nourishing! If my skin needed a boost, I would apply a layer of the Avène Tolérance EXTRÊME Mask to soothe my skin and up the hydration levels. It has anti-irritating benefits and glycerine which locks in hydration, so it really does make your skin fee like it's had a big drink!
All in all, I'm really impressed with this skincare range. As soon as I'd stopped the trial, I tried some other products which immediately broke my skin out so I think I'll be going back to the Avène Tolérance EXTRÊME range ASAP! If your skin tolerates very little, then definitely check this range out.
Helen x
*post in collaboration with the lovely Avène