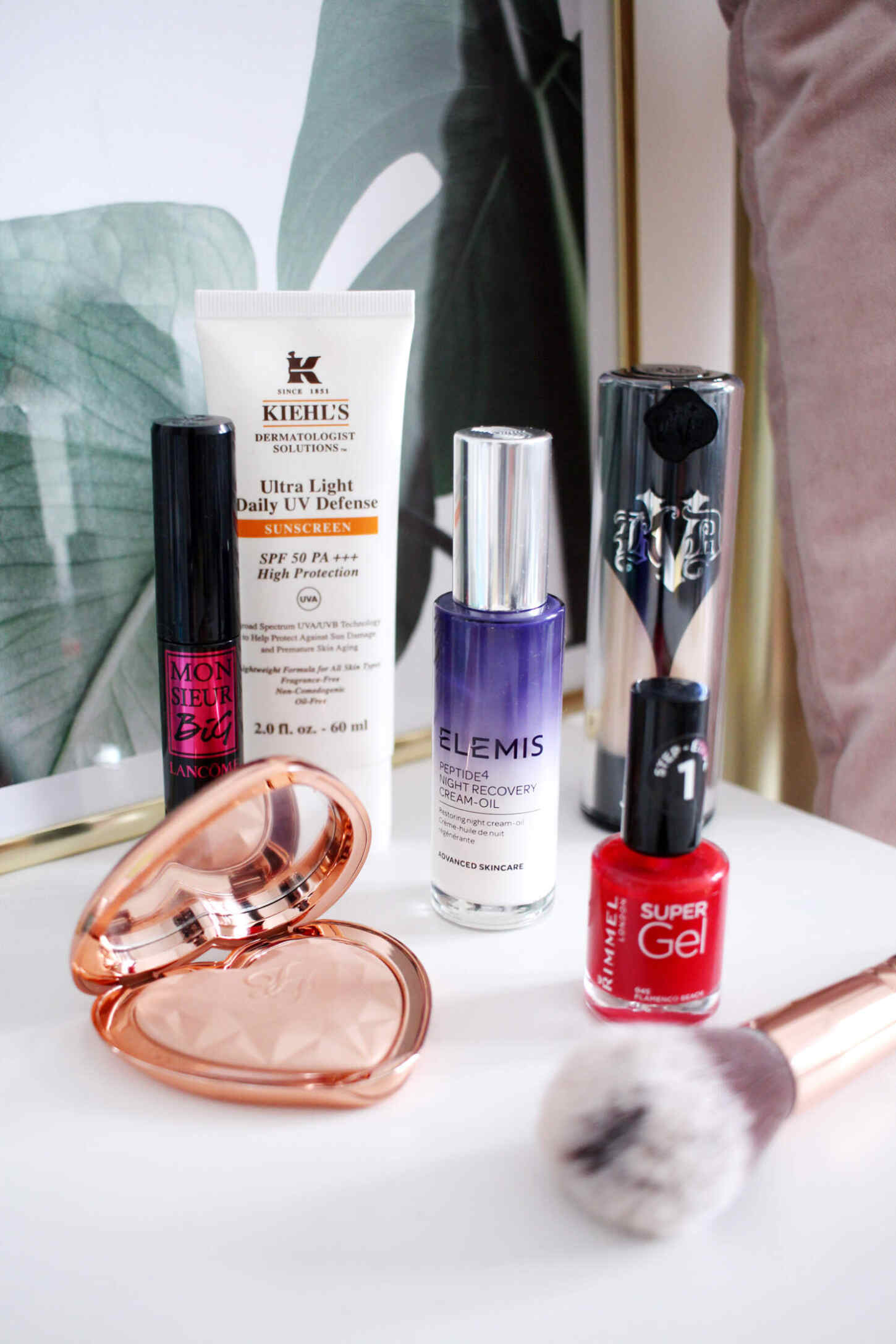 It feels like ages since I sat down and thought about what beauty products have floated my boat (so to speak) but, ladies and gents, today is that day. I've realised I've been reaching for these beauties quite regularly, so let's round it up and give you my opinions on the beautiful products above.
Skincare first and I am totally addicted to the Elemis Peptide4 Night Recovery Cream-Oil. Not only does this stuff smell amazing - think a warm scent, sort of like sunscreen but not quite - but it's honestly like new skin and eight hours sleep in a bottle. I wake up with such even, plump and well-rested looking skin (it works so well to tighten and smooth the skin!) and the results are a little bit addictive - I've been using it every day since it landed on my doorstep!
Another product I used religiously when I was away is the Kiehl's Ultra Light Daily UV Defense SPF50 (what a title!). I mean, high coverage UVA/UVB protection? Check. Goes on and disappears quickly? Check. Sits perfectly under makeup and doesn't break me out? Check check check. I've tried quite a few sunscreen's over the years, but this is definitely my favourite of them all!
Next we have makeup and I've got a few products that I've been using religiously over the past few weeks. I know some people are a bit hit and miss over the new Lancome Monsieur Big Mascara, but I really like it. I think it's very lengthening and is perfect for every day. I would have to apply two coats for thickness, but if you have shorter or quite straight lashes then you will probably like this one!
The Kat Von D Lock It Liquid Foundation has been so good in the warmer weather as that stuff just does not move. Seriously. If you work in a place where you need your makeup to stay put and to look good all day, then you need to get this. I also like the finish, as it isn't too heavy and still lets radiance come through without getting shiny. Full points from me for this one.
I've been focusing quite heavily on my contour and highlight recently, so for the latter I've been using the new Too Faced Love Light Highlighter in Ray of Light which is a rose gold tone. It's very flattering and adds warmth to the face which I love! I've also went back to obsessively using red nail polish - I think it's because of all the red in my wardrobe, so glad that colour is having a moment - so the Rimmel Super Gel Polish in Flamenco Beach is just perfect. These polishes are quite long lasting and glossy, so perfect to apply before you jet off on your hols!
I've got a whole bunch of stuff to test out next (from Neal's Yard to The Ordinary and more) so I'll be sure to share them very soon in the next beauty roundup!
What have you been loving recently?
Helen x