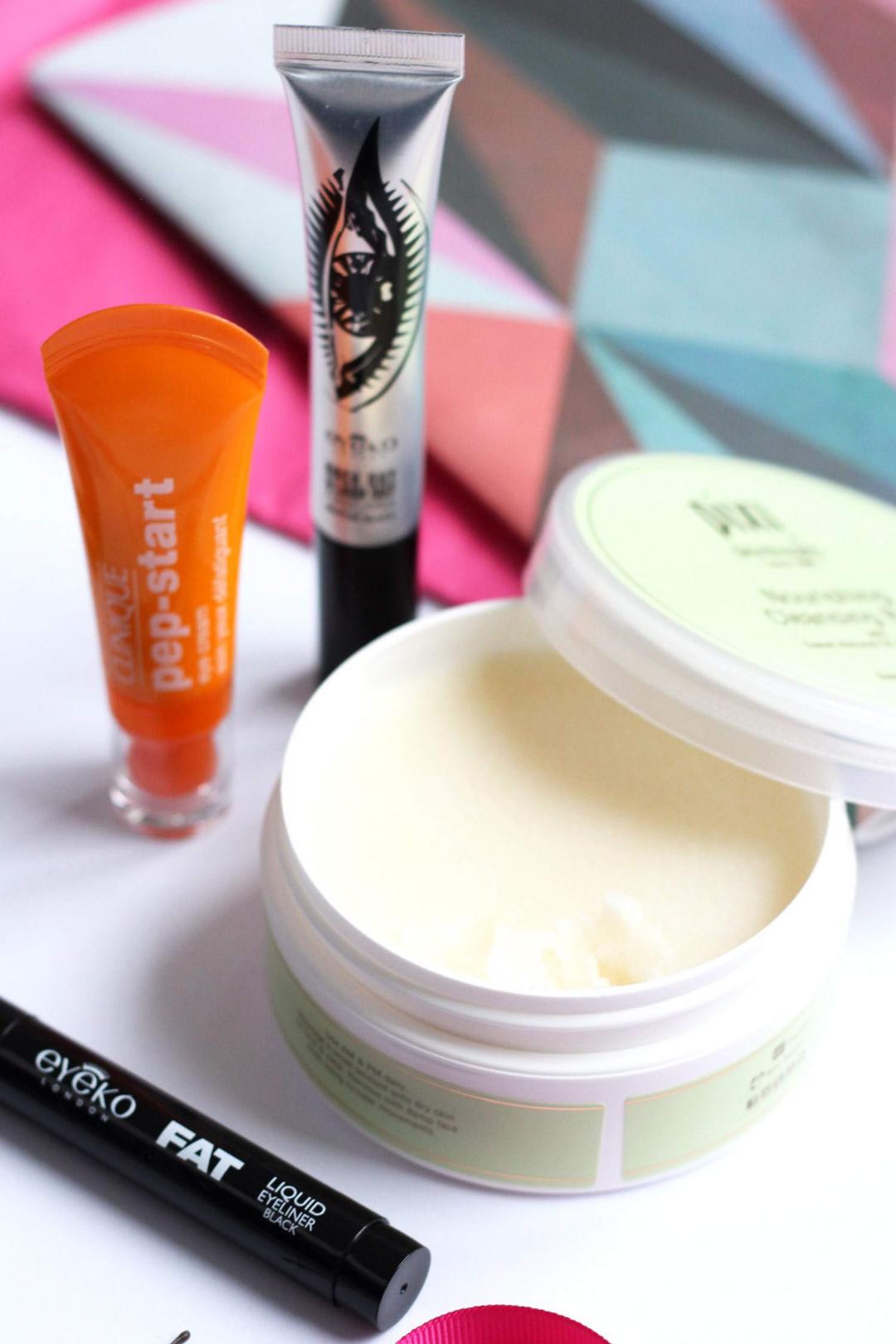 Another week, another roundup of some of my favourite beauty products that my stash has to offer. Today is a lovely mix of skincare and makeup so let's jump straight in!
Starting with skincare, the Pixi Nourishing Cleansing Balm has been used quite regularly in my bathroom recently and I imagine it'll be that way until I scoop out my last bit. To me, it has a very natural scent (you know, a bit floral, a bit earthy, a bit like a herb garden for your face) which is something I don't mind at all as a lot of my skincare is the same. It works well to cleanse skin and as a makeup remover, though I prefer it as the former to nourish my complexion. After this, I've been using the Clinique Pep-Start Eye Cream to give my peepers a bit of a boost. I do find it to be brightening, not as heavy as I need on a nighttime due to Roacc, but it's lovely to use during the day! It sinks in quickly and makes you look more awake – something I always need!
Two Eyeko products are next as I honestly can't get enough of the brand recently. This is my second Eyeko Fat Liquid Eyeliner and they're really very good! The thicker brush means you can do a good line quickly, but I've managed to do very precise flicks with it too as it's nicely tapered. It goes on black, stays black and doesn't smudge unless you smudge it. Winner. I also really love the Eyeko Rock Out and Lash Out Mascara which works to make my lashes very dark, volumised and slightly lengthened. The Eyeko mascara's haven't let me down yet and this one is no exception.
Onto lips and we have two products. The Fresh Sugar Lip Treatment in Coral is something I've talked about before but they really are great products. On trying out this shade, I was really surprised at the wash of colour this gives as it's rather pigmented, like you've been wearing a red/orange lipstick and it's faded slightly. The balm element works well to hydrate, too, so they're definitely worth getting! Finally, the most beautiful part of this bunch has to be the new Tom Ford Patent Finish Lip Colour. This shade is called Exposed and it's the most vibrant fuchsia raspberry hue – I literally cannot get over how bold and vivid it is! As the name suggests, you get a patent finish with a high shine gloss look, but it's not sticky or annoying to wear. Go and swatch these at the counter as they're seriously dreamy!
What are your favourites this month?
Helen x
Check out these amazing blogs: Kerry etc and Adventures of an Anglophile.