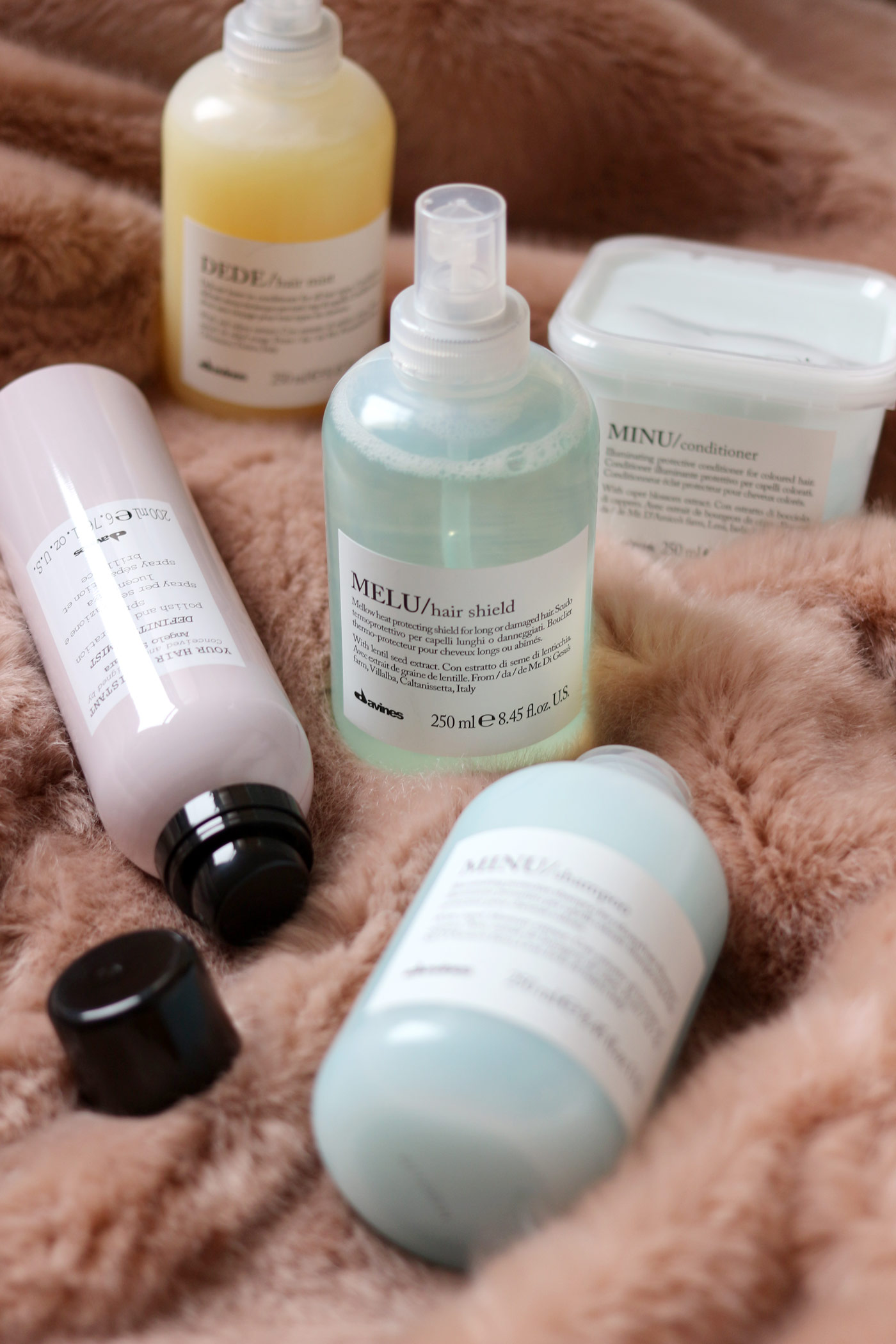 Since I'm living in a house that's 99% dust while we decorate, I really appreciate my pamper time more so than ever before. The time I spend washing my hair is my version chilling out, as it's the only place where I can switch my brain off from painting and sanding. So, I've been testing out lots of new haircare and one brand that I've developed an obsession with is Davines.
I mean, look at it. Their packaging is Pinterest-perfection and the pastel tones just look so cute in my white and grey bathroom! It was a love at first sight kinda reaction which is always a good sign - but do they work well?
Short answer: yes. I'll go through each product so you can get the gist of the ones I've tested.
Davines Minu Shampoo and Conditioner | This is aimed at those with colour-treated hair to gently wash it and maintain both the colour and shine. I really like this range so far, it smells delish (like a mix of herby and sweet, like bubblegum but not, it's weird but nice) and the consistency of the shampoo is perfect to get a nice lather. The conditioner is slightly strange, just because it's in a tub and you have to scoop it out which reminds me of a treatment rather than an every day conditioner. However, it's a wonderfully hydrating product without being heavy on the hair so I'm totally ok with the tub packaging.
Davines Dede Hair Mist | I'm a big fan of leave in conditioners since I started bleaching the bottom of my hair, as it gets so, so dry. It's been extra dry due to decorating too (thanks dust and plaster!) so this has been helping to condition the tips so well. It smells wonderful too and I imagine a little is going to go a long way with this too, as you don't need a lot.
Davines Melu Hair Shield | I am terrible for using a heat protecting spray or anything that really stops your hair getting damaged. Even my boyfriend has commented on how I should be using something... Anyway, I've adopted this new spray and it feels so nice on my hair, as it doesn't weigh it down at all. I'll test it some more to see the effects over time, but so far so good!
Davines Your Hair Assistant | As someone with quite flat and fine hair, adding texture and volume is a big must for me. This spray in the perfect pastel pink packaging is so, so good at separating the hair and making it have the perfect slept in look which is just what I'm after. I am obsessed.
All in all, I'm so impressed with the haircare I've tried so far from Davines. It does exactly what it says on the bottle and is perfect for my hair! Will you be trying this brand out?
Helen x