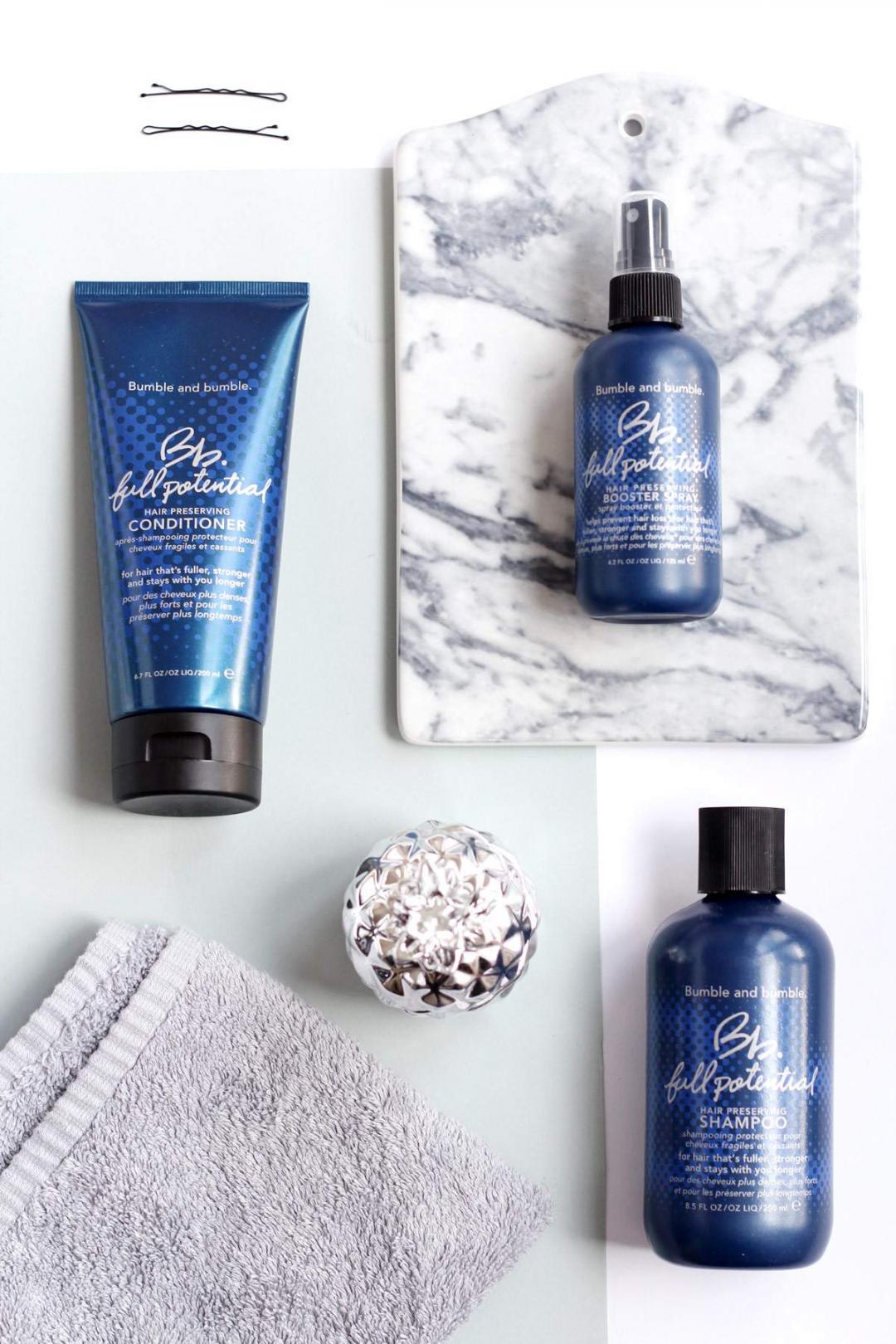 Since I only wash my hair once a week (thanks, tablets), I can be super selective about my haircare as it's turned into somewhat of a luxurious treat. However, despite the masses of haircare in my bathroom, the Bumble and Bumble Full Potential Range has totally stole my heart.
I was chatting through this new launch with the Bumble PR girl and I was literally so excited for it. Thicker hair? Yes please. Fuller looking hair? Gimme. But, hair that stays with you longer? Sign me up. My hair used to fall out all of the time when I was younger (and I mean handfuls of it) until I got checked for having an underactive thyroid and the medication helped a bit, but every time I go to brush my hair I always feel this strange paranoia about it happening again. Having since had my hair bleached, the snapping and damage is what fills me with dread now, so, basically, anything that can help the hair stay on my head is something I will go for!
Anyway, the Bumble and Bumble Full Potential Range contains a shampoo, conditioner and a hair preserving booster spray to use once you're out of the shower. It has more of a natural, herbal scent compared to the other ranges that B+B have to offer (and believe me, I've tried them all – favourite haircare brand alert) which I don't mind at all, as it's quite a soothing smell. The products apply and lather up nicely, too, and the booster spray isn't sticky or weighs your hair down.
Onto the results – thicker, nicer hair! This (along with the salt spray range) definitely makes it feel like there's more hair there when I touch it. It gives it a roughly tousled kinda look too, which I appreciate as my hair blowdry's poker straight and it takes away a lot of the frizz that I often get. All in all, I'm really impressed with the Bumble and Bumble Full Potential Range!
Helen x
Check out these amazing blogs: Kerry etc and Adventures of an Anglophile.