The Easiest Grab-and-Go Breakfast
Now, I'll admit I'm the worst for getting breakfast when you're supposed to get it. Eating pretty much as soon as I wake up always makes me feel ill, so I'm a get-ready-sit-around-then-eat kinda person. When I worked in an office, I always used to make breakfast and sit at my desk so I'd have a good hour and a half after I woke up so I could feel human. Now, as I work from home, I don't have it until about 10am, even if I wake up at 8am. Waffling aside, I always opt for something quick or something to grab if I'm heading out of the house - so these oatmeal breakfast bars are the best option!
If you're expecting a flapjack, then this isn't for you. My boyfriend tried them and said he didn't like them as he was expecting something ultra squishy and golden syrup tasting, but these aren't that. I suppose they're supposed to be vaguely refined sugar free (apart from the chocolate, but if you use good dark chocolate then there should be less anyway) and more of a healthy-ish option to actually fill you up first thing in the morning. They still taste good though!
I'll admit when I made them, despite the photos, I definitely messed them up a bit. I didn't quite leave them long enough to set or added as much liquid as I should have (plus I added cashews and cherries!) so I've adjusted the recipe slightly to accommodate that. It's originally from that Tasty app (which I am addicted to! The slow cooker chicken tacos are da bomb) but I'll include my tweaked version below! Keep scrollin...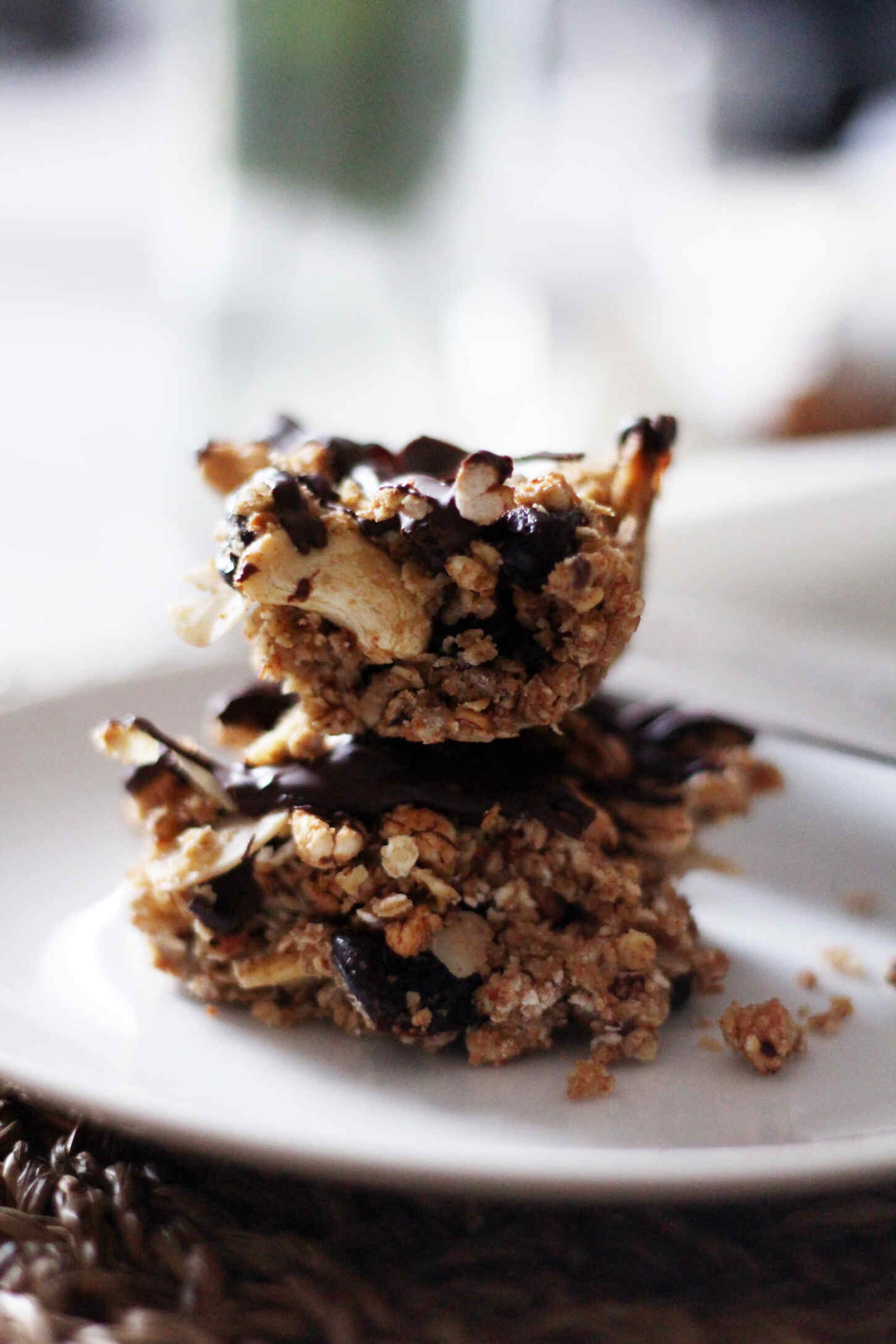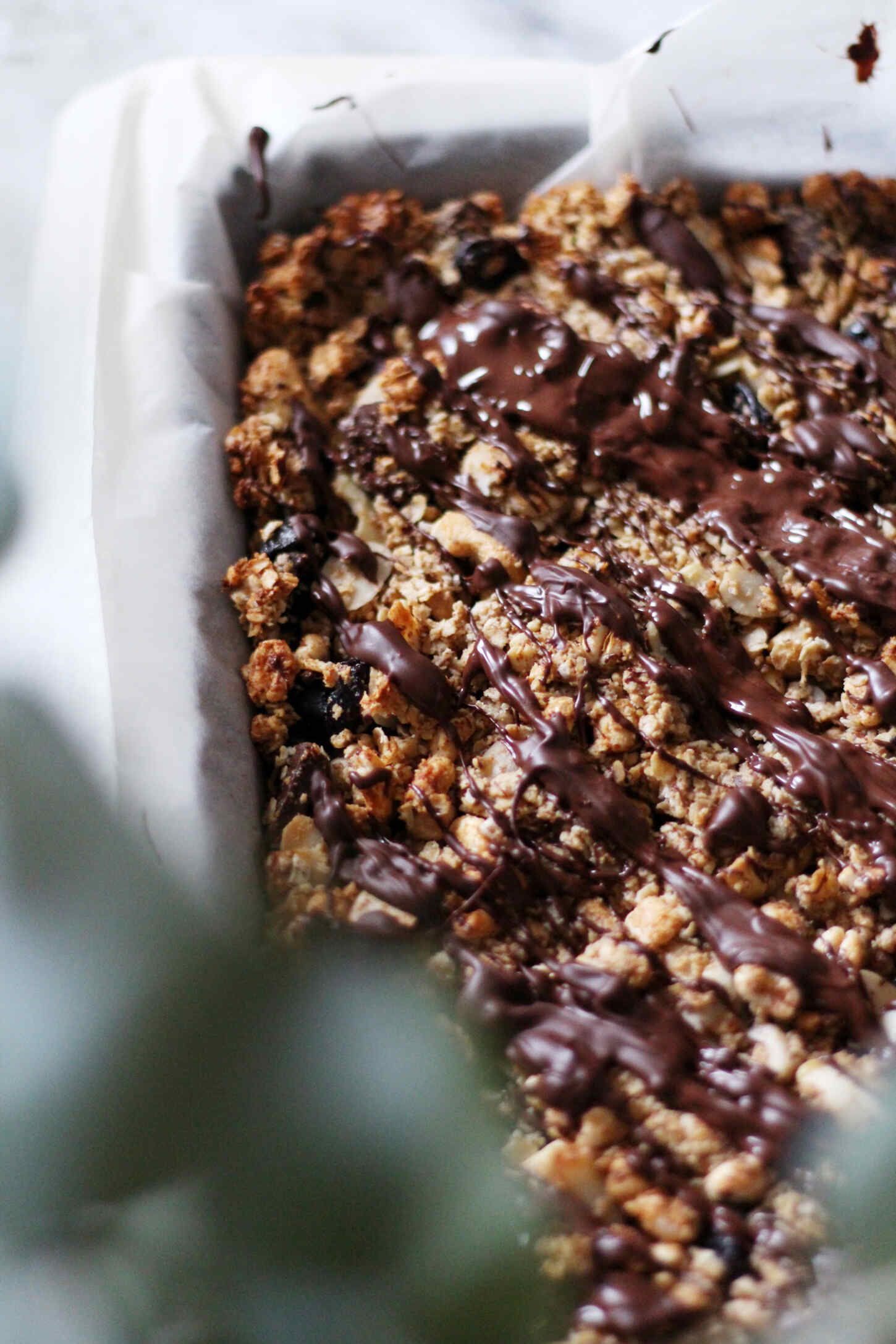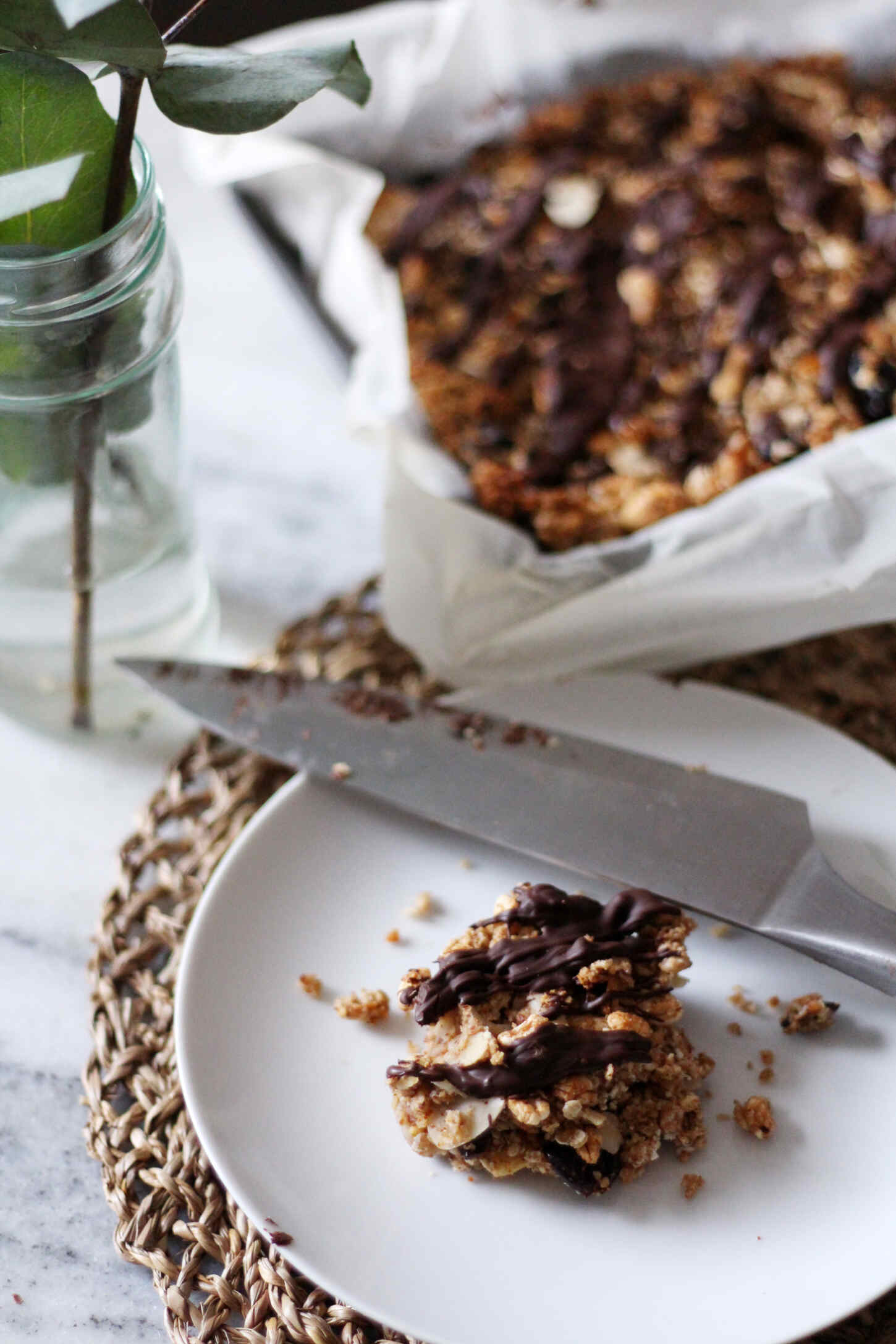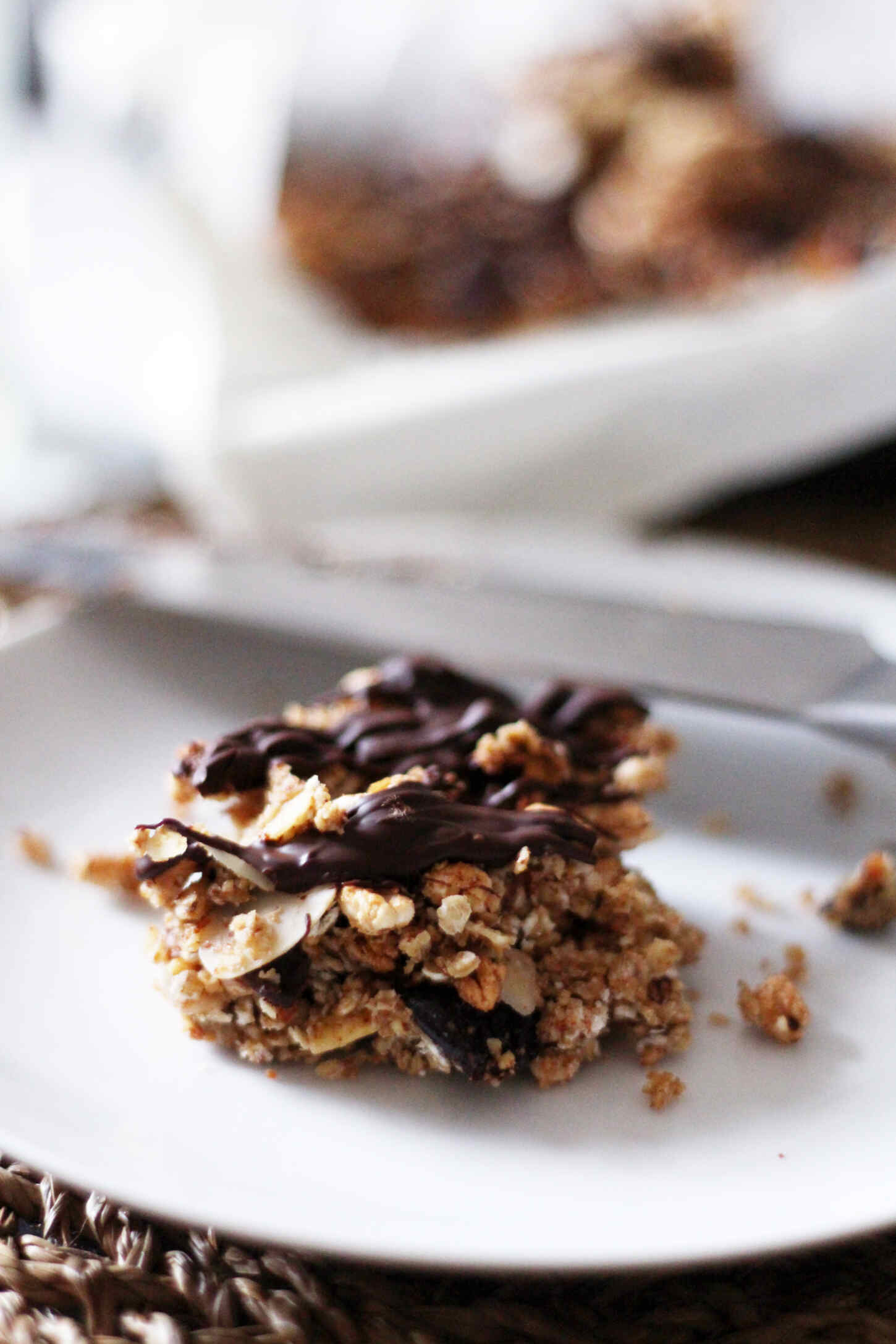 How to Make It
I N G R E D I E N T S
240g almond butter
110ml maple syrup (I would add an extra 40-50ml, as 110ml left the mix a little dry. Alternatively, you could add a good dose of golden syrup if you want it to have a sweeter, sticky texture)
130ml almond milk (or whatever milk you like)
1tsp vanilla
250g rolled oats
30g brown rice cereal
65g dried cranberries (or any dried fruit)
85g dark chocolate (plus 40g melted to drizzle, keep this separate)
handful of cashews, roughly chopped (or any nut)
handful of dried cherries (or any dried fruit)
handful of sliced almonds
M E T H O D
STEP ONE | Preheat your oven to 160 degrees and line a baking tin
STEP TWO | Combine all of the wet ingredients in a large bowl, then add the dried ones. Stir. If it looks dry, add a tbsp or two or milk or syrup
STEP THREE | Pour contents of the bowl into the baking tin and bake for 15ish minutes, until it goes golden on the top. Leave for 10 minutes.
STEP FOUR: Melt the remaining chocolate and drizzle over the top. Chill for a minimum of 30 minutes. You can cut them into squares, wrap individually in brown paper and eat all week. Keep 'em in the fridge though.
They took about 10 minutes to combine the ingredients, so once you add this to the cooking time (15 minutes) and chilling time (30 minutes), you've got grab-and-go breakfast for a week and it takes less than an hour! You could mix it up and include different fruits and nuts too. I might remake them with orange and cranberry, or use something like hazelnuts and cinnamon for an Autumn twist. It's a great base recipe if you get the liquid level correct I think!
Let me know how you get on with them (or any of my other recipes) if you decide to make them!