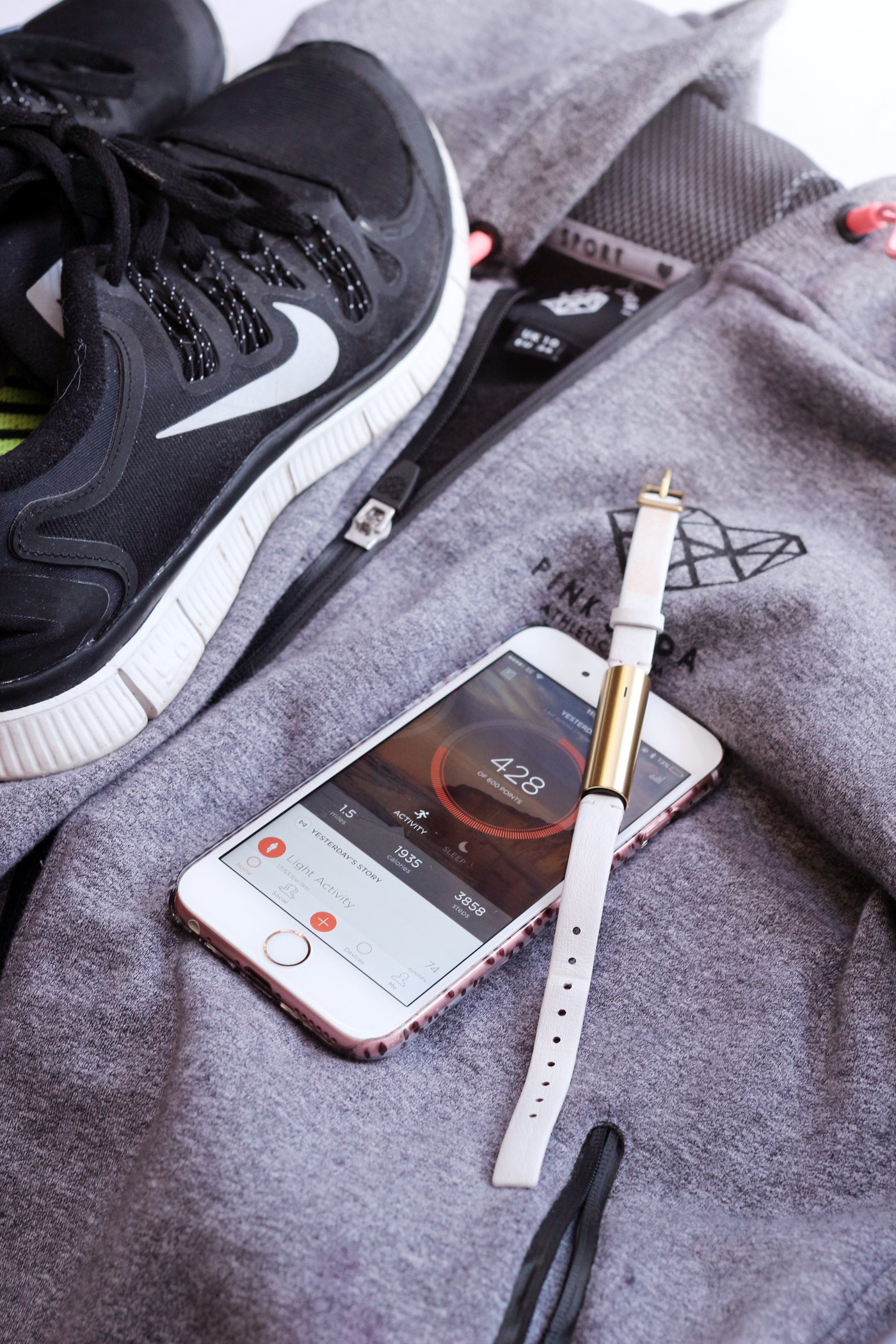 I'll admit, I've never been one for fitness and sleep trackers as I always thought they were people who hammer the gym and want to know how well they're doing. Oh, how wrong I was. I've recently been testing out the Misfit Ray and I'm totally converted on the exercise tracker side of things!
First of all, can we discuss what it looks like? It's white leather and gold – yup, ladies and gents, we've found the most stylish tracker around. A lot of the other ones I've seen are chunky, rubbery looking and just aren't, let's face it, on-point. You can get it in an array of colours too – from black with rose gold (yeah you heard me) to chic carbon black to navy to green and nearly all have the choice between a sport band or a leather band. So, you can customise yours to suit your style.
I mean, look at it, it looks so neat and stylish. You can wear it when you go swimming or in the shower too, so it can continually do its job and track your movements throughout the day. I have the leather band and have had no issues with it when it gets wet, as it dries quite quickly.
Ok, aesthetics aside – what does it actually do? In short: it tracks your steps, distance, calories, plus light and restful sleep. You can set it up ultra quickly too, you just pop the batteries in, twist it closed and you're good to go once you've downloaded the app (which you can see below). The app is how you'll see what you've actually done – just swipe and it'll sync with the Misfit Ray and log your info! You can set challenges or goals on how much you want to do – whether that's light exercise or more intense – and it'll tell you how well you're doing on a points-style system, so if you're even vaguely competitive, I promise this will make you want to beat the day before! It can alert you (via vibrating) to phone calls and texts, if you want to set that up, plus you can use it as a silent alarm to wake you up too. It even gives you a little nudge when you've been sat down too long!
So, aside from the fitness tracking, it also monitors how much sleep you're getting and whether that's light or actually restful. According to mine, I tend to get my full eight hours, but only 5-6 are actually restful which surprised me! I've actually switched my sleep pattern up a little since getting this – as previously it was awful – so I think the app has genuinely helped me sort my routine out. I still need to work on my fitness (working from home problems, eh) but it's good to see how much I actually do on a daily basis and it's encouraged me to move. I'm more aware of how much time I spend sitting down at my desk (read: sofa) so I get up a lot more than before! I barely notice it on my wrist either, as it's about 10x lighter than my watch so wearing it overnight isn't an issue.
As a whole, I think it's a fantastic bit of kit and does everything you would need a fitness tracker to do, while also looking pretty darn stylish at the same time. I'm determined to go back to yoga classes this year, so we'll see if it makes a difference to my overall score when I get to go! I'm definitely going to continue using it and I would recommend you look into them – they have a range of other trackers in different styles too, from smartwatches to more traditional looking trackers – so you'll find something that you love no doubt!
You can pick up the Misfit Ray for £79.99 here and through varies other retailers like House of Fraser, Selfridges, Littlewoods, hell, even the Apple Store has it, so do go check it out!
Helen x
*collaborative post