I must confess something: I've never been a huge fan of peanut butter. Any nutty flavours, actually. The thought of them made me feel a bit eugh, even though I also looked longingly at tasty peanut butter cookie recipes etc online, I couldn't bring myself to make them. But, I went to a (very expensive) restaurant and they combined peanut butter with dark chocolate and… goddamn! What a good combo! Weird how an extra ingredient can make you love something, huh. As I'm trying to shed a few pounds, I decided to make these No-Bake Chocolate Covered Peanut Butter Oat Bites in an attempt to curb my snacking by having these as a treat!
Ingredients (makes 8-9 balls)
125g creamy peanut butter
50g oats
1tsp honey
2 handfuls raisins
100g dark chocolate (I used milk in the photos, but only because I ran out of dark! Dark was nicer)
Alternative: Add 100g chocolate chips instead of coating them if you prefer.
Method
Step One | Measure out and combine all ingredients (apart from the chocolate) in a bowl, use the back of a spoon and mash the peanut butter into the oats. Roll into tablespoon sized balls (or whatever size you fancy) and place onto a tray lined with baking parchment.
Step Two | Melt the chocolate in the microwave (3-4 x 20 second bursts, stir inbetween). Place a ball at a time into the melted chocolate and roll to cover, place back on baking parchment. Place in fridge to set. They'll last for around 4-5 days, but you'll probably eat them before then…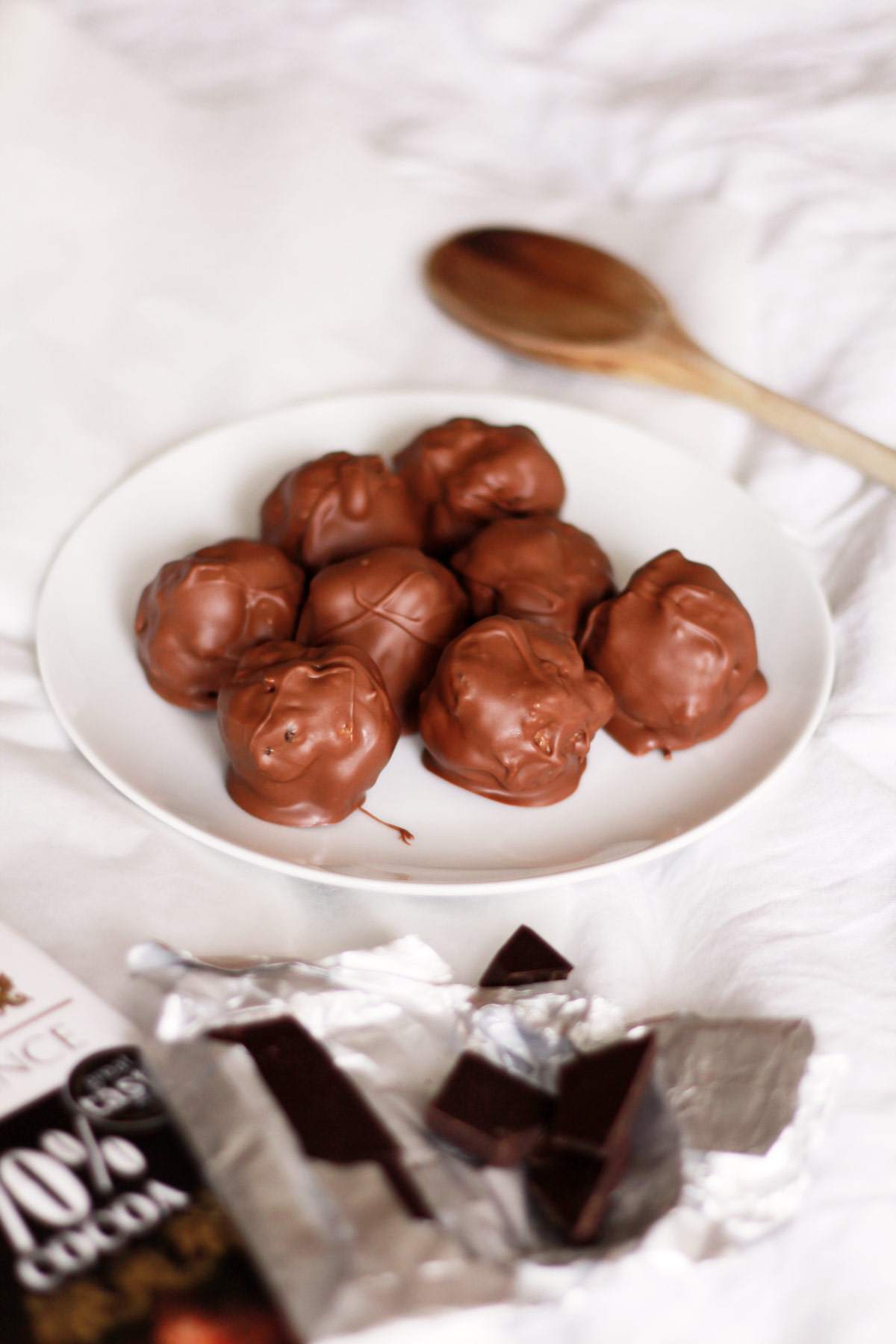 Let me know if you make these No-Bake Chocolate Covered Peanut Butter Oat Bites or any of my other recipes!
Helen x
Check out these two amazing blogs: Oh Kalu Kalay and Mrs James Recommends!