Some items gifted, affiliate links used*
- Christmas Gift Guide: For The Guys -
I think men are really hard to buy for. I've got my boyfriend who is the least materialistic person I've ever met and wants nothing, and my dad who also doesn't want anything but is very hard to buy for. So, what do you buy the guys in your life? I've put together this guide in the hopes that it will help (or at least it might help me ha).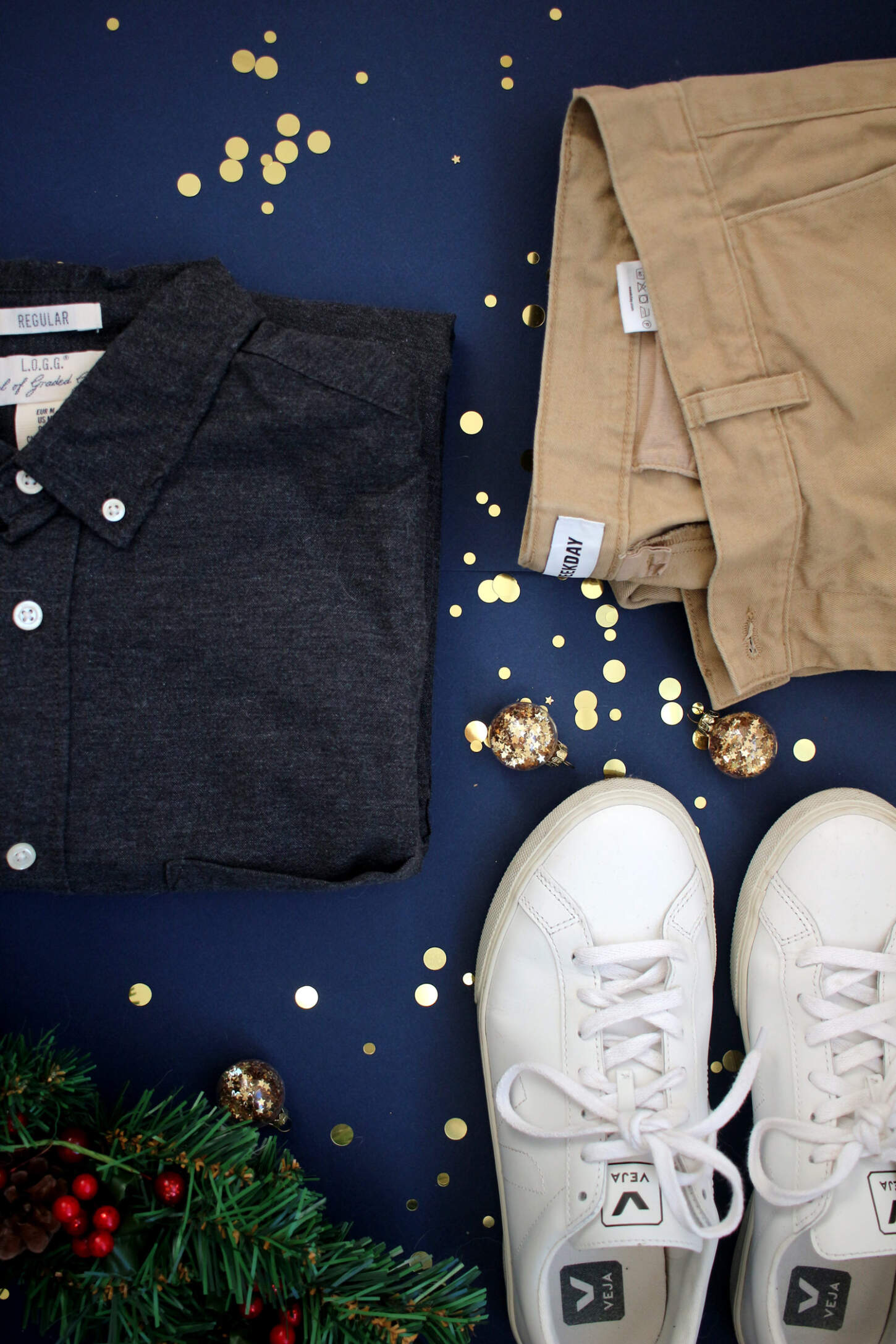 Clothes and Shoes
Ah, the old fail safe - clothes and shoes. As My bf never thinks of buying clothes for himself as he insists he only needs 3 tshirts and 1 pair of pants to last him a lifetime, so it's usually up to me to pick some bits up for him (whether he wants them or not).
I don't think you can go wrong with a nice shirt or, if they're more casual, something more muted or flannel-y which they can layer up or wear day to day. H&M (like the shirt above) always has nice options in and, if they're super casual, it could be cool to opt for something vintage so it's unique.
Jeans or trousers are always good too. I really like Levi's or Weekday, as they make great chino-style trousers which my bf wears day in day out.
And you can't go wrong with some trainers. Opt for Veja if you want to go for something stylish and sustainable or something boujee like Gucci if you're pushing the boat out. Adidas Samba's will always be a favourite of mine too as their style is very classic!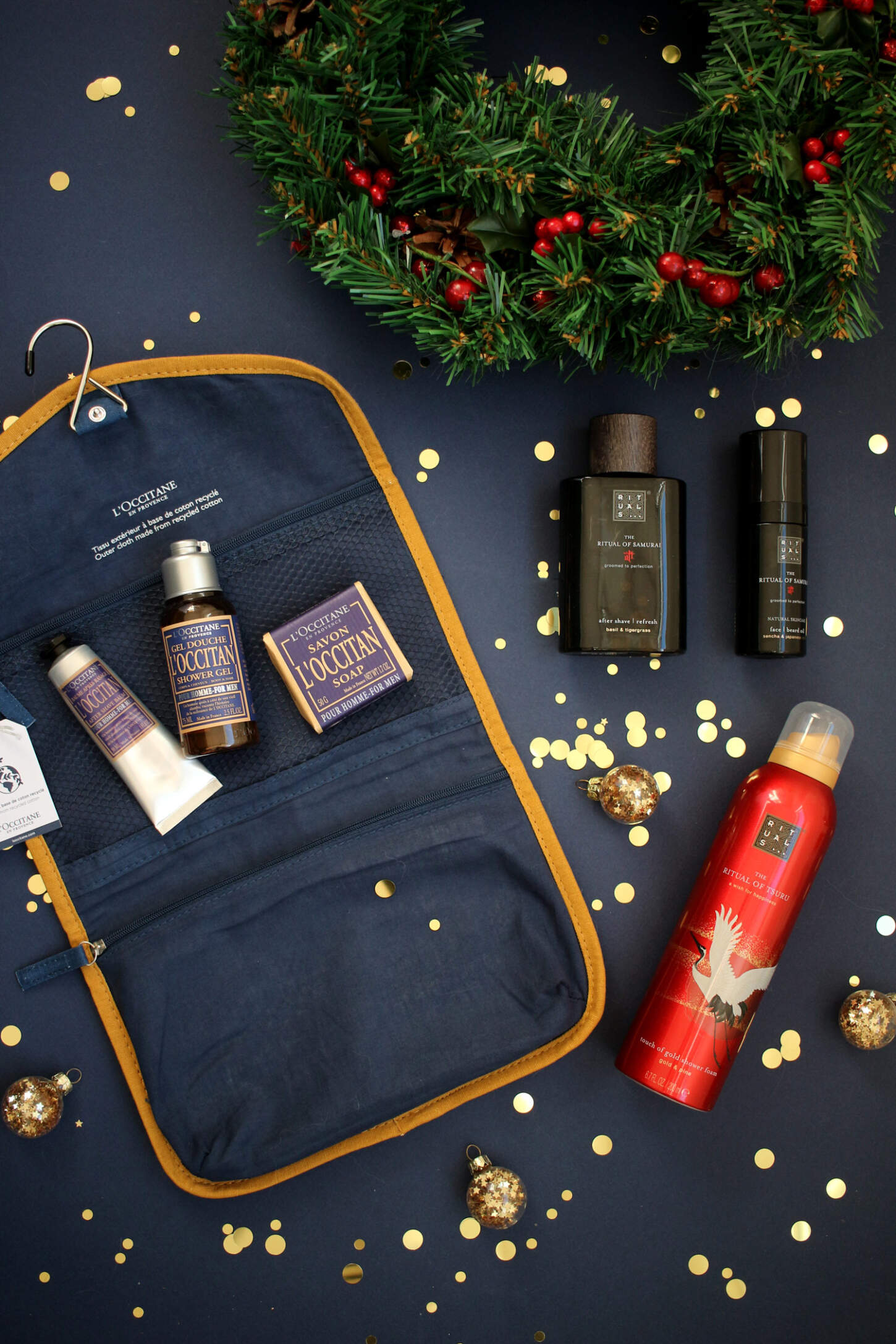 Grooming
You can't go wrong with some bodycare, can you? I feel like the blokes of this day and age are taking slightly better care of themselves when it comes to their skin etc, so why not pick up some bits so they can smell nice all year round.
L'Occitane is always one of my top choice brands when it comes to this sort of thing, as their stuff is always nice and they have a range of scents too. The L'Occtain Voyage Collection is a great pick as you get 3 products: L'Occitan Shower Gel (75ml), L'Occitan After Shave Balm (30ml) and the L'Occitan Soap (50g) along with a handy travel bag. It's an ideal way to introduce someone to the brand or for those who travel often.
Rituals are a brand to definitely look into in 2020 if you're not familiar with them already. For men, they have several ranges to suit every scent-preference including their Ritual of Samurai range which has many products in the Classic or Sport ranges. The Rituals Ritual of Samurai After Shave Refreshing Balm and the Ritual of Samurai Beard Oil would make great gifts for those beardy or not. There's also their range of foaming shower gels and I think the Ritual of Tsuru Shower Gel makes a great gift for guys due to it's slightly more masculine scent.
The Extras
Following on from the above, getting someone a nice fragrance is always a good idea. I adore Maison Margiela Replica Jazz Club and (even though this one is actually mine...) it smells oh so delicious once it has settled on the skin. Think warm and sexy. Their By The Fireplace scent is fantastic too if you like something stronger.
Books always make a great gift, whether he's into non-fiction, technical books, cooking or just really loves a good comic. You can't go wrong!
If you want his place to smell like a dream every time you pop over, may I suggest picking up a nice candle and insisting he lights it when you're around? The Diptyque Ambre Candle is the best at creating a beautiful, warm space and it's one that everyone seems to love.
If he likes tech things, why not pick up a Echo Dot or something similar. I honestly didn't get it when we first got one, but now I use it daily for the lights (Phillips Hue works with it), the weather and the timer if I'm cooking 2 things at once.
Finally, artwork! I recently got something framed for Phil and I think art makes a really great gift. You can make a gift very personal with it and it also brightens up a space wonderfully. There's so many stores online for art now and you can pick up some very unique and beautiful pieces without having to spend a fortune.
So there you have it...
My picks of some of the best men's gifts that are out this year. Make sure you check our the above as some are on offer!
Check out my other gift guides here