The majority of the items have been gifted, affiliate links used*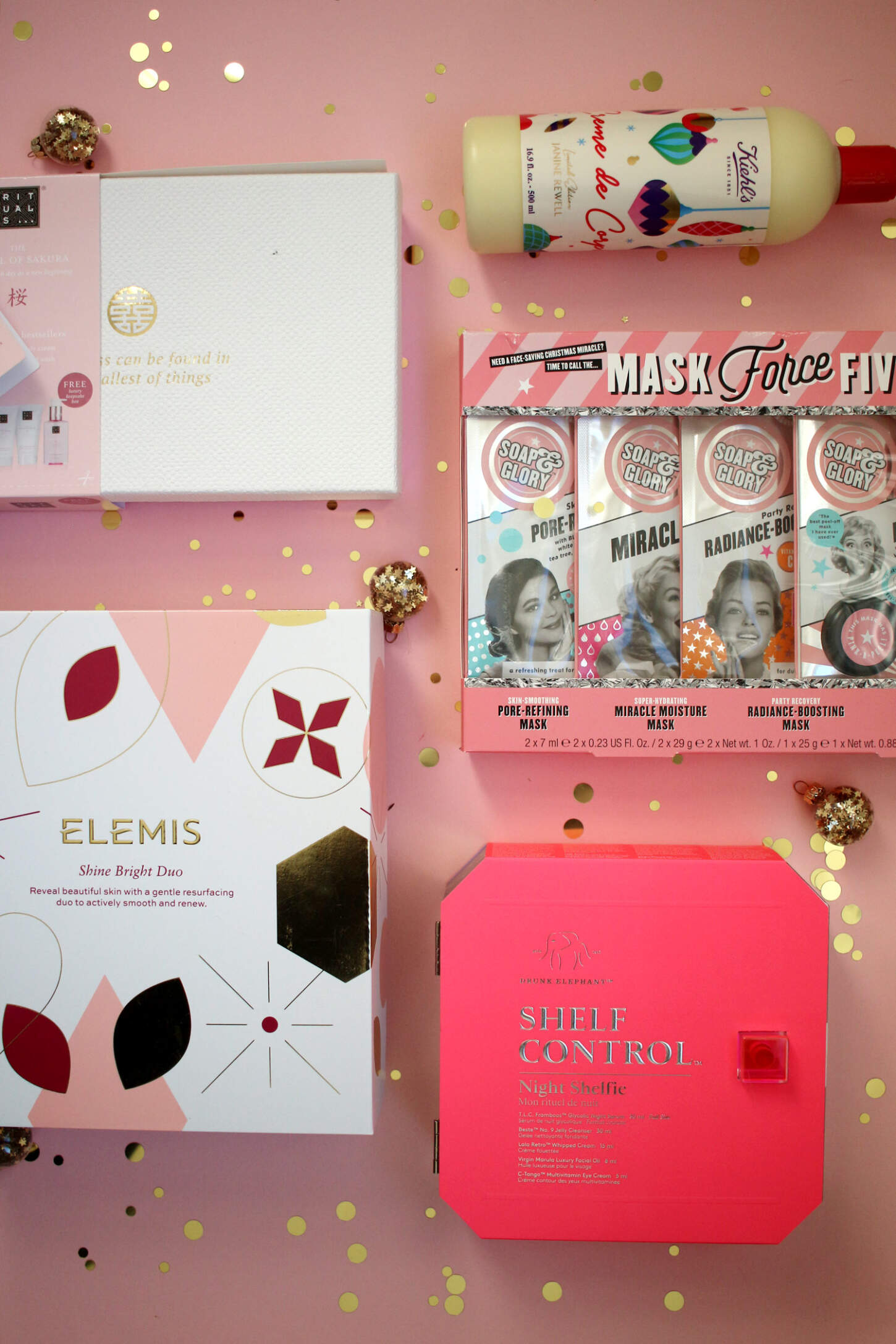 - Christmas Gift Guide: Skincare and Body -
It's that time of year again! I'm back with some Christmas gift guides and boy, do I have some good gift suggestions for ya. In today's guide we're talking about all things skincare and bodycare ft some amazing brands and they gifts they've bought out for Christmas, have updated with limited packaging or they have all year round (bookmark this for birthday's!)
A lot of the gift sets mentioned are on offer too, some with over £20 off! Each one is linked below, so snap 'em up while you still can.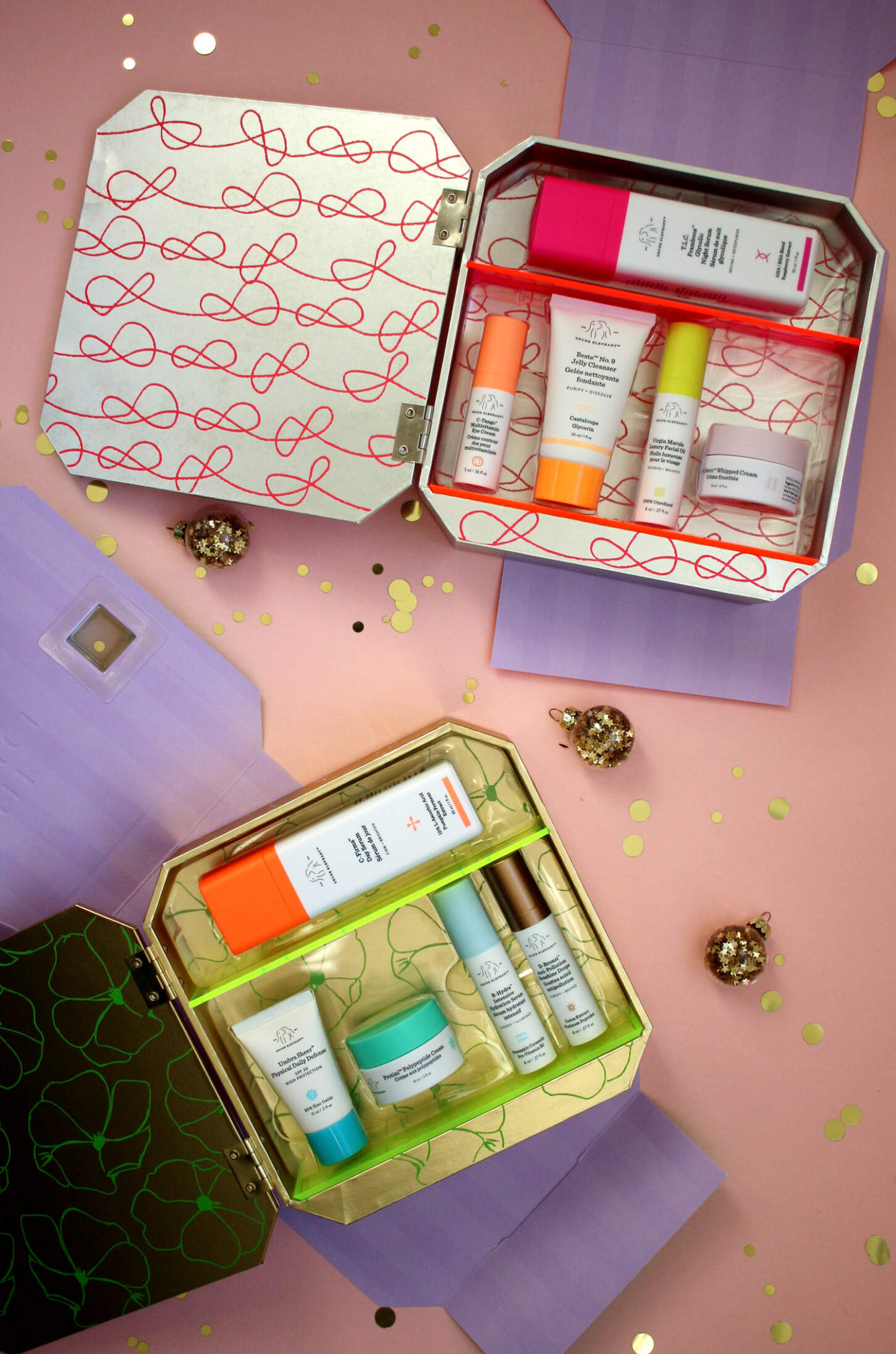 Drunk Elephant Shelf Control
I'm a big fan of Drunk Elephant (see previous reviews here and here) so when they released these adorable little 'shelf' kits, I knew they would do well for Christmas.
The Drunk Elephant Shelf Respect Day Kit contains their C-Firma Day Serum (30ml), B-Hydra Intensive Hydration Serum (8ml), D-Bronzi Anti-Pollution Sunshine Drops (8ml), Umbra Sheer Physical Daily Defense SPF 30 (15ml) and the Protini Polypeptide Cream (15ml). Two of these I'm yet to try so I will keep keeping them for myself (sorry, potential gift-receivers).
The Drunk Elephant Shelf Respect Night Kit contains T.L.C. Framboos Glycolic Night Serum (30ml), Beste No.9 Jelly Cleanser (30ml), Virgin Marula Luxury Facial Oil (8ml), C-Tango Multivitamin Eye Cream (5ml) and the Lala Retro Whipped Cream (15ml). I am obsessed with mixing the glycolic serum with their marula oil and I would recommend you try it too!
With both kits, you get a great mix of a full size 30ml product, as well as good sized samples for you tor try before committing to the full size. I got hooked on Drunk Elephant by trying the minis first, so they're definitely a good introduction to the brand.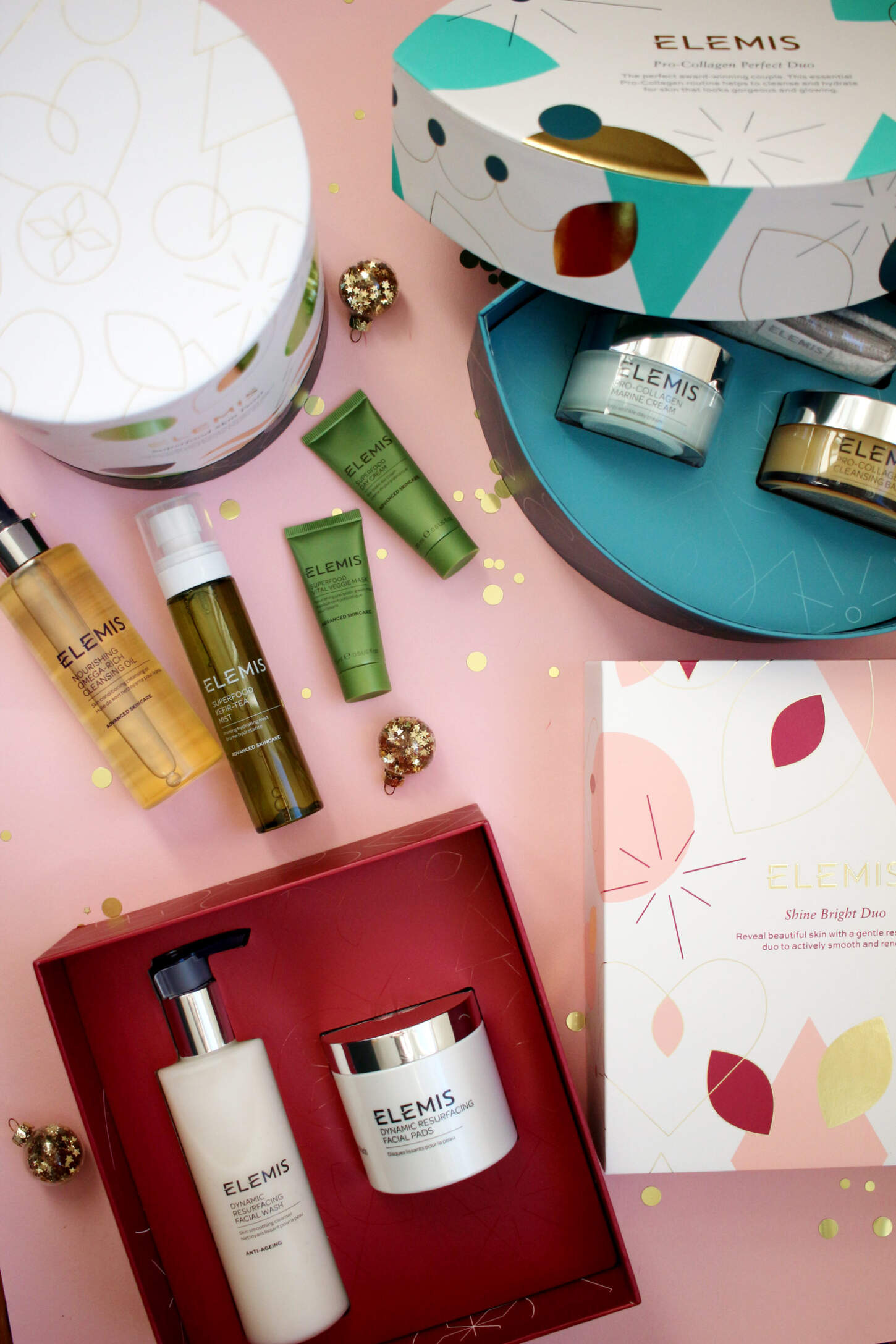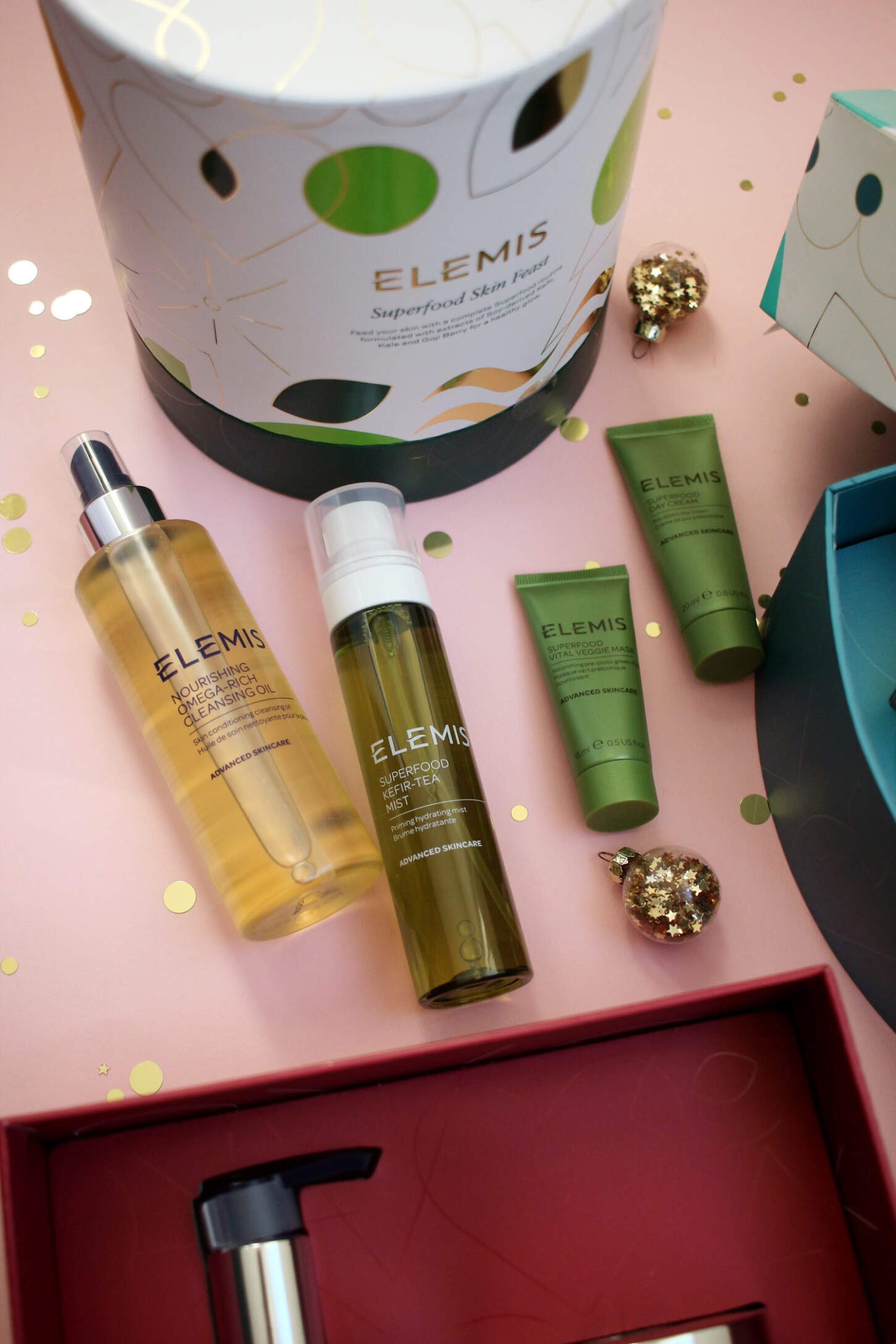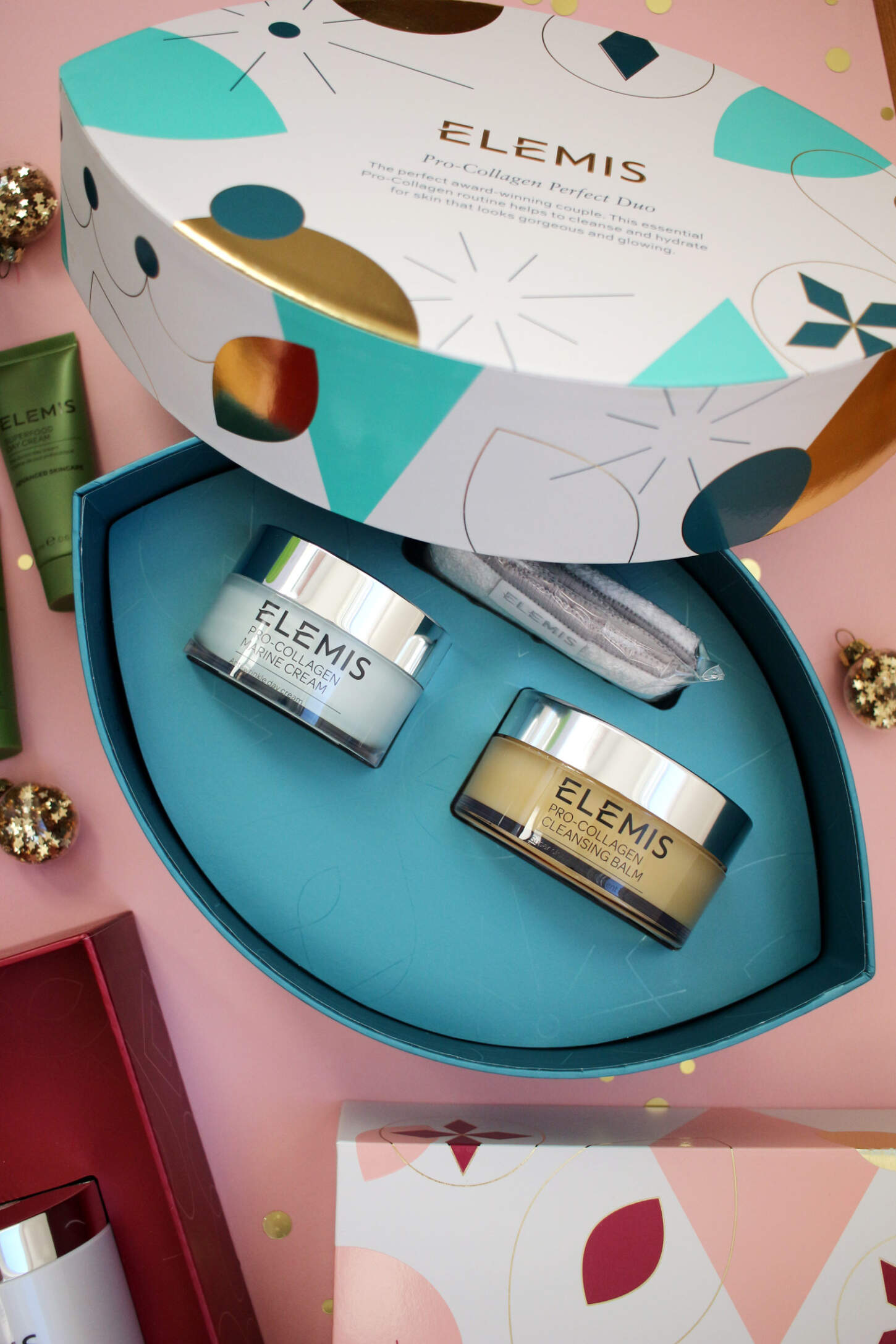 Elemis Gift Sets
I couldn't do a Christmas gift guide without including Elemis. They're one of my favourite skincare brands and one I go back to time and time again. I will also be exclusively using their products in January for my monthly Skincare Trails so keep an eye out for that in Feb!
Onto their sets: they have an extensive range of skincare gift sets covering specific ranges to mens to those focusing on a skincare type or skin concern (such as brightening). Their gift sets are so well considered and put together, so you can purchase a full routine in a box (effectively) or buy something to compliment an existing routine - there's something for everyone.
So, first we have the Elemis Shine Bright Duo which contains the Elemis Dynamic Resurfacing Facial Wash (200ml) and the Elemis Dynamic Resurfacing Facial Pads (60 pads) which are both full size products and designed to brighten and perfect the skin with AHA's. I have used the cleanser before and it's great but I will totally be helping myself to the resurfacing pads, as I love me an AHA toner. If you haven't tried one before, make 2020 the year you get into acid skincare products as they make an outstanding difference to the skin!
Next we have the Elemis Pro-Collagen Perfect Duo which contains the Elemis Pro-Collagen Cleansing Balm (105g) and the Elemis Pro-Collagen Marine Cream (50ml) which are again both full size. There's also one of their super soft cleansing cloths too. I've tried both products before and the cleansing balm is fantastic at removing both makeup and cleansing the skin without stripping it. The cream is fantastic day and night and really nourishes the skin - a cult favourite for a reason!
Finally, we have a new range I haven't tried before which is the Superfood range. The Elemis Superfood Skin Feast set contains 4 products which are the Elemis Nourishing Omega Rich-Cleansing Oil, Full Size (195ml), Elemis New Superfood Kefir Tea Mist (100ml) Elemis New Superfood Vital Veggie Mask (15ml) and Elemis Superfood Day Cream (20ml). I've been through approximately 4 bottles of the cleansing oil so I would recommend this in a heartbeat, but the rest sound amazing. You can 2 full size and 2 good sample sizes to try.
There are so many sets available from Elemis this year, so I would definitely pick one up!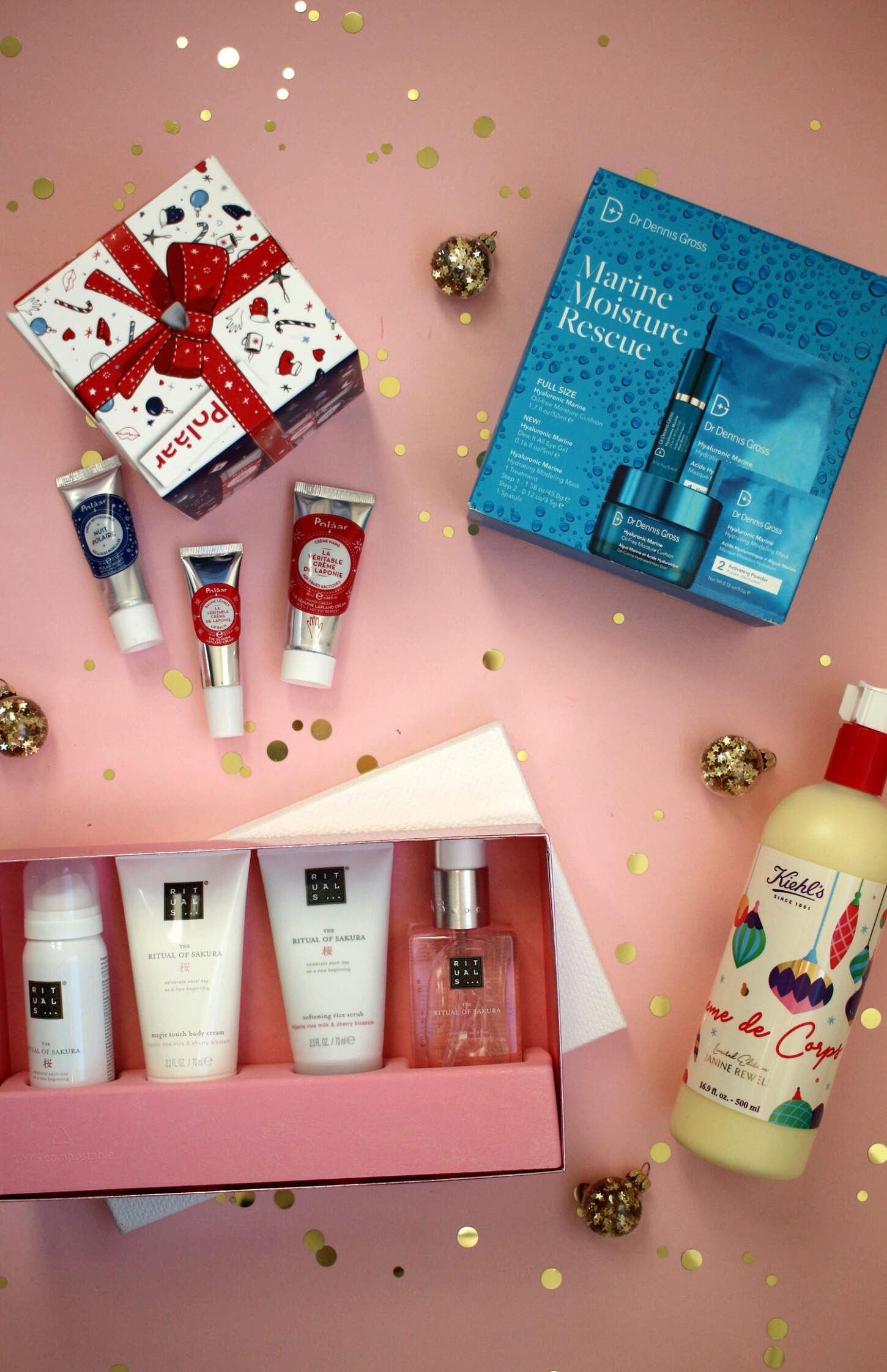 Rituals, Kiehl's, Dr Dennis Gross and Polaar
A few little suggestions all bundled together, but they're all great!
I picked up the Dr Dennis Gross Marine Moisture Rescue kit for my latest Monthly Skincare Trials and I was so impressed with these products. It contains their Hyaluronic Marine Oil-Free Moisture Cushion, Dew It All Eye Gel and Hyaluronic Marine Hydrating Modeling Mask. They're great products (spoiler alert: my review will be positive!) and are a brand well worth trying.
Rituals are a brand I have seen, but haven't tried yet so the Rituals The Ritual Of Sakura Bodycare Set is a perfect introduction. It has 4 products: The Ritual of Sakura Shower Scrub (70ml), The Ritual of Sakura Hand Wash (110ml), The Ritual of Sakura Body Cream (70ml) and The Ritual of Sakura Foaming Shower Gel (50ml). The scent is beautiful, too.
Of course you can't do Christmas without Kiehl's and I always love seeing their Christmas packaging every year. The Kiehl's Creme de Corps is always a winner, as it's a beautiful nourishing body cream. The limited edition design by Janine Rewell is the perfect gift, I think!
Finally, we have a little gift set from Polaar containing 3 of their products: a Night Cream, a lip balm and a Hand Cream. I'm new to the brand, but looking at their story online, their skincare is based on Arctic ingredients which are harnessed to nourish dry skin and protect it.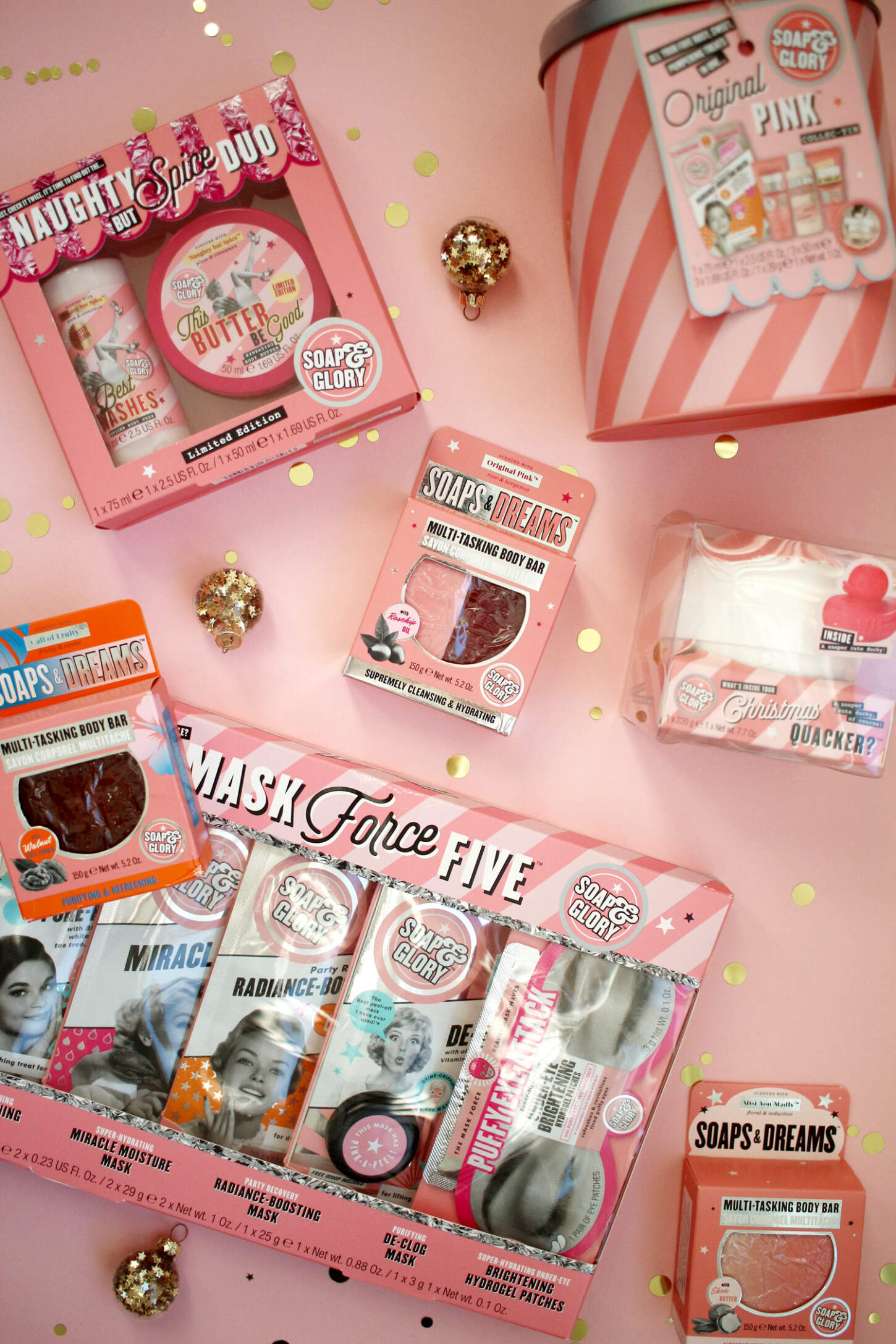 Soap & Glory
I always look out for what theme Soap & Glory will be going for each year or what puns they'll use on packaging, and they never disappoint! If you're new to the S&G world, you may want to pick up a gift set as they are the best way - in my opinion - to try the brand.
So, first we have the Naughty but Spice Duo which includes the Best Washes Spiced Body Wash and the This Butter Be Good Hydrating Body Butter. Perfect for those Christmas vibes with the spiced scent!
The Original Pink Collection is a classic from Soap & Glory. You'll get 5 products in this reusable tin ft Clean On Me Shower Gel, Hand Food Hydrating Hand Cream, Bright + Beautiful Radiance Boosting Mask, The Righteous Butter Body Moisturiser and The Scrub of Your Life Smoothing Body Buffer.
If you or your giftee are into face masks, then the Mask Force Five set would be perfect. It has their The Fab Pore Pore-refining Mask, Speed Plump Miracle Moisture Mask, Bright + Beautiful Radiance-boosting Mask, What A Peeling De-Clog Mask, Puffy Eye Attack Under-eye Brightening Hydrogel Patches.
If you're after a cute stocking filler, their Christmas Quacker bath bomb with an adorable bath duckie inside would be perfect!
And finally, we have their Multi-Tasking Bar Soaps which I believe are their latest releases. There;s the Original Pink scent, the Call Of Fruity scent and the Mist You Madly scent. They all have slightly different properties, so if you know someone who loves a classic bar soap, then they are perfect!
So there you have it...
My selection of some of the best skincare and bodycare gifts. There's dozens of presents out there though, so make sure you check our the above and I hope you find the perfect one!
Check out my other gift guides here