Welcome to the last gift guide! Yes, ladies and gents, I've saved my favourite section to last with a bunch of skincare and makeup goodies. I've tried to include a good range - especially in the makeup dept - so there'll be plenty to pick from if you're stuck on a gift this year! Not long until Christmas now, so make sure you get readin' and orderin' ASAP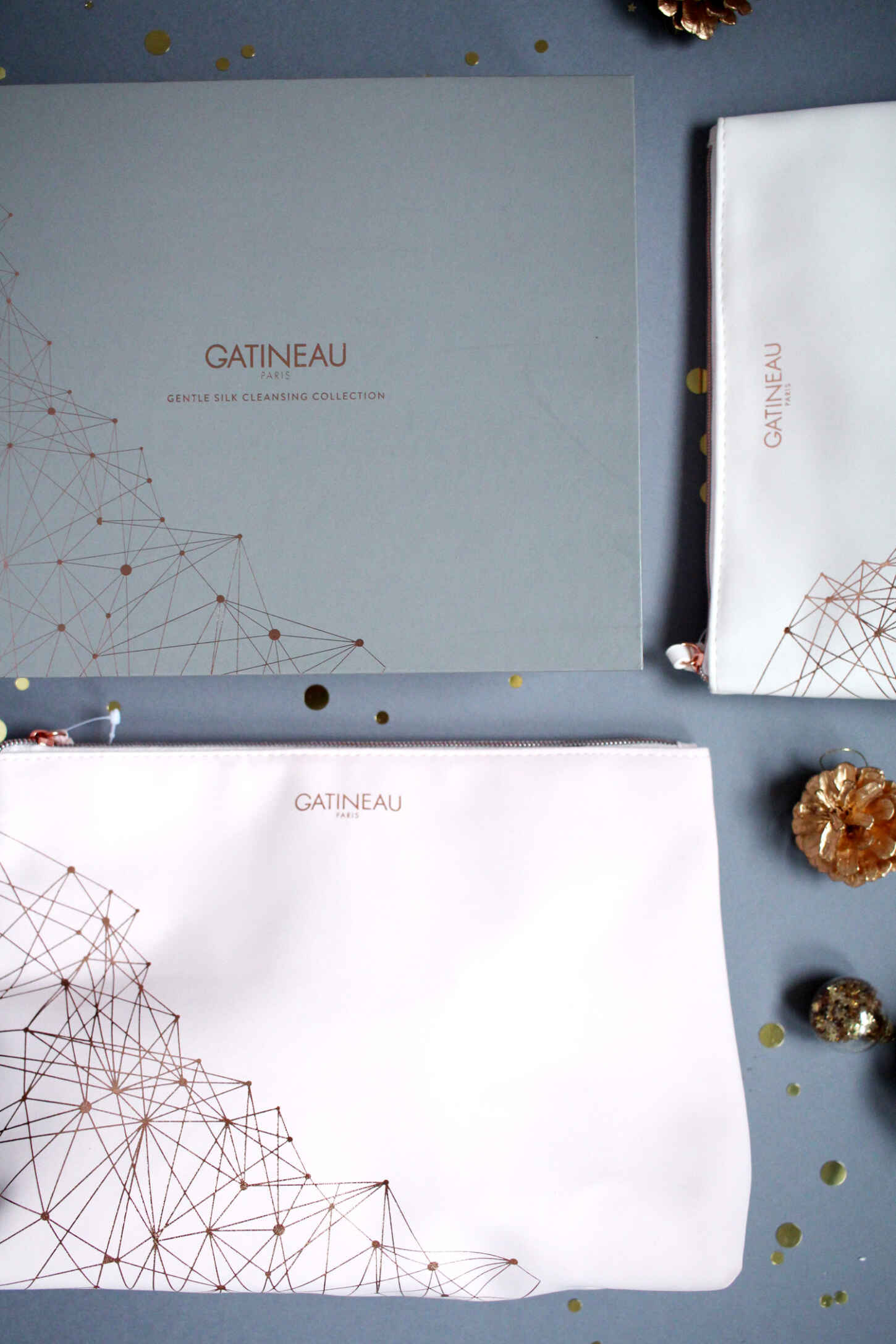 I love a good skincare set! Whether it's in a pretty box, or mini sized or wrapped up in tissue, new skincare is such a lovely gift to get someone I think! I know my family are useless at trying new things, so it's always up to me to introduce them!
So, in this section we have some gorgeous gifts from Gatineau! I love how they come in these (amazing quality, btw) pouches which you can reuse as toiletry or makeup bags.
First, there's the Gatineau Gentle Silk Cleansing Collection which is a box that houses the perfect cleansing routine. You can the makeup remover, silk cleaner and silk toner - the perfect intro to the brand!
Next is the Gatineua Perfection Ultime Smoothing Collection (left) which has three amazing anti-ageing goodies. The Perfection Ultime Beauty Cream, the Collagene Expert Ultimate Smoothing Serum and the eeling Expert Anti-Ageing Gommage (which is a peel).
Next, for tired looking skin, we have the Gatineau Melatogenine Rejuvenating Collection. You get the Melatogenine AOX Advanced Cream, the Melatogenine AOX Serum and the Melatogenine AOX Advanced Eye Concentrate. The perfect combo to refresh yours skin!
Finally, there's the Gatineau Aquamemory Replenish Collection for dehydrated or dry complexions. You get the Aquamemory Cream, the Aquamemory Eye Roll-On, the Aquamemory High Hydration Mask and the Mask Brush. Ideal pamper night products!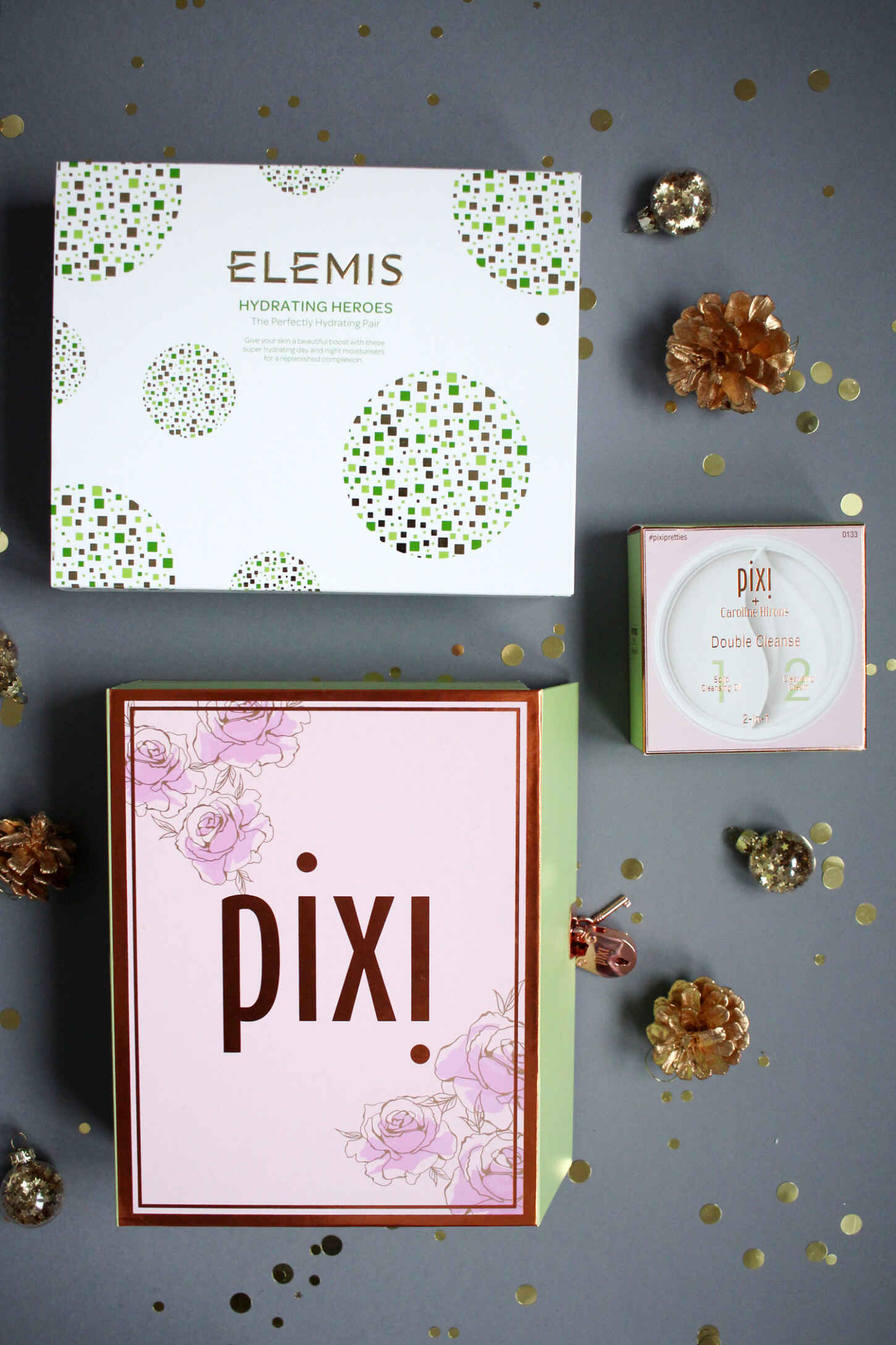 Who doesn't love the Elemis gift sets at Christmas? No one, that's who. I adore giving them to people as they're always so well received and I personally use their products every single day! The Elemis Hydrating Heroes set contains the perfect duo for dry or dehydrated skin. You get the Elemis Hydra-Boost Day Cream and the Elemis Hydra-Boost Night Cream in a gorgeous presentation box. I can vouch for both of these products, too!
Next is a little extra gift you could get someone and one I've only recently come to test out, despite having it ages, so I had to include it! The Pixi + Caroline Hirons Double Cleanse is one of the nicest cleansers I've tried in a long time. It has a solid oil and a cream cleanser, which is the perfect duo to leave skin feeling soft, supple and comfortably cleansed. Definitely treat a pal to this one!
Finally, we have something that's a combination between skincare and makeup, as the gift box is half and half. I think this might be out *soon* as I can't find a link to it online, but it's such a pretty gift if you can spot it. This Pixi box comes all locked up (cute) and opens into two sides: one with their Rose Caviar Essence and Rose Flash Balm, and the other side has five rose-themed Mattelast Liquid Lipsticks! It's honestly so beautiful.
Yay, makeup! If you're a beauty junkie, there's nothing better than getting a new palette or a set of lipsticks for Christmas, is there?
I'll start from the left hand side of the photo below and talk you through some of my favourite gift picks.
First, we have two Pixi items which I've been saving for my guides to show you. The Pixi Pretties collection are collaborations with bloggers and YouTubers and they created some seriously gorgeous items. The Pixi + It's Just Time Eyeshadow Palette has the most beautiful collection of pigmented eyeshadows that I've seen in a long time.
The Pixi + Maryam Maquillage Strobe and Bronze Palette is perfect for those who like to add definition when doing their makeup and I'll most definitely be keeping this one for myself.
Jumping over to the bottom right-hand corner of the photo below, there's also the Pixi + Aspynovard Glow-y Powder makes for the the perfect blush/highlighter combo as it gives such radiance to the face.
If you like your super natural makeup brands, there's the Inika Beauty On The Go (60% off!) set which contains their primer, liquid foundation and powder plus a brush! This set would make such a lovely gift as it's already packaged perfectly!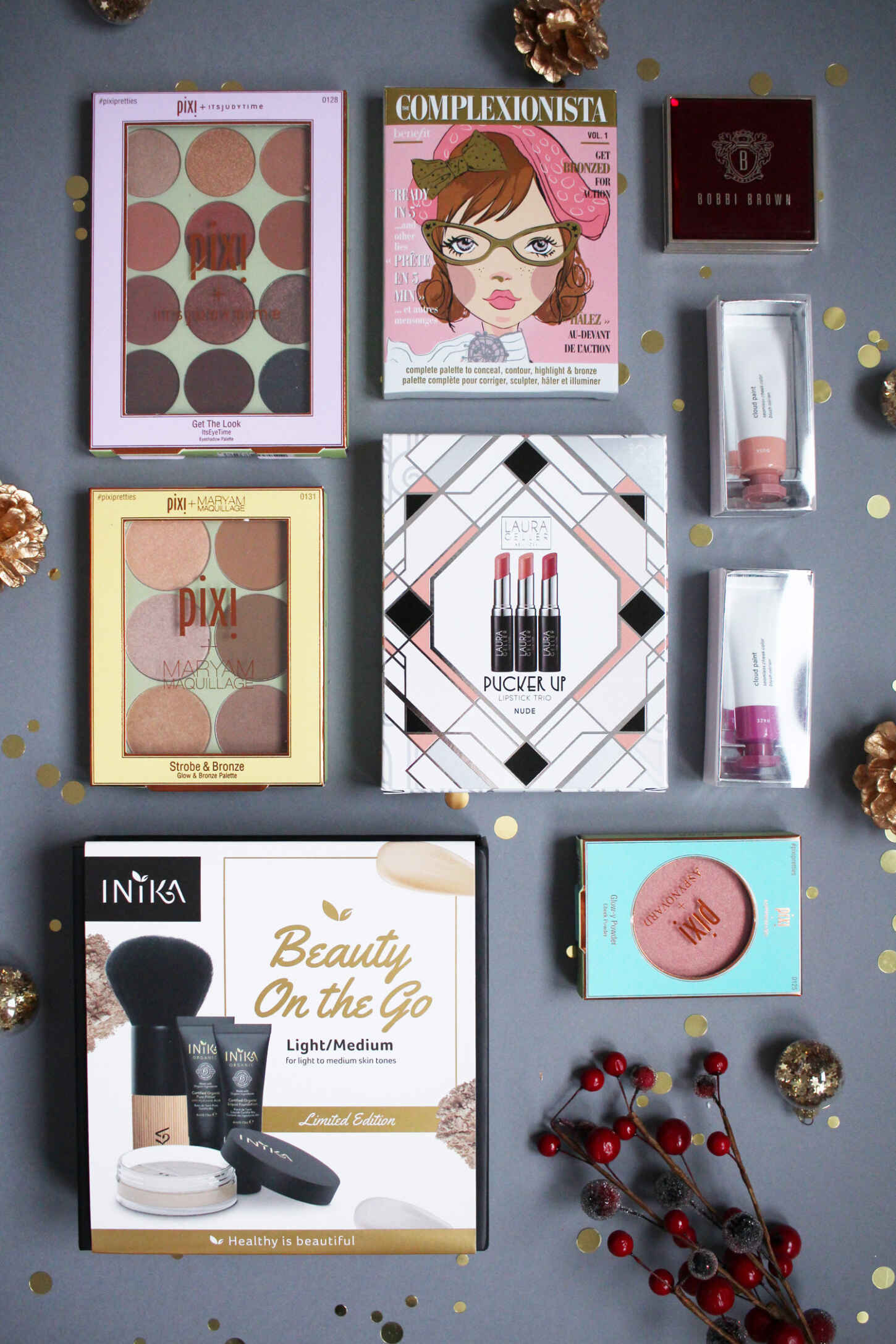 Starting from the middle of the pic above, we have a perfect little palette from Benefit. The Benefit Complexionista Palette has all you need for your base makeup. There's their Boi-ing Concealer, the Hoola Bronzer, Watt's Up (my favourite highlighter) and Dandelion Twinkle to really give your face a glow.
Next, we have a beautiful set from Laura Geller. The Laura Geller Pucker Up Lipstick Trio in Nude is such a perfect gift for someone who keeps it neutral in the lip department.
If you fancy getting someone on that Glossier hype, then I would totally recommend picking up the Glossier Cloud Paints. They already come housed in cute little boxes, but the product inside is actually excellent and I've been using them non-stop myself. They would make such good gifts, plus you can get 10% off your first order.