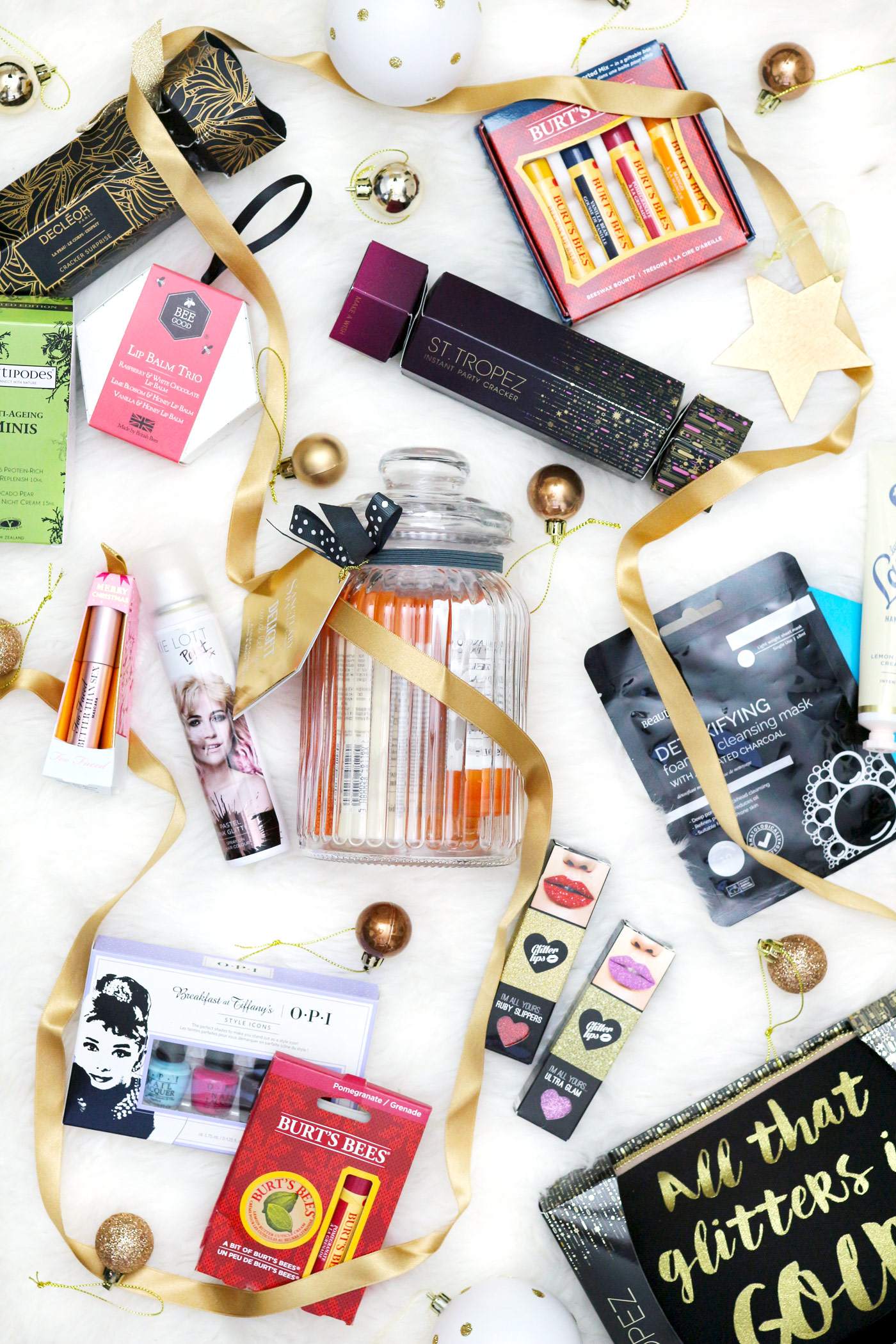 I still have quite a few gift guides to come, but is there anything nice than picking up stocking fillers? I genuinely love getting those little extras, whether it's a little bag of sweets or a lip balm, I look forward to those little thoughtful hints often more than the 'main' present. So, in today's post I'm going through a few extra beauty bits you could include for your loved ones.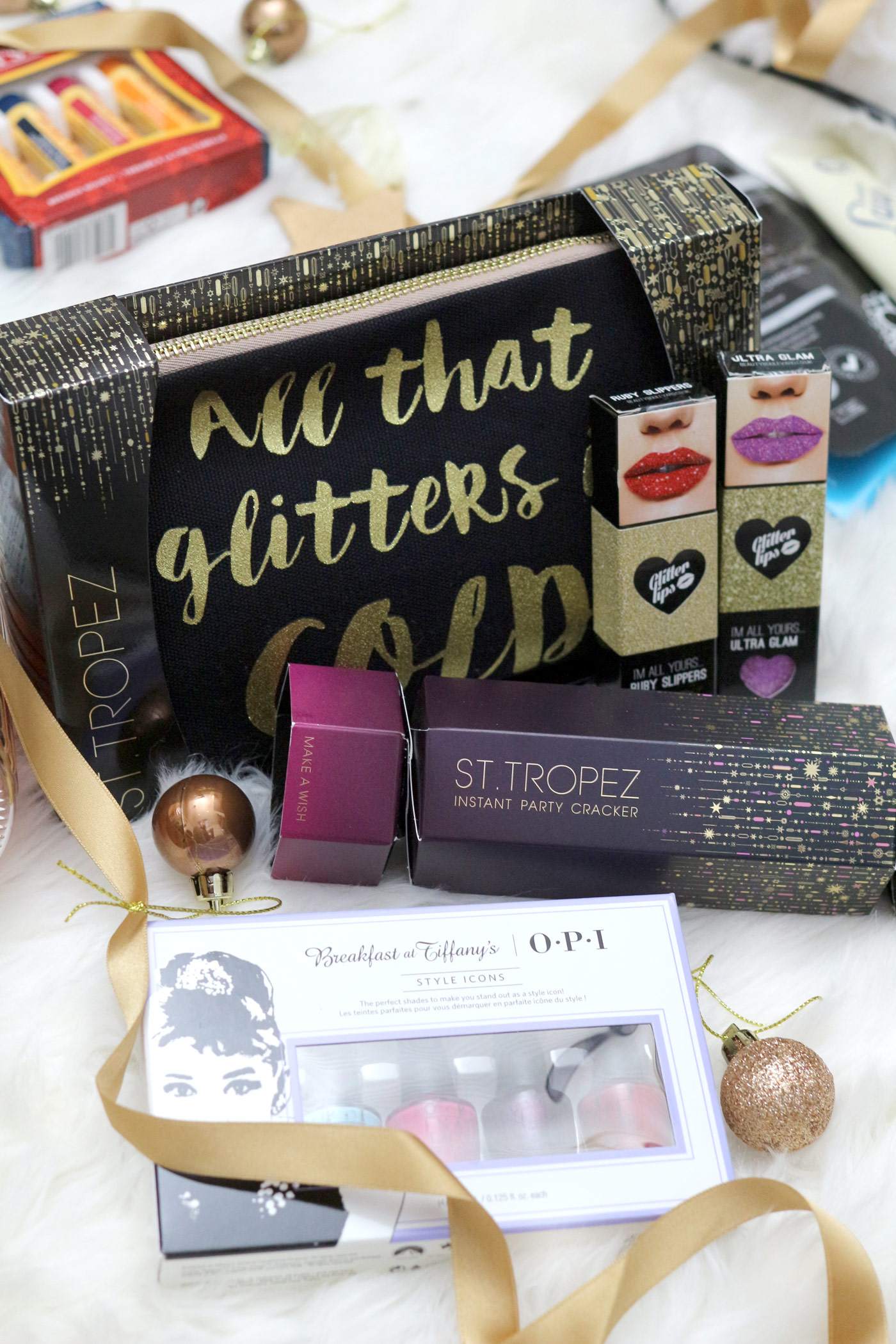 First we have a whole bunch of sparkle from tan to novelties. I love St Tropez tan and they have a few Christmas goodies out this year to add to your shopping list. One is a cute pouch – the St Tropez Golden Girls Set – which contains their self tan luxe dry oil, an amazing Nails Inc gold polish and a tanning mitt to ensure flawless application! They also have a few versions of their Christmas cracker and the one I have is the St Tropez InSt.ant Tan Cracker which contains a wash off face and body lotion in light/medium.
Next are two amazing products to add sparkle to your life and it's Glitter Lips by Beauty Boulevard. The clue is in the title and they'll give you non-transferable glittery lips that will last all night. Grab the red shade 'Ruby Slippers' or the purple 'Ultra Glam' and up your festive lip game. Finally, to top off your look, you can't go wrong with the Breakfast at Tiffany's Set by OPI, so make sure you stick these four gorgeous mini nail polishes in someones stocking so they can have tip-top nails all year round.
Next are a bunch of skincare and lip balm sets as I think they make the perfect stocking fillers. For lip balms, we have the amazing Bee Good Lip Balm Trio which contains three flavours; raspberry and white chocolate, lime blossom and honey and vanilla and honey – how delicious! Next, Burt's Bees have a selection of four lip balms (original, mango, pomegranate and vanilla bean) which you could keep as one gift for a lip balm obsessed individual, or split it up and stick one in each stocking! They also have the gorgeous A Bit of Burt's Bees set which contains a lip balm and their cult cuticle cream – ideal for those who want to keep their skin looking great.
Next we have a brand which I adore and a lil' gift which makes the perfect intro to the brand. The Antipodes Anti-Ageing Minis are a great way to get someone into natural skincare goodies via their beautiful Joyous Protein-Rich Serum and the Avocado Pear Night Cream (which are both amazing!). Finally, you can't do Christmas without Sanctuary, right? The Sanctuary Jar of Delights is a bargain and four products (body wash, body lotion, bath soak and hand cream) plus an exfoliating mitt – such a perfect pamper gift!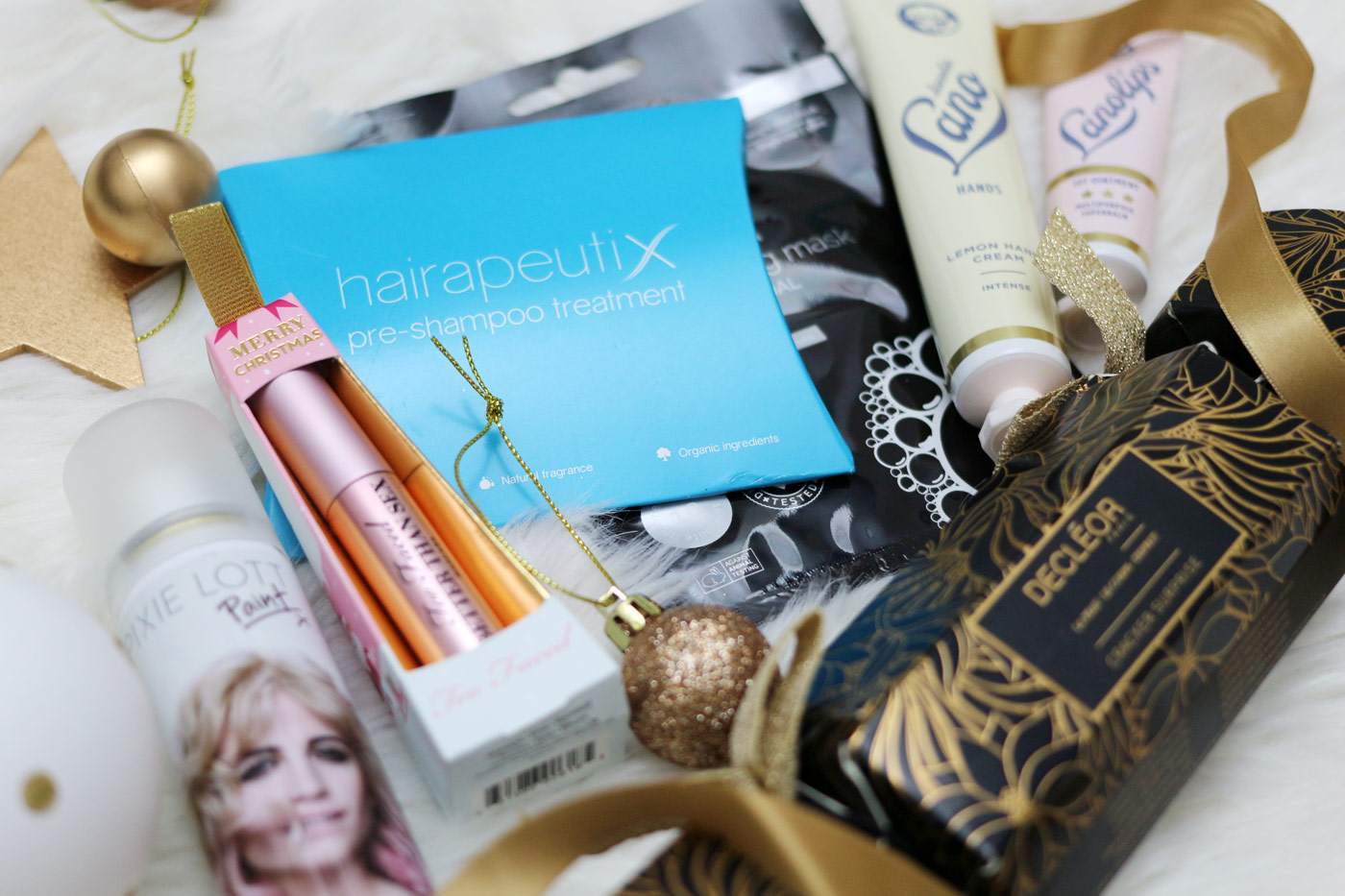 And now the final roundup of little beauty goodies! I see stocking fillers as a way of trying products you might not have previous known existed or wanted to try, but hadn't got round to picking up. So, why not treat someone to a mini Too Faced Better Than Sex Mascara (which is amazing btw) or some Lanolips Hand Treatment or Lip Balm? Or maybe they want to change up their look so you can get the Pixie Lott Paint Spray so they can add a touch of pink? You could always get them into a new skincare product with the Decleor Christmas Cracker which contains their amazing hand cream. Little gifts are literally the best (I think, anyway!)
Do you enjoy stocking fillers as much as I do?
Helen x