I've decided to start these a whole day early, as I'm going to be posting around seven gift guides (maybe more, I get carried away and love presents) so I thought it would be good to get one in while there's offer still online! So, in my first gift guide, I'm going through the makeup must-haves from a few gorgeous brands which you can pick up for yourself or a loved one!
First of all are some new releases by Urban Decay. They're kinda killin' it right now in the makeup department, as all of their collections have been amazing! One of the most popular has to be the Urban Decay Naked Ultimate Basics Palette which contains 12 ultra-pigmented shadows – I used the orange toned Extra-Bitter yesterday and it's love! It would make such a lovely gift. Next is a compact version of their huge Vice Lipstick collection which is the Urban Decay Vice Lipstick Palette in Junkie, which online only at the moment. Again, it contains 12 of their much coveted lipsticks in a range of shades and finishes, from matte to glitter and nudes to dark green. I really love the packaging on this one too. Finally, we have the Urban Decay Naked Illuminating Trio which has a champagne-gold highlight, a frosted taupe bronzer and a warm, iridescent pink. This comes complete with a brush and it's just so gorgeous!
I always look out for Bobbi Brown's Christmas collections as they're so luxurious and special, and their new 'Wine and Chocolate' collection is no exception. The Bobbi Brown Chocolate Eye Palette contains four gorgeous, soft eyeshadows and three ultra-pigmented liner shades – perfect for creating beautiful eye looks for occasions and every day. The Bobbi Brown Brightening Blush in Pink Truffle is a warming pink-bronze shade to add a glow to the cheeks and compliments the eyeshadows perfectly – they would be a perfect combination gift! Finally, to tie your look together, the Bobbi Brown Luxe Lip Colour in Uber Nude is the perfect pink-toned nude hue to keep in your bag and use every day!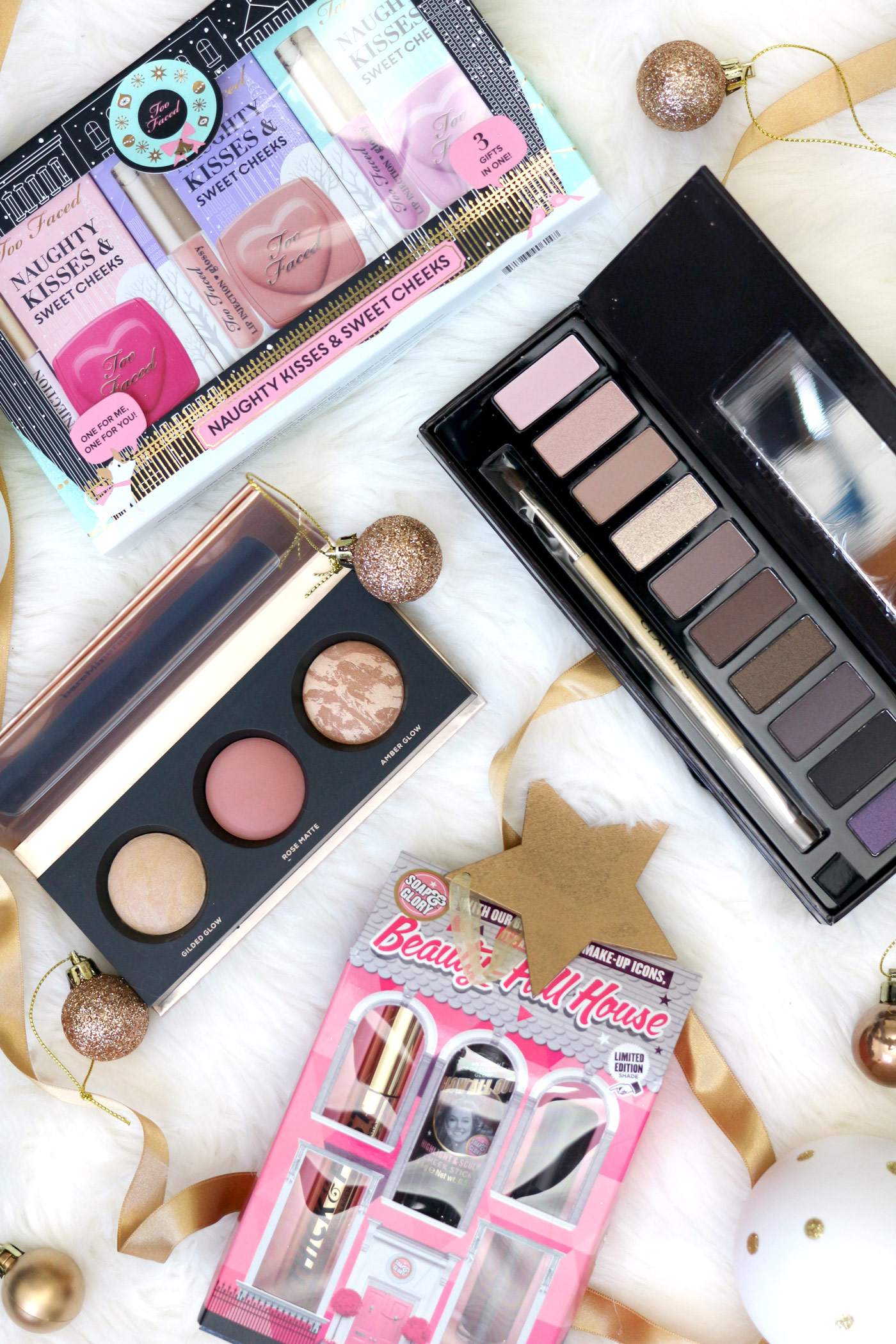 One gift I really love out of this set is the Too Faced Naughty Kisses and Sweet Cheeks set, which contains three individually packaged sets. I think this is great value for money as you can give it as one gift, or divide it by three and cover three presents with one set! I love the nude peach shade in the middle – how pretty! If you want to give someone the ultimate eyeshadow palette for the season, then definitely opt for Clarins The Essentials Palette which contains ten must-have shades which cover pretty much every eye look! What a perfect gift, eh.
Next we have another trio from BareMinerals and it's the BareMinerals Glow Together Complexion Finisher Palette, which contains three super-soft powders for your blush, bronzer and highlighter. The packaging of this really impressed me as it's honestly so beautiful! Finally, you can't do Christmas without Soap and Glory and their Beauty-Full House set is such a winner. It contains the Thick and Fast Mascara (one of my faves!), the Glow All Out Highlight and Sculpt Cheek Stick and the Sexy Mother Pucker Lip Gloss in limited edition shade Plumble – what a gorgeous set!
Oh and if you want to save some cash for Christmas, check out this site that tracks sale prices woznow (see what they did there). It shows the prices before and the reduced prices so you can check to see if the item you want has been reduced, it basically takes all of the hard work out of searching for the best prices! They feature everyone from ASOS to Argos to Selfridges too.
So that's my first roundup of beautiful makeup gifts for this season – will you be picking any of them up?
Helen x