*Contains a PR sample + Affiliate links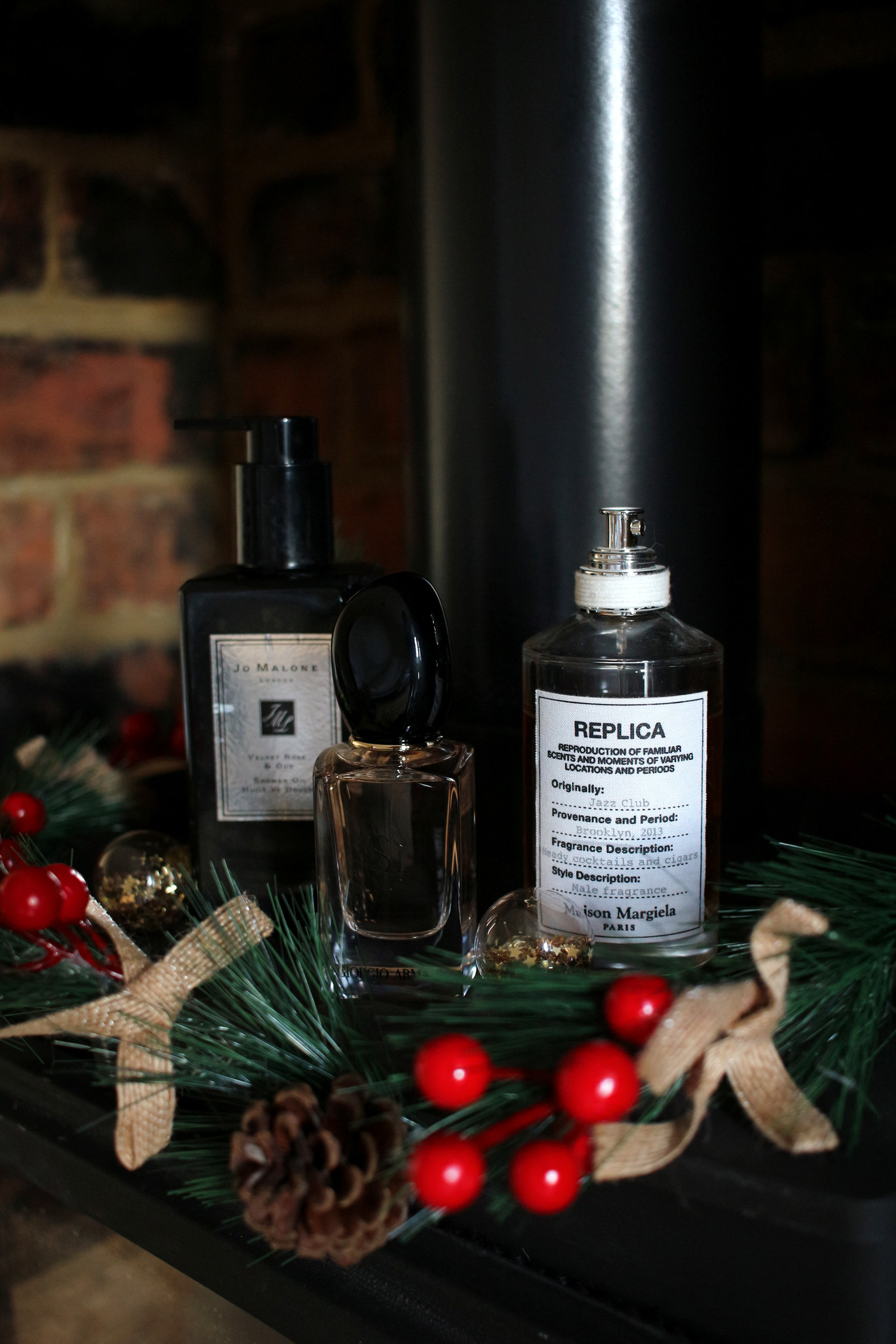 Three Festive or Winter Scents
Perfume or any type of fragrance is such an individual thing and smell different on everyone, but in today's post I wanted to suggest three scents - two perfumes and a shower oil - that I think are the perfect choices for Christmas or to wear over the festive period. I always opt for a warm scent all year round, but I think they work especially well in Winter. There's nothing like a comforting, heavier (but not overwhelming) scent when you're bundled up in a scarf or at a Christmas get together.
So, in today's post we have three beautiful fragrances that I'm sure will suit everyone who isn't keen on powdery or floral scents.
Armani Si Eau de Parfum
Purchase via Escentual here | An uplifting but inviting scent and one I would class as a good all-rounder, as I could see it worn by pretty much anyone. I believe it's a very accessible fragrance - not too heavy, not floral, not smoky, just a good, neutral fragrance. The bergamot, rose, amber and vanilla are the tones that stick out the most to me, but it all comes together in a warm, beautiful fragrance that I genuinely believe anyone would love!
I think the heavy glass bottle is really chic too, very minimal and the amber/beige liquid looks so pretty.
Top Notes: Sicilian Bergamot, Mandarin Oil, Liquer de Cassis
Heart Notes: Rose de Mai Absolute, Neroli Absolute, Egyptian Jasmine Absolute
Base Notes: Patchouli Oil, Blond Woods, Amber, Orcanox, Vanille Absolute
Maison Margiela Replica Jazz Club Eau de Toilette
Purchase here | My go to perfume all year round, Jazz Club is toted as a unisex fragrance and smells like, you've guessed it, the rum and tobacco scent that you would expect to find in a jazz club. Now, it may sound like it's going to smell like an ashtray, but I can assure you it smells like the most beautiful warm, vanilla and run scent. I adore it.
Love the bottle too!
Top Notes: Pink Pepper, Neroli Oil
Middle Notes: Rum Absolue, Sage Oil
Base Notes: Tabaco Leaf Absolute, Vanilla Bean
Jo Malone Velvet Rose and Oud Shower Oil
Purchase here | The only fragrance in this trio that has a floral note, but this isn't a granny old school rose. It's a deep, inviting and dark rose scent mixed with the smokiness of oud. Definitely a scent for those who like things on the heavier side, but it's honestly so beautiful and the shower oil layers beautifully with other fragrances or their Cologne Intense (which I have and love). You can still smell it long after you're out of the shower, so it doubles as a fragrance for me.
Top Note: Clove
Heart Note: Damask Rose
Base Note: Oud
So, they're the three fragrances I would recommend picking up if you're looking for a new festive or Winter scent, or just want to buy a new perfume or shower product for someone. Armani Si is a very good all-rounder, whereas the other two are more specific, but still very beautiful fragrances.