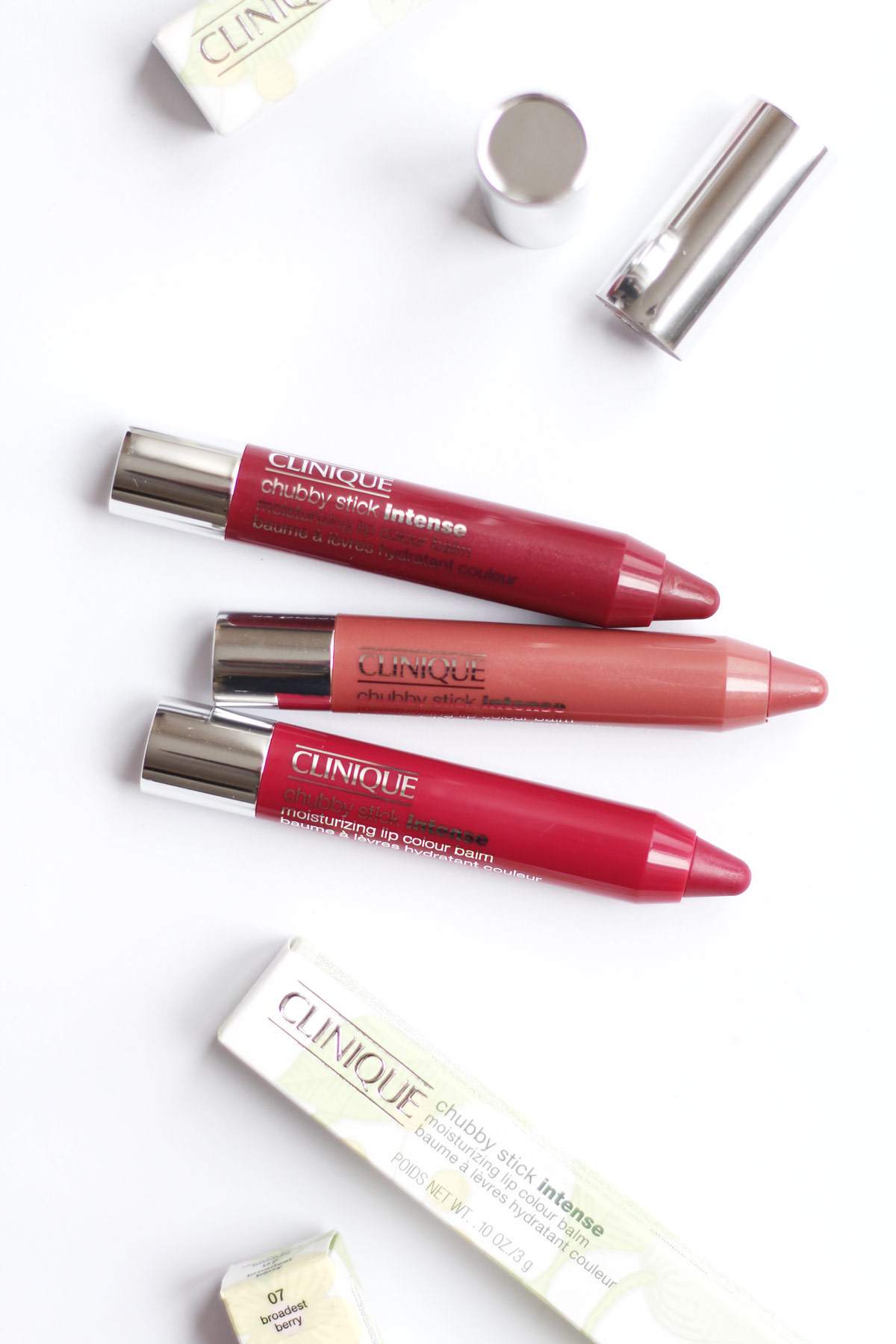 Clinique Chubby Stick Intense: You know when you try a product and you like it, but it doesn't really rock your world? That's how I feel about the original Chubby Sticks. But, when they bought out Clinique Chubby Stick Intense, I was 100% sold. Give me extra pigmentation any day as long as it still retains the balm element of the originals and I'm sold.
So, three new colours (in my collection, at least) of these lovely products landed on my doorstep recently and I've been beyond obsessed with them ever since. They have a great range of shades anyway, from perfect nudes to bold reds, pretty pinks to dark plums so there's always something to pick from no matter what colour your feelin'. As it's coming up to Spring, the above Clinique Chubby Stick Intense pretty pinks fit in perfectly with my collection!
So, the one I adore the most has to be the Clinique Chubby Stick Intense in Curviest Caramel. It's such a gorgeous nude shade which leans pink, definitely a 'your lips but better' shade on me but one that looks so perfect on. It's so easy to slick on and go, too!
Going a touch darker (the last one) is the Clinique Chubby Stick Intense in Roomiest Rose. This is a really beautiful rose tone which has a slightly blue undertone and is super flattering on. I think this one will look gorgeous with gold eyes and a matching rose blush in Spring!
Finally, the darkest of them all but in no way an A/W exclusive shade, the Clinique Chubby Stick Intense in Broadest Berry is a different berry to most of the one I have due to its undertone. This one seems to be more red which I find can be more flattering than harsher blue berry tones, making it more ideal for warmer months. When worn, the shade (to me) looks like you've been eating a raspberry ice lolly!
Have you tried the Clinique Chubby Sticks?
Helen x
Check out these amazing blogs: Kerry etc and Adventures of an Anglophile.