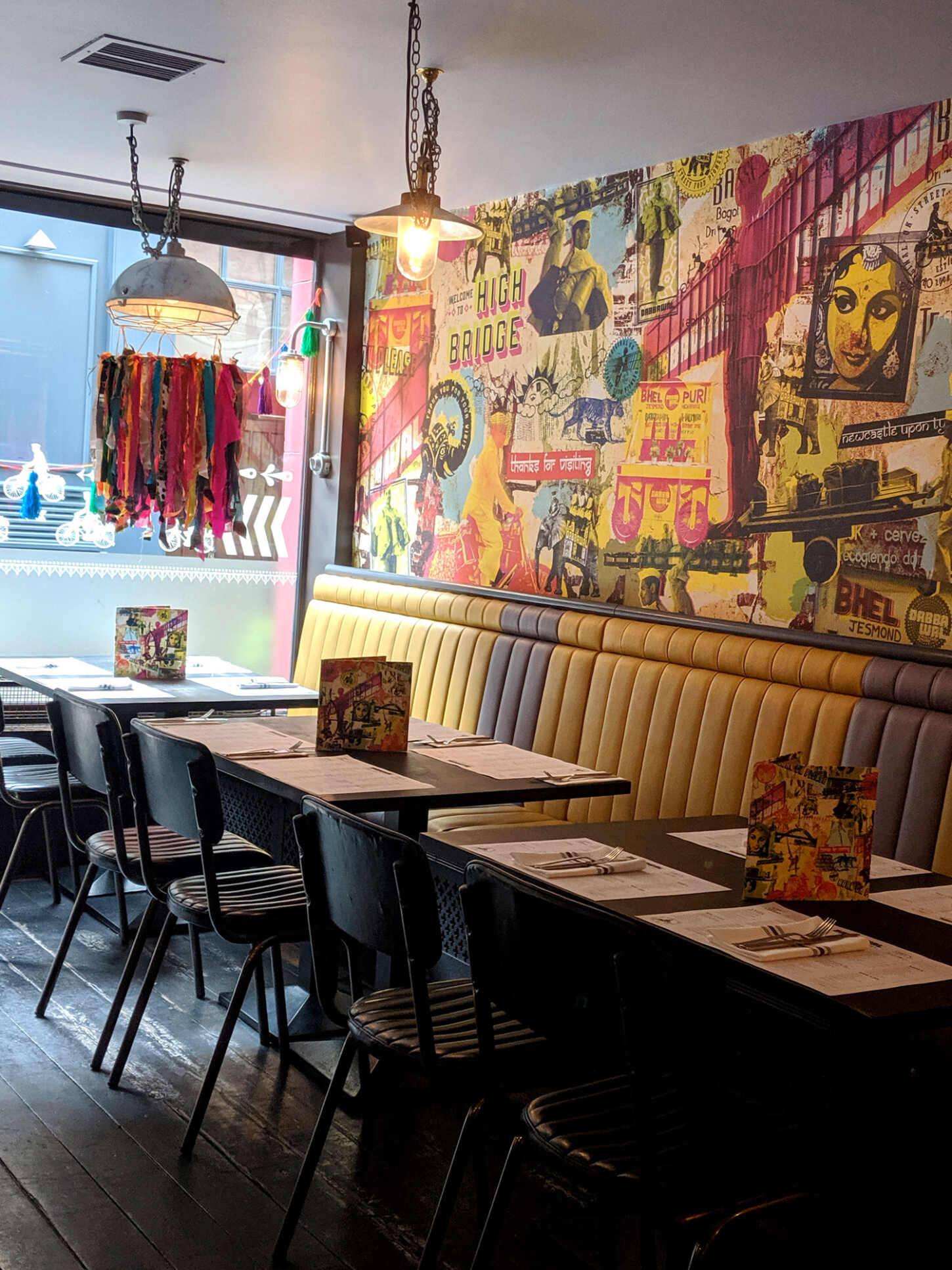 - Dabbawal -
69-75 High Bridge, Newcastle, NE1 6BX
This is a very quick review as Phil and I popped into Dabbawal for lunch the other day and I though, as it was quiet, I would snap some photos on my phone and put everything in a little post. I would like to go back and take proper photos, especially of their full menu, but today we're just going to cover their lunch as I wanted to share what they have on offer incase you're stuck for lunch ideas and work in the city centre.
Dabbawal is an Indian street food style restaurant and was the first of its kind in Newcastle, as everywhere else was very traditional. I remember going when they first opened and being completely obsessed with the mozzarella naan (trust me) and the cubed sweet potato starter which has the most moreish sauce on it. I've always loved Dabbawal for it's menu options, as it offered something a bit different than the usual heavy curry dishes that you would find in the majority of Newcastle's restaurants.
I must admit I haven't been for a year or two, as the last time I went the service was really poor as it was very busy. My parents went and found the same thing. So, if you're going to visit, I would recommend going on a week night or getting there a bit earlier. We were the first ones there for lunch when they opened (at 12pm), so we didn't have that issue this time, thankfully.
Anyway, onto the review...
Restaurant and Interior
Dabbawal has always had a very bright and vibrant interior which makes it such a cheerful place to visit. From the bright fuchsia exterior to the rainbow of colours throughout the restaurant, it makes everything feel so much more fresh and modern compared to the traditional Indian venues. There's hints to Newcastle dotted around the walls too, which is a nice touch!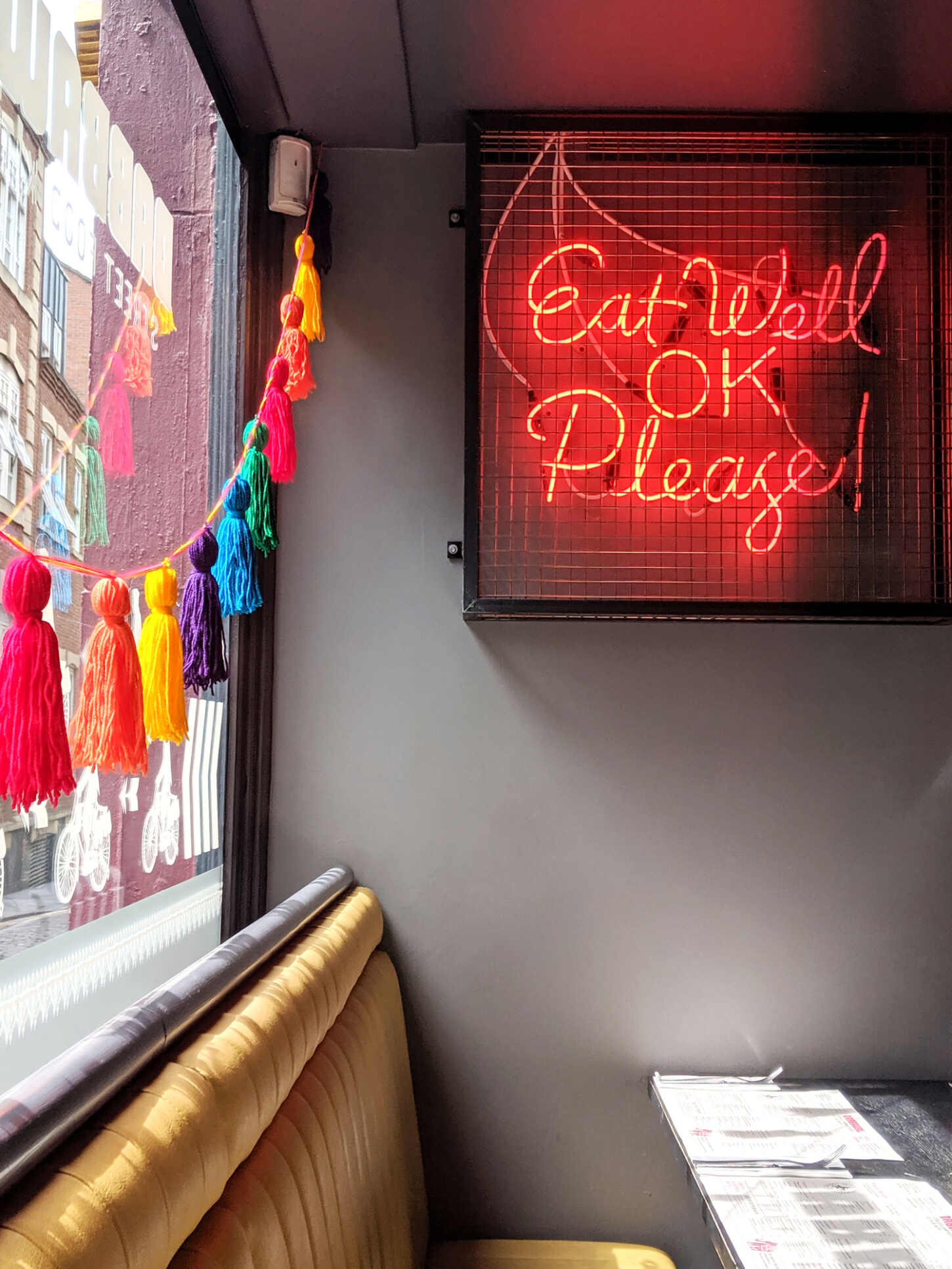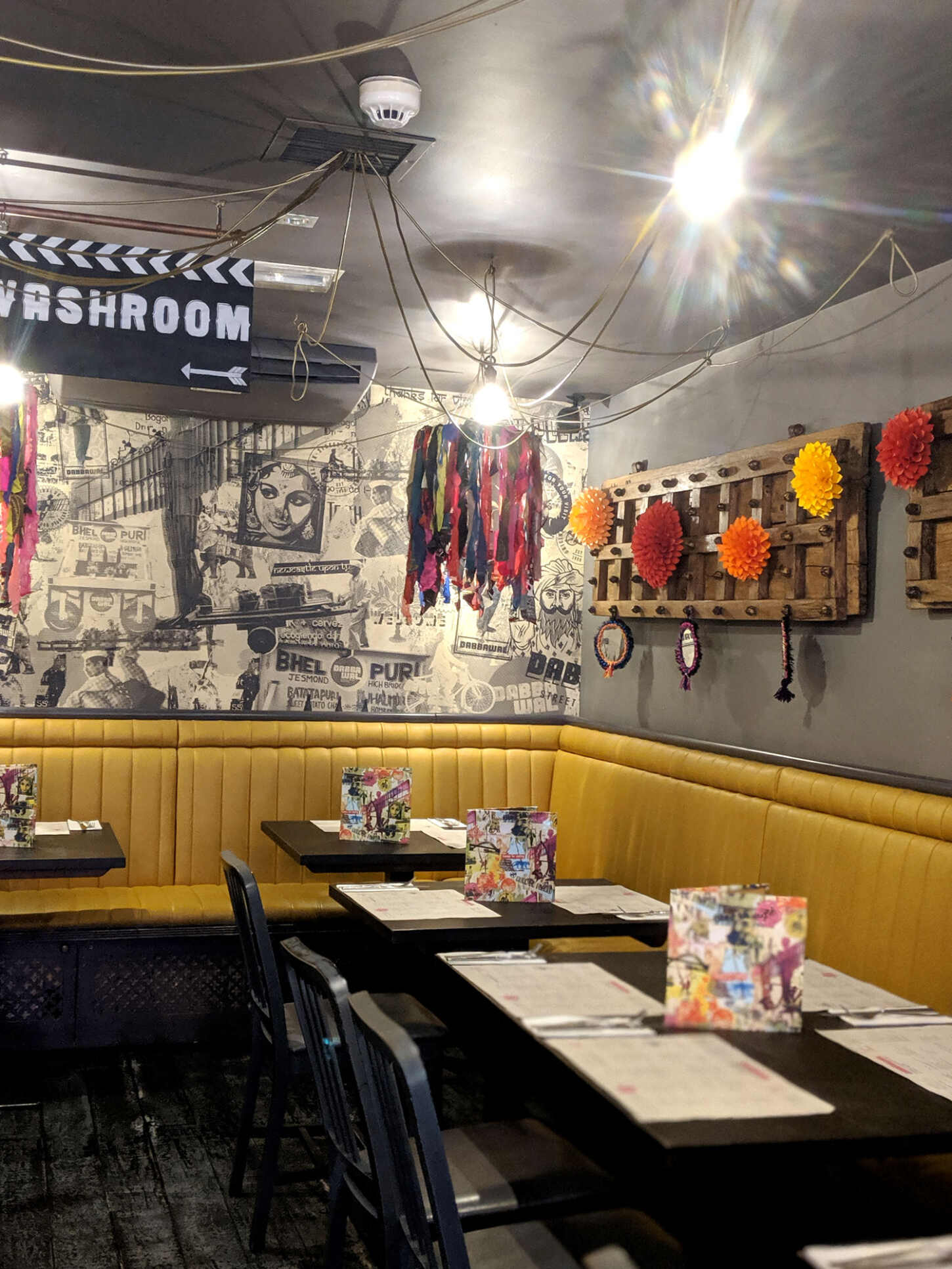 The Lunch Menu
The lunch menu on offer at Dabbawal is pretty good in terms of range. You can opt for small plates, wraps, bigger plates, curry's and thali's, as well as side dishes and breads. For the smaller plates, they offer 3 for £13 or 5 for £20 which I think is a nice deal if you're sharing with someone and want a £10 lunch each. There's a good selection, too, and I would definitely opt for this next time.
We were here to try the wraps (£6.50) though, as a friend said they were delicious so they seemed like an easy option! There's 4 on offer - spicy chicken, seekh kebab, spicy potato and cumin and paneer tikka. They are served with seasonal salads, chutney and masala chips. There's also a masala dosa wrap (also £6.50), which is onion and curry leaf spiced potato served with South Indian sambhar and coconut chutney.
I opted for the spicy potato and cumin while Phil opted for the paneer tikka. We try to order vegetarian where we can and both options seemed really nice. The wrap was presented well and it was a decent size for a lunch, and the taste of the actual wrap was great too. I don't think it was that spicy, but it did have a good amount of heat which added to the flavour. It reminded me of Bombay potatoes that you would get as a side dish (one of my faves) but a better version. The salad inside offered a nice crunch and the bread was soft and held together well. Phil said his was also great, but I didn't try it as he scoffed it all pretty quickly (eesh!).
The only thing that let it down was the extras. I don't know if the menu meant 'chutney' inside of the wrap, but I was expecting a chutney dip alongside the food - instead we got sweet chilli sauce. Like, Thai sweet chilli sauce... It didn't go, at all and we were really confused by this choice. Surely a mango chutney or a raita would have went better? The chips didn't really add much as they were just your standard (probably) frozen chips sprinkled with paprika or chilli or something on them. Not the masala chips I was expecting... The salad leaves aren't really worth mentioning, if I'm being honest.
I didn't really pick it for the side dishes, as I had heard positive things about the wrap so that's what I wanted to try. It was good, so I was glad I tried it.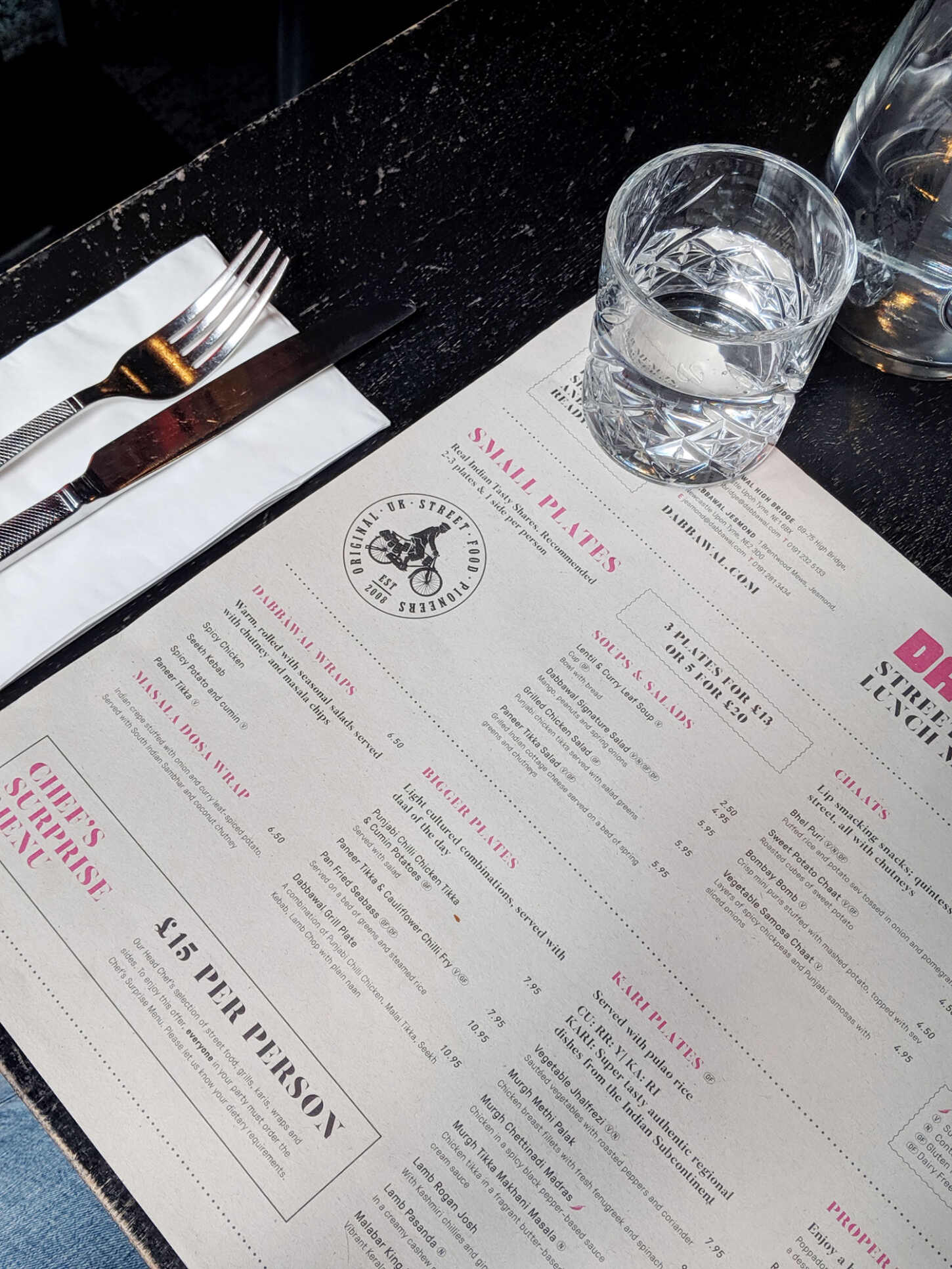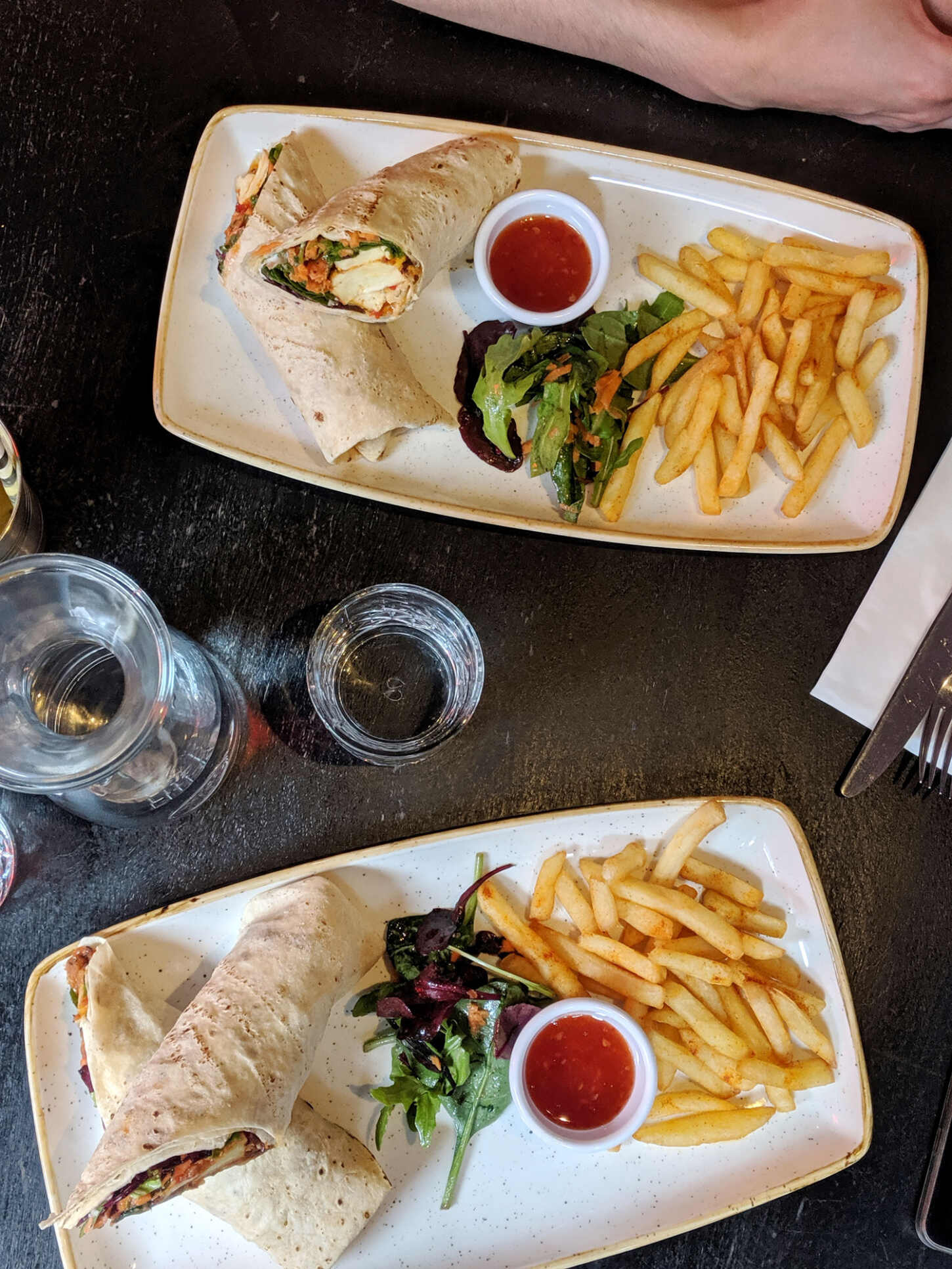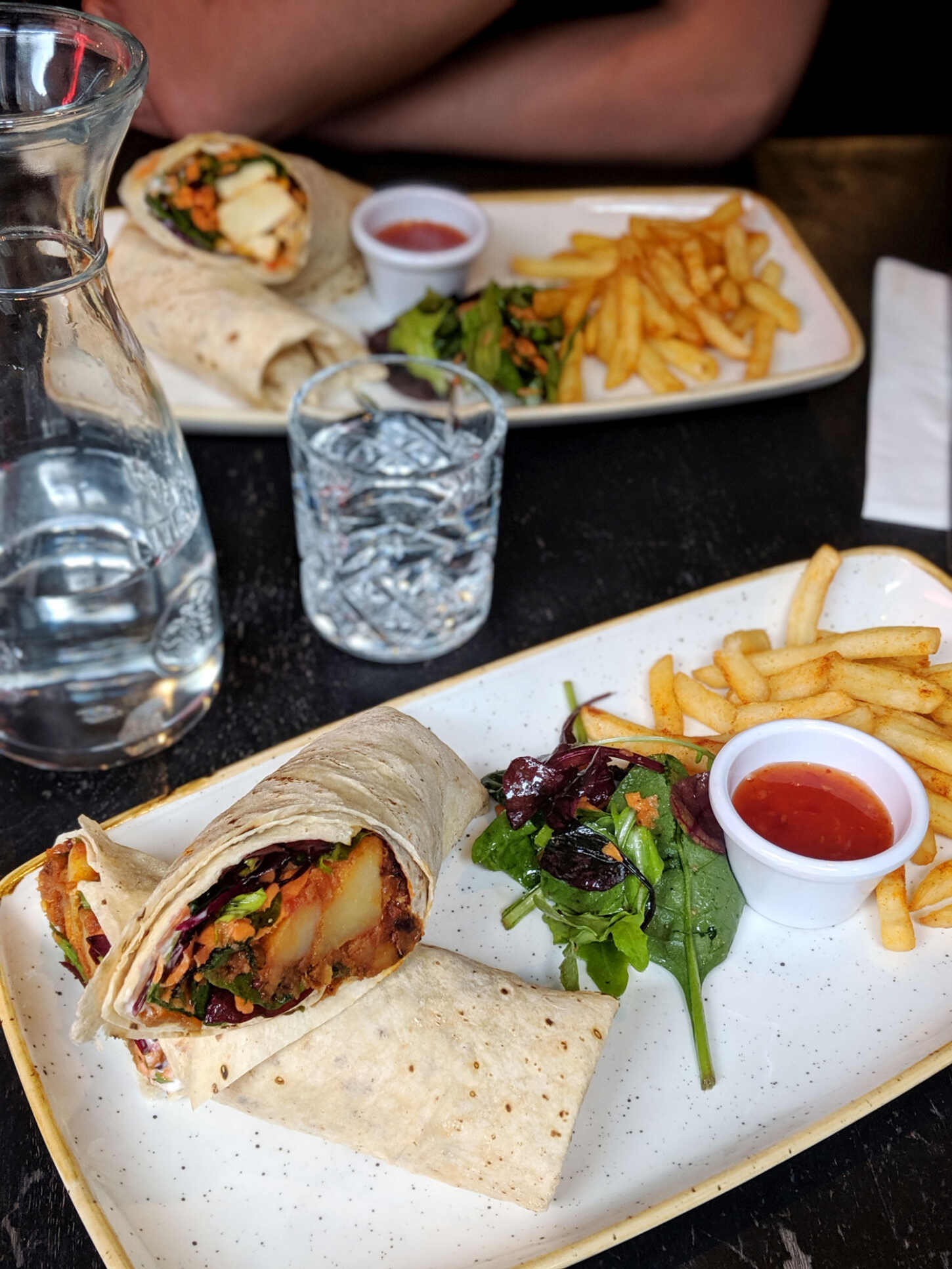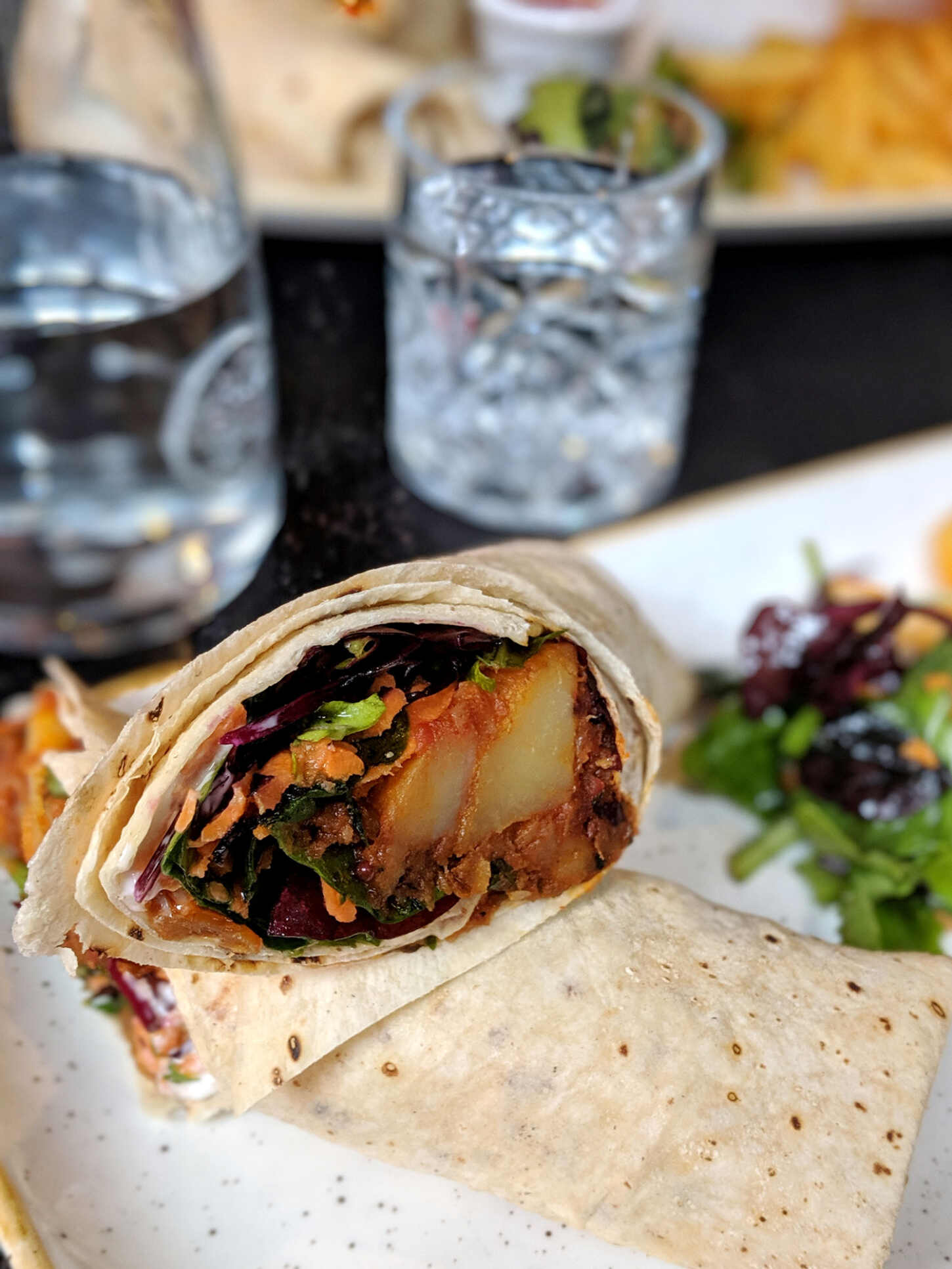 - Conclusion -
If you haven't been to Dabbawal, I would suggest visiting as I do genuinely believe it's one of the nicest Indian restaurants in the city centre. It offers a fresh take on Indian food and the interior style is vibrant and inviting too. I would still recommend getting the wrap - they offer a collection takeaway too if you're in a rush - but the sides you can definitely take or leave.
Their main dishes - from my past experience - are nice though so it's worth coming to try them. Just make sure you don't hit a busy time! I will definitely be popping back and may do a review of their main menu too.
You can find their website here and they also have a restaurant in Jesmond.
You can find my other Newcastle reviews here.