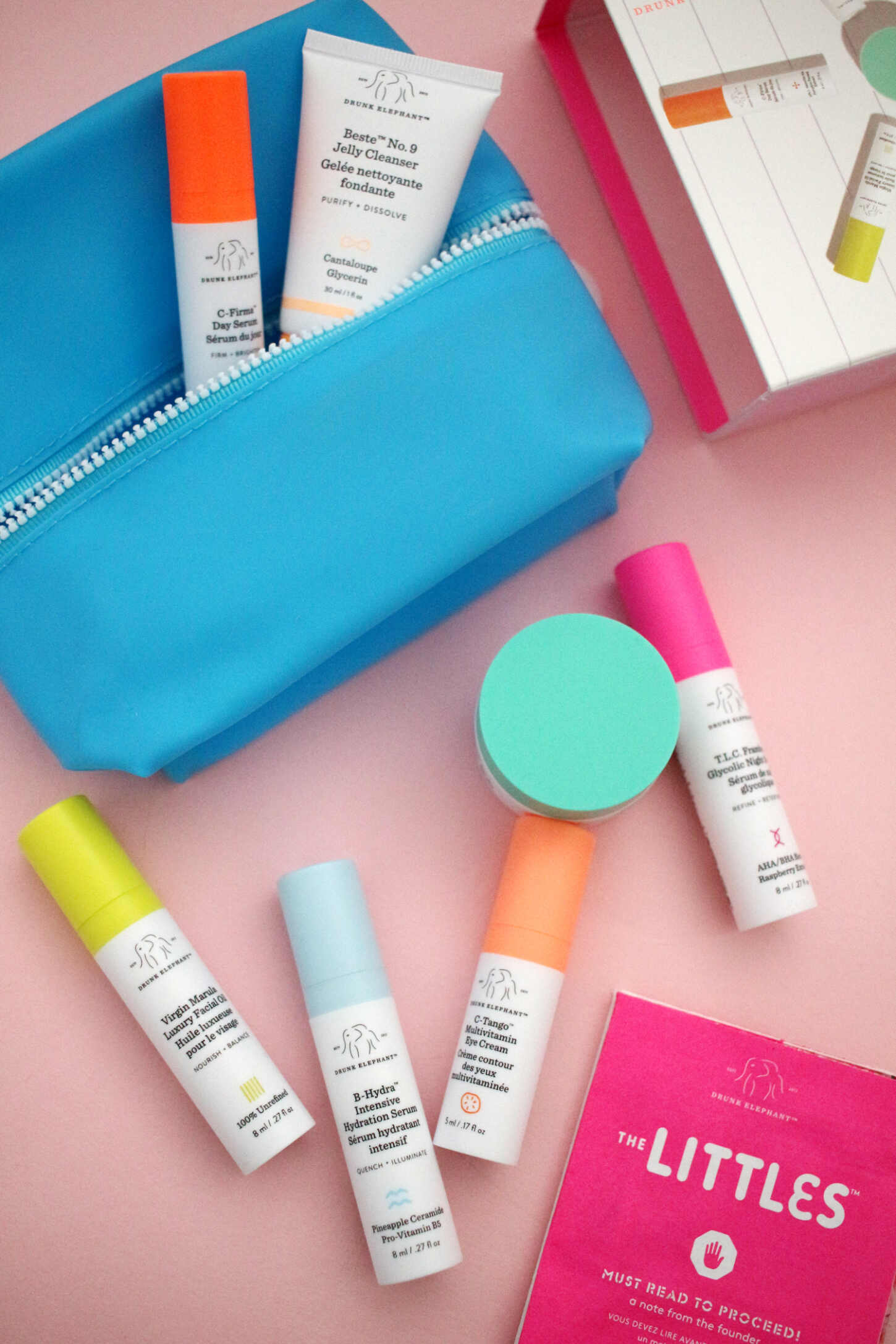 Hi hello. I accidentally took a week (or two...) off posting anything as I was in the middle of testing this bunch of beauties from Drunk Elephant and it's been a busy ol' time.
I was kindly sent the Drunk Elephant The Littles 3.0 collection which is a bag (a very handy bag) of 7 smaller sized products so you can try the majority of the range without investing in the full size straight away. Each product is a good sample size, so don't let '8ml' etc put you off as you'll be surprised how long each product lasts. I've been using the oil almost every day for just over a month and I still have so much left, so a little (pun not intended) goes a long way.
I'll be honest, when I first saw this product available online, I was a little conflicted about the price vs the amount of product in each tube. However, as I've been using the range I've completely changed my mind about this. They make a great introduction to the brand, excellent travel sized minis (if that's your jam) and it really helps you to decide which full size you may wish to purchase.
So, as mentioned I've spent a full month testing this range and nothing but this range to really understand the brand and the products themselves. If you're not familiar with the Drunk Elephant ethos, then you may wish to check out their site here, but they avoid a whole bunch of ingredients to create effective skincare products to balance the skin.
Onto the reviews...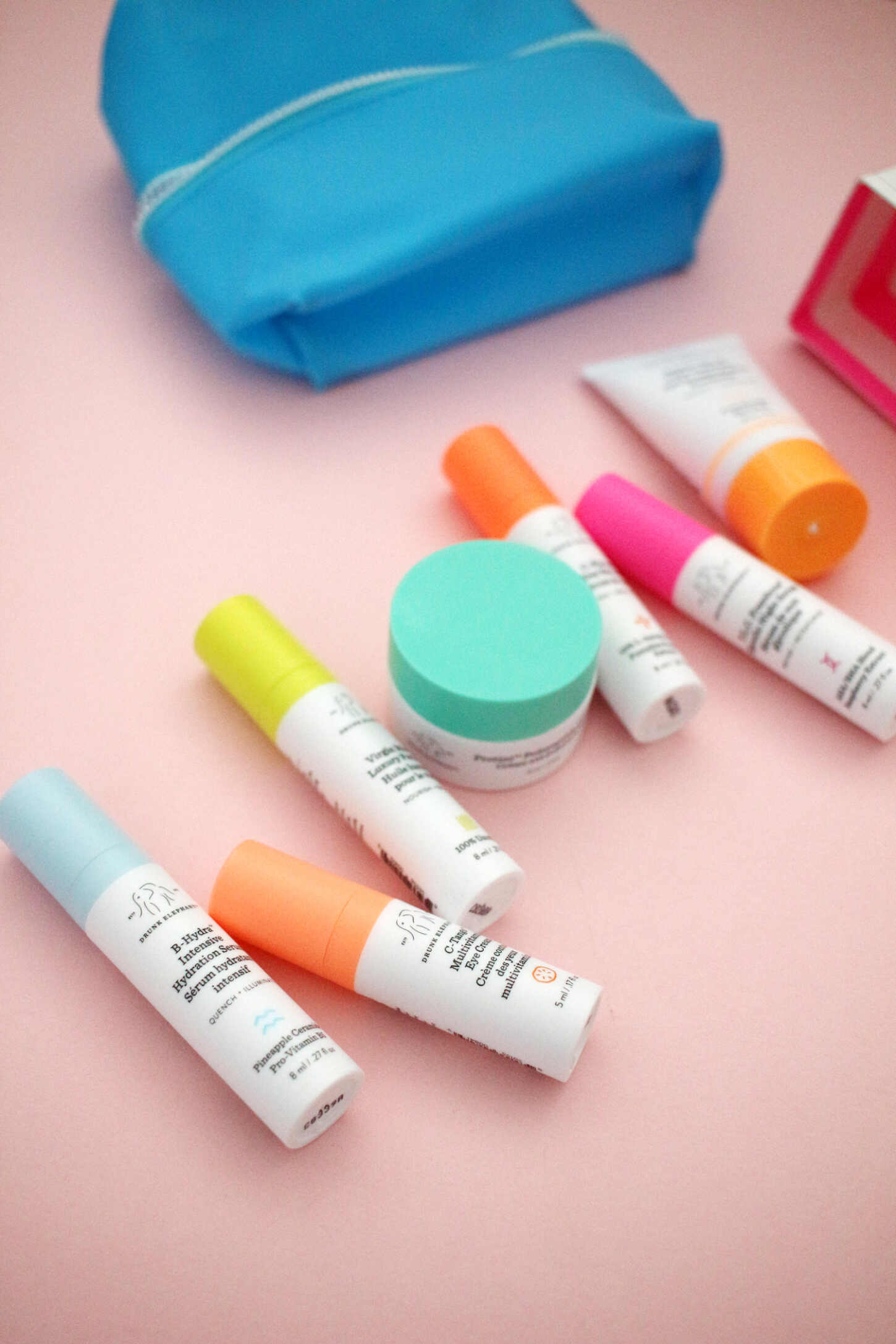 The Good
Drunk Elephant Virgin Marula Luxury Facial Oil
[Buy here] I'm putting this one first as I am absolutely obsessed with it. It was the product I was most excited to try from the range when it was launched into the UK, as oils are my favourite part of my skincare routine. I can admit I've tried a lot of oils over the last 8-10years, but this one is hands down one of the best I've ever put on my face. It's luxurious, absorbs beautifully, isn't heavy and yet it's ultra hydrating. My skin feels oh so smooth since I started using this.
Would I purchase the full size: Yes, already have
Drunk Elephant C-Tango Multivitamin Eye Cream
[Buy here] It takes a while to get a good impression of an eye cream, so I prolonged the testing of this to get a more rounded opinion. Conclusion: I love it. I'm very fussy with eye creams as my dark circles are killer, but this one works so well to brighten and hydrate the eye area. It has a great cream-balm consistency but isn't heavy or too thick to use. It's beautiful!
Would I purchase the full size: Yes, already have
Drunk Elephant Protini Polypeptide Cream
[Buy here] I'm usually pretty easy when it comes to moisturiser, as my skin is quite 'normal' so a lot of them do tend to work. However, I've quite enjoyed using this moisturiser as it makes the perfect final step to any skincare routine. It has a gel-like texture so it's heavy but packs a hydrating punch.
Would I purchase the full size: Yes, but not straight away
Drunk Elephant B-Hydra Intensive Hydration Serum
[Buy here] This is a lightweight serum which sits well underneath moisturiser, helps plump up skin and hydrates well. I've used a lot of hydrating serums before and have found this one to be one of the nicest textures, as some are quite sticky but this one is smooth and easy to apply. If you suffer from dehydrated or very dry skin, this one is for you.
Would I purchase the full size: Possibly
The Undecided
Drunk Elephant C-Firma Day Serum
[Buy here] This is a vitamin C based serum which you can use during the day to help brighten skin and reduce any sun damage etc. I was looking forward to trying this one, but I'm not 100% sure if it's for me. My issue with this is a texture one - it's very sticky. If I were to use this and then apply makeup ontop, I would have to wait quite a while for it to sink in. It also smells quite strong (it's a natural scent) so maybe not for those who are sensitive to scented products. I also didn't really notice much of a difference with my skin while using it.
Would I purchase the full size: No.
Drunk Elephant Beste No. 9 Jelly Cleanser
[Buy here] I'm on the fence with this cleanser. There's nothing wrong with it and it would make a good morning cleanser or one to throw in your gym bag for most people, but I think I'm just too much of a balm/oil addict. It's a gel cleanser that lightly foams when you add water to it, leaving the skin clean but not stripped. My skin felt soft, but not soft enough for me, plus I like the whole experience of cleansing so it was just a bit too light for me.
Would I purchase the full size: No.
The Not For Me
Drunk Elephant T.L.C Framboos Glycolic Night Serum
[Buy here] I was dying to try this, but sadly me and anything glycolic aren't meant to be. I'm not sure what it is about the ingredient, but it seems to break me out without fail. That and retinol. I honestly wish I could make this one work as I've seen such rave reviews, but it goes to show that everyone's skin is different.
Would I purchase the full size: Sadly, no
Evidence of full size purchases!