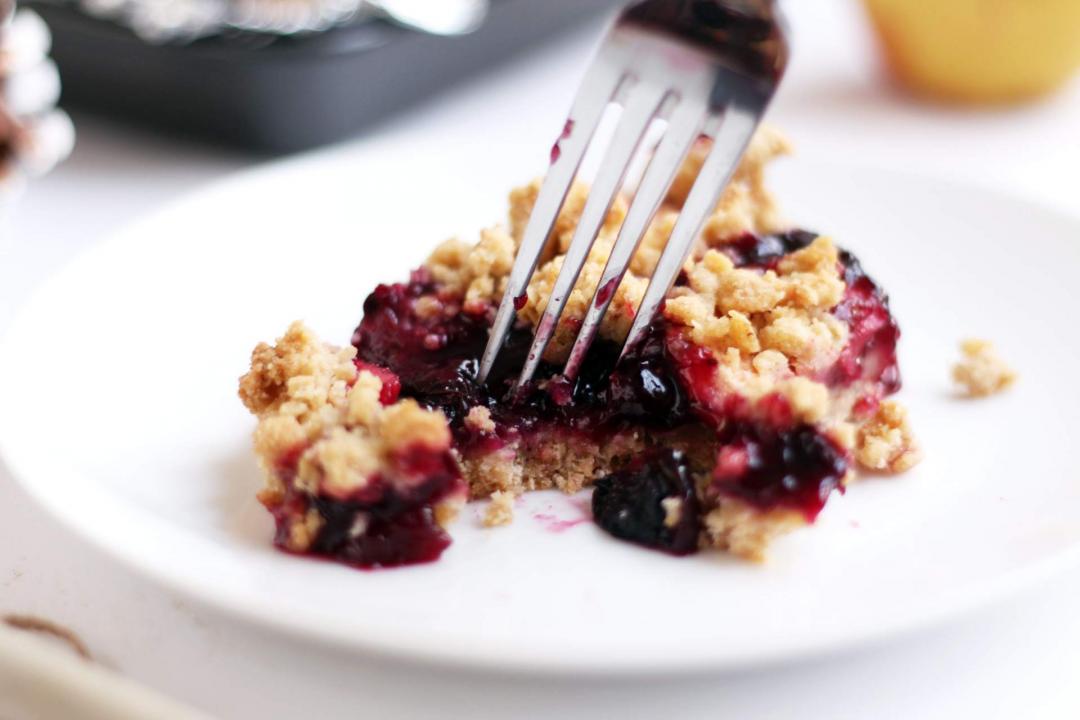 You can't do Winter without crumble, right? There's something so comforting about a huge bowl of the stuff, warm and cinnamon-y good. This particular recipe is something I've made twice now, as I ate the first batch in about a day and forgot to photograph it so I can 100% vouch for how good it tastes. The apple is slightly tart and the blueberry/blackberry mix is sweet but decadent and oh so delicious. So, here's how to make it – it's insanely simple:
Ingredients (for a 9inch rectangle tin)
Filling:
200g blueberries
200g blackberries
100g granulated sugar
60ml orange juice
4 teaspoons cornstarch
1 large apple (or two small ones)
Crust and Topping:
190g plain flour
80g rolled oats (any porridge oats will do)
100g granulated sugar
1 teaspoon baking powder
1 teaspoon cinnamon
150g butter, melted
Method
Step One | For the filling: combine the blueberries, blackberries, sugar and orange juice in a pan over a low-medium heat, stirring regularly so it doesn't burn. Bring to the boil and whisk for a minute or two. Meanwhile, mix the cornstarch with 4 tablespoons of water until it looks like milk and add this to the fruit. Allow to simmer for 3-4 minutes and then pour into a bowl, allow it to cool. I put mine in the fridge.
Step Two | For the base and topping: Preheat your oven 375F or 190C, line your tin with foil and set aside. Combine the flour, oats, baking powder, cinnamon and sugar together, then add the melted butter until you get a crumble looking dough. Press 2/3 of the mix into the bottom of the tin and bake for 10 minutes.
Step Three | Once baked, remove from the oven and pour the now cooled fruit mix over the top, spreading it evenly. Slice the apple (mine were about half a cm thick) and lay them on the fruit mix so they cover it (you can leave spaces though). Top all of it with the remaining crumble and bake for 35-45 minutes until it's lightly browned. Remove from the oven and allow to cool.
Step Four | Allow it to chill in the fridge for 3hrs before serving. Heating a square only takes 20 seconds in the microwave. It can stay fresh for up to 5 days in an airtight container, but I kept mine covered in the fridge.
So that's my recipe! It's really just three steps: combine the fruit, combine the dough, shove it all together and bake. Delicious crumble in an hour and will go down a storm over the festive period. You can also swap the blackberries for raspberries if you fancy too, I've tried both and they're equally delicious – let me know if you bake it!
Helen x
ps. check out these blogs: Ok But First Coffee and Carly Wynn!