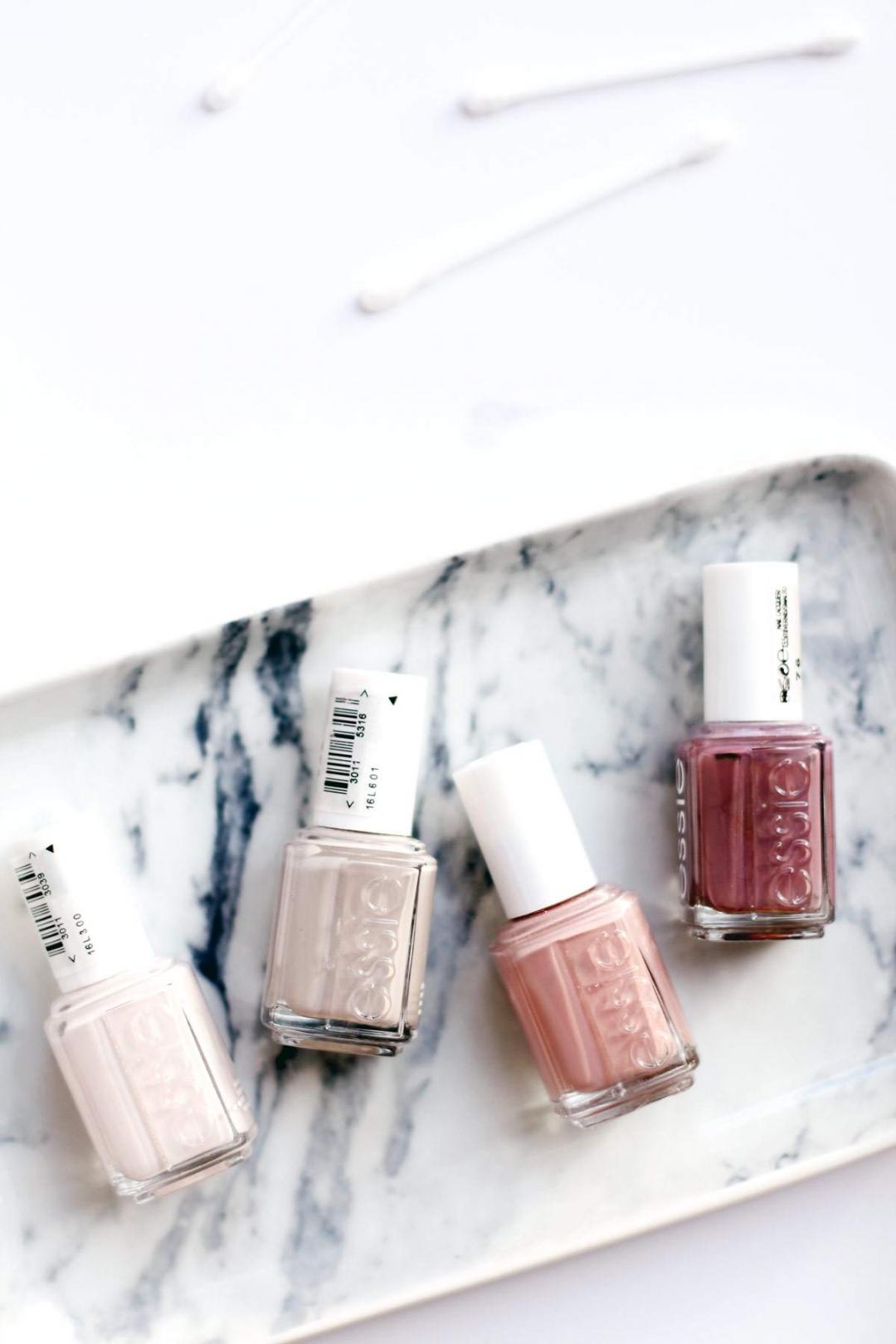 I feel like all I ever post about in the nail department is Essie… But I'm not going to change that any time soon as they can literally do no wrong in my eyes. I love the formula, the packaging and the colour range so it's no wonder they're the largest part of my collection. I was wondering what shade to paint my nails the other day and narrowed it down to these four – they make a good set, huh? So, here's what they are…
Starting with the lightest, Essie Nail Polish in Urban Jungle is one of my most used light shades. They describe it as a 'alabaster orchid' which, to be honest, I have no idea what that means so let's just say it's one of those white-nude-with-a-touch-of-pink kinda shades. It's quite a creamy finish but looks oh so chic on the nails.
Next we have Essie Nail Polish in Take It Outside which is one of my favourite neutral hues. It's that nude-taupe-grey-beige kinda tone that goes with everything and always makes nails look neat and tidy. They say it's a 'fresh taupe' which I definitely agree with, as it's light enough for S/S but makes an all black outfit in A/W pop.
A shade I've mentioned about a million times on this blog is Essie Nail Polish in Lady Like. It's a muted rose pink tone, which leans a bit on the dusty side when applied so if girly pinks ain't your thang then this one may be for you. An 'elegant soft mauve' is what its been described as which I can agree with – it's just a pretty shade which is opaque in two coats.
Finally, the one I have on my nails currently is Essie Nail Polish in Merino Cool. It's an 'Autumn mulberry' which translated like a muted nude-grey-purple on the nails. It's fairly dark when you use two coats but I really love how neutral this is to me, despite it being an actual colour. It not bright, it's not too dark, it's just the perfect grey toned purple which looks so nice on.
What's your favourite nude shade?
Helen x
Check out these amazing blogs: Kerry etc and Adventures of an Anglophile.