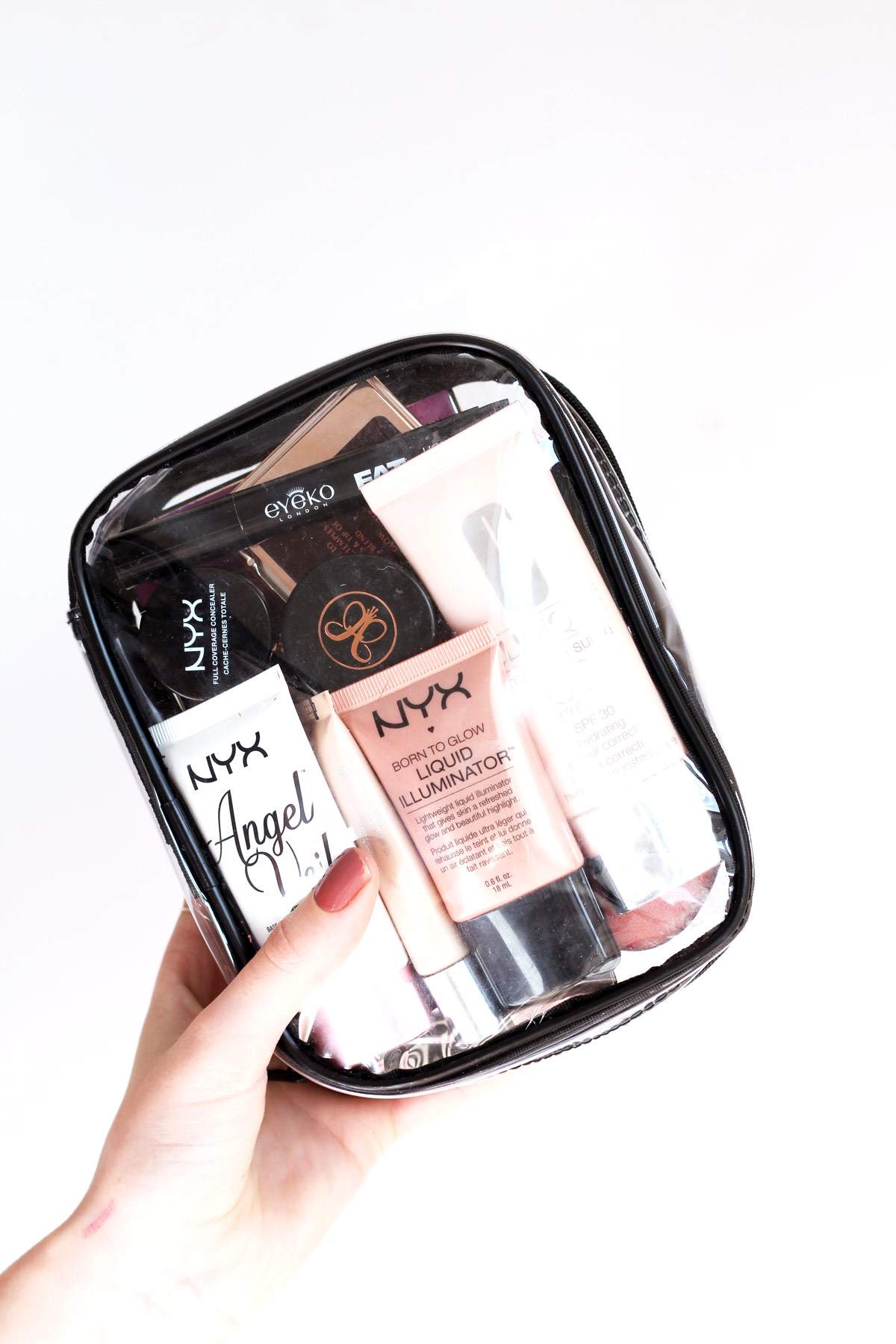 There's something I really love about putting together an every day makeup bag. That compact, little bundle of essentials that just get the job done but don't take up any space in your bag if you were lugging them about. Since going to Iceland (see posts here, here and here) I've adopted the little clear bag I took in my hand luggage as my every day makeup and it's actually forced me to trim everything down. So, as I'm rocking the more refined makeup look (though probably way too many items for some!) I thought I'd share it with you.
My face, or rather my complexion, is arguably the place I like to spend the most time and money on. Since I've always had such rubbish skin, I've tried a whole host of foundations and concealers to try and hide everything, but now I can just use the basics since it's clear.
Starting with my base, I apply my skincare then a layer of the NYX Angel Veil Primer which is one of the best drugstore primers I've ever used! It glides on and smooths out skin so well. Next is the Clinique Moisture Surge CC Cream which, despite being a CC and not a foundation, gives excellent up to medium coverage which I like. The combo of the two makes skin look quite perfect looking and refined, or if I want a glow, I'll mix a teeny bit of the NYX Liquid Illuminator in too. Under my eyes I'll either use the Bobbi Brown Corrector or the NYX Orange Corrector depending on how dark my dark circles are looking that day. I'll then go over this with the Dior Diorskin Hydrating Concealer, plus adding any extra bits to hide any blemish marks and uneven patches.
Brushes-wise, I do love a beauty blender! I tend to apply my base products with the Zoeva 142 Concealer Buffer and Zoeva 102 Silk Finish Brush brushes, then go over with a damp beauty blender. It really helps blend foundation and concealer into the skin and takes away all dry patches, I honestly wouldn't be with out!
I am a bit obsessed with eye makeup, I will admit. I own more palettes than I know what to do with, but they're just so pretty! The one I've worn pretty much since January is the Tarte Tartlette in Bloom Palette as it's honestly the most perfect combination of shades – buttery soft textures too! I've worn a cat eye pretty much every day since I was about 14, so the Eyeko Fat Liquid Liner has been heavily in use for the last year or so. I like how you can get a precise line or a thicker line with this one. Since meeting Charlotte Tilbury herself, I've become a bit obsessed with the Charlotte Tilbury Full Fat Lashes Mascara, as I can do everything from low-key daytime lashes to full, dramatic lashes for an evening. For my brows, I can't get enough of the Anastasia Dip Brow Pomade as it gives the perfect brows every time!
For brushes, I love all of the Zoeva Rose Gold eye set, but the Zoeva 224 Luxe Defined Crease Brush, Zoeva 231 Luxe Petit Crease Brush and 229 brushes are so good for applying and blending eyeshadow!
On my cheeks I keep it kinda simple and try to go for a healthy, glowing kinda look with added cheekbone definition. I love the Charlotte Tilbury Filmstar Bronze and Glow to give my face some shape with the Zoeva 127 Luxe Sheer Cheek Brush, as I do need a little help sometimes (my love of cake does the opposite tbh). I dust a little of the Bobbi Brown Blush in Nude Peach onto my cheeks to give my complexion a bit of a boost – it's honestly my favourite blush shade, so flattering! I know I've included the NYX Liquid Illuminator twice now, but I either use it with foundation or just blended onto the tops of my cheekbones for added glow, it's quite versatile! Finally, for products, I love finishing and setting my look with the Hourglass Ambient Lighting Powder in Dim Light – my favourite powder ever!
So that's my makeup bag! I've left out lips as I literally change my lipstick every single day – what do you like using on a daily basis? ps. Make sure you've entered my beauty #giveaway!
Helen x
Check out these two amazing blogs: Oh Kalu Kalay and Mrs James Recommends!