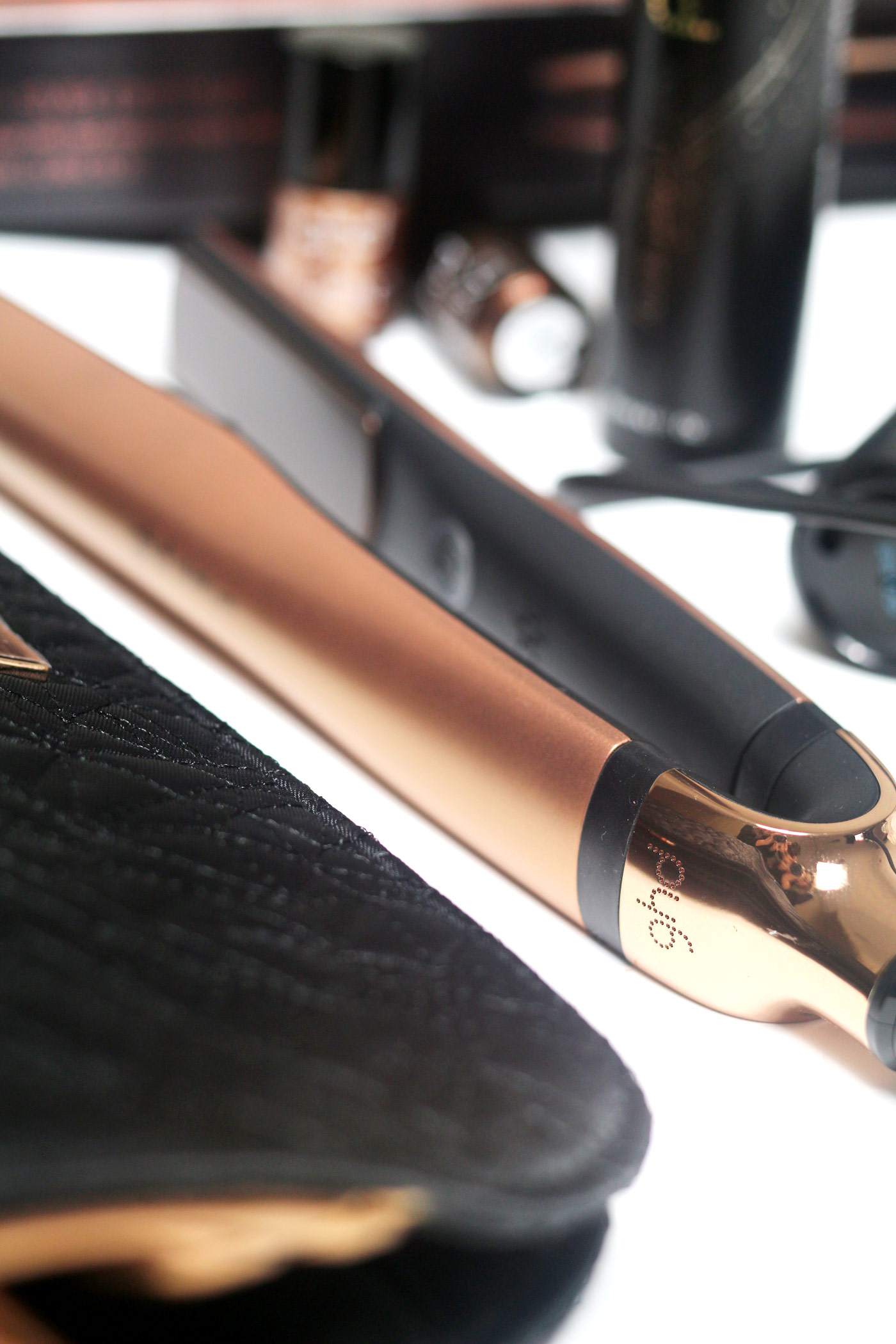 There's something so nice about being happy with switching things up. Since I went from my long locks to my shorter 'do, I've just kept it straight and sleek without really attempting anything remotely beachy. Every time I tried, it went frizzy and too curly and just simply didn't work… until now. I mentioned the ghd Copper Luxe Straightener in my recent gift guide, but in today's post I wanted to talk about it more in depth as it really is a wonderful bit of kit.
First of all, lets talk about the straighteners themselves. Set with a wishbone style hinge for more control, they have tri-zone technology to maintain the heat throughout the plates to keep everything consistent for optimum styling. Aside from being gorgeous in appearance, they leave hair super smooth and glossy looking which is exactly what I want in my hair tools! I love how they switch off after 30 minutes too and come with a heat resistant bag to easily carry them around – how handy!
So, for my hairstyle choice for the season, I went with my favourite beachy curls which can be worn day or night if you want to . So here's how I do it:
Step One | First I wash my hair, spritz in some ghd heat protection spray and dry (using my ghd aura hairdyer, which is fabulous by the way).
Step Two | I section my hair off using clips and use the ghd Copper Luxe Platinum Straighteners to curl my hair. I pick up small sections and curl it towards the back of my head, as this frames your face better, alternating in size to give more of a beachy look.
Step Three | To make it more tousled, I mess it up with my fingers until I get the desired look and then spritz with holding spray to keep the waves in place. For an evening, I would backcomb each section and spray with the ghd Final Shine Spray to give it lots of glitz.
So that's how I do my hair! It doesn't take long with the ghd Platinum Straighteners as the technology makes styling a breeze – perfect from office to party hairstyle changes! Oh and you get two amazing Nails Inc copper nail polishes in the gift set too, so you can slick on some gorgeous bronze to match your party look. You can also win a set for yourself by posting a festive hair photo and hashtag #GlitzTheSeason on social media!
Will you be trying the ghd Platinum Copper Luxe Straigheners?
Helen x