You can't go wrong with an all-pink beauty order! Yes, I decided to snap some things up from Glossier (got 'em forwarded on from America) so I could test them out and review them just in time for their UK delivery. Oh and you can get 10% off with this link, fyi.
What I love about Glossier is that a) their packaging is divine, it reminds me of the 90's and Paris Hilton and I am all about that life and b) how they don't have an overwhelming amount of products to pick from. I feel like this makes it so much easier to pick things up, as it's so straight forward. I love the idea of their system in their New York store, when you just tick what you want to buy on paper. I mean, I love the whole beauty counter experience, but sometimes you just want to buy things and leave and, for the social awkward or vaguely anti-social amongst us, Glossier has got that downnnn.
Anyway, I went on a lil binge on their website and came away with, what I think, is a lovely mix of skincare and makeup! To start I got the classic Glossier Milk Jelly Cleanser as everyone seems to absolutely adore this stuff, so I'm excited to use it asap. I hope it leaves my skin feeling glorious.
There's also the Glossier Moisturising Moon Mask, which is a hydrating mask designed to soothe and pamper skin. I'm going to try this one tonight I think! I've seen a lot of other bloggers saying this one is great, so I'm expecting super plump, bouncy skin after using this one.
I also picked up the Original Glossier Balm Dotcom and I've tried this one already. It's nicely hydrating without being sticky or too thick and, as you would gather, it doesn't have flavour or scent to it which I like. Though I may have to get the coconut or the cherry one later...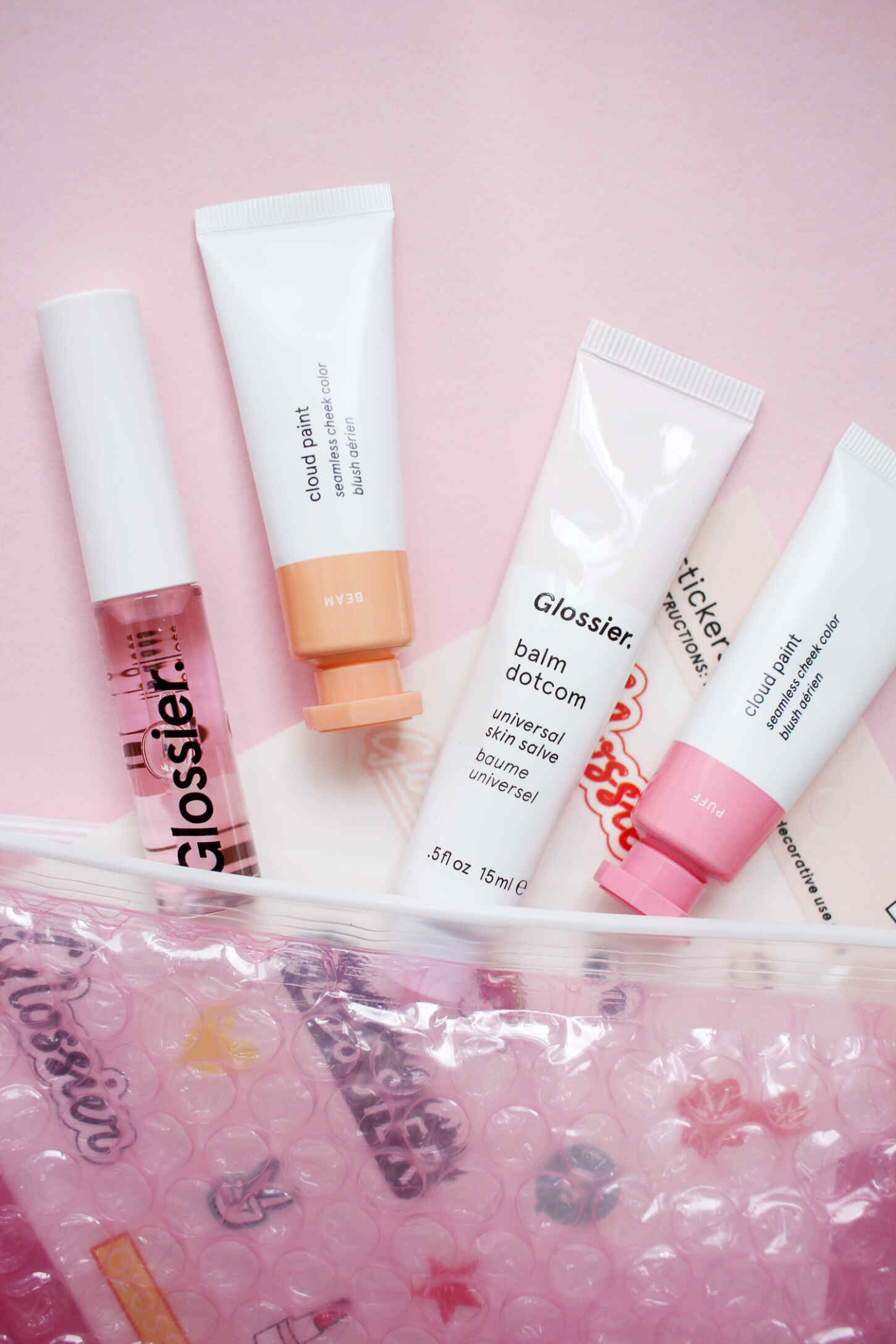 Part of me wishes I'd bought the skin tint, but the other base item I picked up was the Glossier Stretch Concealer. I've heard such good things about this one, so, as a owner of quite crappy dark circles, I'm hoping it'll be a bit of a life saver.
I'm fairly low maintenance with my brows these days, as I try to get them tinted so I don't have to bother so much with lots of product. So, I thought the Glossier Boy Brow would be the perfect option to just brush through for days when I cba. Maybe I should do the same with a hair brush too...
Even though I'm not much of a gloss girl, I did get the Glossier Lip Gloss as I wanted to try it out. I sometimes really like the look of a bit of gloss dotted in the middle of the lips, so I might try that out for a bit of added dimension to my usual lipstick. I think next time - maybe when they're delivering to the UK - I'll pick up some of their lipsticks too.
Next we have two of the Glossier Cloud Paints in shade Puff, which is the perfect barbie pink and Beam which is a beautiful peachy hue. I've heard these are very natural looking on the skin so I'm going to slap them on next time I do my makeup!
What are you after from Glossier?