Oh, Kiehl's
I've had a bit of an off and on relationship with Kiehl's over the years. I've tried a few bits here and there, but never really committed to having them as a permanent, more frequent part of my routine - until now.
I've been sent a few bits over the last month or two and I decided to go full into the Kiehl's trial and I'm so glad I did, as I've found some favourites which I know I'm going to use for ages!
First, I have to rant about the Kiehl's Creamy Eye Treatment with Avocado. I ran out of my favourite Zelens Tripe Action Eye Cream and was a bit stumped with what I should use next as I didn't have any other samples to try. I think Kiehl's must have sensed this and low-and-behold, this dropped onto my doorstep. I'll admit, I am beyond impressed with this eye cream. The skin around my eyes is hydrated, my dark circles haven't got any worse (as that often happens when I switch eye creams) and the eye area just looks bright and rested. It's love, you guys.
Following on with this, I've been trialling the Kiehl's Ultra Facial Cream with SPF30 which is an updated version of their cult moisturiser. I was looking for something with SPF in it, so started testing this and I just love it. It's not heavy on my skin, it hydrates well and it sinks in perfectly! This is such a great everyday moisturiser and the SPF is a perfect lil bonus.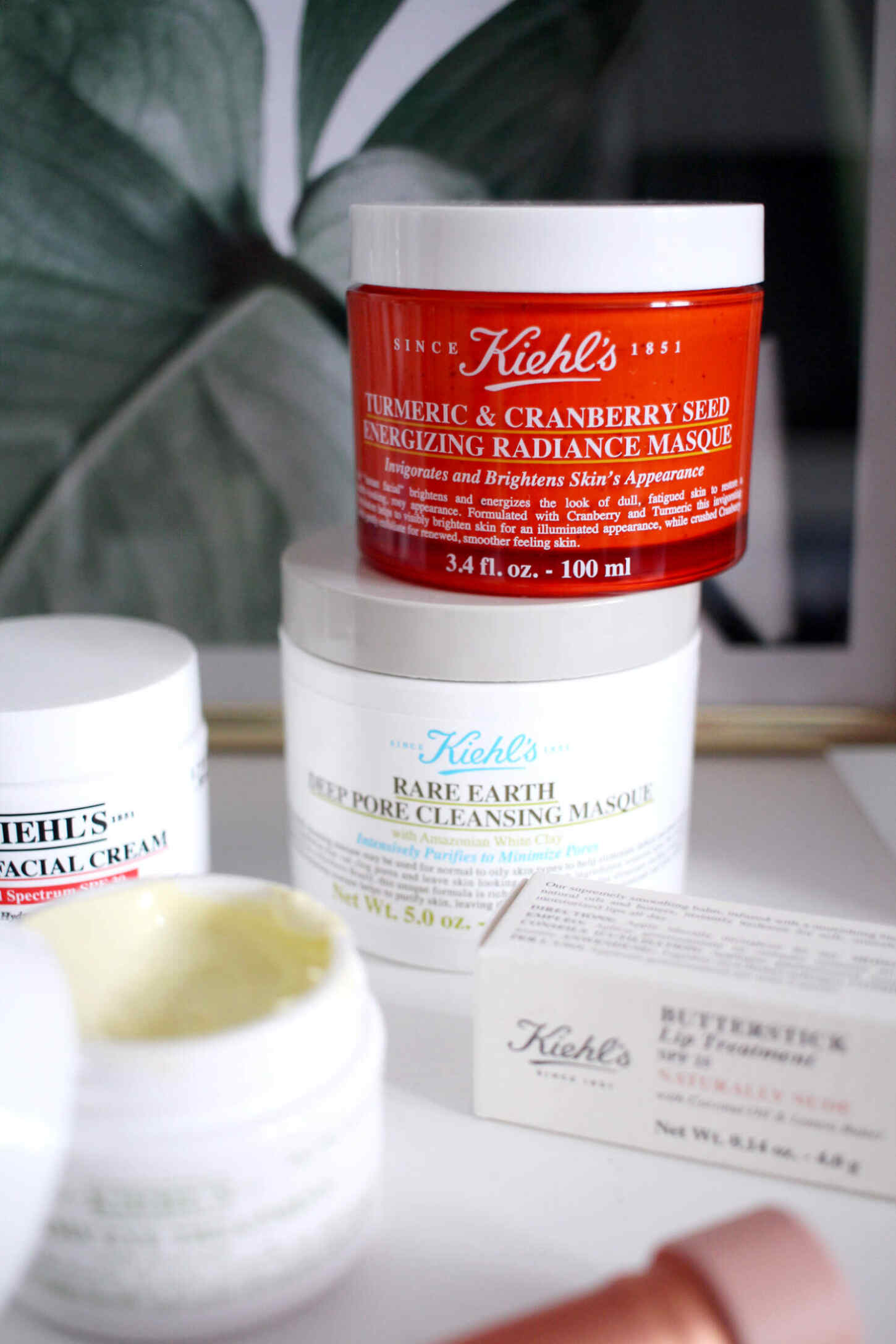 The Extras
Along with the eye cream and moisturiser, I've also been using two of their masks on a regular basis just to keep my skin in check.
If my skin is looking a bit congested or I just feel like it needs a bit of a deep clean, then I'll reach for the Kiehl's Rare Earth Deep Pore Cleansing Masque. This grey toned beauty is a clay based mask that dries down and gets all of the rubbish our of your pores. I try to use this once a week, especially around my nose and chin, just to refresh my complexion and keep it looking (but not feeling) squeaky clean.
I often follow this with the Kiehl's Turmeric and Cranberry Seed Energizing Radiance Masque. This aims to brighten your skin and give it a boost if it's looking a bit dull. This mask is bright yellow - avoid taking it off with a white face cloth like I did - and you only have to leave it on for ten minutes for it to work. I use this one twice a week as it bring a nice amount of radiance and clarity to my skin after I've had it on! It's probably a great solution to acne scars too.
Alongside all of these, I obsessively use the Kiehl's Butterstick Lip Treatment SPF25. This ultra nourishing balm - with coconut oil and lemon butter - comes in a variety of colours, from untinted to berry to nude to pink, so there's lots to choose from. The tinted ones do give your lips a decent amount of colour, so they're perfect for days when you can't be bothered to wear lipstick. I really like the formula of these and I always keep one in my bag!
Have you tried any of these Kiehl's products?
Helen x