Before and After - The Flat
Hi! Despite my best intentions, I didn't actually end up writing as much as I wanted about the renovations we did to the flat. I do have a lot of before and during photos of the kitchen and bathroom, so they may make it into blog posts soon. But, as we have sold the flat, I thought it would be nice to compare the original estate agent photos with the ones we had taken by our estate agent.
I remember thinking the flat was quite nice when we came to view it, even though the decor or layout wasn't to my taste, but on reflection I think we were just so desperate to get out of renting that we looked at it with rose tinted glasses. I do think I saw the potential in the place and brought that out, but it was a lot more work than I thought. The flat was purchased thinking we didn't need to do much, but fast forward to getting the keys and realising we actually needed to rebuild blown walls, windows, doors, repair old leaks in the roof... it was more than we anticipated. But, I did learn a lot!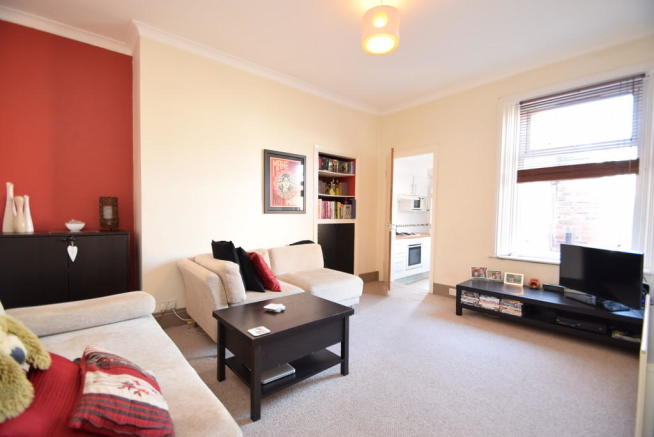 The Livingroom
We didn't have to do too much in this space, but there are two major tasks that were completed. The wall behind our sofa (out of shot) was taken down and rebuilt, as the lath and plaster wall had completely blown and was very wobbly to the touch. We also removed the plaster around the window as it needed to be redone and the electrics were moved.
In the corner where you can see a cupboard and some shelves, we opened that up as it was a bit of a waste of space. Above the shelves was an original copper water tank, so that was taken down and sold, then an alcove was created and plastered. We redid the coving on the ceiling where we had to remove it. It was only a couple of changes, but it definitely made a difference to the space.
The Kitchen
The kitchen was definitely the biggest job in the house as it impacted our lives the most. My dad and I took on the task of removing the old kitchen and taking it back to brick which was the most messy job in the world! This also included removing the ceiling and I have never been covered in so much dust in all of my life. So, everything was stripped back, then the electrics we done, it was damp proofed as there was a previous leak in the roof that must have been going on for years behind the tiles so it was a bit damp, it was reboarded, plastered, cabinets fitted, appliances fitted, work surfaces, shelves, lighting, flooring and then tiling.
It was a lot of jobs and took around 4 months to complete, as we did a lot of the work ourselves and had to sometimes weeks for tradesmen to have availability. I don't think I would change anything about the kitchen as I still really love it. I think the colours and the layout works really well and we actually made it bigger, as well as lighter.
You might think it looked fine in the first picture, but trust me it was disgusting. Everything was dirty and grubby and old. I hated using it and was very grateful when it was done. They had a solid wood back door which we replaced with half glass, as well as a new window as they had a frosted window in place previously which was blocking a lot of light. We also replaced the bathroom door to match the rest of the house.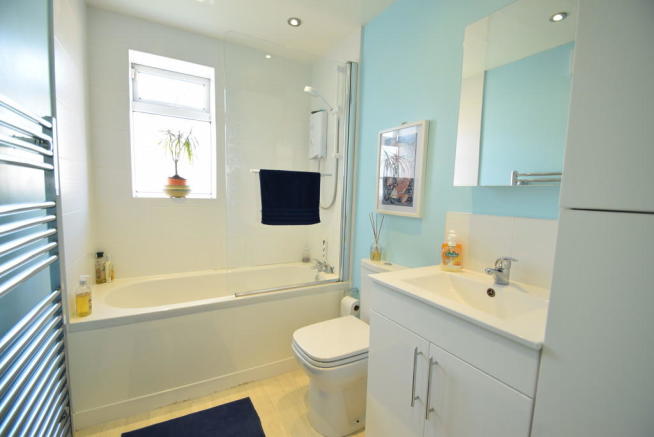 The Bathroom
Ah, the bathroom. The room we lived with for the longest amount of time and the last major job to complete. I'll be honest, I'm not even keen on our bathroom now and wish I had went for more classic fittings rather than trendy black. I don't dislike it, don't get me wrong, but my taste has changed over the last year or so and I wouldn't do dark grout again.
The first thing I did when we moved in was paint over that vile blue shade with a mid-grey tone which helped. The bathroom was in better condition than the kitchen, but it still wasn't great.
So, we decided to hire a bathroom fitter to get it all sorted for us. The old bathroom was ripped out, they routed the soil pipe so it was hidden behind the shower wall and everything was tanked and fitted so it was water tight. Then it was tiled and finished. It took about 2 weeks which was ok and I had somewhere else to go for a shower which was nice. I think adding a walk in shower made the room feel double the size and having the sink unit separate to the cupboard at the end helped too, as previously it took up unnecessary space.
The Bedroom
We didn't do too much to this room other than cosmetic upgrades and a bit of plastering as taking off the wallpaper took some of the plaster with it. I think having the room in the layout it is now made it look a bit bigger and is a more practical use of space, rather than having everything on the outside and a large unusable space in the middle. We also opted to remove curtains and not have a wardrobe in here too, as we wanted it to feel as big and relaxing as it could.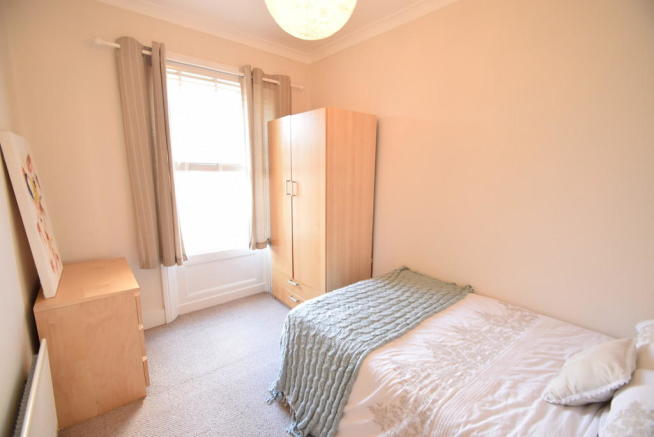 The Spare Bedroom / My Office
I'll admit I was at a bit of a loss with this room, as it didn't really turn out to be the space I had envisioned. They had it set up as an actual spare room with a bed, but as I work from home, I wanted my own office and a sofa bed so my niece could stay over (though that only happened once? twice?).
We did a bit of plastering in here around the window, but nothing else in this room. I originally painted it half Setting Plaster by Farrow and Ball, but painted back over it about a year later as I never truly got on with the colour. I adore my desk and have taken that to the new house, but the rest was a bit of a mash up of half-formed ideas that didn't amount to much. The sofa bed felt too long, but it was narrow enough so was the only thing that worked in the space. The wardrobes behind the door feel a bit cumbersome and too tall. And it was always used as a dumping ground!
All in all, a space that was never truly finished or utilised properly which is a bit of a shame.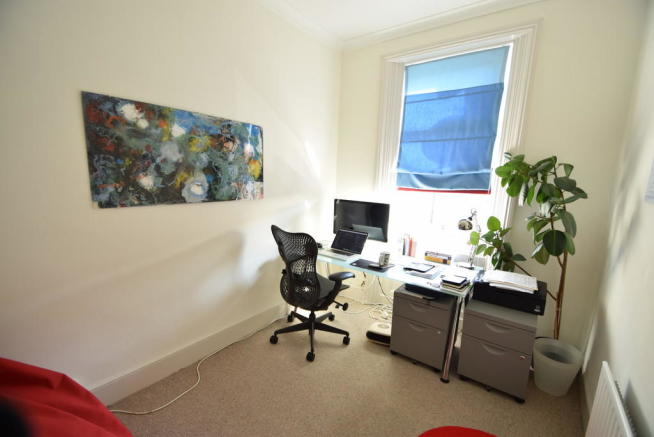 Phil's Office
A space that is never seen because it was also a bit of a dumping ground that he never sorted out. It's a bit of a direct swap from office to office, but the previous owners left a lovely hole in the wall under the desk when the moved out that we had to fix.
This entire room was stripped back, reboarded and plastered as all of the walls were wobbly. It was the first room we finished as it was the smallest and easiest to do, as it was all fresh plaster so just needed to be painted. Phil also needed the space, so we made it a priority.
---
So, that's that. End of an era. End of having a house painted almost entirely in white as I won't do that again with the new place, even though it's much easier and costs considerably less in paint samples. I wish we had finished it completely, but I was at the point where I wanted to start each room again so perhaps it was a good thing that we moved instead!
I would say I feel nostalgic for the flat, and a small part of me does because it was furnished and I'm currently living in dust, but we definitely outgrew the space and I was very ready to move on. Lockdown only exacerbated our need for more space too, as we were spending every single day in the livingroom.
All in all, I'm still very glad we had the space. It was nice to put our stamp on something and it taught me a lot about interiors, light, what works and what doesn't, as well as my strengths and weaknesses as far as DIY and decorating go. It was fun, frustrating but also cosy and homely. I hope the new owners love it as much as we did!