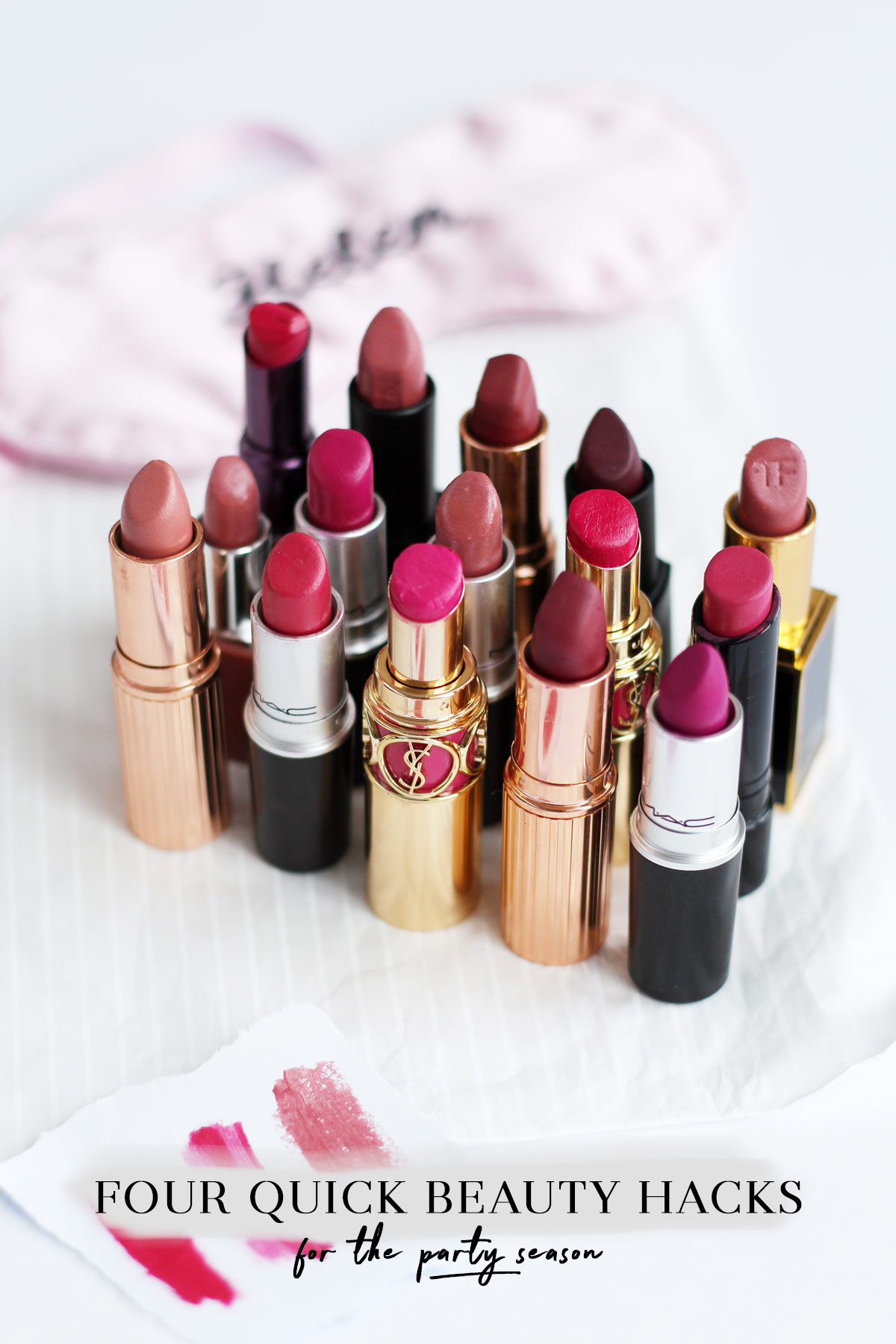 The Christmas party season is just around the corner. In between balancing a busy workload and finding the perfect Christmas presents for your nearest and dearest, it can be difficult to make time for beauty prep. Here you can learn quick beauty hacks that will take you from the office to the dance floor.
ONE: Ice Ice Baby | Who would have thought that the ice cubes in your freezer can reduce eye puffiness and improve your skin tone? They work wonders on sallow skin and puffy eyes – plus they're practically free! Before you apply your make up, run an ice cube over your face and then gently press a cube on each eye. The cold content of the cubes will boost your circulation, resulting in brighter skin, and will relieve tired eyes – double whammy!
TWO: Crank up the Volume | After a long day at the office, your hair can be left looking limp and lifeless – not what you want for the night of the party. However dry shampoo can be your answer to achieving your big and bouncy hair goals – even if your hair isn't even remotely greasy. Many often misconstrue dry shampoo as a solution purely for greasy locks, but it's a beauty essential for everyone who strives for voluminous hair. Spray this close to the roots, rub it in and say hello to instant volume and texture.
THREE: Give Oil Pulling a Whirl | At a Christmas party, or at any party for that matter, selfies are inevitable. To ensure a perfect smile, why not try whitening your teeth with coconut oil? Simply put a spoonful of it in your mouth and swish it in your mouth, known as oil pulling, for five to twenty minutes. Alternatively, you could add a few drops to your toothbrush and simply brush the coconut oil on. You'll be on track to achieving pearly whites in no time, so you'll look picture perfect for the office party of the year!
FOUR: Line Your Lips | If you don't already use lip liner, it's about time you did. Lip liner can effortlessly give the illusion of fuller-looking lips. Buy a lip liner that matches the lipstick shade you'll be wearing for the party and trace just outside your natural lip line; you want to overdraw your lip line to create a plumped-up pout. Use your lipstick to fill your lips in and voilà! Move over Kylie Jenner.

PS. If you'd like your teeth professionally whitened or long for the perfect pout, speak to Dr Rob – the man behind The Smile Dentist and the expert in lip enhancement at Perfect Lips. Dr Rob has been transforming smiles for over 30 years and can offer a free lip consultation should you need one. Say hello to the smile of your dreams or the luscious lips you've always wanted with Dr Rob.