I love sleeping. I love being in bed. I love hiding under a duvet all day and working on my laptop. I love finishing work early so I can spend an extra hour reading all tucked up. So, when Leesa asked me if I wanted to review a mattress of theirs, I couldn't exactly say no.
I decided to upgrade my bed at my parents house, as I do stay over on a regular basis (mostly to use their dreamy shower and be fed tbh) so I knew I'd have time to test the new mattress out. Especially as I'm redoing the kitchen at the moment, I relish in any opportunity to running away from the dust! As for the mattress - well, it was as comfy as I thought it would be...
I'll give you a bit of backstory on Leesa and how their mattresses are made first, so you can get more of a picture of it all -
What it's made from
1 | On the top, it has a cooling Avena foam which is 5cm deep and allows for airflow so you have a more comfortable, cooler nights sleep rather than overheating.
2 | In the middle, it has a 5cm pressure relieving memory foam. This means it supports your body while you sleep and relieves pressure on joints, so you won't wake up aching like you might on some other, more rigid mattresses.
3 | Underneath everything, there's a 15cm base foam layer. This adds support for people of all sizes, without feeling too stiff or firm.
This is finished with their signature four-stripe cover which is very soft and cosy.
The Leesa mattress is made in the UK, with over 30 years of industry experience and hundreds of hours of testing behind it. It's available in sizes UK or EU single right up to UK Super King or EU King, so you're sure to find a size that suits you.
Leesa also give back and are helping the homeless community with one mattress donated for every ten that are sold. This is supporting those who need a place to sleep the most, as well as at-risk men, women and children.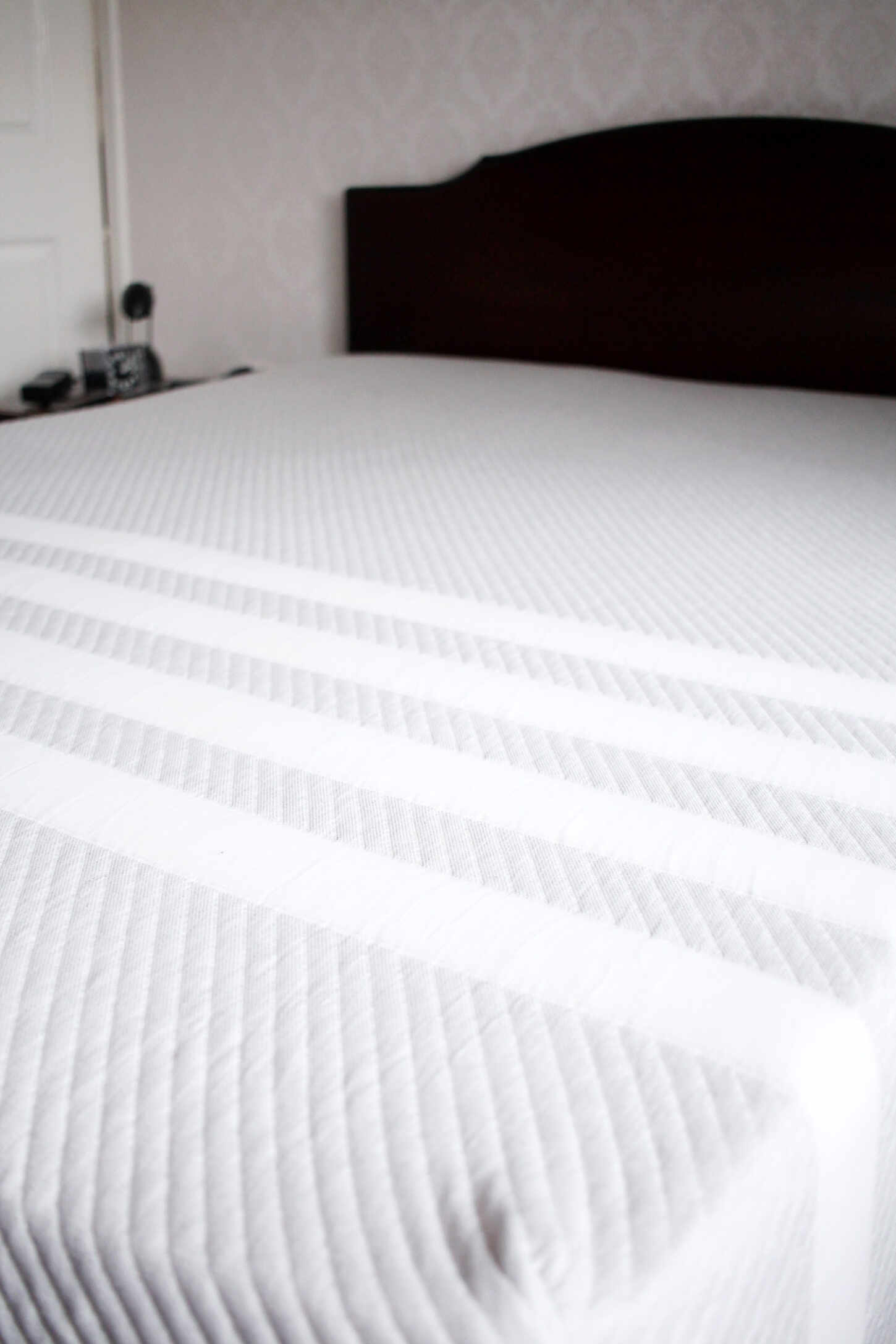 What I think
The combination of the three layers plus the comfortable cover means you're always supported and cosy.
I feel like foam mattresses used to get a bit of a bad reputation for sinking in and being uncomfortable after a short while, but I feel like the Leesa mattress will be just as supportive in years to come. It definitely holds you in position, yet is flexible enough when you want to move to allow for continuous pressure-relief and comfort.
The Leesa mattress also balances out heat really well so you're not boiling hot, too. Even as someone who is permanently freezing, there's nothing worse than burning up in bed!
Whenever I'm at my parents house, I actually look forward to going to bed and curling up with a book - or the cat, Tobi - as I know I'm going to have a comfortable nights sleep.
When I used to sleep at my boyfriend's mum's house, his mattress was the worst thing ever (he used to say it was comfy - on what planet??), so I vowed we would only have a good quality bed and mattress in the future and I've stuck to that. There's nothing worse than waking up aching and sore - I used to be in physical pain, especially with my hip bones - so getting a good, supportive mattress is essential to me.
I know they may seem like a boring investment, but as you spend a good 1/3 of your life in bed, they're definitely worth looking in to as you'll notice the difference straight away and be so thankful for it. The Leesa mattress comes with a 100 night risk-free trial and a 10 year guarantee, so you can test it out first and be happy with your purchase.
I'm so glad that I have the Leesa mattress and I would definitely recommend it to other people if you were looking at getting a new one!