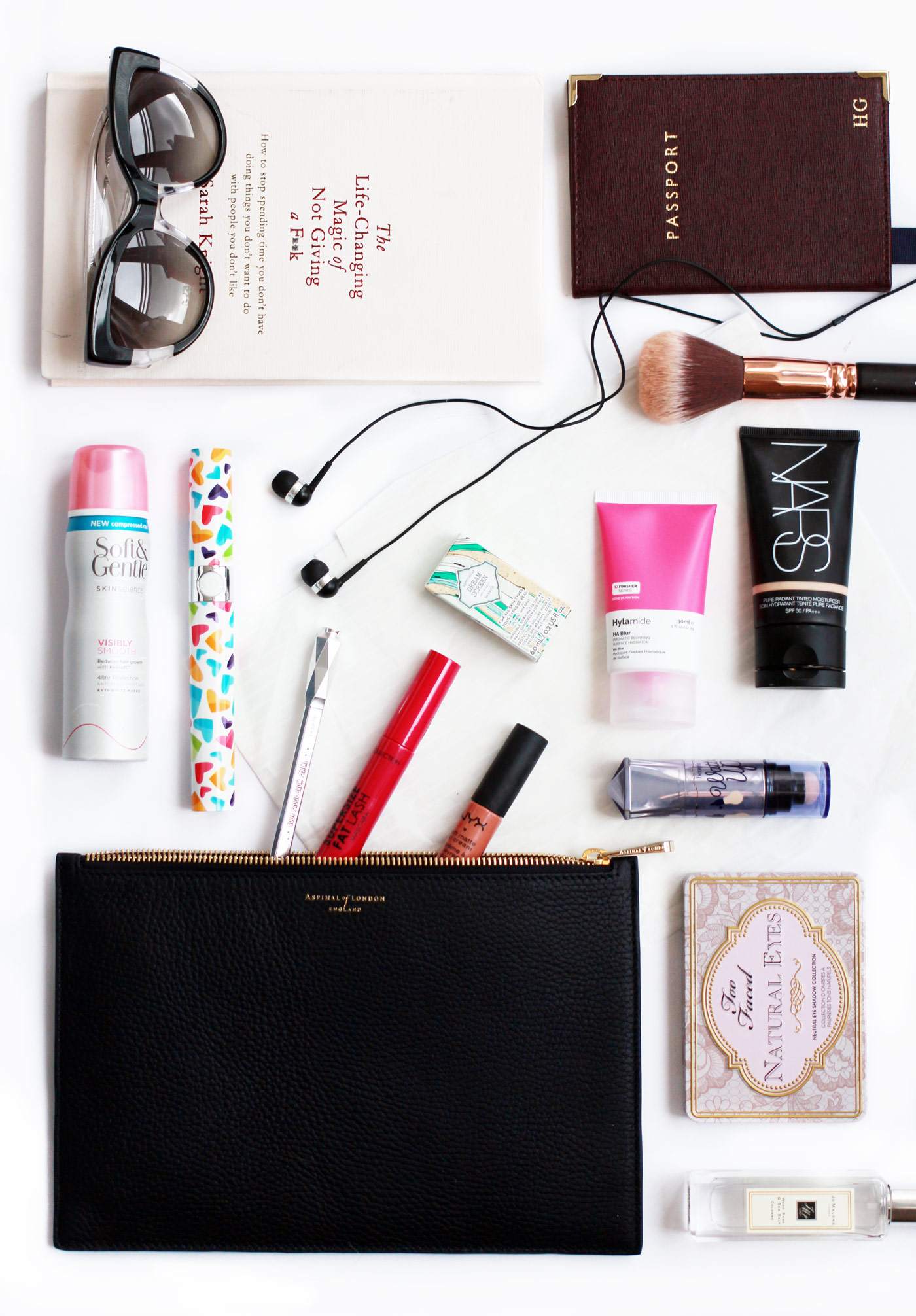 I don't think I've mentioned it too much on my blog, but I'm off to Venice next week with my pal (and fellow blogger) Hannah for a few days. It's gonna be 30 degrees and pizza and wine and Sephora so, as you can imagine, I'm fairly excited! I've been giving what to pack a bit of thought, as I've only got hand luggage, and figured I'd make a bit of a post about it a few necessary pieces incase any of you are off on your jollies too.
The Essentials | Obviously your passport has to come first otherwise you'll be stuck at the airport like a right muppet, ey? I recently received a snazzy monogrammed passport cover from the lovely people at Aspinal of London (North East locals, they're coming to House of Fraser in the Metrocentre!) and I think it's perfect for making keeping my passport in place an making me feel fancy all in one! I always take headphones because planes can be damn loud and I like to get my tunes on to drown it out. I always create a new playlist, a sort of desert island discs if you will, for the ride because I can't well lug my HMV boxsets around so everything goes on my iPhone! And, while I've got my music on, I always either get a magazine from the airport or bring a book along and get stuck into it!
The Beauty Bits | I try to take a very paired down makeup bag (an Aspinal of London Essential Flat Pouch, of course) on holiday because it's gonna be super hot, so any heavy foundation will basically melt off my face. With that old 100ml limit, I try and take as many minis and powder products as I can too, as I don't want a repeat of the nightmare I had going to Iceland. So many beloved items went in the bin that day… Anyway, here's the list of bits I'm taking away: Too Faced Natural Eyes Palette (the greatest), NYX Soft Matte Lip Cream in Stockholm (the best nude lip ever), NARS Sheer Radiant Tinted Moisturiser (for lazy makeup), Benefit Goof Proof Brow Pencil (because I love it, read more here), Benefit Watt's Up Highlighter (new love of my life), Collection Supersize Fat Lash Mascara (for big, full lashes), Hylamide HA Blur (for extra lazy days – blurred skin and hydration? Yes please!) and Benefit Dream Screen (SPF 45, duh).
The Stuff You Always Forget | Perfume! I always spritz half a litre of the stuff going through duty free, but I do try to remember to actually take one with me for the trip! I do love Jo Malone 30ml bottles for this as they're slim enough to fit in that silly clear bag. You always forget a toothbrush, right? Well no more! Here's your warning to go out and grab a Sonic Chic Urban Electric Toothbrush, your ideal travel companion. Shove a battery in and it'll keep your teeth super clean and it's ultra hygienic too, with it vented cap so no more gross toothbrush holders! Aaand finally, a deodorant. Whether you pick up a mini in the airport or grab your own for the ride, remember to get one as hot countries and people who are used to cold, drizzly England don't really mix…
What do you take in your hand luggage?
Helen x
ps. Check out these two blogging babes: My Debeauvoir Diaries and Cherry Pie!