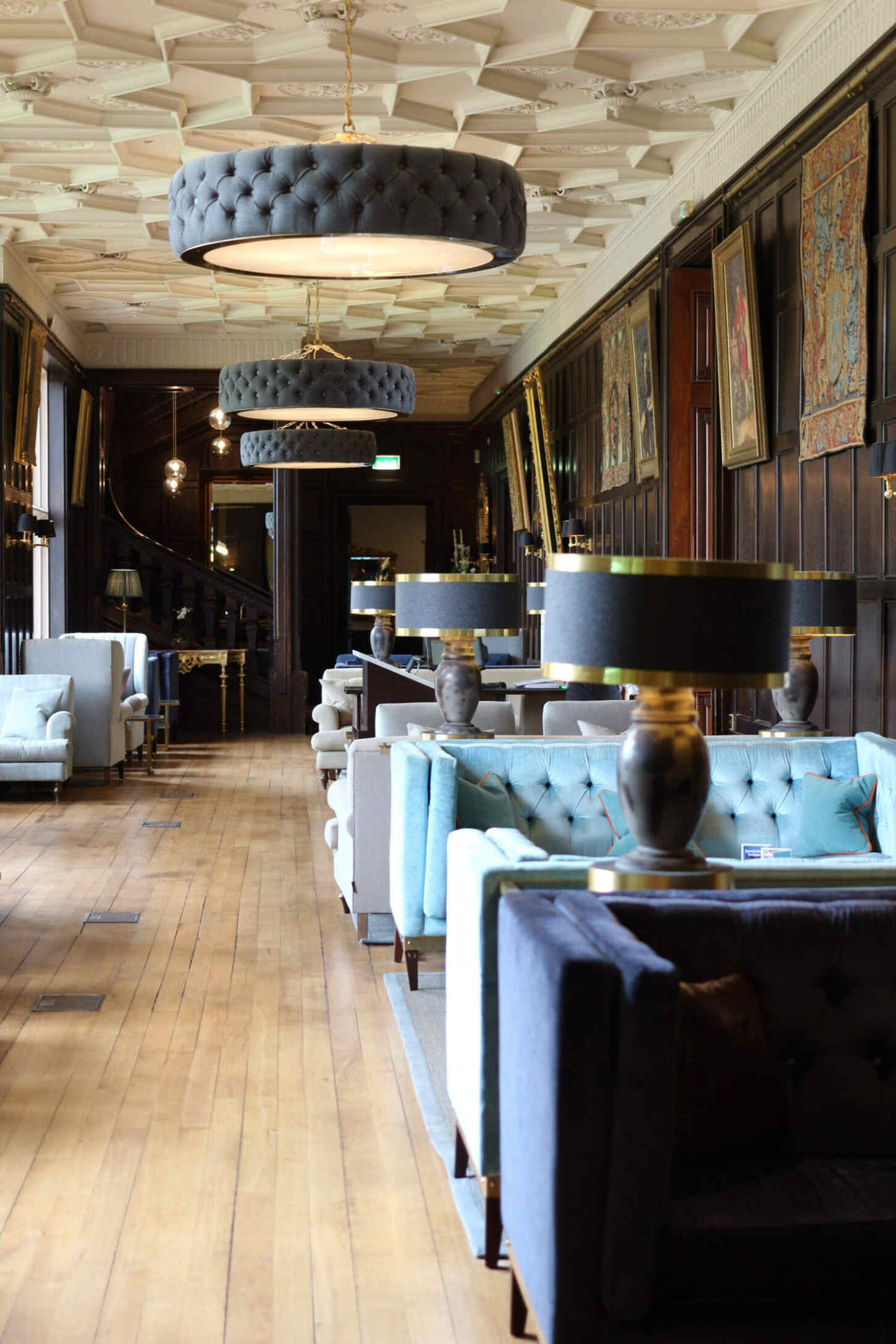 It's not often that I get given the chance to try out somewhere as amazing as Hoar Cross Hall, nevermind stay in their most luxurious suite and spend time in such a divine spa. But, here we are. In today's blog post I'm going to be chatting through every detail you need to know about Hoar Cross Hall's amazing hotel, plus the food, the rooms and the spa which, as you can imagine, are all pretty darn dreamy. If you saw my instastories on the day, know that I was actually freaking out as much as I came across when I walked into the room as yes, it really was that impressive! Anyway, onto the review...
The Royal Suite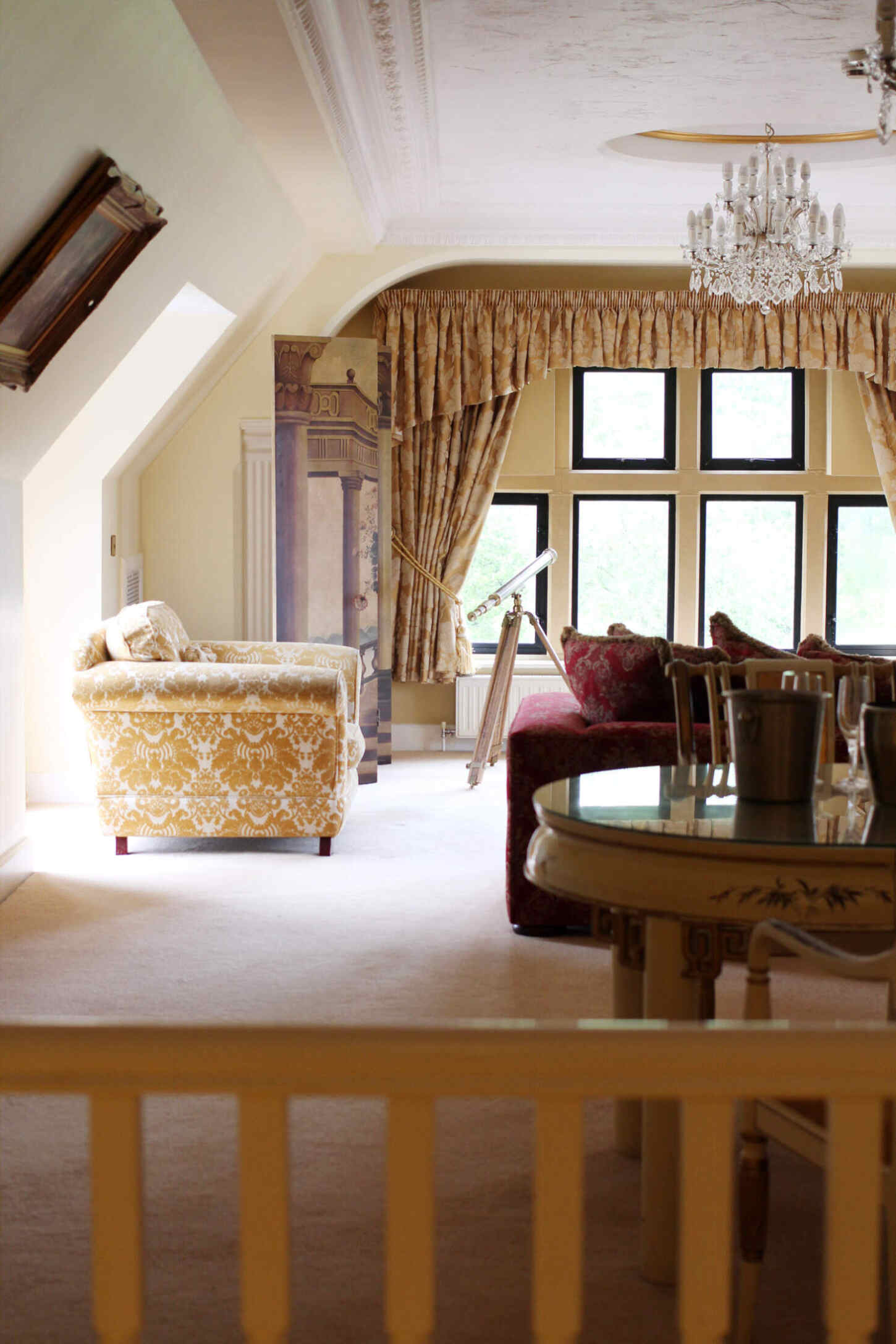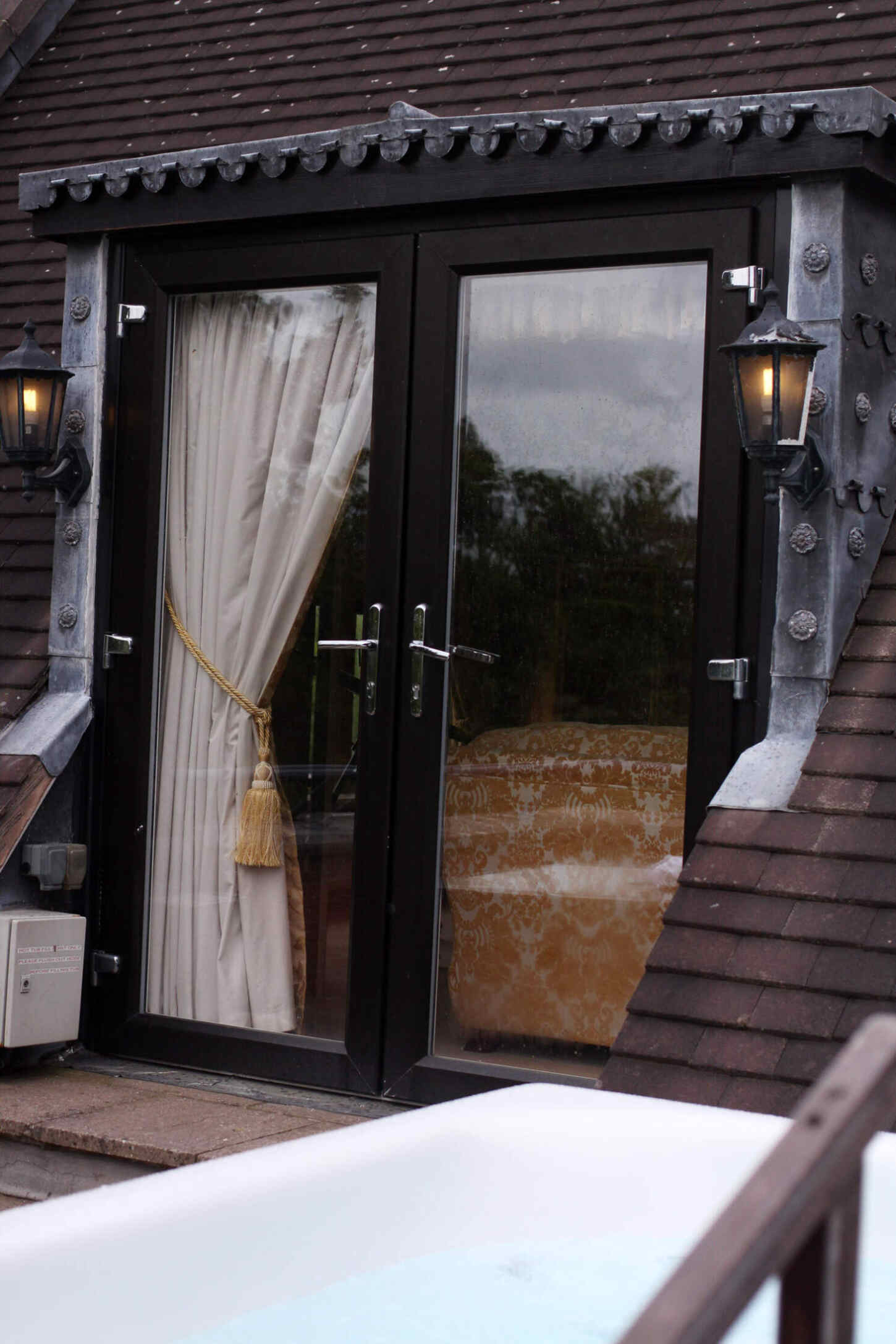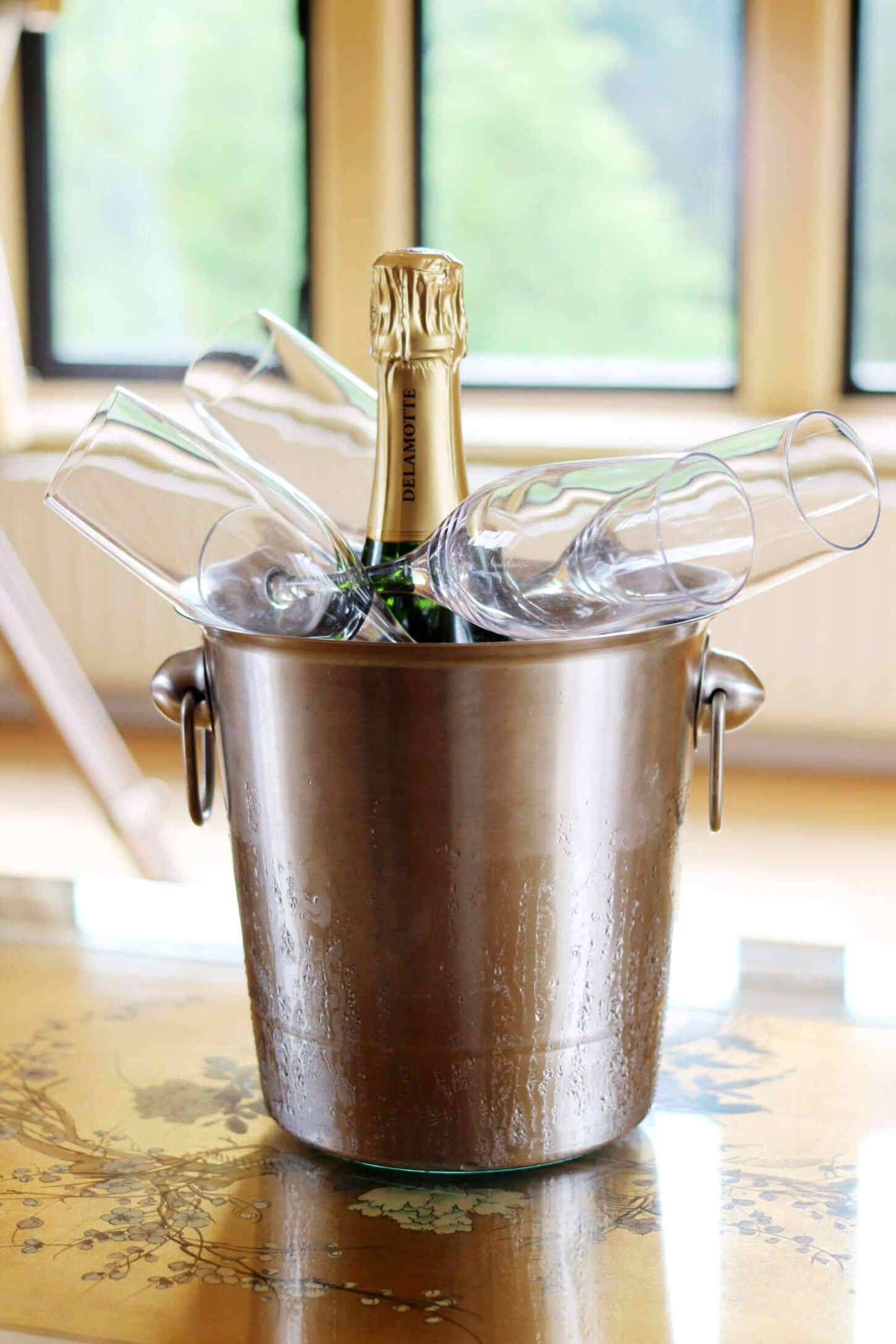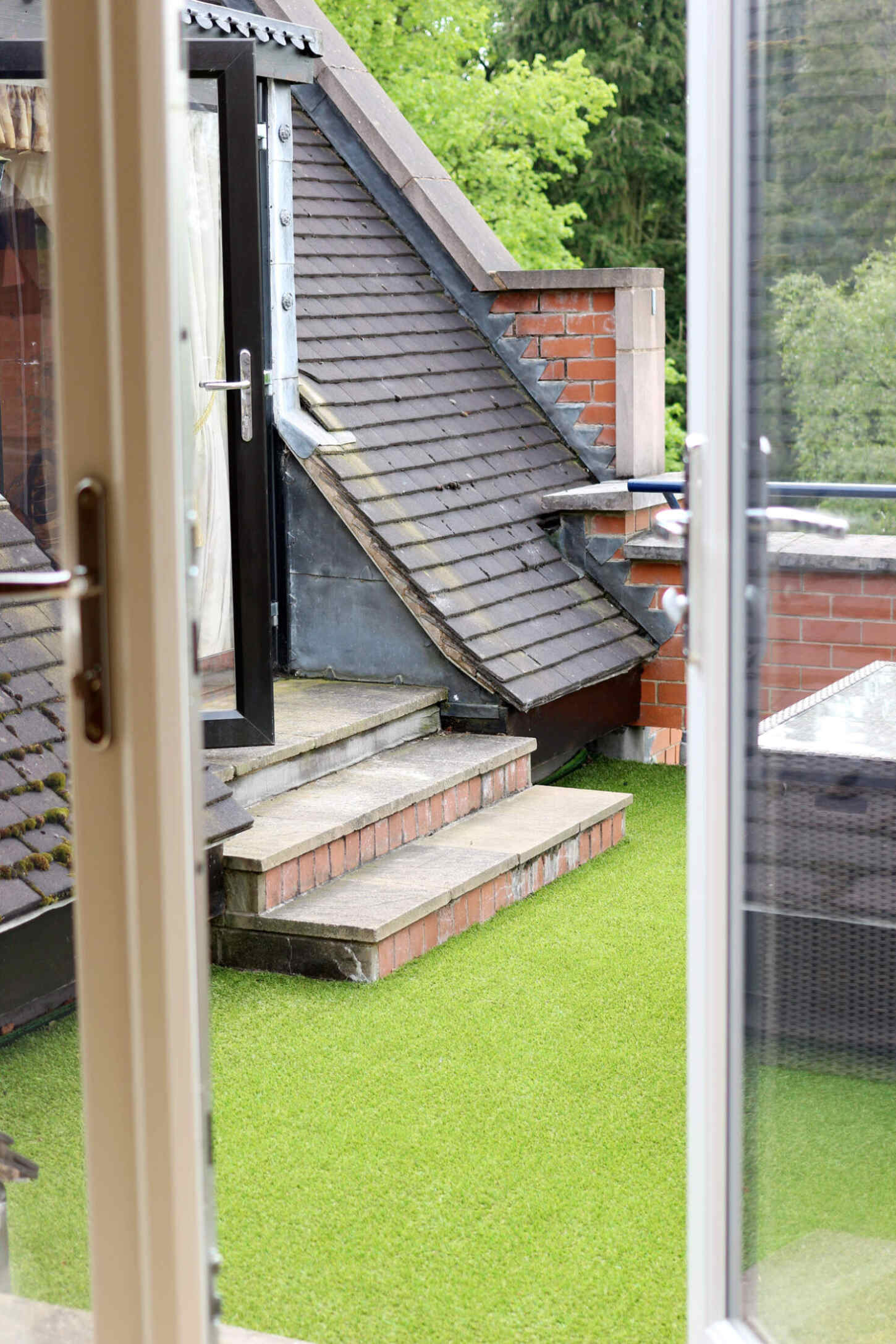 I don't think that any of my photos will truly represent how amazing this room was. It's genuinely the nicest hotel room I have ever stayed in. It's bigger than my entire flat - seriously. I wish I hadn't of brought such a close up lens for my camera so you can get a true scale of it, but it just went on and on.
Once you'd worked your way through the maze of corridors to get to it, you find yourself greeted by a very luxurious front door and then a staircase. Yes, a staircase to get to your own floor of the hotel. It's effectively situated in the attic which makes it very cosy, but it's extremely spacious. There's a living/dining room with a large table, sofa, chairs everywhere and lots of gold details which makes it very regal. I think we collectively said 'omg' about 1000 times just from this room alone when we first arrived. There's two balconies off the main room, one with your own private hot tub and another overlooking beautiful gardens.
There's two bedrooms leading off the livingroom, each with twin beds and a range of gorgeous furniture and walk in wardrobe. Again, I didn't quite capture the size of this room with my camera, but it was so spacious! Each bedroom has a huge bathroom complete with vanity lights around the mirror. Once you go through the door at the back - yes it goes on further - each room has access to it's own private sauna and treatment room. Myself and Hannah had our own balcony too which was lovely, so that brings the total up to three - how luxe!
The beds were very comfortable and I think I fell asleep as soon as my head hit the pillow which can only be a good sign. The facilities - including tea/coffee (a decent range, too), a fridge, tv's in each room etc - were all great, so it's exactly what you want aside from, you know, the most decadent experience ever.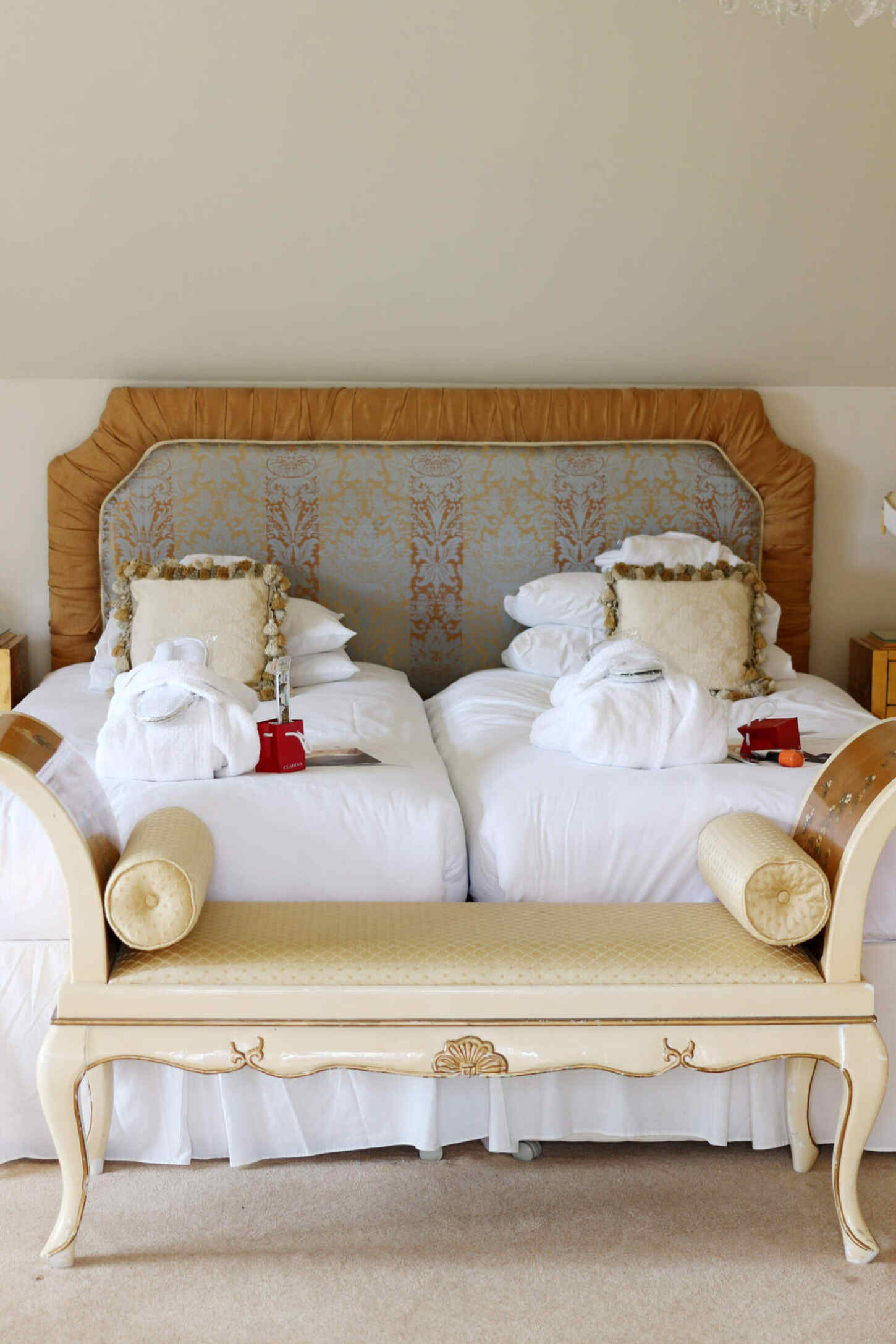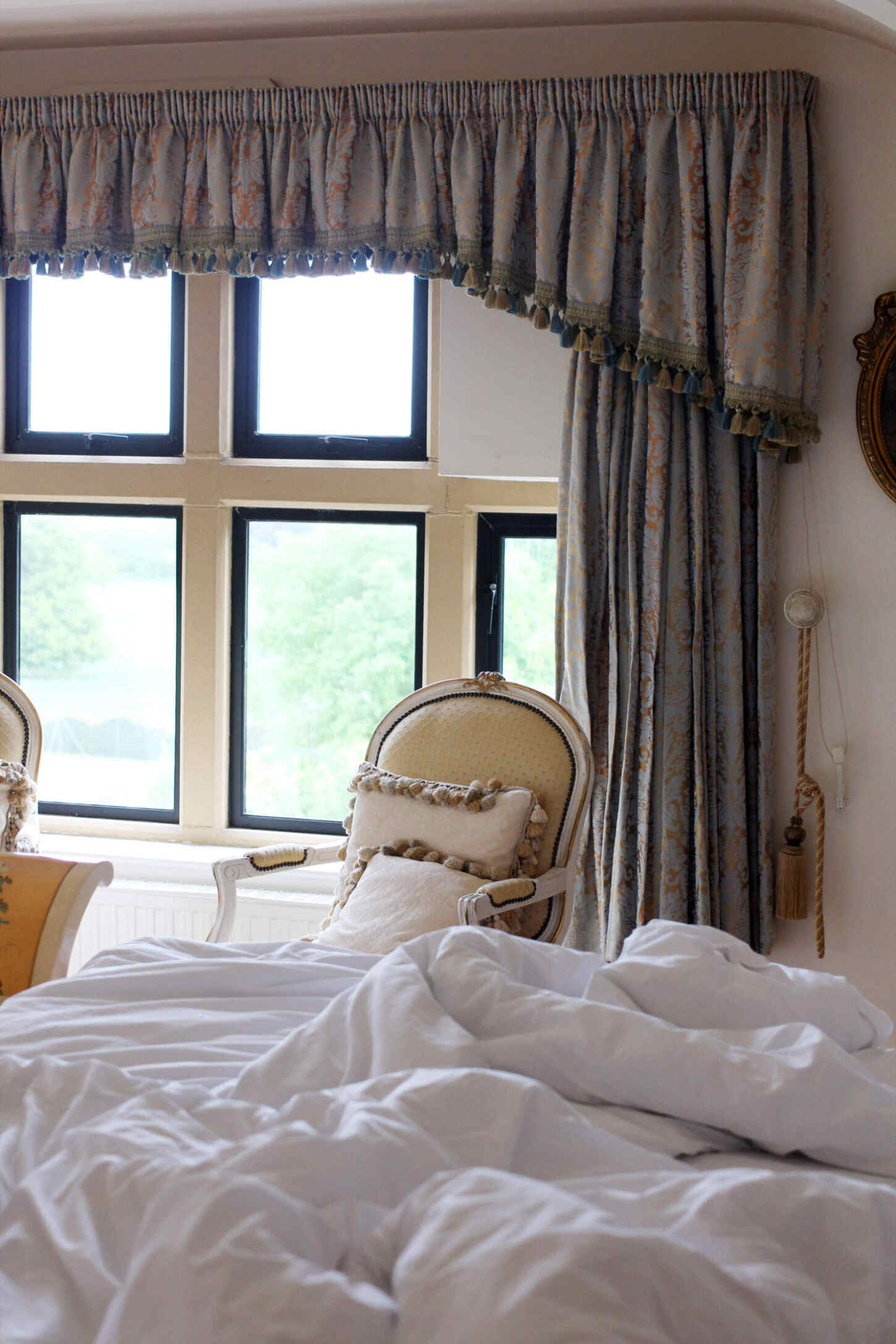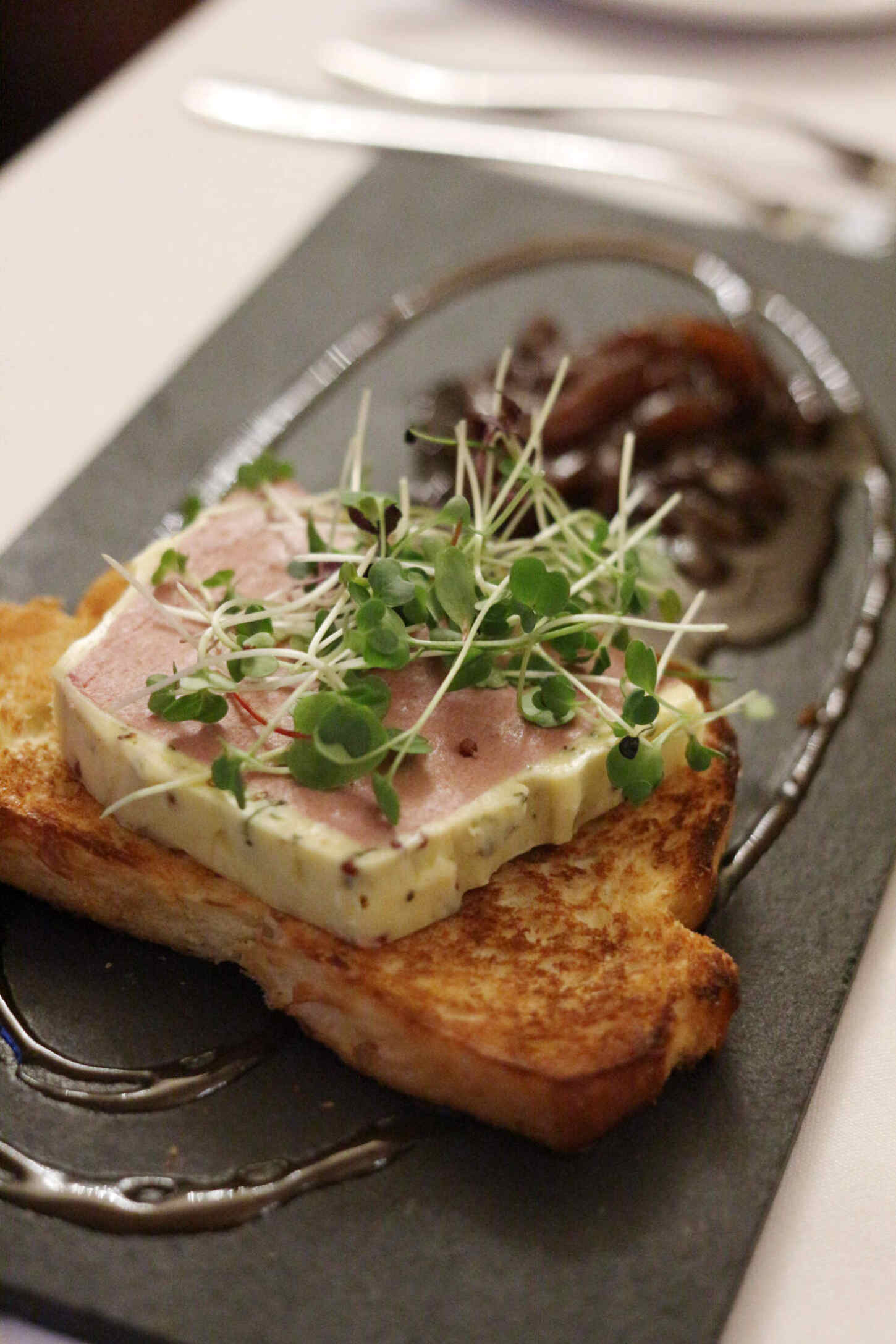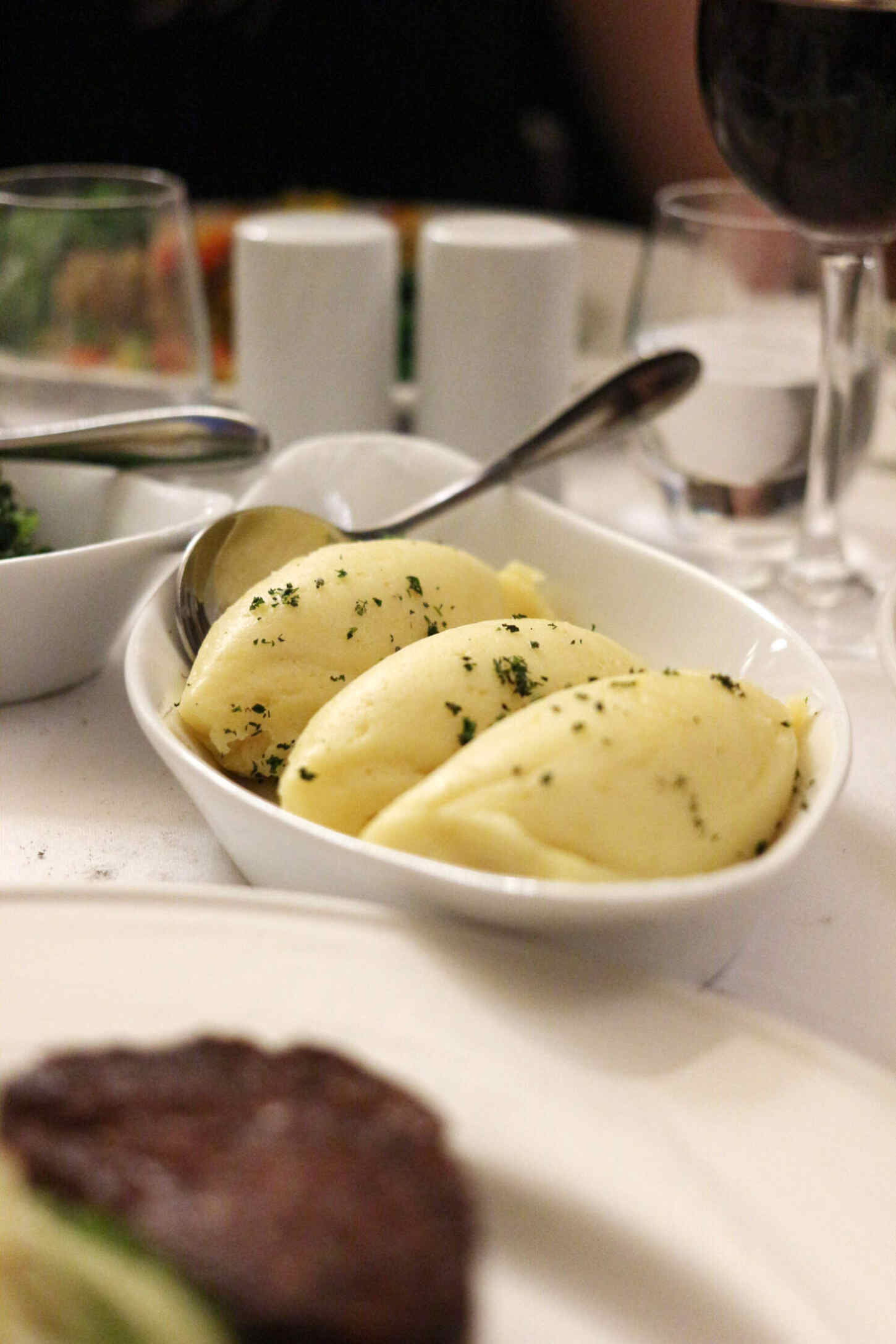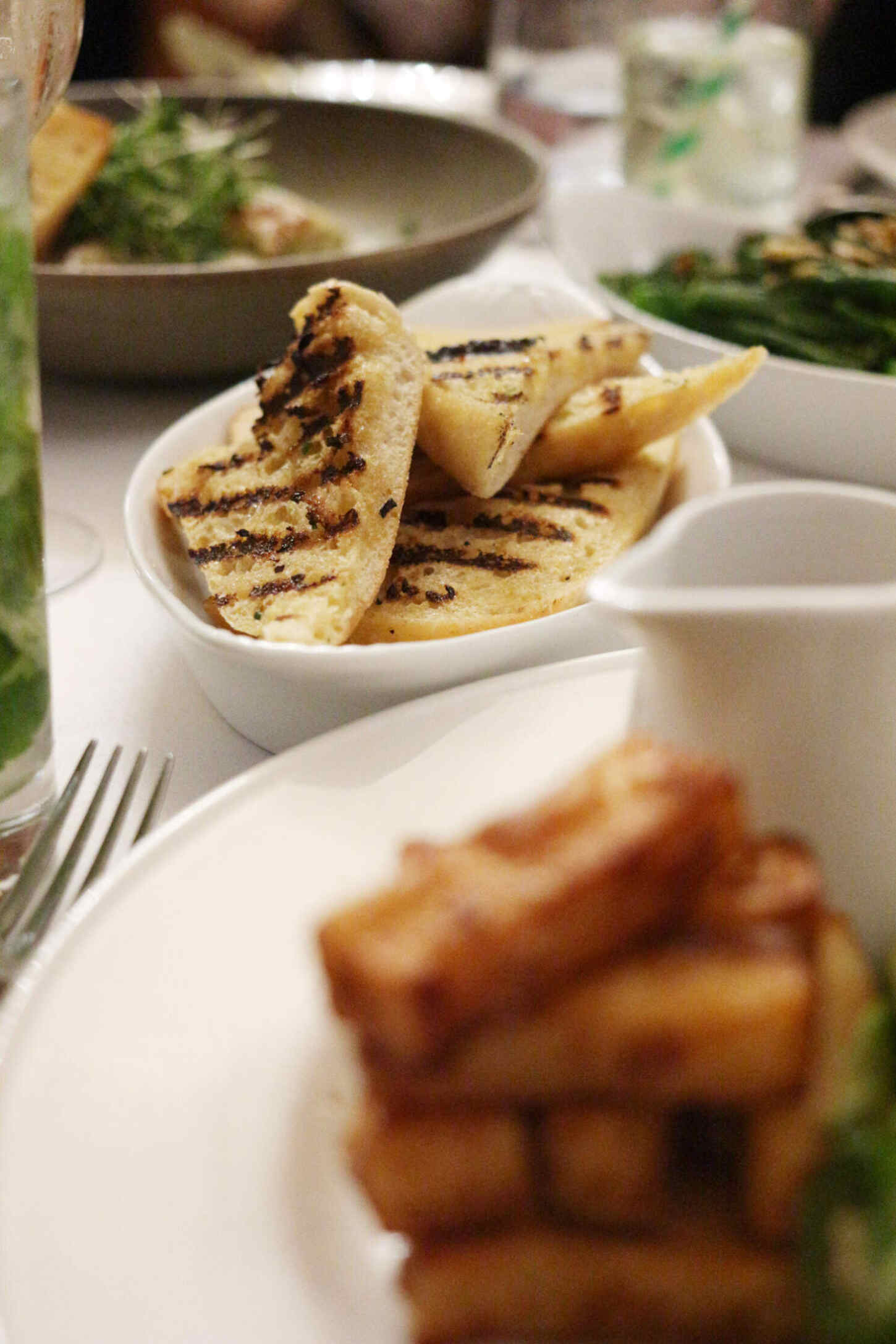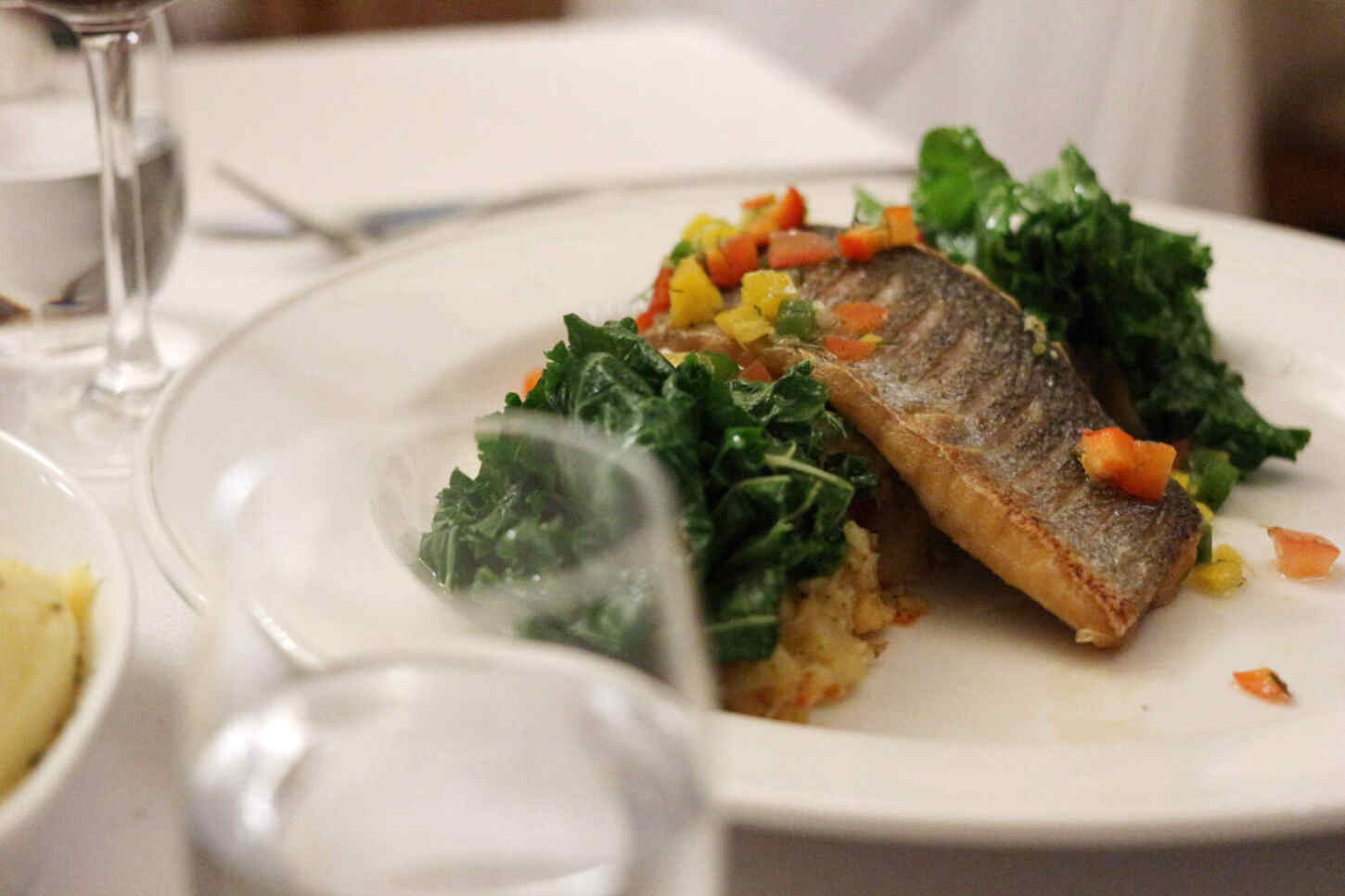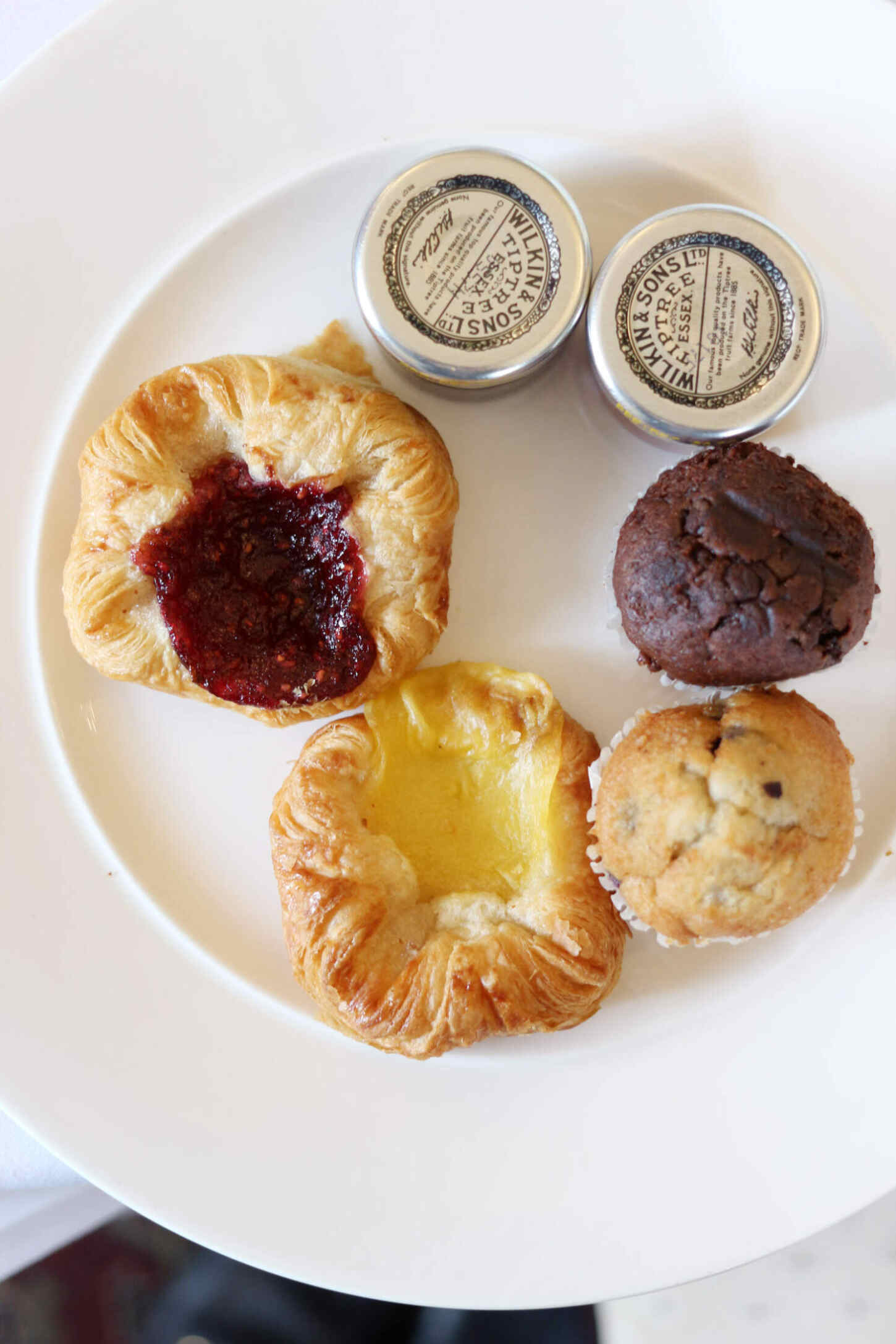 Dinner
We were lucky enough to sample three different meals when we were at Hoar Cross Hall. We arrived on the Friday and had a very late Dinner (9pm) as we wanted to maximise using the spa (read: Hannah and I wanted to be a constant temperature of about 50 degrees in the sauna and steam rooms). The dining room is oh so grand as you can see from the photo at the beginning and the menu is quite simple - just a few solid choices (including vegetarian options) so it really helps you pick what you want.
For starters, I opted for the 'Yellison Farm' Goats cheese and beetroot to begin with - a combination I am absolutely obsessed with and it was so good. The others went for the chicken liver and port parfait which also looked great, although I didn't try any!
For main I went for a good ol' steak which was cooked to the perfect rare that I asked for and I really enjoyed it. Hannah and Chloe went for the seabass and Alice got a veggie option with cannelloni and it all looked amazing. I really wanted to try a bit of everything if I'm honest! We also got some side dishes of the most buttery, delicious mash potato (seriously, so good), broccoli and garlic bread which were all perfect.
The others were super full but I powered through for dessert because you have to, right? I went for the sticky toffee pudding and it was decadent but not heavy, and one of the nicest puddings I think I've ever had - so good!
Breakfast and Lunch
The breakfast at Hoar Cross Hall was a buffet style which some of you may roll your eyes at, but trust me when I say it was one of the nicest buffet breakfasts I've had.
They had a range from a cooked breakfast - think sausages, bacon, eggs etc - to fresh fruit and juices to pastries and bread with jam and butter. I think I tried pretty much all of it and every element was delicious so I would definitely recommend heading down for breakfast if you decide to stay at the hotel!
For lunch we went to a different restaurant which is situated along from the spa area and not in the main hotel. They had closed our account at the hotel (as we had checked out, but could use the facilities until 5pm) which caused some confusion at the restaurant, as they said we couldn't order anything else so we had to stick to water. This was a minor set back I guess and we were seated and given a simple menu. You could have anything from the buffet to start, then pick a pasta or a salad with whatever sauce or filling (chicken etc) you wanted.
The buffet has a good selection of salad, coleslaw, plus rice, pasta and couscous, homemade tomato soup and lots of bread, so there was plenty to pick from. For a main, I opted for the Caesar salad with chicken and, well, it was average and I didn't enjoy the chicken very much. The girls got pasta and that looked really good, so I sort of wish I'd got that instead!
For dessert, we got a caramel cheesecake and that was delicious. It was very light in texture so it didn't feel stodgy after a meal and was the perfect thing to finish with!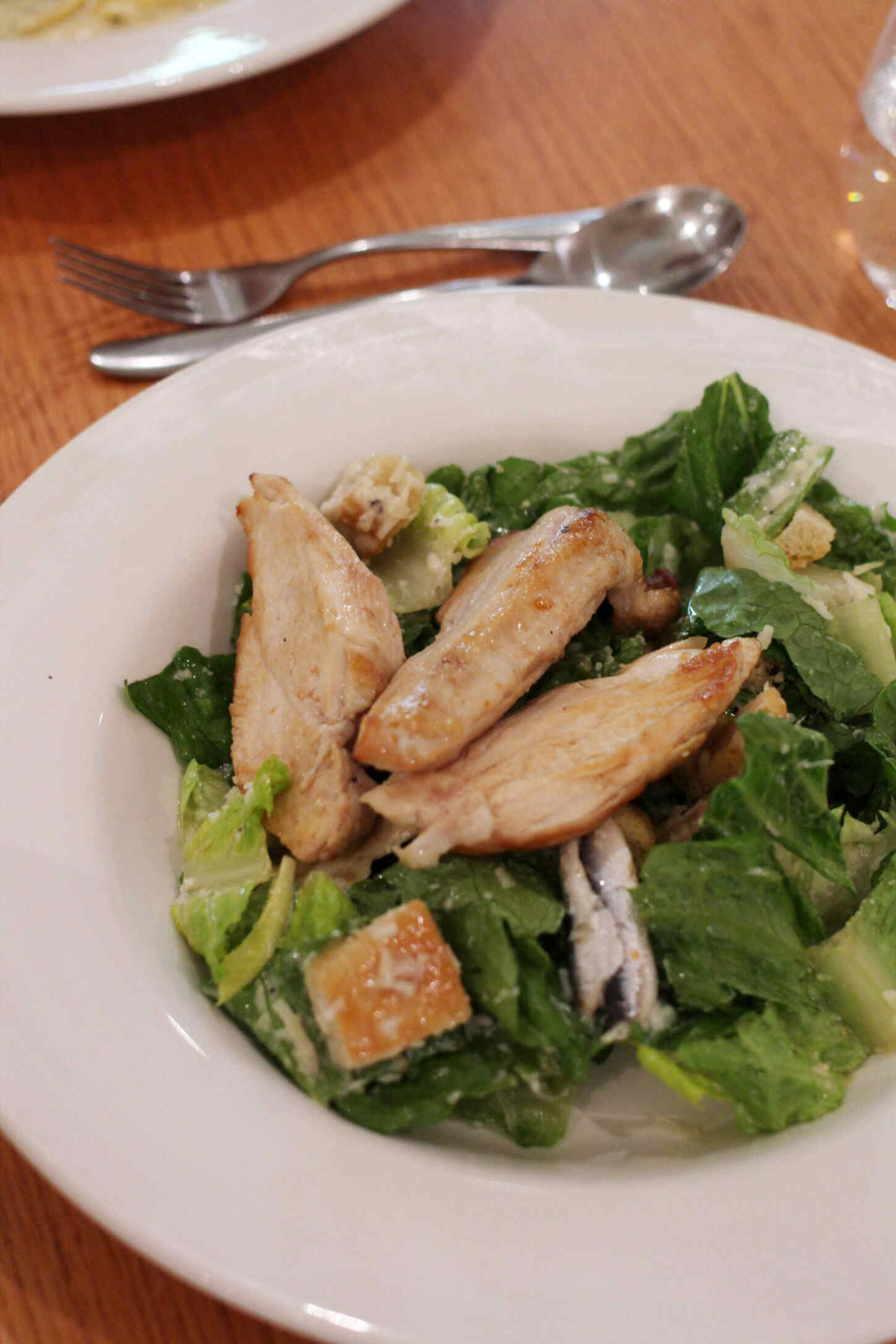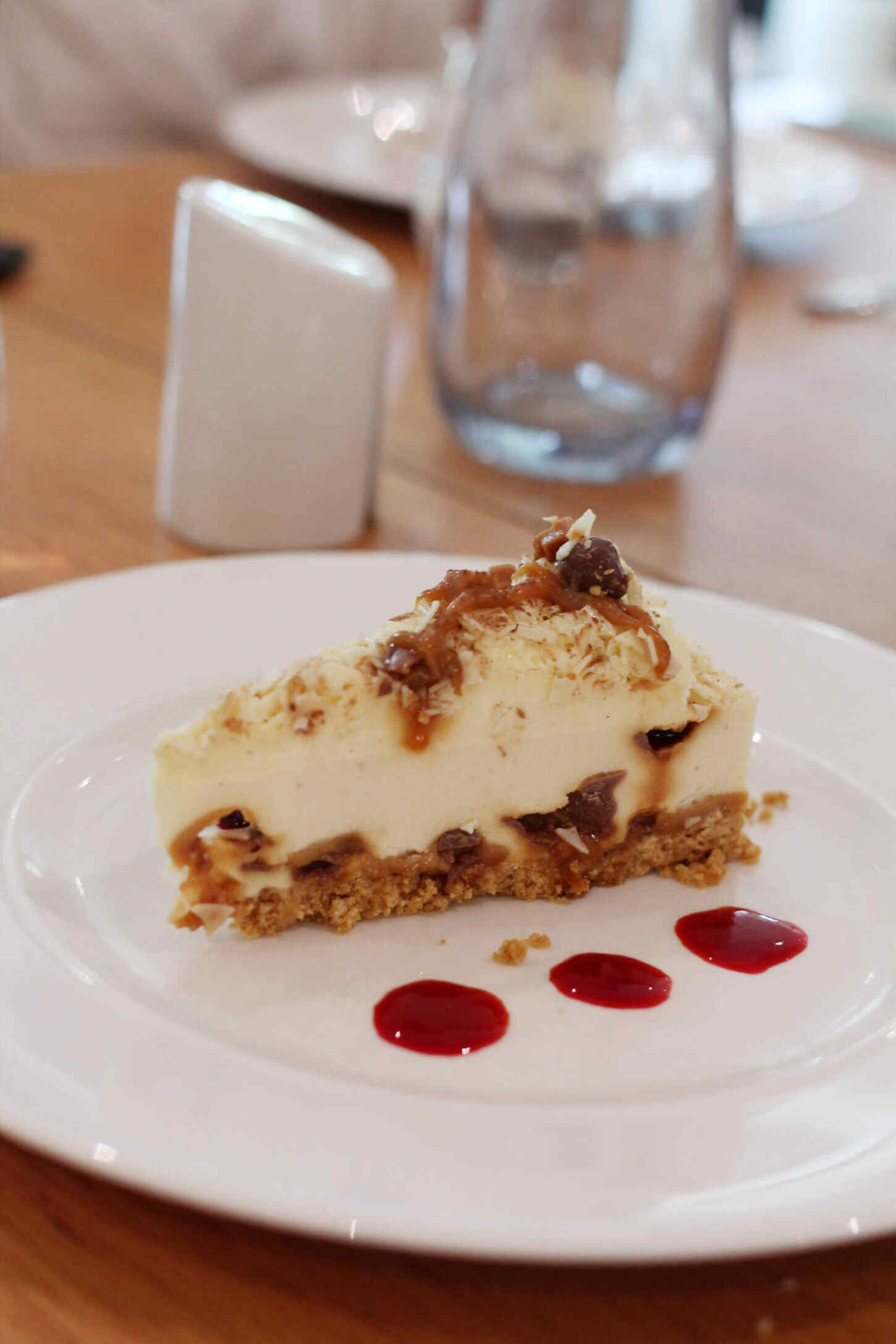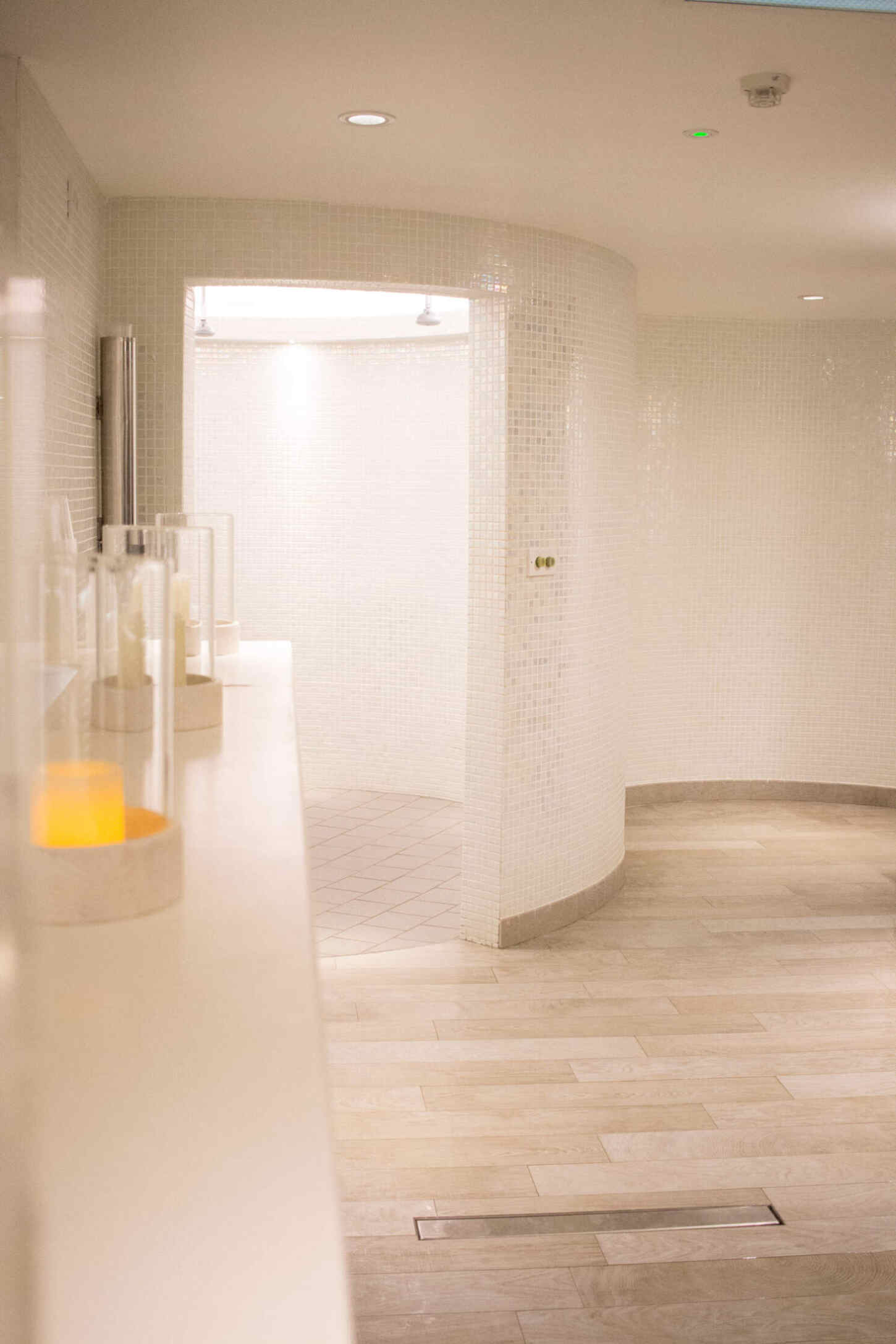 I'll just be honest here and say the photos don't do this spa any justice whatsoever. As we went on a Friday and checked out on a Saturday, the spa area was quite busy so it was hard getting photos without getting people in them! Please check it out on their website as you would be so, so impressed by the actual look of the place.
Anyway, onto my opinion and experience. The spa is enormous. Seriously. It has a little map and everything. I think we got lost a few times on the first day just from how huge it is!
It has a hydrotherapy pool with a jacuzzi at the top. A saltwater vitality pool with a starlit cave (seriously) and two whirlpools. There's an aqua massage which has lots of little rooms for different things, so you can work on your feet or your back and there's a cold plunge pool too. Their 'Nordic Suite' offers a range of places for you to relax in; there's a sauna, which is one of my favourite places to be, a salt inhalation room which I also love, an aroma room with heated seats to chill out on and an ice room for the brave! They also have sensory showers which alter between hot and cold, as well as plenty of cosy seats to chill out on. There's a huge chill out room with blankets and plenty of sofas to sit on just outside of the pool areas too, as well as a sleep room (seriously) next to the treatment rooms.
Speaking of which, we were treated to either a massage or a facial and I went for a massage which was so, so good! I felt like a new person.
They also have a state of the art gym so if you have to get your workout in, then this is definitely the place to do it. Oh and they also have a hairdressers too.
All in all, the spa was one of the nicest spas I've ever been to. It was huge and had so much choice! I had such a chilled time there that I basically didn't want to leave!