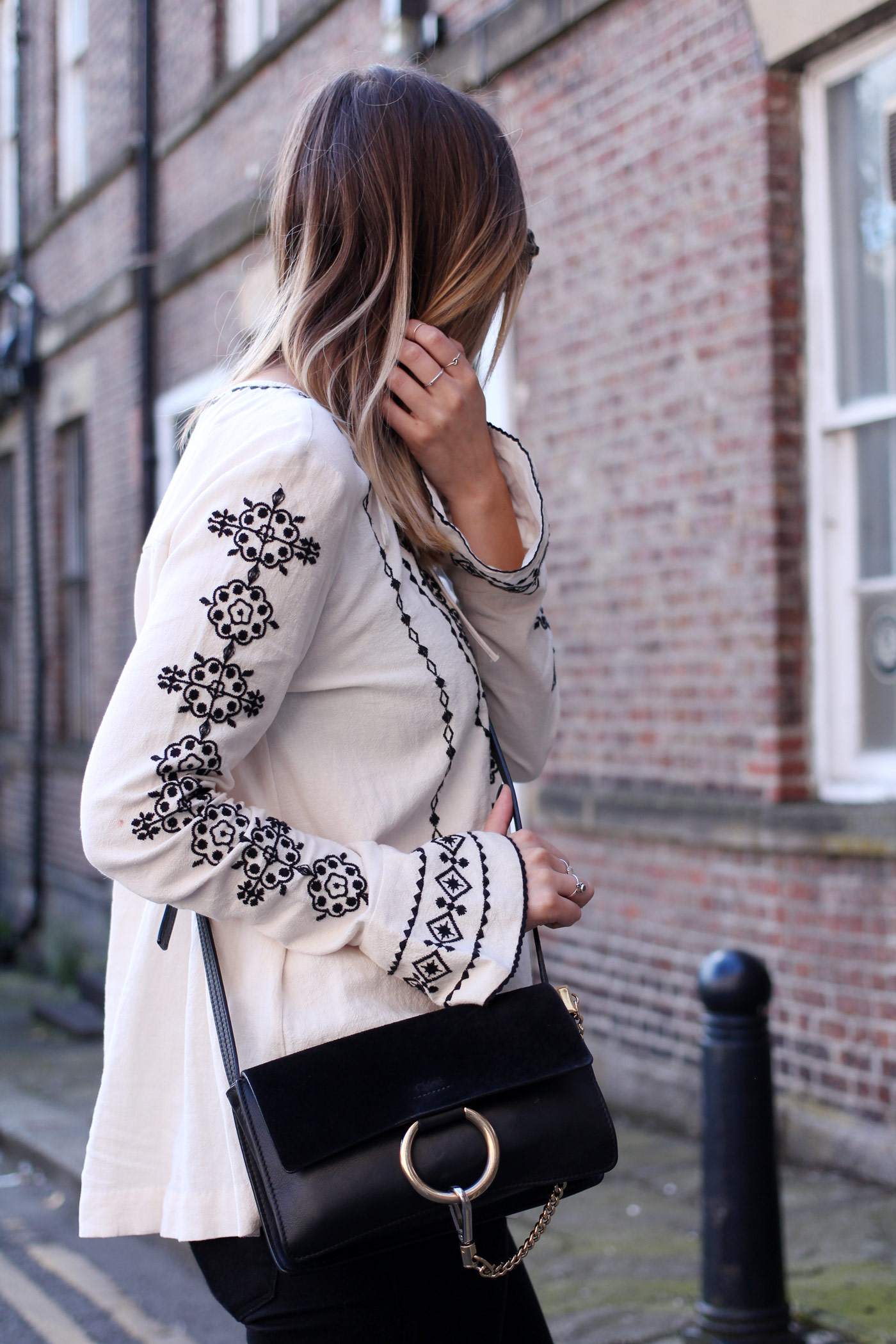 Top: & Other Stories | Jeans: J Brand* | Boots: Isabel Marant | Bag: Chloe | Sunglasses: Celine
Autumn is my favourite time to err, get dressed. There's just something so nice about being every so slightly bundled up, maybe adopting a scarf or dragging those chunky knits out or buying your first coat in September even though you've been eyeing them up since July. So, along with a transitional outfit, I'm gonna talk you through my five favourite things about A/W dressing.
One: Boots | I am beyond boot obsessed right now. Beyond. I keep looking at them with such longing in my wardrobe (is that sad) and keep trying to pair them with anything from cropped jeans to dresses just to keep me going until proper A/W starts. This year I'm after some lace up black boots, smooth leather chelsea style ones (like the Acne Jensen boots because I adore my suede ones) and maybe I'll find the perfect over the knee ones, as they always tend to come up short.
Two: Layering | I'm really into layering right now. Or, rather, the idea of it since it's too warm (for once, UK – bravo!) to start doing it yet. I'm looking at nice cardigans and pinning lots of images onto my Autumn style pinterest board for inspiration, as I'm in a bit of a rut with my actual wardrobe right now and need to pick up some new pieces. I'm looking forward to wearing blazers under leather jackets and those under coats when the temperature drops. Shirts under jumpers anyone? Yessss.
Three: Dark Denim | It's no secret that I love black jeans and this new pair via Trilogy are top of my favourites list right now. I adore J Brand anyway, but this particular pair fit like a glove and you know when jeans just make you feel good? These are those jeans for me. Aside from black denim, I also love the dark indigo shades and rich denim hues that come out at this time of year too and I'll be dragging them back out of my wardrobe asap.
Four: Transitional Pieces | I, of course, always retire the most summery of items to the back of my wardrobe for next year, but I do like to keep some pieces out to wear across all seasons. Flared sleeve tops are still big for the next few months, so they're staying in the A/W section, along with anything with a lace trim as I'm a bit obsessed. I can pair quite a lot of my wardrobe with more Autumnal pieces, the white floaty tops with darker denim and boots and the lace vest tops under a tee and layered with cardigans or blazers. I do love to recycle…
Five: The Colours | I'm not talking about your standard shades here, like berry, that everyone loses their goddamn minds over as soon as it hits September. I love the range of shades you can get for A/W – the moody blue and grey tones, the burgundy mixed with black, the crisp whites with navy and camel or taupe shades you can blend in. Autumn always has the best shades and, although I wear black 99% of the time, I can't help but get more excited about style than at any other time of the year!
What do you love about Autumn dressing?
Helen x
ps. Check out these blogging babes: My Debeauvoir Diaries, the Anonymous Beauty Blogger and Cherry Pie!