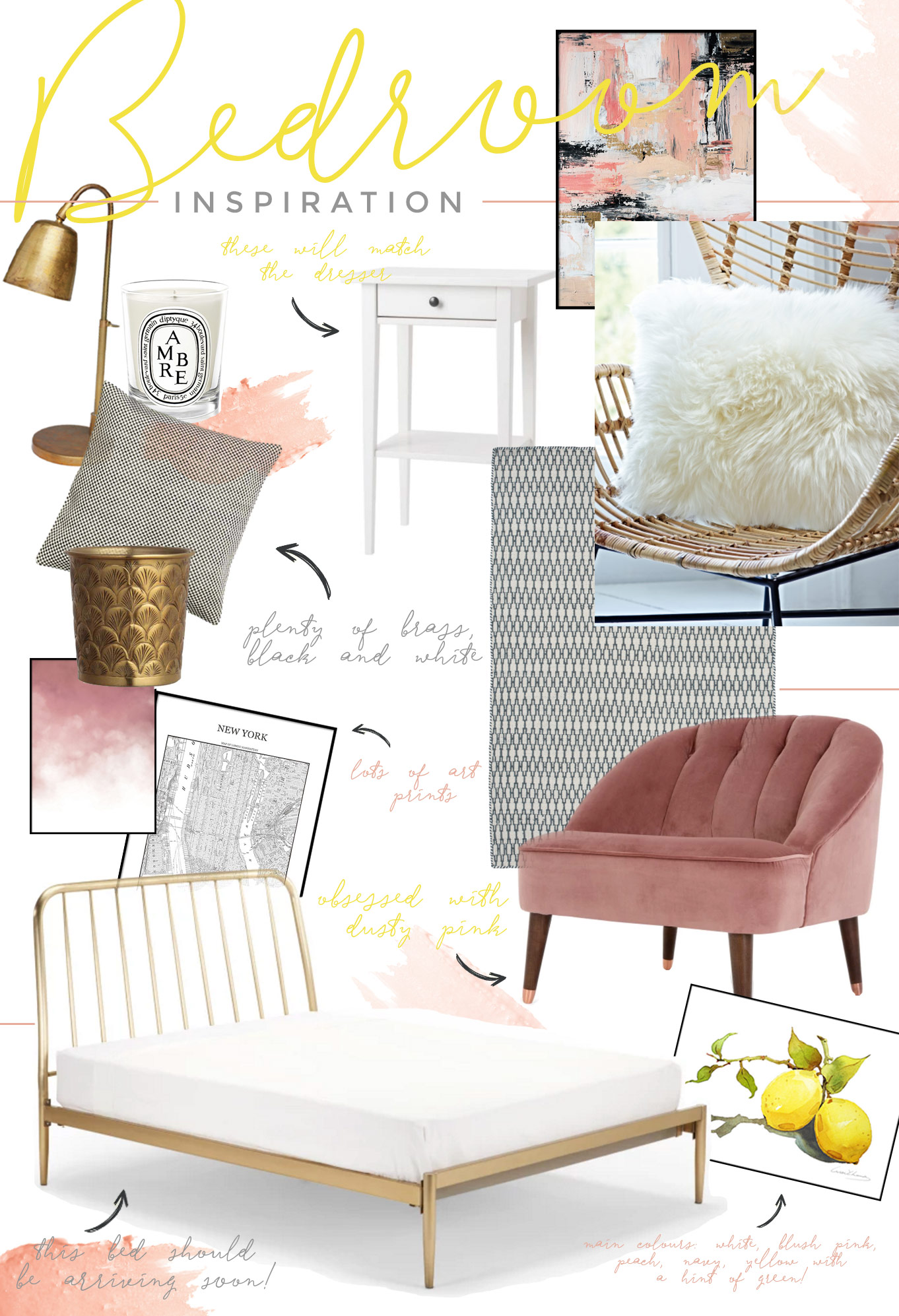 LINKS: Ambre Candle | Brass Lamp | Black and White Cushion | Bedside Table | Brush Stroke Art Print | White Fluffy Cushion | Patterned Rug | Brass Pot | Pink Cloud Art Print | New York Map Art Print | Pink Chair | Brass Bed | Lemon Art Print
Since I've just finished painting my bedroom and the floors are getting sanding and varnished on Friday, I thought I'd share a bit of inspiration for the type of look I'll be going for. I previously shared my livingroom ideas with you which had a more masculine feel, as I want to focus on grey, navy and brass in there, but the bedroom is going to take a bit of a fresher slightly feminine look.
I'm a bit obsessed with the combination of blush pink, soft peach, lemon yellow and green (from plants!) mixed with lots of white at the moment, so that lovely medley will feature heavily. I'm going to keep brass as an accent metal throughout the house I think, as I find it looks so luxurious and can turn a space into something that looks expensive without having to spend a lot of money. I think the bed – which should be arriving on Monday – will be the biggest brass piece, then I'll keep the rest to subtle decoration. I love that table lamp from Cox & Cox as it has the perfect slightly antique look that I'm going for!
I'm going to try and keep a lot of my furniture items quite plain, as I have the big Hemnes dresser from IKEA so may get the matching bedside tables to brighten everything up. I'll be adding a lot of colour with art prints, cushions and throws I think, but adding in grey and black (frames etc) so it's not overwhelmingly girly. I'll need to think of things like blinds – I'm thinking Venetian blinds – and all of that stuff too, something I didn't even consider when we decided to buy somewhere. All in all, I think it should create a warm, comforting but fresh space that I'm excited to spend time in. The room itself is very bright and airy, so it should look amazing throughout Spring/Summer when it's light – I cannot wait!
Helen x