Affiliate links
Quick Las Vegas Hotel Reviews: The Luxor and The Vdara
I thought I would put together some quick hotel reviews, as we stayed in two separate hotels when in Las Vegas so there's a bit more content to share than LA or San Diego. We did 3 nights in The Luxor (Wed-Sat) and 2 nights in The Vdara (Sat-Mon), so I feel like we got a good overview of the types of hotels, as Luxor has a casino and is very themed, whereas the Vdara doesn't have a casino and is much quieter.
Let's start with The Luxor...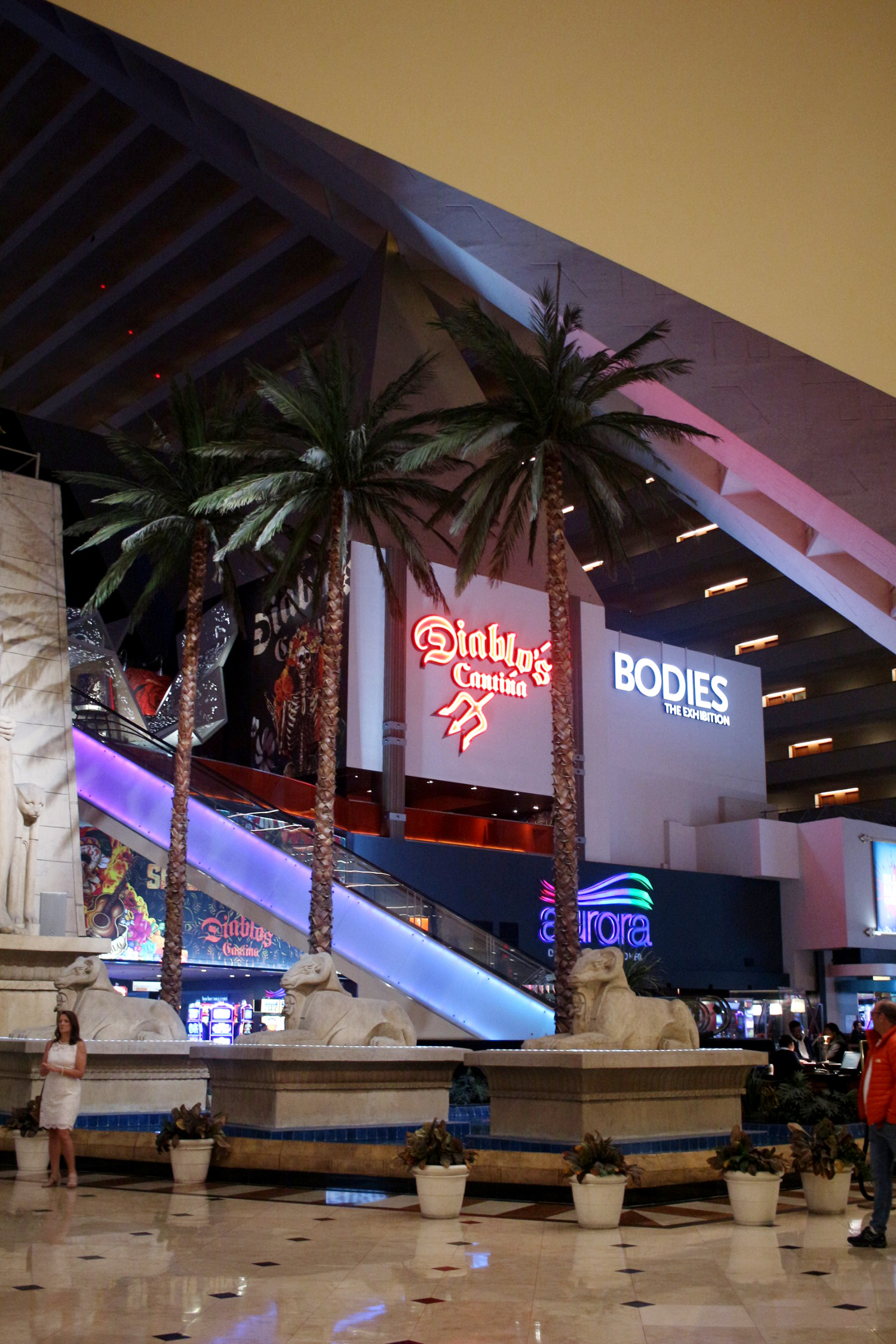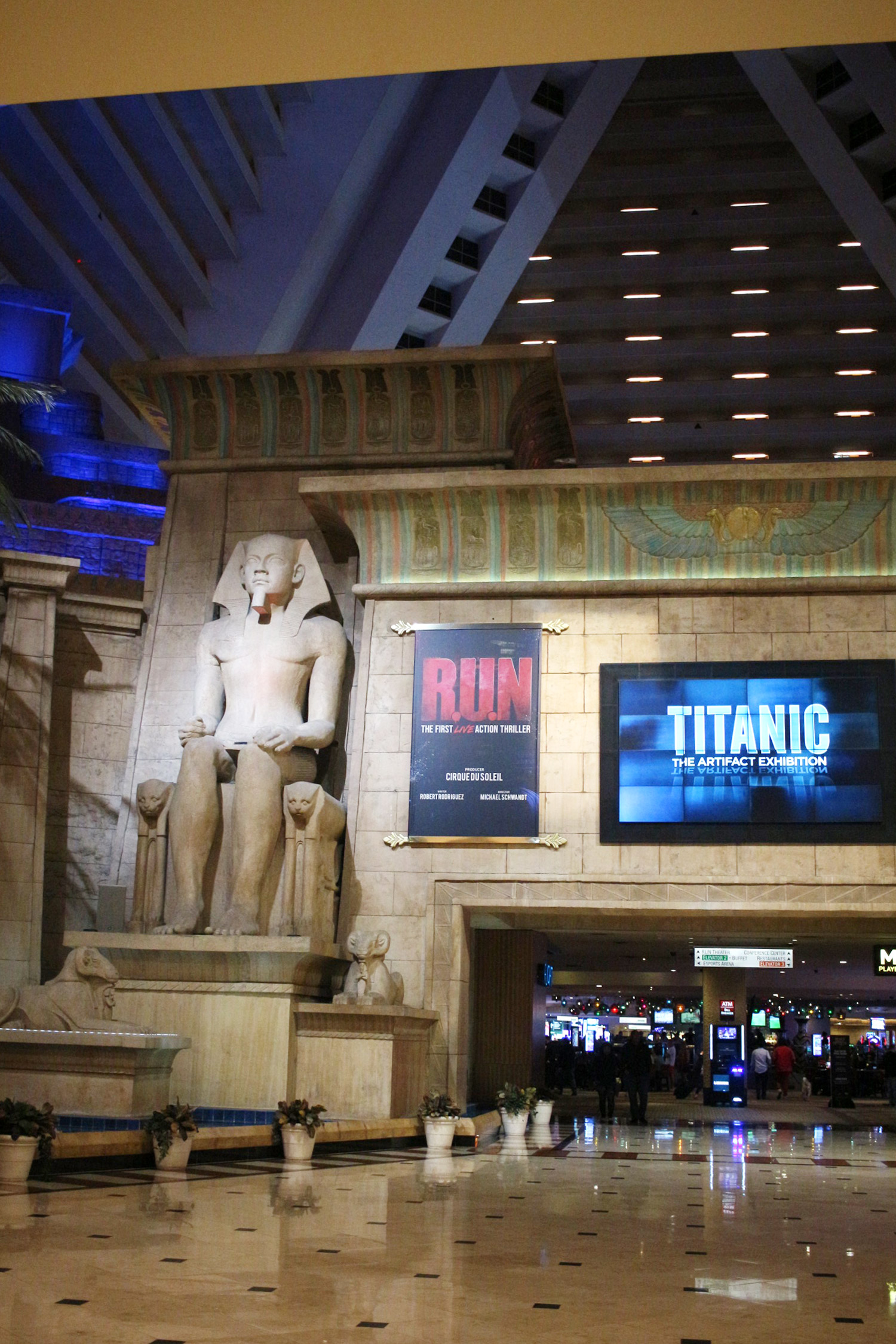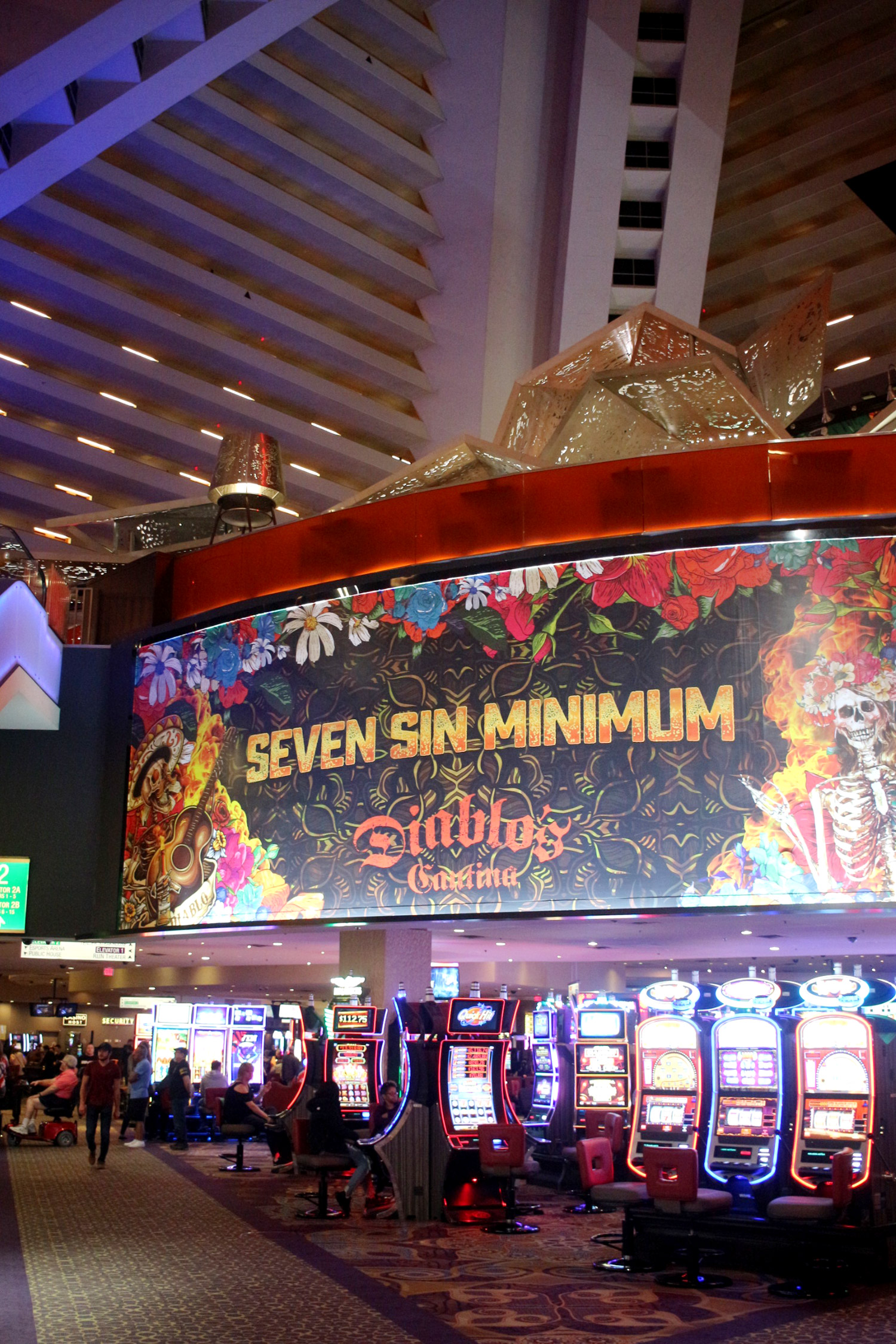 I can't get over how big the lobby is. It's honestly the biggest hotel I've ever been to in my life. Nothing compares!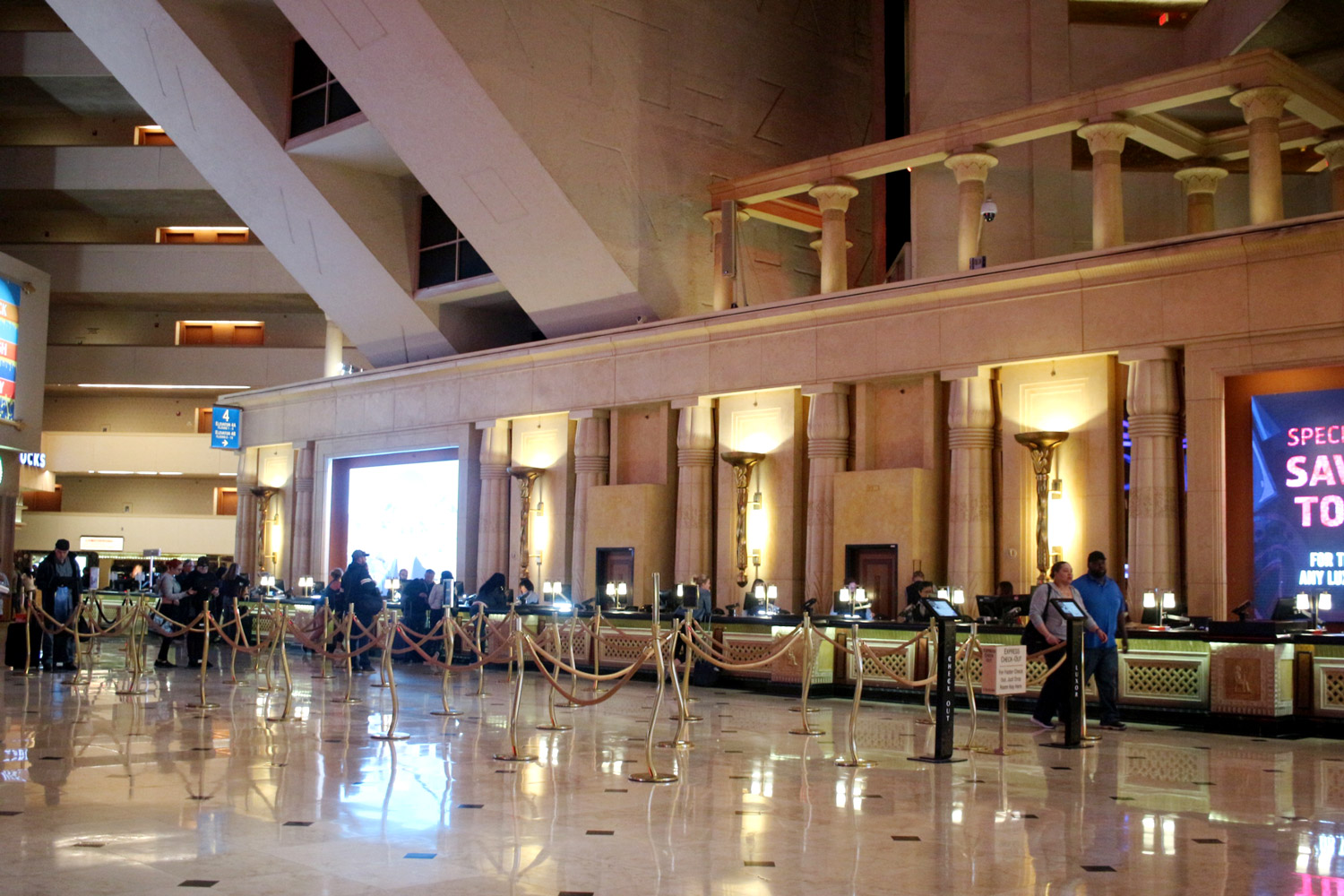 The Luxor Hotel Facilities and Casino
To break it down: this hotel is gigantic. Huge. Massive. The biggest hotel I have and will ever stay in probably ever. With it being a pyramid shaped hotel with a sphinx outside, everything is Egyptian themes so there's plenty of gold and statues and it's all very opulent. The lobby is impressive and completely blew my mind when we checked in, as it's a pyramid inside too. Each light that you see above is a hotel room, so it will give you an indication of scale. There's also a big skyscraper attached to the hotel which is where our room was. I'm a bit gutted I didn't get to stay in the pyramid, but I read reviews saying these rooms were very dated and the other rooms had been recently decorated, so we opted for the refurbished rooms instead.
Anyway, the lobby/central area hosts not one but two Starbucks, a large casino, several restaurants, an entire food court, as well as exhibitions and shows. There's directional signs everywhere so you only get mildly lost when walking around. After a day or so, we pretty much figured out where everything was though. It took us about 10-15 minutes to walk from our room to the front door, fyi.
There's also the usual things like conference rooms, a gym, the large outdoor pool, salon, spa and treatments and so on - everything you would expect. You also get free wifi in the building which connects automatically when you visit other MGM hotels (there's a lot of them...) which is handy.
Additionally, with the hotels around The Luxor being part of the same group (MGM), they are connected so you can walk from The Delano to Mandalay Bay through (an entire mall to) The Luxor and over to The Excalibur. There's also a monorail between them too if you don't want to walk.
The casino is good and we did spend a bit of time in there though we didn't spend a lot of money. On our first machine we spent $5 and won $40 which wasn't too bad! We then lost it so you know, the house always wins...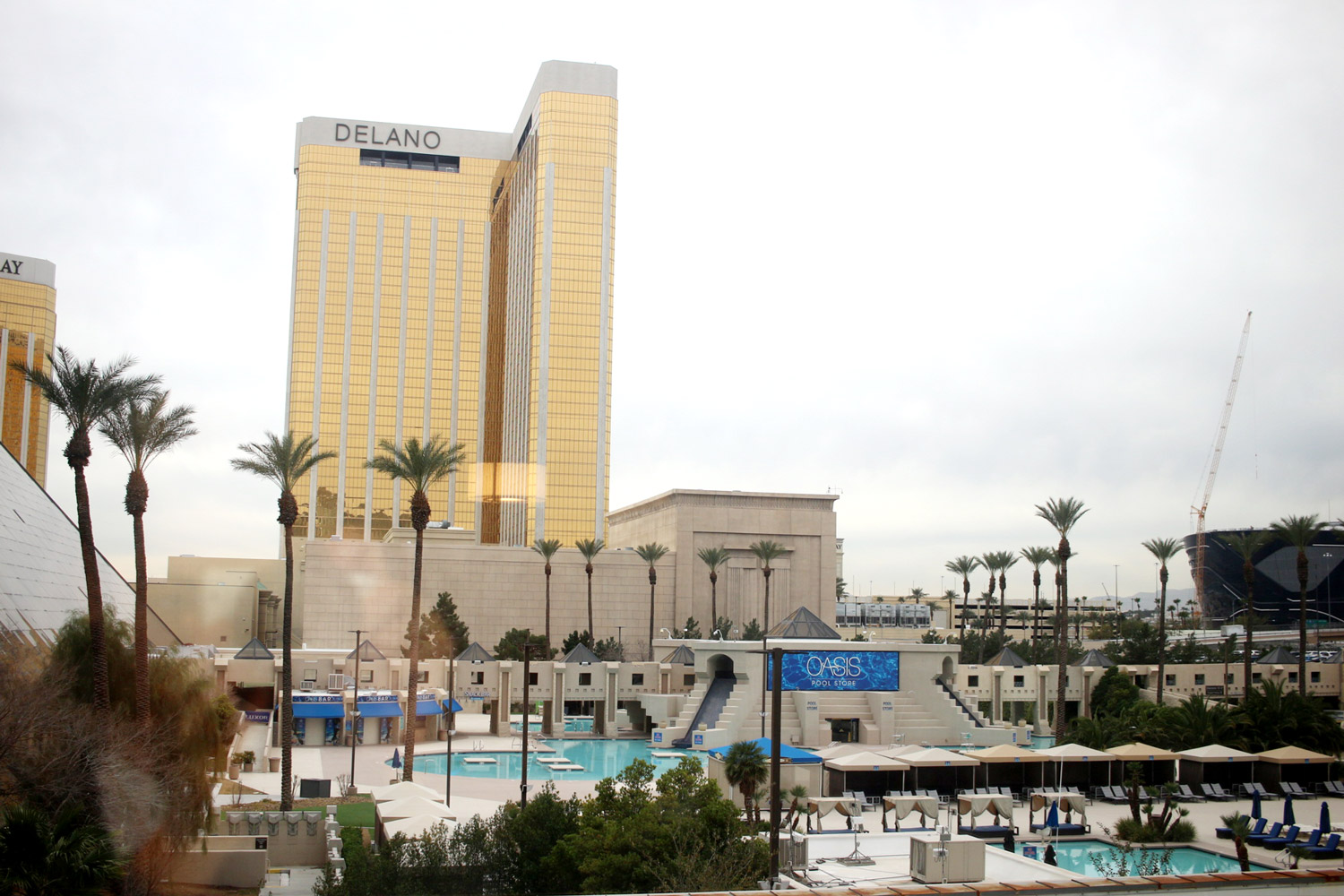 The Room
We opted for a Tower Premium King room, as they had been refurbished so we thought they would be a higher standard. We were situated on the 4th floor which was a bit disappointing as there was barely any view - just of the pool area which you can see above - and the top of a building roof below us. I wish you could choose which floor you wanted to be on, as I really enjoy being higher up in hotels. I should have been more assertive and requested this when checking in, but I was deliriously tired after an 1hr flight + 3hr airport wait + 11hr flight.
The room itself was quite big with plenty of floor space and it was clean(ish) when we arrived. The king bed was huge and I could have rolled over several times without bumping into Phil which is always something I appreciate. There was a desk (with an iron tucked inside), a wardrobe, 2 chairs with a small table and bedside tables too. There are no amenities in the room - no tea, no coffee, no mini bar, nothing - as they want you to go down to the casino or shops and spend money. I personally don't like this approach, but it is Las Vegas...
The bed was comfortable and I slept very well (if we ignore the 4:30am wake up calls, thanks jetlag) and I found the room to be perfectly fine for what we needed - whether that was a space to catch up on a bit of work or just hang out.
The TV never worked when we were there - not once! The room also wasn't very bright, so it seemed a bit dull even when there was plenty of sunshine outside.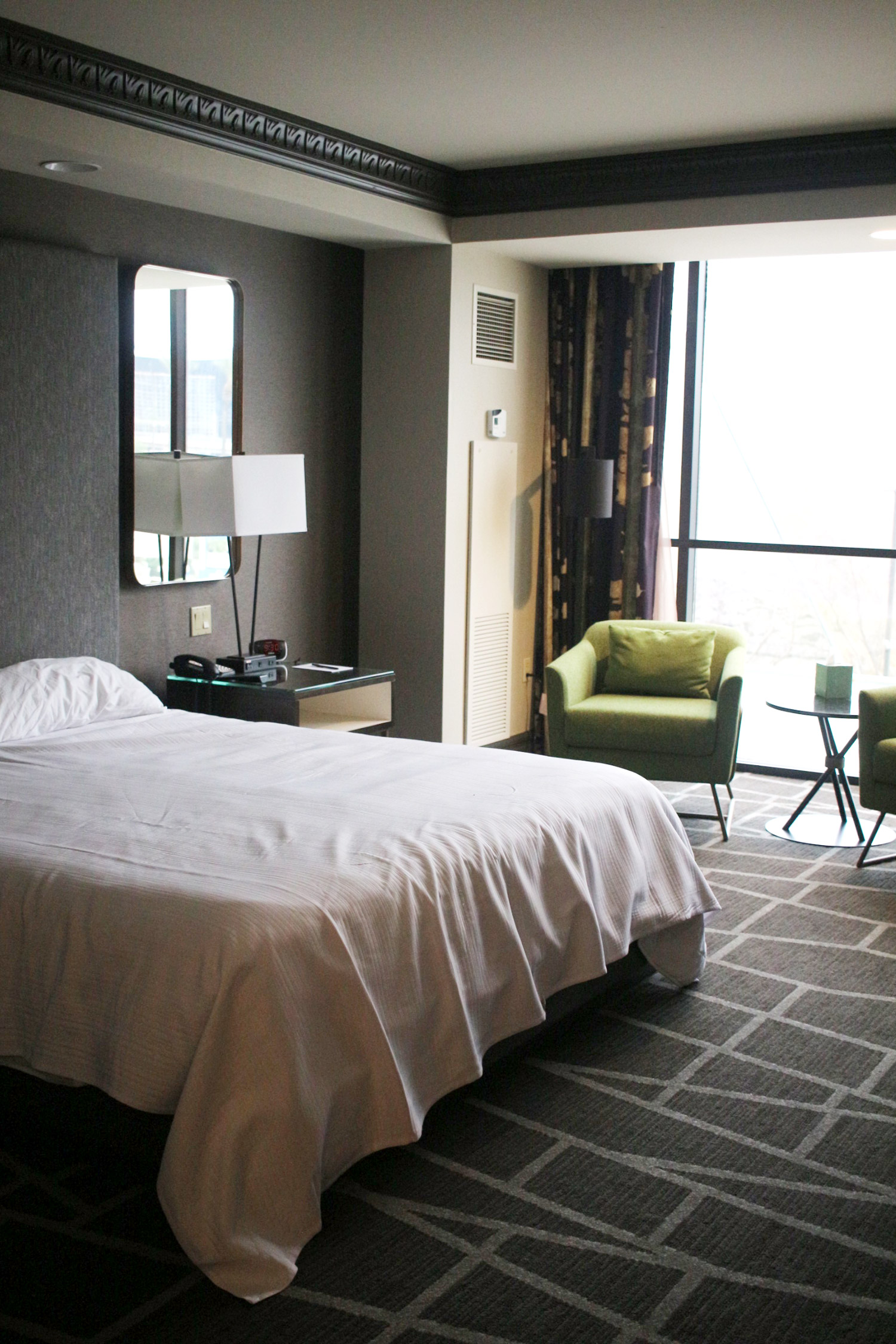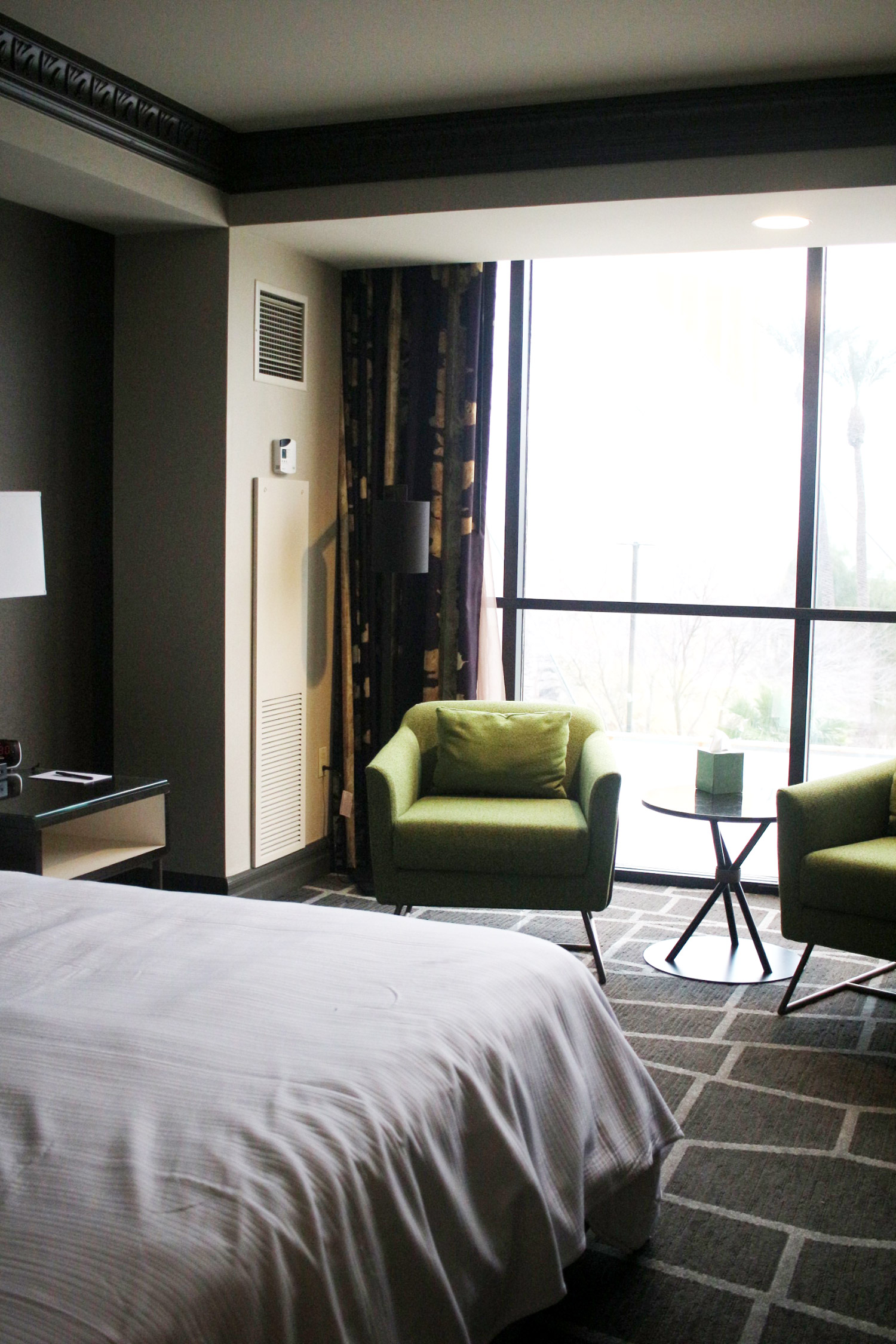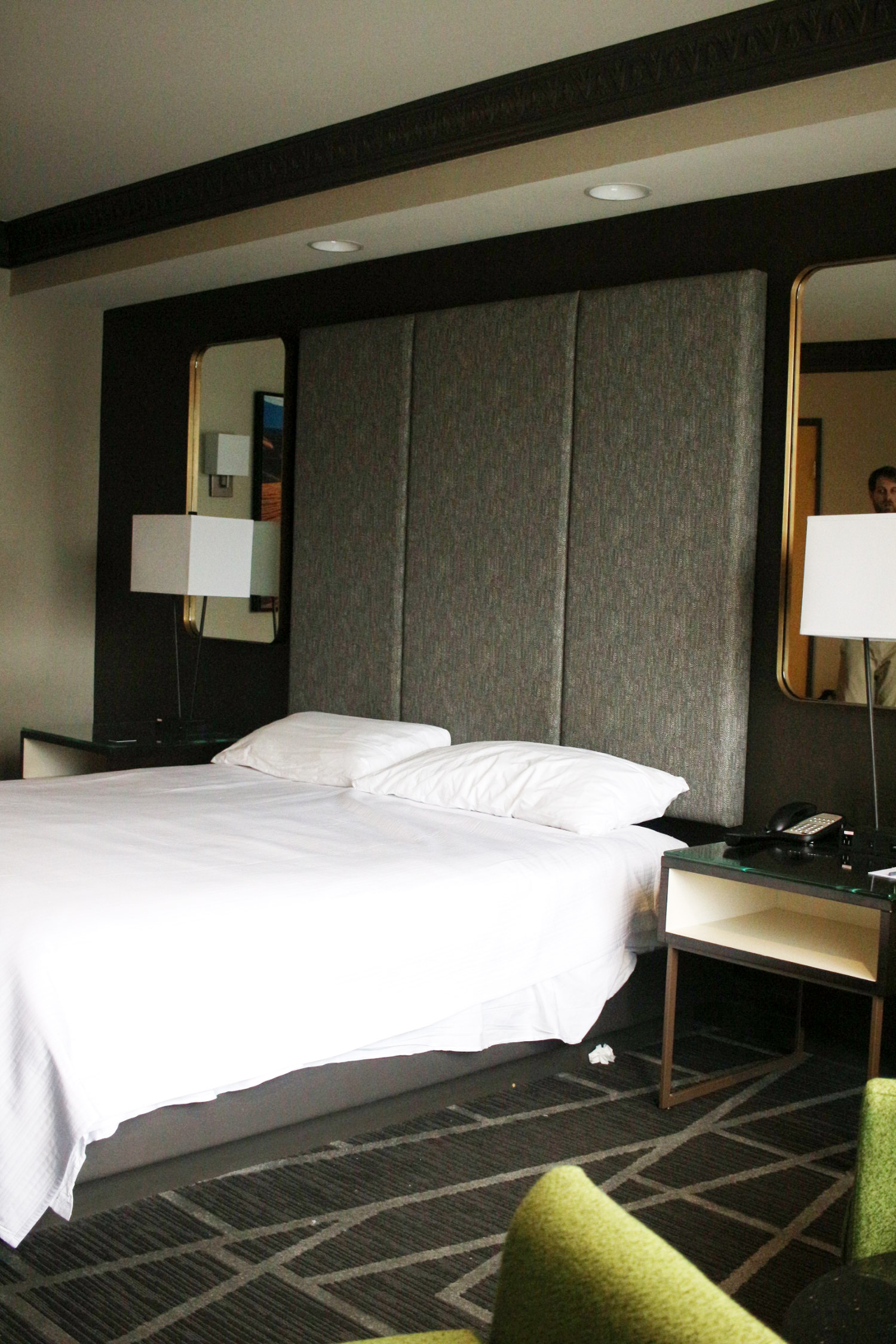 The Bathroom
The bathroom was an ok size and included both a shower and a bath, as well as a decent sink and a loo tucked around the corner. There was a good amount of towels and a hairdryer to use too.
The bathroom mirror had water marks and there was hair in the bath that was not ours, so that wasn't very impressive. The cleaning in here seemed rushed, but ok on the surface which can be said of the overall finish in the bathroom if it was recently redecorated.
They give you shampoo, a bar of soap and some body lotion which is fine, but they weren't very nice quality and the soap was so drying. We went to Wallgreen's and picked up some mini products to see us through the trip which was much better.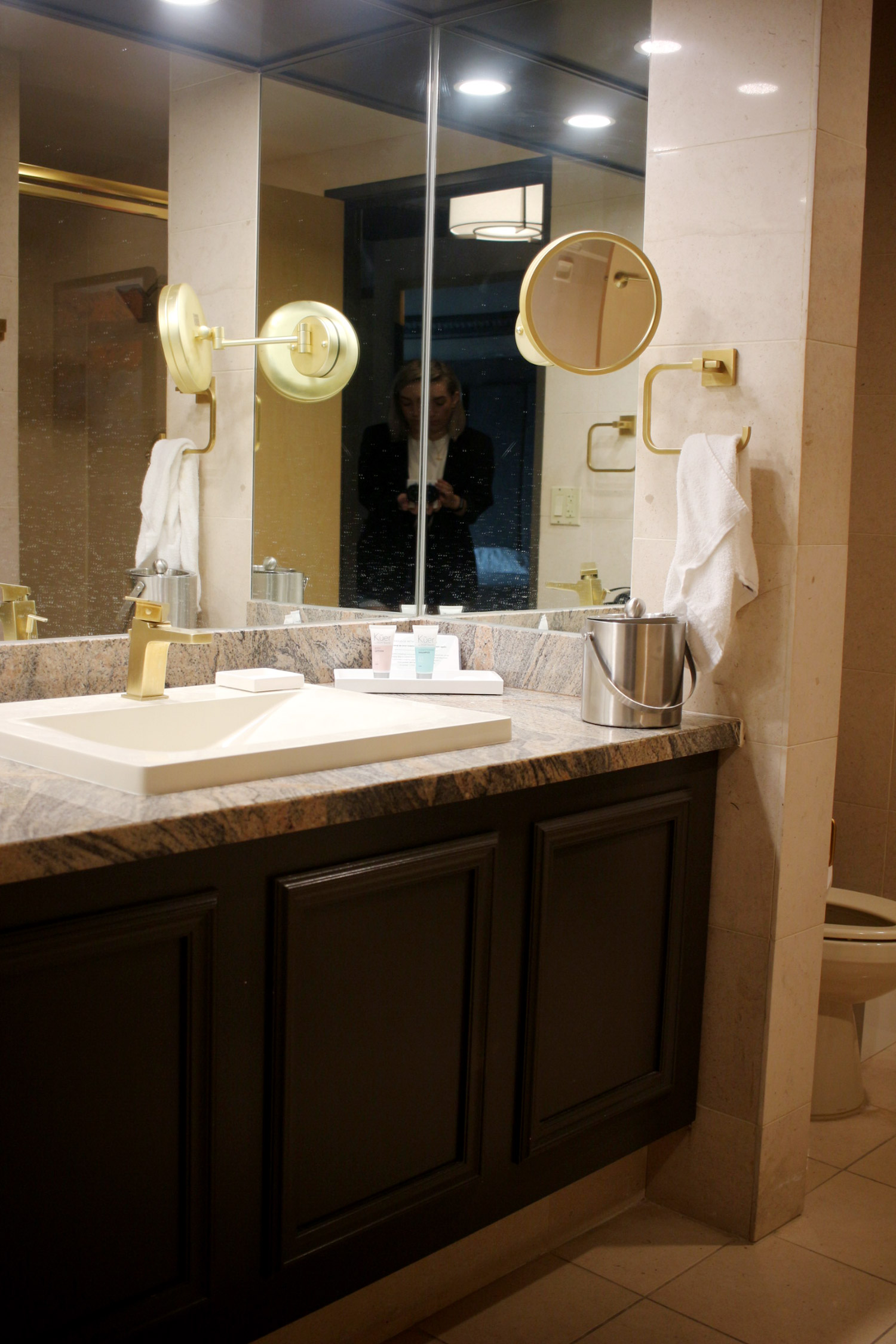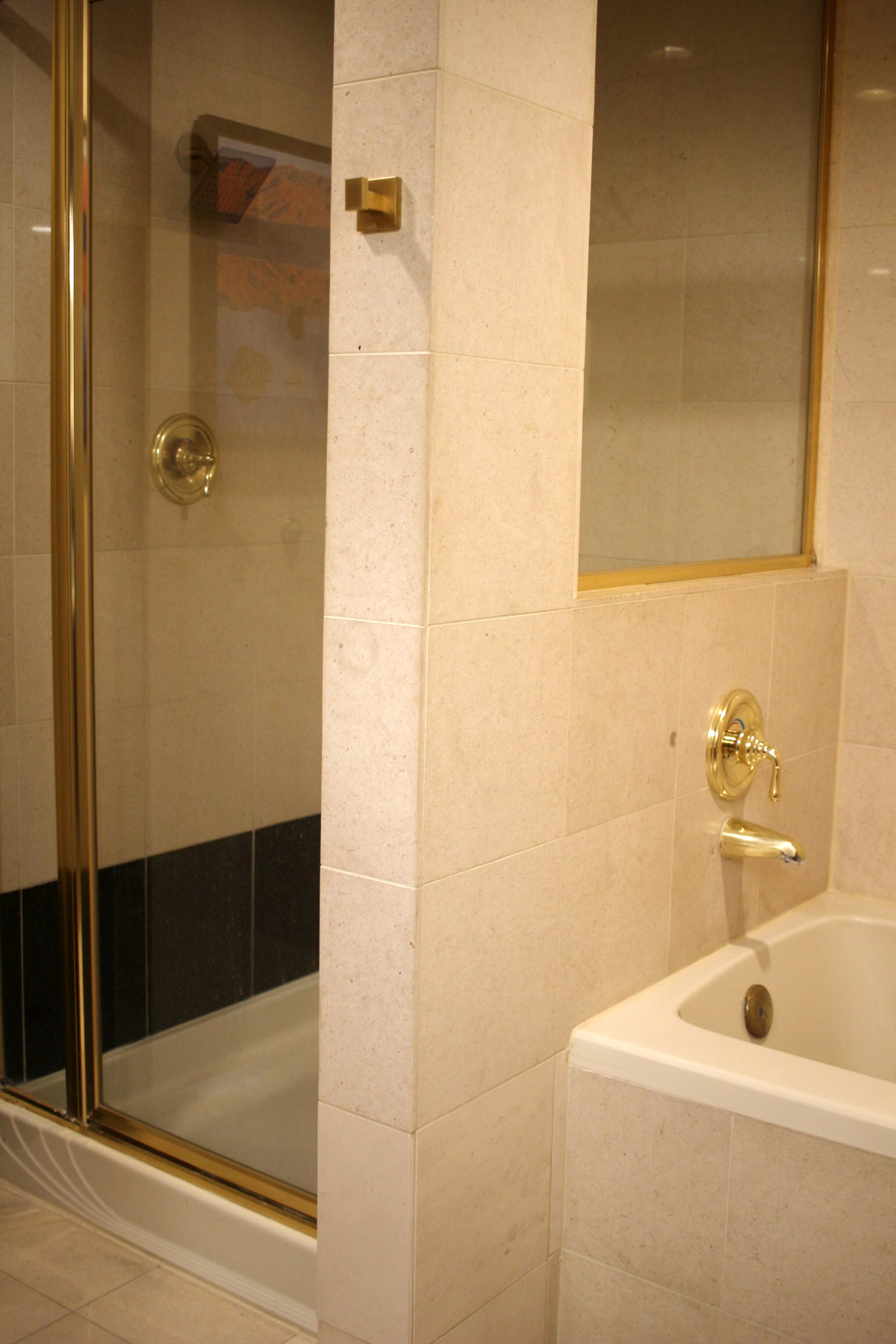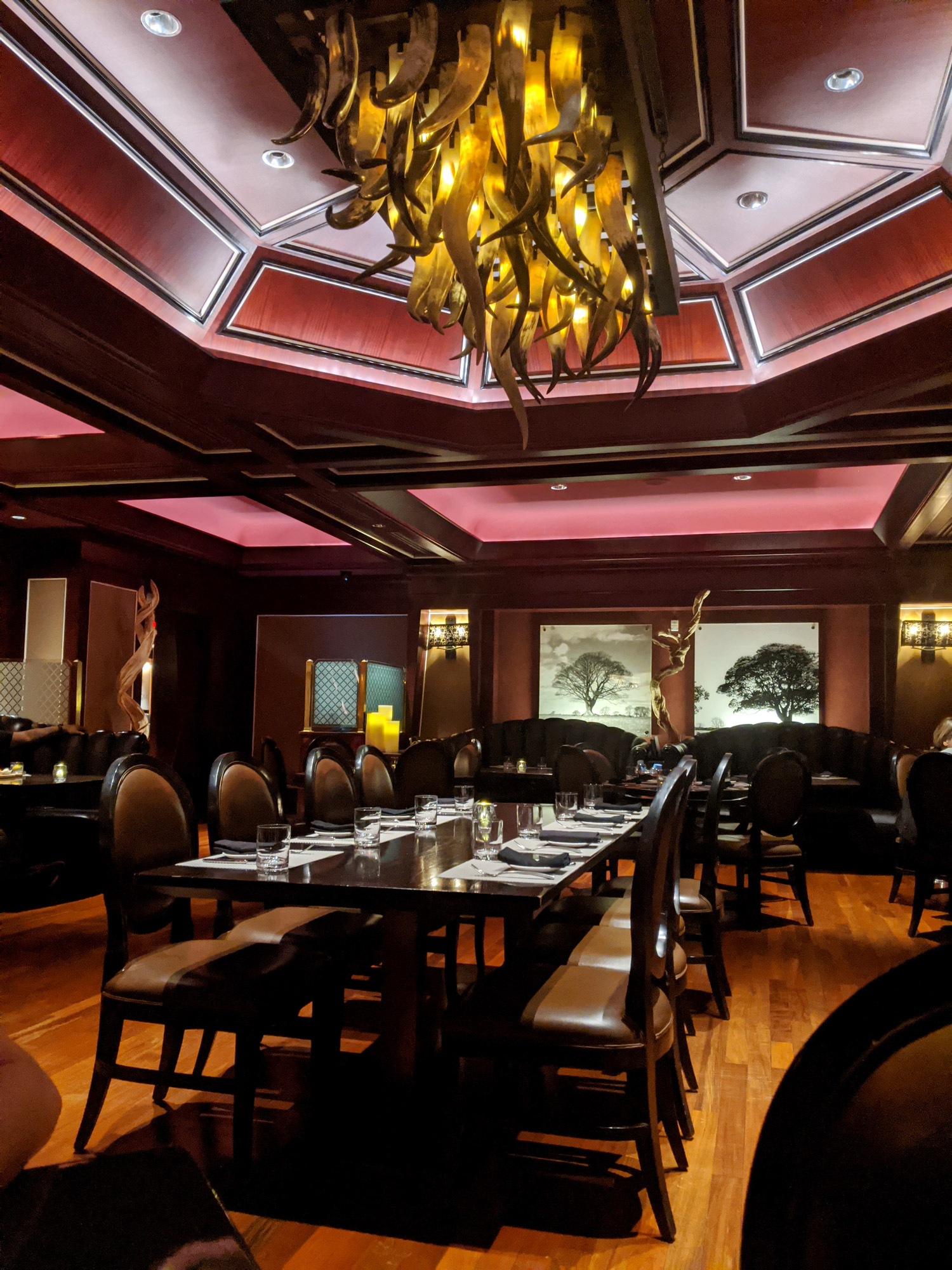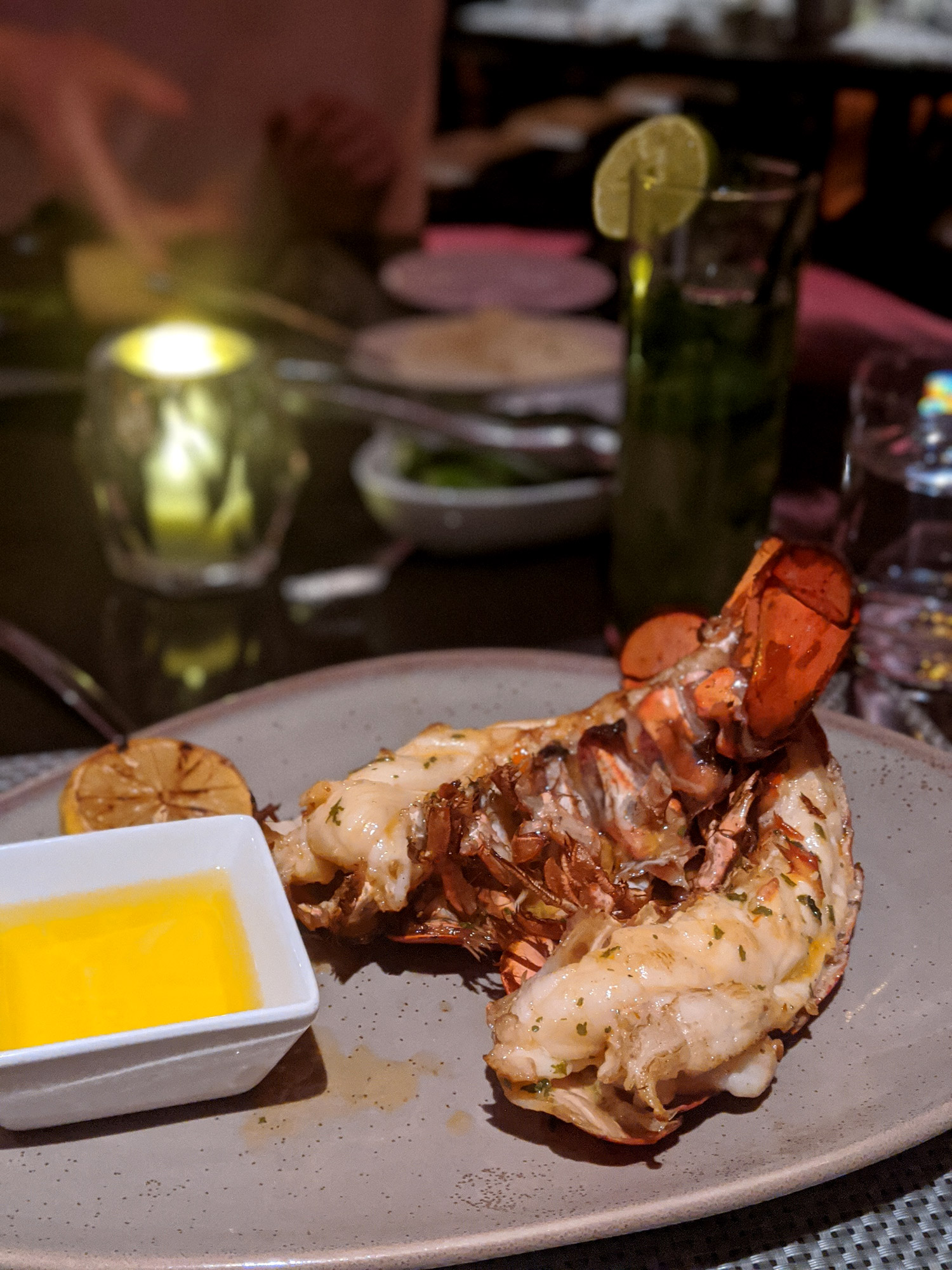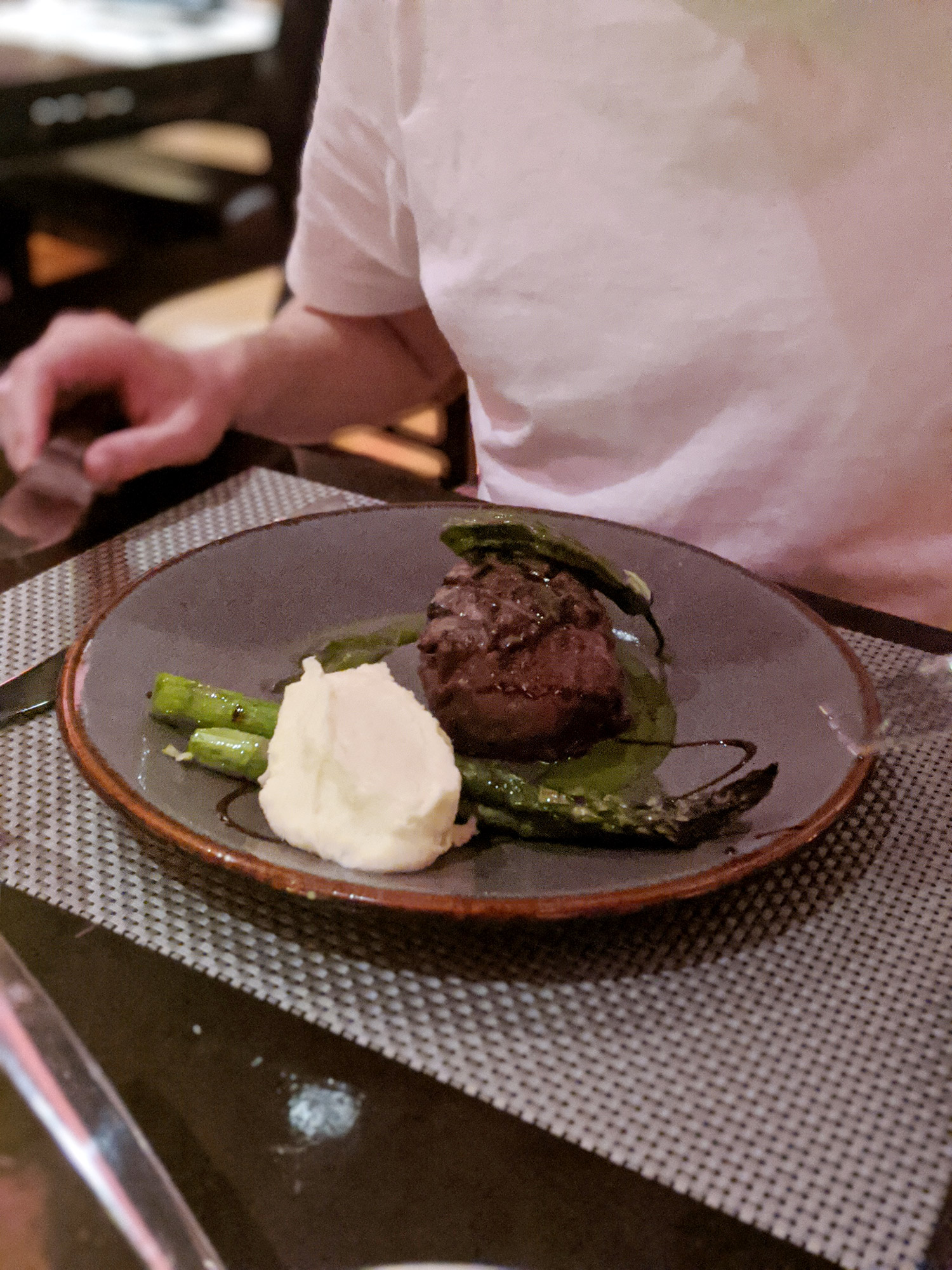 The Luxor has about a dozen restaurants or bars you can opt for if you don't fancy leaving the hotel. We decided to be boujee one night and go for Tender Steakhouse which is... pricey to say the least.
The restaurant itself is nice, quite dark with large (almost too large) tables, with dark wood and warm accent tones. We didn't have a reservation, but were seated quickly. I got a Mojito (it was ok) and Phil requested an Old Fashioned which they said they knew how to make, but it was served approximately 30 seconds later which means they did not know how to make one, so it wasn't very good.
For food, I opted for the Lobster Tail which was delicate and delicious. I love lobster and I don't think you can go wrong with it to be honest. Phil opted for the Filet Mignon in the larger size which, I will admit, was a damn good steak. It was cooked perfectly and very juicy. As a side dish, we got asparagus, mashed potato and some wild mushrooms, purely because America and vegetables don't really go together so we were dying to eat some vitamins. The mash was good, the asparagus was... asparagus and the mushrooms were the most salty things on the planet.
We didn't get dessert, but nothing off the menu seemed very exciting to be honest.
One thing I will say is that the service was... weird. They were very attentive, but to the point that it was too much. Phil finished his meal before me and they whisked his plate away instead of just waiting for me to finish, and I was only around half way through my main. They then came over with the dessert menu for him to 'give him something to read' while I was still eating. It came across as very rude and unnecessary. They weren't busy and people weren't waiting for a table, so there was no reason to make us feel rushed like that.
The meal, including tax and a tip, was an astonishing $250. Yes folks. Two hundred and seventy dollars for a main course, 3 drinks between us, 3 side dishes.
Was it worth it? The main dishes were good, but the drinks were average and the service wasn't really the best to be honest, so I wouldn't go back in a hurry if I was in Vegas again.
Backstage Deli
We went here twice when we were extremely jetlagged for their amazing sandwiches. Honestly, they're so good and they're open 24/7 so you can grab something to eat at the equivalent of 5:30am which I did after we landed. We tried The Cubano but it was the El Diablo sandwich that won it for me. Fried chicken and loads of hot sauce - delicious! They also do fries because you know, you need to have fries with everything. You can grab a salad or fruit or a burger or coffee here too.
---
Conclusion
Overall, I liked the Luxor for the novelty aspect of it and it was unlike anywhere I had been before. Las Vegas hotels are on another level and they are incredibly impressive. I didn't think the room was amazing, but it did have everything we needed in terms of a bed. It could have been cleaner (mainly the bathroom), had a mini fridge and the TV not working wasn't great. In the Vdara we were given a daily F&B credit to spend and I *think* we were supposed to get this in the Luxor (as mentioned here) but maybe if we booked directly through their website, which is a bit rubbish. We got this regardless a the Vdara.
Would I stay here again? No, I don't think I would. There are much nicer hotels in Las Vegas.
Cost: £169.69 for 3 nights, plus $25 per day tourist tax = £233.45 (equivalent of £77.81 per night)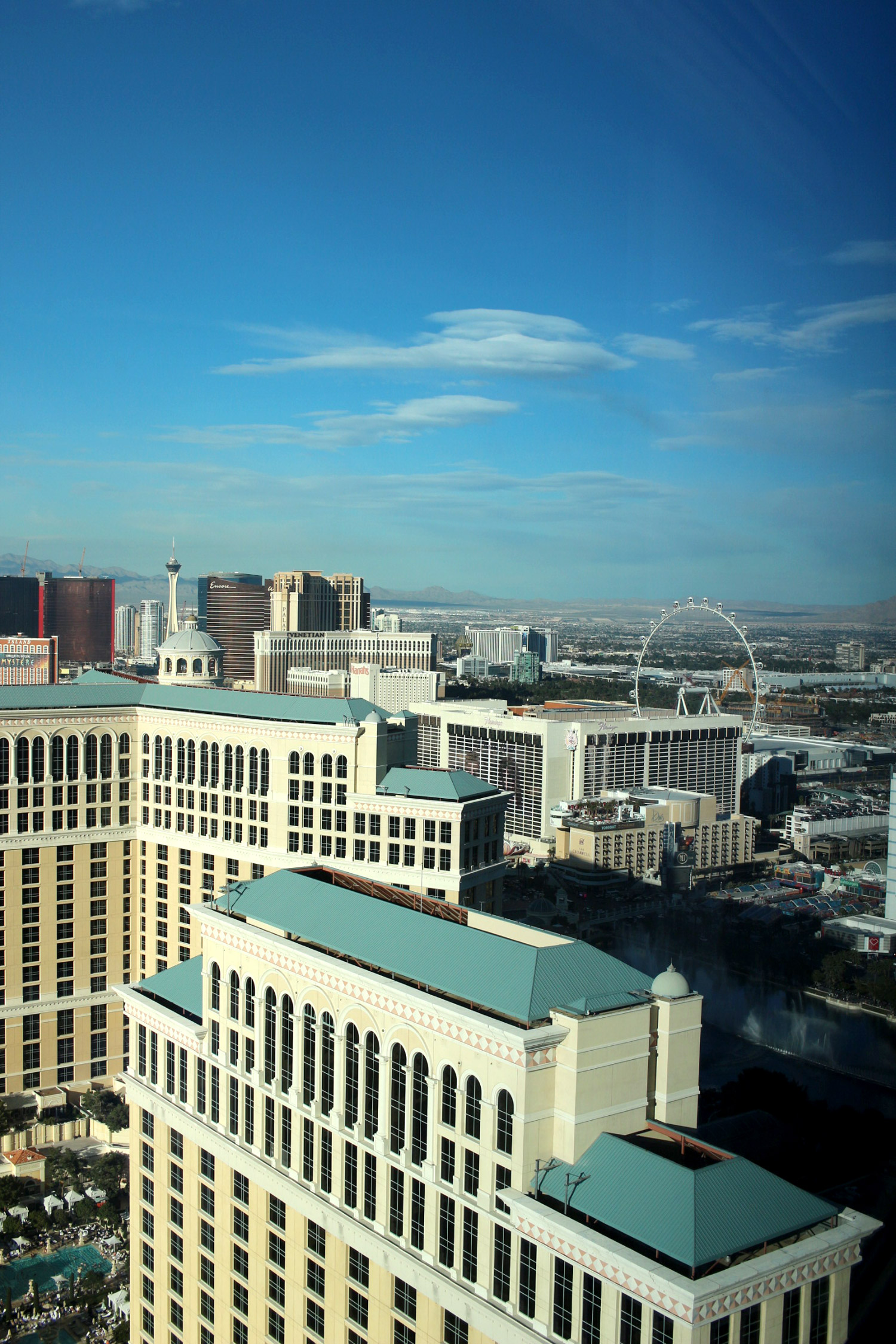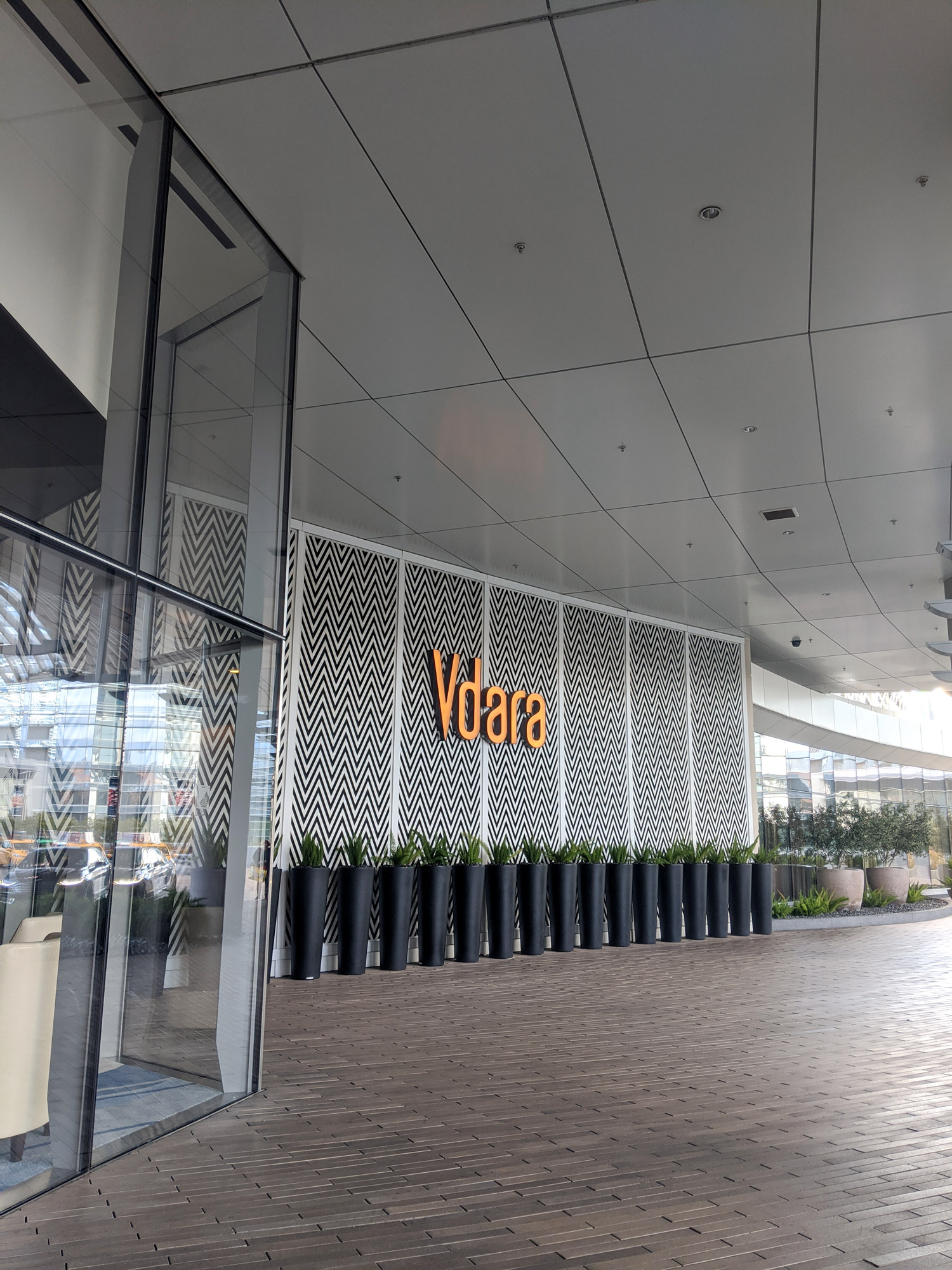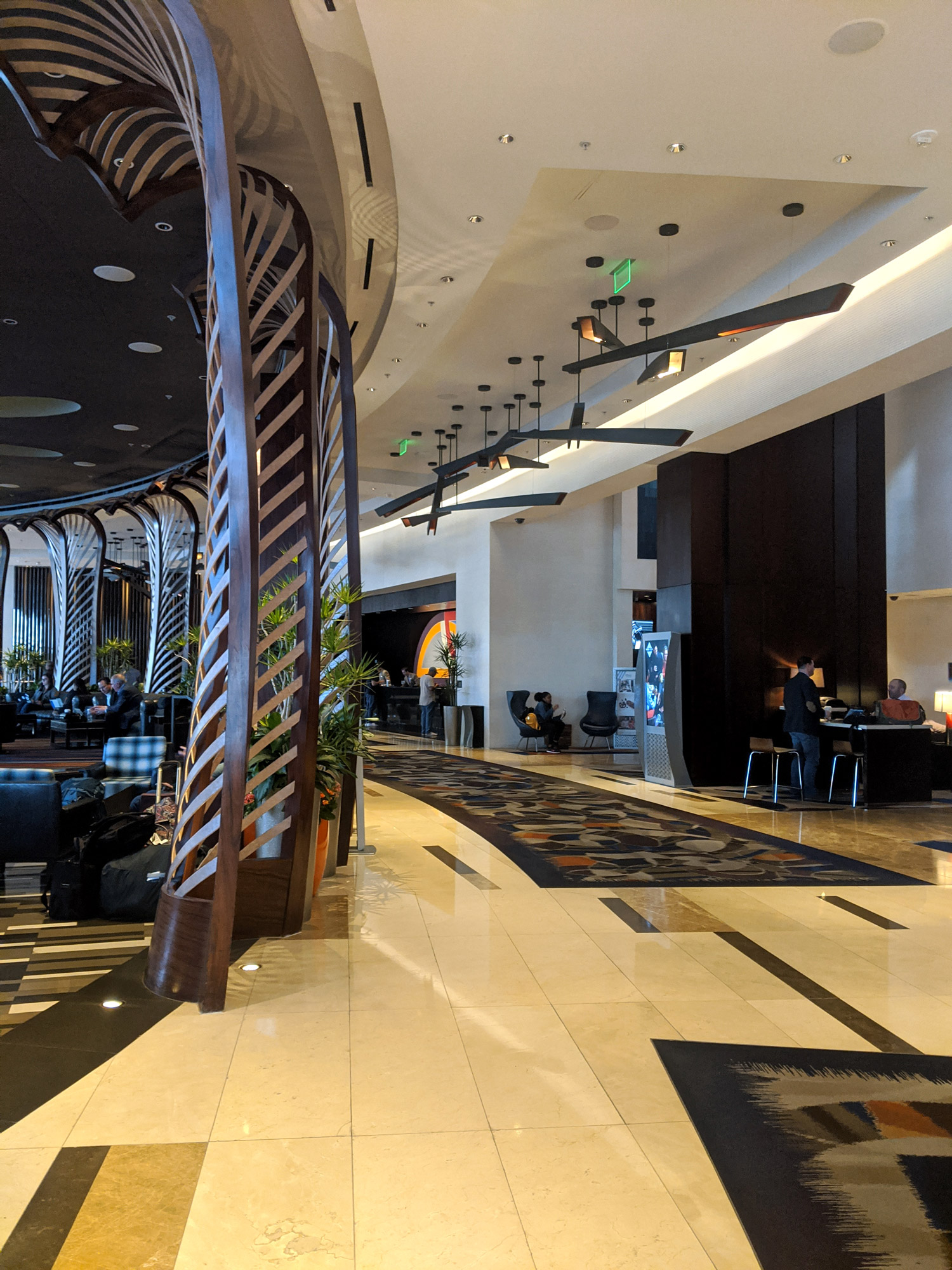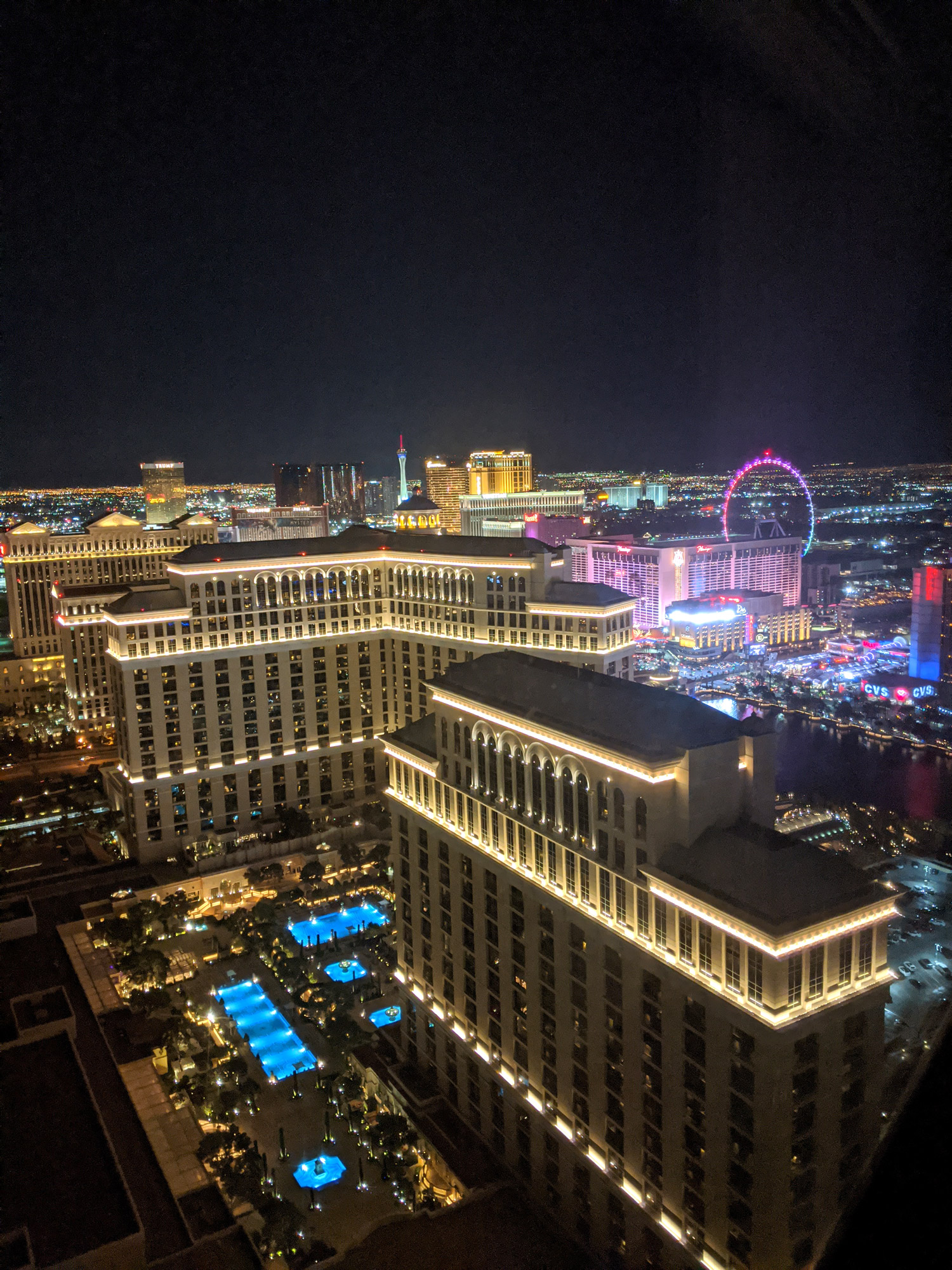 The Vdara Hotel
We checked out of the Luxor on Saturday morning and headed over to The Vdara which is about halfway down the strip, opposite Paris and just behind The Cosmopolitan near The Bellagio . It's very centrally located, so you can reach a lot of places on the strip from it. Due to it being set back from the strip, you have to walk through through The Shops at Crystals mall (which is full of designer stores), then through The Aria hotel which is quite a trek. The Cosmopolitan isn't an MGM hotel so there isn't a way to walk straight through and the steps down to the strip at the side lead to a road with no sidewalk, so it's a bit of a pain to walk down.
Anyway, onto the hotel itself. The Vdara very well presented and has more of a calm vibe to it, as it doesn't have a casino. On the ground floor, there's a restaurant, a cafe, a seating area and a Starbucks (of course) as well as a walkway which is connected to The Bellagio. It's not huge, which is refreshing but I like how you can walk through, as The Bellagio is a very pretty hotel.
Our room wasn't ready until after 3pm which was a bit of a wait, but we just went on a wander in the meantime. They also give you $30 a day to spend in any MGM hotel, so you can get your morning Starbucks for free which was a lovely touch! They didn't offer that in the Luxor, even though they were the same hotel group, but I assume this is because they don't have a casino.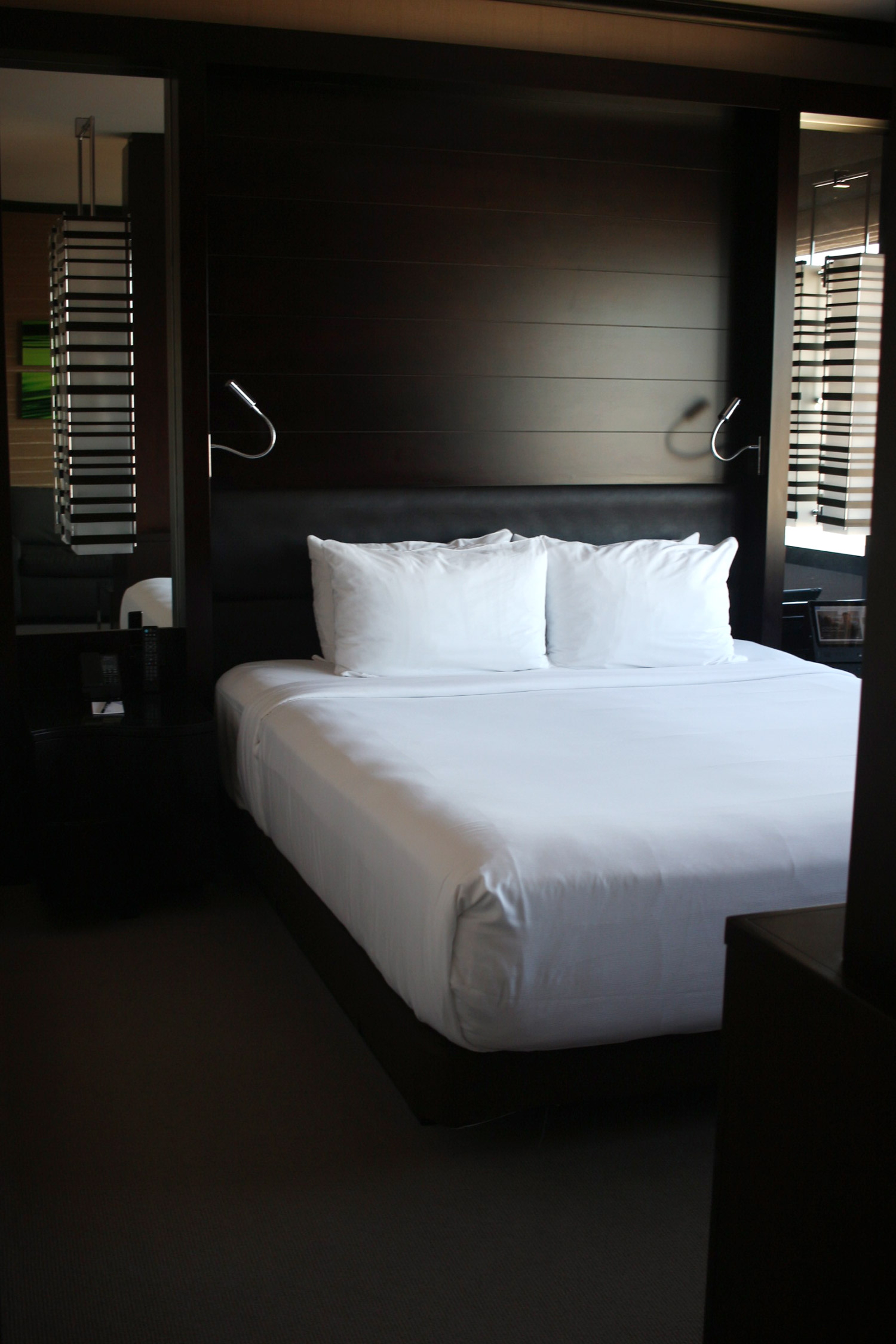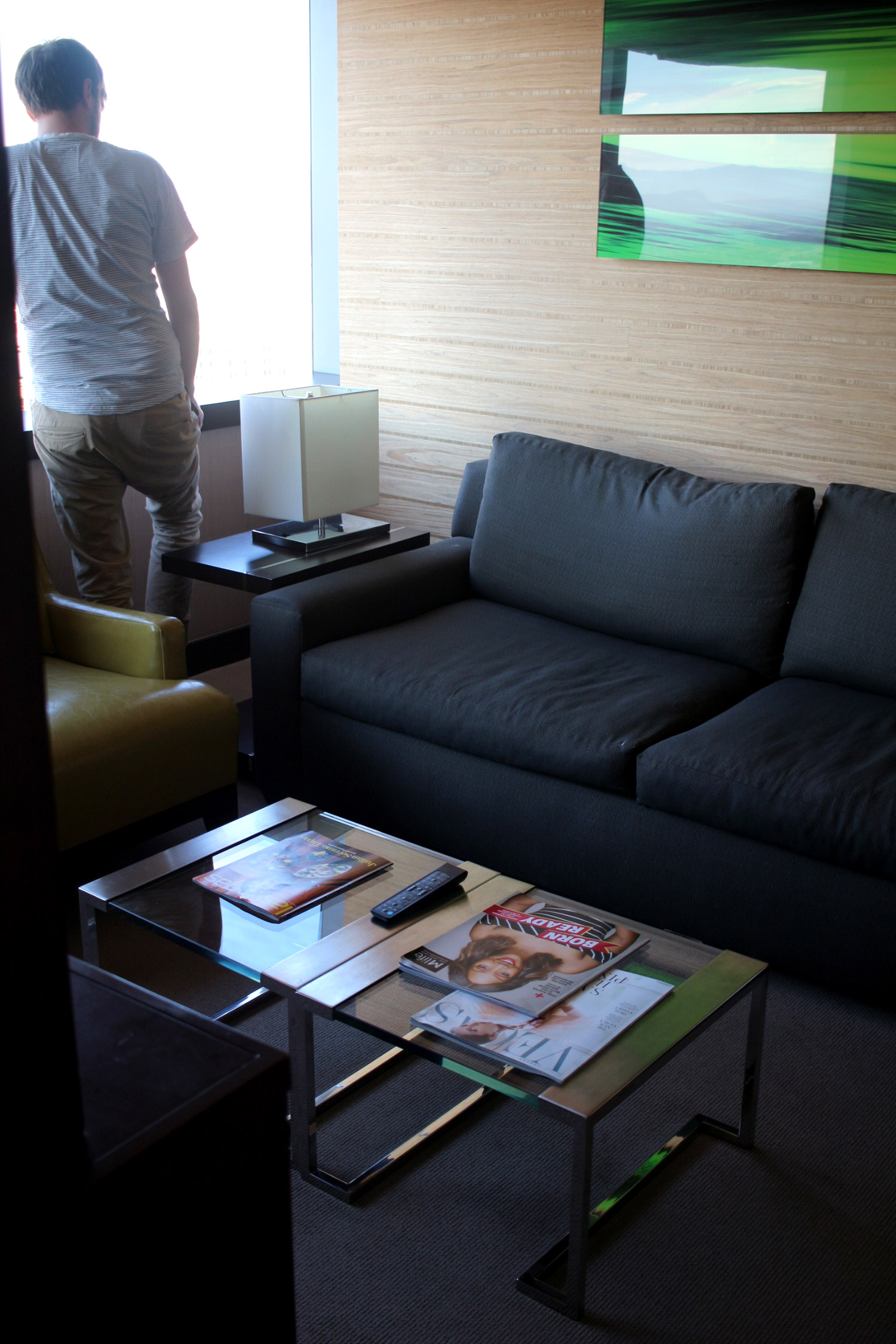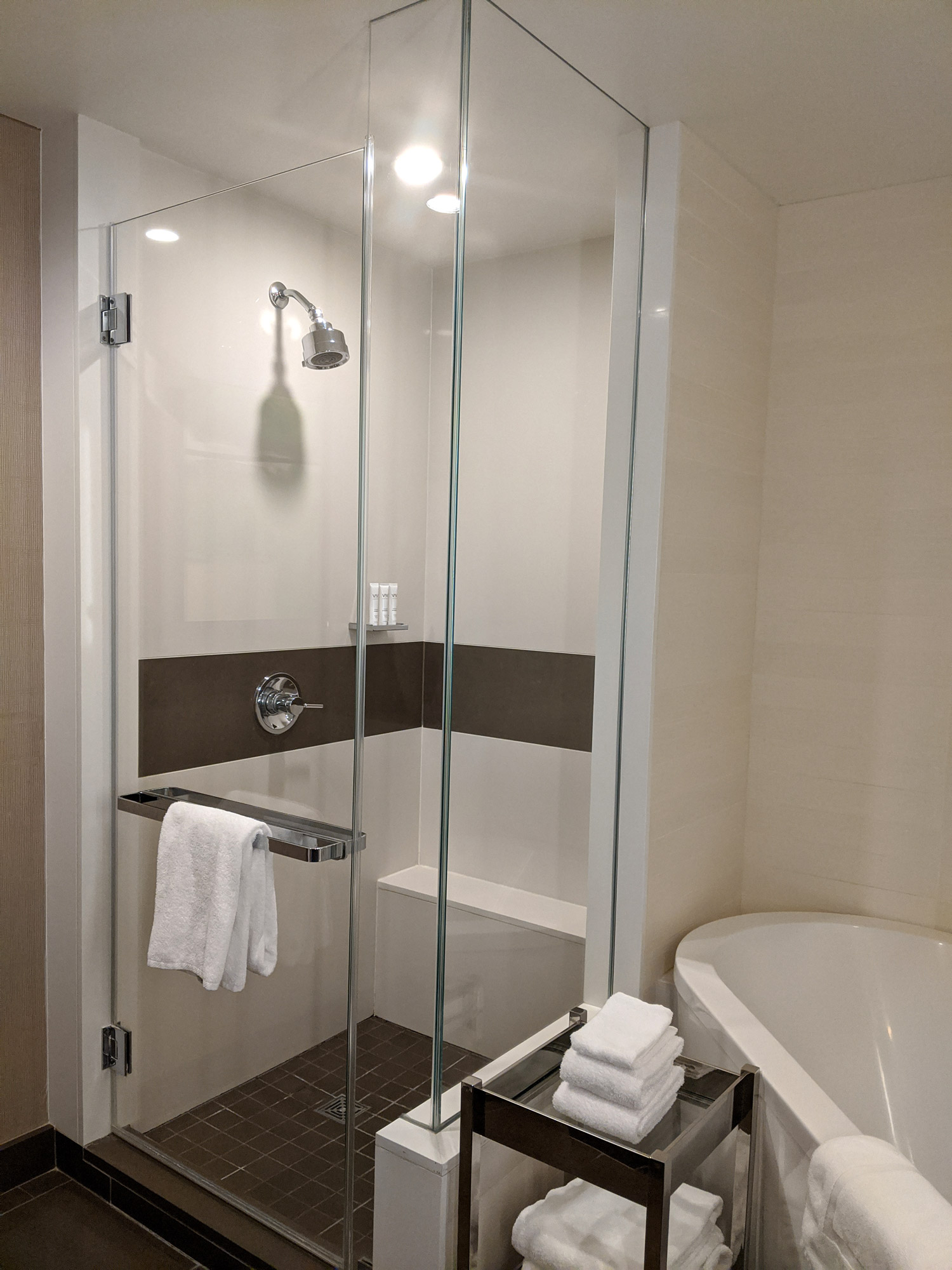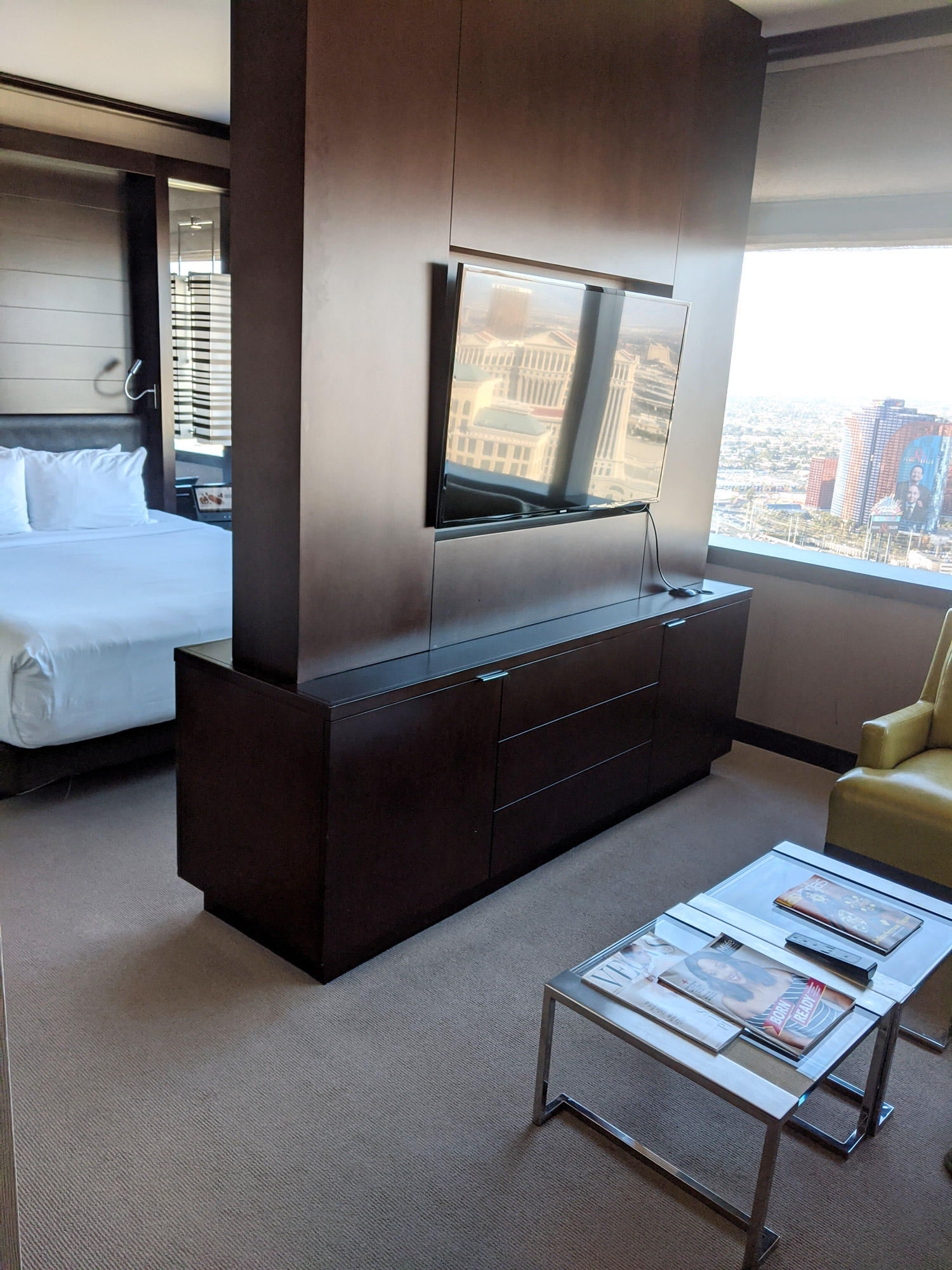 The Room
We got a Studio Parlour Double Room and it was on the 51st floor, which meant we got an amazing view! It was so nice to see the strip and all the way back to mountains and the rest of Las Vegas.
The room has its own kitchen with a microwave, hob, sink and fridge as well as a table with two chairs. There isn't any cutlery or plates or anything, but it definitely could come in handy if you wanted to save some money or had kids with you and wanted to easily feed them. We weren't staying long so I only used the microwave once to make some instant noodles (my guilty pleasure food), but I appreciated being able to do that.
To the left we had the bathroom which was a good size for the room and had a shower, a bath and a large sink as well as a loo tucked around the corner. There were plenty of amenities, including body wash, shampoo, conditioner, moisturiser, a facial soap and things like cotton pads. There were plenty of towels too!
Straight ahead from the kitchen is a livingroom area with a sofa, armchair, coffee table and side table with a lamp. There's also a large TV on a wall which acts as a divider between the livingroom and bed. This area was a good size and we spent some time catching up on work and watching insane American TV commercials, as well as discovering 90 Day Fiance which was amazing.
On the other side of the wall is the 'bedroom' which consists of a huge bed, another tv on the other side, bedside tables and wall lights. It was a very comfy bed and I had a good nights sleep - even though I had a terrible cold.
Overall, there was slightly less space than the Luxor, but the added benefit of a kitchen and divided space between the bed and the livingroom made the room feel much bigger. The views were great and, as the windows were so big, it made it very light and bright.
Conclusion
I really liked The Vdara and it was definitely our favourite hotel of the two, as it was much quieter and in a better location in the middle of the strip. The walk to get there is a bit awkward, but we could do it in about 15 minutes if we power-walked, so it wasn't too bad on reflection (apart from when you're hungry and want to get back to your hotel room with a McDonalds!).
They also have a robot delivery service which we obviously had to try and it was so cute!
I really liked the room as a whole and found the livingroom area to be very useful. I also liked how they gave you $30 a day to spend and I would 100% recommend staying here.
Cost: 2 nights on a weekend was £287.69 with no tourist tax (£143.84 per night)