We spent four full days in Las Vegas (Thurs-Mon) so we got to see quite a bit of it, from the showy and over the top Strip to the quieter, downtown areas and the arts district. I honestly didn't even know those areas existed, so it was nice to have a place to escape to once the Strip became a bit too much on the weekend.
So, in today's post I'm just going to share where we went and what we ate when in Las Vegas. I'll not share the McDonalds I had (even though it was delicious...). We only went to two restaurants when we were there, as we ate junk food and Luxor deli sandwiches for the first couple of days, oops.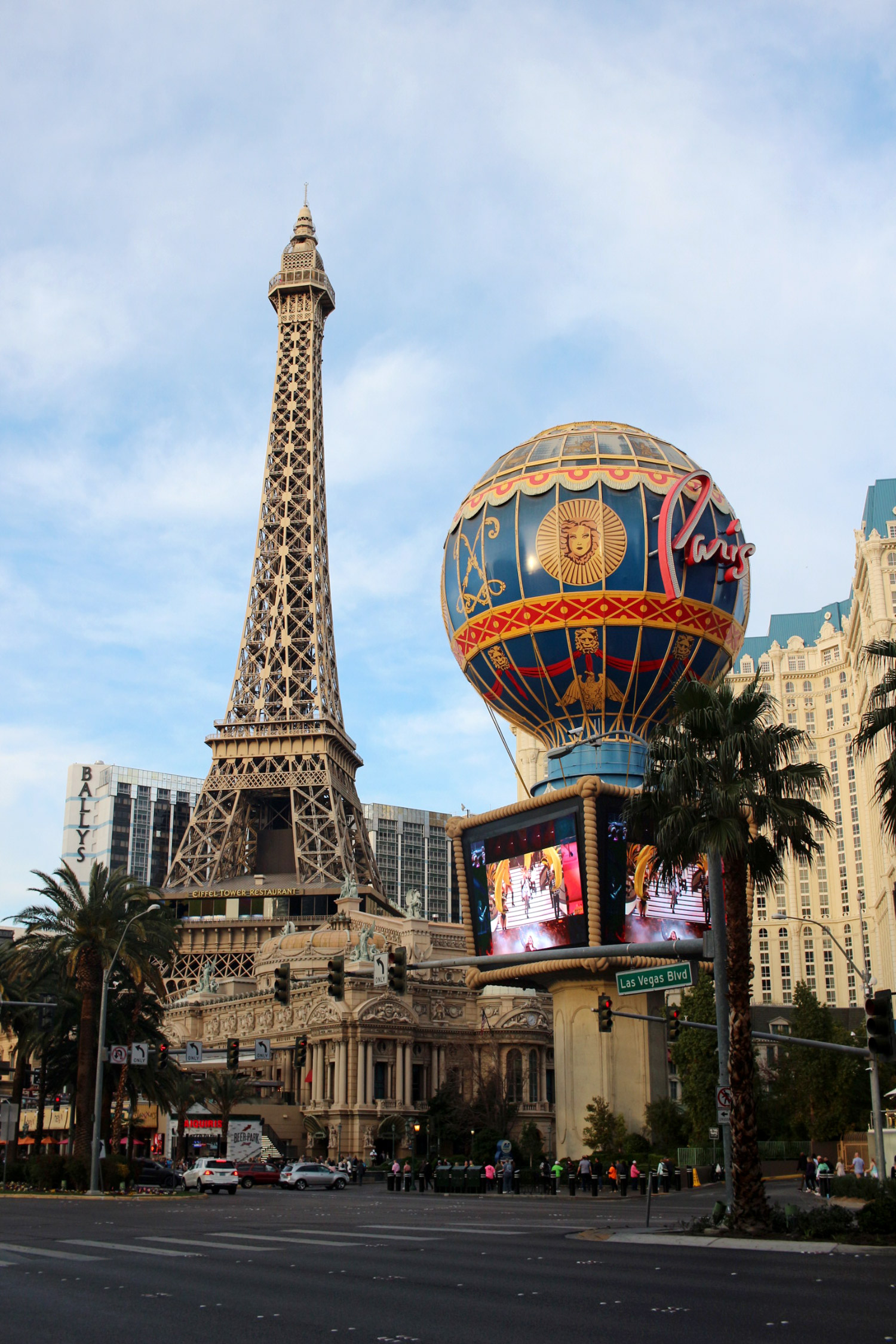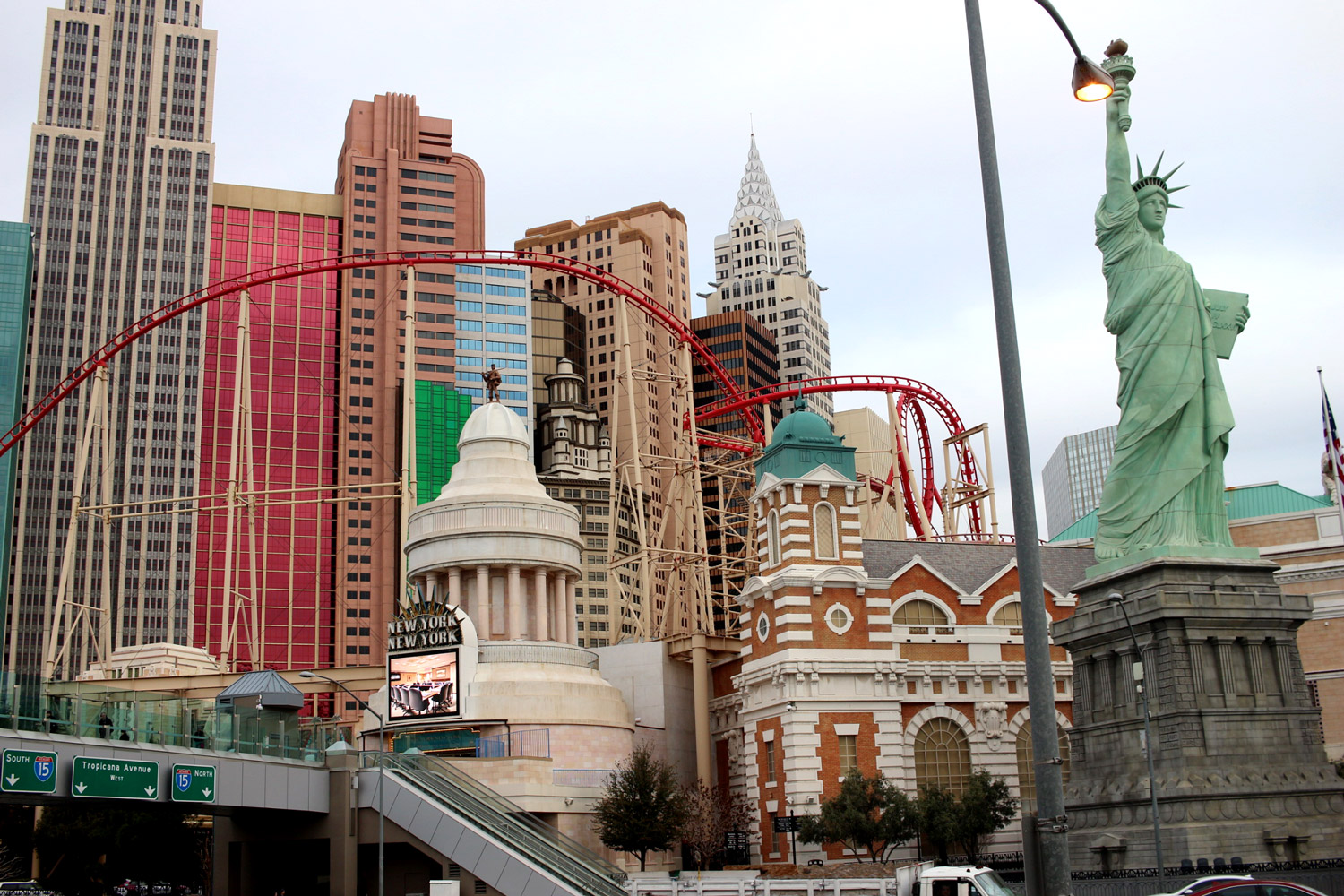 The most fun part of Las Vegas is just wandering around all of the hotels! Our favourite was New York New York for their dedication to a theme and The Bellagio for how boujee it is.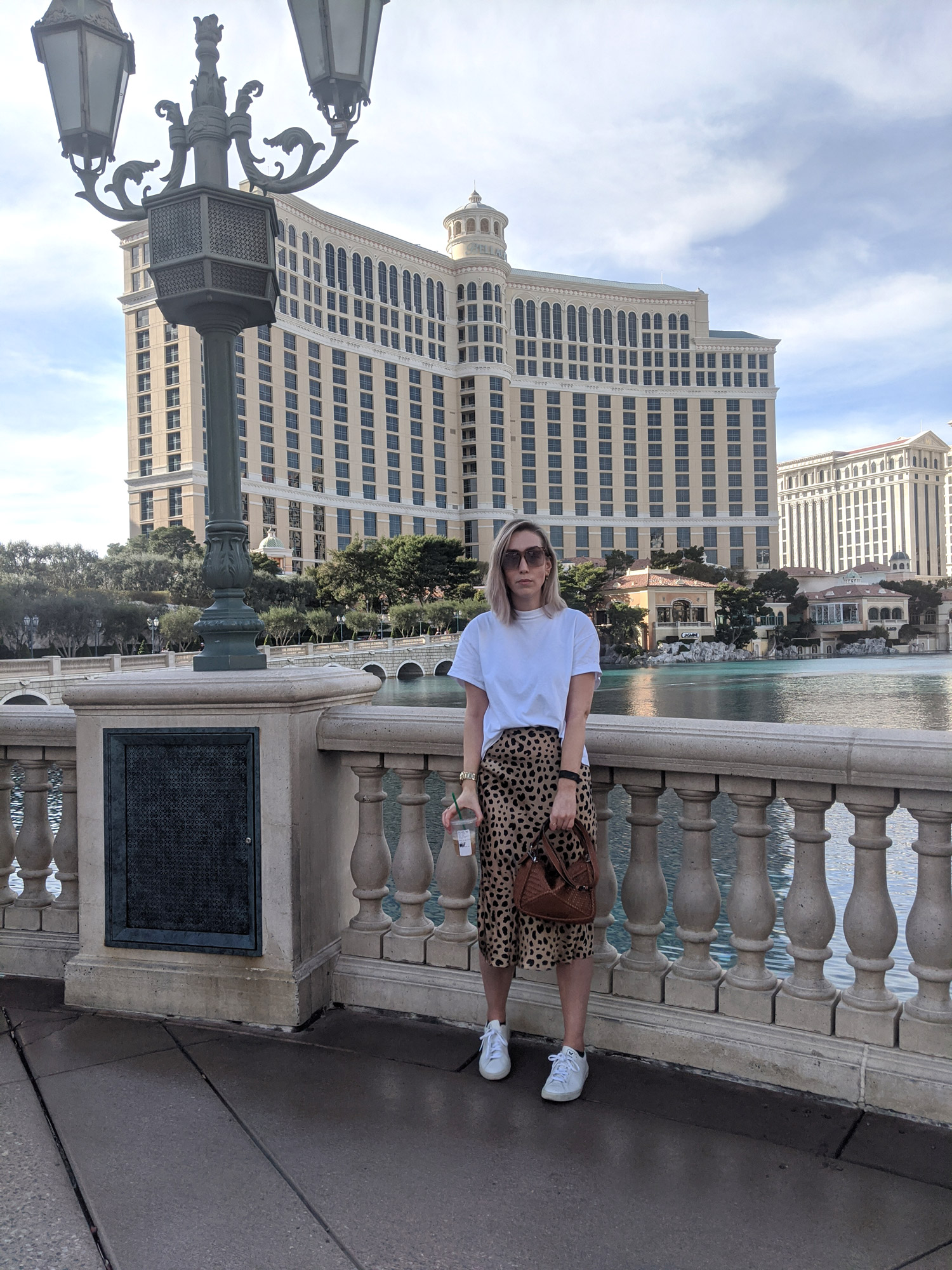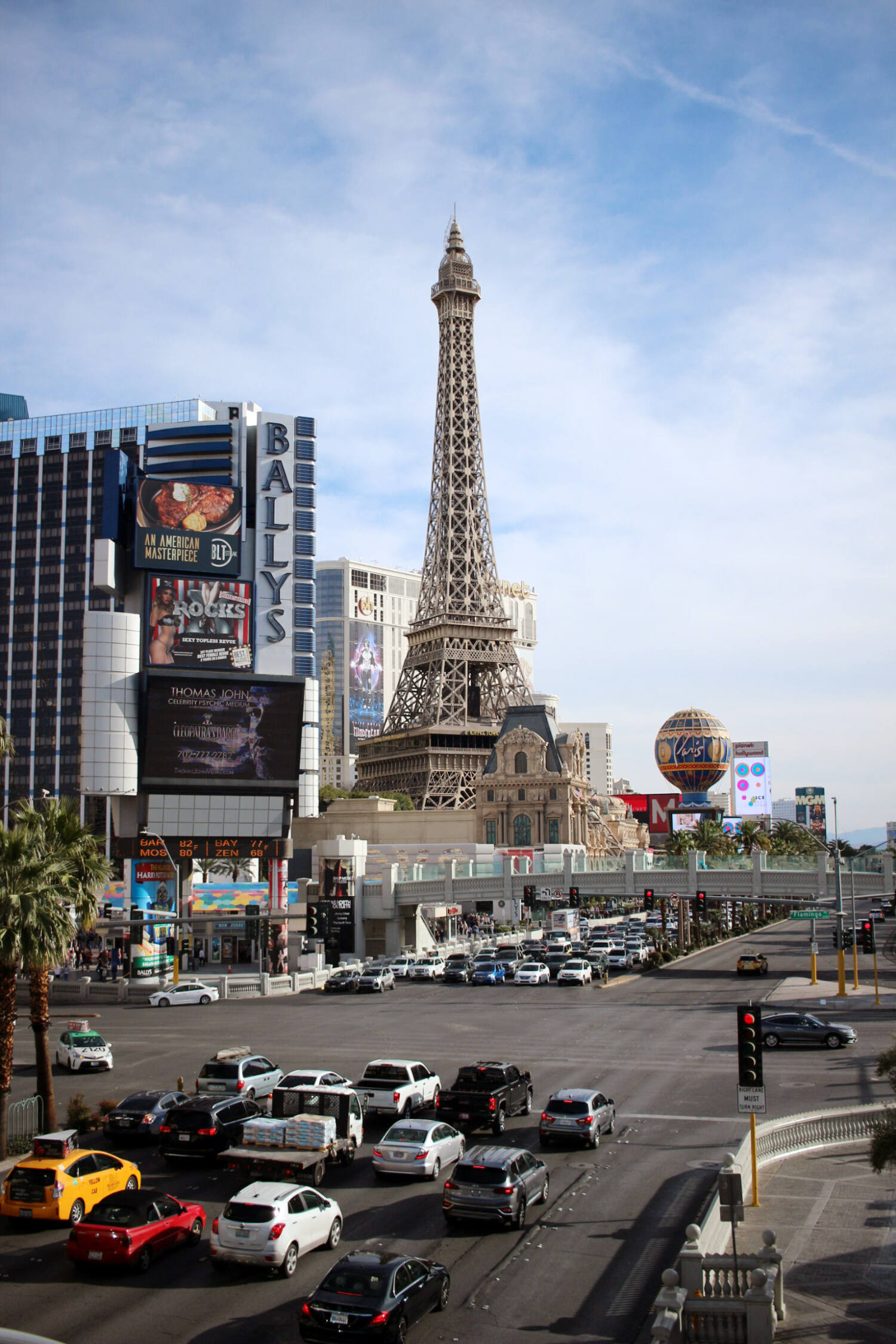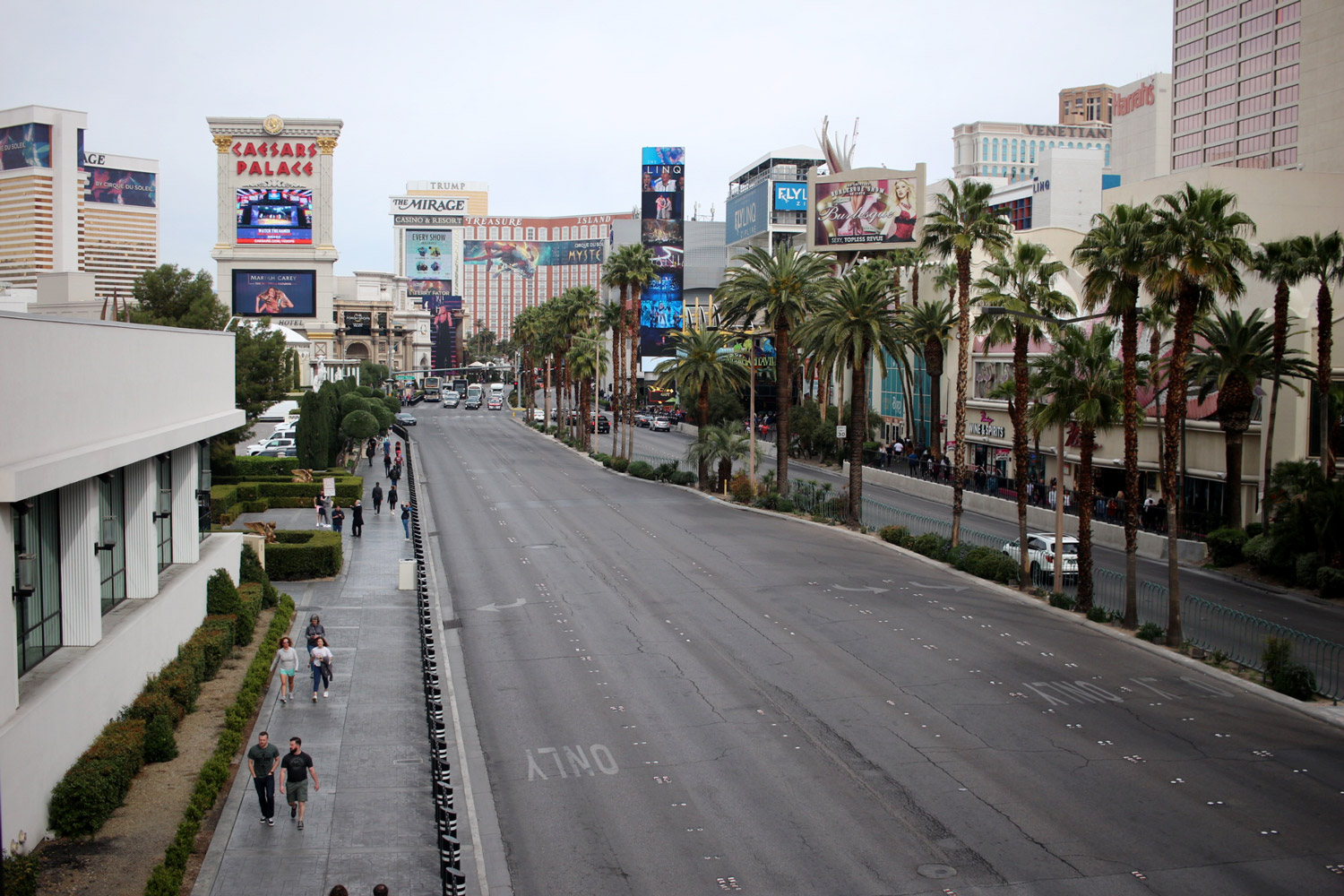 The Strip
Obviously when in Las Vegas you have to visit all of the hotels. The majority of them are themed, so there's so much to see when you wander from one end of the strip to the other. From the top end you have the likes of Mandalay Bay with its aquarium, the pyramid of Luxor, Excalibur's crazy castle theme, New York New York with a rollercoaster outside, the Eiffel Tower outside of Paris, the actual flamingos in the middle of The Flamingo hotel, iconic Caesar's Palace, right up to The canals of The Venetian and Treasure Island. There's also the classics like The Bellagio and its fountains, the MGM Grand and The Mirage.
Even just walking up and down the Strip is a fun experience as it's like an adult theme park and it's so surreal when you first arrive. I spent the entire first day going 'what is that?' at basically everything. It's an exciting and very fun place to be and, if like us, you're not too focused on gambling, then you can just enjoy the experience of wandering around and taking it all in.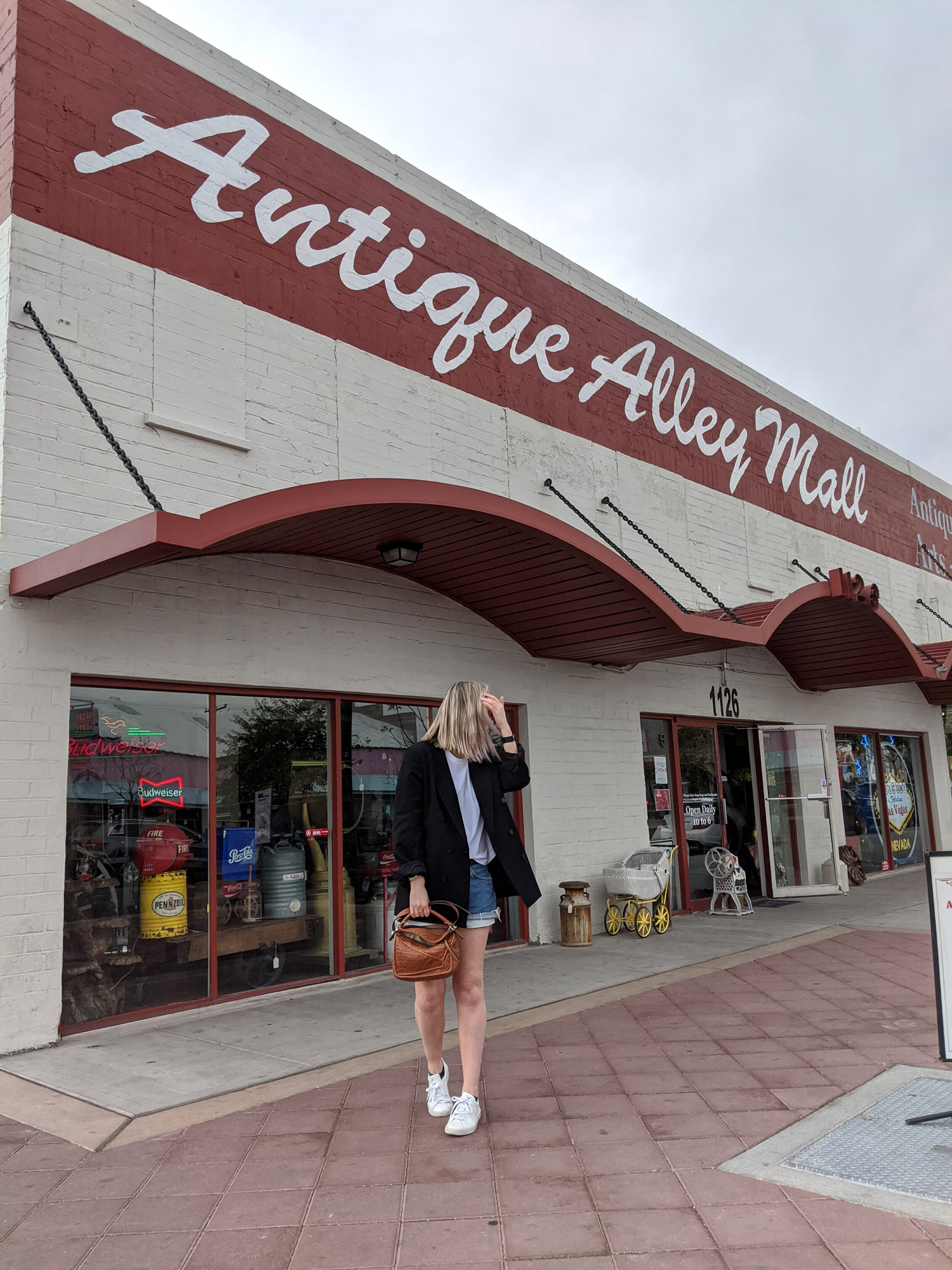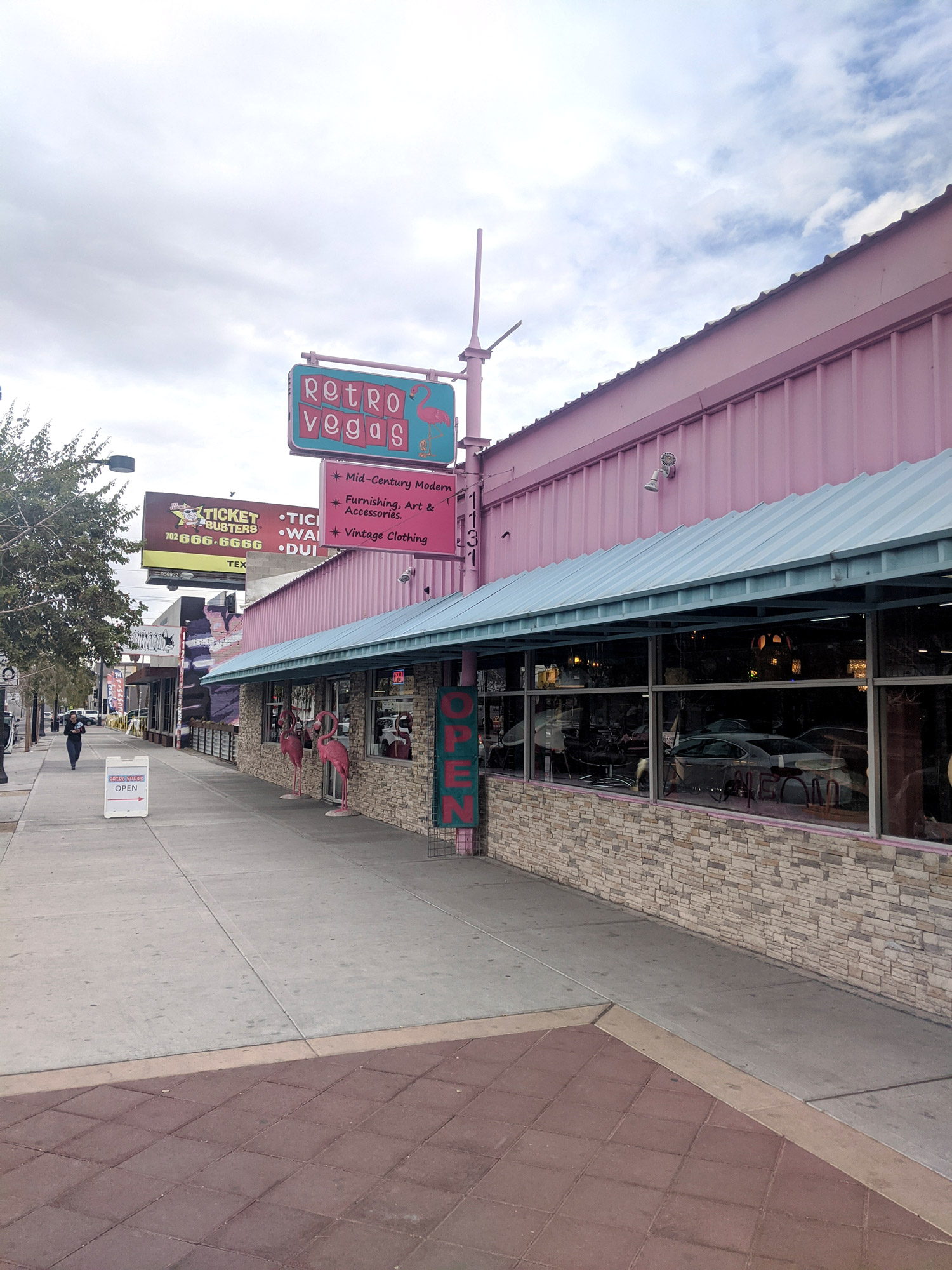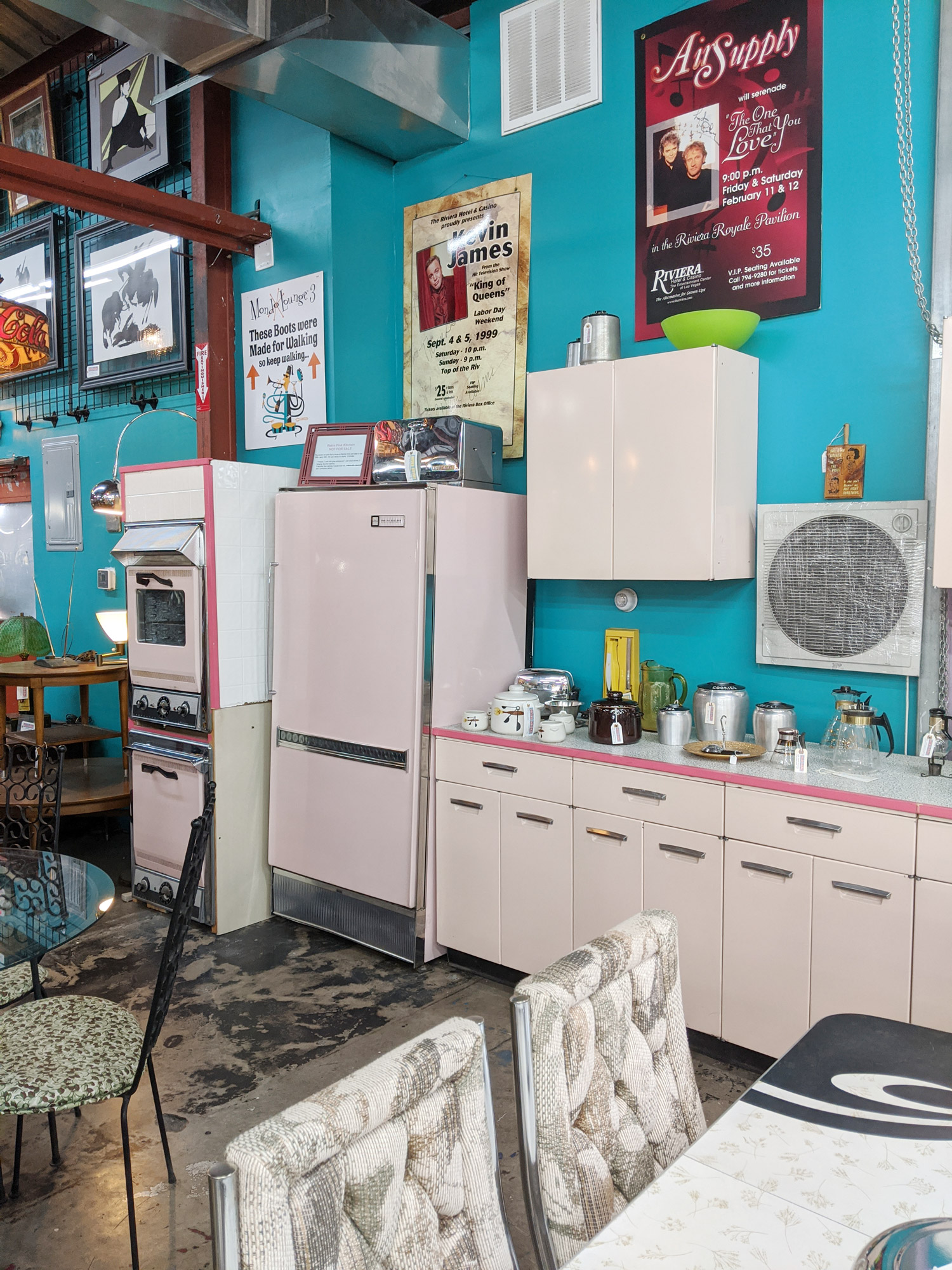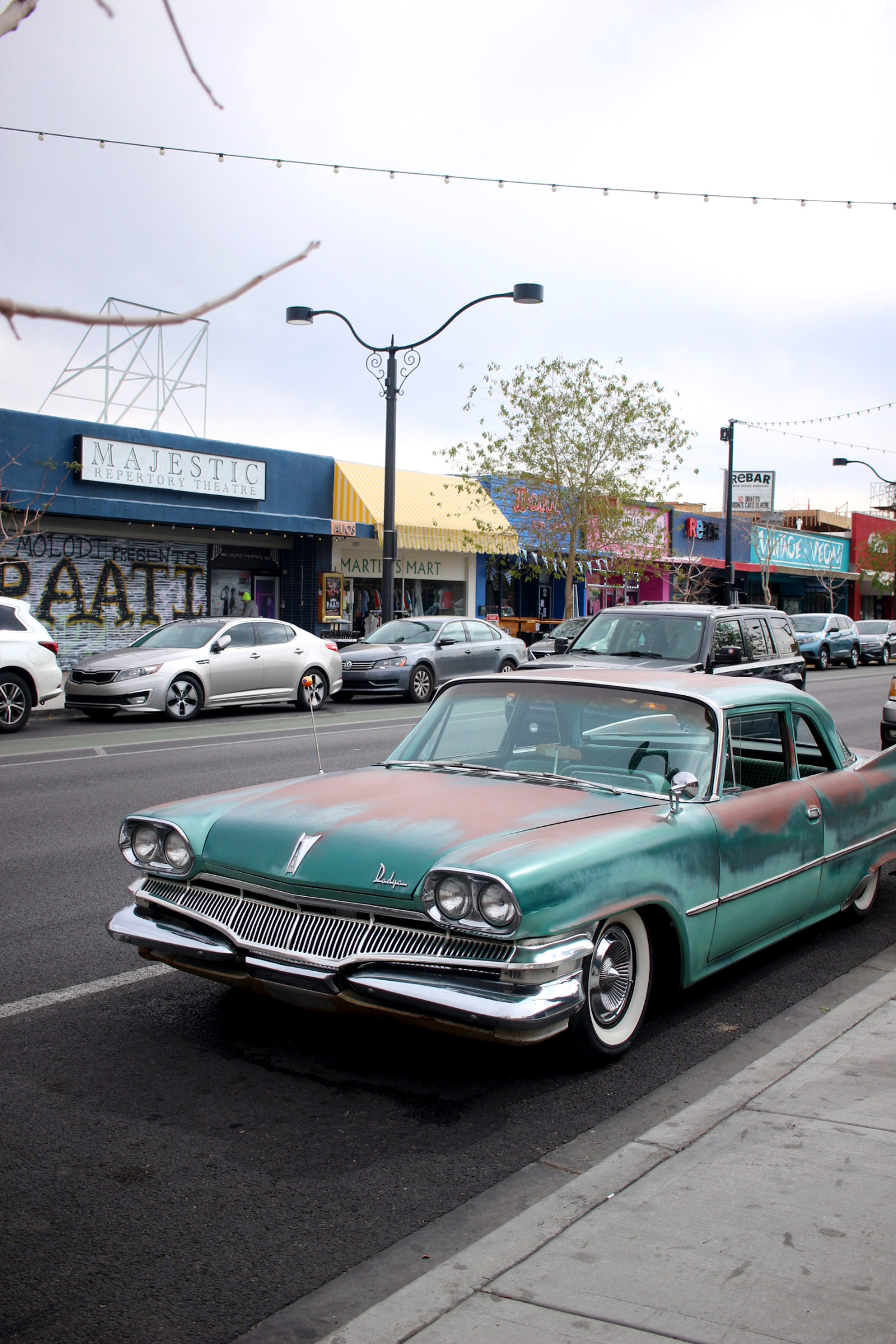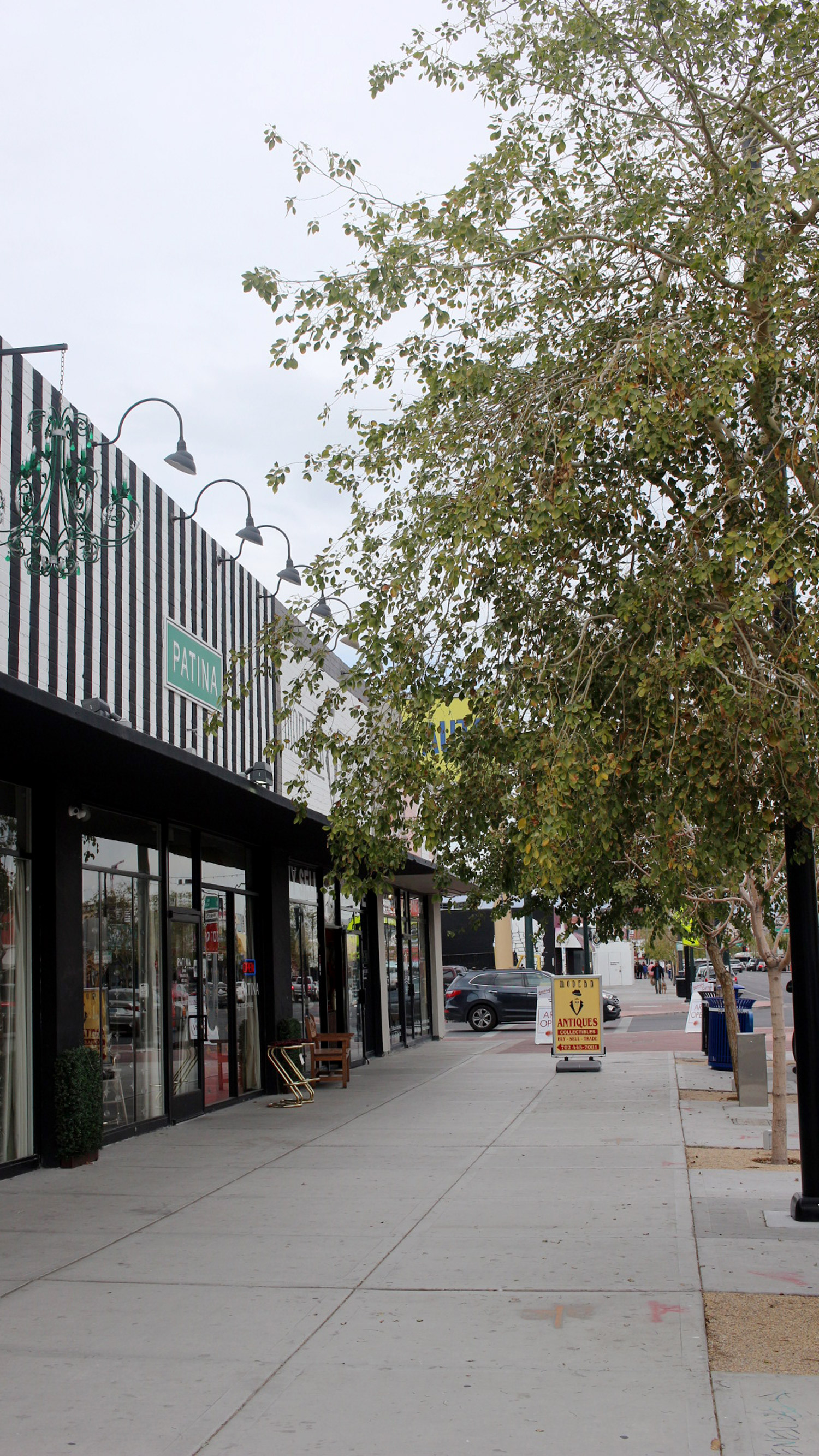 Arts District
Around a 10 minute taxi from the Strip, the Arts District is such a lovely area filled with 1-2 storey buildings - very different to the oversized hotels that I was used to seeing. It's packed with vintage stores, antique dealers, thrift stores, hipster cafes and coffee stops.
The stores are amazing - some of the best and most curated vintage I've found anywhere. Patina Decor was the my favourite store and I picked up the most beautiful Escada silk shirt, but I could have happily walked out with the majority of the store as it was just so stunning. It was packed with unique, embellished pieces, chic blouses, amazing dresses and a wonderfully curated home section too. Honestly, if there's one shop you need to visit, it's that one.
There are many unique and quirky stores on this street however, so you can work your way through them all without having to go too far.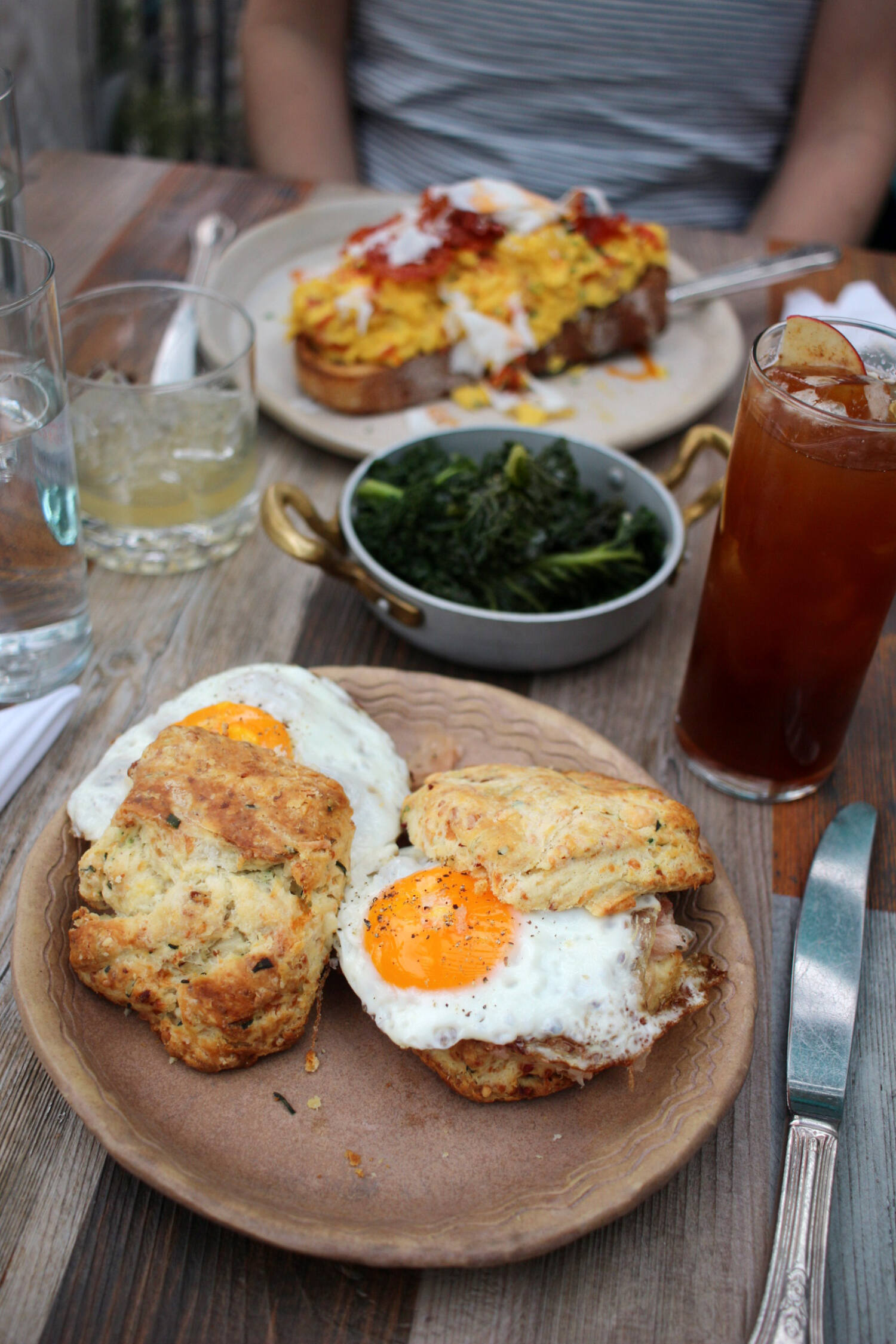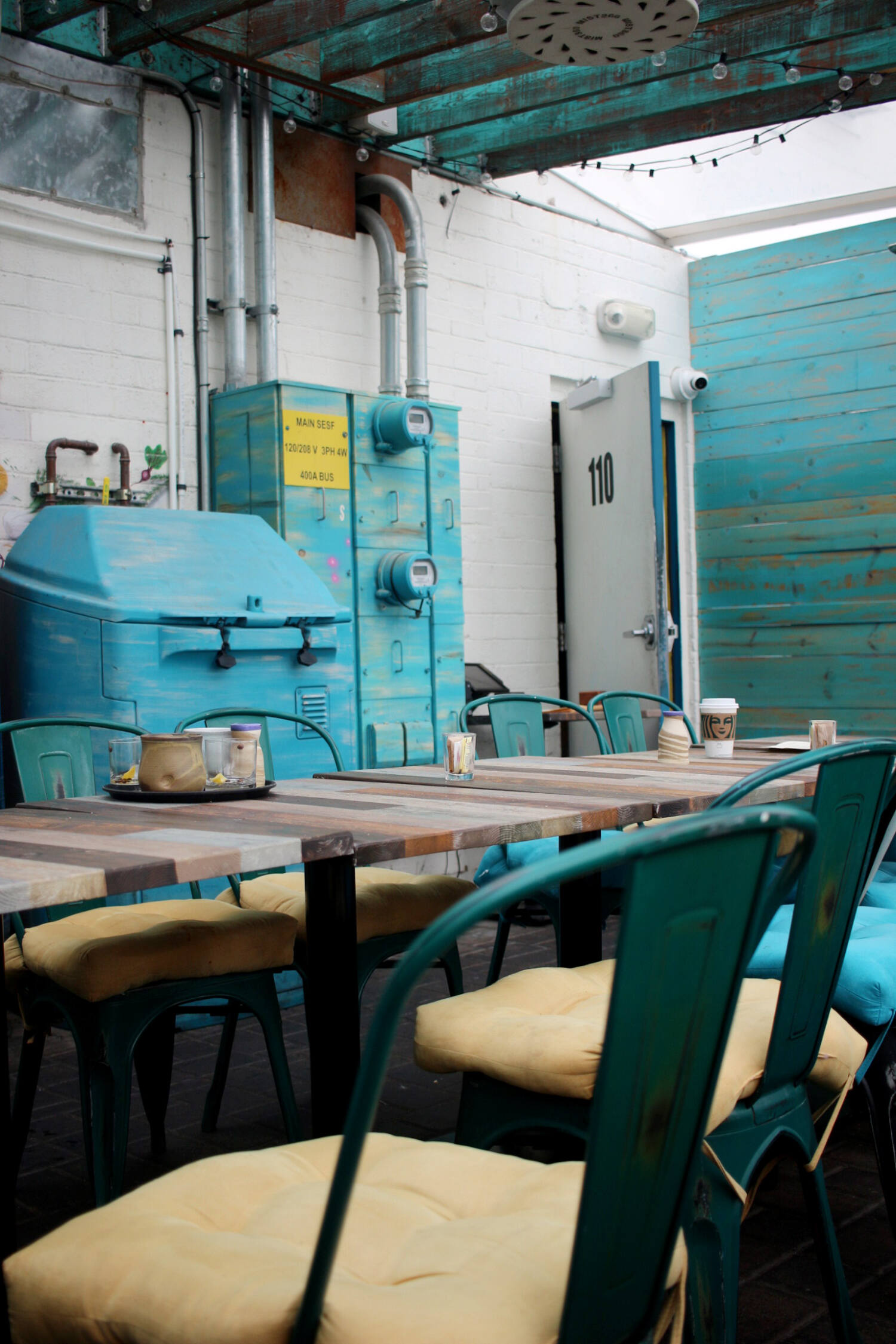 Esther's Kitchen
Esther's Kitchen was in the Arts District, so we got a taxi straight from the strip to there before hitting the shops in that area. It's a small cafe/restaurant with the typical hipster vibes you would expect in this area. We didn't have a reservation and it was very busy, but they seated us outside in the conservatory style section at the back of the restaurant. It was a lovely day and great weather, so we didn't mind at all.
They have a great selection of brunch/lunch items as well as curated cocktails and drinks. They have items such as truffle honey with yoghurt and granola, to boar sausage pizza, to your classic avocado toast with a twist. There's a lot to pick from and everything feels very unique, so you'll be getting a different combination of ingredients vs your standard brunch cafe.
I opted for the Biscuit Sandwiches with Prosciutto and Fried Eggs. It was delicious, but those American biscuits are very heavy so it filled me up pretty quickly and I had to leave one of the biscuits. Part of me wishes I'd opted for something fresher or lighter, but it was still a good meal. Phil went for the Chorizo Toast with Scrambled Eggs, Caramelised Onions and Ricotta which was also really good.
For drinks, I had a Basic Birch which is smith & cross rum, maple birch syrup, lemon, honeycrisp apple, cinnamon - it tasted good but it was very strong and the rum overpowered the other flavours. I actually left a lot of it, as it was just too much. Phil had a Knight's Tale which is goodnight bourbon, lemon and fernet-infused honey syrup - this was good (apparently) but I didn't try it as I am not a bourbon fan.
All in all, it was a good place to visit and it was such a relief to see different items on a menu, as I was sick of Vegas burgers and fast food by this point!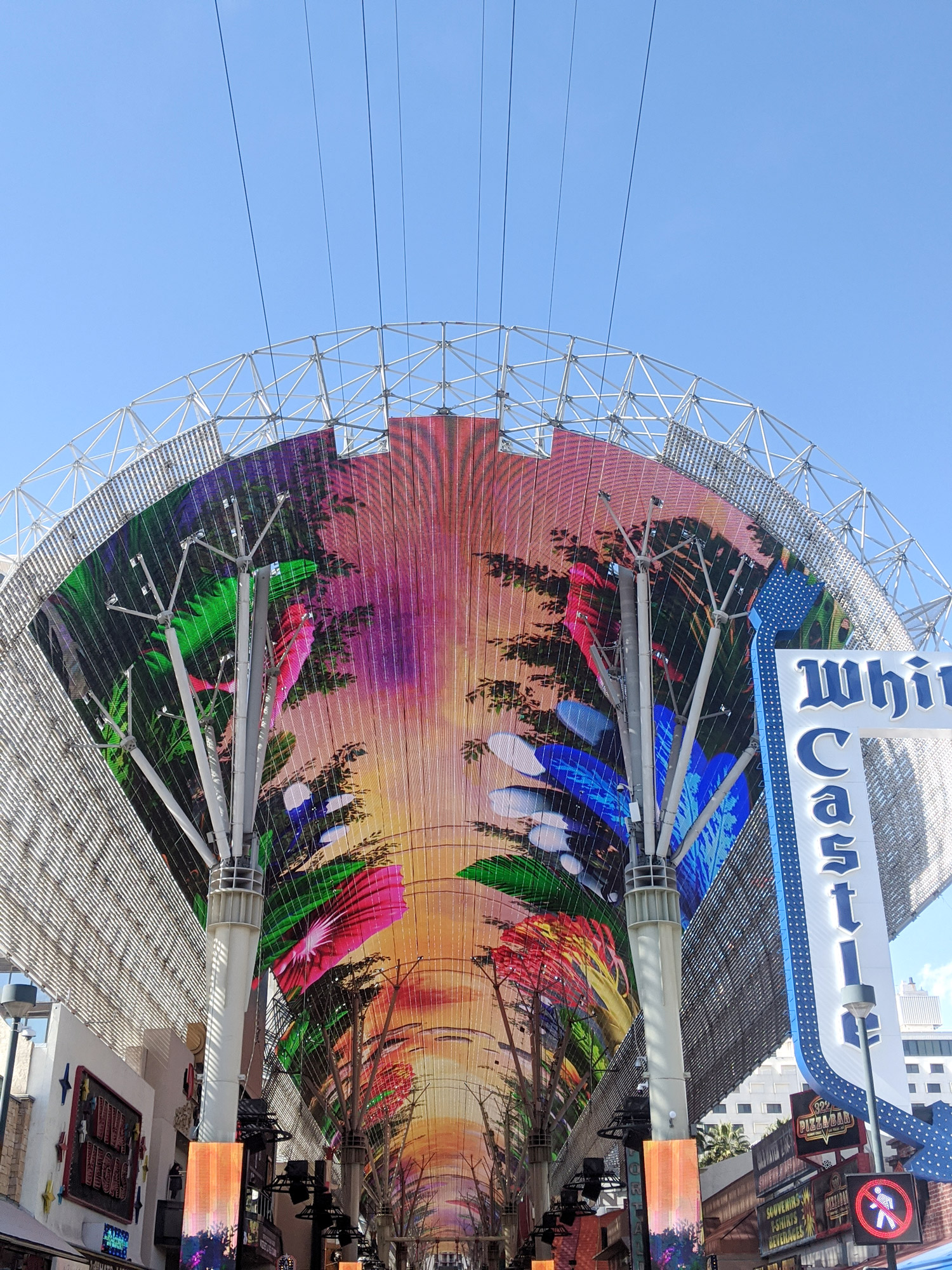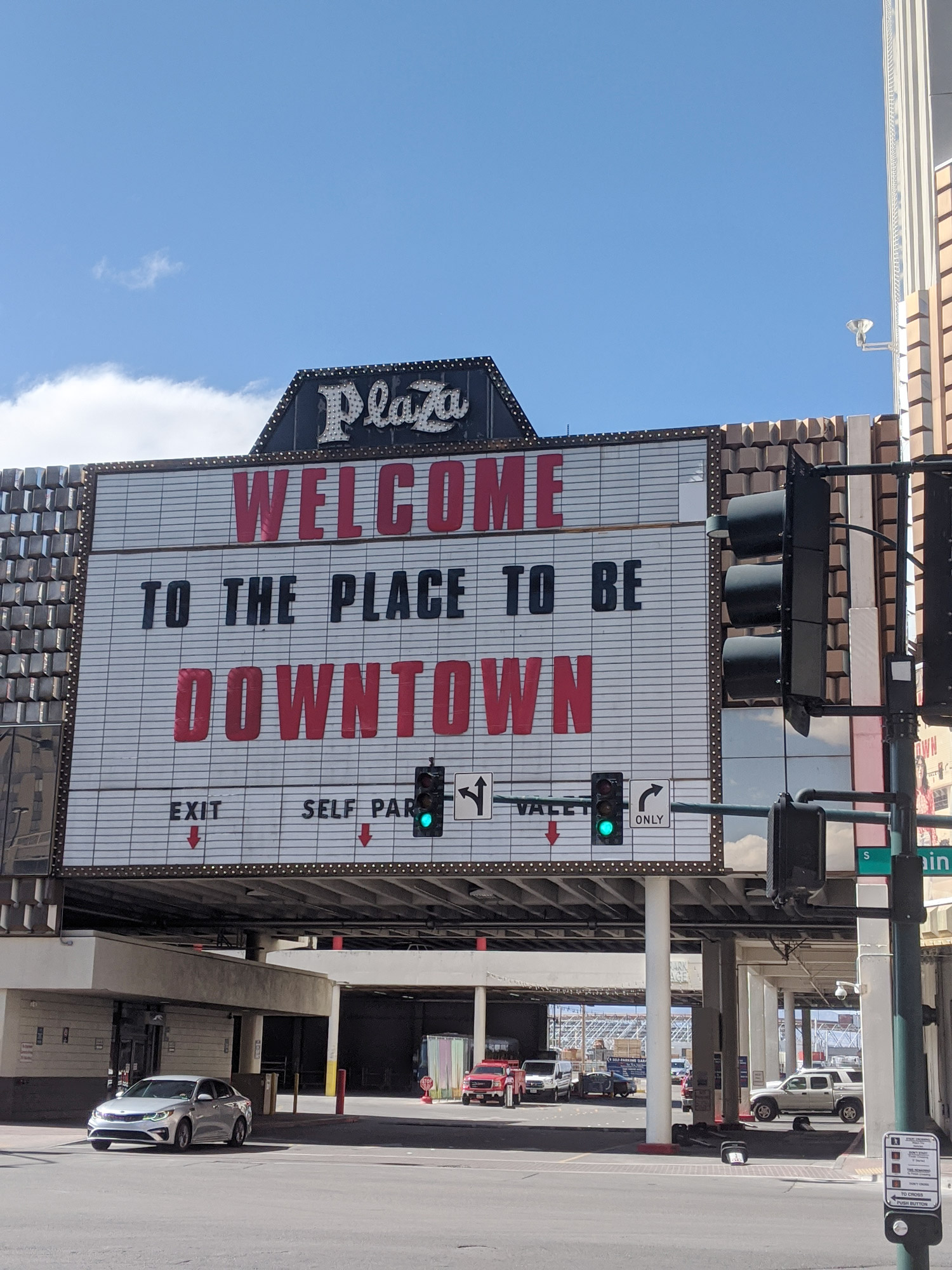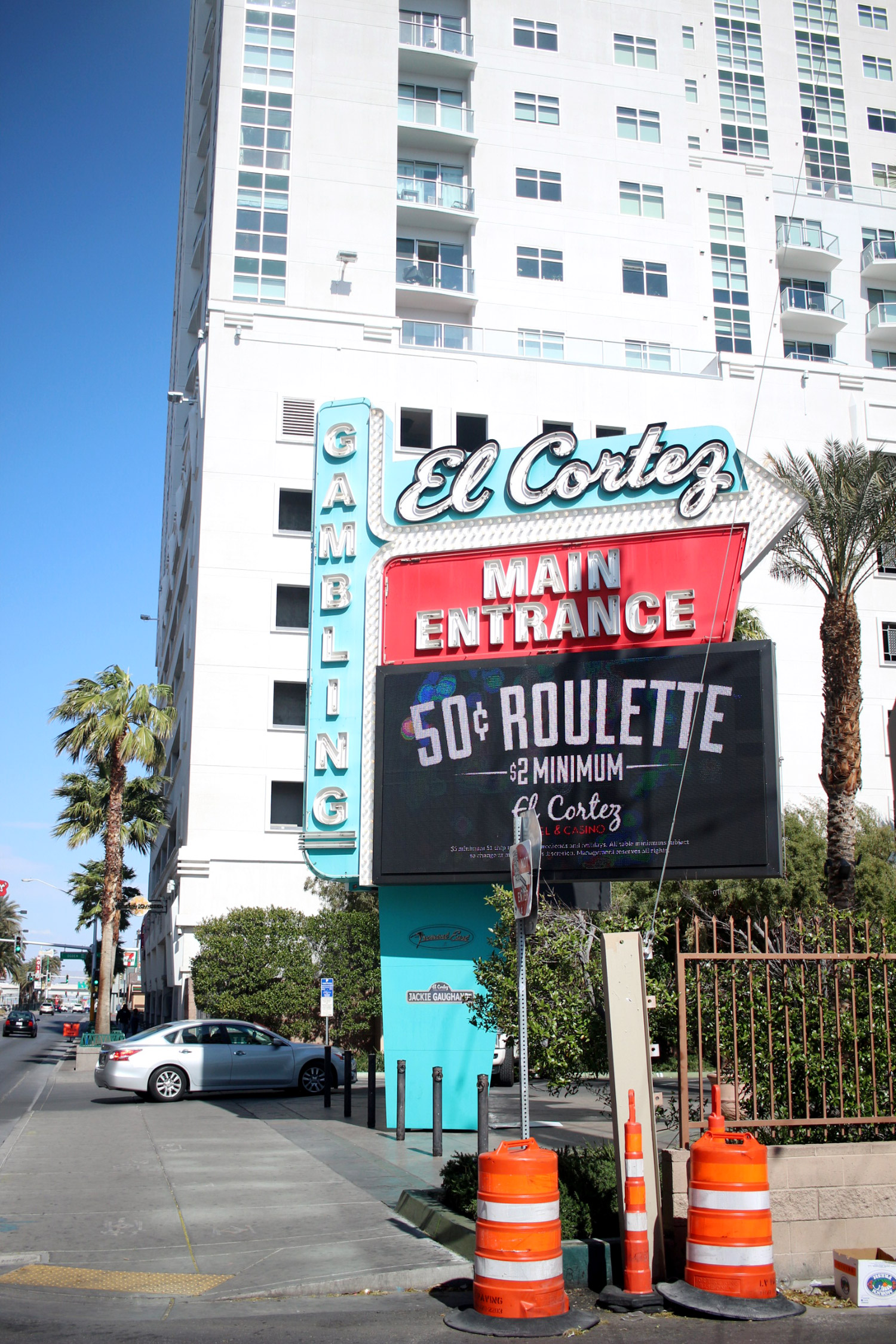 Downtown Las Vegas & Fremont Street
Downtown Las Vegas isn't far from the Arts District and around a 10 minute taxi from the middle of the strip, which will cost you around $10. We decided to visit here on a Saturday and it was quite busy, but still a cool place to walk around. Like the Arts District, a lot of the shops and restaurants are only 1-2 floors so it has a more relaxed vibe. It was such a beautiful day when we went, so we were more than happy to have a wander. There are a few hotels and this would be a good place to stay to avoid those pesky Strip Fees/Tourist Tax you get when you stay in the bigger hotels - you can read my review of where we stayed here.
When we were there, there was a large display over Fremont Street which changed colours and patterns which was very pretty to see. They also had a zipline overheard and live music and stages throughout the street, which took about 10 minutes to walk down. There's casinos here too, if thats your thing, and it's nice to see some of the more old school Las Vegas hotel signs.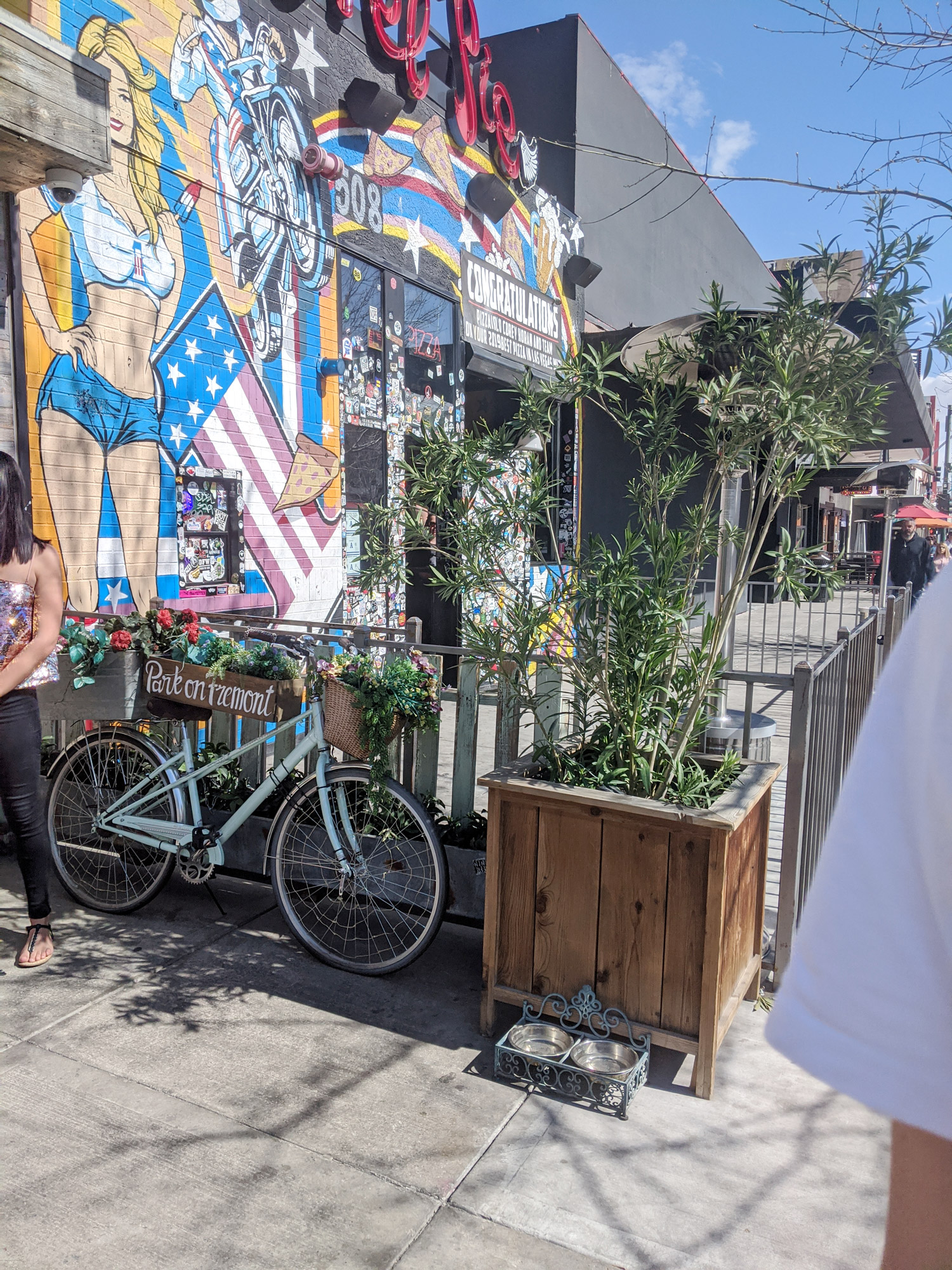 Park on Fremont
Park on Fremont is located just at the start of the above Fremont Street entertainment and has both inside tables and outside tables. I made a reservation early that morning via their website for 12 that day, but they seemed quite confused by it when I got there so I would say if you would like to go, you may need to make the reservation the day before or wait for a table if it's busy. As I didn't have ID, we could only sit outside which is where we wanted to be anyway to be honest!
Their menu has a good range of brunch items with a mix of savoury and sweet, so you can get things like lemon ricotta pancakes, to bourbon sticky ribs, to breakfast burritos. I went for the Chicken Satay with Peanut Sauce and Asian Slaw, as I desperately wanted to eat something crunchy! I didn't think I would miss vegetables as much as I did, but the Strip was all soft junk food (burgers, fries etc). The satay was good and I really enjoyed eating something vaguely healthy.
Phil went for the Park Benedict which is a English Muffin topped with Pastrami, Bacon, Caramelised Onions, Peppers and Peppercorn Hollandaise Sauce, with brunch Potatoes on the side. It was rich and heavy, but he absolutely loved it and said it was the best meal of the trip.
He also got a Milk Stout which he has become absolutely obsessed with and has hunted down a seller in Ireland that stocks it, so we've had some of those in the fridge recently!
Conclusion
I would definitely recommend getting out of the Strip area and venturing to both the Arts Disctrict and the Downtown Las Vegas area. There are so many great places to eat and things to see and vintage shops to explore, if that's your jam. It's also nice to get away from the massive hotels and casinos for an afternoon and enjoy a walk in the sun. I felt completely safe around these areas too, so hop in a taxi and grab yourself some delicious lunch if you're in Las Vegas!