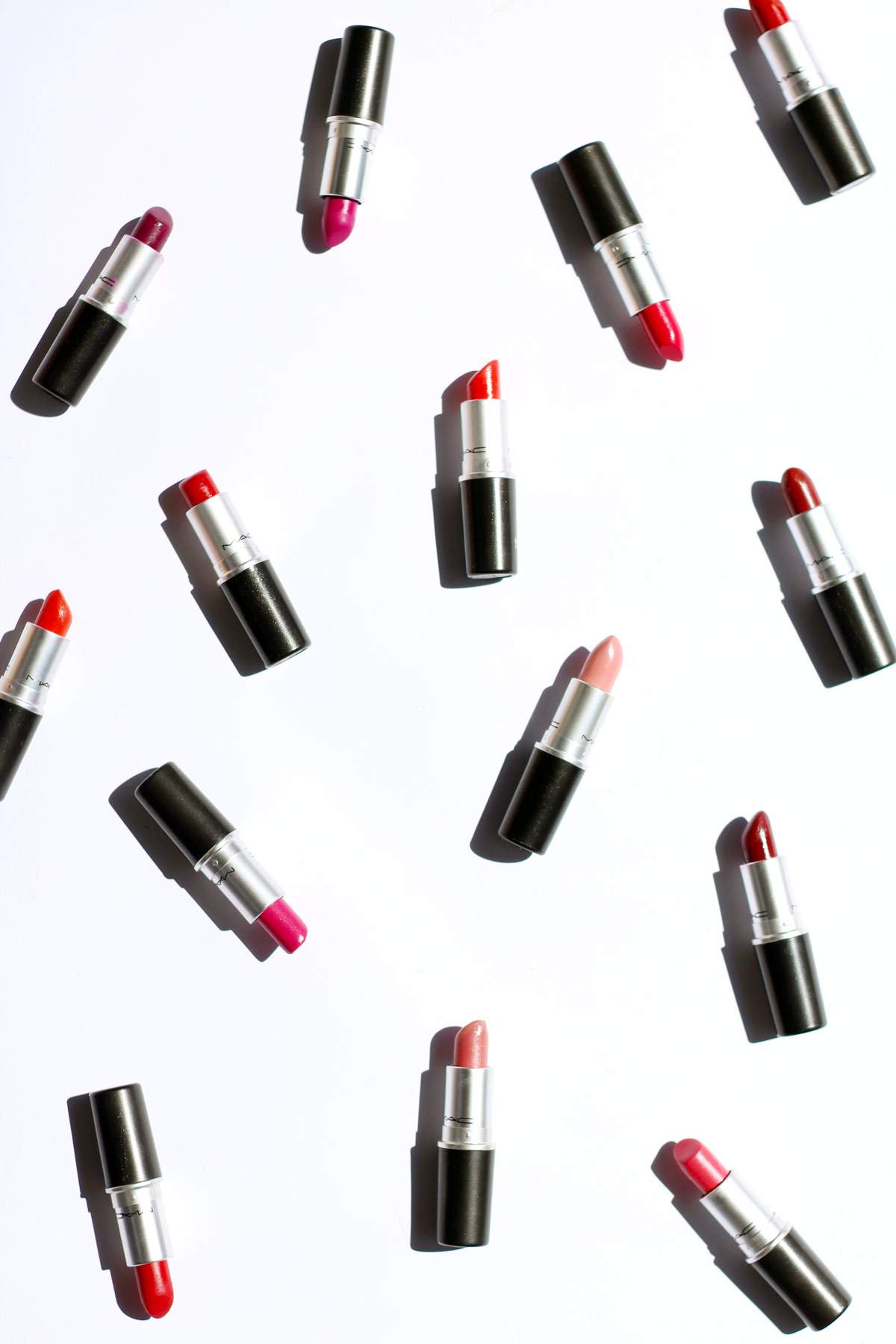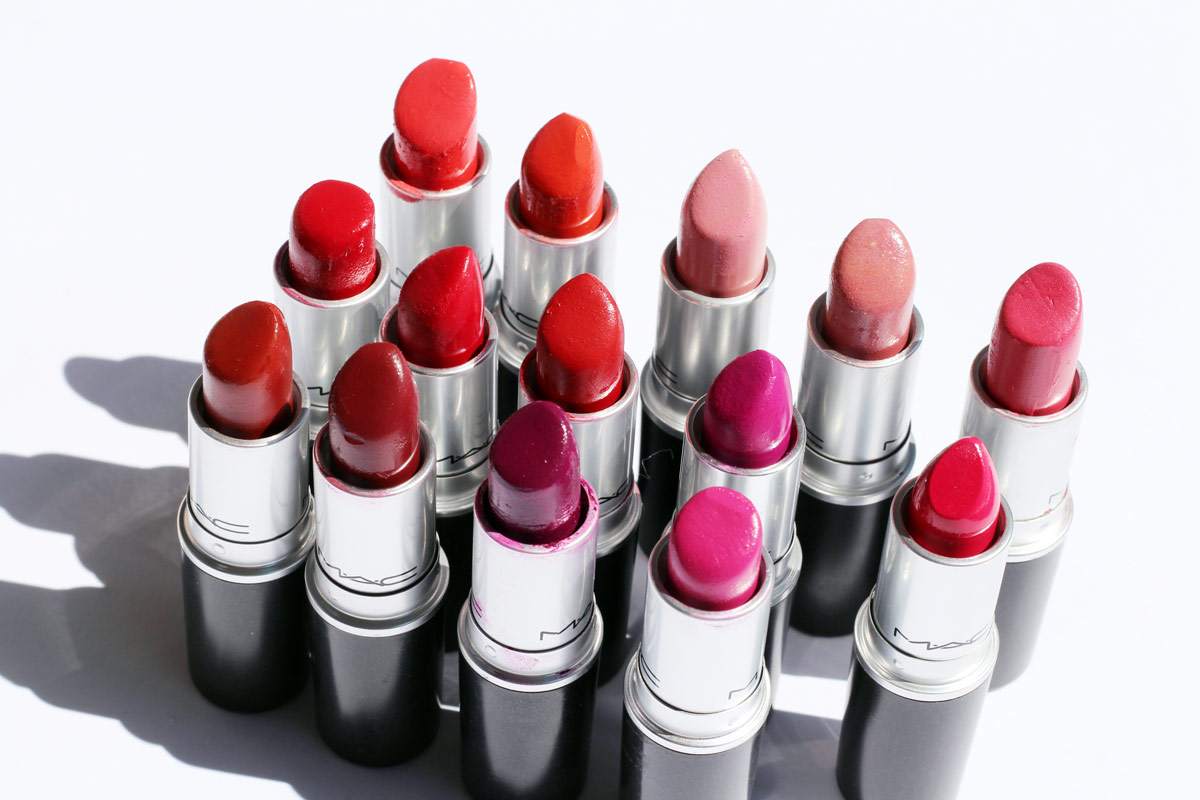 Oh MAC lipstick. Did anyone else start with MAC as your first high end brand? I totally did – I went with carbon eyeshadow (because goth) and Russian red lipstick. I remember feeling oh so posh when I brought them home in a little MAC carrier bag and also a bit sick because I'd spent £9 (at the time) on an eyeshadow. I obviously got over that pretty fast and I added Girl About Town and a whole host of MAC goodies after that until the collection you can see in this post formed. So I decided to show you all my current MAC lipstick collection – how many do you have?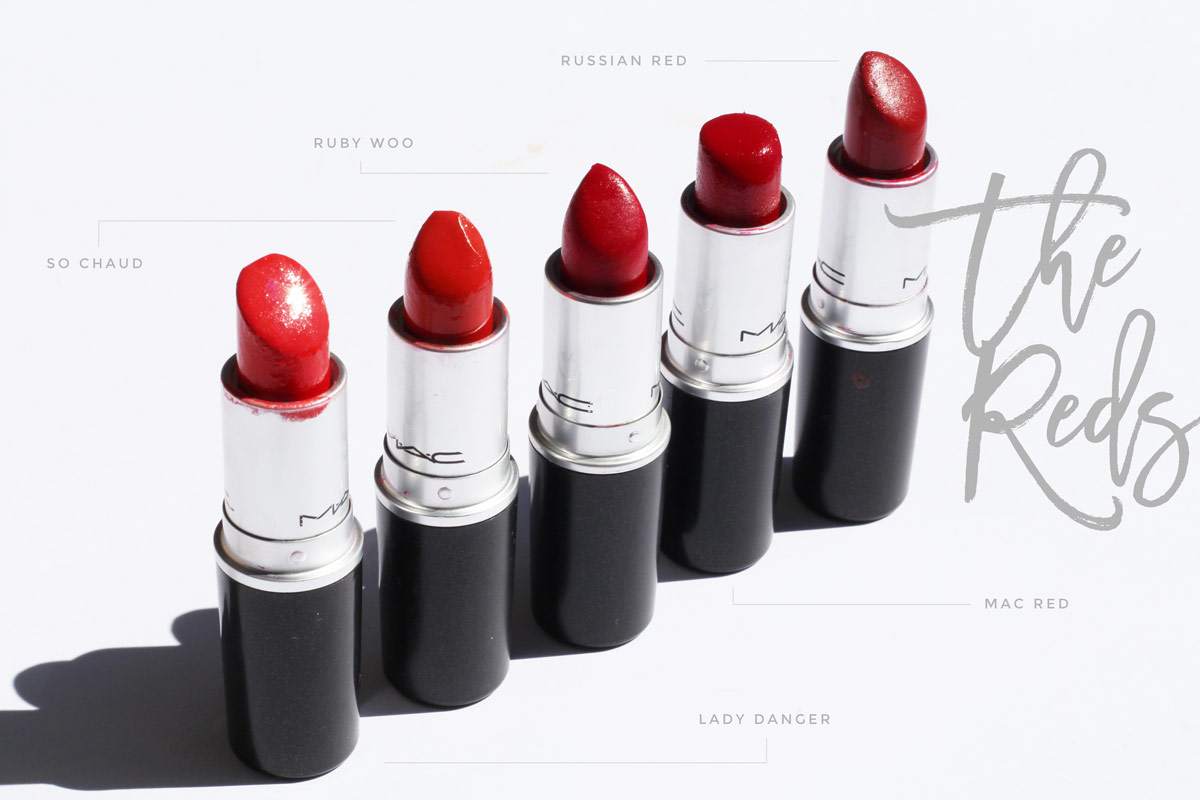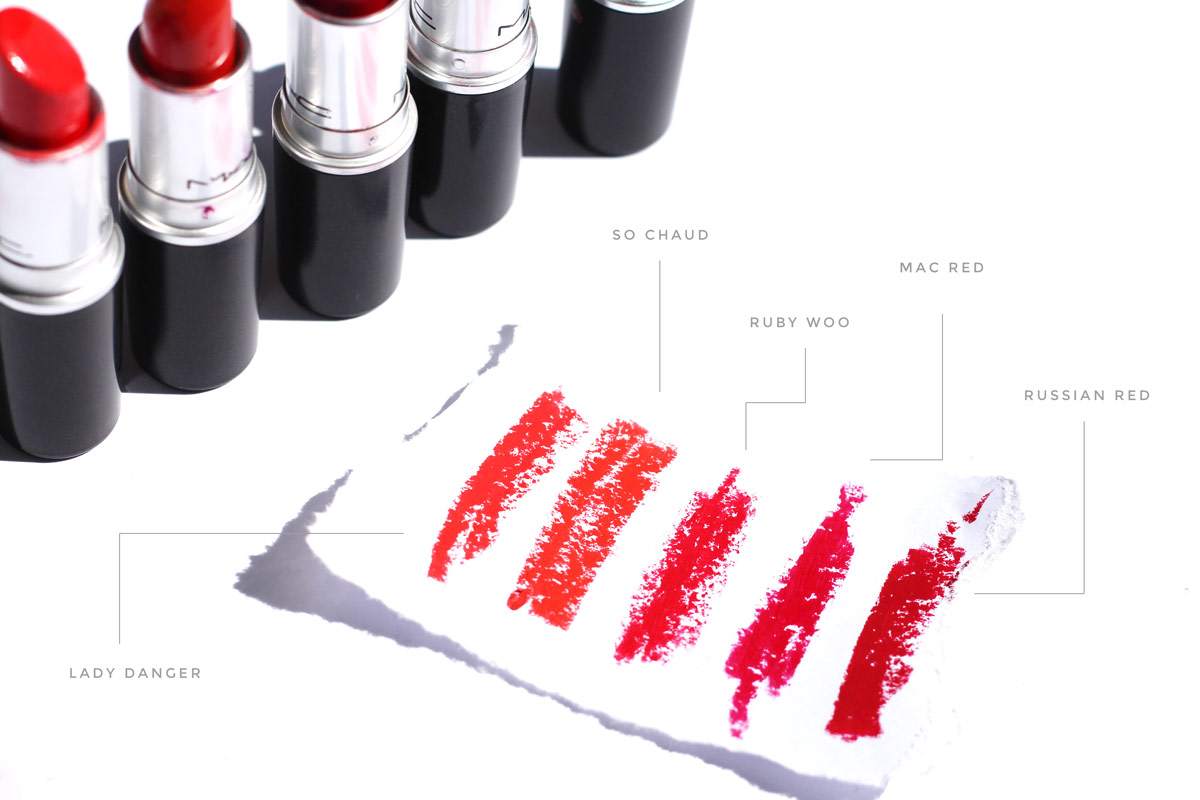 The Reds (buy them here) | As I said, red was my first choice back in the day but I've realised now how many reds there can be – you can never have too many! I mixed in some oranges here too, so, left to right we have: Lady Danger (vivid coral-red, matte finish), So Chaud (reddish-orange, matte finish), Ruby Woo (blue-red, super matte finish), MAC Red (neutral-blue red, satin finish) and Russian Red (a deeper true red, matte finish).
MAC Red is my most worn shade (I actually have two of them!) and then Lady Danger as it's the most beautiful shade to wear in Spring/Summer!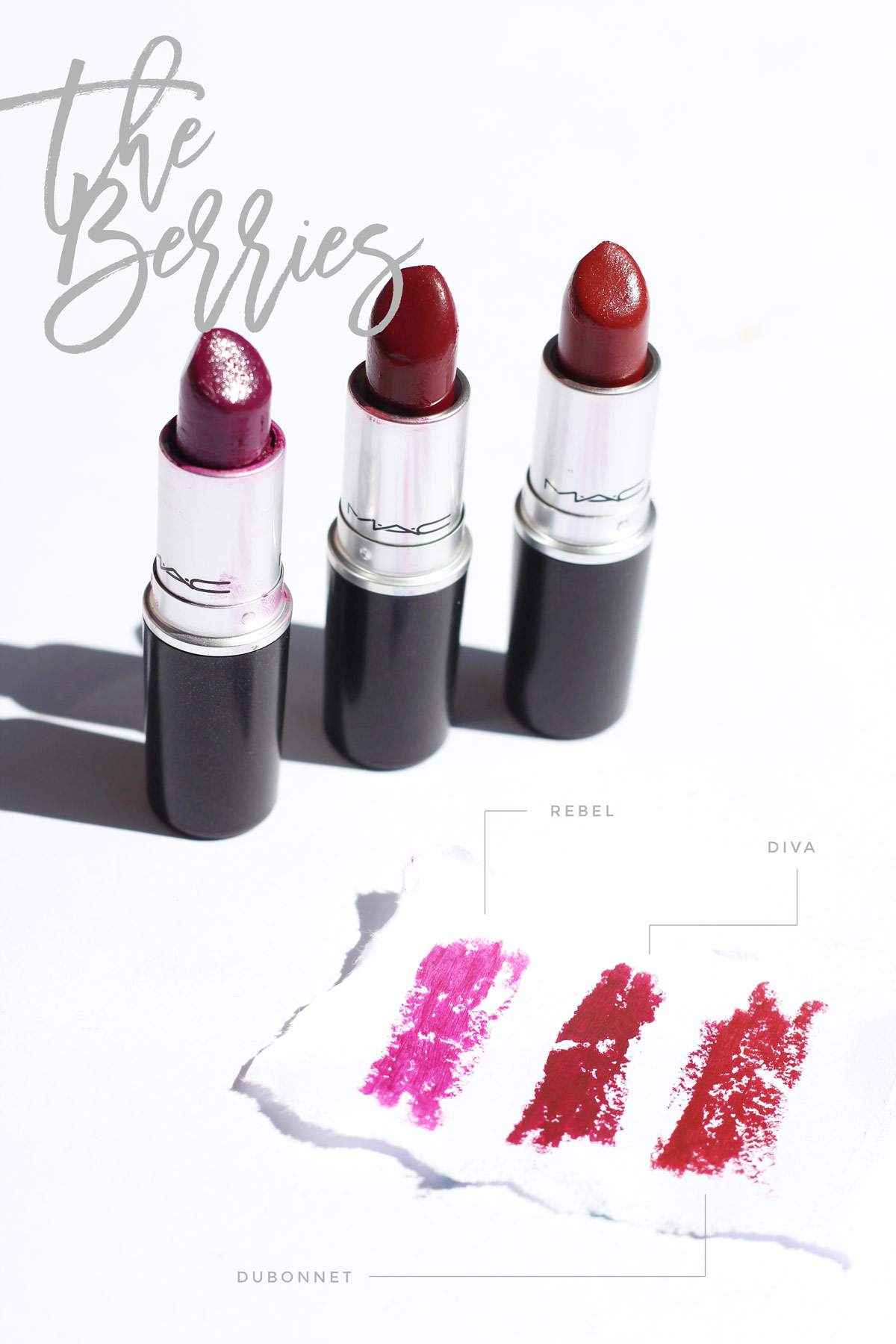 The Berries (buy them here) | We're actually missing one shade here and it's my favourite MAC shade of all time: MAC Craving. I have a new tube of it and I have no idea where it's gone, so let's just pretend it's here… I wear berry tones all year round, not just for Winter so these are quite loved in my collection! Left to right we have: Rebel (a pink berry-plum, satin finish), Diva (burgundy red, matte finish) and Dubonnet (claret, amplified creme finish).
I love wearing Diva so much, it's definitely one of my shades to put on when I wanna feel a bit more fierce *snaps*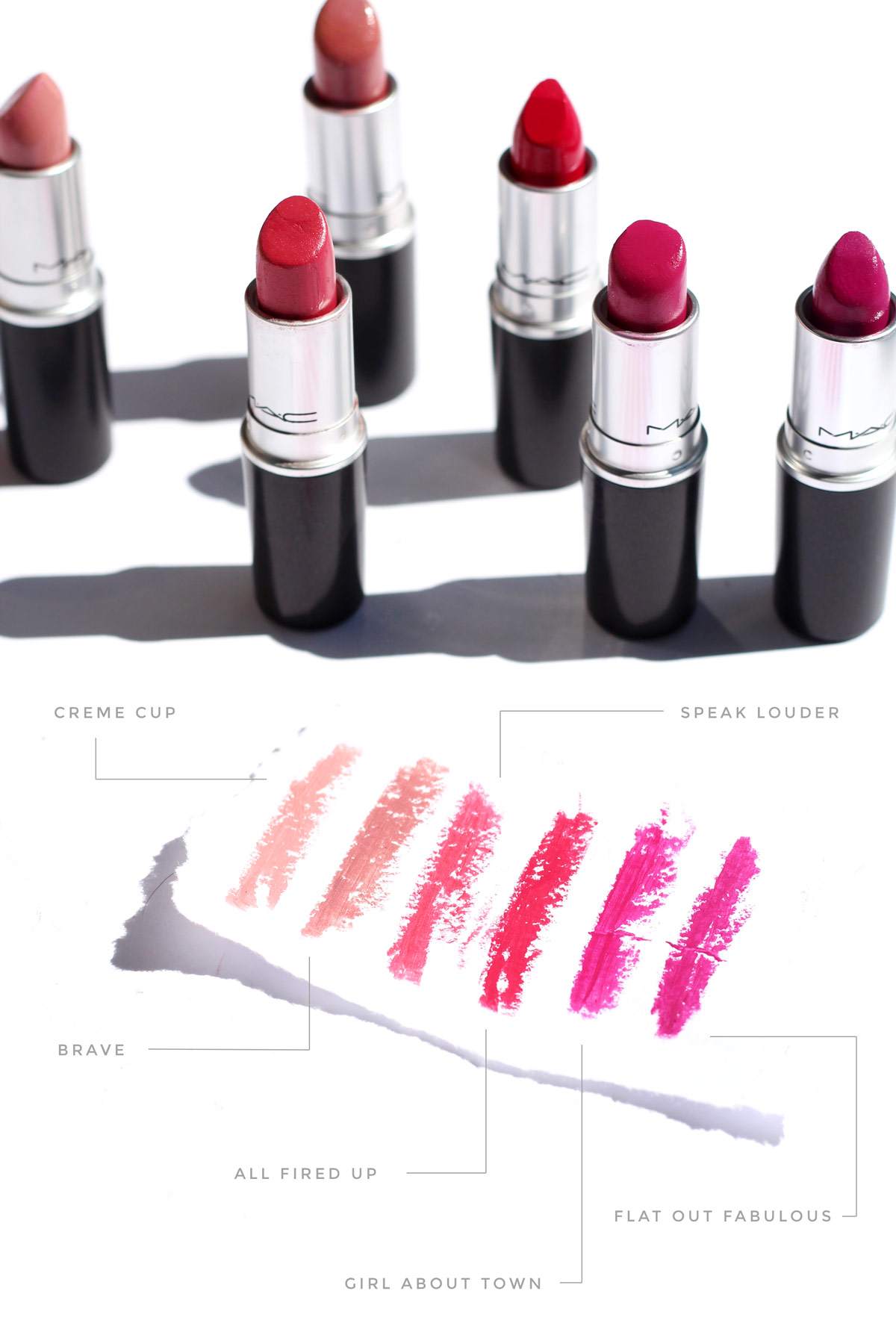 The Pinks (buy them here) | And finally we have the biggest section, the pinks. I didn't even realise I had this many until I lined them all up… I've kept and got rid of so many over the years, but the ones I have here are some of my favourites! Left to right: Creme Cup (light blue-pink, cremesheen finish), Brave (pink-beige, satin finish), Speak Louder (bright poppy blue-pink, cremesheen finish), All Fired Up (bright fuchsia, matte finish), Girl About Town (bright blue-fuchsia, amplified creme finish), Flat Out Fabulous (bright plum, matte finish).
My favourites have to be Brave and I'm determined to get my use out of All Fired Up and Flat Out Fabulous this Summer, as they're such beautiful bold, vibrant shades!
What's your favourite MAC shade?
Helen x