Affiliate links
oSpring is here (well, sort of, it's still cold in the UK!) and I'm very much looking forward to giving my wardrobe a bit of a refresh. Lockdown has completely killed off any style I may have previously had and I seem to have completely forgotten how to dress myself, but Spring always feels like a bit of a fresh start. There's lighter layers, lighter colours and the promise of slightly warmer weather. Very appealing!
So, I've placed a few little orders here and there for pieces that I'm hoping will inject something new into my wardrobe. Starting with some high top Converse that I've been thinking about purchasing for about 4 months now. I love them! They go with everything.
I'll share the other bits I picked up and anything else I found on my internet travels below.
Arket Purchases
Arket has some really lovely pieces in at the moment and I treated myself to a few:
Oversized Poplin Shirt - fits big, I got a 34. Beautiful quality!
Oversized Linen Blend Coat - fits big, I got a 34 but its perfect
Some other things that I love: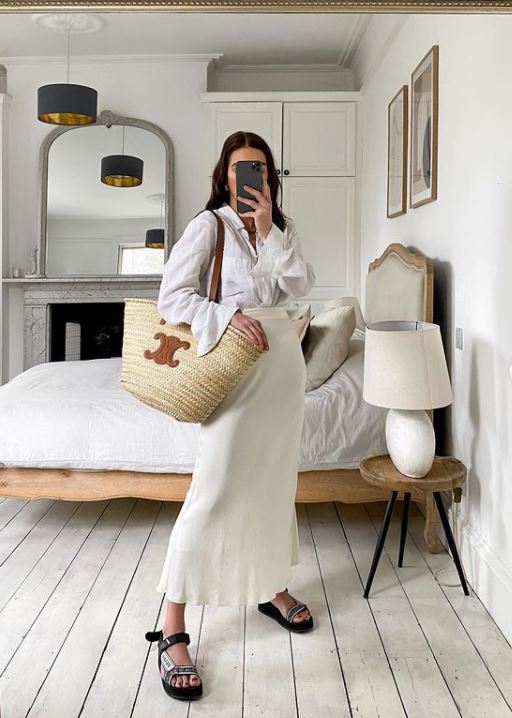 From: @Anoukyve @_jessicaskye @thestylesponge_ @pepamack
I adore the above photos and they're my inspiration for how I'd like to dress this Spring. I'm on the hunt for the perfect pair of light wash jeans, a very light toned blazer (maybe linen?), some sort of vintage blue jumper and a thicker knit cream jumper too. I mean, I live in the North of England so we need to be realistic about warmth! I'll share what I find or what I pick up on Instagram @thelovecatsinc