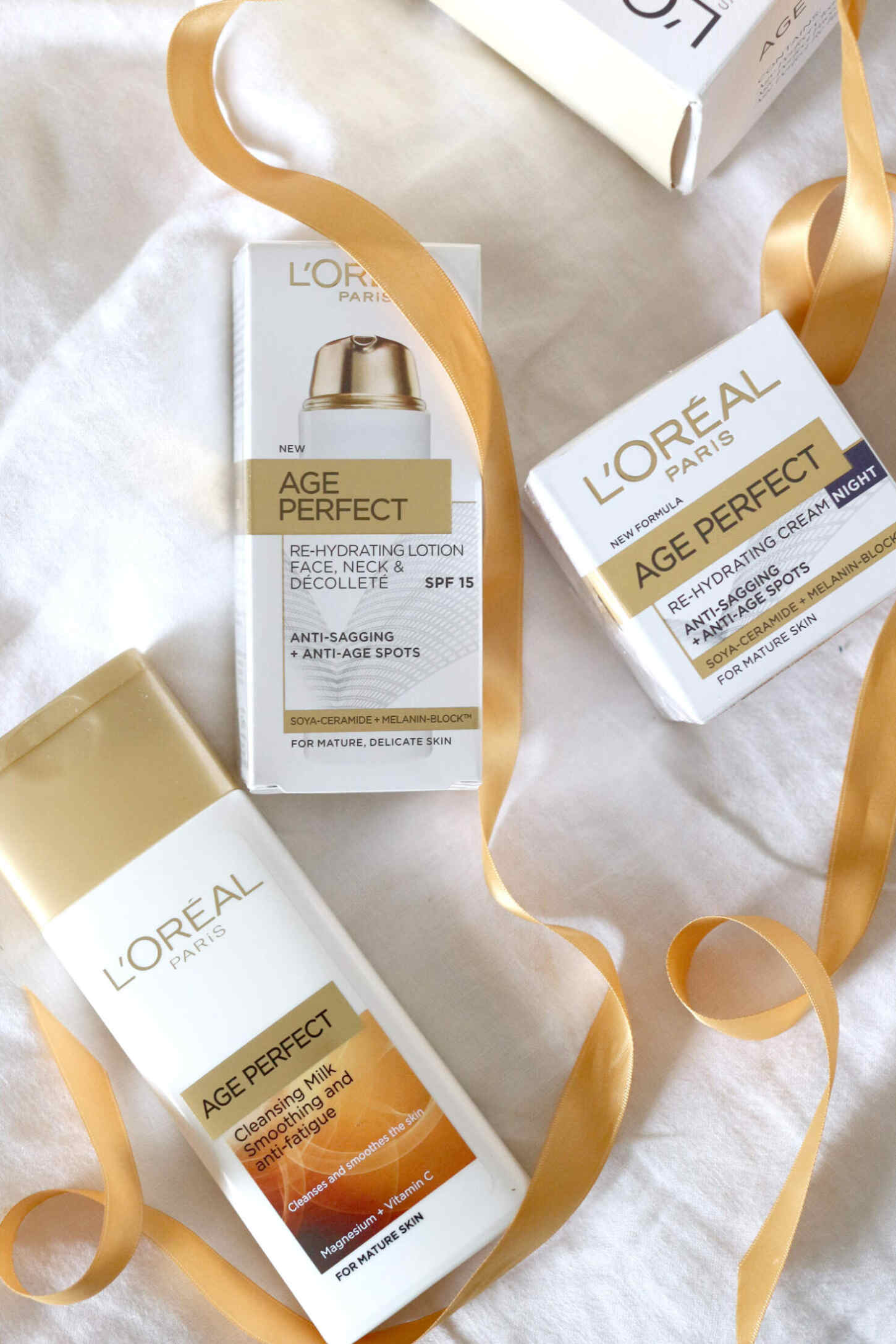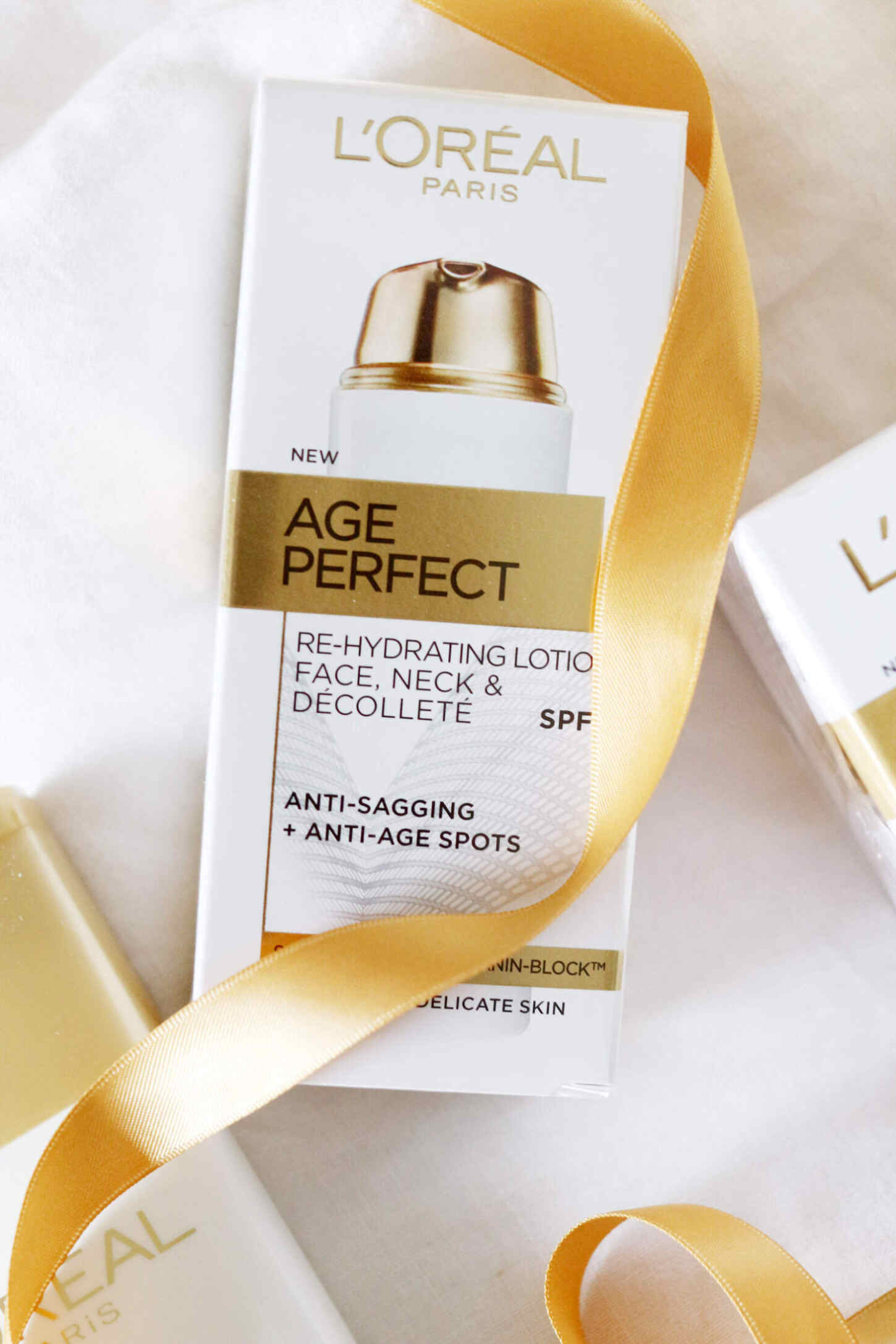 If there's one thing my mum never treats herself to, it's skincare. She always finds products she likes, but she never goes out and buys them so it's always left to me to hunt down some new pampering treats that she'll love to keep her stash topped up. Being a bit of a skincare addict myself, I can't say I mind so this Mother's Day, I'll be gladly handing over this L'Oreal Age Perfect Gift Set as it ticks three skincare boxes and doesn't break the bank!
This gift set, housed in a perfect little box with a 'to' and 'from' label already on there, has been released by L'oreal especially for Mother's Day this year (which is on the 26th of this month, just so you don't forget!). I love the white and gold theme and the packaging of the products is so luxurious looking too, which definitely makes this gift set feel a little extra special. But what's in the box?
There's three full sized products in the L'Oreal Age Perfect gift set.
Firstly, you get the L'Oreal Age Perfect Cleansing Milk which is smoothing an anti-fatigue. It claims to cleanse and smooth the skin while containing magnesium and vitamin C which will brighten the skins appearance, as vitamin C is well known for doing. With it being a cleansing milk, the formula is gentle on the skin and I always love using milks myself so I know my mum will love it!
Next is the L'Oreal Age Perfect Re-Hydrating Cream Night which claims to be anti-sagging and anti-age spots. This rich but not overbearing cream feels very luxe and the packaging is sturdy and looks way more expensive than it actually is - bonus! It works overnight to leave skin looking more plump, hydrated and therefore more radiant by the morning - who doesn't want that?
Finally, the third and final (and somewhat hero of the trio) is the L'Oreal Age Perfect Re-Hyrdrating Face, Neck and Decollete Cream with SPF15. Again, this is anti-sagging and anti-age spots combined with sun protection, so it's perfect to use during the day. It strengthens skin, reduces the appearance of dark spots and aims to smooth the skin, making it look soft and plump once again. It aims to not only have immediate effects (nourished skin) but after a month your skin should have regained some firmness and feel more taut.
All in all, the products make a great gift. They smell lovely, they look lovely and I know my mum in particular will love it! Infact, when I was taking the photos for this blog post, she was over my shoulder having a little nosy so I think she knows what she's getting now, haha.
Anyway, onto the details about how you can nab this little beauty of a gift set for yourself:
The individual cost of the items are over £30, but you can pick up the whole set for only £15 from Boots. How good is that?
Will you be picking up this set for Mother's Day?
Helen x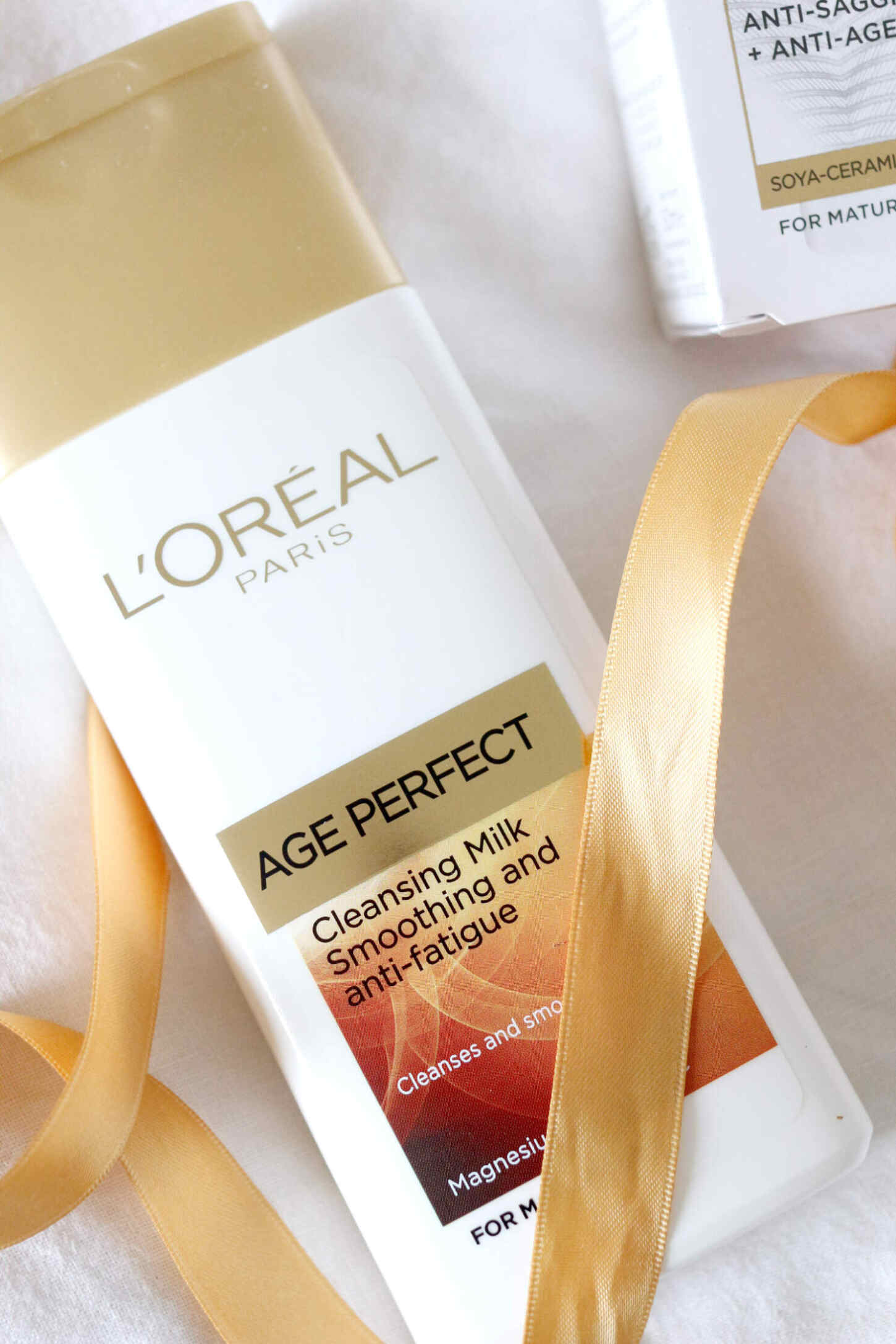 This post is sponsored by L'Oreal