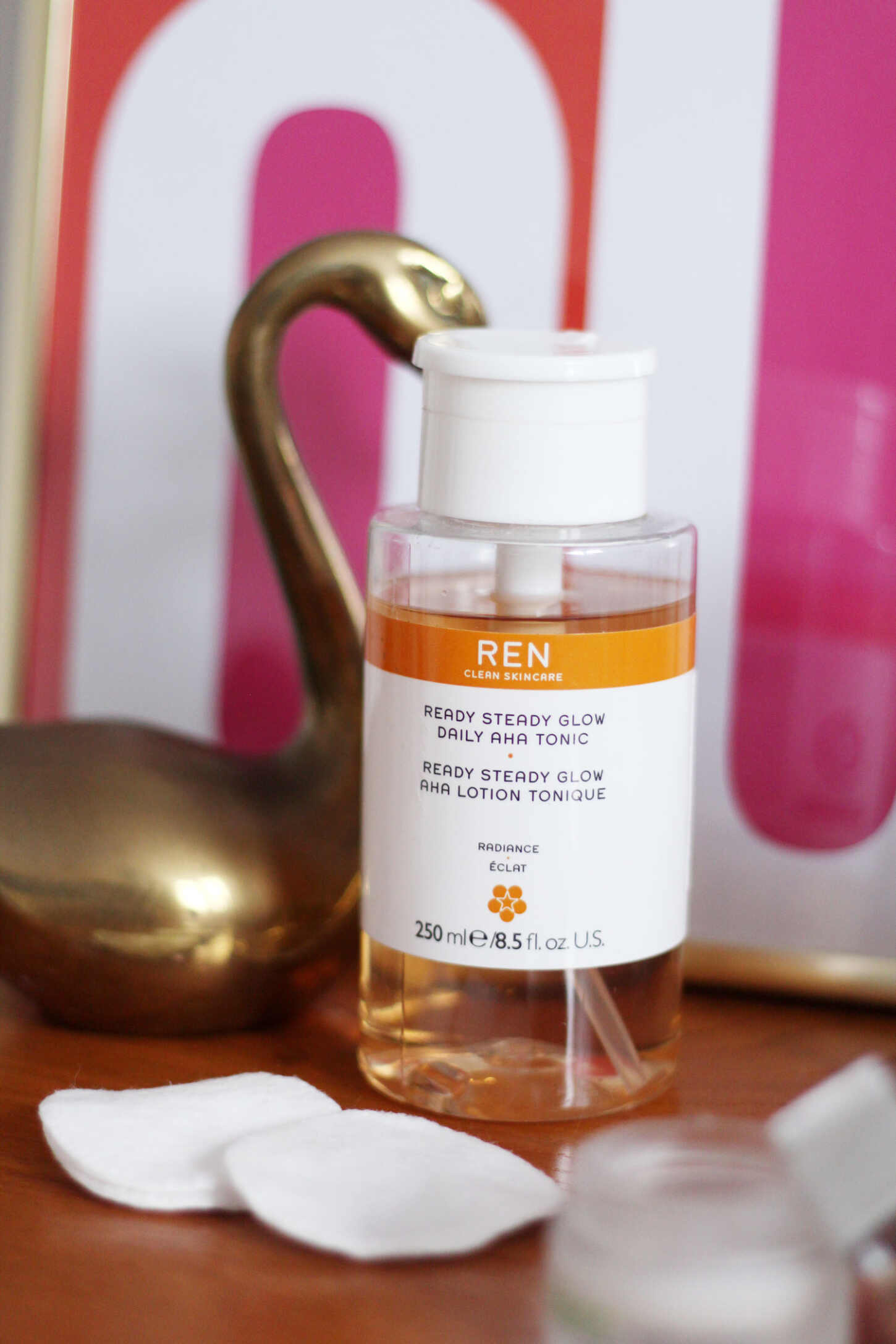 My routine for clear, bright skin....
Since being on Roaccutane, I've been pretty hashtag blessed in the skin department, I'll be honest. Apart from a few milia here and there, my complexion has stayed clear with the exception of some hormonal blemishes and the ones where I haven't taken my makeup off properly or have been touching my face a lot (hello exercising and this sweaty, hot weather).
So, I've been focusing pretty hard over the last roughly 3 weeks and persevering with one skincare routine without chopping and changing the products like I often do... and it seems to be working well.
I'll admit, as a self-confessed skincare junkie, I do get bored of using the same products over and over again . However, I have become slightly addicted to the results so that seems to be outweighing my constant need to try something new every week!
Anyway, I'm talking purely post-cleanse in this routine, as I've been using cleansing oils exclusively (Elemis and Bobbi Brown) and that hasn't really changed for the last few months. Toners, treatments and moisturisers is what we're chattin' about today...
Step 1 (after cleansing) - Tone
I've been fairly hit and miss with toner over the years. Sure, I've tried my fair share when I had acne and now with clearer skin, but none really excited me enough to use them on a long term basis. That was until I tried the REN Ready Stead Glow Daily AHA Tonic. Yes, I went back to REN for a lot of my skincare recently and I'm so glad they brought out this toner so I could try it. It's basically an exfoliating toner that I used every night and it buffs away any dead skin cells and leaves you with bright, clearer looking skin by the morning. It smells delicious too!
Step 2 - Eye Cream
I know some don't believe in an eye cream, but as someone with very dark circles since the age of around 16, I welcome any help I can get. Aside from trying to drink a crapload of water (which does genuinely help), I've been using the Zelens Triple Action Eye Cream for about 3 years now and I do swear by it. It completely changes the texture of the skin around your eyes so it's smooth and soft, but it genuinely lightens my dark circles too!
Pssst, the Kiehl's Avocado Eye Cream is great too, if your budget is a bit tighter. It's around 1/3 of the price...
Step 3 - Treatments
I divide these up into 1 for the day and 2 for night, but I don't use both on one night as I like to switch it up.
Day: I cleanse, apply eye cream then apply the REN Radiance Perfection Serum. It's very lightweight, very fluid (be careful when dispensing it) but sinks into skin quickly so it's great if you don't want to devote a lot of time to your routine on a morning.
Night: I go between two different treatments. First, the Elemis Peptide4 Night Recovery Cream-Oil is hands down my favourite treatment ever (this is my 3rd bottle). I've spoke about this in various other blog posts, but it's just wonderful. Nothing makes my skin look as glorious, smooth, toned, bright (is this too much?) as this wonder product does. Plus is smells like holidays, I'm obsessed.
I tend to use the Elemis treatment for 2 nights, then I'll go in with the REN Bio Retinoid Anti-Wrinkle Concentrate Oil. I know, anti-wrinkle sounds like a lot but I'm closer to 30 than I am 20, so I thought I'd get started on the retinol based products early. This oil does feel quite thick, but not too heavy on the skin and my skin feels ultra toned the next morning.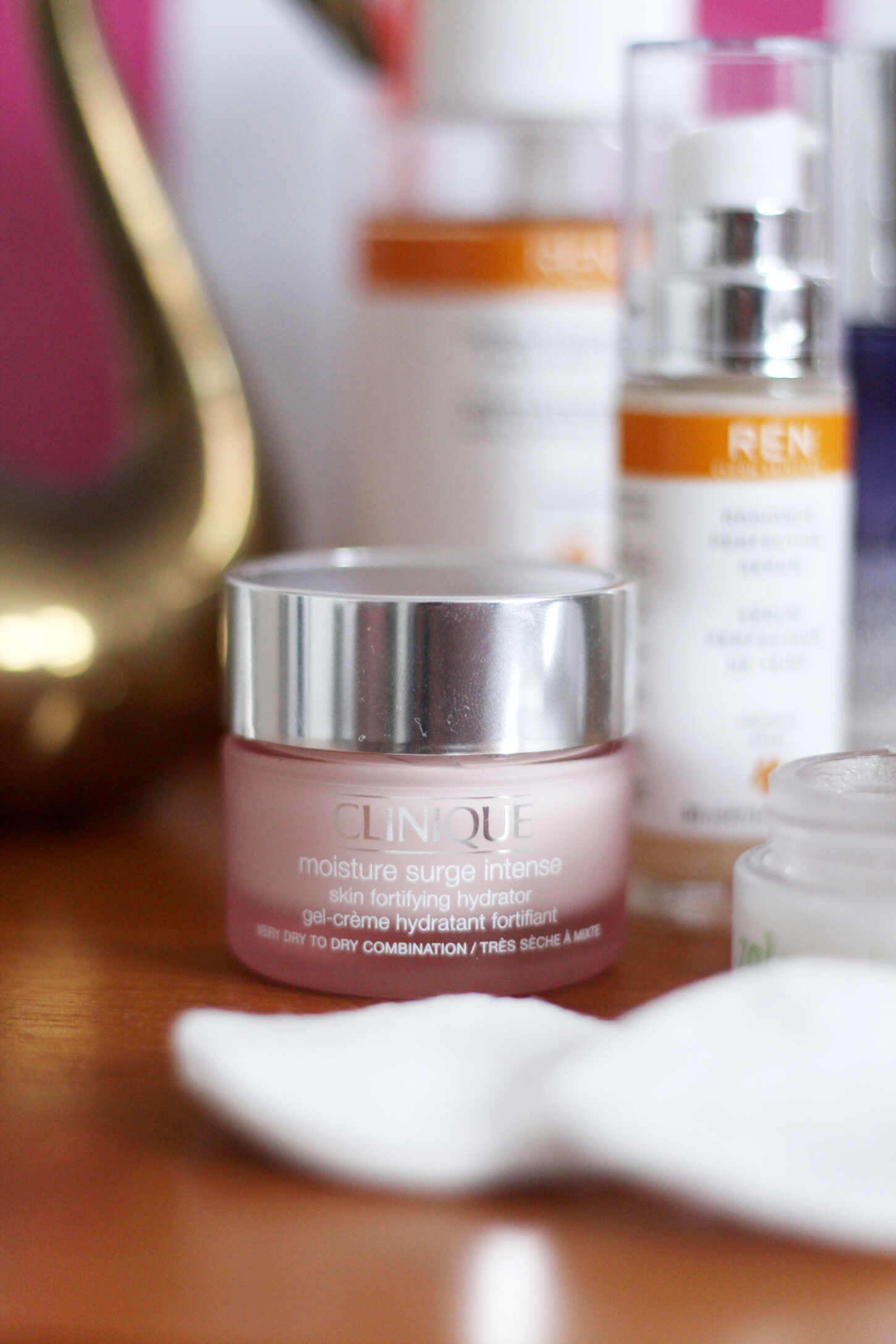 Step 4: Moisturise
I've tried a lot of moisturisers over the years, from lightweight gels to heavy creams and I've definitely found one my OG's with the Clinique Moisture Surge Intense Skin Fortifying Hydrator. I started using it when I was on Roaccutane, but recently I remembered how much I missed it so had to repurchase. This stuff has the most wonderful texture which I can't really describe, it's just luscious. It doesn't feel heavy on the skin and just melts in, leaving your skin feeling so plump and smooth. It's just lovely!
So, that's my routine. For daytime, I cleanse, apply eye cream, then serum, moisturiser and SPF then get on with my day. On an evening, I cleanse, tone, serum (one of the two) then moisturise. It takes around 5 minutes from start to finish and 3 for the daytime routine, so it's not a huge commitment but it does make a huge difference to my skin.
I'm really focusing on brightening and toning my complexion at the moment, so if you have any recommendations for other products that give a mega glow then I'd love to hear them!
Shop the post