*Contains PR samples and affiliate links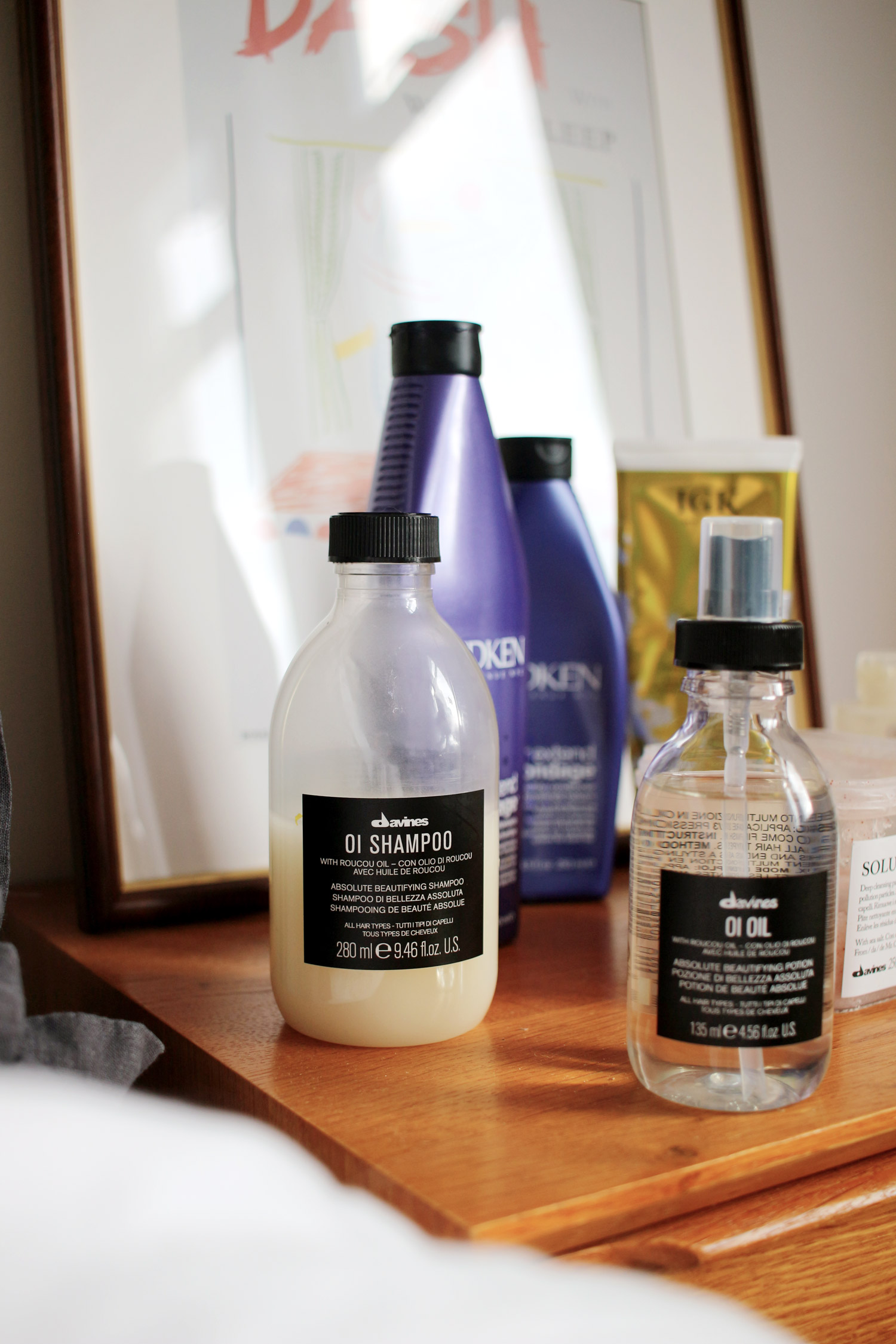 Haircare maintenance (when you're desperate for a haircut)
If you're eagerly awaiting a hair appointment, you're not alone. My goal was to get my hair cut and dyed mid-November, but lockdown has scuppered those plans so I'm counting down the days until mid-December until my roots are gone. So, I've decided that the various lockdowns throughout this year are the best opportunity to work on the condition of my hair.
It's typically dry at the ends and prone to frizz, so making sure I use enough hydration and treatments to keep it smooth and sleek as possible. Today I'll be sharing the products I use from start to finish to try and keep my blonde bright and everything in good condition.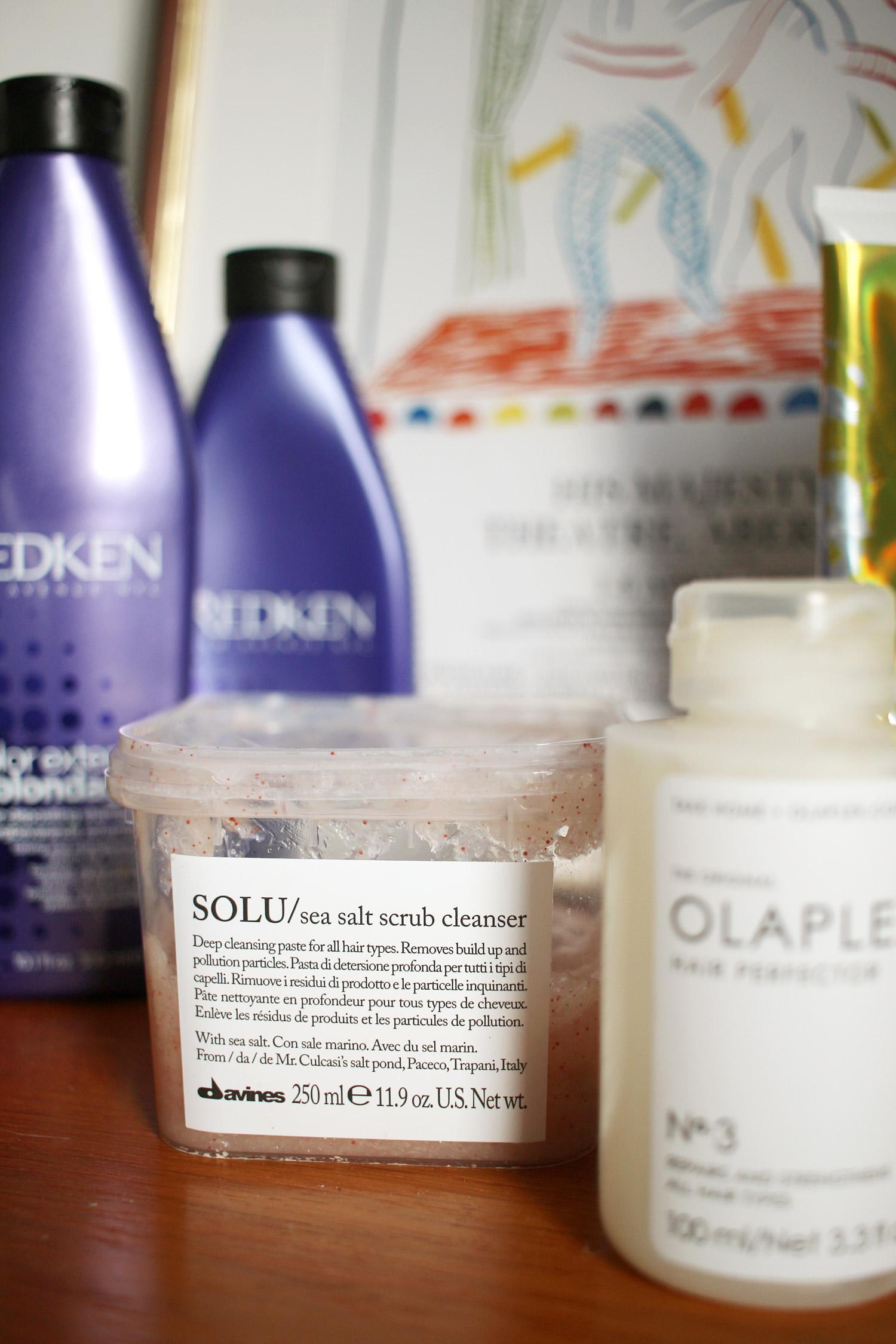 Shampoo & Conditioner
Starting at the very beginning, I always double shampoo my hair to ensure it's properly clean. I typically use the amazing Davines Oi Shampoo as my first cleanse, as it's hydrating and works so well at cleaning the hair without stripping it or making it feel dry.
I then go in with a purple shampoo which is essential if you have blonde hair and want to keep the yellow or brassy tones away. My hair is toned to quite a cool-toned blonde, so I leave it on for 3-5minutes in the shower to maintain this colour. My current purple shampoo of choice is the Redken Colour Extend Blondage Shampoo as it has a lot of pigment and works really well. Purple shampoo can be quite drying, but this one isn't too bad and I do occasionally mix it 60/40 with the Oi Shampoo too.
When cleansing my hair for the second time, I really work it in and ensure it lathers up a lot. I make sure to get it right into the roots - like they do at the hairdressers - and massage it in so, when I rinse my hair, it feels light. If it doesn't feel light, I'll wash it again.
For condition, I'm currently using the Redken Colour Extend Blondage Conditioner which I really like. It's very lightly tinted and ultra smoothing without weighing hair down. My hair always feels so soft after using it.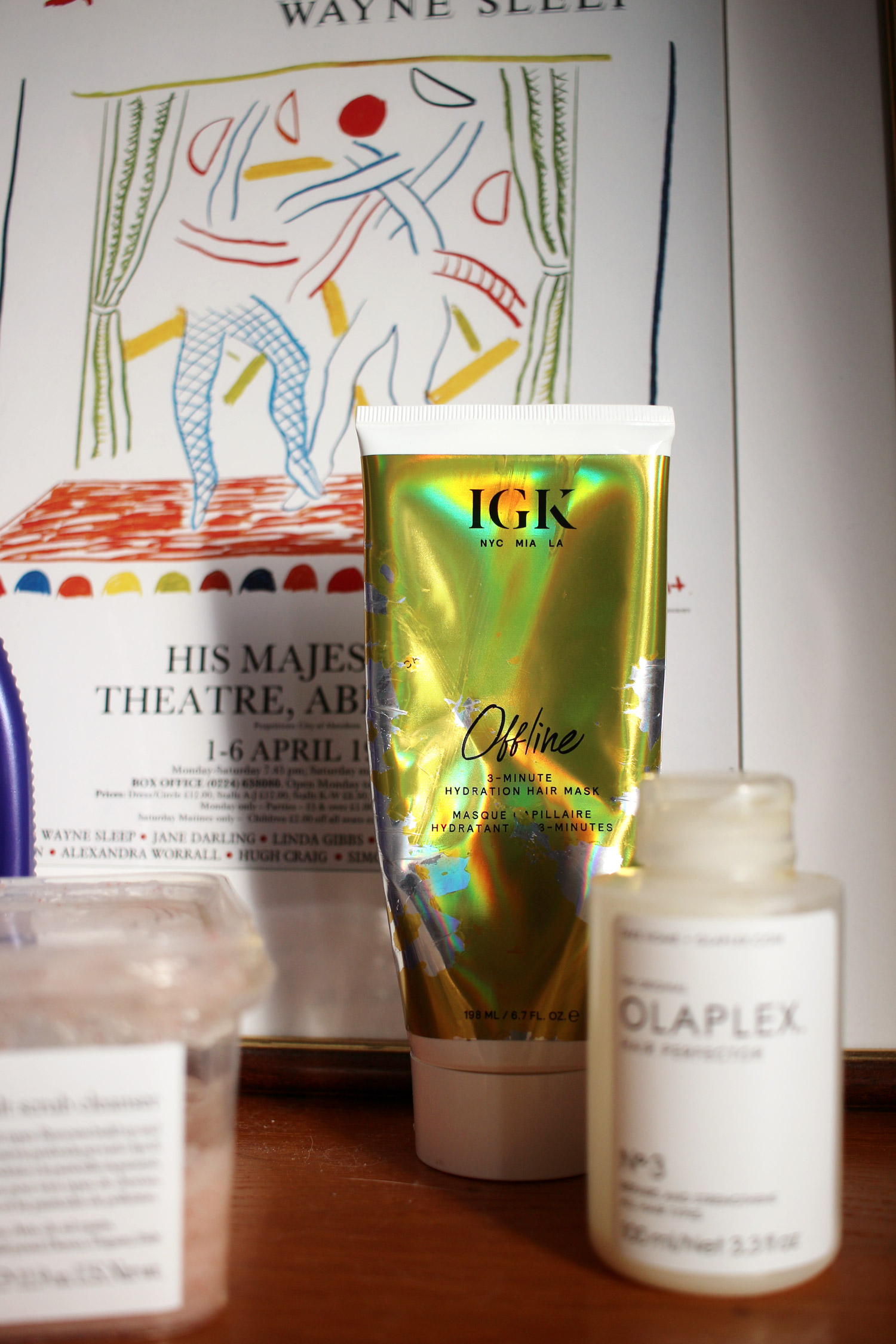 Once Per Week Treatments
Doing treatments regularly has definitely been the best thing for my hair. Historically, I've been the most lazy person when it comes to actually looking after my locks. A mask would be used when I remembered (maybe once every month) and I would use heat tools on it every single day.
Now, I use a treatment such as Olaplex No3, which you put on before shampooing, once a week or so to keep my hair in good condition. It really does make your hair feel stronger and thicker and it always has more 'swoosh'. I tend to pop about 2tbsp through my hair and leave it for 10 minutes - sometimes overnight - then wash out. It's honestly worth the hype!
If my hair needs a bit more than a standard conditioner, I'll use the IGK Offline 3 Minute Hydration Mask. It does really work to make your hair feel super soft and hydrated. The packaging needs a bit of work, as getting it wet makes it come off, but the product inside is genuinely great.
Another product I'll use occasionally is the Davines Solu Sea Salt Scrub Cleanser which is a scalp scrub. It has a gritty, chunky texture but doesn't feel rough on your scalp. I'll sometimes use it alone (it lathers up) or mixed with a tiny amount of shampoo for a really deep cleanse. It's perfect if you've used a lot of styling products or dry shampoo and your hair needs a bit of a deeper clean.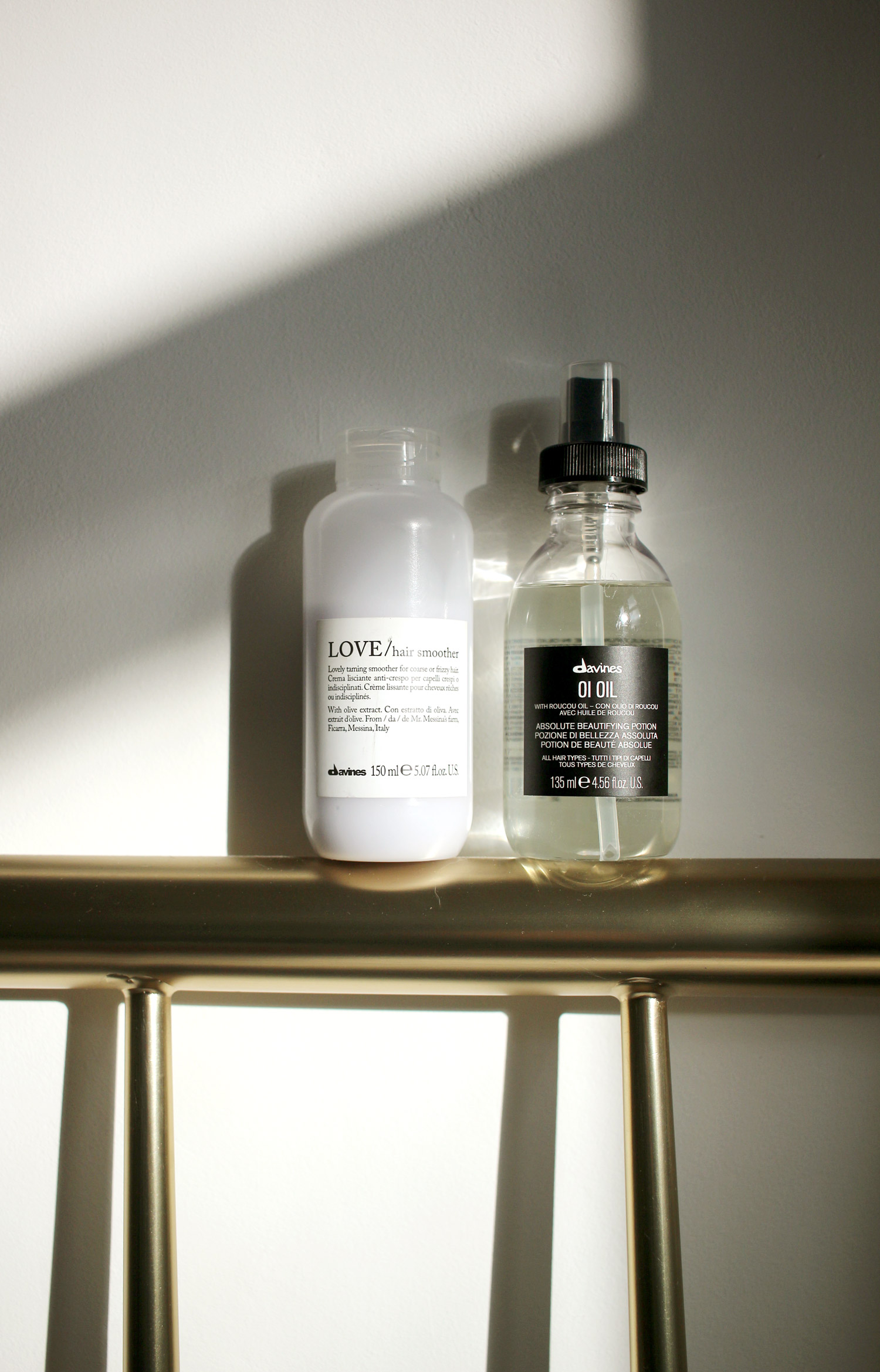 Leave In Treatments
Another important part of my routine is the products I put in my hair just before I dry it. I've tried many, many treatments over the years and I'm not often very loyal to them, but these two are definite repurchases. First is the Davines Love Hair Smoother which, on paper, isn't a product I would go for as it's designed for coarse hair which I don't have. However, it's so good! I use a small amount through the ends of my hair and a little bit at the front and it really works to tame frizz without making your hair feel heavy or sticky. If you have frizzy hair, I would totally recommend this!
Next is the Davines Oi Oil which is a new one to me but I've used it a few times now and it's love at first application. I've used the Davines Oi All In One Milk over the last year or so (just finished the bottle!) but this one is a slightly more intense version. Again, it's not heavy and it doesn't make my hair feel greasy. It just leaves it soft, shiny and the ends feel hydrated. The Oi range also smells absolutely amazing, so I'd suggest picking it up if you're after a new leave-in treatment.
So that's my haircare routine. It may look like a lot of products, but the one a week treatments and the leave in treatments last a very long time. I wash my hair around twice per week, so it takes a little while to get through shampoo and conditioner too. Since I have stuck to a routine - as well as reducing the amount of heat I use on my hair - it seems to be much better. Even my hairdressers commented on it in July when I last got my hair done!
What do you like to use on your hair?