Although I did my what's in my bag post not too long ago, it did get me thinking of the essentials that I always take from bag to bag. Do any of you always lug the same things around? I recently swapped some things over to my Gucci Soho Disco Bag so I thought I'd run through it all…
A Purse | Obviously an essential if, you know, you want to do anything. I got a new Michael Kors Jet Set Wallet style purse recently and it's totally the perfect size for all of your cards, coins and notes! I love the slim, black leather design and the Saffiano finish means it won't get marked easily, either. Ideal!
Beauty | I pretty much always carry the following around: Lip balm (hey Roaccutane), a lipstick (or 10), a powder (when I remember) and some sort of perfume (depending on how I'm feeling). So, to start, I've become a bit obsessed with the Lanolips Golden Dry Skin Salve, even though the tube is quite big it's totally worth carrying around to soothe my super dry lips. My current lipstick of choice is Charlotte Tilbury Matte Revolution Lipstick in the shade 'Amazing Grace' which is a bright coral, but I do have the habit of carrying round so many. I do try and carry a powder round with me as I wear super hydrating foundations etc during the day, I love the Chanel Les Beige Powder! Aaand finally, I have a handy purse-friendly scent which is the beautiful Narciso Rodriguez 'Narciso', a pretty light, floral scent for Spring.
The Other Stuff | There's always the things people fail to mention in their pretty flatlays and that's all the junk you just shove in your bag without thinking. The receipts, the tangled headphones, maybe my keys if I remember them, the odd coins, the endless packets of chewing gum and the Boots card you swear you'll add your points too when you can be bothered. We all do it, ain't no shame in your messy handbag game.
What essentials do you always carry around?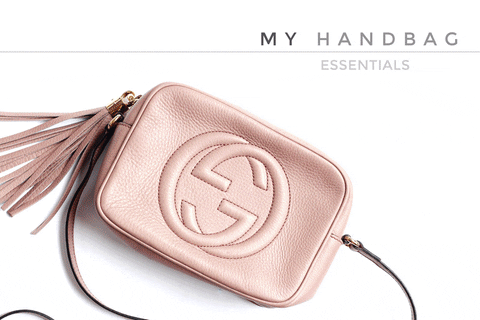 Helen x