This post has been a collaboration with Desenio
So, let's have a chat about my livingroom...
I would say this room is where I spend most of my time. Even though I have an (unfinished) office, a desk and an iMac, I still prefer to work from the sofa a few days a week and catch up on some tv in the background. It's cosy and is probably one of the most finished rooms of the house, even though it's definitely still lacking ...something, but it's not a race and I'll figure out what I want eventually!
The parts that are finished are some of my favourites, however, including my gallery wall, my coffee table and my bookcase. So, that's what I'm going to talk about in today's post!
My Gallery Wall
Let's start with the gallery wall which I've recently redone with the help of Desenio. You may remember my last set of prints which I put together a year ago, well, I thought it needed a bit of an update for Autumn. I loved the blue and gold combination, but warming up the space by changing the colours and frames has really made a difference.
I knew I wanted to go for green as a prominent colour, so I picked some natural prints with lots of nature, landscapes and some complementary illustrations. I'm obsessed with the peony print and the vintage fruit prints, as well the shoreline and line drawings. Alongside green, some yellow/orange tones, pink, black and white all worked well together so they're the shades I settled on (although I didn't originally set out with this intention, but it resulted in a good combination!)
I also went for wood frames as I felt like they complemented the natural vibes well. The black/white/gold ones I picked before were beautiful, but the wood makes the room feel warmer and also matches the rug and other accents in the room. I love the selection available at Desenio as you can get everything (prints and frames) in one pace. They also have a great inspiration section too, if you're feeling a bit stuck.
Desenio have been kind enough to send over a discount code for you to use for the next few days too -
Use the code "thelovecatsinc25" to get 25% off posters* between

August 28th and 30th

.
*Except for frames and handpicked-/collaboration posters
Photos from left to right: pink peonies on green, line drawing, dark peonies, Tuscany hills, vintage peaches, vintage pear, line drawing 2, vintage palms, eucalyptus branches and crowded beach
Tips for Creating a Gallery Wall
01. Find A Colour Scheme That Fits
I always find that picking a few different colours - even if the additional shades are black and white - is a great way to get more longevity out of a gallery wall. I went for the shades I did, as I know I could get yellow, orange, green, nude tones or pink in accessories (ie cushions etc) and it would still all go together. Plus, picking a different accent colour is a great way to update your space without having to change the artwork.
02. Choose A Theme (or Two)
Whether you like one style or want to mix and match, you'll be surprised what goes together. Vintage prints, florals and illustrations were my theme of choice, but make sure you have a good browse and explore all options before settling on a range of prints.
03. Plan it Out
I tend to take to Photoshop for this, but you can use something as simple as Paint or a free collage builder to create your dream layout. I tend to work with the colours in sections, alternating between lighter and darker prints or spacing out the prominent colours, to create more flow. Keep note of this plan too, including what frames match which print if you're opting for a variety, as you'll need it later.
04. Pick Your Frames
Frames can make a huge difference to how a print looks. I went with complementary wood for mine which I love but brass, colour or black/white can look great depending on the print. If you've got a mostly white print, opt for wood or black to make it really stand out.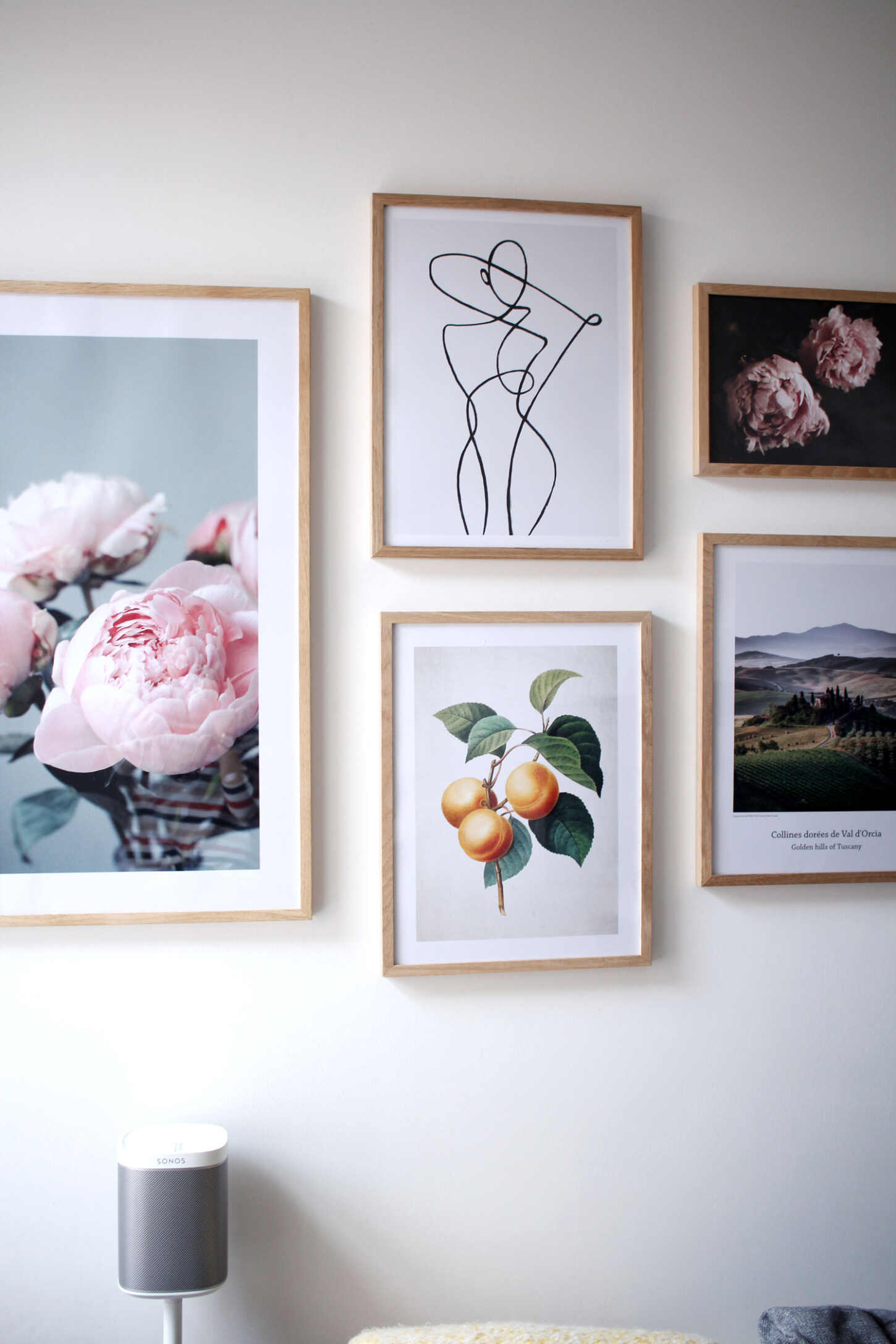 Use the code "thelovecatsinc25" to get 25% off posters* between

August 28th and 30th

.
*Except for frames and handpicked-/collaboration posters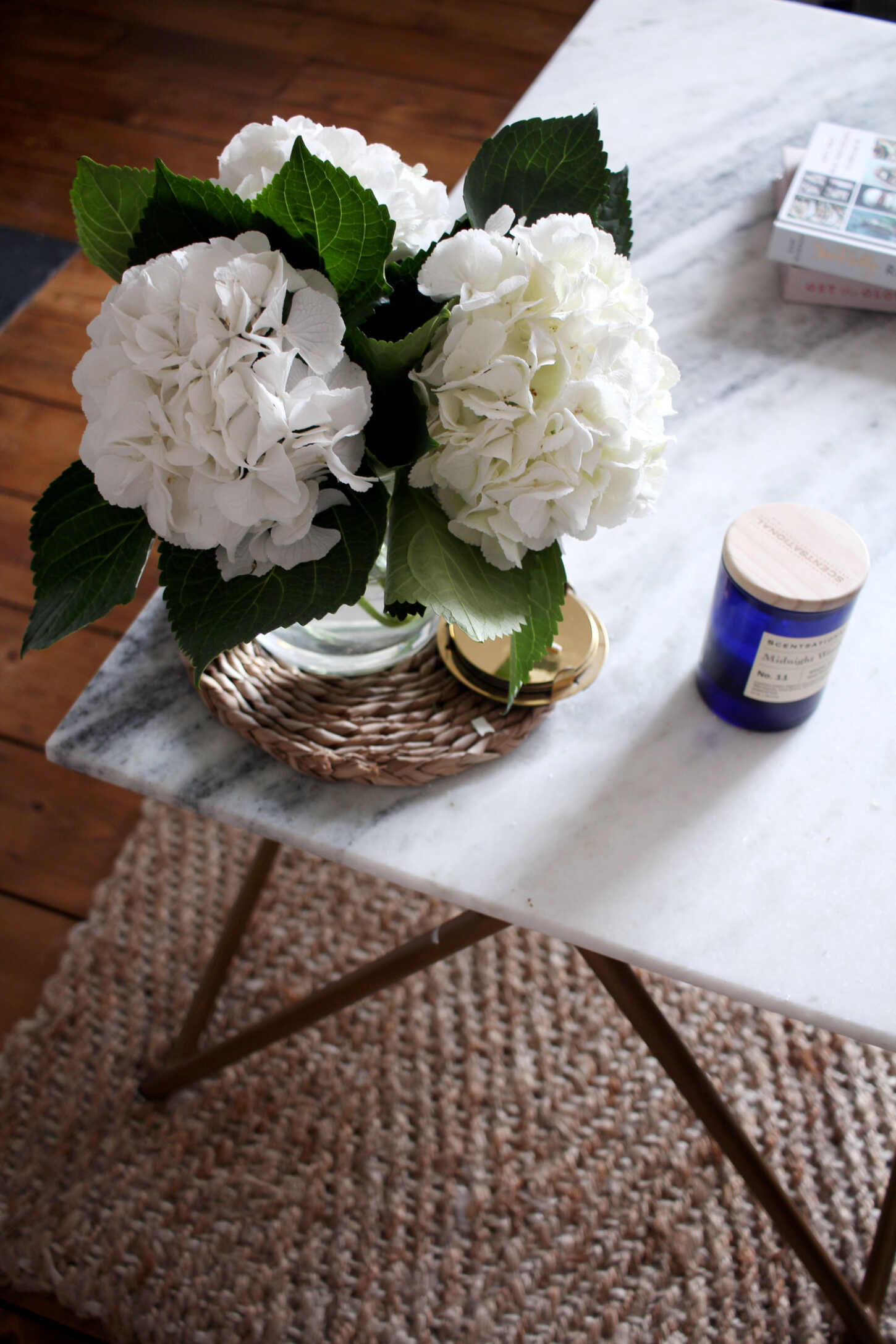 The Coffee Table
I'd love to have one of those beautifully decorated coffee tables with books and masses of candles and multiple flowers, but I just can't seem to do it. Not only does Phil hate having anything in the way of the tv (eye roll) but we don't have a dining table, so often place plates etc on here.
So, although there isn't much to look at, I deliberately picked a pretty coffee table as a base and what's better than marble and brass? I opted for a natural rug underneath too and, despite cats occasionally using it as a scratching post, it has stood up really well for the 9 months or so that I've had it. I love the combination of the two!
On my coffee table I always have some sort of flowers in the corner. I love hydrangeas as they're currently in season, so I make it my mission to hunt them down whenever I'm in M&S. They last for a good two weeks, too, so they're worth picking up! Along with flowers, I always have a candle (currently Midnight Woods by Scentsational - via TK Maxx - which smells like plum and is simply delicious) and tend to burn it for a few hours every other night.
Finally, I usually have some form of book, whether this is my latest read or a cookbook (or 2... or 5) and I'm currently working my way through a stack of new vegetarian recipes. I may put together a new post on my favourites soon, as I've come across some amazing eats!
The Bookcase
I really struggled to style this bookcase at first, as I've got, well, too many books. When I was doing some Pinterest research, a lot of the *pretty* bookcases I saw were mostly decorative items and hardly any actual books, so I had to come up with a compromise between the two.
I tried to go for small sections of books in similar (ish) colours to create individual colour themed chunks, then blended this in with the surrounding objects. I also worked in rules of 3 across each shelf to create a bit of balance and I'm pleased with how the little restyle I did the other day turned out!
The cookbooks aren't exactly how I'd like them to be, as they're too colourful to really hide, but the rainbow effect across the bottom shelf does look cute! I'm hopefully going to wall mount the xbox behind the tv, too, so that will give me more space for actual pretty objects instead of a giant hunk of plastic (the xbox is mine, btw, but it's ugly).
So, that's a little glimpse into my livingroom. There's still a lot of work to do and I wish I could get rid of the cat tree from the corner you haven't seen, but it's all a work in progress!