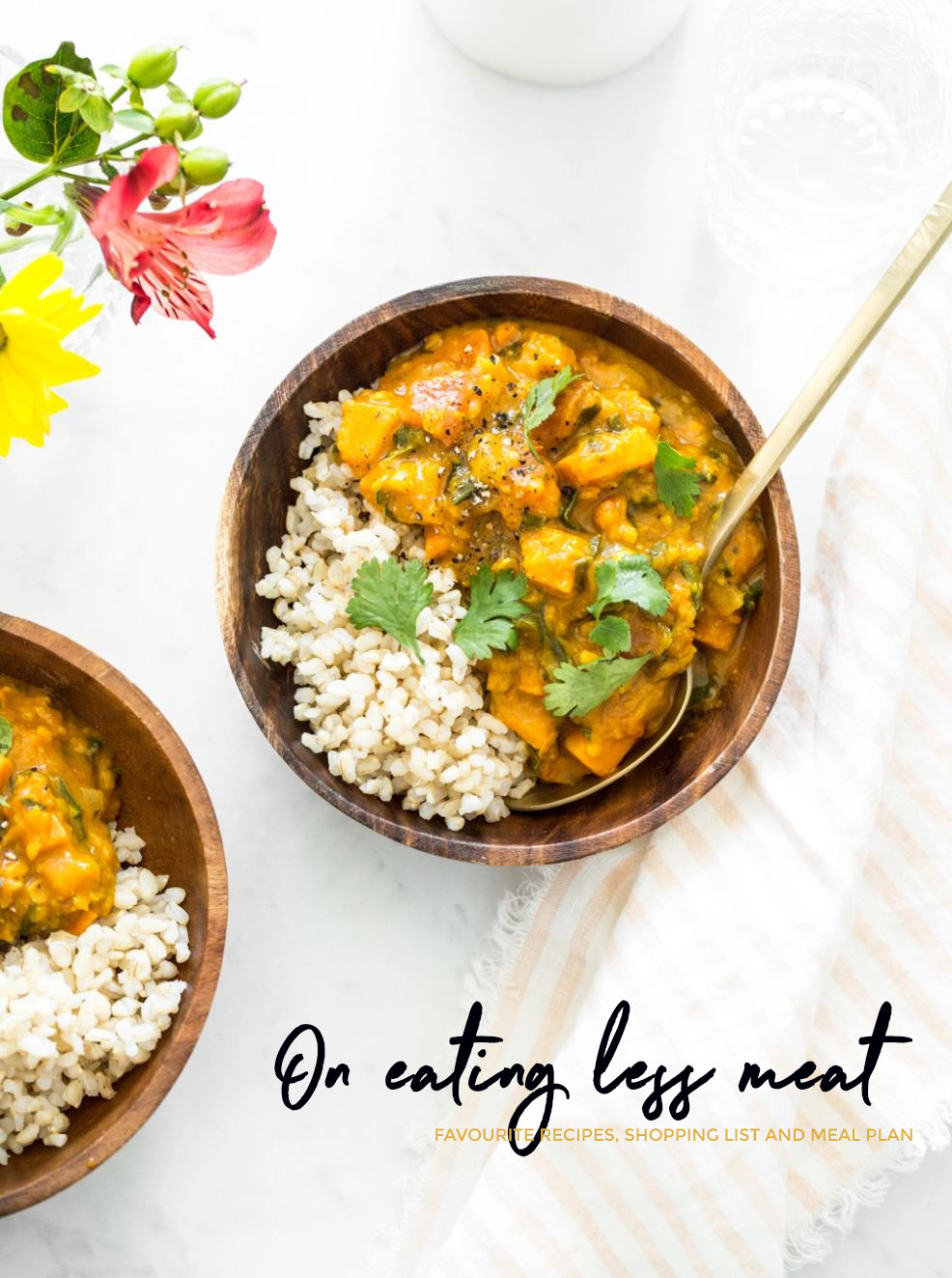 ^ Image from Tuesday's recipe linked below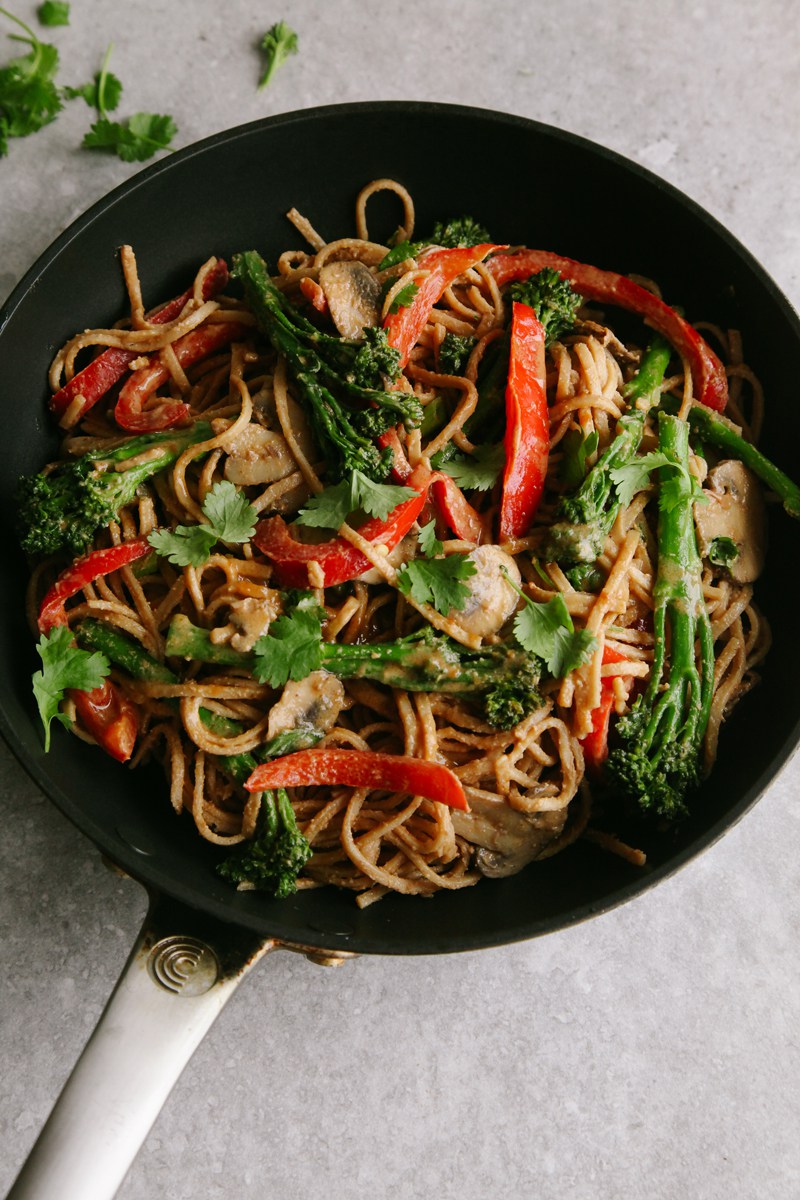 ^ Image from Thursday's recipe linked below
You may have seen me talk about this on Twitter, but for the last month or so (maybe two now) I haven't cooked any meat at home and have only been cooking vegetarian recipes. There were two things which sparked this off: 1) I had a steak in a restaurant and, although I love steak (and rare steak, too), I just became very acutely aware of what I was eating. It made me feel gross, if I'm honest. 2) Phil decided he wanted to eat more vegetables so could we please try out more veggie mains for our evening meal? Of course, I said.
And that's how it began. I stopped adding chicken and beef to our weekly shop and did a lot of research into vegetarian (and vegan) meals. I know this sounds silly, but I do feel like a lot of people fall off the meat-free bandwagon because they just don't know what to cook. I'll admit, it was occasionally a struggle and all I wanted was some damn chicken satay, but planning out your meals is honestly the best thing you can do to stay on track.
It helps you save money and use up everything in your fridge in one go. How many times have you bought some veggies and either not been able to use them all or found them at the back of your fridge a few weeks later? I have been guilty of that in the past, but no more! Since switching to vegetables, I can get my weekly shop for roughly £25 for two people (if I go to Lidl and have basics like pasta, rice, chopped tomatoes etc already in) which is pretty darn good I think!
So, in today's post, I want to talk about how I plan out my meals - with a 7 day guide and shopping list - as well as some of my favourite recipes that I've come across to help you add some more vegetarian meals to your week!
Photo from Saturday's recipe linked below

FRESH
2 x white onions
2 x red onion
1 x large garlic bulb, you'll need about 8 cloves in total
1 x piece of ginger, I get the pre-chopped stuff and keep it in the fridge (it lasts for ages)
3 x red peppers
2 x aubergines
1 x butternut squash
2 x large sweet potatoes
2 x courgettes
1 x packet of cherry vine tomatoes
1 x large packet of mushrooms
1 x packet of tenderstem broccoli (you can get frozen to save money)
2 x spring onions
1 x bag of spinach
2 x limes
1 x packet of soft goats cheese
1 x small tub of cream
1 x packet of extra firm tofu (like tofoo)
1 x ball of mozarella
1 x small tub of yogurt (I prefer garlic dip for the burger topping!)
1 x tub of salsa
CUPBOARD
1 x tin of kidney beans
1 x tin of chickpeas
1 x tin of chopped tomatoes
1 x carton of passata
2 x tin of coconut milk
1 x small packet of red lentils
1 x tube of tomato paste
1 x packet of lasagne sheets
1 x packet of noodles (soba or medium, nothing too thin)
1 x packet of pasta (farfalle, the bow shaped one)
1 x small bag of couscous
1 x small bag of rice
1 x small tub of peanut butter
1 x packet of four vegetable stock pots (or vegetable stock cubes)
1 x jar of red thai curry paste
1 x jar of white sauce for lasagne (or you can make your own)
HERBS & SPICES & THINGS YOU MAY ALREADY HAVE
Ground: Chilli powder, tumeric, cumin, cayenne pepper, coriander, cinnamon
Oils and sauces: olive oil, sesame oil, soy sauce, Sriracha, harissa paste
Herbs: fresh coriander, fresh parsley, fresh basil
Extras: 1 x egg, bread (small loaf), 2 x buns for burgers, butter
A Few Notes
It may seem like a lot, but when you break it down it really isn't! It also depends where you shop too. If I got to Lidl, all of the fresh stuff will cost me around £18, if I go to Tesco it would probably be roughly £25+. If you're vegan and want to remove the dairy, it would cost you roughly £4-5 less.
A lot of the cupboard items are reusable, so you'll have rice/pasta/couscous to use for the next week. If you shop in the world food aisles of supermarkets, you'll find things like coconut milk (I know it's 50p in Morrisons, but can cost up to £1 in other aisles), chickpeas and chopped tomatoes for less. The cupboard section should cost around £15 depending on where you shop, but like I say you can use 9/16 of those items again. So, in future, it would cost around £5 to replace the non-reusable ingredients.
As for the herbs etc, you may already have a lot of these in your cupboards already. I always have a fully stocked spice cupboard and I wouldn't be without it! If you don't have any of the spices or oils etc, it may cost another £10, but they'll be there to use for months to come and they're very versatile! I always have fresh herbs in my fridge too, typically coriander, basil and parsley, as they make a big difference to flavour in vegetarian cooking!
Photo from Friday's recipe to the right
I'm just going to talk about evening meals, as I tend to have the same things for breakfast (porridge, buy one large bag and it'll last you ages!) and either soup (5 for £3 Heinz tomato) or leftovers for lunch! I'll chat through each recipe and what I use to make it work for two people. You can leave some ingredients out to save you money and still get the same taste, which I have done below:
MONDAY: Mexican Bean Burgers with Lime Yoghurt and Salsa
This is a really straightforward recipe. You can also use spices like paprika and ground coriander to make it have a stronger taste. You could also mix half kidney beans and half chickpeas if you wanted to. I use the following for two people:
1 tin of kidney beans, 50g breadcrumbs, 2 tsp chilli powder, fresh coriander, 1 egg, 70-100g salsa (preference), 50ml yoghurt, juice of 1/2 lime, 2 burger buns. Serve with sweet potato wedges or chips.
Does it make leftovers for lunch: No
TUESDAY: Cosy Butternut Squash, Sweet Potato and Red Lentil Stew
This one is deeeelish. I cheated on this one and used a pre-chopped soup mix instead of chopping up the butternut/sweet potatoes - it saves about 15 mins of prep and costs about £1 from Tesco. For two people I used the following:
Olive oil, 1 onion, 2 large garlic cloves, 1 bag of pre-chopped butternut/sweet potato (600g total), 500ml vegetable stock, 1 tin chopped tomato, 50g red lentils, 2 tbsp tomato paste, 1 1/2 tsp tumeric, 1 1/2 tsp cumin, 1 tsp chilli powder, cayenne pepper if you like spice, 2 large handfuls of spinach, fresh coriander. Serve with rice.
Does it make leftovers for lunch: Yes, 2 portions
WEDNESDAY: Moroccan Vegetable and Chickpea Tagine
I've made this loads of times and it's really simple but full of flavour (I double the spices though). For two people (and enough for lunch the next day) I used:
1 red onion, 2 cloves of garlic, 1tsp cumin, 1 tsp coriander, 1/2 tsp cinnamon, 1 red pepper, 1 courgette, 1 aubergine, about 8 cherry tomatoes, 1 tin of chickpeas, 250ml vegetable stock, 2 tbsp harissa (more if you like heat). Serve with couscous.
Does it make leftovers for lunch: Yes, 2 portions
THURSDAY: Spicy Tenderstem and Peanut Stir Fry
I've made this 3 or 4 times now and I love it, it's so quick! I add lime at the end and you can add tofu too. For two people I use:
Sesame oil, 100g broccoli (I hate the stuff, so just do enough for one person), about 8 mushrooms chopped, 1 red pepper, 2 spring onions chopped, fresh coriander, soy sauce, peanut butter, sriracha. Serve with noodles, I add tofu and lime (a squeeze at the end).
Does it make left overs for lunch: No, depends how much you make though
FRIDAY: Thai Red Curry
I used to make this with chicken and prawns a lot, but it's tasty with mushrooms, peppers and tofu! For two people:
1 onion, 2 cloves of garlic, ginger, 1 red pepper, about 8 mushrooms slices, 3 tbsp red thai curry paste, 1 tin coconut milk, soy sauce, as much tofu as you want, juice of 1 lime. Serve with rice.
Does it make leftovers for lunch: No, depends how much you make though
SATURDAY: Mushroom Pasta with Goats Cheese
I've made this loads and I love it, it's so indulgent, quick and delicious! I leave out the wine, the broth and the parmesan, For two people:
150g pasta (I always use 75g per person), 2 tbsp butter, olive oil, about 10 mushrooms, 2 large cloves of garlic, 60ml cream, large handful of spinach, goats cheese.
Does it make leftovers for lunch: No
SUNDAY: Roasted Vegetable Lasagne
A staple recipe for me. I use the same vegetables as the tagine in this one, plus sweet potato and spinach to pack more veg in. If you have any other vegetables left, then chuck them in! I do my layers as follows: vegetables, tomato sauce, lasagne sheets, white sauce, few chunks of mozarella - I can usually repeat this 3x and add extra grated cheese to the top.
1 pepper, 1 aubergine, 1 medium-large sweet potato, 1 medium-large courgette, 1 red onion, a bunch of cherry tomatoes (you will have about half a packet left), spinach, 1 carton passata, about 8 lasagne sheets, 1 jar of white sauce, 1 ball of mozarella, cheddar cheese and basil for the top.
Does it make left overs for lunch: Yes, 4 portions (You can freeze it)
I have tried and tested all of these recipes and must admit, they're all pretty delicious. When I'm planning my meals for the week, I tend to cook one or two favourites and then try five-six new recipes. I'm still learning how to do this whole vegetarian-at-home thing, so trying new things is top of my list right now - plus I love cooking!
Satay Curry
I replaced the chicken with tofu and mushrooms and it worked just as well. I adore this recipe, it has so much flavour and tastes very authentic!
Halloumi and Coleslaw Wraps
I've made variations of these for years, but you can't go wrong with a classic halloumi wrap! You could add left over roasted vegetables instead of coleslaw too.
Bean Enchiladas
These are simple to make and are a definite comfort meal. I really liked them! You could do a mix of beans, chickpeas and lentils.
Mushroom Stroganoff
I used to make this with the beef added all of the time (it's delicious, I can't lie), but I recently made it with just mushrooms and it was totally fine. Follow the same recipe, but just omit the meat. Serve with roasted potatoes and veg, like broccoli.
Vegetarian Ragu
I have made this one before, but I also make one with goats cheese. You basically just chop up a bunch of veg, put it in a pan with vegetable stock, chopped tomatoes, dried herbs (italian) and add basil and goats cheese at the end - delish!
Roasted Vegetable and Tomato Risotto
I can never cook risotto rice properly, but the flavours in this are rather delicious!
Spicy Vegetable Chapati Wraps
I've made this one lots of times - I once made it two days in a row! It's really easy and packed with flavour, I really love the yogurt on the top too as it makes it have a moreish, creamy texture.

I think it can be hard to be inspired when it comes to cooking veggie meals if you're used to eating meat. I struggled with the whole meat-carbs-veg thing, as I thought how can I replace the meat with more veg? If you get me. Instead of opting for meat replacements (ie Quorn), I just focus on recipes that are all vegetables which I think works well! So, here's some of my favourite websites and cookbooks for inspiration -
WEBSITES
BBC Good Food | A bit of a classic, but they do have a lot of vegetarian recipes on there. The 'quick and easy' section has helped me when I've been stuck for both time and ideas, plus there's so many different sections to browse through for different meals. I think I might try these vegan chickpea curry jacket potatoes next.
Olive Magazine | This site has oh so many vegetarian and vegan recipes to try! I've bookmarked a bunch of them to try, such as this halloumi toastie, baked courgettes, lentil meatballs and roasted butternut squash.
Wallflower Kitchen | I love the easy recipes on this site, as it makes vegan cooking seem so simple instead of seeing lists of off-putting health-food-store items. I'm trying these pannini's next.
Pinch of Yum | I absolutely adore this site. There's so many vegetarian meals to choose from and everything I've tried has turned out nice so far. I'll try these 30 minute meatballs next I think.
Jamie Oliver | There's loads of vegetarian recipes on this site. Some are a bit of a faff, but others are very simple and easy to do! I might make this aubergine parmigiana next.
COOKBOOKS
Get The Glow by Madeleine Shaw | I love this one. It does have meat in there, but there's a healthy dose of vegetarian things too. I've made her tomato and lentil soup a dozen times and it's oh so good.
Such a short list, but I tend to take a lot of meat recipes and then adapt them to be veggie. I really like the Hairy Bikers books, a lot of Jamie Olivers ones, the Roasting Tin and and more!
-------------------------------------------------------------------------------------------
DISCLAIMER: I really wanted to take my own photos of the food I'd made, but it's so dark on an evening and I usually don't make tea until after 7pm, so I really struggled with this one! I did take some pics, but they turned out rubbish, so apologies for using the original bloggers pics, but if I didn't, this post would never end up being live! I do always post pics on Twitter or my Instastories so feel free to follow me on there for my daily meals :)