- Where and What we ate in New York -
New York is overwhelming in its choice of food. There's restaurants everywhere, down every single street, dozens of coffee shops and diners and salad bars and breakfast places. They also cater for every budget, so you can spend a few hundred dollars or grab a $1 slice of pizza. I think we averaged at around $50 per meal, but only ate 1-2 meals per day as the portion sizes are pretty generous.
We visited quite a few places in the 6 days that were in New York, as well as ordered take out twice, so I wanted to share all of the restaurants and snack places we tried out to help you narrow down your choices if you're visiting!
Some reviews are glowing, some are not so and I wanted to be very honest so you can make a fully informed decision as there's nothing worse than wasting time and money on bad food.
Oh and if you haven't already read it, check out my hotel review of the place we stayed - the Hotel 50 Bowery.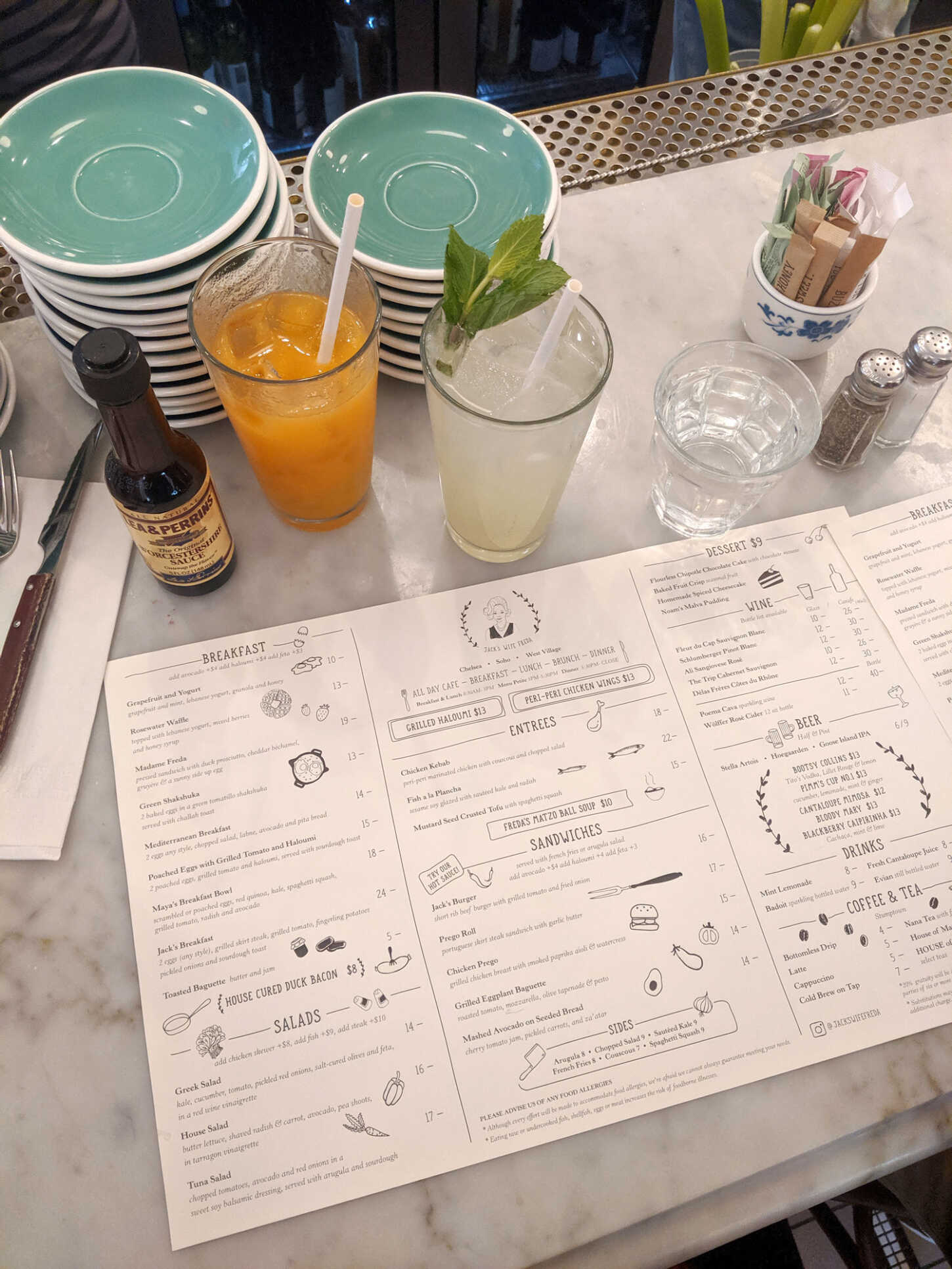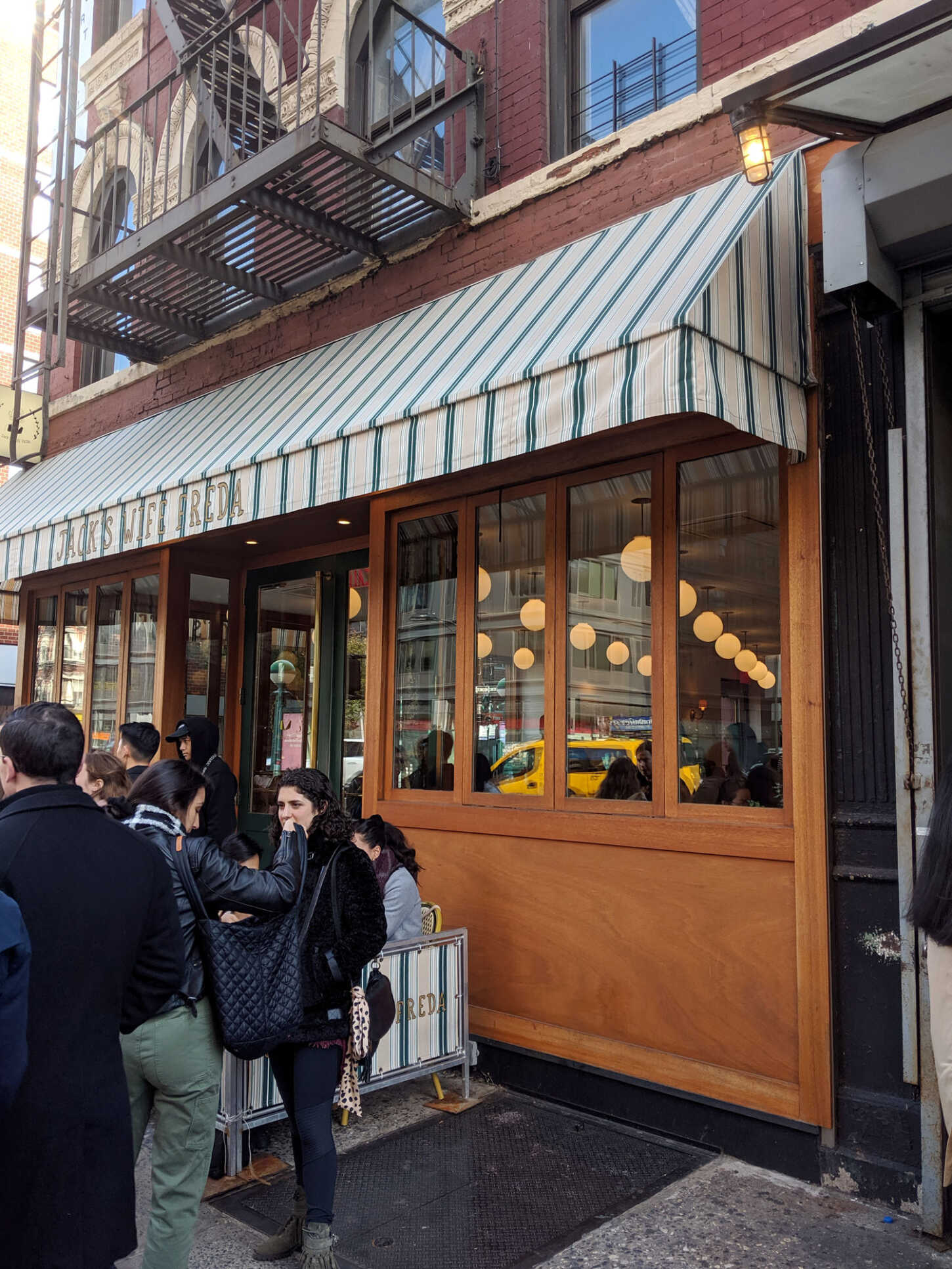 Jack's Wife Freda
Chelsea, 116 8th Ave, New York, NY 10011
Jack's Wife Freda was high on my list of places I wanted to visit as pretty much everyone recommended it to me. There are a couple of them in New York, but we went to the one in Chelsea for a early-ish lunch after wandering around for the morning. It was busy hence zero inside shots of the place, as every table was crammed and there was a queue outside. Two spots popped up at the bar, so we took them to skip the long line. It was a nice place to sit and there was always staff behind the bar, so you actually got served pretty quick.
For drinks, I got a mint lemonade ($8) which was the perfect sour and tasty wakeup call (I swear I had jetlag for the entire week) and Phil opted for the cantaloupe juice ($8) which had a very fresh taste and obviously looks beautifully vibrant.
For food, I went for the Madame Freda ($19) which was their version of a classic. It was a pressed sandwich with duck prosciutto, cheddar béchamel, gruyère & a sunny side up egg and it was absolutely delicious. Seriously one of the best meals I had in New York. They also brought over a pot of their bright green chilli sauce and honestly I need to make it myself as it was the nicest chilli sauce I have ever had! Phil had Jack's Burger ($16) which was a short rib beef burger with grilled tomato and fried onion, served with fries. He said it was a good burger, though he wished he had got something more exclusive to JWF as you can get a burger anywhere.
I would definitely recommend going to Jack's Wife Freda if you're in New York, but expect a wait for a table.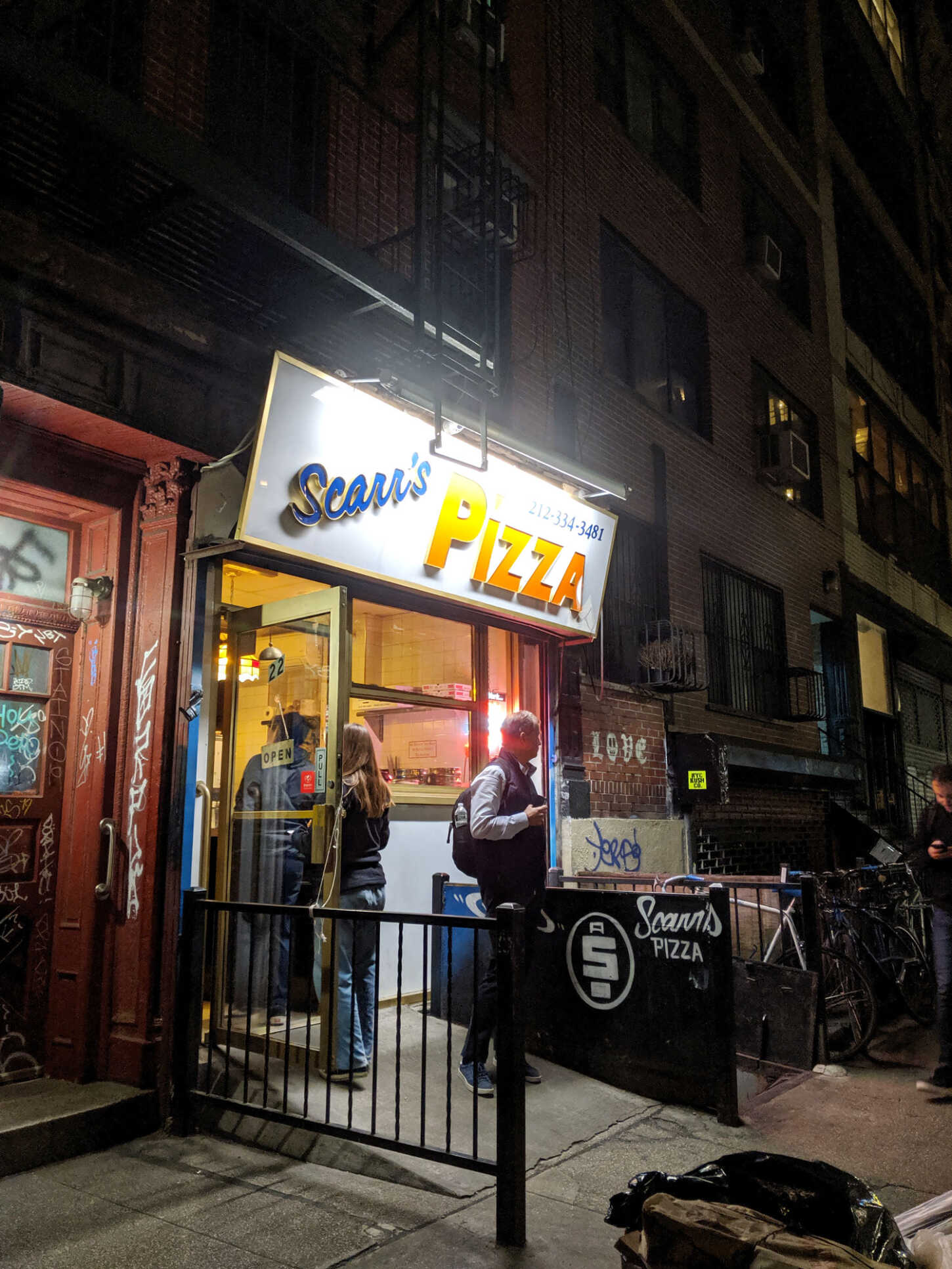 Scarr's Pizza
22 Orchard St, New York, NY 10002
This was a late night excursion simply because we felt like we hadn't eaten enough pizza and wanted more! It was only a 5 minute walk from our hotel and Scarr's Pizza was recommended to us by someone who lives in NY and has tried them all. They only had pepperoni pizza ($4 per slice) ready when we visited, so we got a slice and it was ok. It was very oily and greasy, but it was an alright slice.
I think this is when we concluded that New York pizza just wasn't for us haha.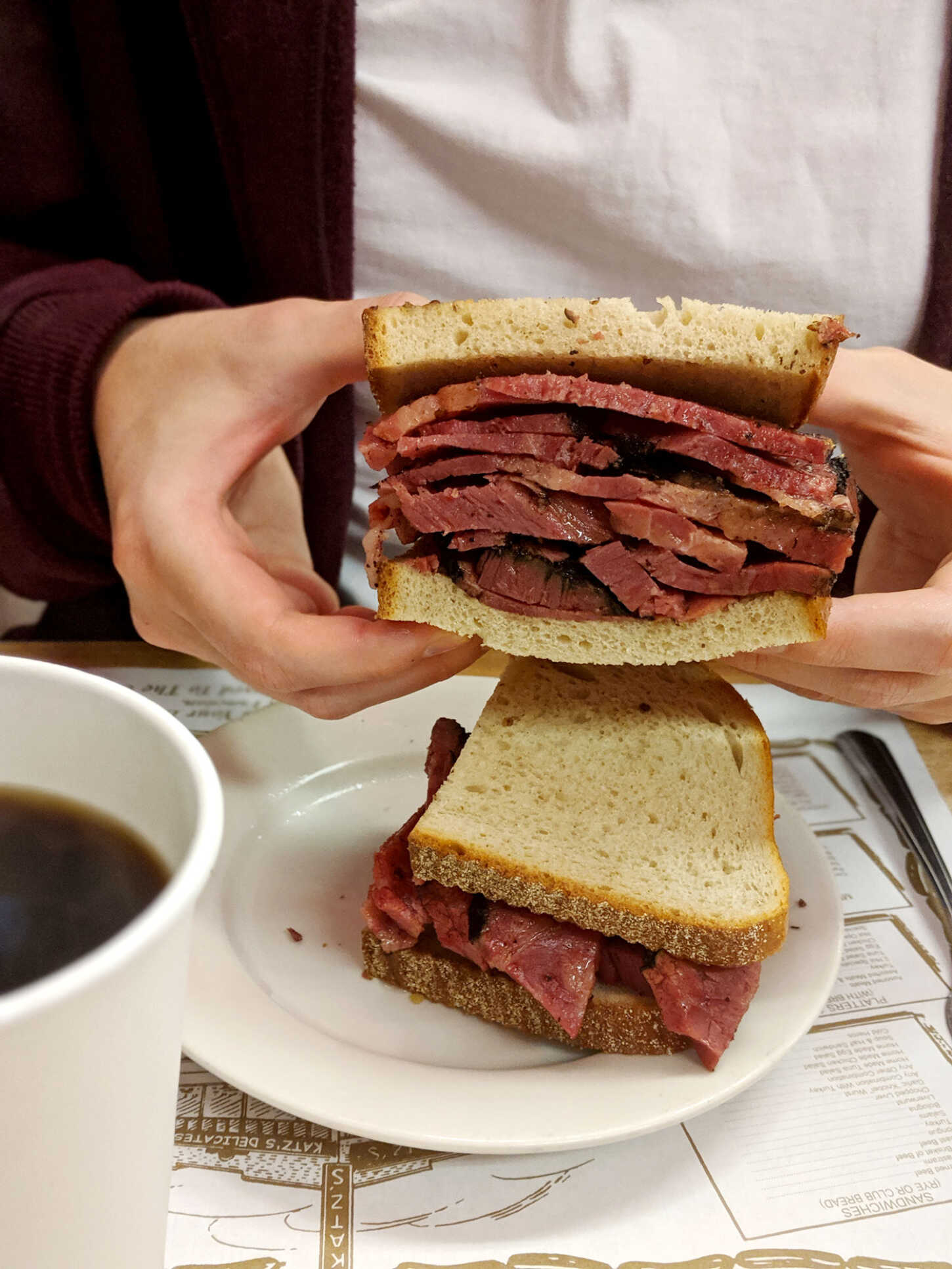 Katz's Delicatessen
205 E Houston St, New York, NY 10002
Ah, Katz's Deli. A bit of a NY institution and somewhere that was highly recommended as a place to visit, even just for the experience nevermind the food. It's a big, family style deli with dozens of tables and hundreds of photos and signs all over the walls. There's always a queue and you can choose whether you want to go up to the counter and order or have table service, so we opted for the latter as it seems a bit intimidating due to how busy it was haha.
There's one thing you'll notice about the sandwiches they serve: they are huge. Seriously, they could feed 2 people with one sandwich. Phil went for the classic Katz's Pastrami Sandwich ($22.95) and despite giving me a few slices to try, it was still the size of his head. It was a tasty sandwich though and the meat was very good quality. I got the Open Brisket Sandwich with steak fries and coleslaw ($25.95) which was ok. Brisket is brisket to me and I wish I had of opted for the one with gravy instead, as I think it would have been better. The fries were really good, but the coleslaw - America... we need to talk about your coleslaw - why is it sweet? It was disgusting, sorry. The bread was also very dry on both sandwiches.
The experience of Katz's Deli was cool and I liked the old fashioned vibes (it felt very NY!) but overall it was an ok meal. Would I go back? Nope. Would I recommend it? Maybe, but only if you fancy spending around $60 for two people on sandwiches.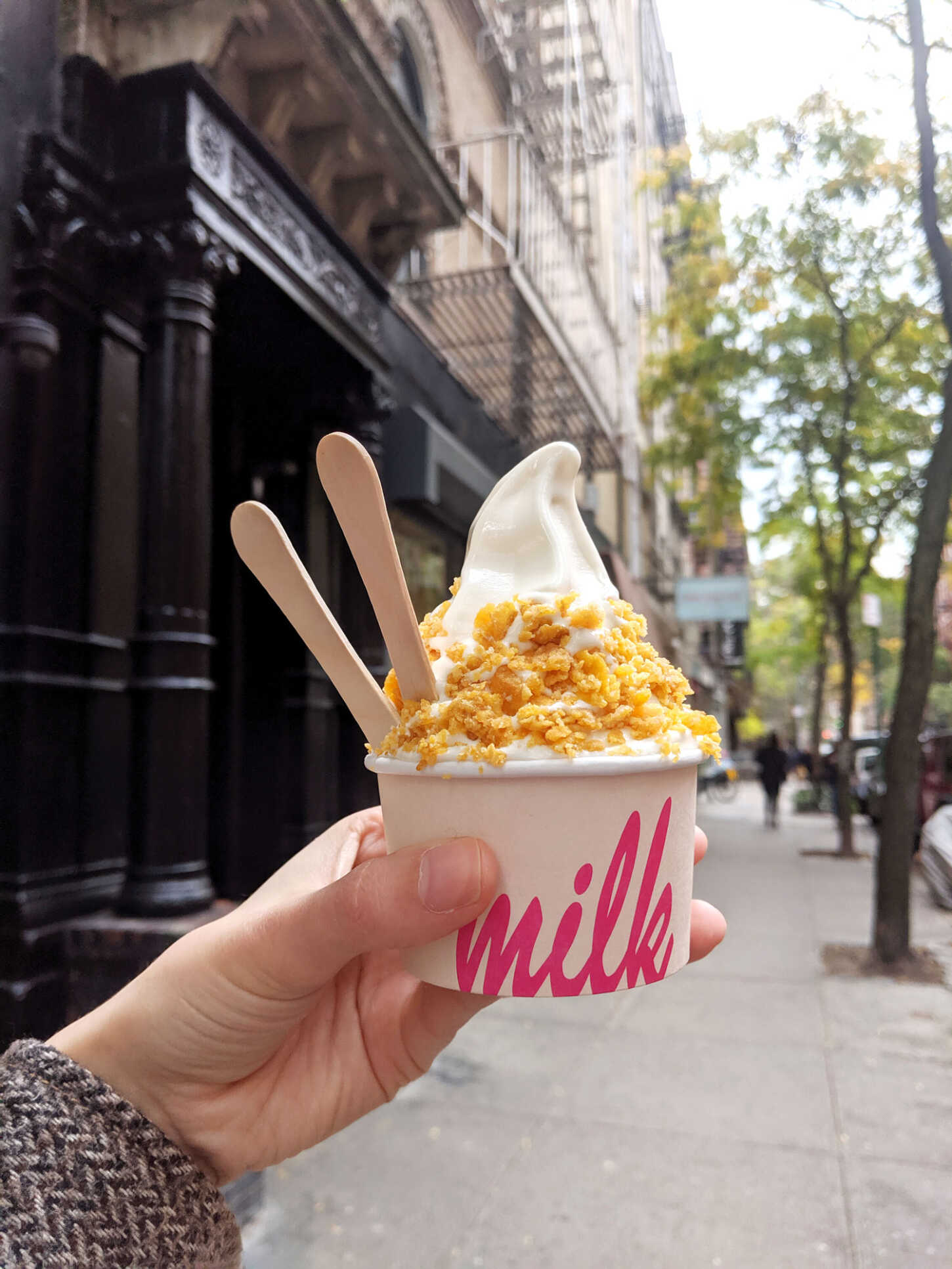 Milk Bar
246 Mott St, New York, NY 10012
Having seen it on so many Instagram shots, I dragged Phil to Milk for icecream as we were walking back to the hotel on the last day. I had high hopes for this cereal-surrounded ice cream (I think it was around $5), but it was average at best. I only managed to eat about half the tub, as I didn't think it was worth the calories. I knew it wasn't a vanilla ice cream, as it's more like the leftover milk you get with cereal, but it was a bit bland.
We also got 3 of their cookies - the milk chocolate, funfetti style and the double chocolate (I believe they were around $3-$4 each) and they were all good. I would recommend the cookies over the ice cream any day! Keep reading for the place I loved for ice cream...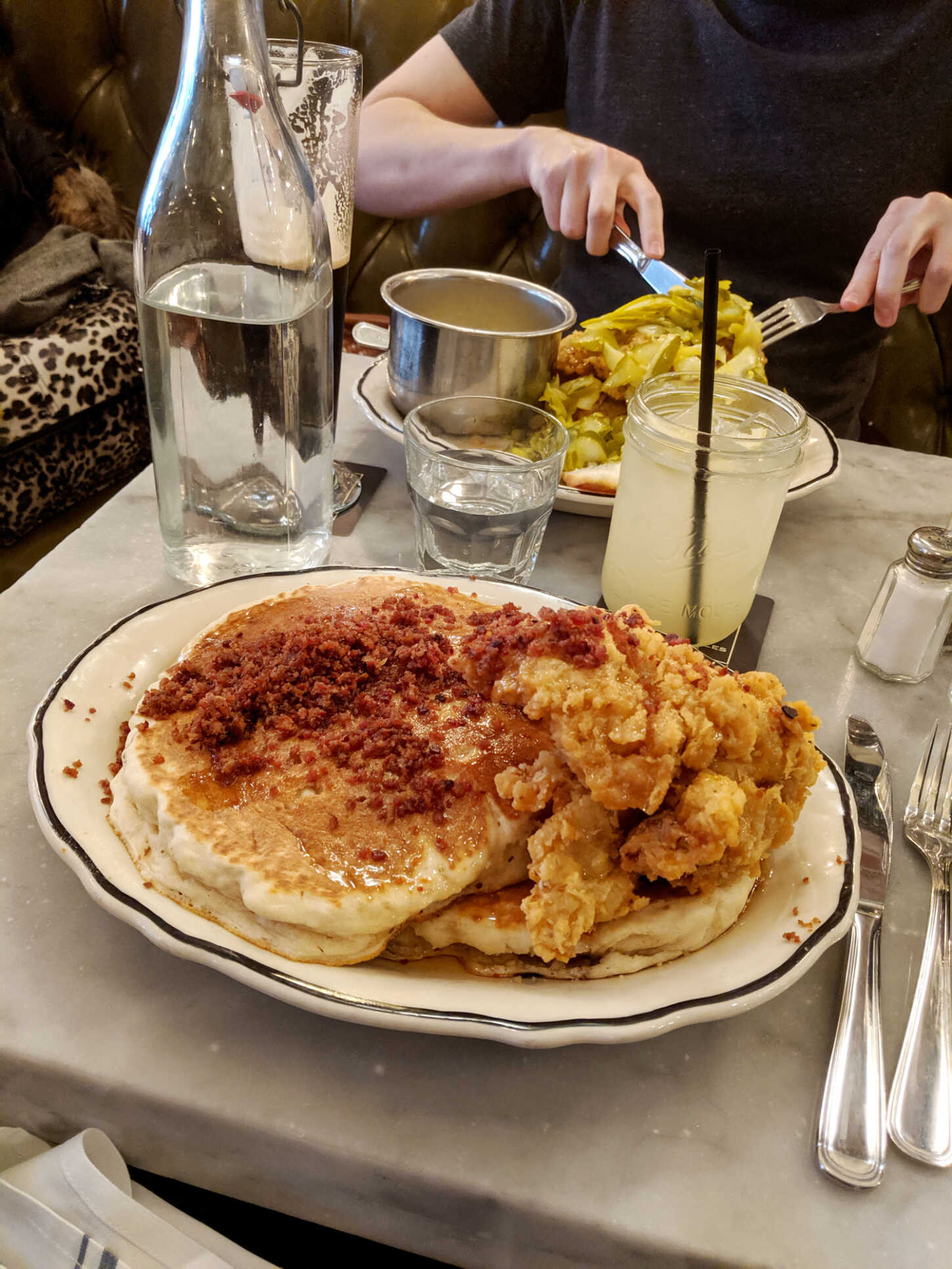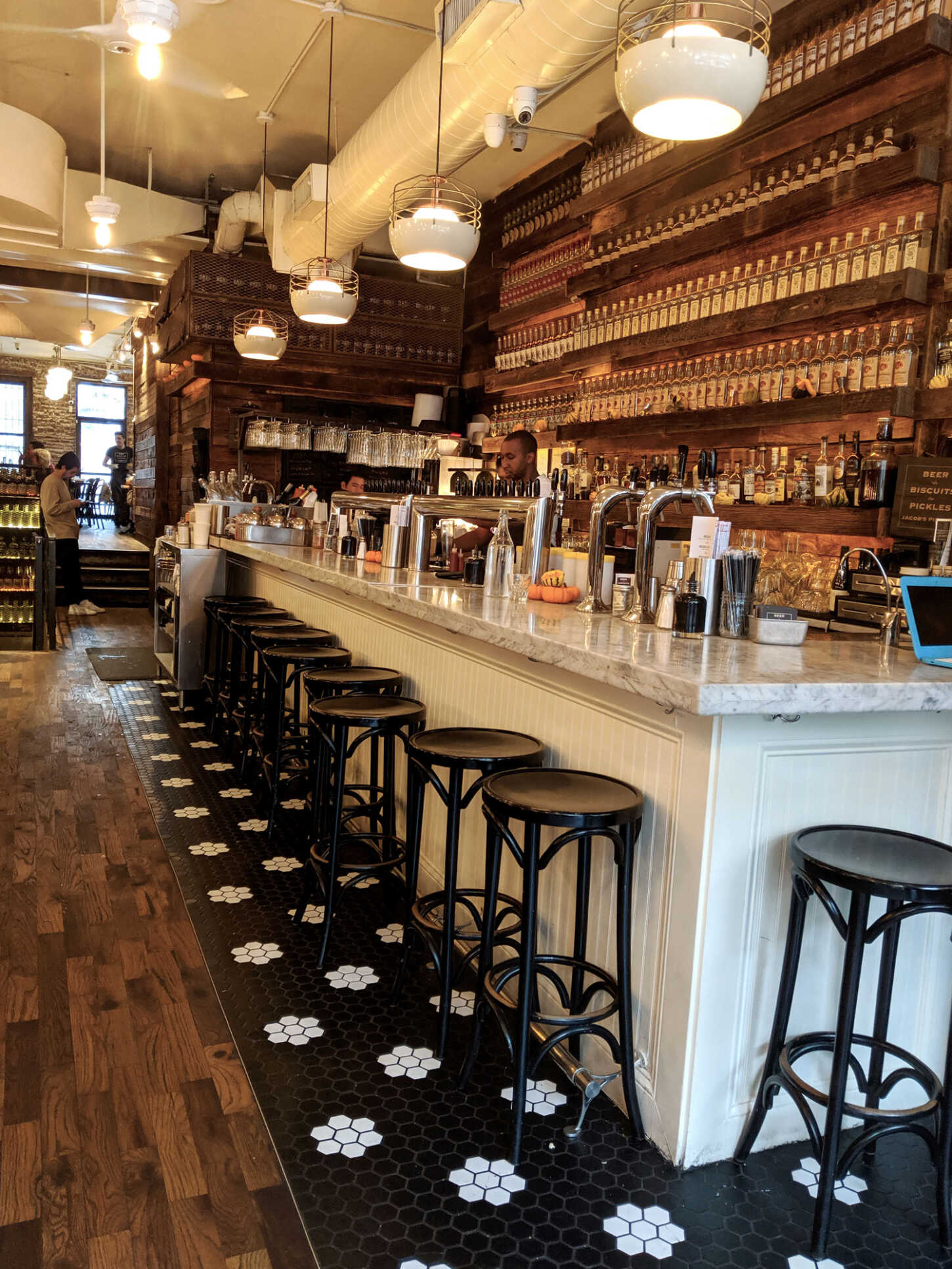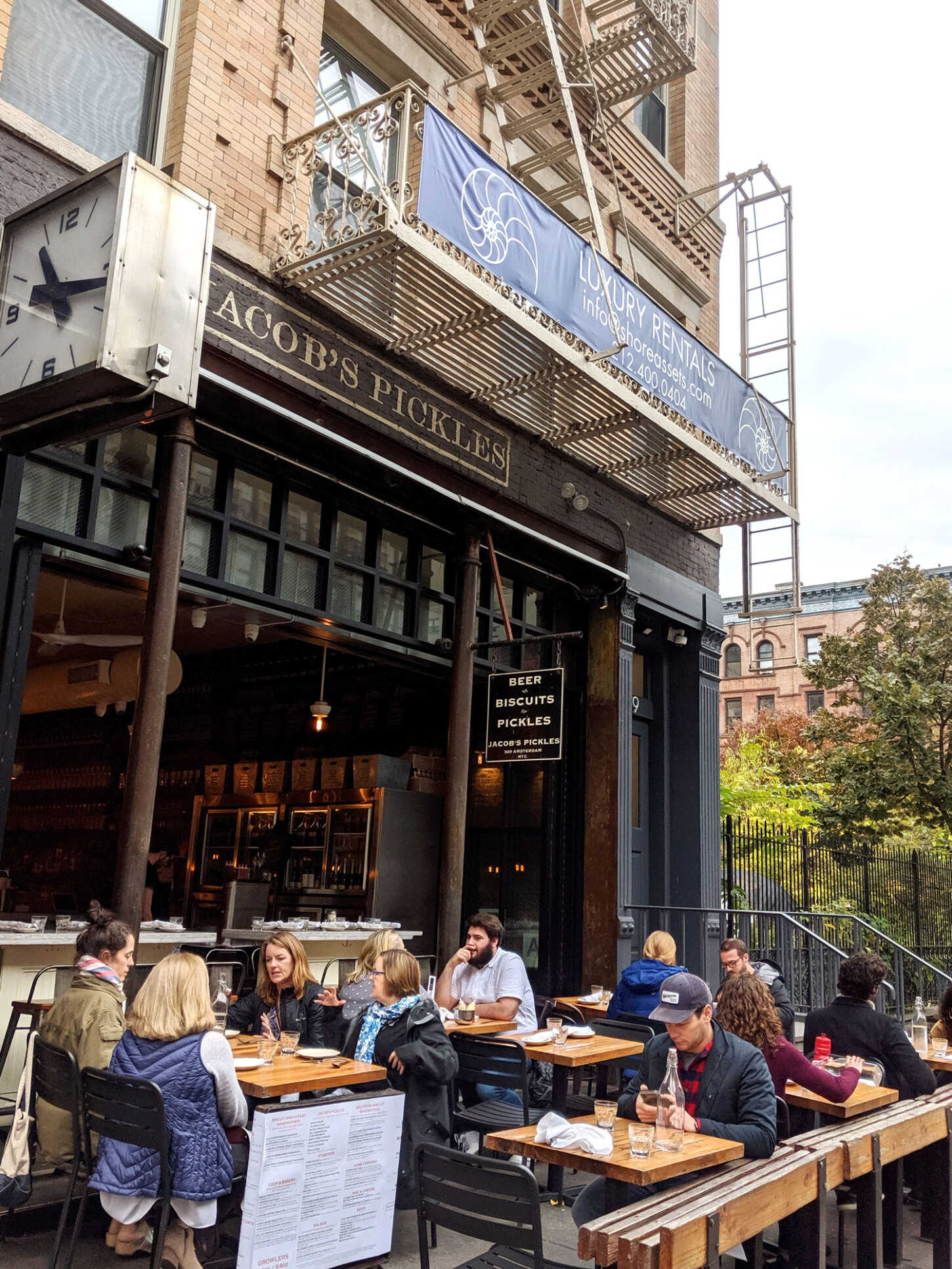 Jacob's Pickles
509 Amsterdam Ave, New York, NY 10024
We said if we ever went back to New York, we would have to go to Jacob's Pickles again. This was a recommendation on Instagram and I am so grateful that we decided to go because guys... it was delicious. It may have took us 2.5hrs to walk there from our hotel, but it was 100% worth it.
Located on the upper west side, they describe themselves as offering Southern-accented comfort food which I would say is very accurate. Their menu is packed with hearty breakfasts - think huge pancakes, french toast, egg and bacon - to staple dishes like fried chicken and biscuits, fried green tomatoes, mac and cheese and more. I'm probably not describing it that well, but you should look at their menu and try not to find 10 dishes you want to immediately eat. They also have a big selection of pickles, though we stupidly didn't try any!
Anyway, onto what we actually ate. I went for the Chicken and Pancakes which consisted of fluffy pancakes, buttermilk fried chicken, sterling bacon and homemade syrup ($19) and it was the biggest meal of the trip. I don't think the photo does it justice, but the bottom pancake was the entire size of the plate and just under an inch thick. Then there was another pancake ontop which was around 2/3 of the size, along with crumbled bacon and two huge pieces of fried chicken - all covered in maple syrup. It was delicious. I would get it again in a heartbeat. The chicken was so, so good and their homemade maple syrup was somethin' else. Just amazing.
Phil opted for the Honey Chicken and Pickles which was buttermilk fried chicken, hot sours (pickles) and clover honey served with cheese grits ($17). This was also amazing and the chicken had such a moreish flavour.
For drinks, I got a Fresh Lemonade ($5) and Phil opted for a Milk Stout with Vanilla Ice Cream ($12) because he obviously had a deathwish that day.
I would recommend this place before any other restaurant in this post!
Taiyaki
119 Baxter St, New York, NY 10013
Another Instagram favourite, but as Taiyaki was 5 minutes from our hotel in Chinatown, I had to pay them a visit. The fish-shaped ice cream cone hails from Japan and has been aaall over the internet since it landed in New York. They have a selection of ice cream flavours, toppings and finishing touches so you can customise your combination to suit.
I went for the classic vanilla ice cream with condensed milk topping and sprinkles (around $9) and it was good! The ice cream had a great vanilla flavour and the fish shaped waffle cone was 10x better than your standard cone. I would recommend visiting!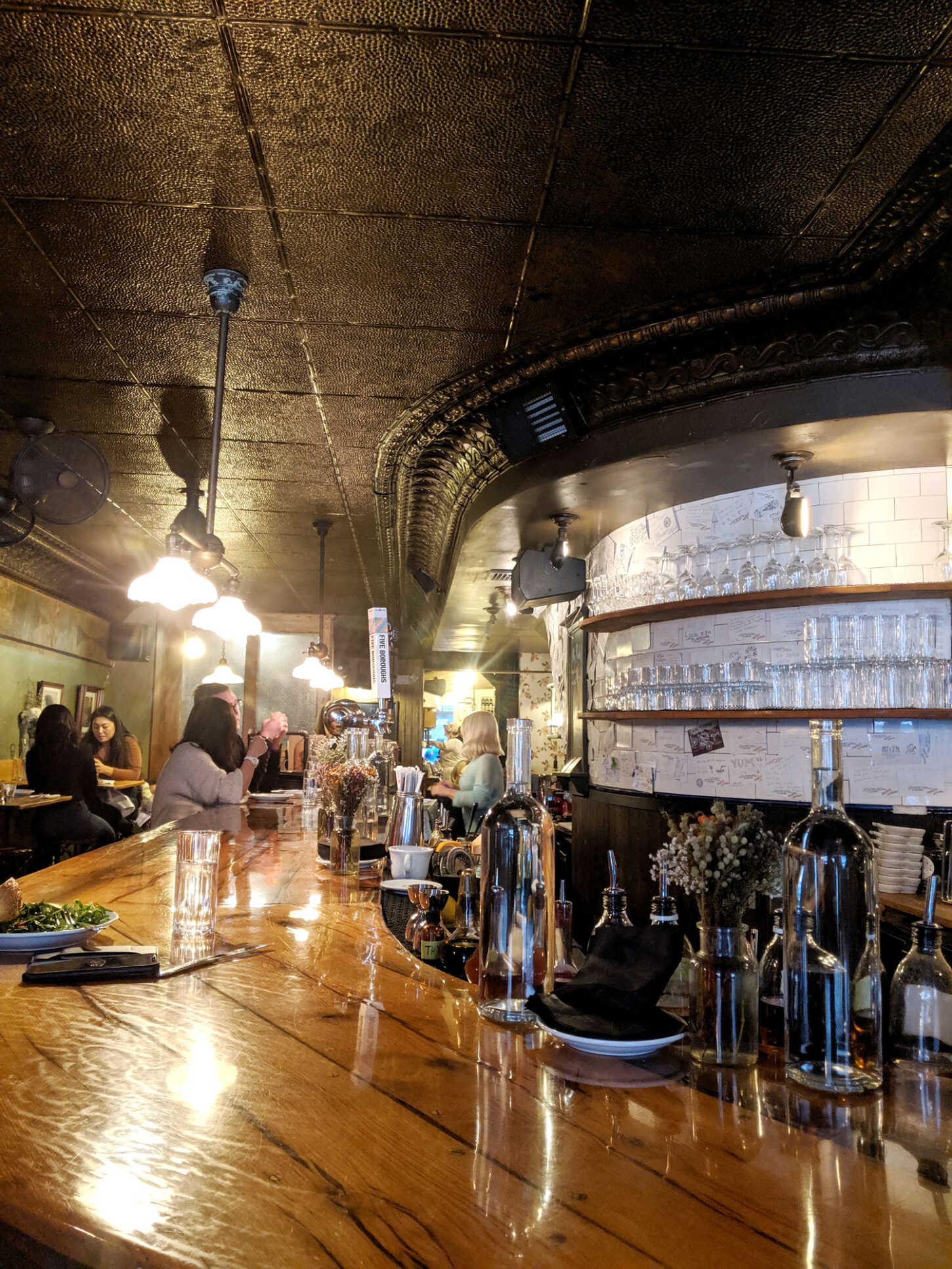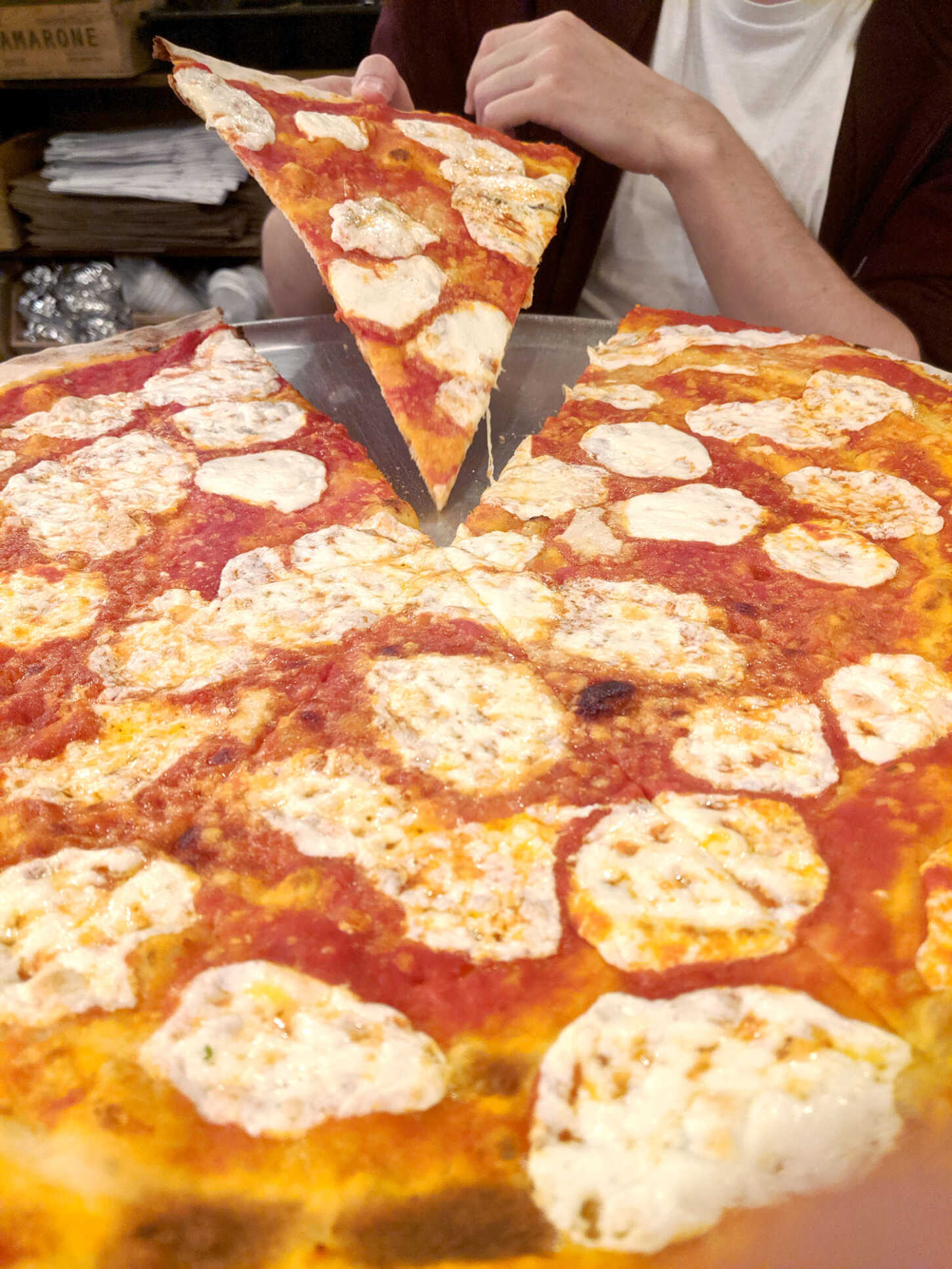 Rubirosa
235 Mulberry St, New York, NY 10012
Another place that was recommended and I'd seen people who I follow on Instagram talking about how they love Rubirosa, so I booked a table for our last day (the earliest table I could get, they're a busy restaurant) for lunchtime.
Now, I want to preface this by saying I had high hopes. We'd tried two different pizza places by this point and they were fairly average, so all of my New York pizza hopes and dreams were pinned on Rubirosa. And I think that's where it went downhill...
We went for three items at Rubirosa - a bottle of water (not sure on cost, but I think it was around $8), Broccoli Rabe ($11) and their large Classic Pizza. ($27 plus $4 for extra mozzarella).
The broccoli rabe was absolutely drenched in oil and tasted like burned garlic. It was bitter and when you bit into a piece of broccoli, it was unleash a wave of burned tasting oil - it was horrible.
The pizza, despite asking for extra cheese, was still a bit light on the dairy for our preference. The base was thin, but so thin that it became almost chewy when you were trying to get through it. Phil said his jaw hurt after a while. New Yorkers seem to take a lot of pride in their tomato sauce and the ratio is usually 70/30 tomato/cheese, but this tomato sauce was a bit... bland? The whole pizza was bland, to be honest. It's one thing we learned when eating NY pizza is that it's a very mild flavour and doesn't feel very filling as a result.
Once they added taxes and a tip, we paid around $65 for unsatisfying pizza and burned broccoli. We left still feeling hungry. For this reason I wouldn't recommend going, as it was expensive and not that great.
Sarabeth's (Tribeca)
339 Greenwich St, New York, NY 10013
Sarabeth's is a upmarket chain and the first place we went on our New York trip, as it had been recommended for breakfast. I was very, very jetlagged and didn't want to go too far, so this was ideal as it was only a 15minute walk away from our hotel. It was busy, so I didn't get too many photos of the inside, but think leather chairs, marble bar, very pretty and airy.
Their breakfast menu has a great selection, from lemon and ricotta pancakes to caramelised apple and brown sugar oats to spinach and goats cheese omlettes and many more. I wanted to be fuelled purely by sugar, so I went for the French Toast with bananas, apple, maple syrup and raisins ($19.50) which was a perfect breakfast for a very tired person. Phil got the Tribeca Breakfast with a buttermilk short stack, bacon, grilled sausage and eggs ($24). Again, a perfect breakfast.
We both got a coffee and it was a good introduction to New York food along with the concept of tax and tipping - it was very new to us! I would recommend going, as Sarahbeth's have many locations around Manhattan and do a darn good breakfast.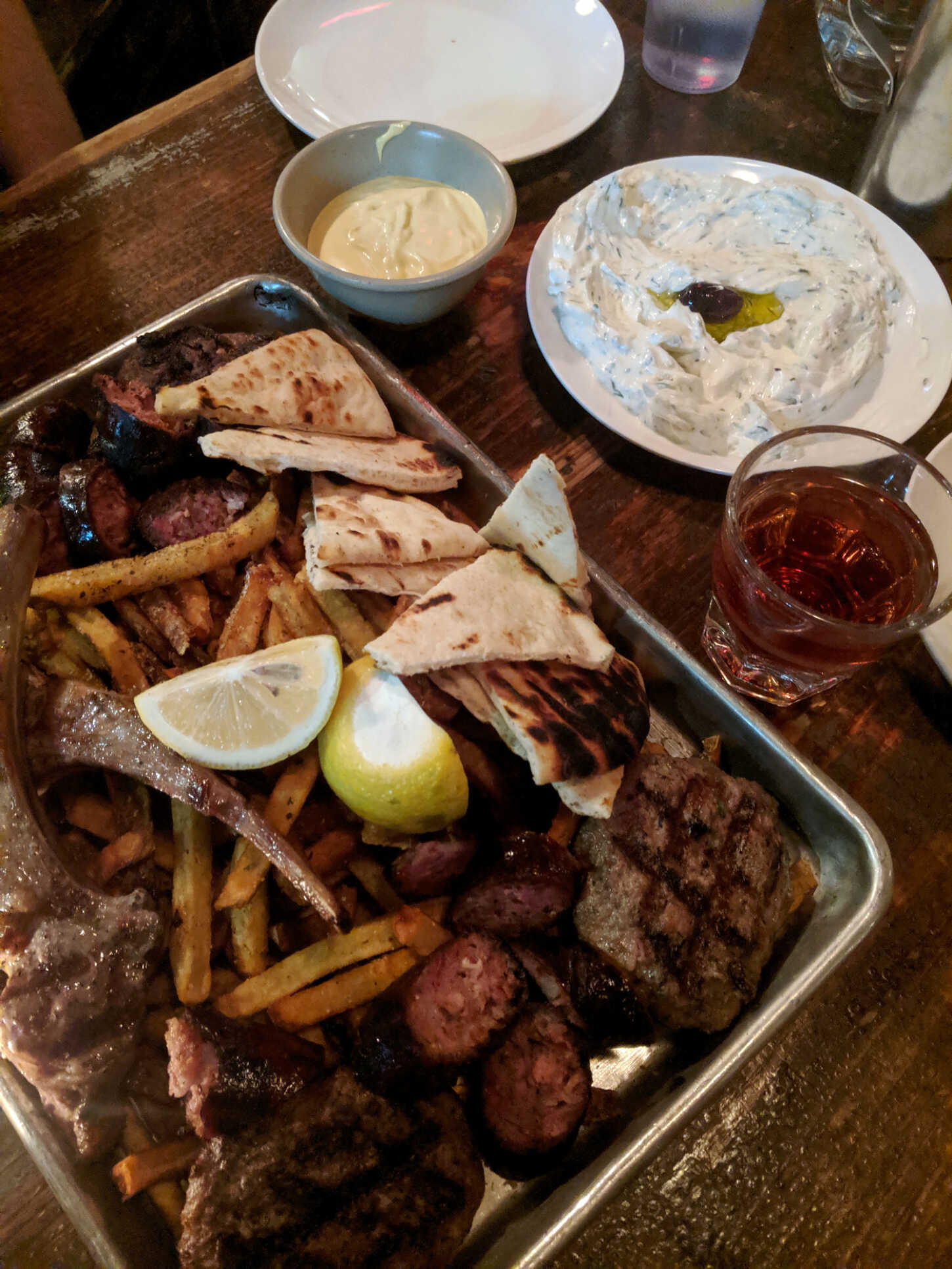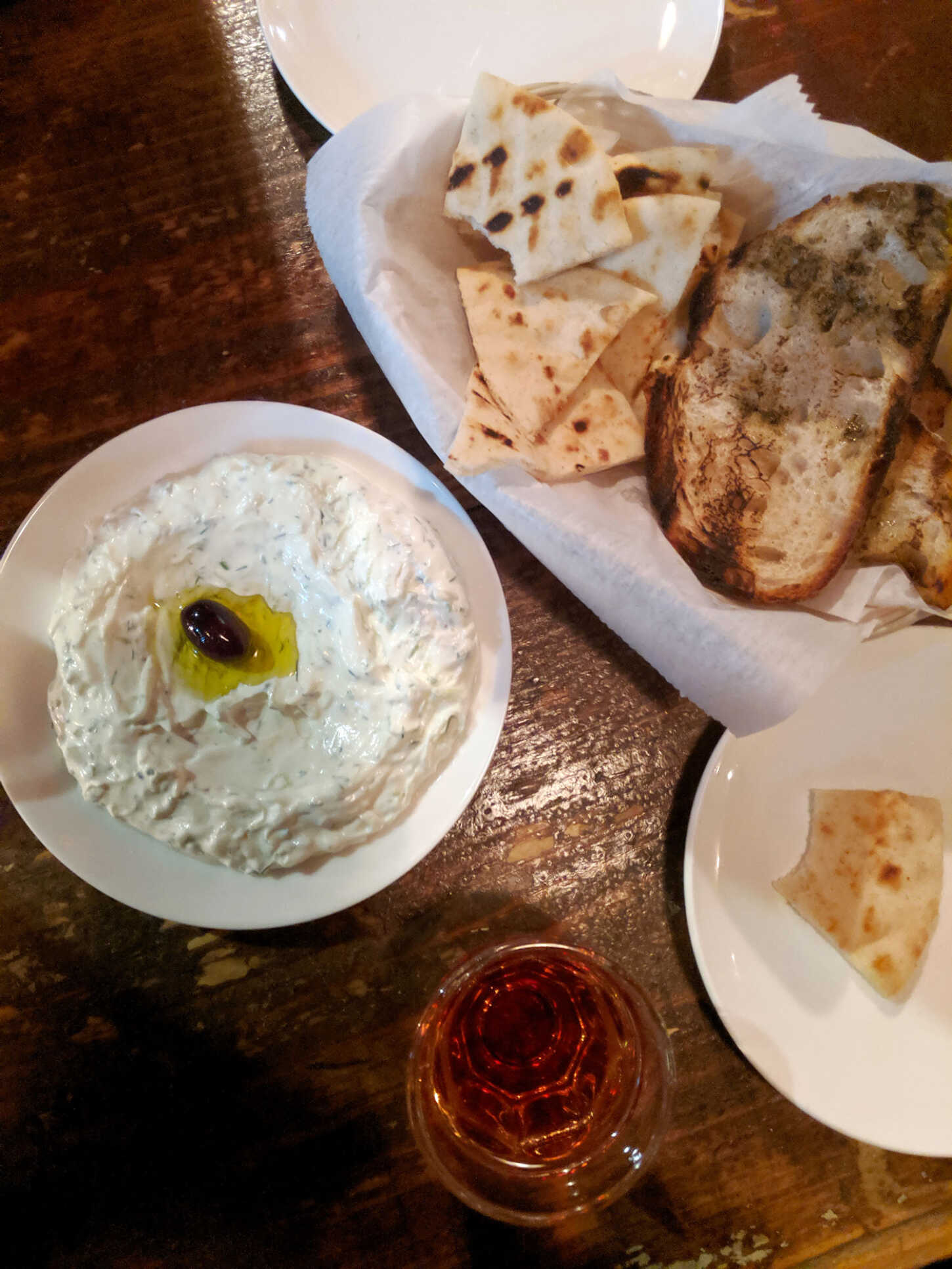 Kiki's
130 Division St, New York, NY 10002
Another recommendation via Instagram, but one that was much appreciated as it was a good find. Kiki's is a Greek restaurant offering some much loved Greek classics in a dark and homely setting. We almost walked past it nestled in Chinatown, as there aren't any English signs outside to even indicate that it is infact Kiki's, however we were glad we double-backed and went in because it was oh so good.
We opted for the Mixed Grill ($45 for 2-3 people) which included lamb chops, sausage, burger-shaped meat (I've forgotten it's name!) and as well as many fries. We also got some Tzatziki (naturally. It was around $12 I believe) on the side and a carafe of rose wine ($14, reasonably priced!). The grill was so good! It definitely feeds 2 people and then some as we had some left over. The lamb chops are divine as well as the burgers, as they just fell apart. The fries were great and the sausage has a very unique red wine flavour which I'm sure many will love (but it wasn't my favourite). The tzatziki was fresh and delicious and the wine was good too.
Overall a great meal and I would recommend going, just keep an eye out for it on the corner of the street!
The Butcher's Daughter
19 Kenmare St, New York, NY 10012
Again, another recommendation but it was so nice to go to a vegetarian restaurant during our trip! A great brunch option, The Butcher's Daughter has a great range of menu options to choose from including things like veggie burgers, jackfruit tacos, french toast and more.
I went for a classic Avocado Toast ($17) which came with a poached egg, as I fancied something fresh tasting. It was good! Phil went for the Butcher's Bowl ($15) which included roasted potatoes, harissa aioli, maitake mushroom, spinach, fennel "sausage" and a poached egg. He said it was good too and definitely worth trying!
They also do an amazing range of fresh juices and smoothies. Phil got the Orange juice ($10) which was tangerine, valencia orange and carrot (and mostly tasted of the latter) whereas I went for the Pure Passion ($11) which included Passion Fruit, Jicama, Pineapple, yuzu, orange & raspberries which was tangy and delicious.
I would recommend going if you want to have something a bit more on the natural side or want to opt for a healthier option. It's not the cheapest, but I thought it was great!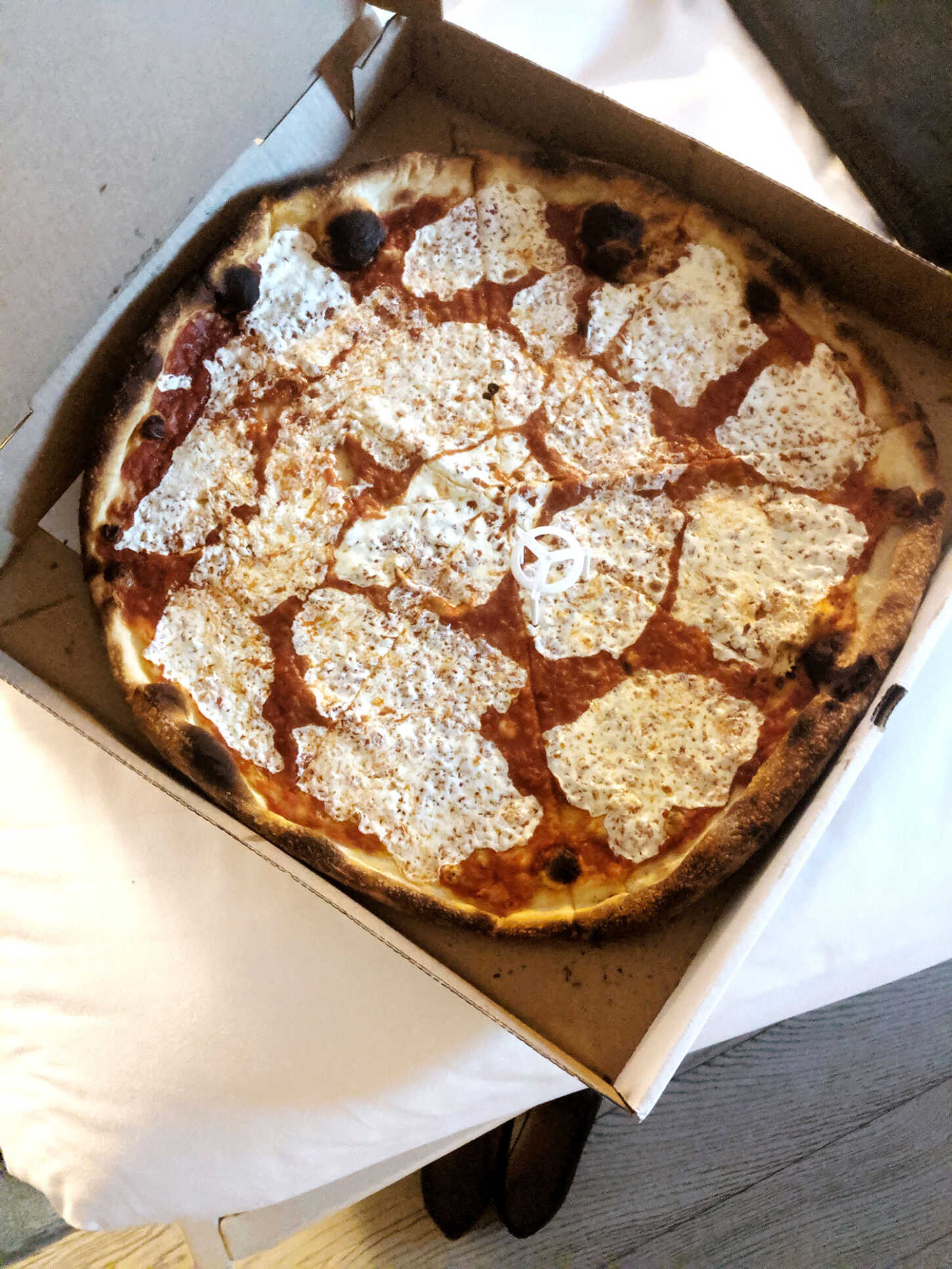 Joe's Pizza
7 Carmine St, New York, NY 10014
On the evening of the first full day we were in New York, we were insanely tired and honestly could not be bothered to go out for food, so we ordered takeaway. We decided to give one a go and opt for pizza! After some research, we went for Joe's Pizza from their original store in Greenwich Village - a bit of an institution, so I've heard.
For a Fresh Mozarella Pie (it was big, about 16-18") it was $28, but when we added 2 bottles of water ($3) and all of the fees/tips, it came to $37.98 total.
The pizza itself looked impressive when we opened the box and we were so hungry, as we'd waited over an hour for delivery so we ate it very quickly. The taste of it was... ok. As mentioned in my other reviews, NY pizza is very mildly flavoured. It could do with some classic pizza shop garlic sauce, imo, but that's just the Brit in me I think.
Rai Rai Ken
218 E 10th St, New York, NY 10003
Sorry for the lacklustre photo, but we decided to get some ramen noodles another night as we were, again, very tired. New York is huge and you do a lot of walking, so we definitely spent more time in a hotel room than you normally would.
Anyway, I got the Tan Tan Men ($13) and it was ok. I get this in the UK quite often and it's usually spicy and very flavourful, but this one wasn't very spicy and was mildly flavoured (like everything in NY, apparently...). Phil got the Shoyu Ramen ($11) which he said was ok, but again not much flavour. The Vegetarian Gyoza's ($6) were delicious and tasted freshly made. They also gave us some Pork Bao for free which was also very good!
In total including taxes/tip, it cost us $41.75 which was expensive given how average the noodles were.
- Conclusion -
We got to try so may places in New York and I'm very grateful for the recommendations I got on Instagram (thank you guys!) as they were so varied and gave us plenty to pick from.
If I had to recommend anywhere it would be Jacob's Pickles, followed by Kiki's and Jack's Wife Freda. I would also get another ice cream from Taiyaki as it was darn good.
Have you been to New York? Where would you recommend for food?