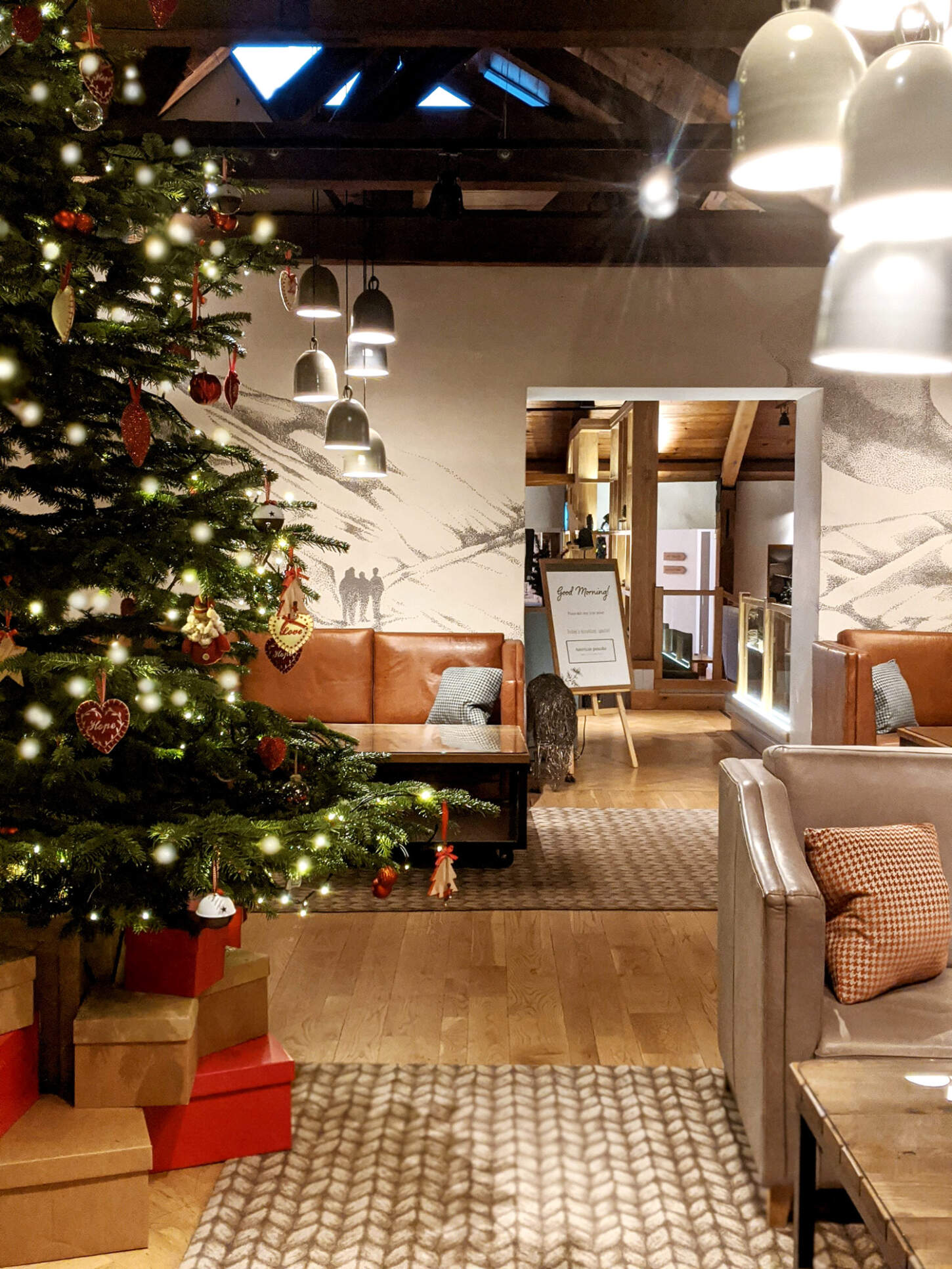 - North Lakes Hotel, Penrith -
If you follow me on Instagram (which you can find here) you may have seen Phil and I taking a little overnight trip just before Christmas to this hotel. We were kindly invited to review the North Lakes Hotel in Penrith as it's a sister hotel to the beautiful Langdale Chase which I reviewed here earlier in the year. The North Lakes Hotel is definitely a more modern hotel but still decorated in a homely yet chic style. As we visited so closely to Christmas, they had just put up their festive decorations including a huuuge tree near the fire - how pretty!
So, in this review, I will cover the room, the hotel in general, the spa and their FYR restaurant where we had an evening meal and breakfast.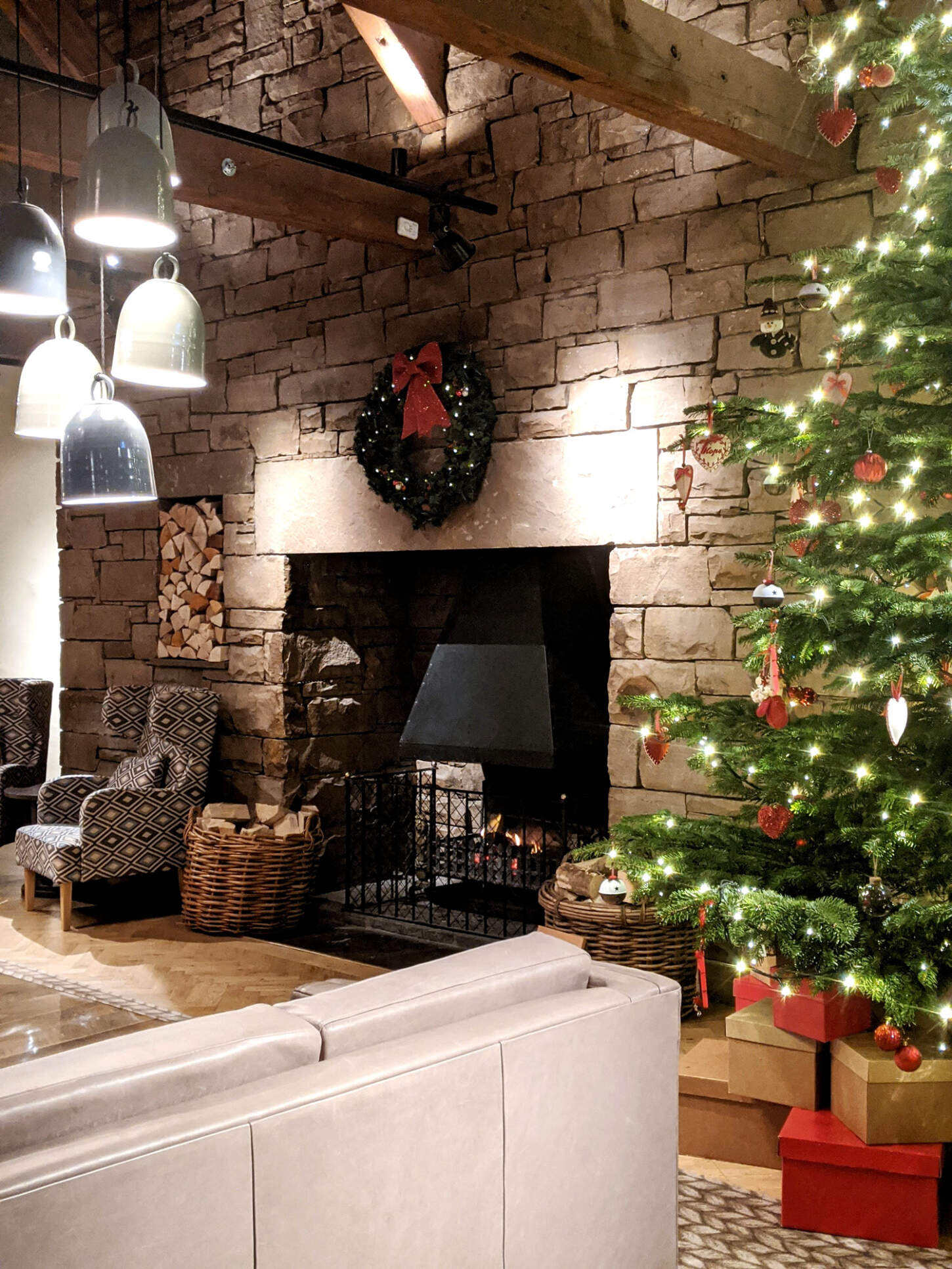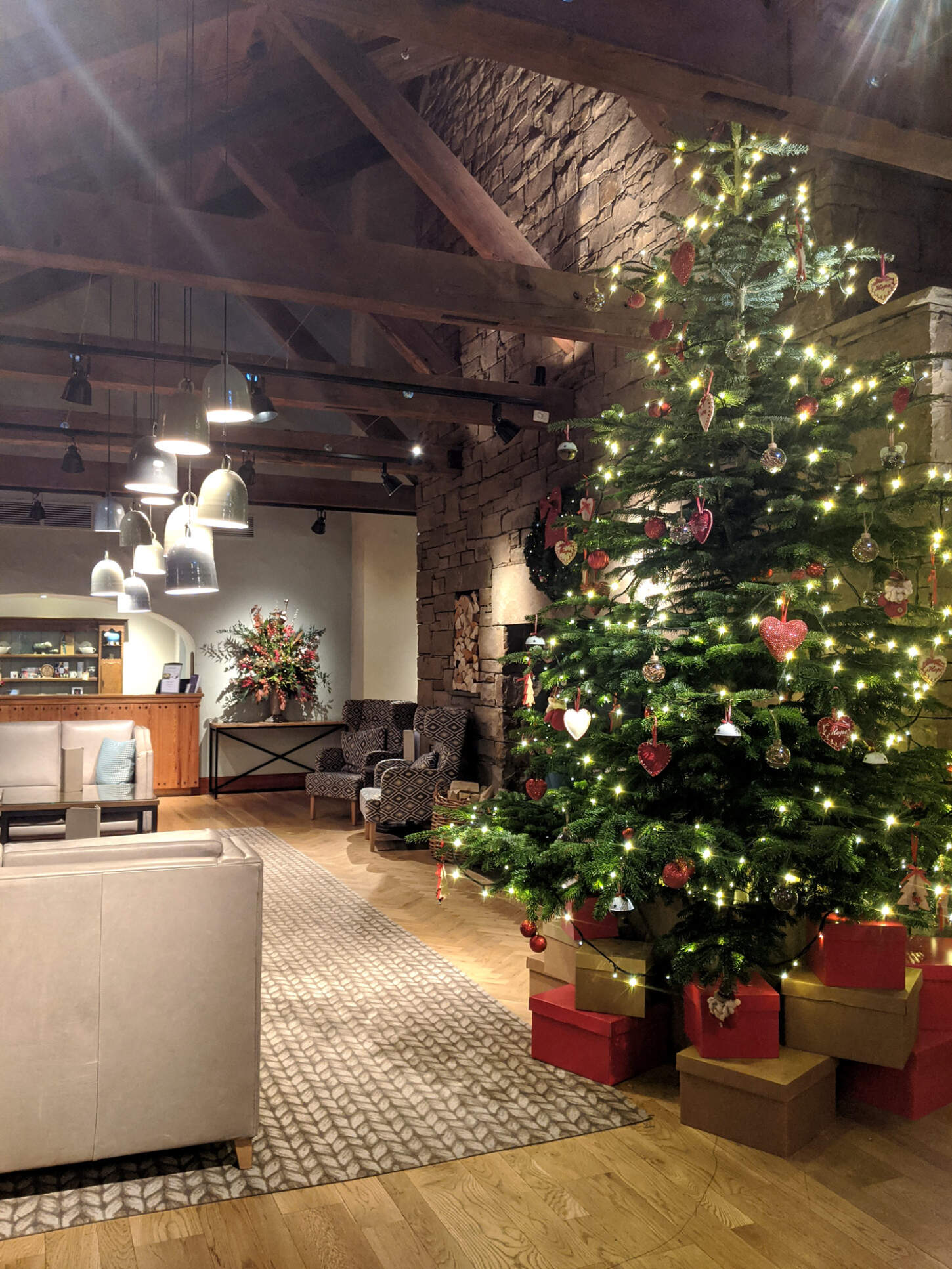 The Hotel
As mentioned, their Christmas decorations were in full swing so it was very beautiful when you first walk into the hotel. I really like the overall styling of the hotel, as it has wood beams, sofas in plush materials and a great colour scheme which makes it feel very chic. The entrance, restaurant and bar are quite spacious with plenty of spaces to sit down and chill with a drink or to do some work.
The North Lakes Hotel features a spa (I'll talk about that later) as well as a function room which was in full Christmas party mode when we visited, as we went on a Friday night. It was very busy, but didn't feel crowded or overwhelming considering how many people were there. It also wasn't noisy which I think is a good testament to the layout of the hotel.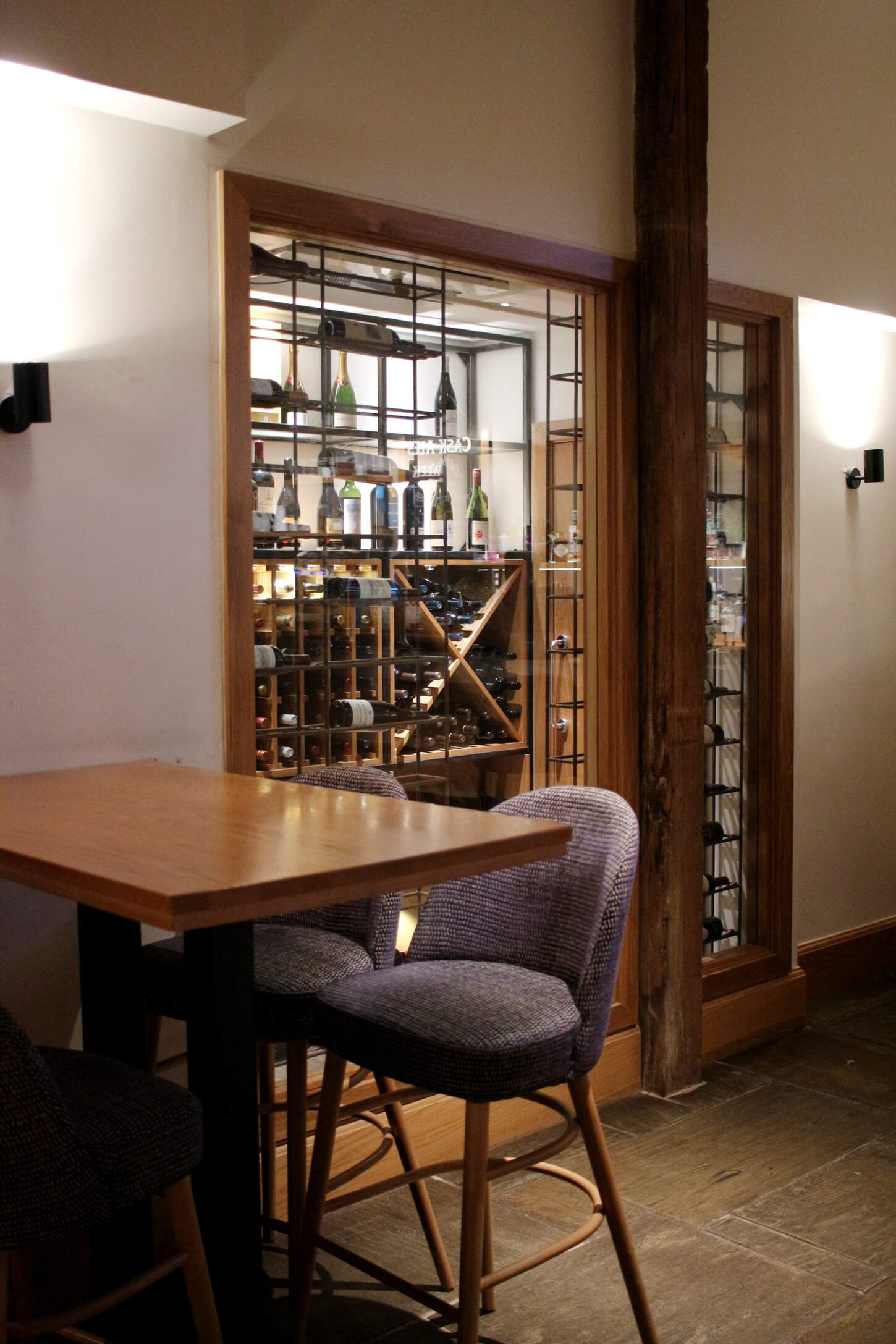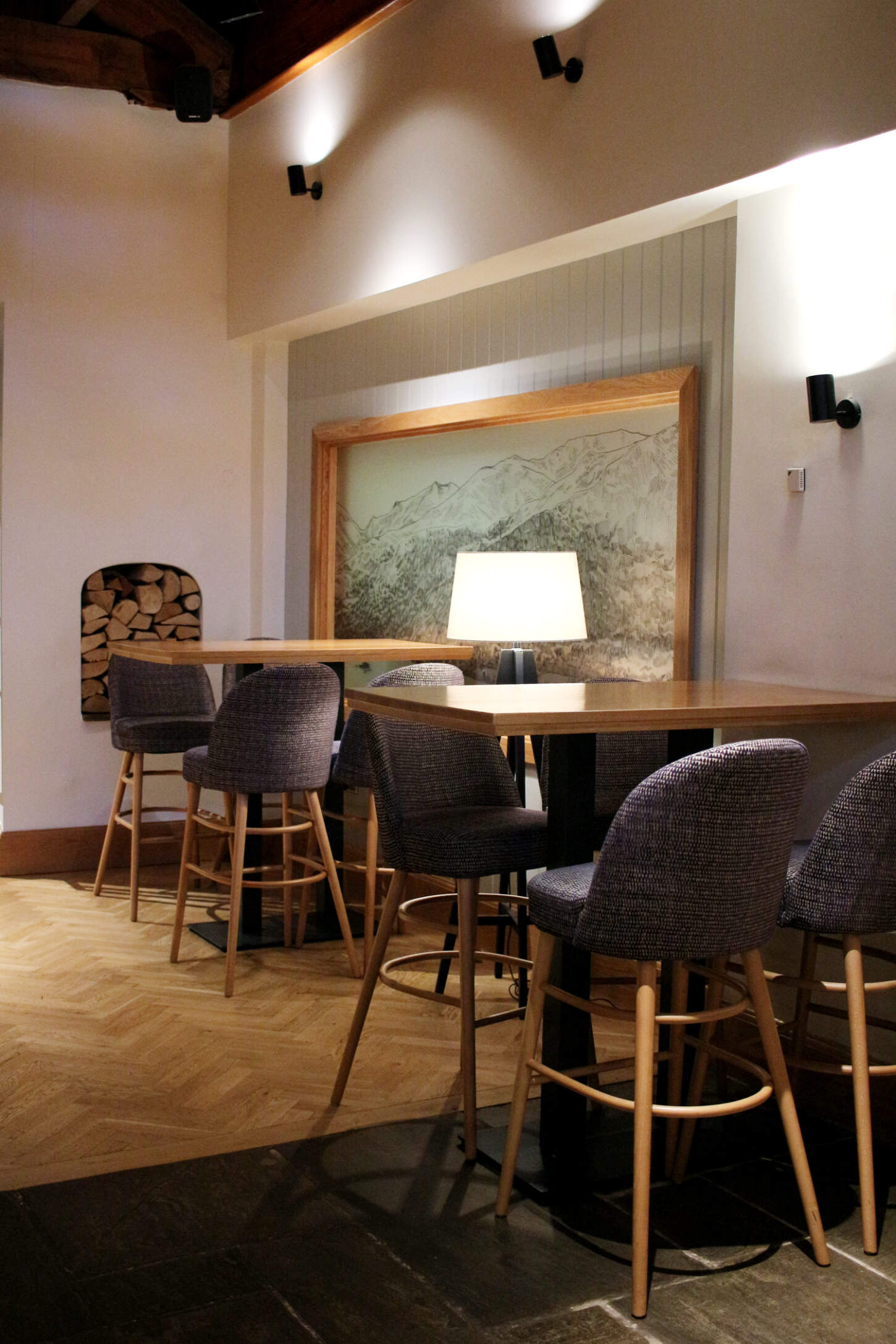 The Bar
We went for a drink on the evening that we were there and, as mentioned, it was busy but we didn't have to wait too long to be served. They have a good bar menu with all of the usual alcohol stocked, as well as a cocktail (and mocktail) list and beers etc. I opted for a passionfruit mojito which was ok but not the best and Phil had one of the cask ales highlighted on the board.
They stock a lot of wine and their storage space is on display which I think adds a nice touch to the room - it's massive! They also have another fire and some comfy sofas, as well as the bar stool style tables. It's a nice space, I think.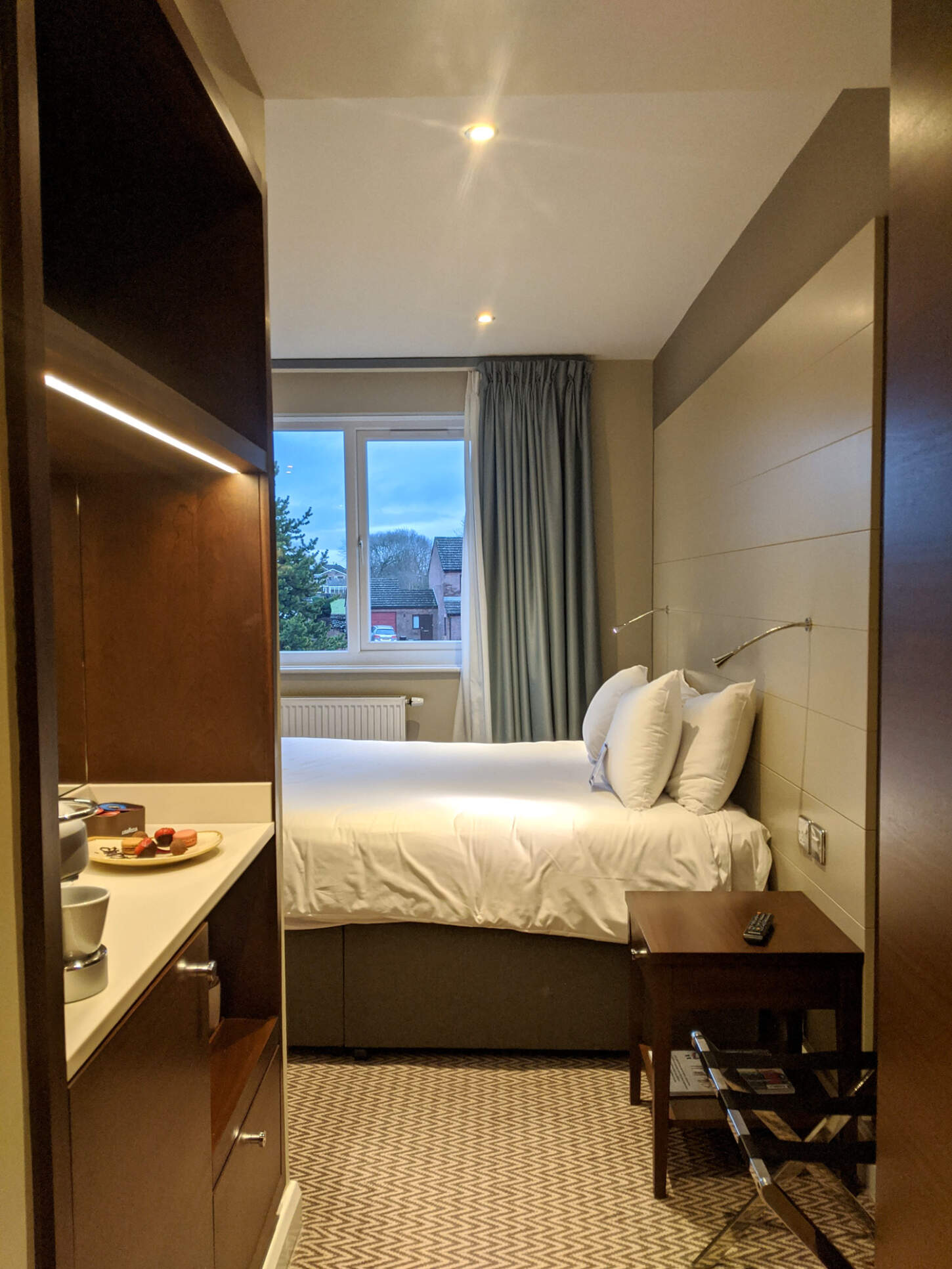 The Room
The North Lakes Hotel has a variety of rooms available and cater for families as well as some dog-friendly spaces too. If you're staying with kids, they have rooms with a double bed and bunkbeds which would be great because who didn't love a bunkbed as a kid? They also offer rooms with four poster beds etc if you're looking for more of a luxurious stay.
We stayed in the Signature Double which had plenty of space for two people. The wardrobes are large and come with the usual amenities such as an iron, a safe and robes which you're free to use and they're very soft! They have a good range of tea and coffee as well as a coffee machine (and kettle) in the room. They also put a sample of the best fudge in our room which was local to Penrith and it was insanely delicious!
The room features a great double bed which was very comfortable and a wall-mounted tv at the end of the bed too. There was also a desk if you need a quiet space to do some work and large windows to let in plenty of light.
The bathroom was slightly compact but big enough for what you need. I liked how big the sink area was so I could put my makeup and skincare on the side, as well as the shower as it was a good size.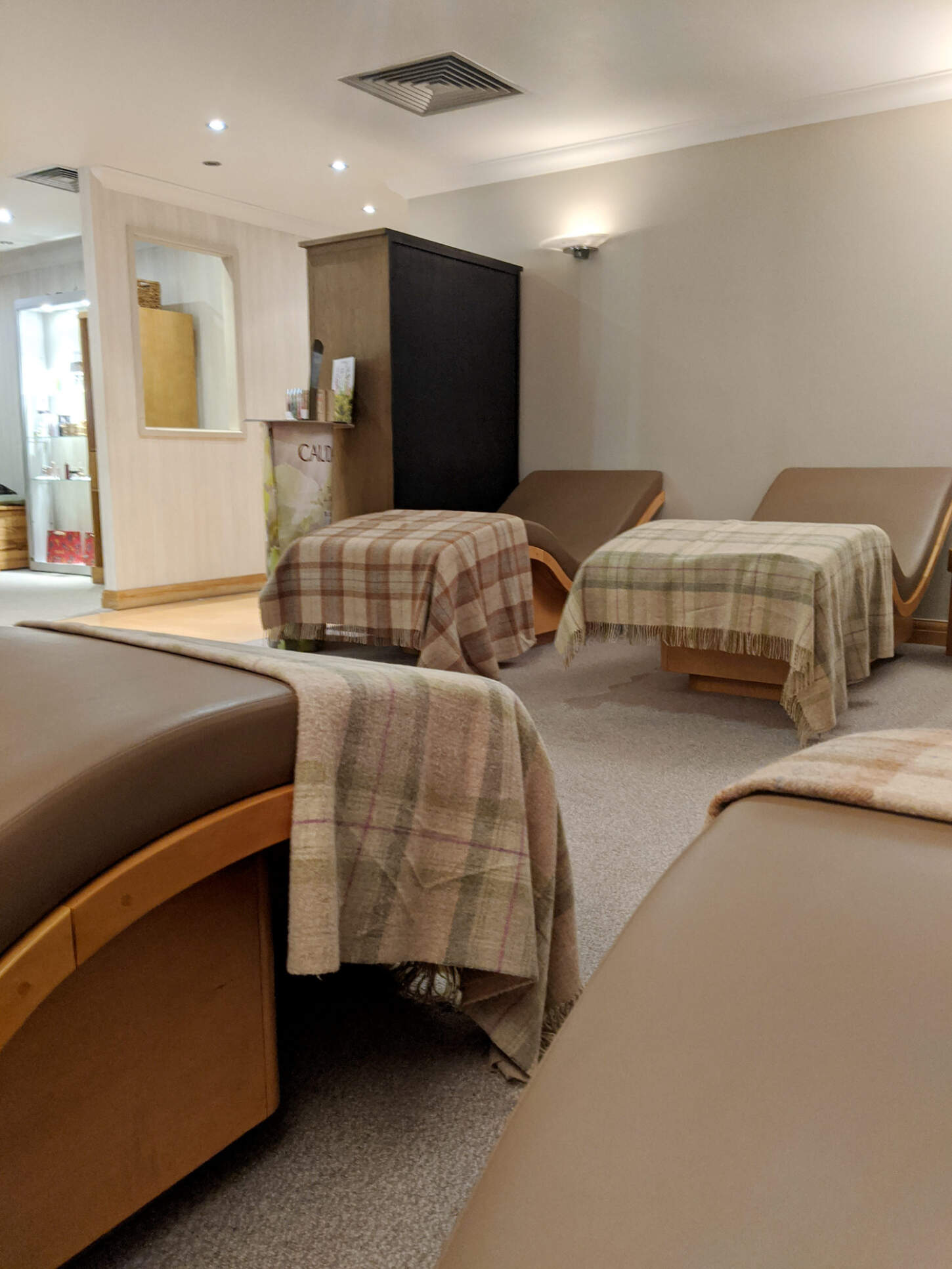 The Spa
I feel like this should have a lot more photos, as the hotel has an amazing large pool area, as well as a steam room and jacuzzi, but I was unable to get a photo as there was always someone in the pool. I really didn't want to take photos of people, especially in swimwear and when there's children, so (even though I checked on 3 separate occasions) I wasn't able to take a quick snap. I would recommend checking out their website or Instagram to get a feel for the area though, as it's really lovely!
I was offered a 25 minute taster massage which was the Caudalie The Des Vignes Back Massage but I paid the difference to have a full body massage which I believe was 55 minutes. The girl who did the massage was really thorough (I had the worst tension in my shoulders!) and we had a great chat, so it was relaxing and entertaining at the same time. The treatment rooms are lovely and the relaxation areas before you go in (on the left) are also nice and I love the Lake District touch with the blankets.
They do offer a range of treatments ft Caudalie as well as manicures (with CND) and tanning (Mii) so there's lots to pick from. Their taster treatments (from £38) are a great introduction to spa treatments if you're new, so you can get a quicker 25 minute massage or facial or eye treatment to see whether being pampered is your thang (hint: it should be!).
The fitness facilities, although I didn't use them all, are great though. They have a gym which is available to use if you're staying in the hotel, as well as a spinning studio and fitness classes.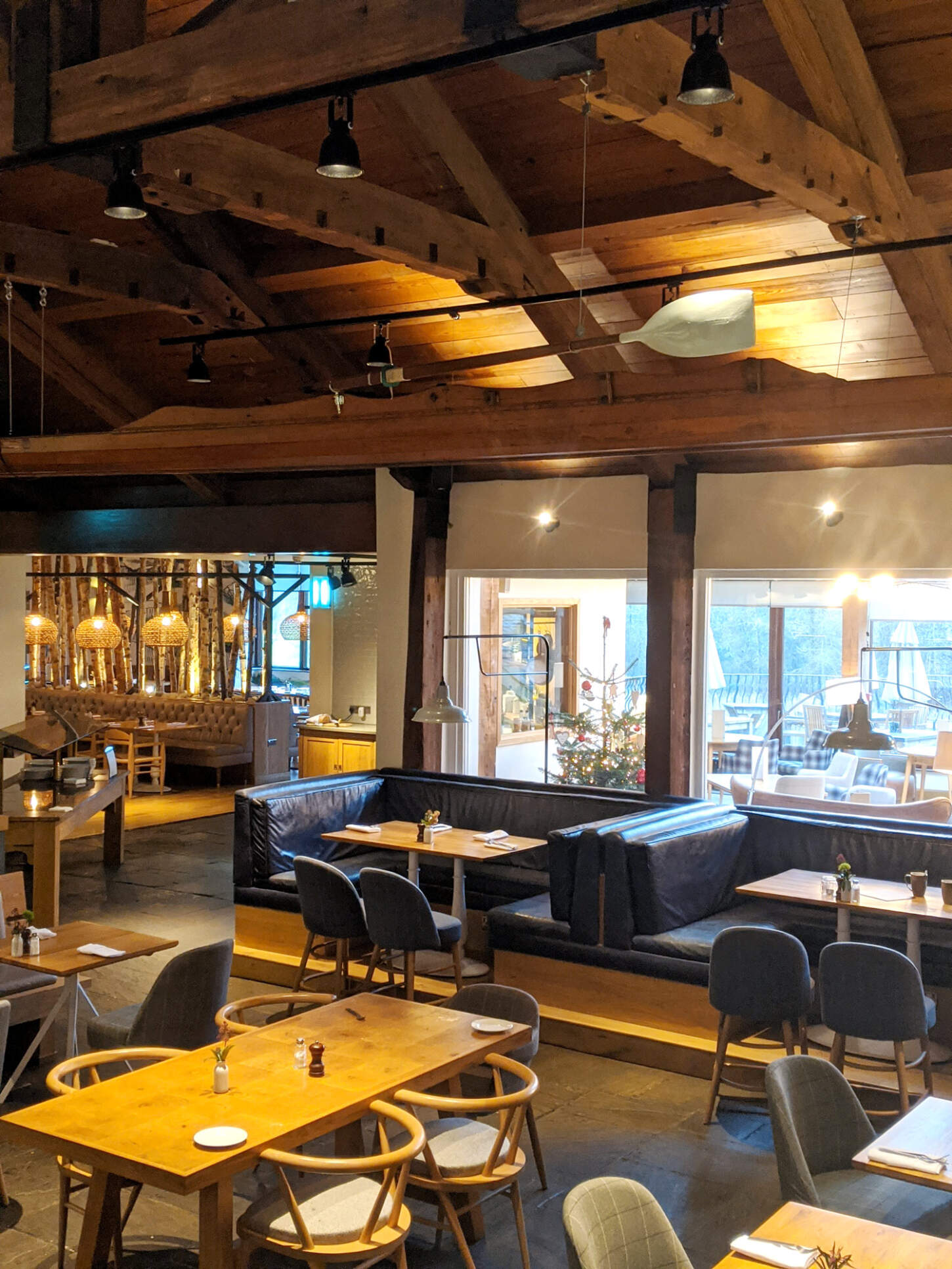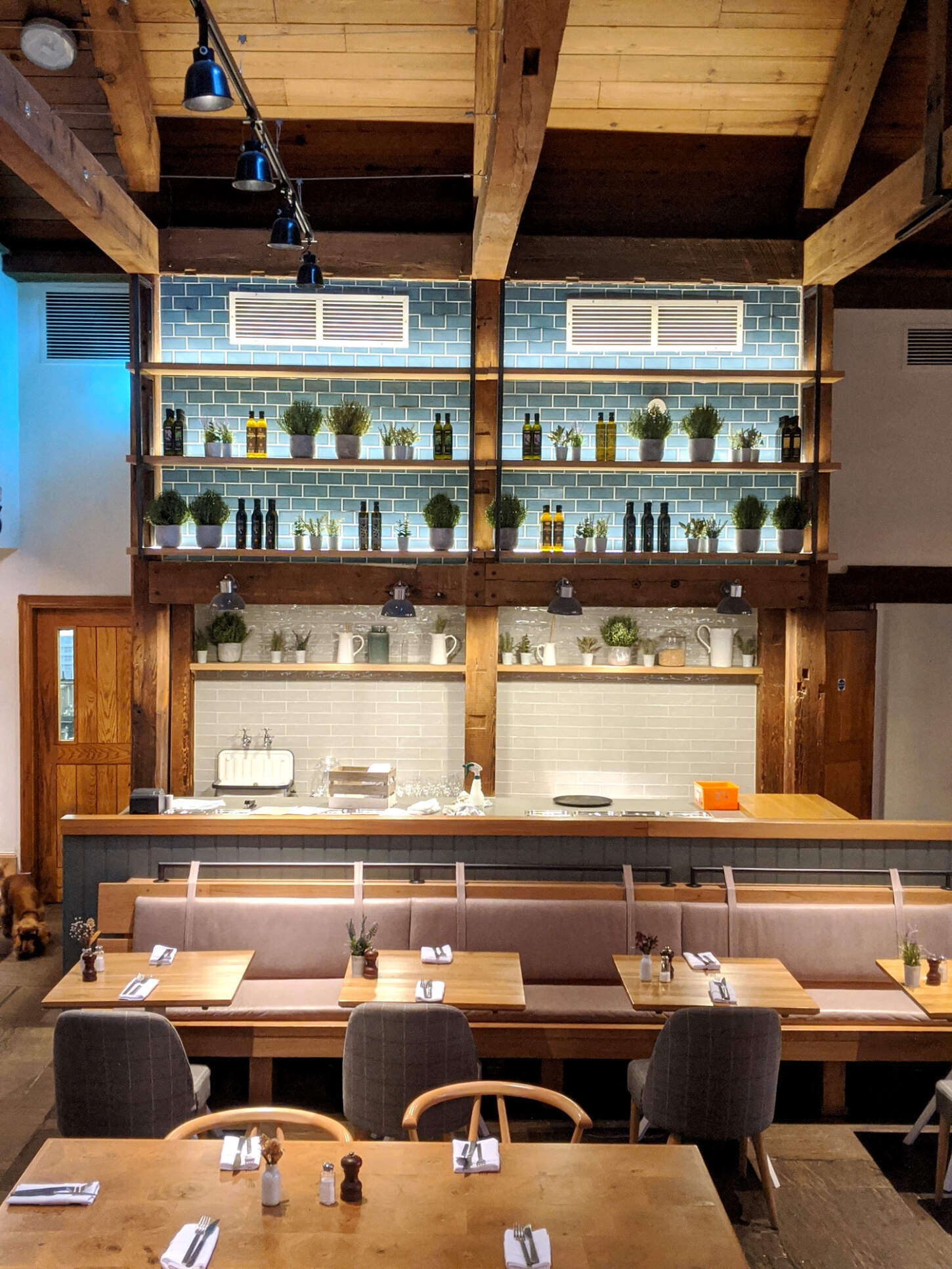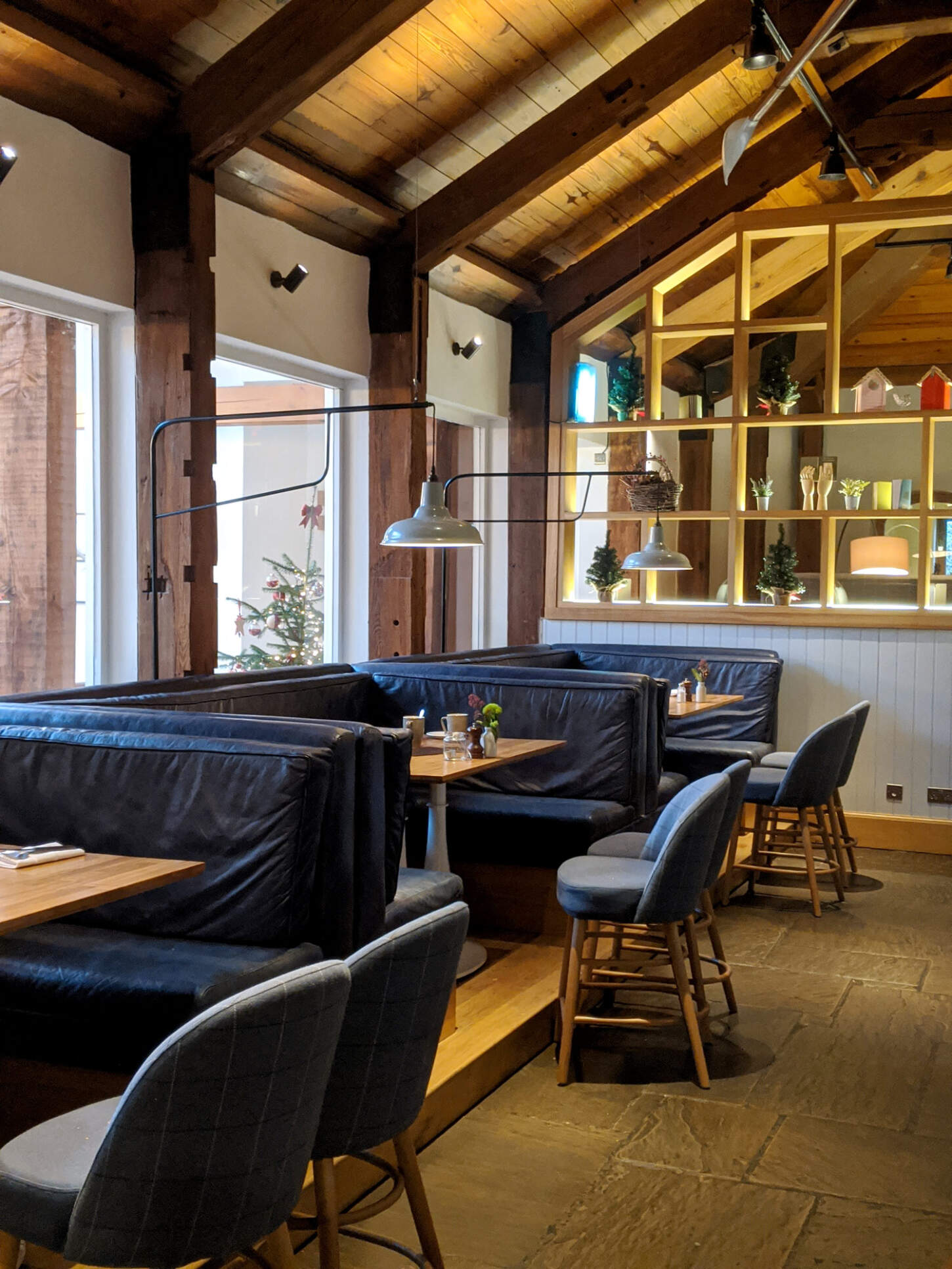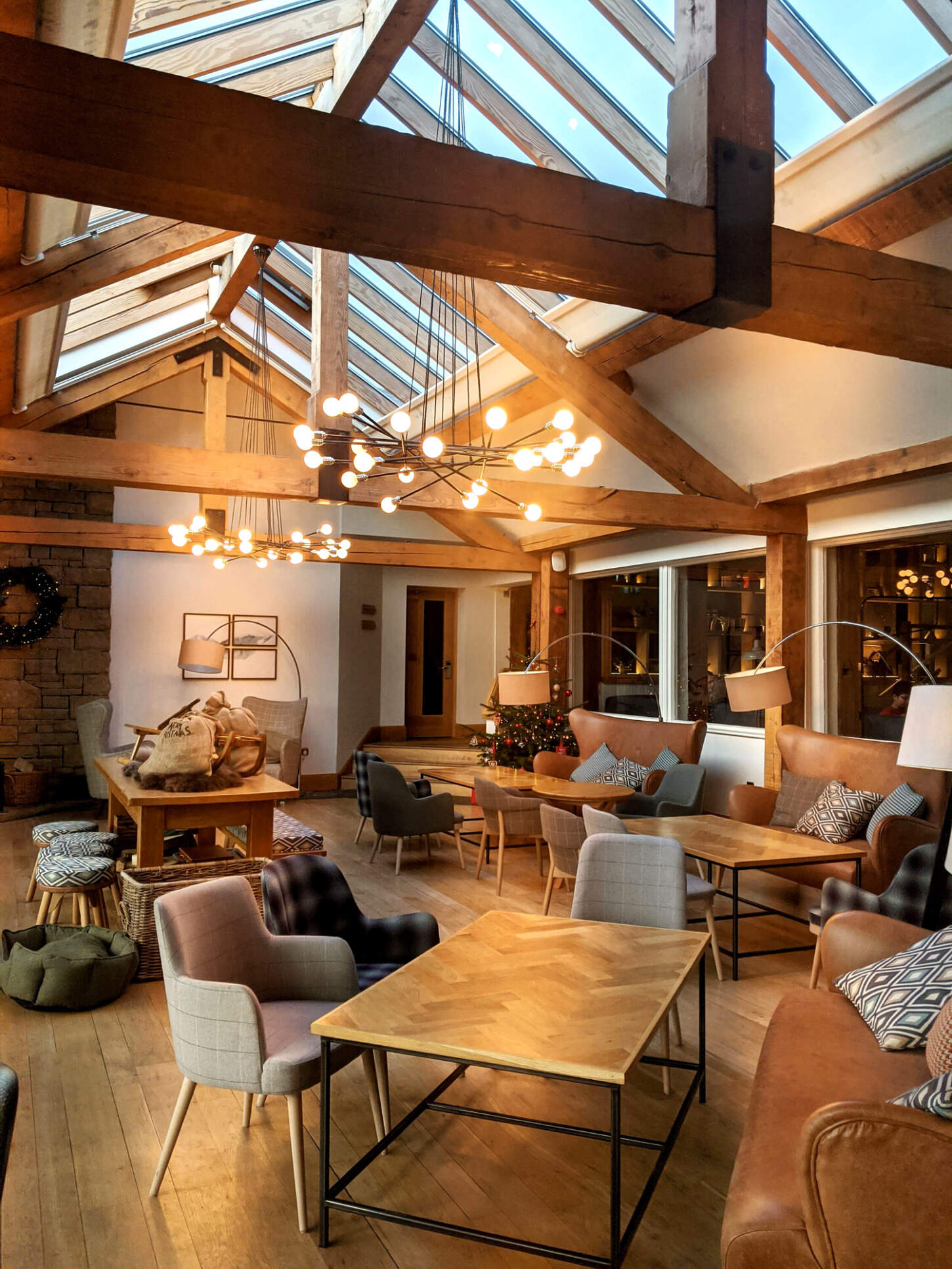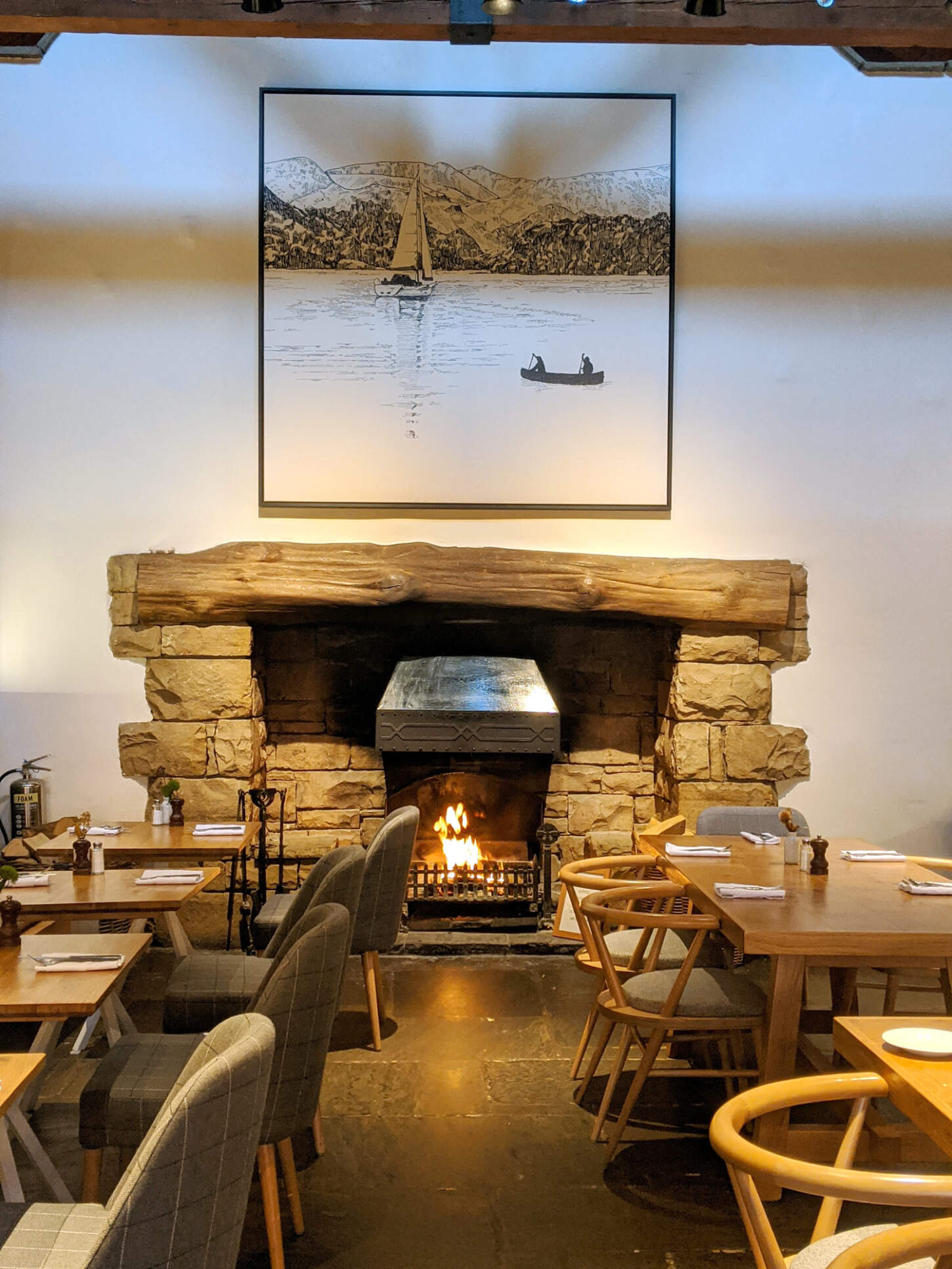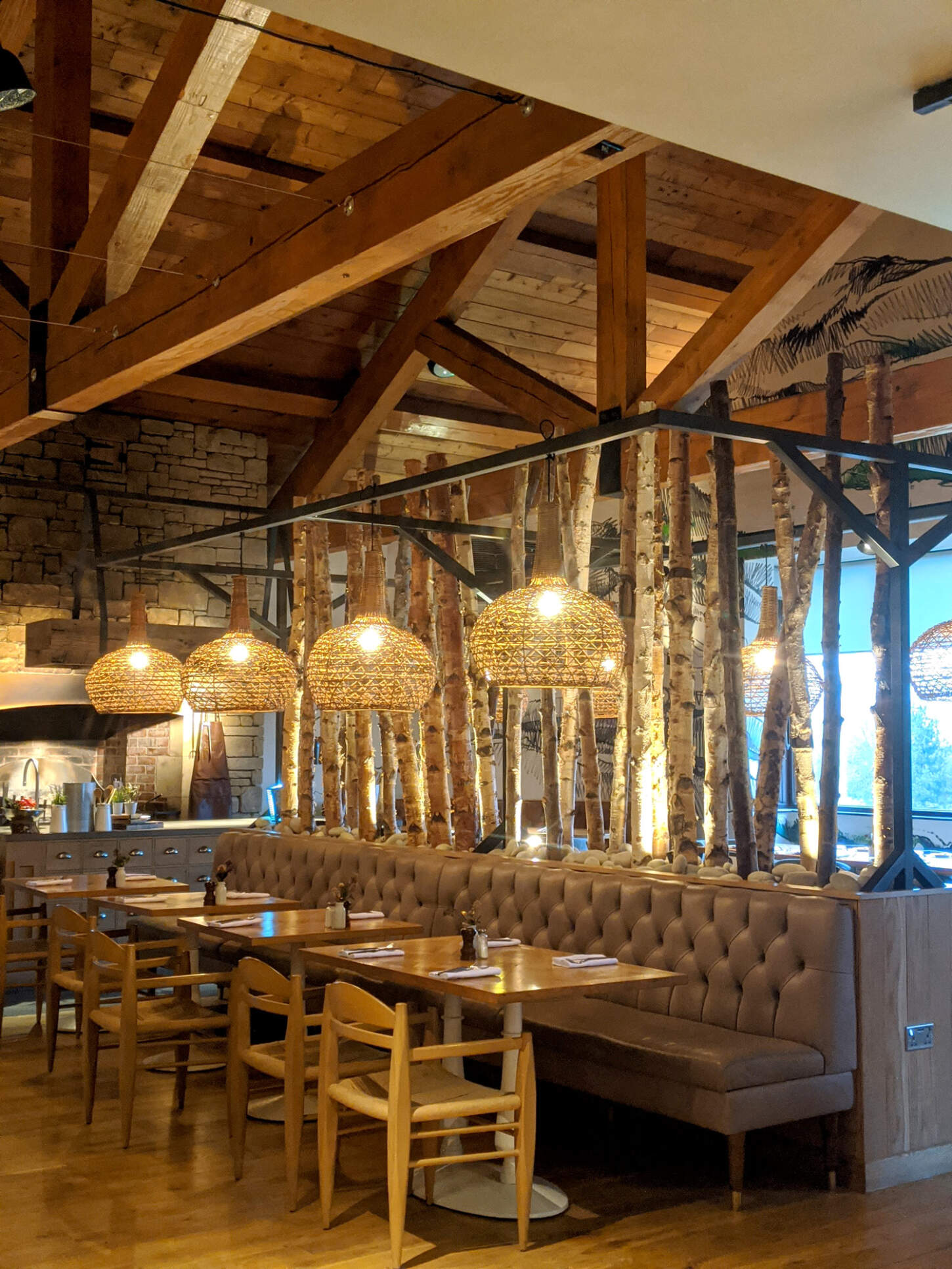 The FYR Restaurant
The FYR Restaurant is a large part of the hotel and is situated just off the main entrance, so feels somewhat tucked away despite its size. We went here for our evening meal and then breakfast the following day, which I will discuss in a second, but they offer a range of meals from Afternoon Tea which you can book with prosecco or champagne to lunch and light bites.
I really like the decor of the FYR Restaurant, as the colour scheme really works in this area. From the open fire on the left as you walk in, to the open beams and more natural materials used, to the plush seats and booths, it's a great space to have your meals in. I also really like the bar area (which isn't a bar...) as the backlit tiles look great. The overall aesthetic of the space makes it seem like a luxurious and stylish area, and it feels more expensive even though the cost of the food is actually pretty reasonable.
I also wanted to mention the staff who were really nice. I mean, I'm obviously doing a review as I'm wielding a camera everywhere I go, but they were attentive to other people dining and very polite.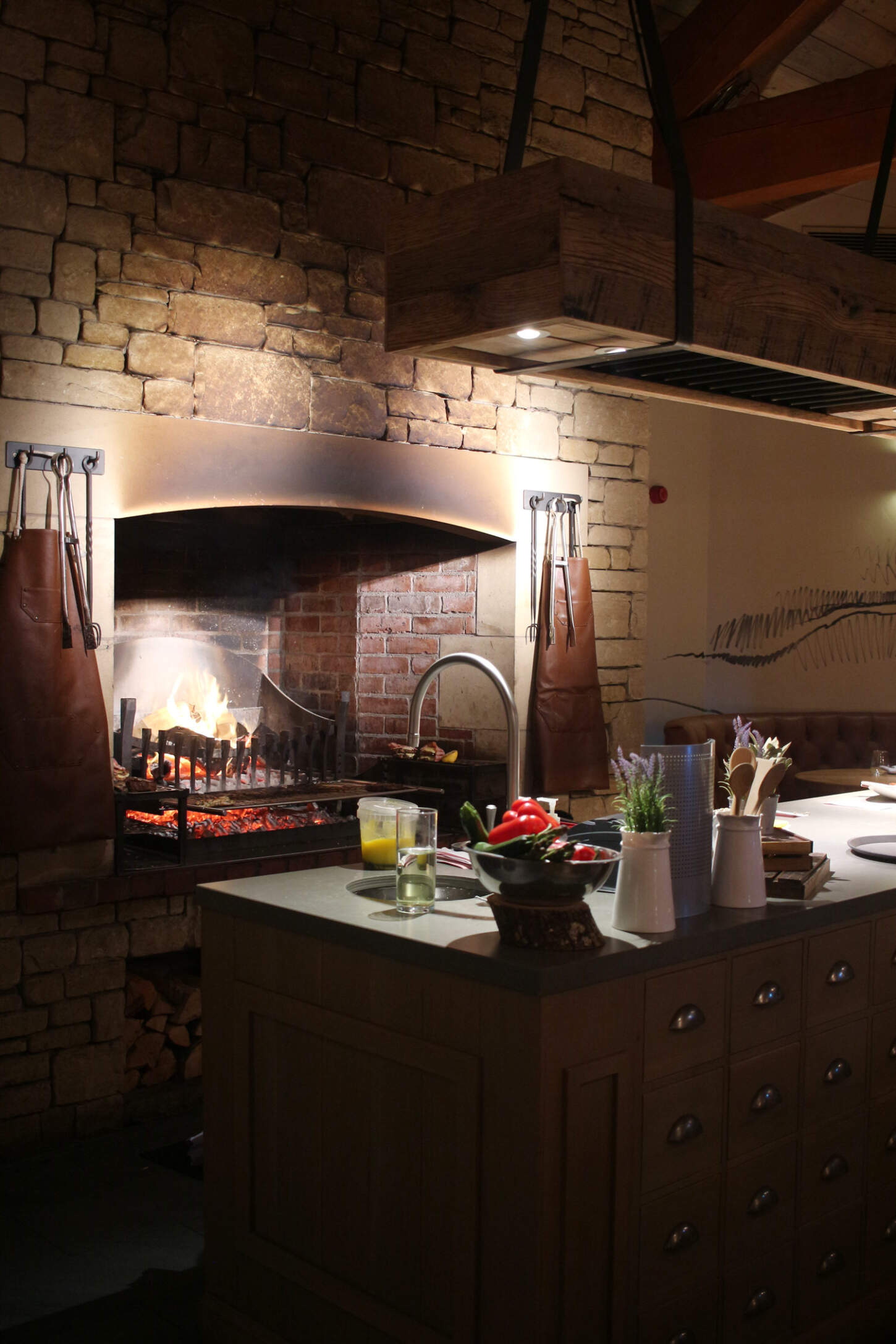 Evening Meal
As you can see above, the FYR Restaurant has a big open fire that they do actually use for cooking so it's typically manned by a (very warm) guy who is cooking your steaks and so forth.
For starters, you can get things like soup, arancini, grilled prawns etc as well as more unique offerings such as smoked duck bonbons or chicken liver parfait. We are more dinner-and-dessert kinda people, so we skipped a starter and went straight into the main dishes.
For mains, they offer a reasonably concise but well rounded menu mainly consisting of steaks (you can also get chicken or a burger) cooked on the grill, kebabs or other dishes such as lamb or fish and chips. There are 2 vegetarian options available too.
I opted for the Grilled Half Lobster Thermidor with sweet potato fries. It's supposed to come with gruyere cheese, but I asked for it with garlic butter instead as I think cheese is overpowering with something as lightly flavoured as lobster. It was good though!
Phil went for the Tandoori Marinated Salmon, Monkfish and FYR Grilled Prawn Kebab which was served with mint and cucumber yoghurt, a slaw, a roti (or puri, I can't remember which) bread and he also opted for chips. I didn't try this myself, but he said it was delicious.
For dessert, I went for their Sticky Toffee Pudding with butterscotch sauce and bourbon vanilla ice cream which was a good pudding. I especially liked the ice cream and I'm not a massive ice cream person. Phil chose the Cumberland Apple Pudding with vanilla creme anglaise and rhubarb ice cream which he also enjoyed.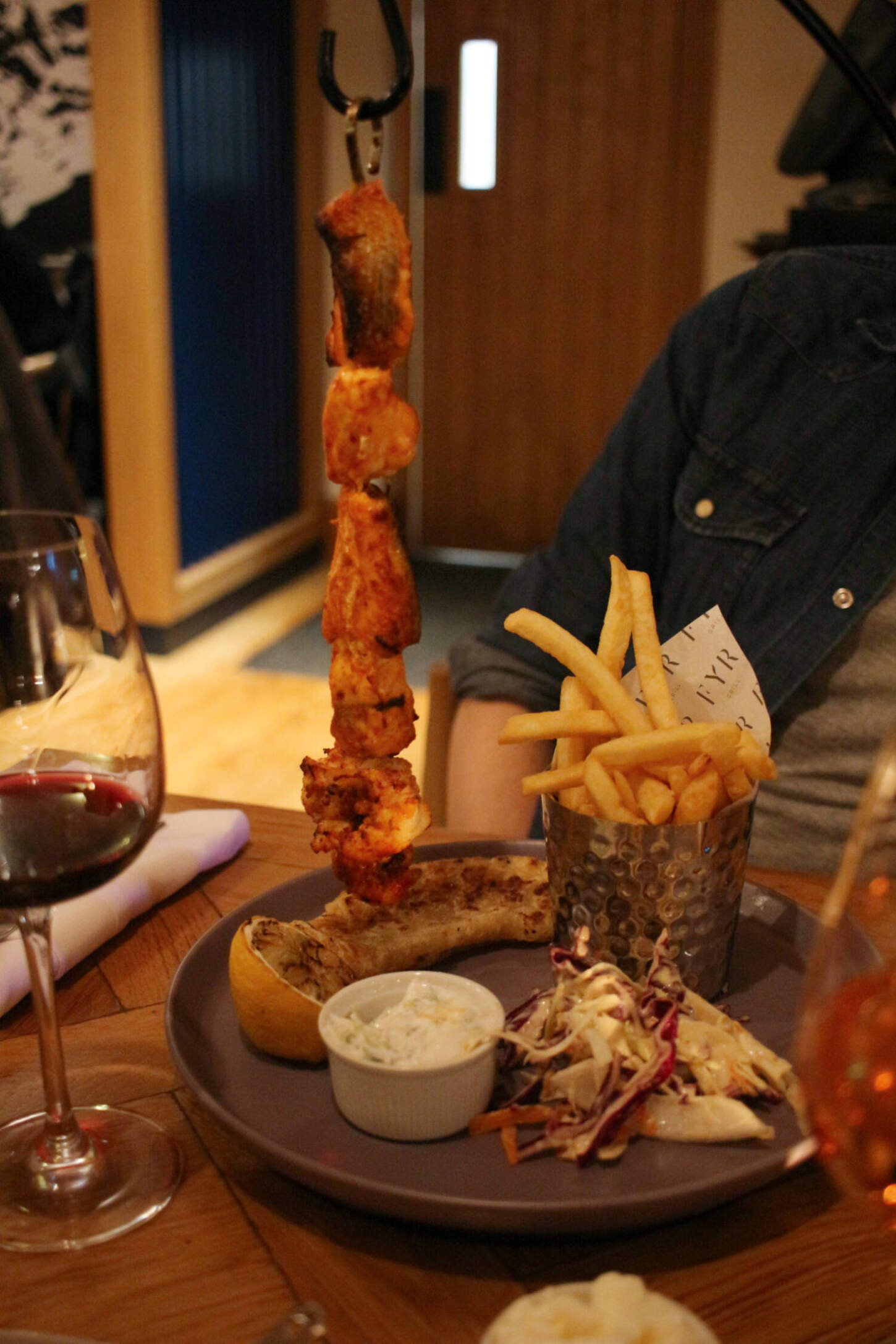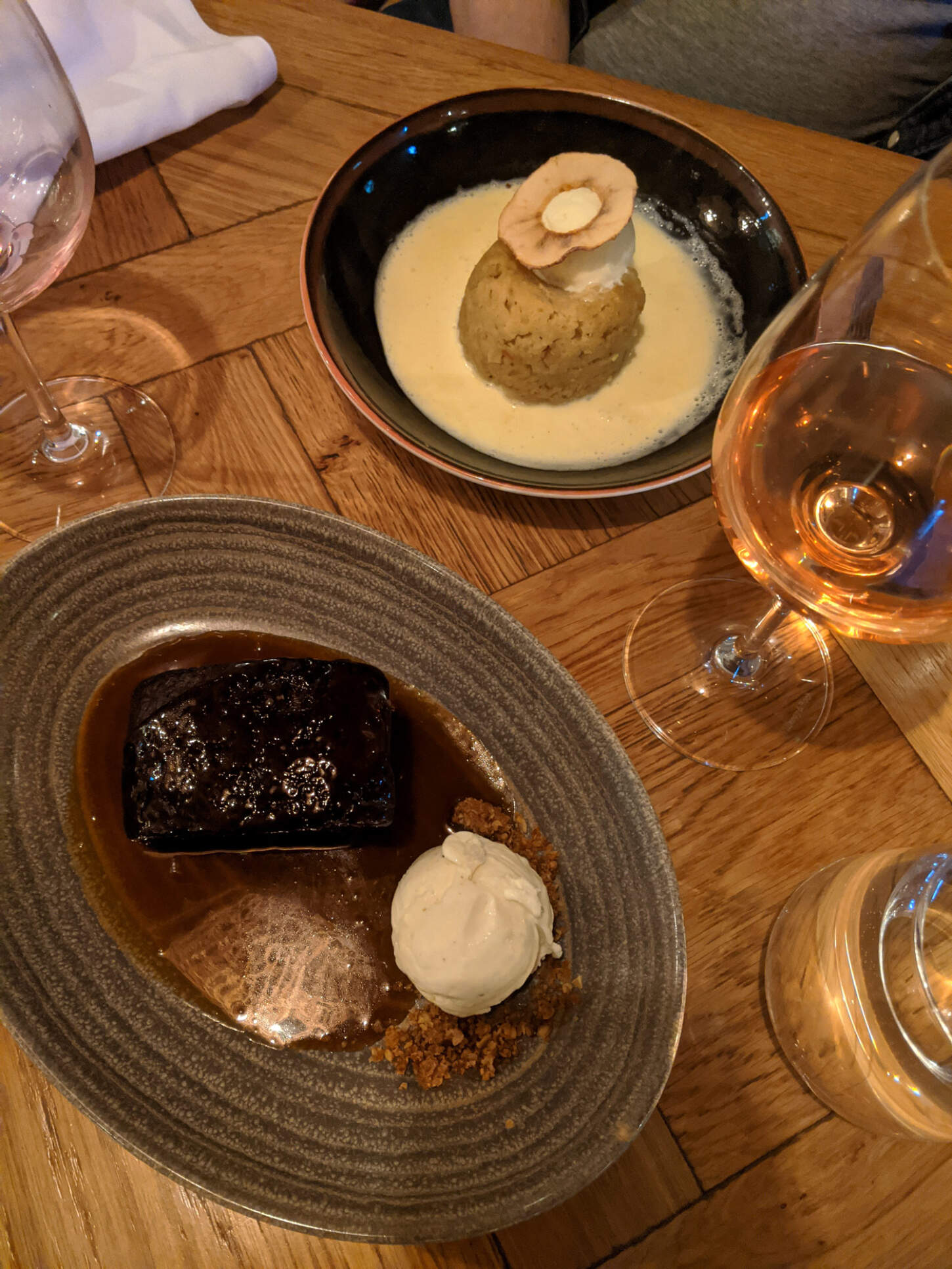 Breakfast (below)
Breakfast is available until 10am so we popped down to see what was on offer. North Lakes Hotel offers both a hot and cold breakfast so there's plenty of choice for everyone.
For cold, there was a good range of cereal, yoghurts, pastries and fruit so you could make up your perfect breakfast. I had one of the pastries and it was delicious, so I can vouch for them. They also had bread, bagels and crumpets so you could toast them to your liking.
For a hot breakfast, they had the classic full english with everything you could possibly need (including veggie sausages) so Phil went for that. I got a bacon sandwich which they kindly made me in a fluffy bun which was very nice of the staff. That day, they also had American style pancakes so you could opt for something fruity to go ontop or with bacon and maple syrup which is the way I would have them.
The breakfast offering was good and you honestly can't complain at the choice!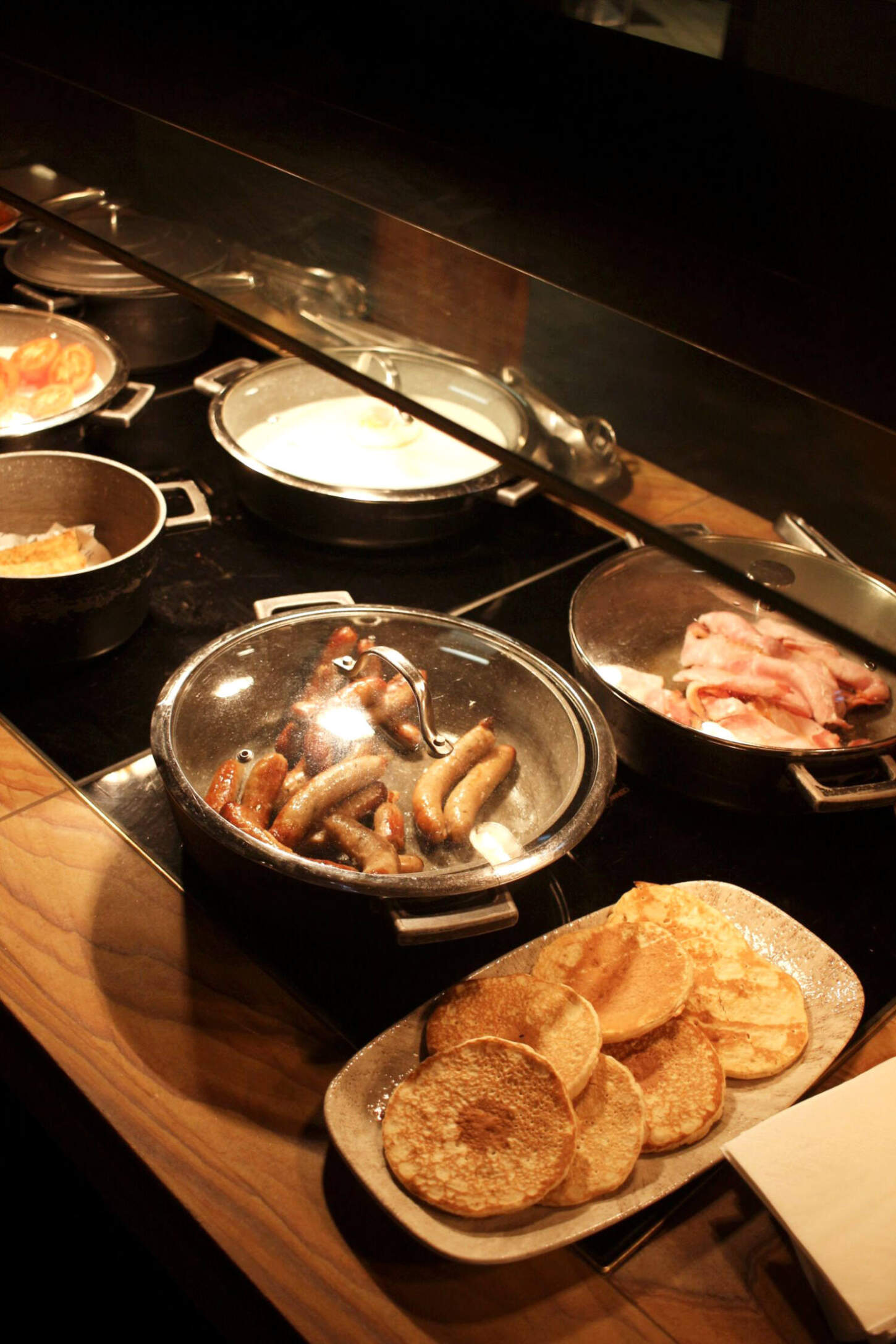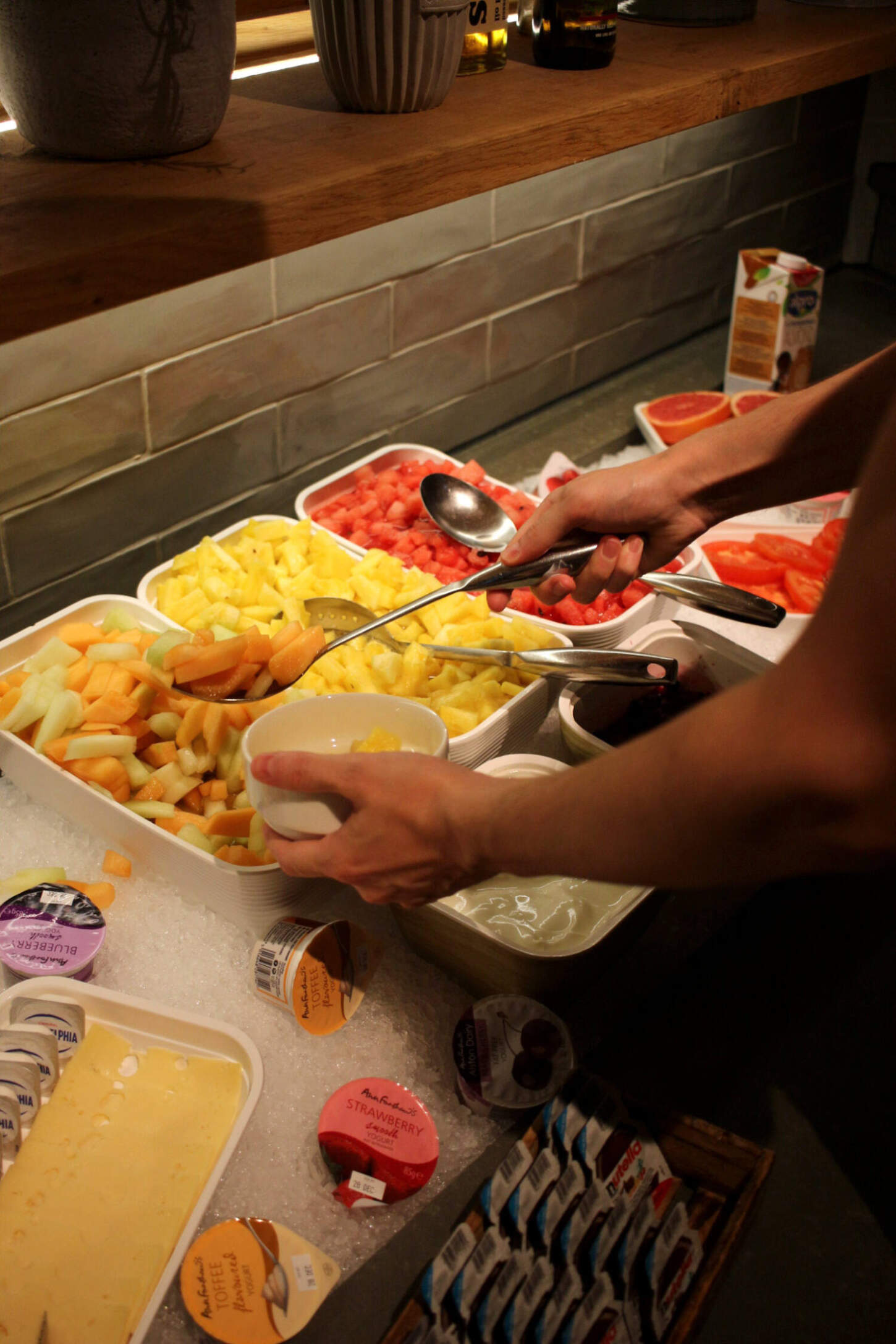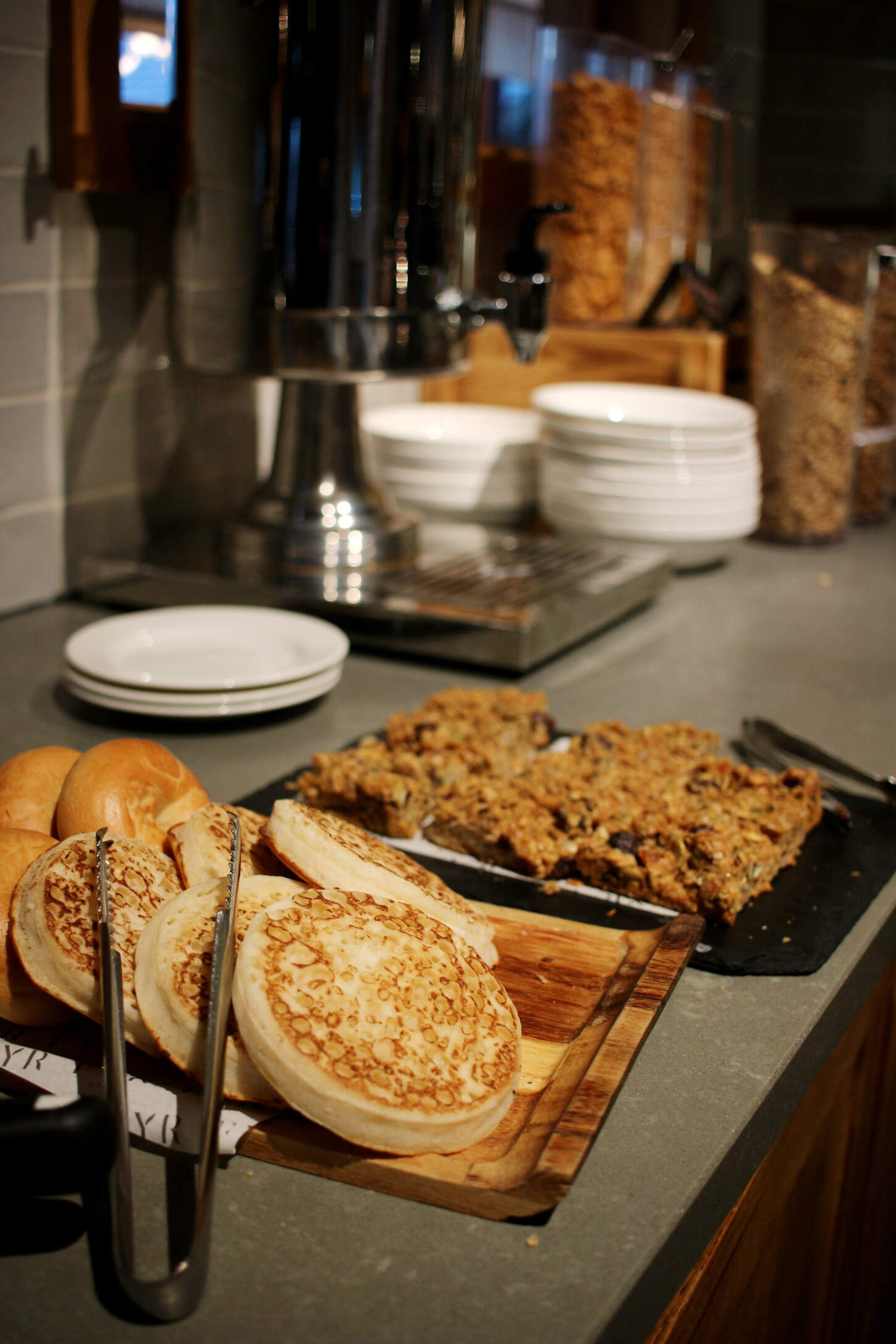 Conclusion
The North Lakes Hotel is a good hotel with a great range of facilities. The lounge and bar areas are a good size and stylish, the rooms are comfortable and quiet and the spa area is quite extensive. As you can probably assume from the above, their FYR Restaurant is something I would certainly recommend as both meals we had there were tasty and, I believe, worth the money.
It's not a destination hotel for me, but if you're visiting the area or travelling through, I would highly recommend stopping by the North Lakes Hotel if you're looking for somewhere to stay. Even just a bite to eat at their FYR Restaurant would be worth it, I think.
You can view their website and book a room here