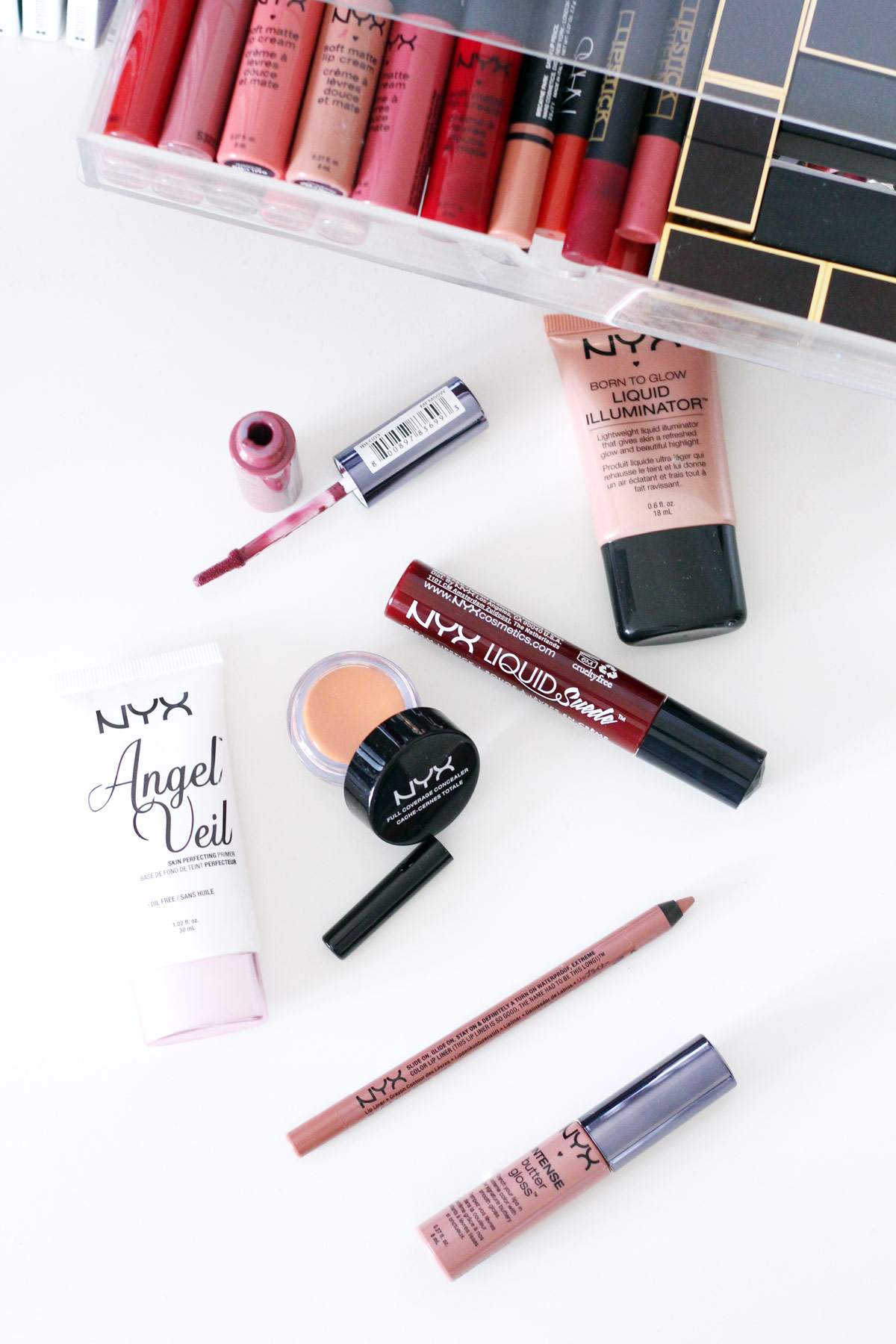 Eventually, huh? NYX Cosmetics is finally at some local Boots stores which means they're 10x more accessible to little ol' Northern me than a trip down to Selfridges or a plane to America. I popped by on Wednesday to have a little browse of the stall and make myself look like a disease with the amount of swatches! As with nearly all Boots stands, it was a little trashed and a lot of the shades were missing, but hoping once the hype dies down it'll be 10x more shoppable!
Anyway, I picked up a few bits and pieces to test out so thought I'd go through the products that found their way into my stash – three for my base and four for lips!
I'd heard a lot about the NYX Angel Veil being a bit of a dupe of the Hourglass one (at a fraction of the price), so I was determined to get it. It's got that smoothing texture to it, so I think it'll suit my dry skin perfectly. I also really want to wear more highlighter etc when my skin is better, so the NYX Born to Glow Liquid Illuminator also came home with me. It's a gorgeous gold toned highlighter which will look oh so pretty (hopefully) over Summer blended across the tops of my cheekbones! That insane looking NYX Corrector also ended up in my basket, as I'm obsessed with my Bobbi Brown one so wanted to see if a proper peachy/red tone would work – it'll be a little experiment!
Onto lips and four products caught my eye. Since my lips are so insanely dry, I'm reserving some for when I finish Roaccutane but for now I'll be using the two NYX Intense Butter Gloss shades as they're (obviously) not drying! I got the shades Toasted Marshmallow (pink-mauve) and Tres Leches (nude-pink) so will be applying those over the NYX Lip Pencil in Nude Suede Shoes – this shade is so gorgeous! Finally, I wasn't that keen on the NYX Liquid Suede Cream Lipstick when I saw them on people (they looked so dry!) but I actually really like it in person. I got the shade Cherry Skies and it's a very pretty dark red hue – so looking forward to using it!
Have you picked up anything from NYX Cosmetics in Boots?
Helen x
Check out these two amazing blogs: Oh Kalu Kalay and Mrs James Recommends!