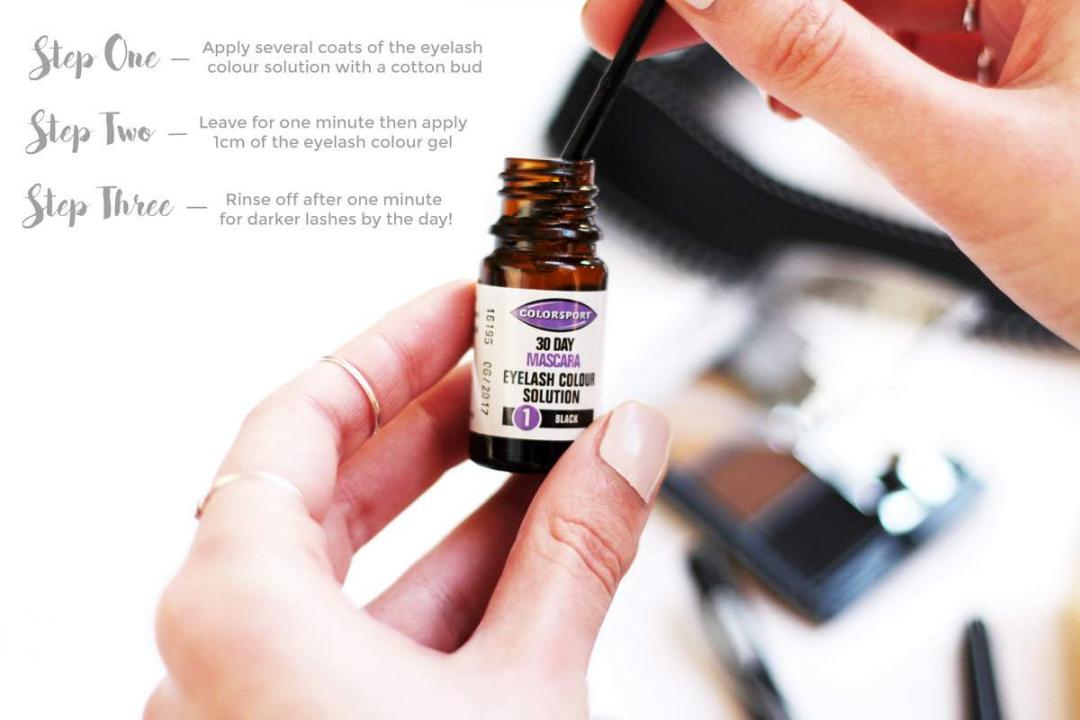 Here on this blog I do enjoy sharing new brands for you all to try and today we're discussing Colorsport! Now, you may have seen the packaging around on blogs and in Boots, but I'm gonna talk you through their key pieces to save you those expensive trips to the salon for your lashes and brows!
Colorsport's stand out product has to be the 30 Day Mascara. It has two steps: a solution and a colour gel. You just apply the solution, wait a minute, apply the gel, wait another minute and then wipe away and you're left with visibly darker lashes (so you could go out without mascara!) that day, but used over a month will give you more of a long lasting effect. Lashes look fuller, darker and more defined – it's a win win for 3 minutes of your time! You can use this on your brows too, but I didn't test it there as my skin is being a bit of a nightmare right now, but as soon as it's better I'll definitely be trying it out!
I've tested out two eyeliners from Colorsport too and, while the 24 Hour Eyeliner works well as a basic eyeliner, the Rapid Lash-Gro Liner is one you must try. I've become quite partial to a classic liquid liner over a pen during the last few months, so was eager to give this one a shot. The extra bonus of this, besides being a budge-proof liner, is that it contains an ingredient to actually help grow your lashes. So, while you're applying it close to the lash line, it works to give you fuller lashes by the day due give you thicker and better lashes just by doing something you would do anyway! How good is that?
Colorsport also do a range of brow products, aside from the dye above, to keep your brows looking 'on fleek' as the kids say these days. First there's the Eyebrow Definer which is like a chunky pen you can use to create hair-like strokes (which works well if you've used pencil first) and the Smokey Eyes & Perfect Brows Kit which contains powder shadows and mini tools to create your brow look. The tools are so cute – perfect if you're quickly doing some touch ups on the way to work!
All in all, Colorsport is definitely a brand to check out if you want darker, fuller lashes on the more affordable end of the spectrum (compared to the salon). Prices start from around £8 typically, but Boots have some on offer for only £5.25 right now!
Have you tried Colorsport before?
Helen x
ps. check out this lovely blog: Carly Wynn and Madame Ostrich!
*collaboration