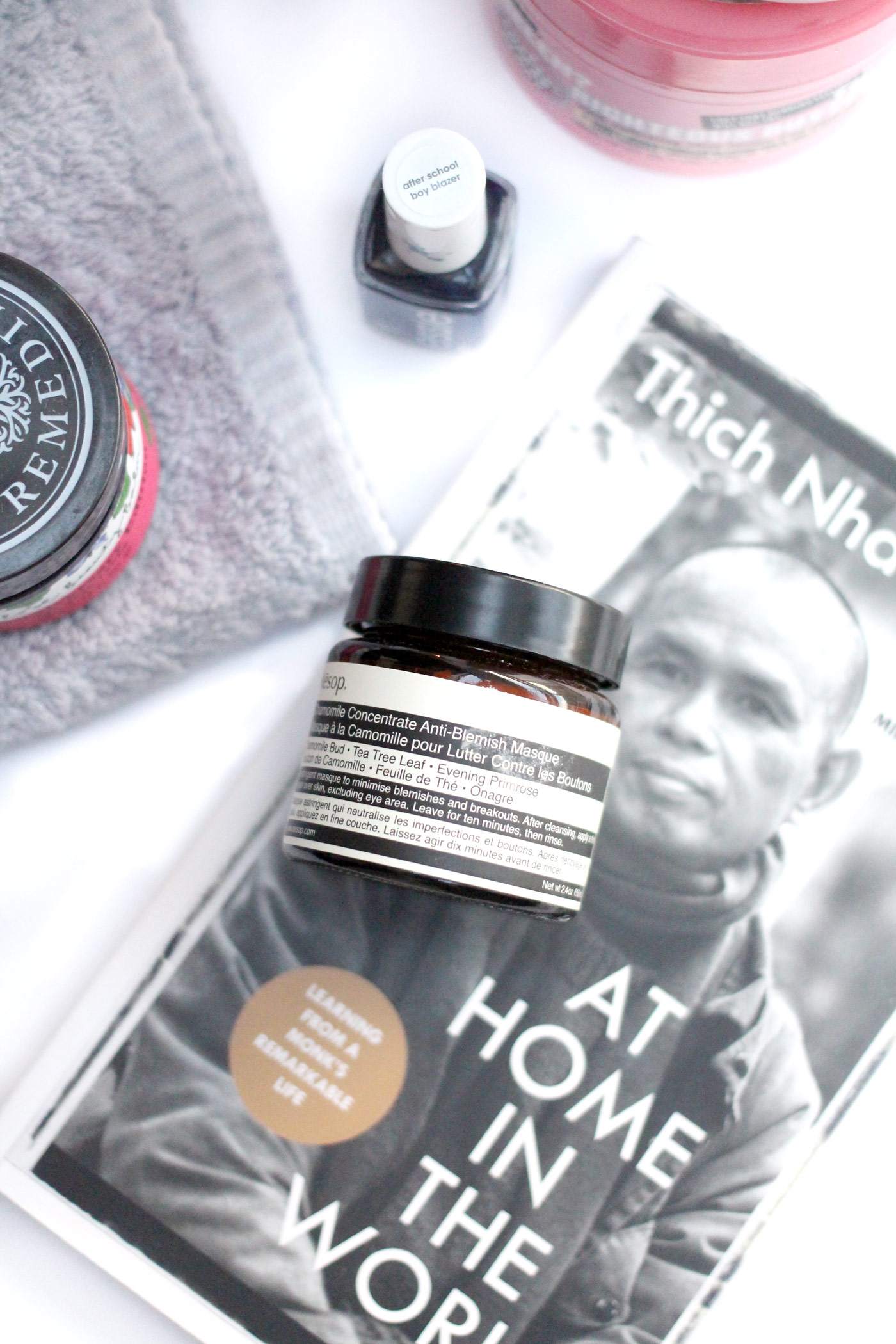 There's nothing better on a chilly Autumn evening than putting the heating on full blast and having a lovely pamper evening. It makes being bitterly cold outside all day feel that little bit better, doesn't it? I treat a pamper evening as a bit of a personal MOT and cover everything from head to toe (before getting into fresh bedsheets in my comfy bed to extend that luxurious feel), so let's have a look at what products I love to use.
For my complexion, I'll first use a balm cleanser as it's the most pampering stage to me. I love the Neal's Yard Wild Rose Beauty Balm, as not only does it smell amazing, but it leaves your skin feeling oh so soft and soothed. If my skin has been looking a bit dull, then I'll go over with the Aurelia Refine and Polish Miracle Balm which lightly exfoliates skin, leaving it looking radiant! I'll follow this up with the Aesop Chamomile Concentrate Anti-Blemish Masque which pulls out all of the rubbish from my pores and makes my skin look so smooth and perfected.
I always try to throw a hair mask on every once in a while (though I am rubbish at remembering!) and when I do, I really like the L'Oreal Colour Radiance and Perfecting Jelly Mask. It's not too heavy but makes a huge difference to hair, it's smooth and keeps hair in top condition. After this, I adore using those scrubby gloves (from Primark!) and then slapping on loads of moisturiser. I do have a lot of love for the Soap and Glory ones, especially The Righteous Butter, because it's so thick and smells amazing so you feel well and truly pampered after smothering yourself in it!
There's nothing better than painting your nails (Essie After Shool Boy Blazer and Essie Urban Jungle are strong favourites) and curling up with a book too. I'm currently reading At Home in the World by Thich Nhat Hanh which is all about mindfulness and genuinely makes you feel more zen reading it, it's very comforting!
What do you like to do on your pamper evenings?
Helen x