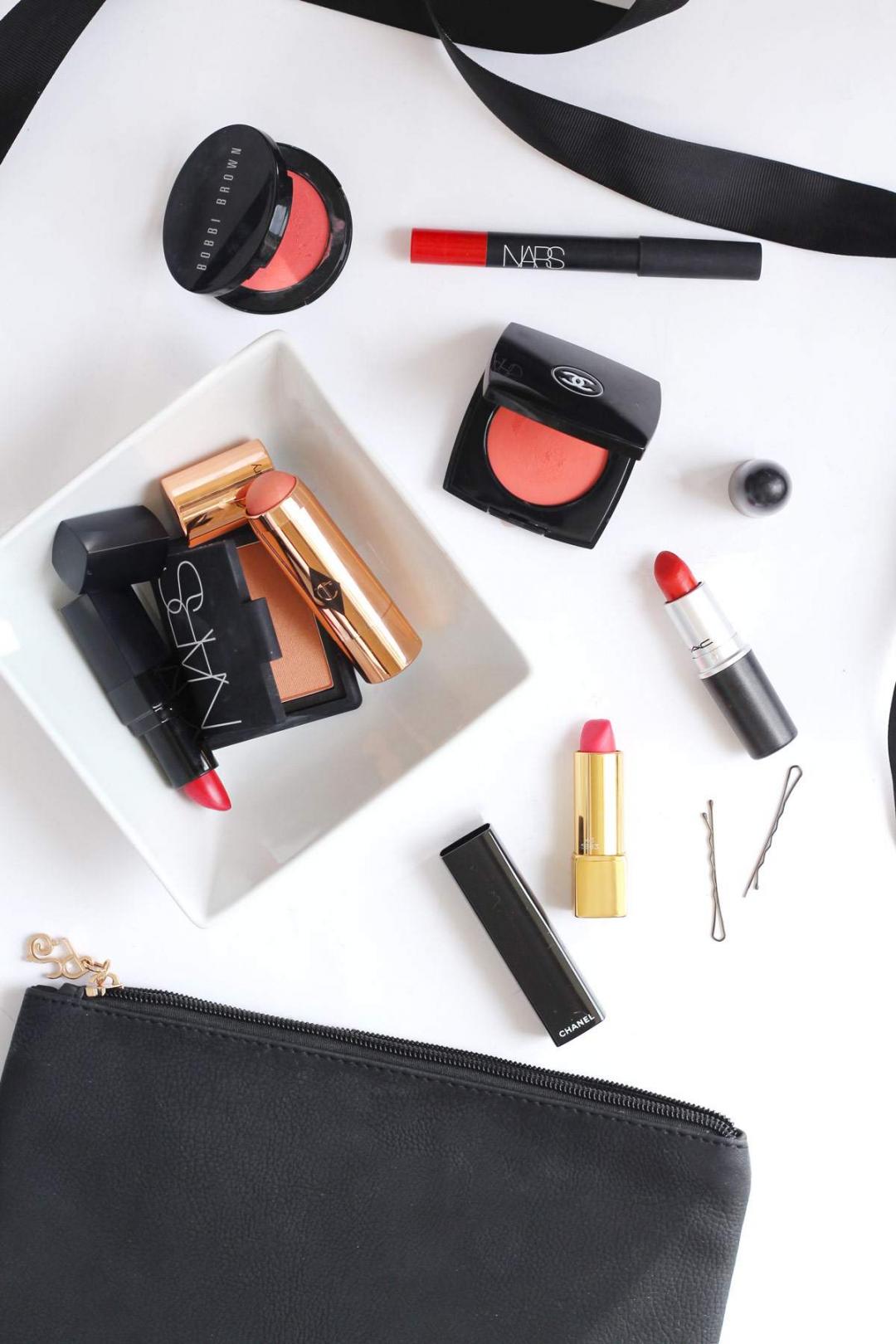 Peach, Orange and Red Makeup: Who feels like they wish it was Summer already? As much as I truly adore Winter and it's masses of fur coats and burgundy lip shades, part of me wants to reach for the lighter bases, ultra dewy skin and fresh peachy hues to brighten up my complexion. So, that's what I'm going to talk about today – peaches, orange and red tones to banish the Winter blues!
Starting with blush, there's something so warming and brightening about wearing something peachy toned. Whether you leave it subtle or go full orange, it can really make a difference to your makeup look and wake everything up. My favourite shades for this are, firstly, the NARS Blush in Luster which is a pale peachy shade with just a hint of gold in it to bring some luminosity to your skin without looking like a pile of glitter. Secondly, a luxe option in the form of Chanel Cream Blush in Presage, which is a true orange shade and blends oh so well, leaving a natural finish on the skin.
Next, the Bobbi Brown Pot Rouge for Lips and Cheeks in Calypso Coral has been a long term favourite of mine. It has a pinky-peach-coral tone so it really gives your skin a boost! Aaand finally, we have the Charlotte Tilbury Beach Stick in Moon Beach which is basically Summer in a tube. It has a rose gold tone, like an iridescent peachy glow, which you could use alone or to give your normal blush some oomph.
For more peach, orange and red makeup, I've picked out some lipsticks and these four are some of my favourite shades ever. Firstly, MAC Lady Danger is a red-orange hue I've been wearing for years, as it always looks nice on and livens up any makeup look! If you're more of a matte girl, then NARS Matte Lip Pencil in Red Square should be your kinda thing. It's a bold red shade, but one that lasts all day and looks super chic! If you would like to lean more to the pinky-red-orange side of things, then Bobbi Brown Lipstick in Watermelon will tick that box. It's honestly one of my favourite shades to wear and is comfortable on the lips too! Finally, we have another Chanel number and that's the beautiful Chanel Velvet Lipstick in La Favourite – a true peach-orange shade with a comfortable matte finish.
What's your favourite peach, orange and red makeup? ps. my £185 health and beauty giveaway ends today!
Helen x
ps. check out these lovely blogs: Carly Wynn and Madame Ostrich!